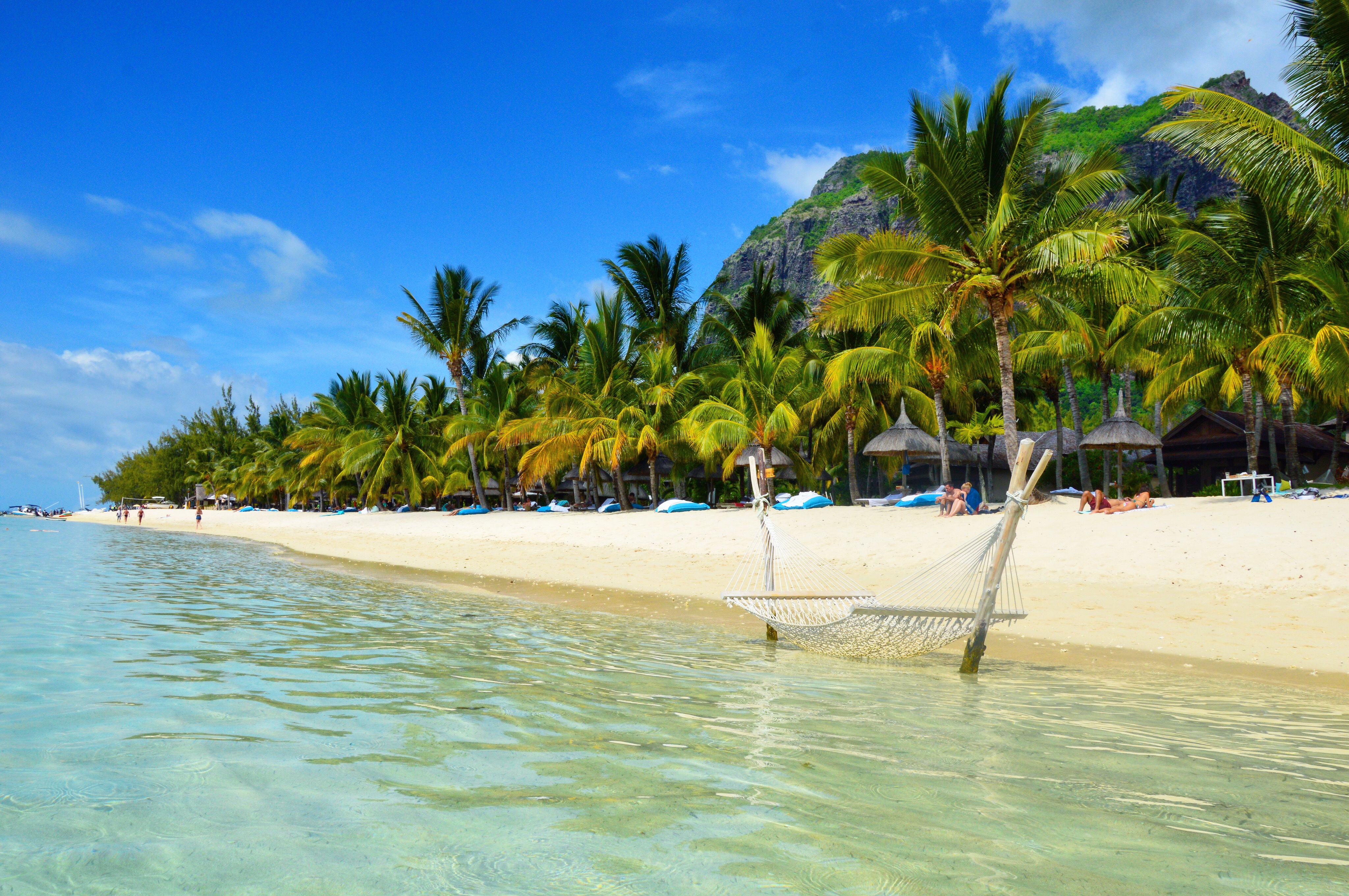 Just got back from a nine day visit to the beautiful Indian Ocean island nation of Mauritius. Apart from lazying on the beach, admiring jungle falls, and drinking too many Phoenix beers (and trying to hunt for the Flying Dodo craftbeer – which is almost as hard to find as its extinct namesake), I have of course done a fair bit of eating.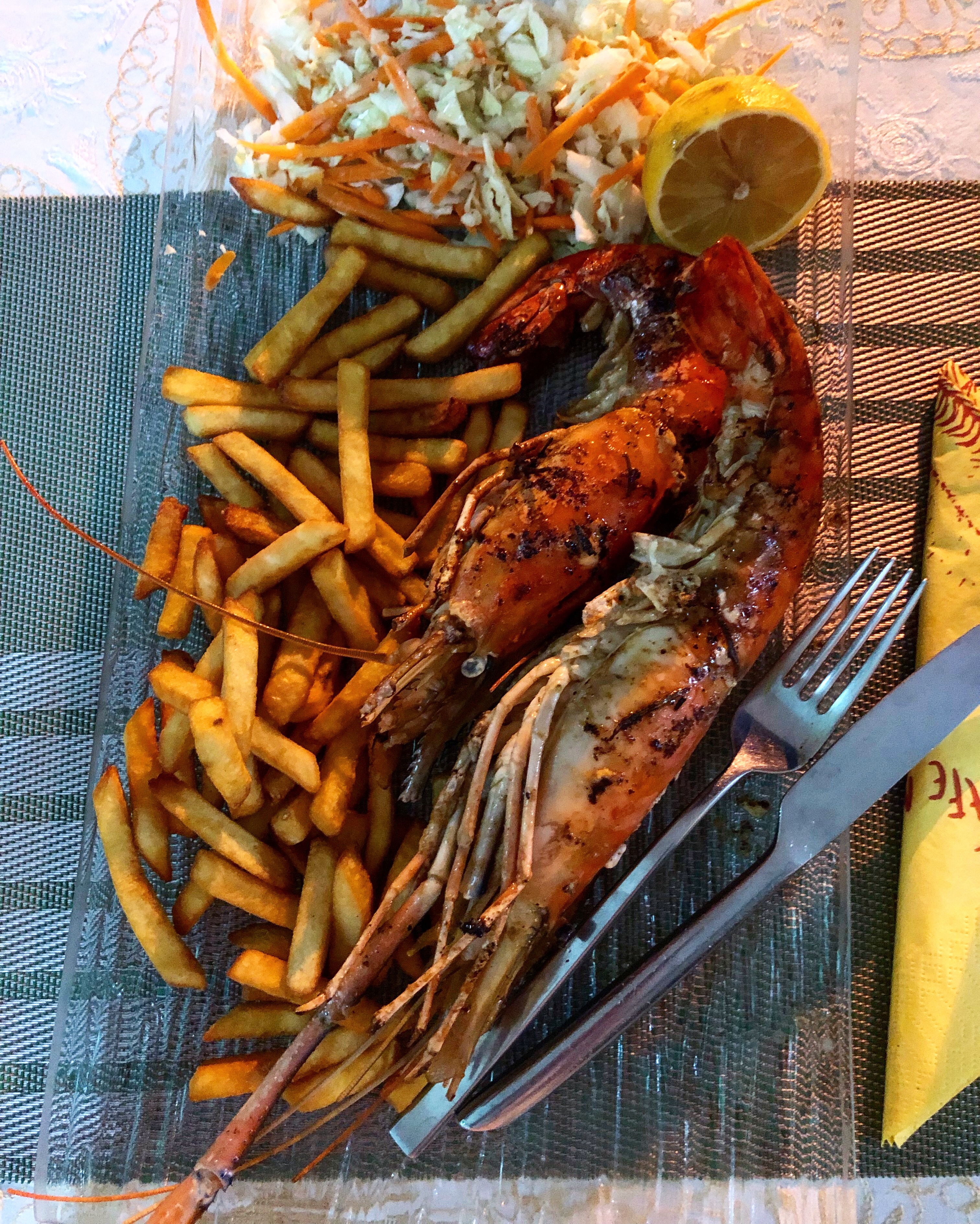 Mauritius has some interesting history, being mentioned by Arab sailors in the 1400s; populated by the Portugese in the 1500s; then colonized by the Dutch in 1598; by France from 1715 until 1810, and then finally ruled by the British until indepedence in 1968.
The Mauritian people is a diverse mix of inhabitants with Indian-Mauritians making up the biggest part of the population (approximately 70%), and African, Chinese and French/European decendants standing for the remaining 30 percent.
This of course translates into the Mauritian cuisine, which like its population is an exciting mix of Indian, African, Chinese and European flavours, often with a tropical twist.
Where we stayed
For the biggest part of the trip, we stayed in the touristy beach town of Flic En Flac, therefore most of the places we visited were located there as you'll notice. Many places have a similar kind of food, so most dishes you'll be able to find all over the island even if you do not happen to visit Flic En Flac.
We did also take a sidetrip to Mahebourg and also spent our final two days in a resort close to Belle Mare where we had some of the best food of the trip. This is where we start:
Belle Mare
Tides Restaurant Long Beach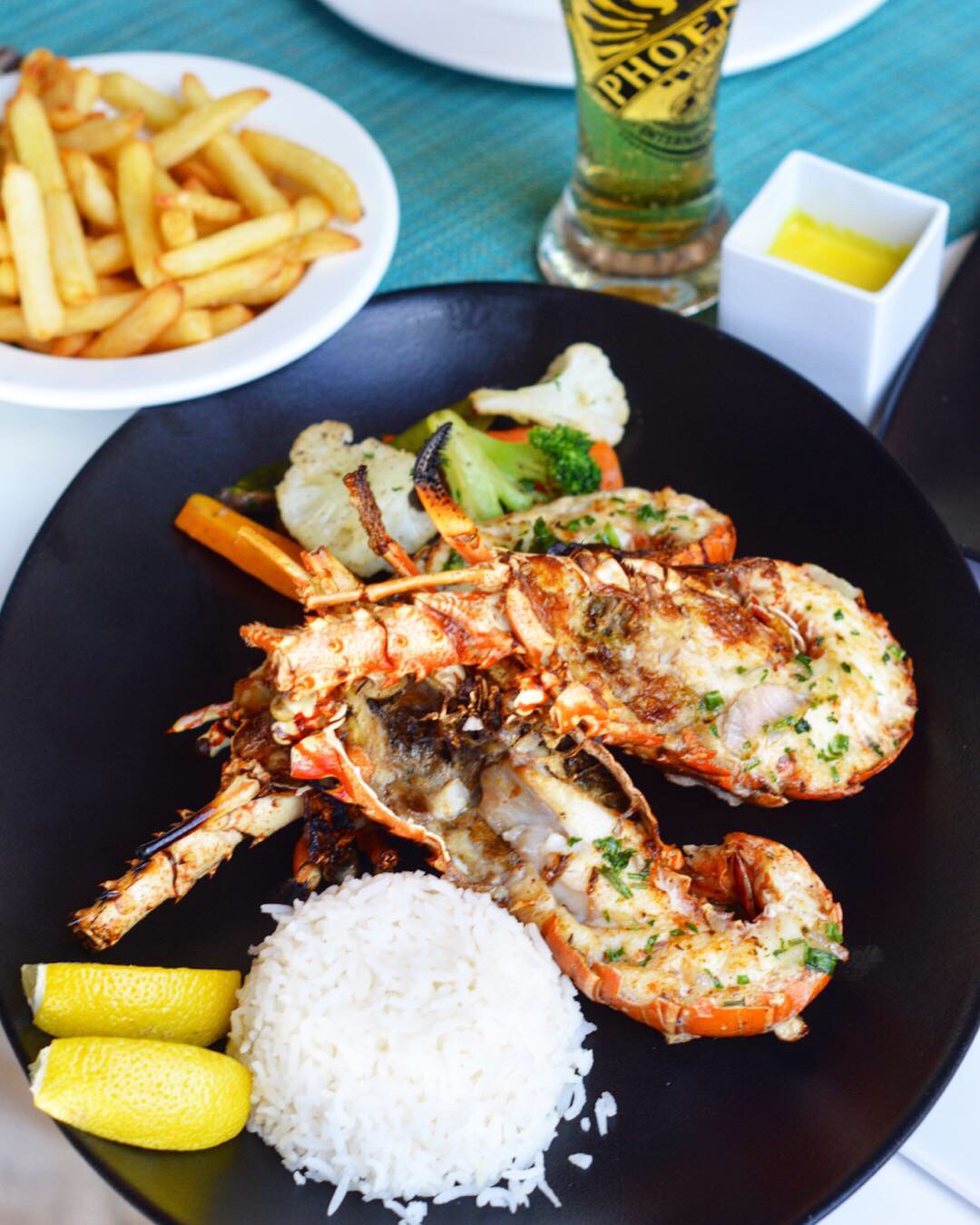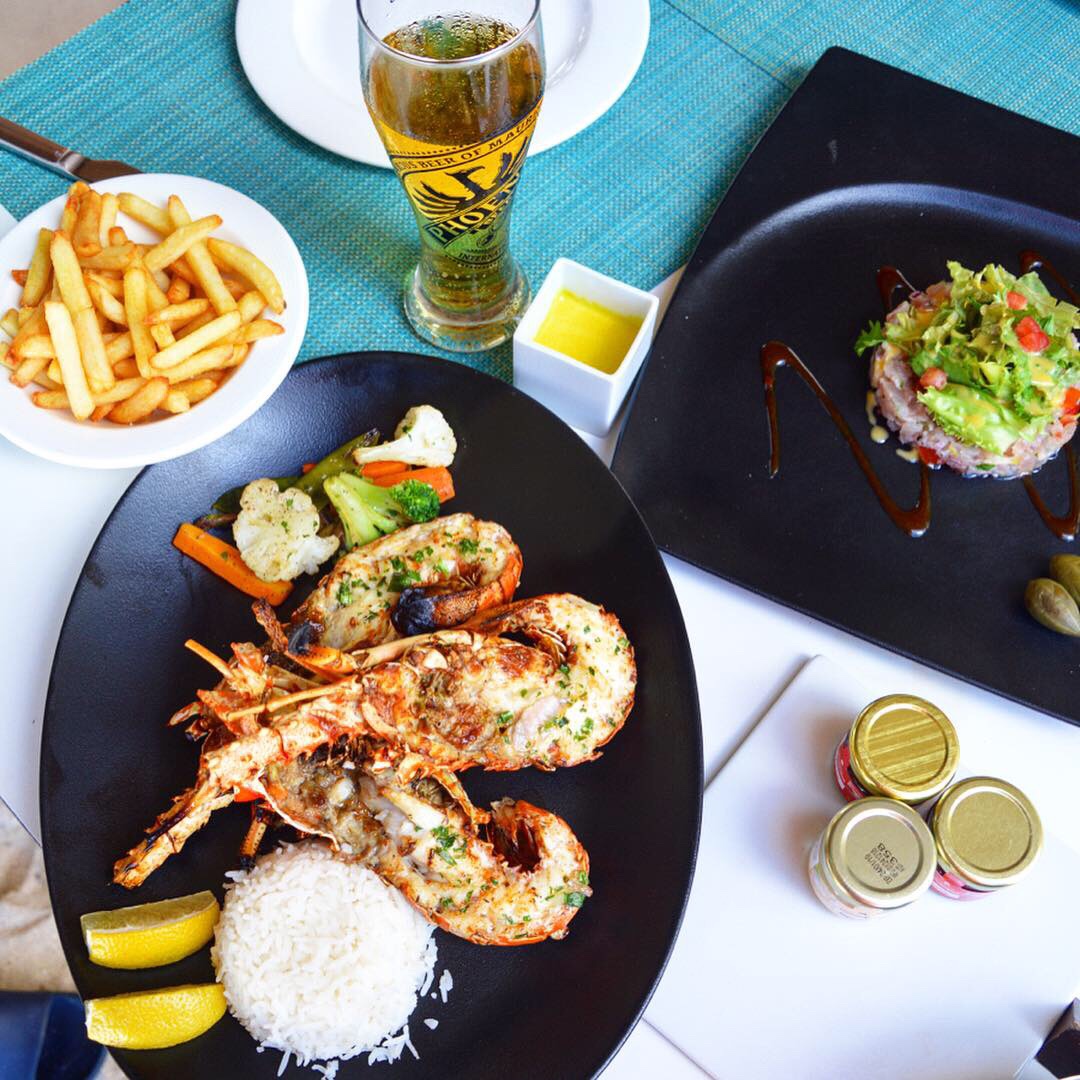 After staying in an apartment in Flic En Flac for a week, we splurged our final two nights with a stay at the luxurious Solana Beach Resort. On the same beach, a few hundred meters down, is the Long Beach Resort and its Tides restaurant. Intrigued by Instagram and Google pictures, we already knew what to order: grilled lobster and tuna tartare. Just to be safe we would be bloated, and to be extra decadent, we had some chips too. The price was steeeep compared to other meals, but it was really something to sit on the beach, feet in sand and eat their delicious grilled lobster, excellent tuna tartare and drink some cold beer.
Price
3000 MUR for the two of us with three half lobsters (it came like that), one tartare, one chips and two beers.
Secrets Corner, Solana Beach Hotel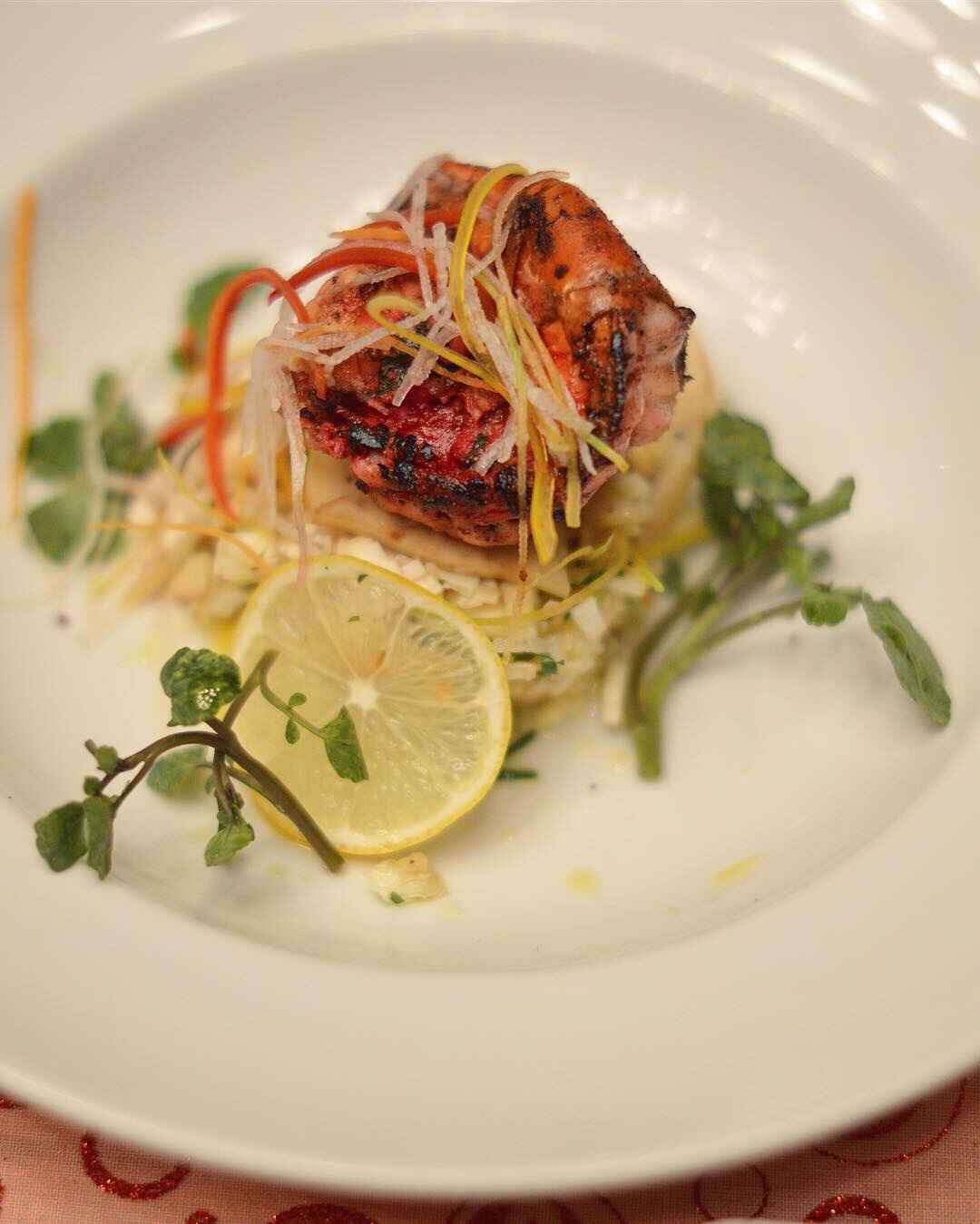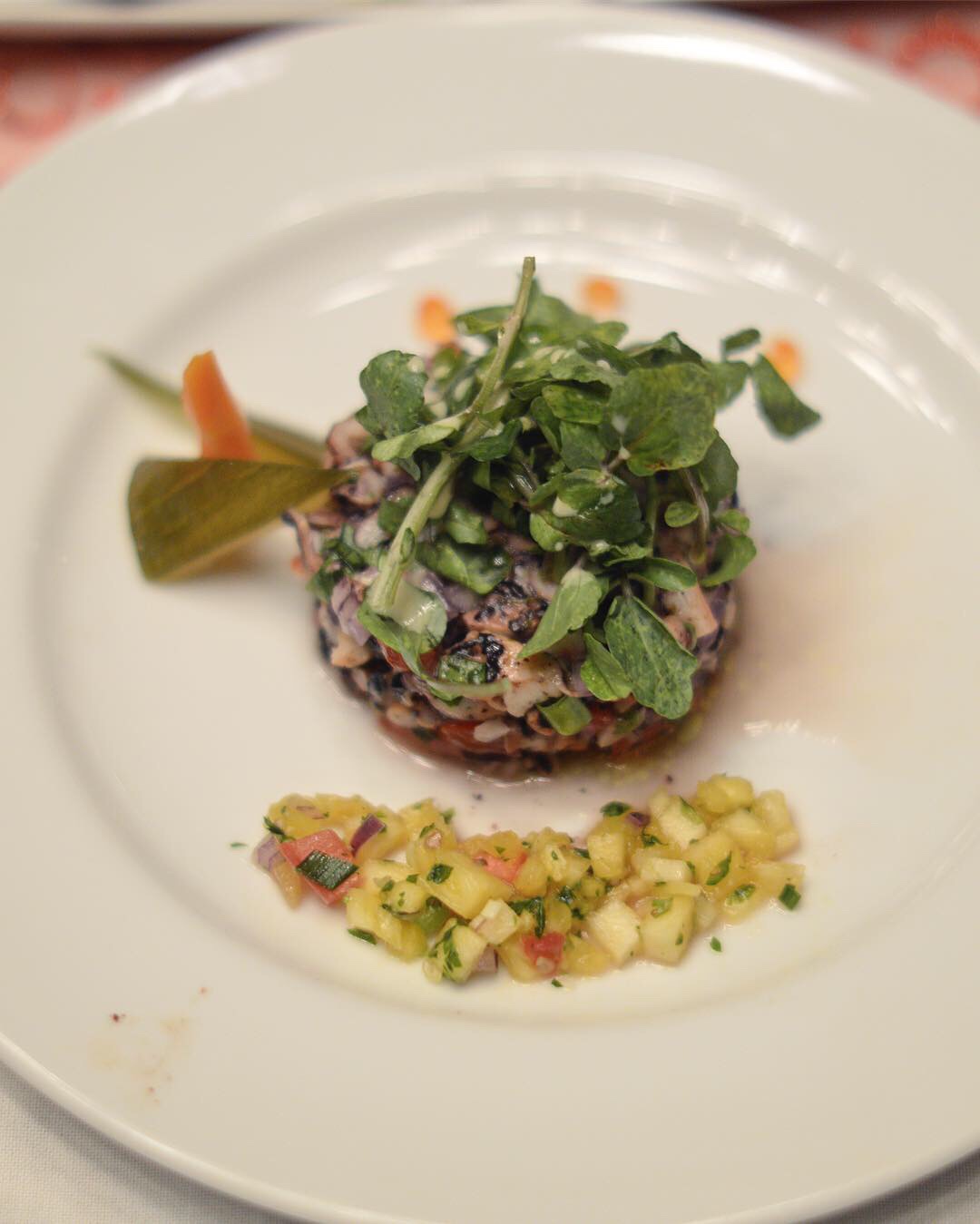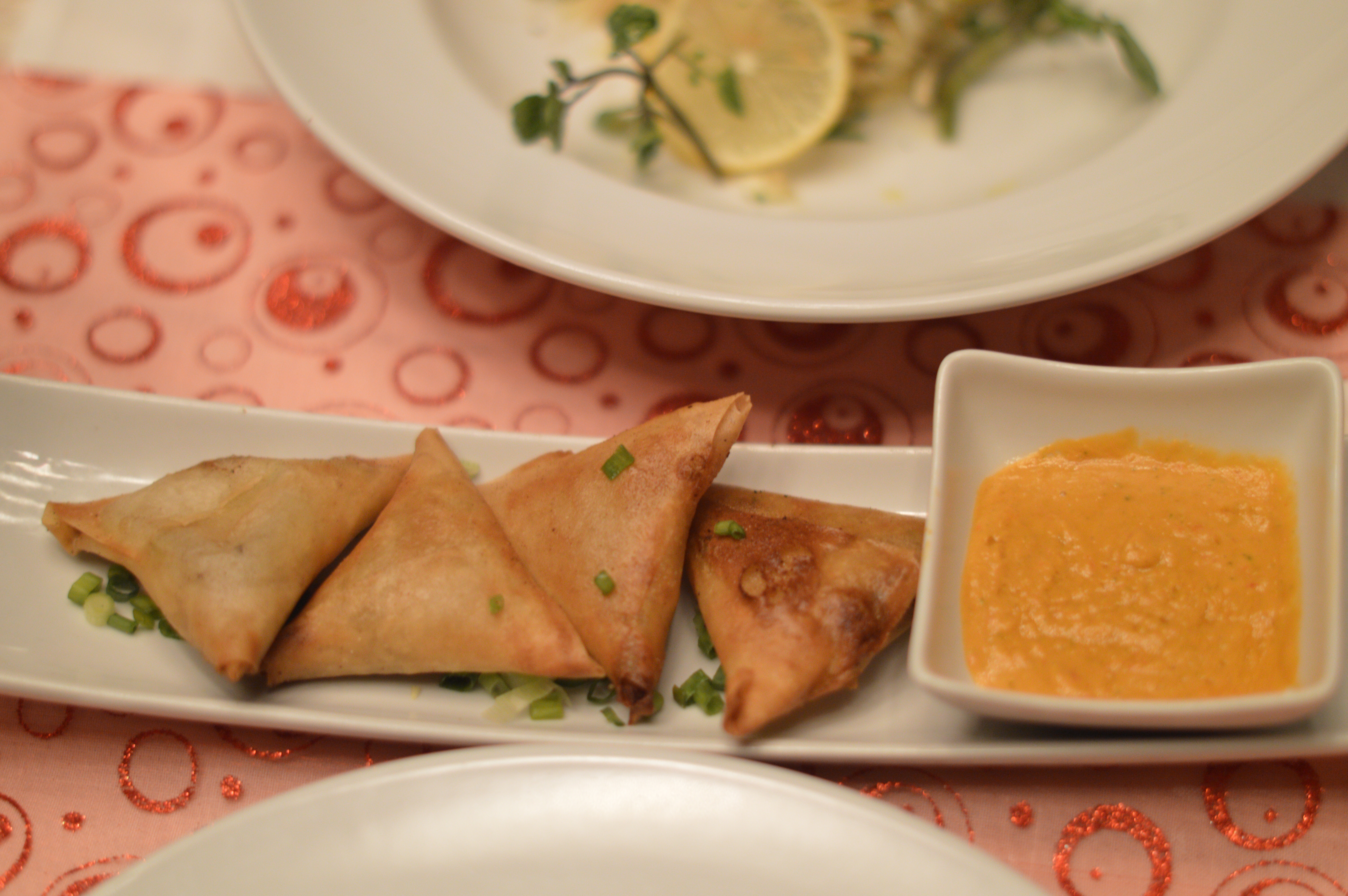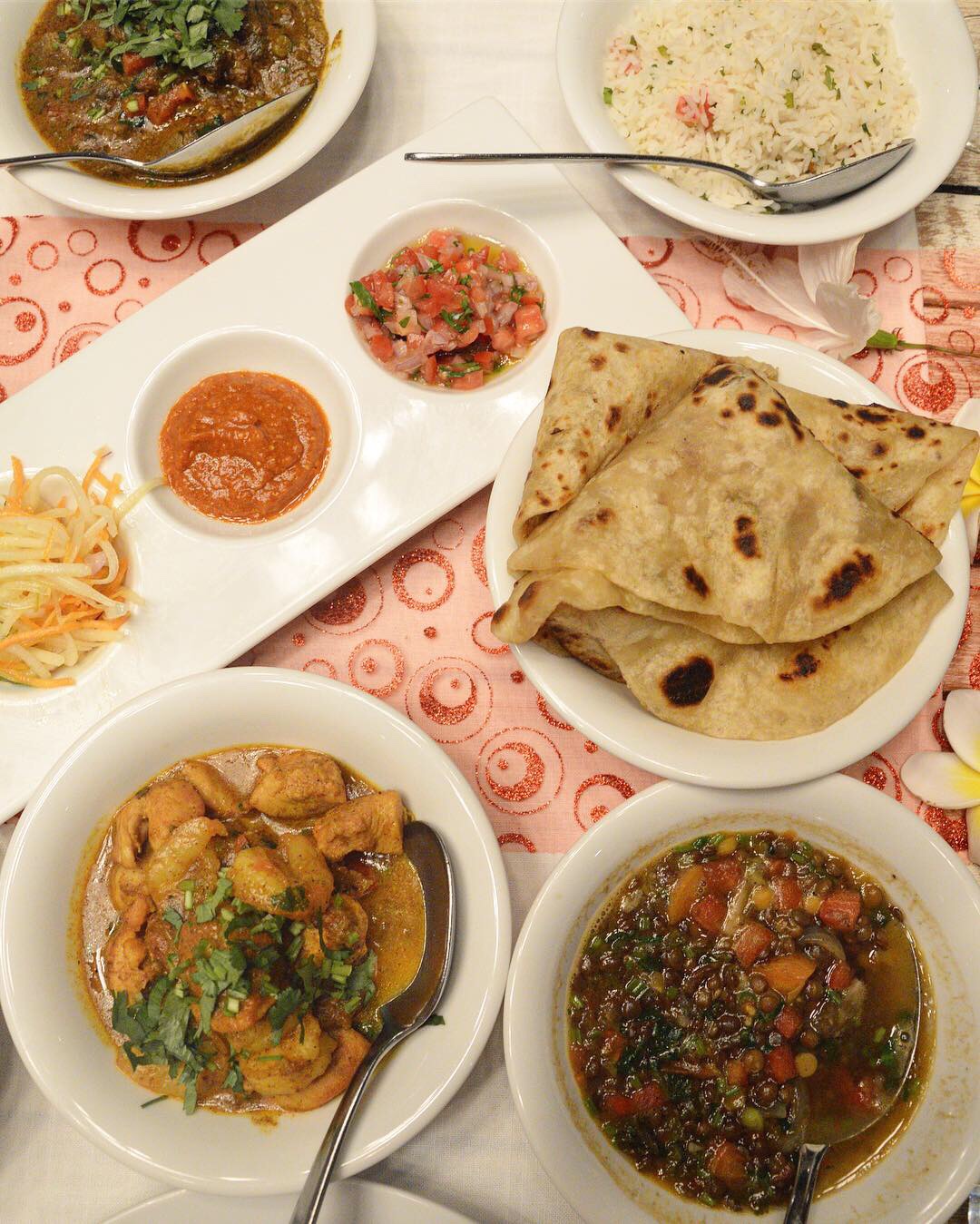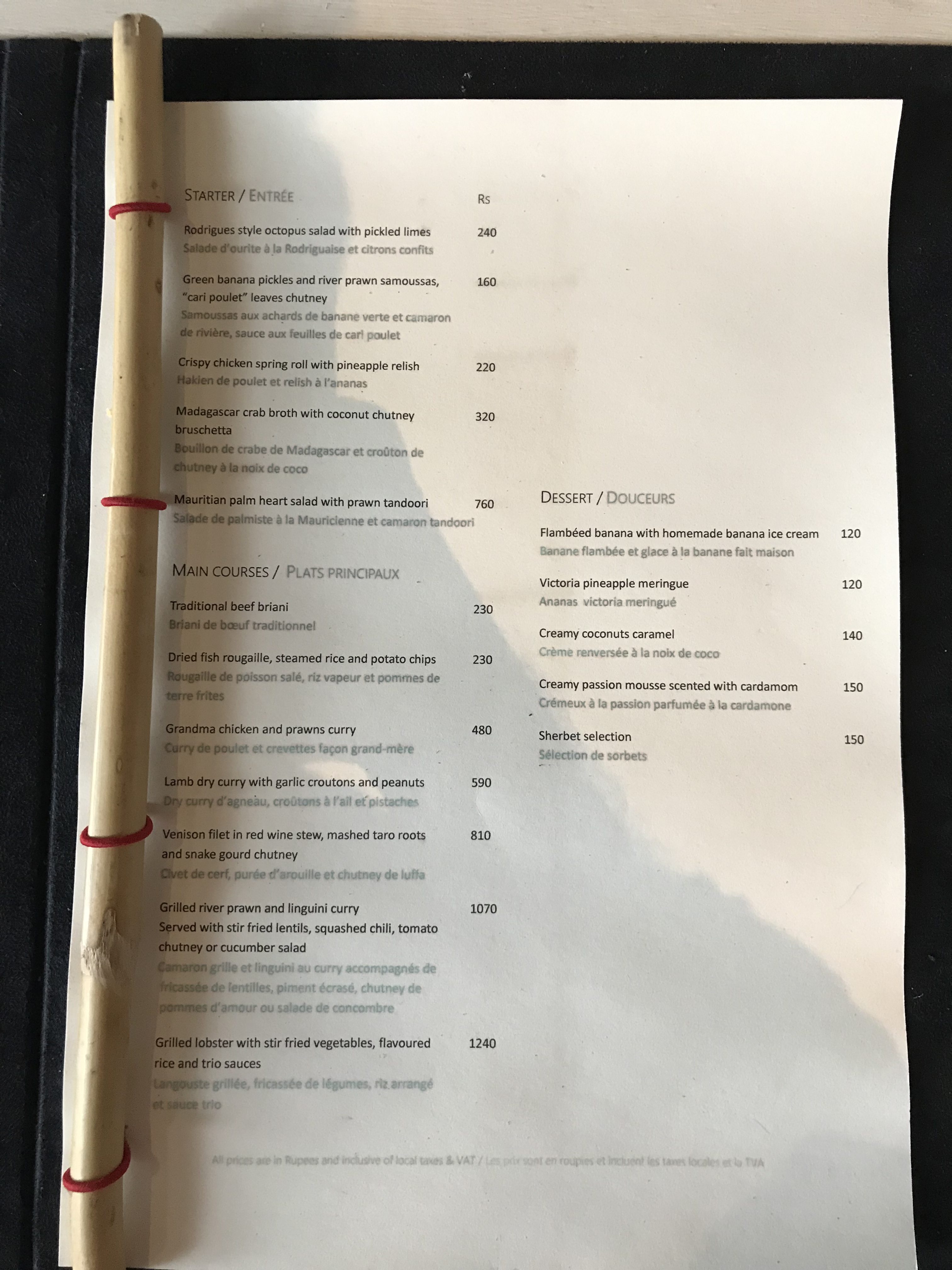 Next to the buffet restaurant in the Solana Beach Hotel, there is a small 'secret corner' that offered one of the best meals on Mauritius, but possibly the worst when it came to ambience.
We were the only guests, and were sat in the middle of a brightly lit room, with one server checking in on us every now and then. When I read about the Secrets Corner in the hotel information I thought it would be their luxury tasting menu restaurant, with prices to match. Instead it was not, the prices were quite decent, not much more than say an average place in Flic En Flac.
As the prices were good and the menu sounded great, we tried a little bit of everything. The palm heart salad with a grilled tandoori prawn was delicious. The Rodrigues style octopus salad with pickled lime was fantastic too. The crunchy river prawn samosas with green banana pickles were the best samosas I've had. We had a curry each (one lamb, one prawn & chicken) for main and although not as good as the starters, they were both really nice with rich deep flavours. The curries came with a small buffet of sides and condiments such as rice, pickles, chapati bread and dal lentil soup.
As you might be able to tell, we were stuffed after this, and despite having planned to try, had to skip dessert.
A surprising find, and with some nicer ambience in the Secrets Corner restaurant this would be a 5/5 experience.
Price
We paid just under 3000 MUR for all the food mentioned, two beers and a glass of wine.
Solana Beach Hotel's Coco Bar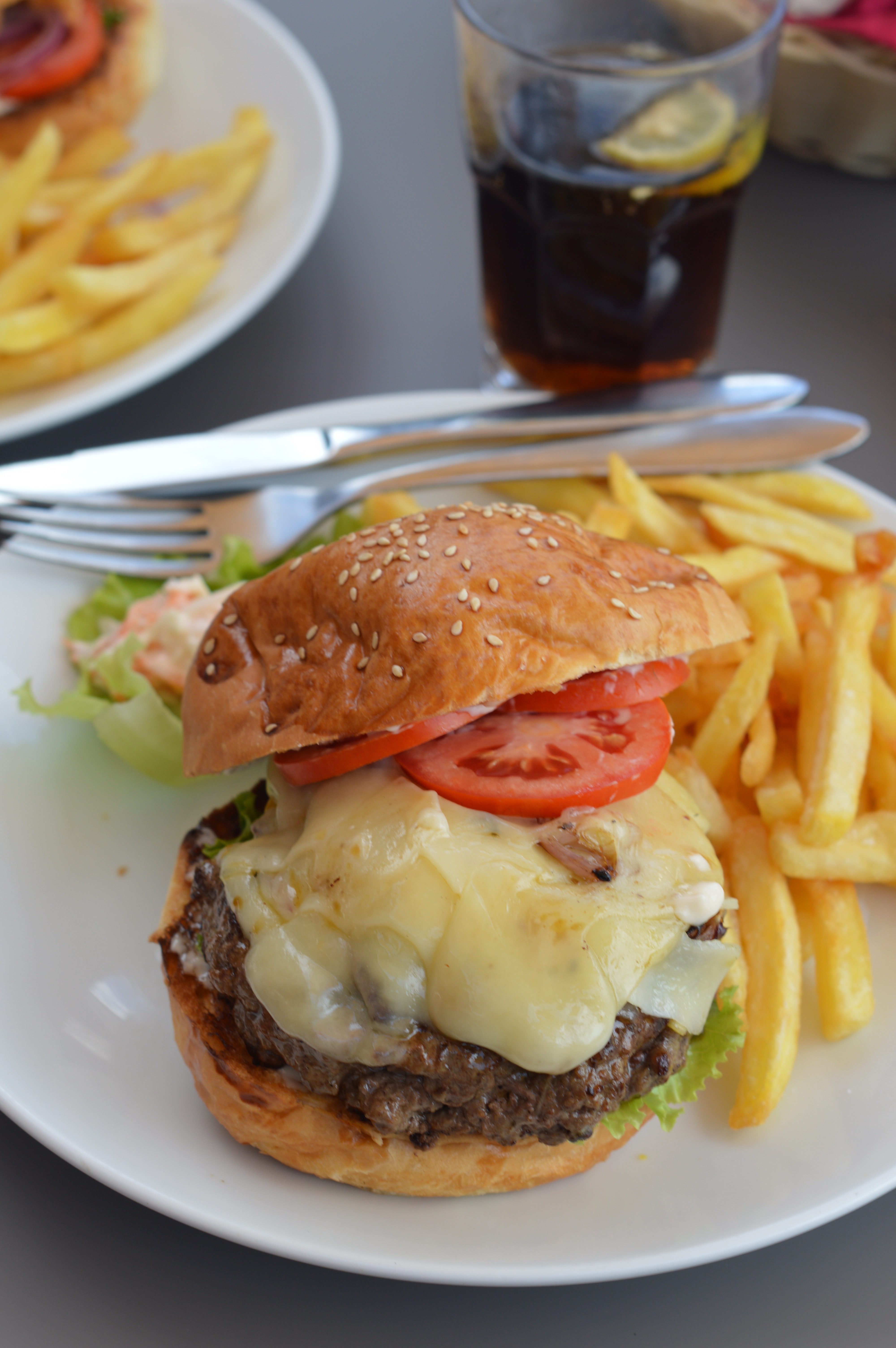 Before leaving for the airport, we had a last lunch. I was so much craving a burger that I could not resist to try Solana's cheeseburger with fries. Despite asking for my preference of cooking grade, my asked-for medium turned into very well done. Fortunately, it was still a decently nice burger with good cheese, a fluffy bun and good fries.
Price
About 400 MUR
Flic En Flac
Ah Youn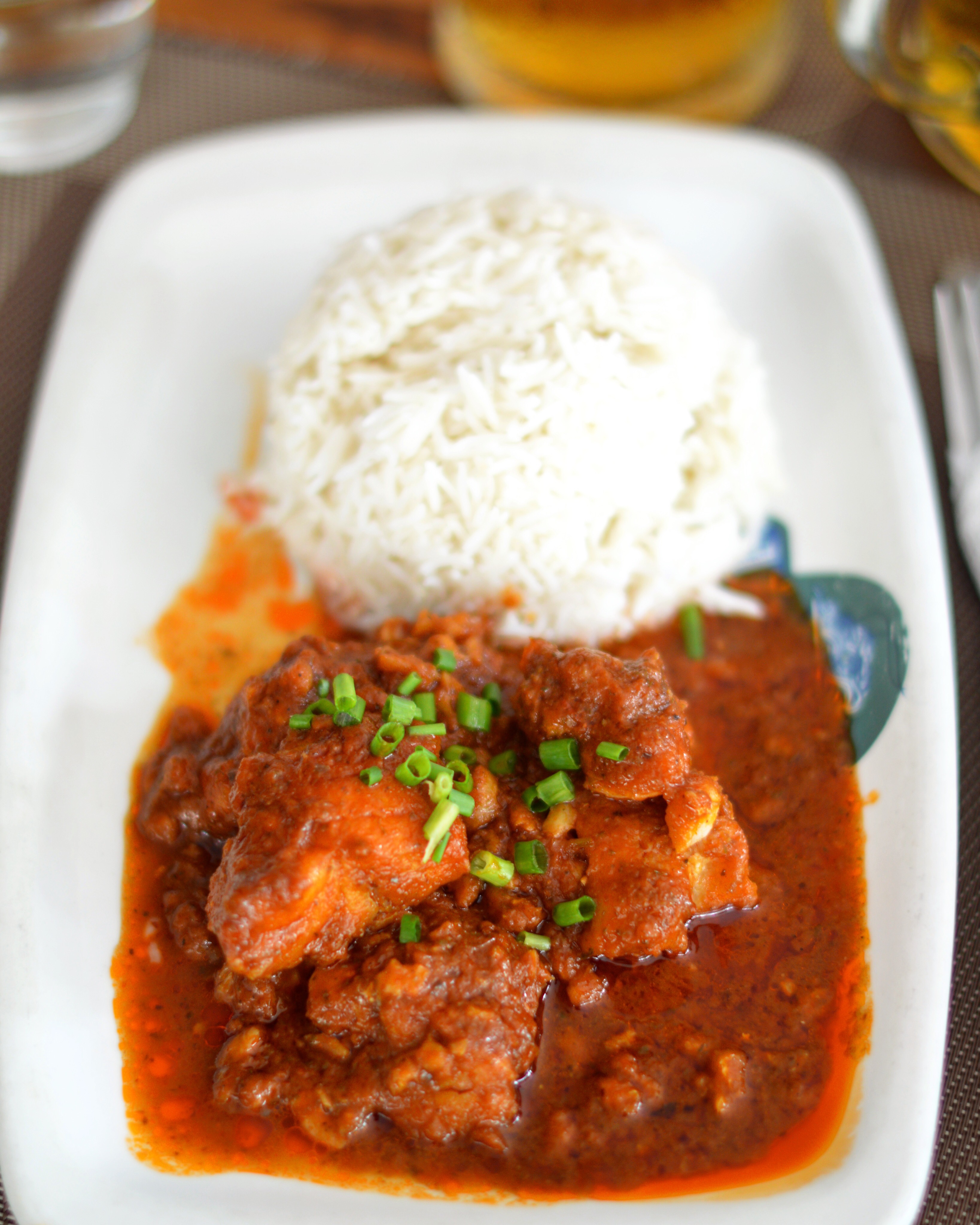 Fish curry at Ah Youn.
About 30 000 of Mauritius' population has Chinese descent, and from that stems a quite large number of Chinese-Mauritian restaurants. We went to Ah Youn where we both had a pile of delicious fried noodles, which did not last long enough for a picture, as well as above delicious 'Red Mauritian style' fish curry with rice. Prices were good and the place was packed with both locals and tourists.
Price
$$
Le Bougainville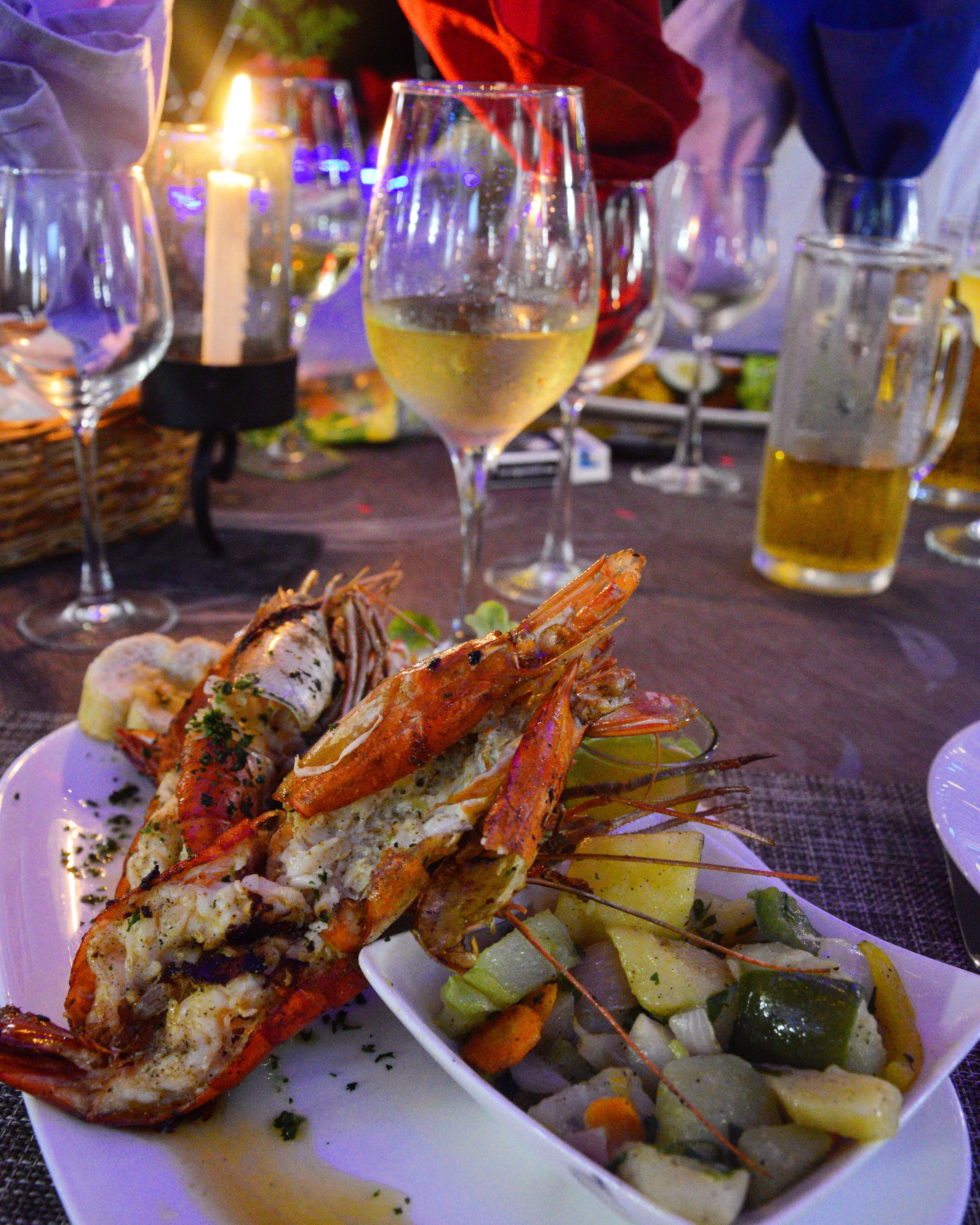 Prawns at Le Bougainville. A cozy, busy restaurant close to the beach. While the food was not spectacular – it lacked a bit of attention to the details during our two visits, the service is nice, the prices good and everything was still yummy, despite the odd overcooked tuna. We enjoyed both their giant prawns with garlic butter and the Mauritius favourite: Octopus curry.
Price
$$
Mafiozo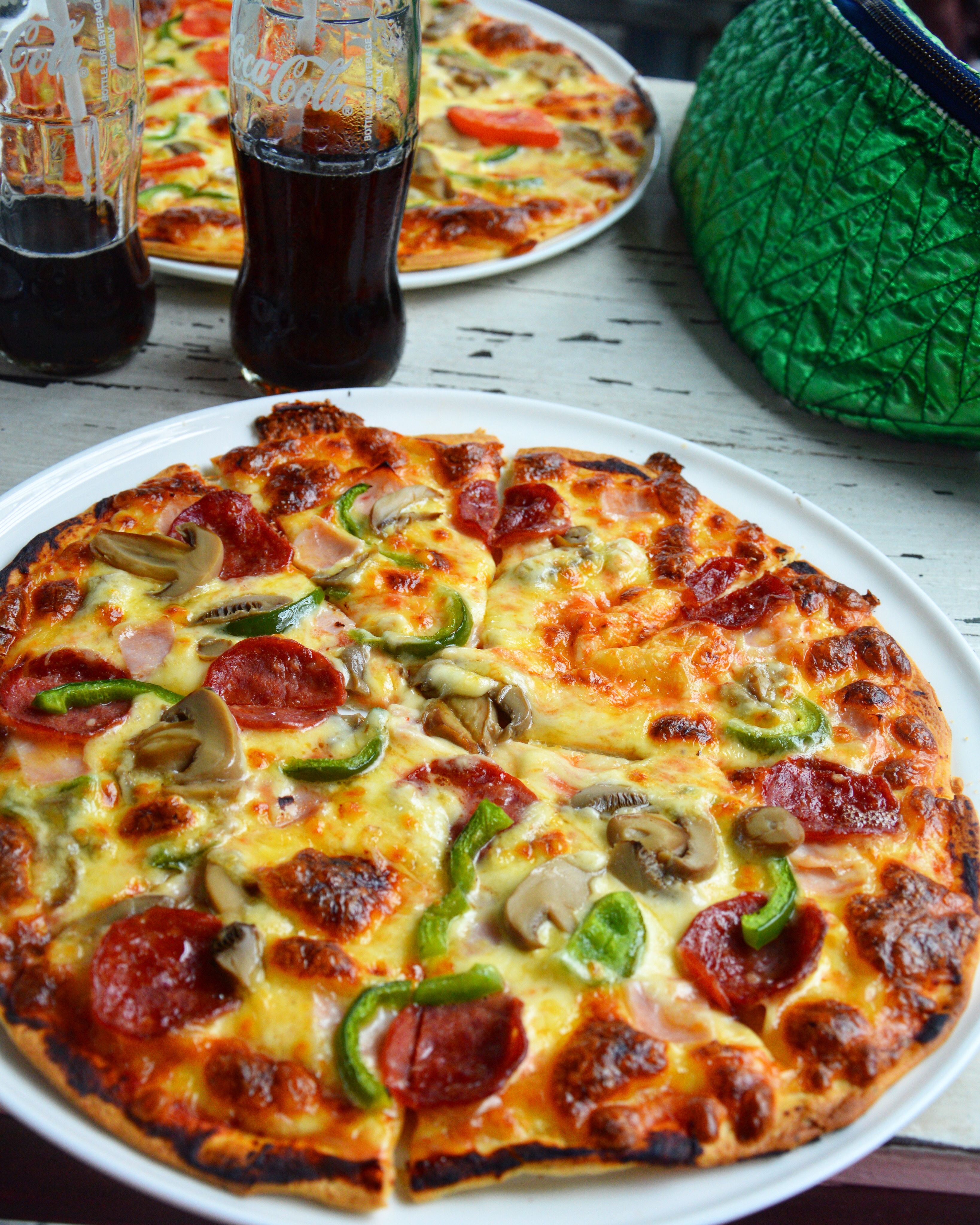 Pizza at Mafiozo. Loud music all day long, and generally much more a drinking bar then a place you go to eat. The pizzas weren't amazing in any way, but the place had a lively vibe, prices were decent, and in the end, even a basic pizza is still sort of good.
Price
$$ (About 400 MUR for a pizza).
Food trucks and stalls on Flic En Flac Beach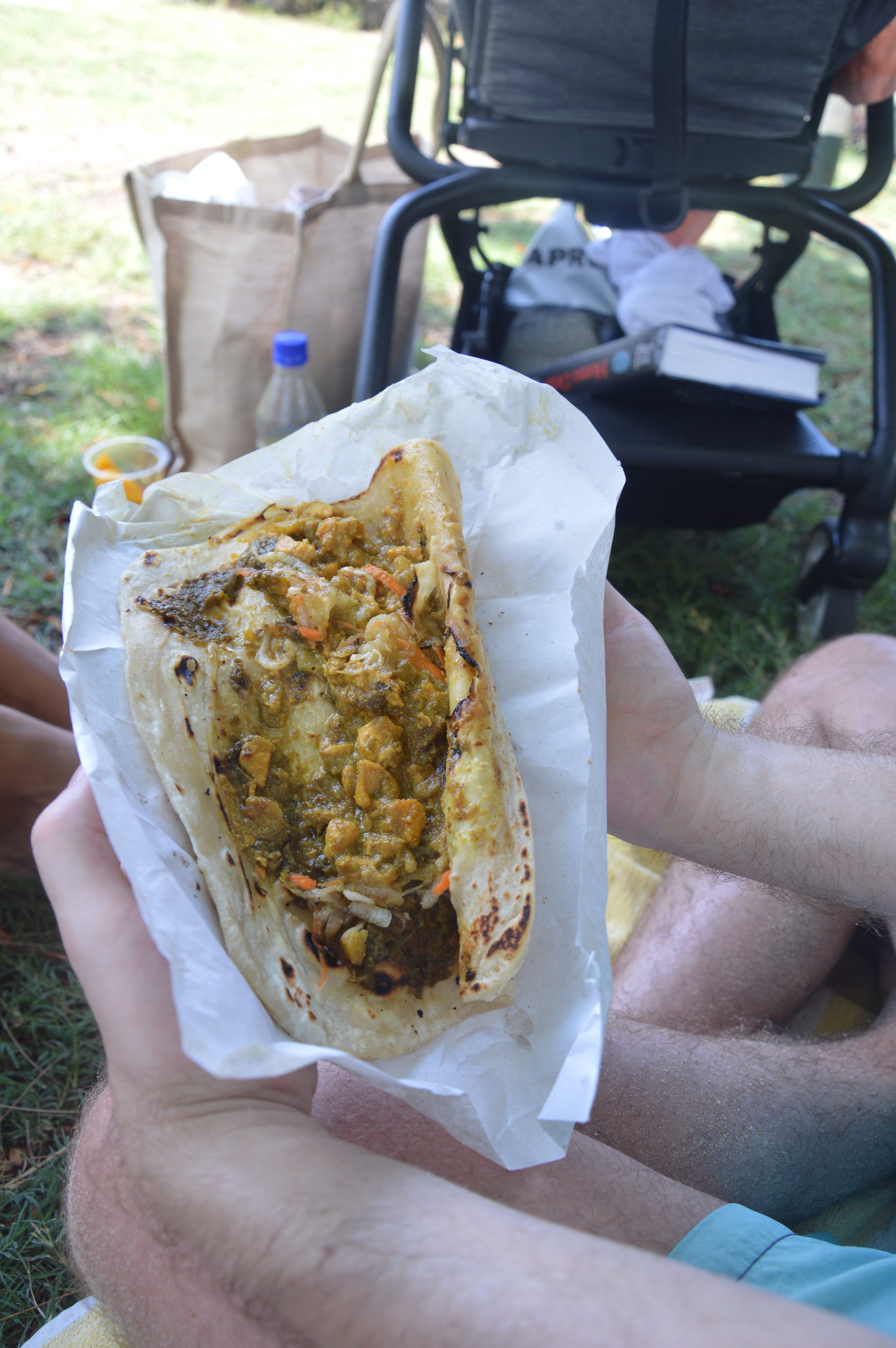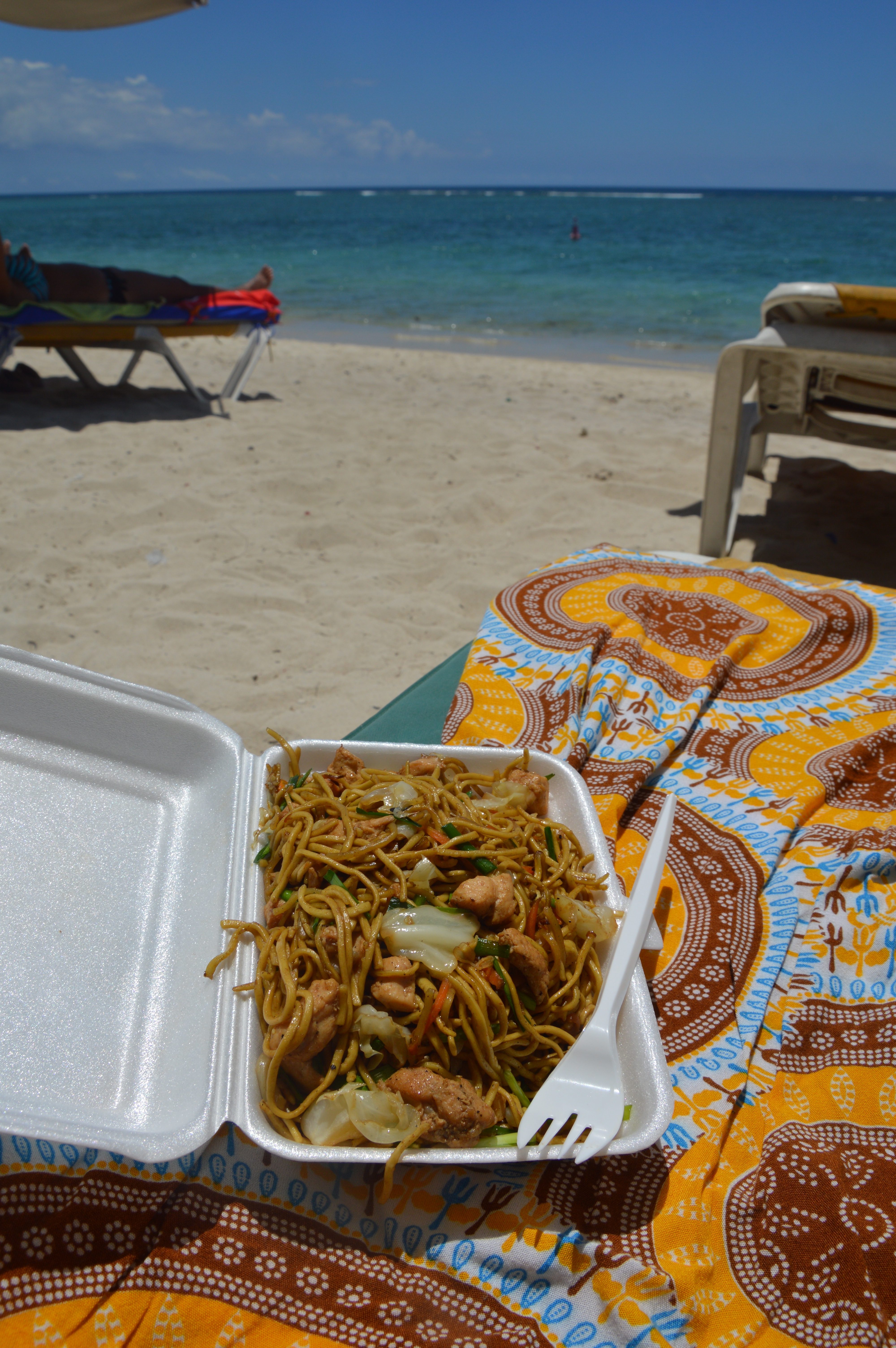 Gajak (snacks) at the beach in Flic En Flac from the various foodtrucks and stalls located there. First a roti bread filled with chicken curry, sauces and pickles from Vinoda aka Farata. Second is woked noodles from Chez Christelle. The roti was fantastic and we went there twice, the noodles were fine but the wait was long.
Chez Popo et Anais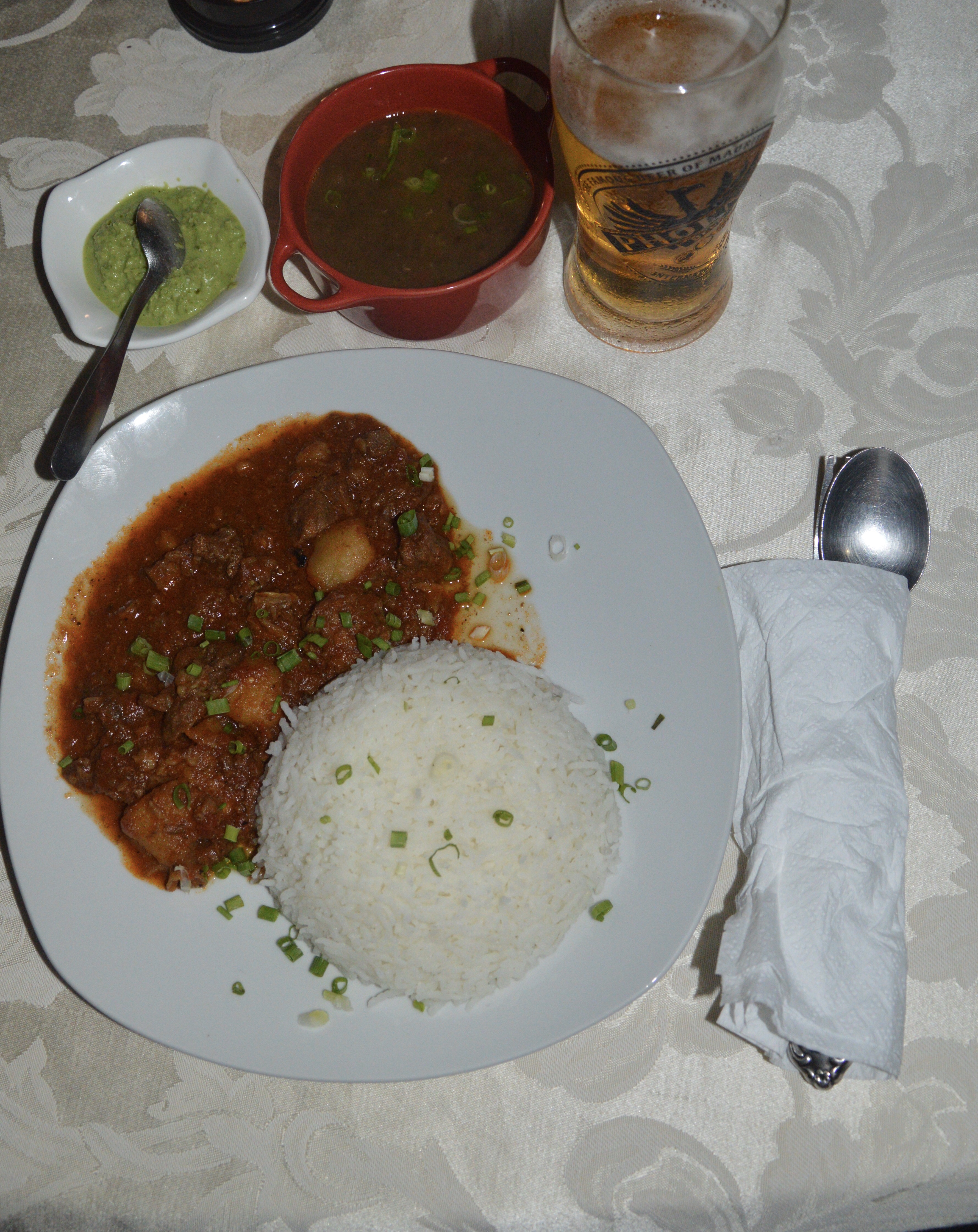 Set in a tiny alley off one of the main streets in Flic En Flac, Chez Popo et Anais is a cozy little family restaurant where you sit outside on plastic chairs, eating tonight's dish, cooked by a bunch of friendly ladies (you'll meet them as you cross the kitchen using their restroom in the house where they live). It feels like being invited for dinner in a local's home (which you basically are). There was one dish on the menu, a beef stew that was pretty good. What was really good was the complimentary side dish of dal lentil soup. We also received free fish beignets for starters, basically fish donuts made with locally caught dorado.
Price
$-$$
Sunset Garden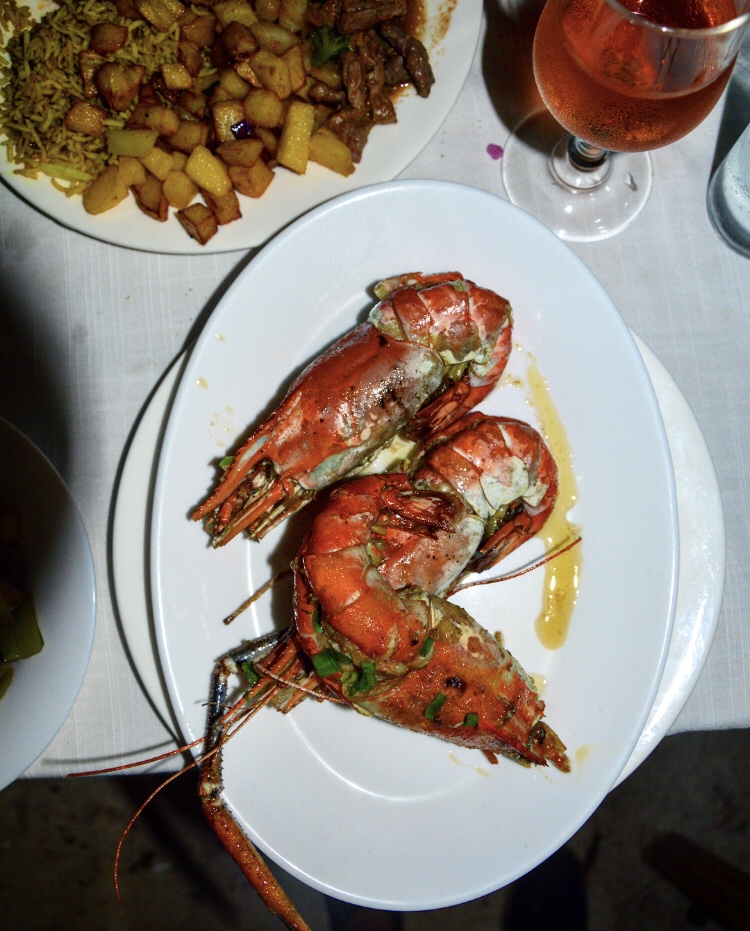 We did not visit during a normal night, but for New Years Eve where they offered a buffet. Firstly, the food we had was good, so I'd say that the kitchen definitely can cook and the food is probably nice during a normal night. But…
We arrived late around 9 pm (as we were told was perfectly fine when booking the night before) and some of the food was running out. Since we had paid roughly €50 or 2000 MUR a person for the buffet, we were a bit grumpy. For instance the main event, the giant garlic butter grilled prawns ran out entirely just after we got hold of one each from the last batch. The rest of the food was good, but mostly consisted of woks, rice dishes and so on. Not what you pay €50 a head for. To their defense they gave us a bit of a discount on the bill.
Chamarel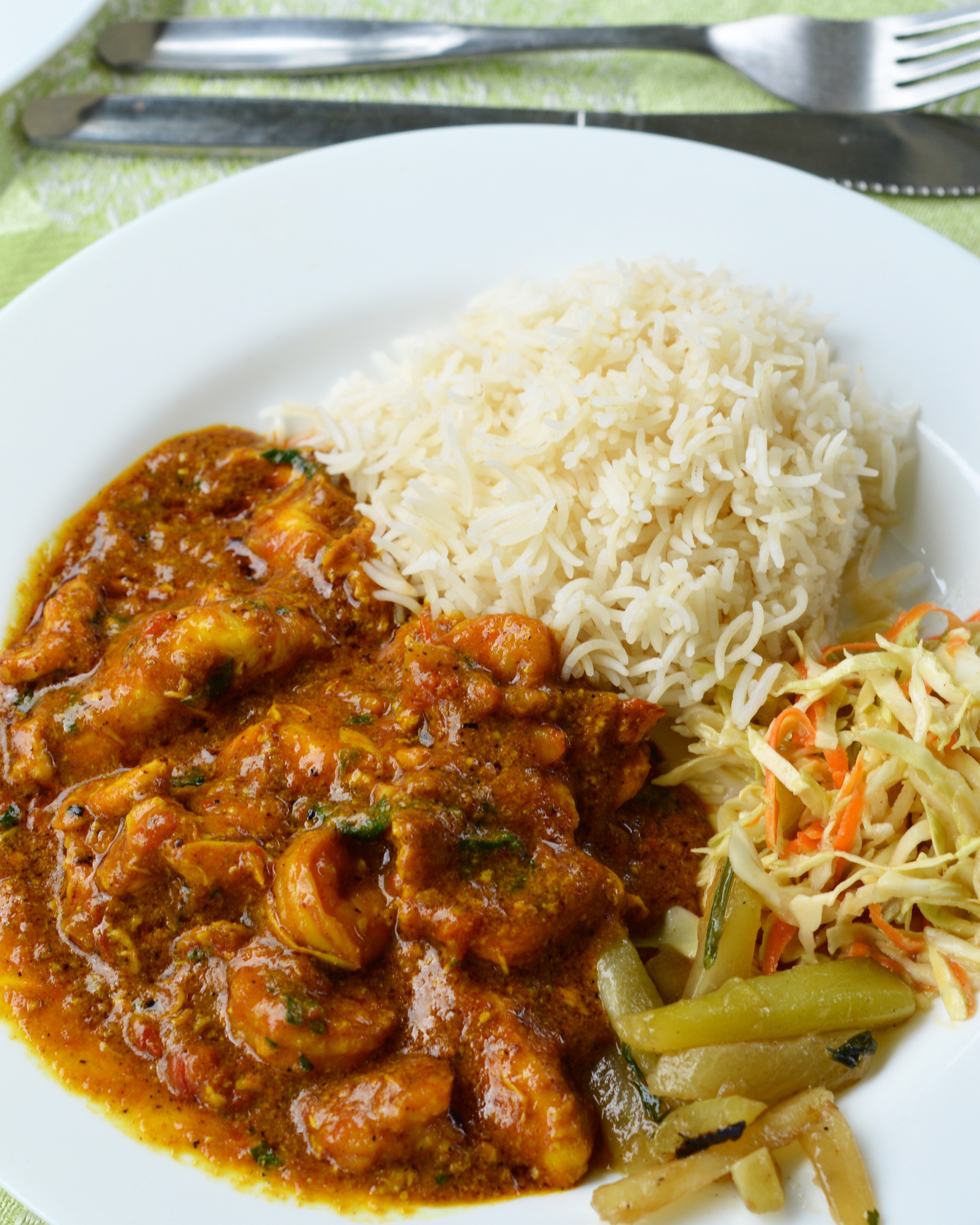 Prawn and chicken curry at a restaurant called something like Marmite de Chamarel. Expensive, but delicious. I guess a bit of a tourist trap, but food was surprisingly good. Located along the main road between the sights around Chamarel.
Le Morne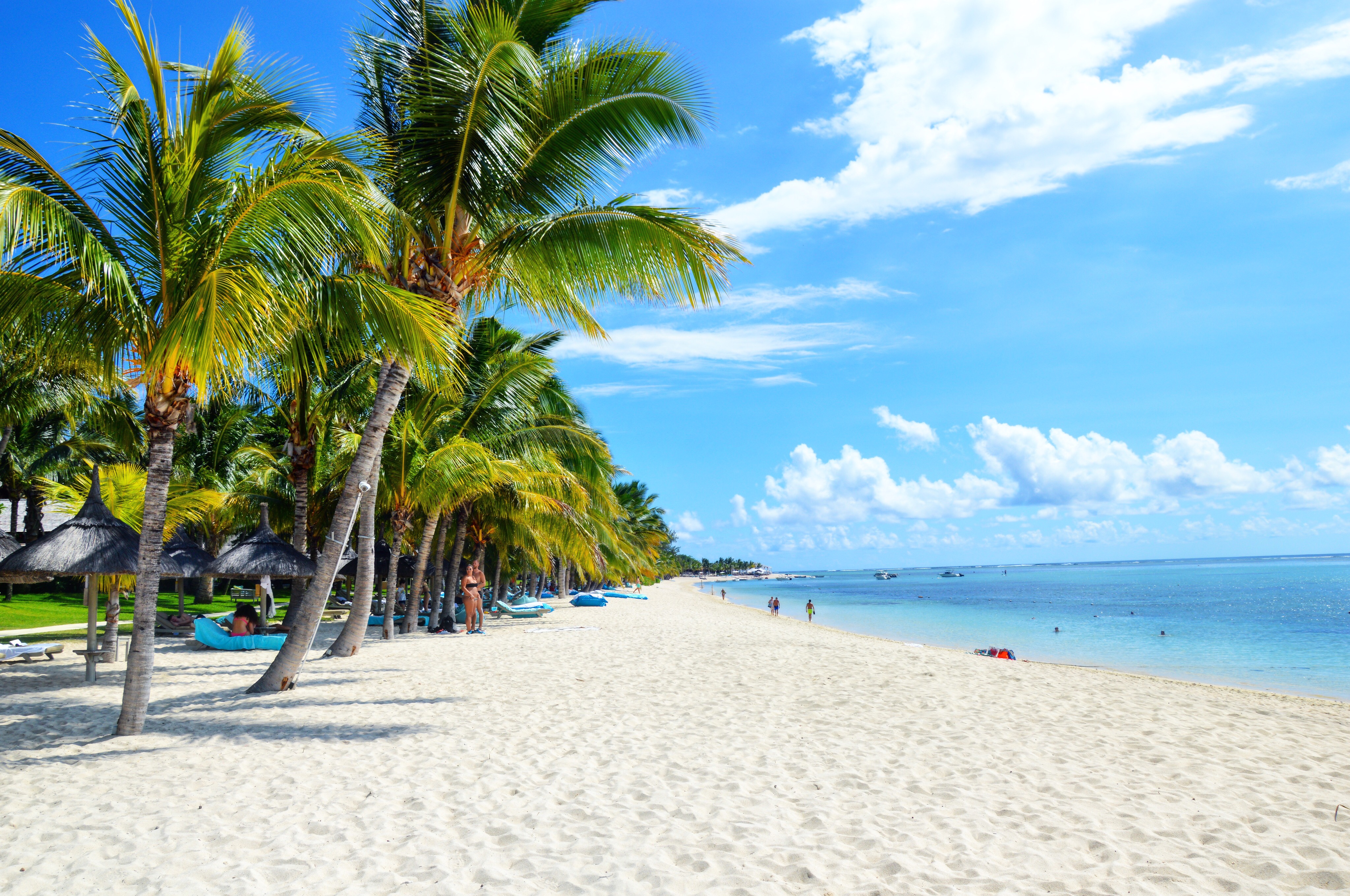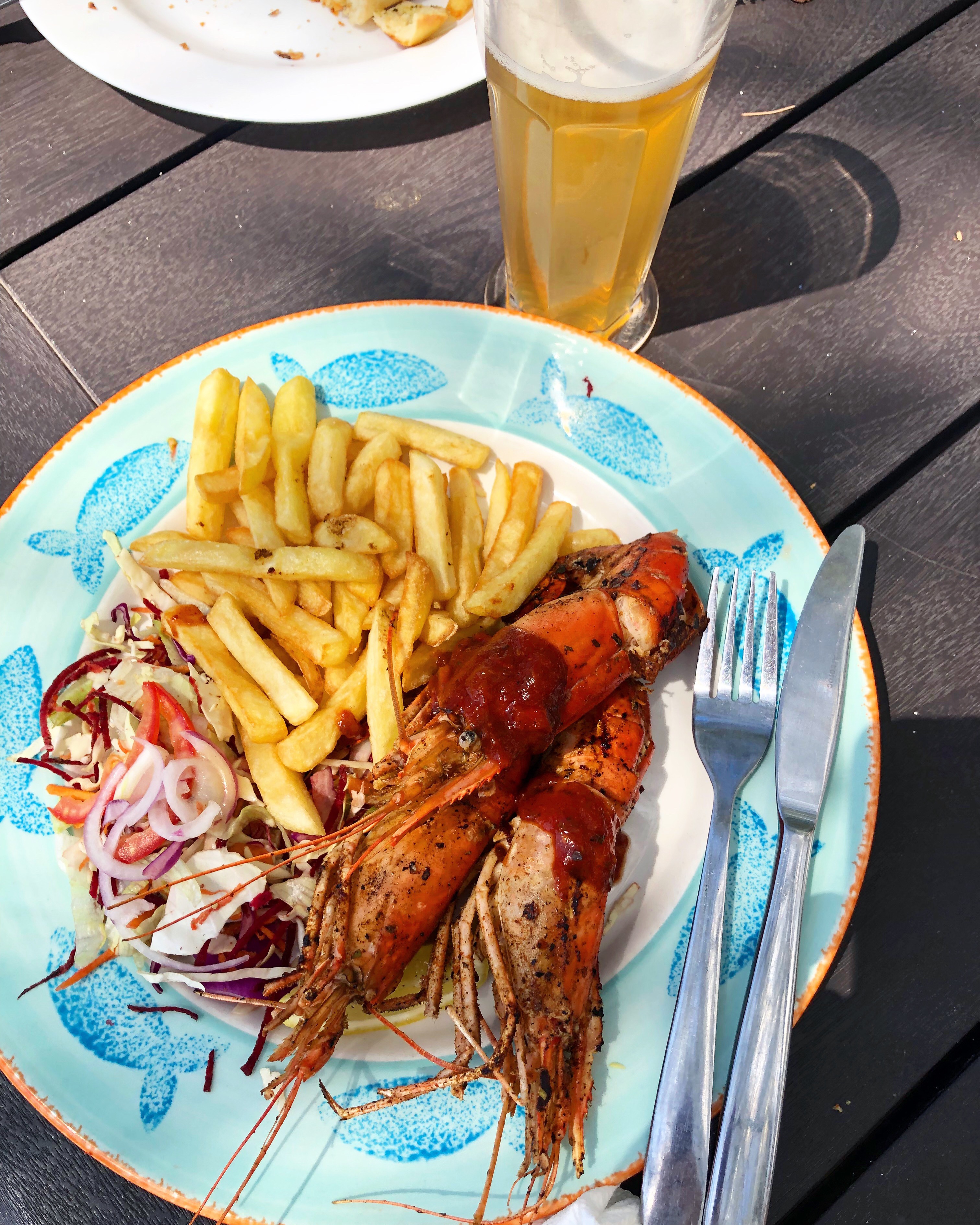 Embafilao
Giant prawns with chips and salad at Embafilao, a casual beach restaurant situated on Le Morne's public beach. The above view is just a minutes walk from where you eat. Here you can also enjoy the hard-to-find local Flying Dodo craft beer, a tasty wheat beerish brew that worked very well with the above dish.
Mahebourg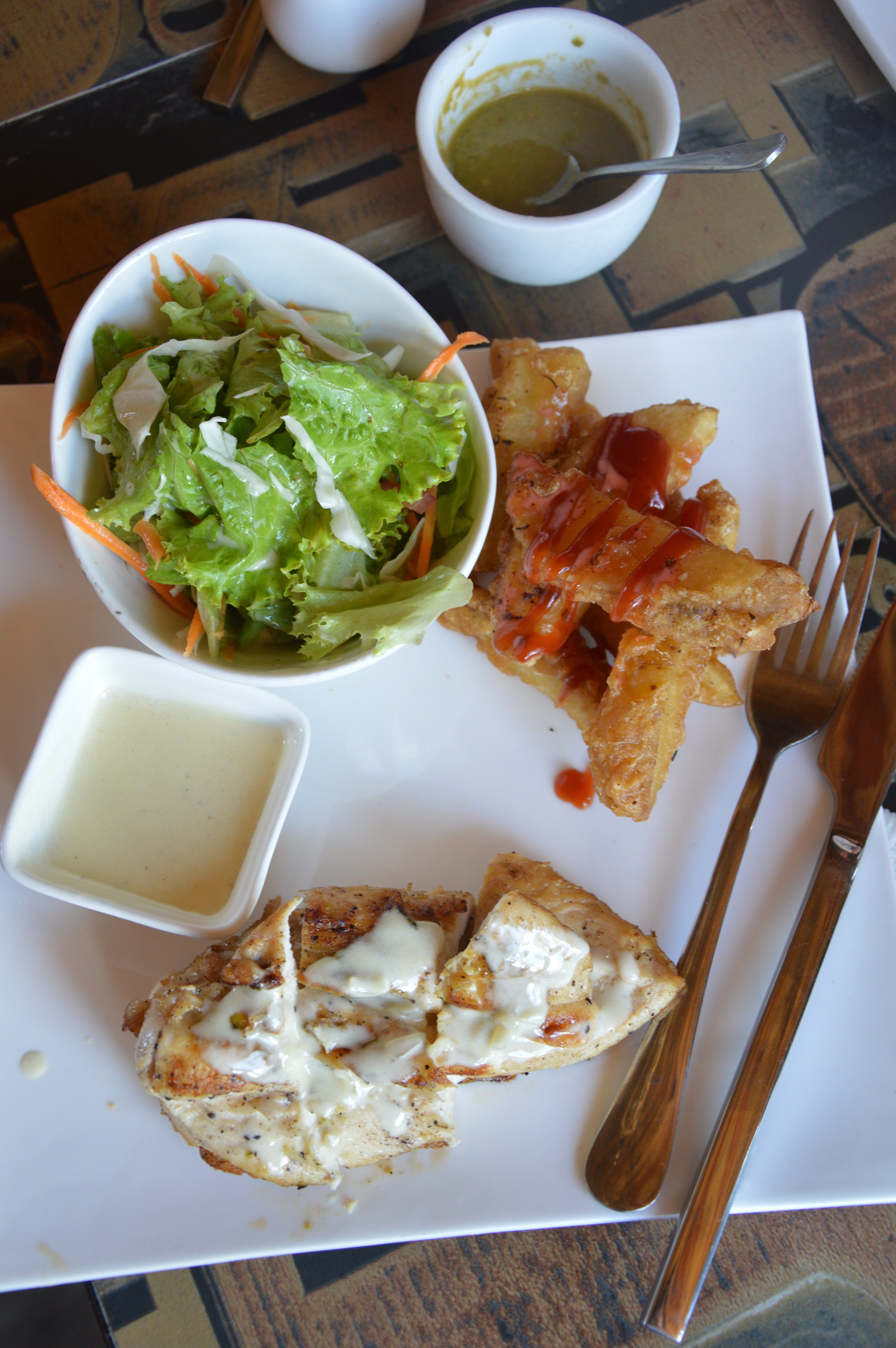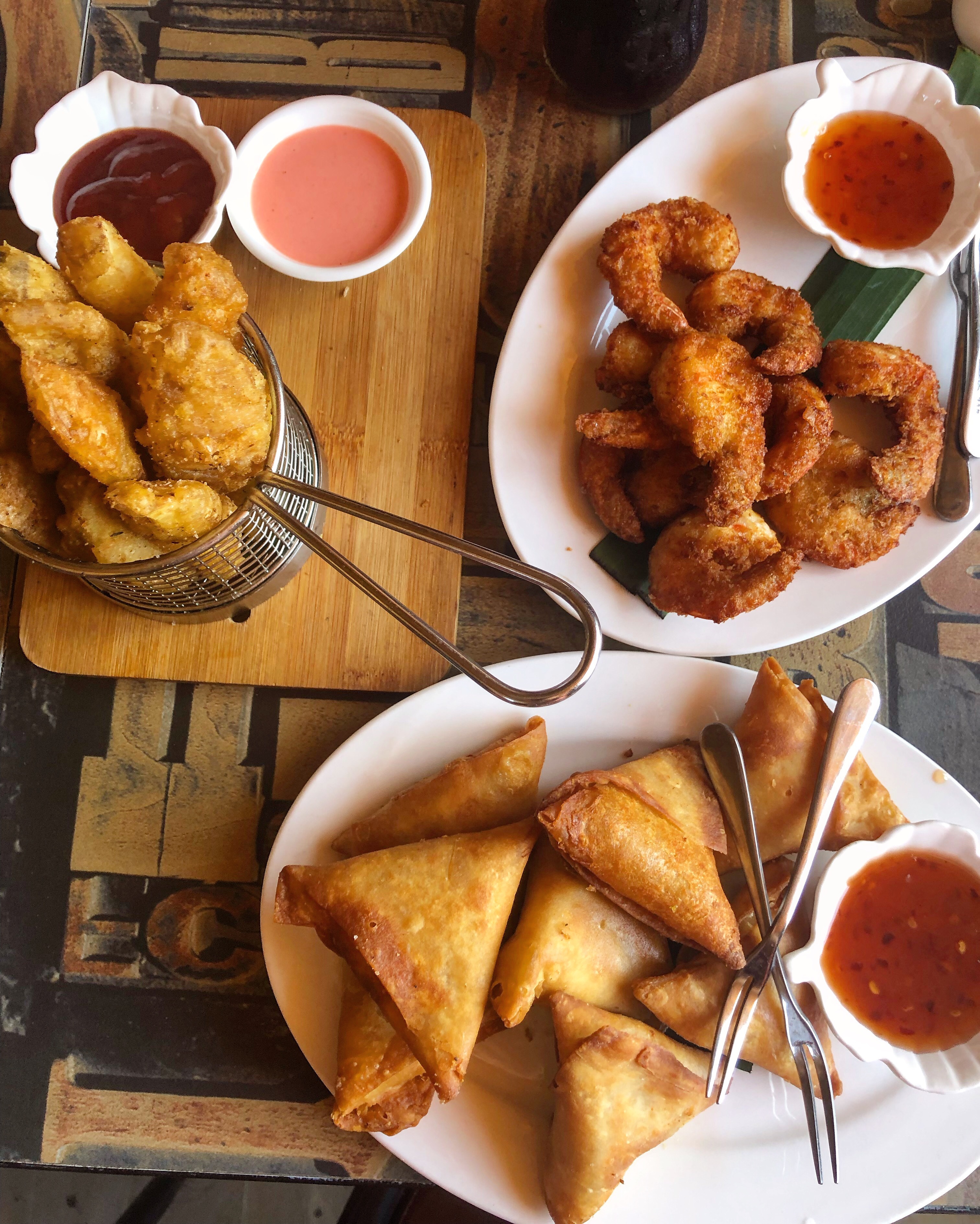 Le Bazilic
Situated in the quaint little town of Mahebourg; we enjoyed an affordable and delicious Creole lunch on our way to Pointe D'Esny beach on the Eastern side of the island. Above is first grilled chicken with garlic sauce and potatoes, and secondly our shared starters of Creole potatoes with tandoori mayo, battered and fried prawns as well as delicious fried samosa pasties.