Since visiting Fiji a couple of years ago while living and studying in Sydney, Australia, I've had a desire to visit more island paradise places. Fortunately for me, we had a trip for a friends's birthday in Thailand coming up in March, earlier this year, and managed to find a ticket that would take us from Stockholm to Male, the capital of the small island state of Maldives, and then back from Bangkok to Stockholm for less than $800 a head. After finding another good deal on IHG's website for a four day stay at Holiday Inn Kandooma ($250/night for two) we were on our way!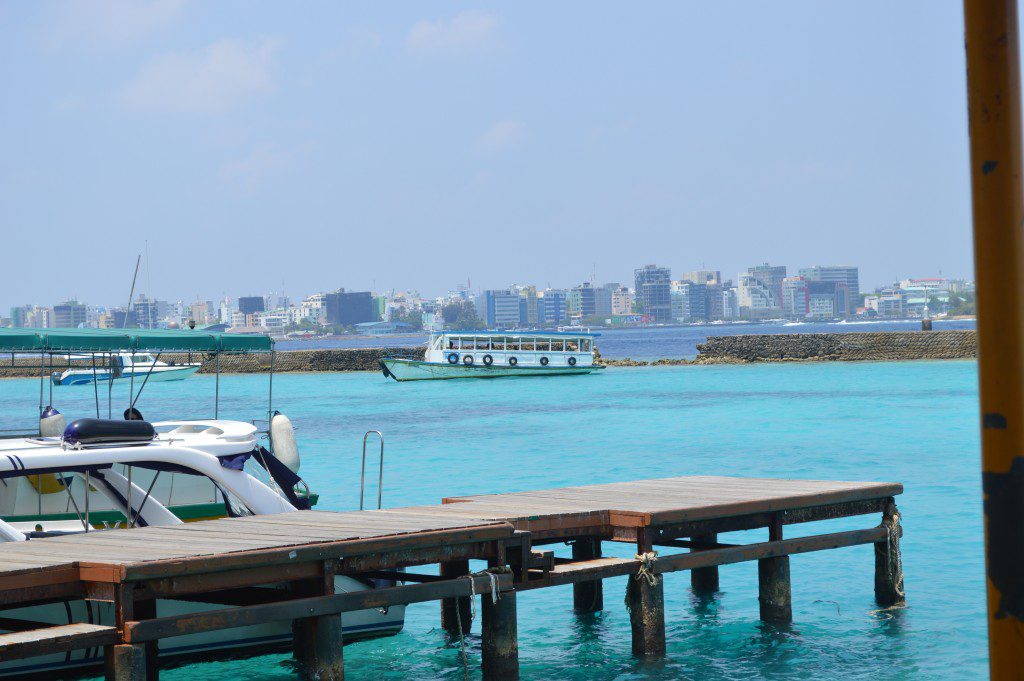 After a really nice, slightly boozy, flight from Stockholm to Dubai (the four of us going to the Maldives managed to end up on the same plane as two other friends headed for the party in Thailand) we touched down in the capital Male, a really stunning place in itself. But we were going further and boarded a hideously expensive boat transfer straight away after picking up our bags in the airport. The hotels, at least the resort islands, do in many cases have their own counters in the airport, so you just walk there and they'll take you to your boat. This was the case for us, going to the Holiday Inn Kandooma, a 45 minute boat ride from the airport.
Kandooma Island
The island of Kandooma is pretty much paradise. White beaches (three of them), crystal clear water, tropical fishes, and no crowds. Most other visitors to the island seemed to hang out near the pool and beach adjacent to it and the lobby area where the restaurants were located. So we pretty much had one of the beaches to ourselves. Perhaps because this was close to where the small reef sharks swam (yikes).
The food
The one problem with finding a semi-bargain trip to The Maldives is that it's not really going to be an affordable trip no matter how much you try. The prices for food on Kandooma Island was priced from roughly $20-25 (plus the 21 percent ++ tax) for something like a burger, a pizza or a pasta to about $60-70 (++) for a steak at the island's fancy restaurant The Kitchen. We tried most option except for the buffet restaurant which charged around $60++ for an all you can eat buffet each night.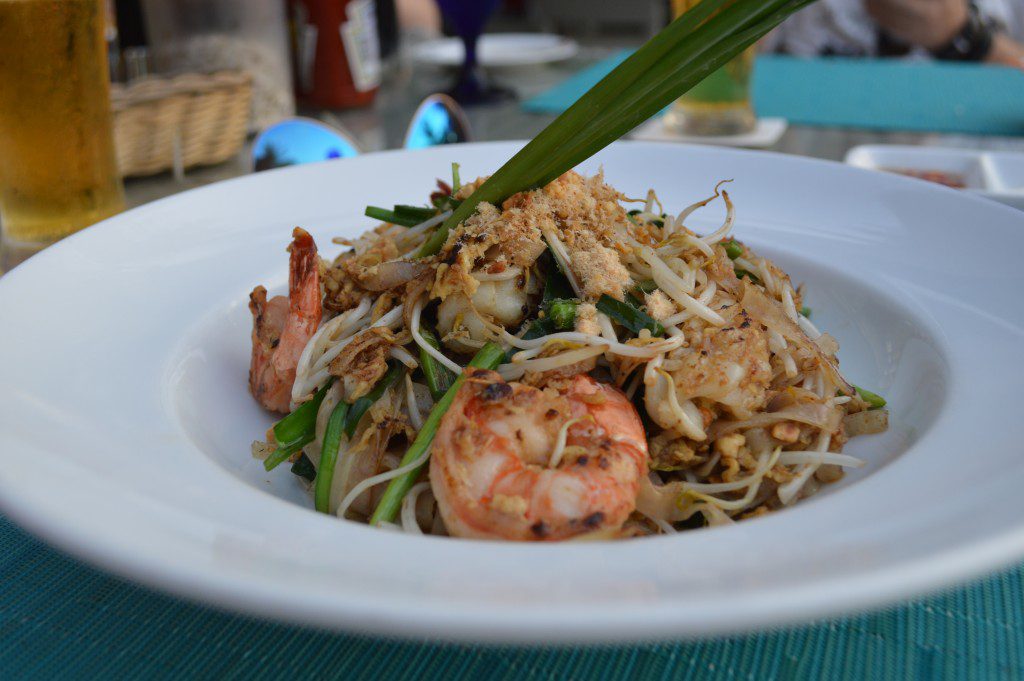 Pad Thai in the Bokkuraa Coffee Club. The island least expensive place. Still expensive though. But at least the food was tasty, nicely presented and you got enough of it to get full, which is always a plus at $25 a course. 🙂
Of course I had to sample some local stuff. This was a Garudhia soup – a clear broth – with slow cooked tuna, lime, chili and garlic. Served with rice it was decently filling and really nice. Especially the slow cooked tuna was peppery and delicious.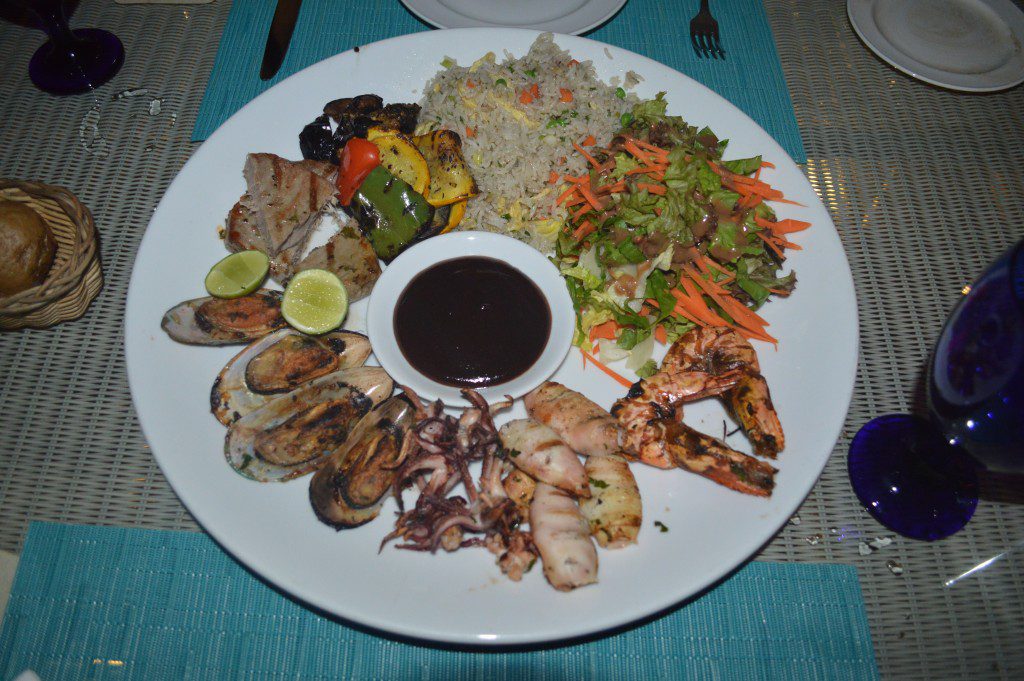 A local "Dhoni" or fisherman's platter with tuna steak, grilled prawns, mussels, squid, fried rice, grilled vegetables and salad. The fish and seafood could have been a little more carefully cooked. But still a quite unbeatable plate of food given the location and atmosphere.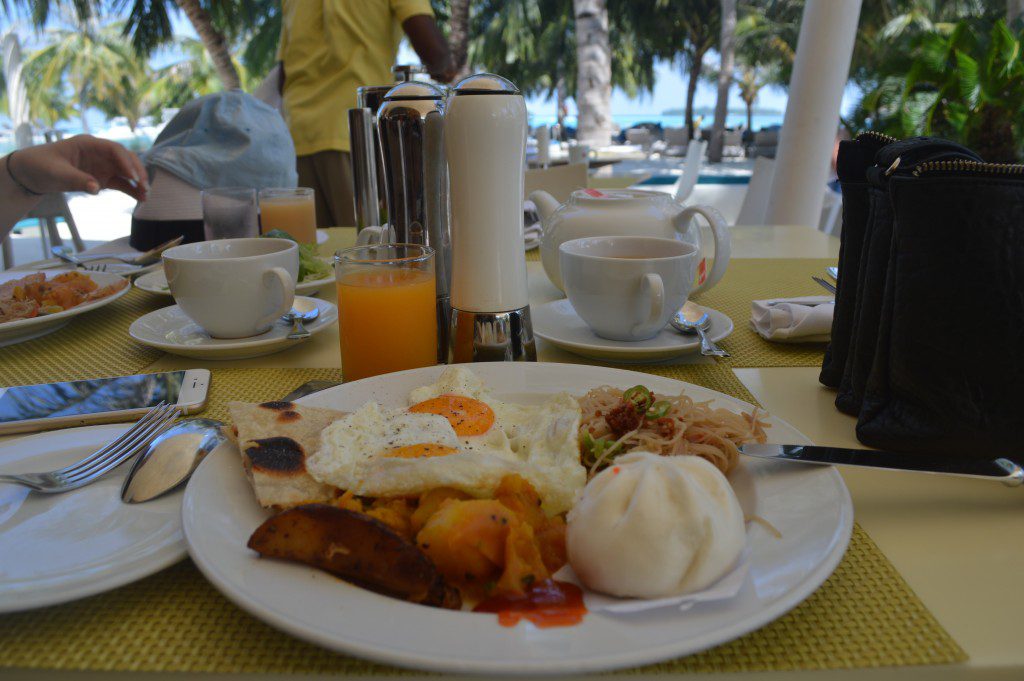 Fortunately for us cheapskates, breakfast was included, and this is where we really pigged out. Breakfast was served until 10:30 am each day, and at 10:00:ish we dove in. The breakfast was really one of the best I've experienced. Especially if you wanted to fill up to be able to avoid having lunch, saving ourself 50 bucks or so. There were dumplings, eggs, rotis (made a la minute by a dedicated roti chef), delicious curries, noodles, bread, pastries. Everything was really fresh and well made, and the chefs seemed to really enjoy what they did.
The Kitchen
The reason why we visited the Maldives in the first place was that we were on our way to Thailand to celebrate one of our friends turning 30. Since the soon-to-be-old friend was with us visiting the Maldives we of course had to celebrate the actual birthday as well, even though the big party was to be in Thailand a couple of days later. The fancy restaurant on Kandooma Island was called The Kitchen, and to The Kitchen we went.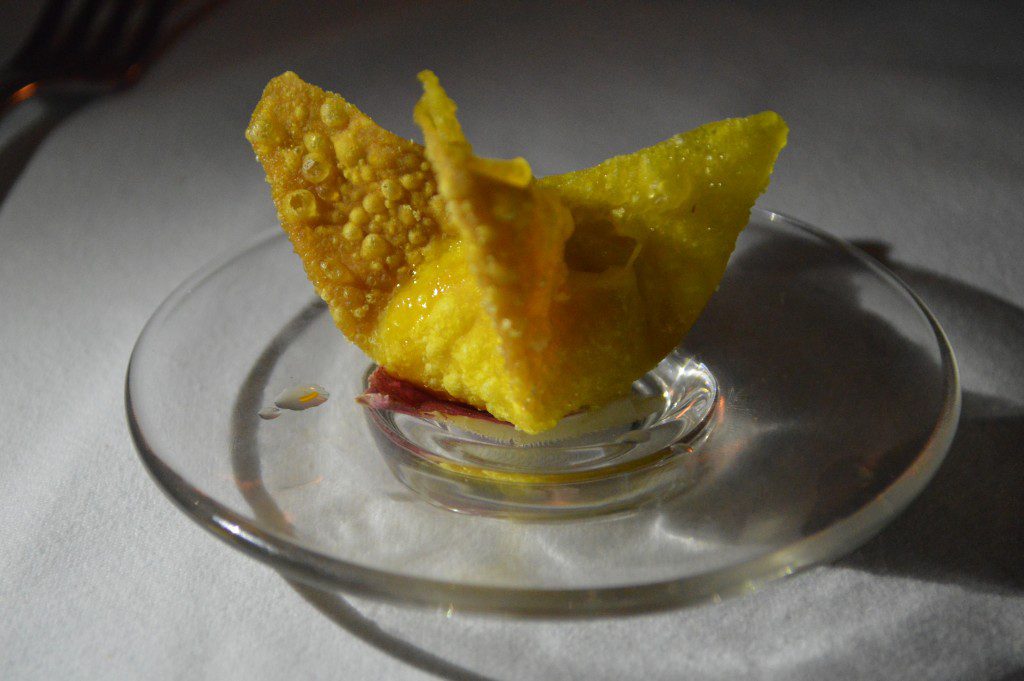 First up was an amuse in the shape of a deep fried seafood and chicken wonton. Tasted like it looks. Nothing spectacular.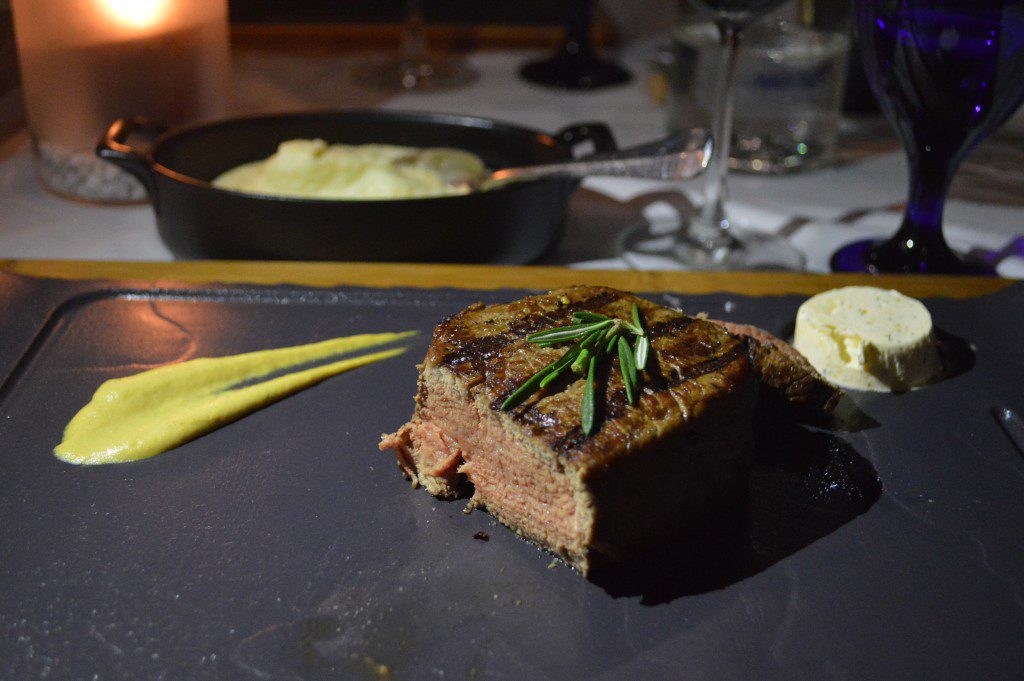 A delicious Black Angus tenderloin with herb butter and garlic mash. Crazy expensive but so, so good.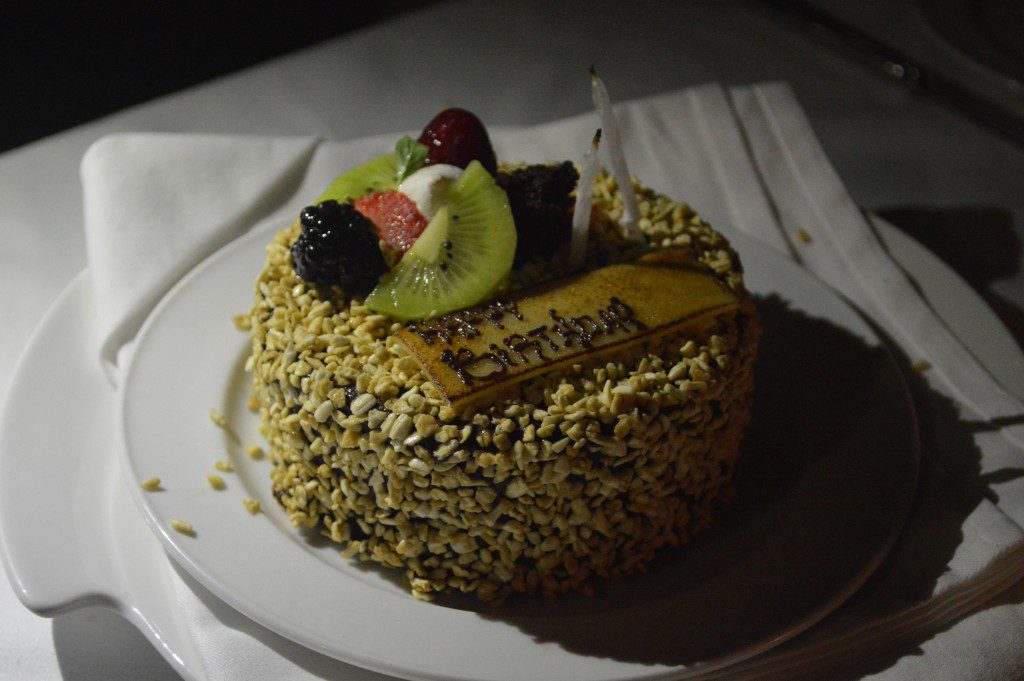 And finally a complimentary happy birthday cake. One thing should be pointed out though. Food was really expensive, but fortunately drinks weren't as bad. A beer was $5 and a bottle of wine about $40. So while still expensive, not as crazy expensive as some of the food.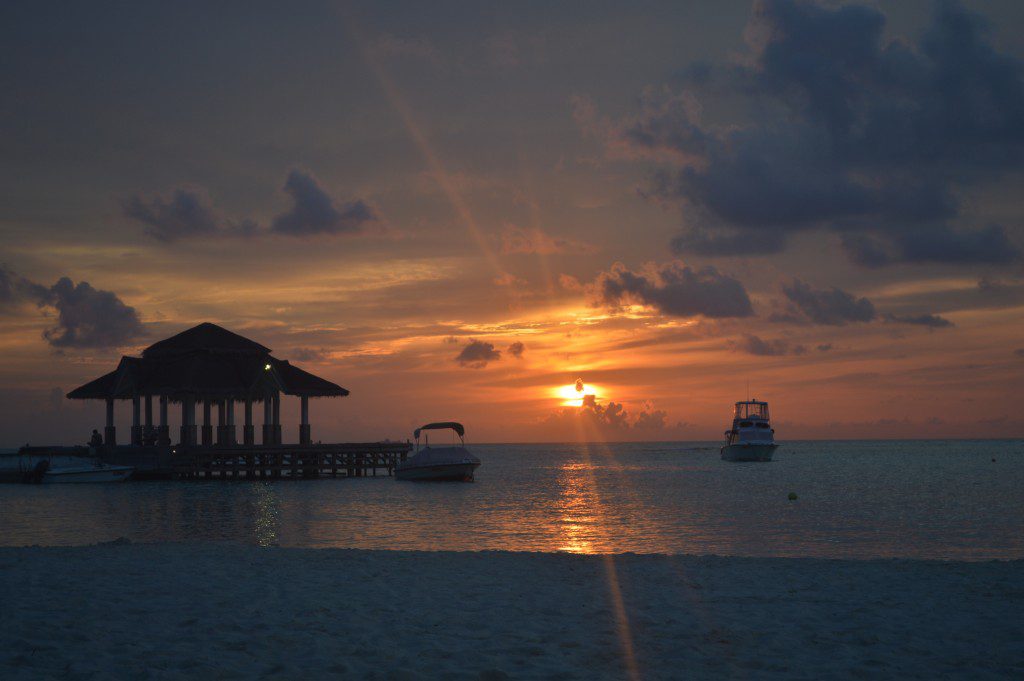 Well, after four days of lazying on the beautiful beach, eating lots of delicious food (and enormous amounts of the complimentary snacks that came with beer purchases) we boarded our boat back to the airport and flew off into the sunset to the "land of smiles".
If you want to read my TripAdvisor review of Holiday Inn Kandooma. You'll find it here.