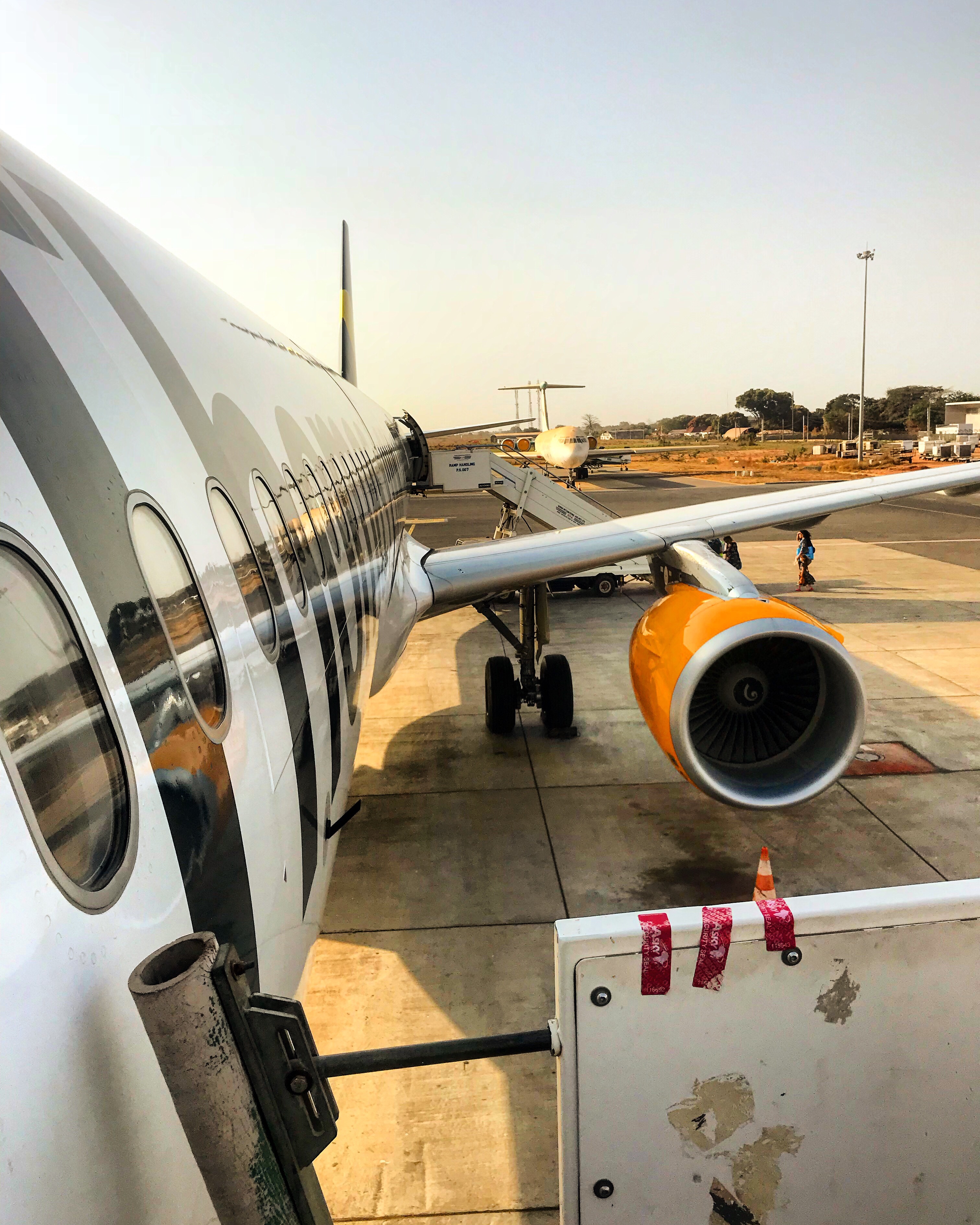 Just a short review of our trip with Thomas Cook Nordic from Stockholm to Banjul, Gambia via Las Palmas in their Airbus A321 (booked trough Swedish tour compamy Ving).
When previously flying to Cape Verde with Thomas Cook Airlines, they put us in their large twin aisle A330 aircraft. Hence, I was a little surprised when we booked a trip to Gambia, which is about the same distance, but for this trip the much smaller single aisle A321 is used. Unlike the larger aircrafts, there's only economy class onboard, but you can "upgrade yourself" with extras such as seat pairs, fancier meals and proper champagne to make the trip a bit more bearable.
Seat pairs
To get some extra privacy we pre-booked one of four seat pairs (rows 10 and 24) for about 500 sek for two, one way. The problem with these seats though is that you are right in front of the emergency exits, meaning no window, and that you, when seated on the right hand side also sits next to the crew seat. That is not a great concern, but it means that the crew will slam down next to you the few seconds before take off our landing.
Crowded for such a long flight
The plane, since not really intended for such a long flight as Stockholm-Banjul (about 9 hours), feels quite crammed. There are four lavatories – one in the front and three in the back. And since it's a "charter" flight, people tend to drink quite a lot, and hence there's usually a line, especially in the front.
Thomas Cook Airlines Onboard Menu
I usually like to read onboard menus before traveling, must like because I'm a total geek. But if you're like me: here you are.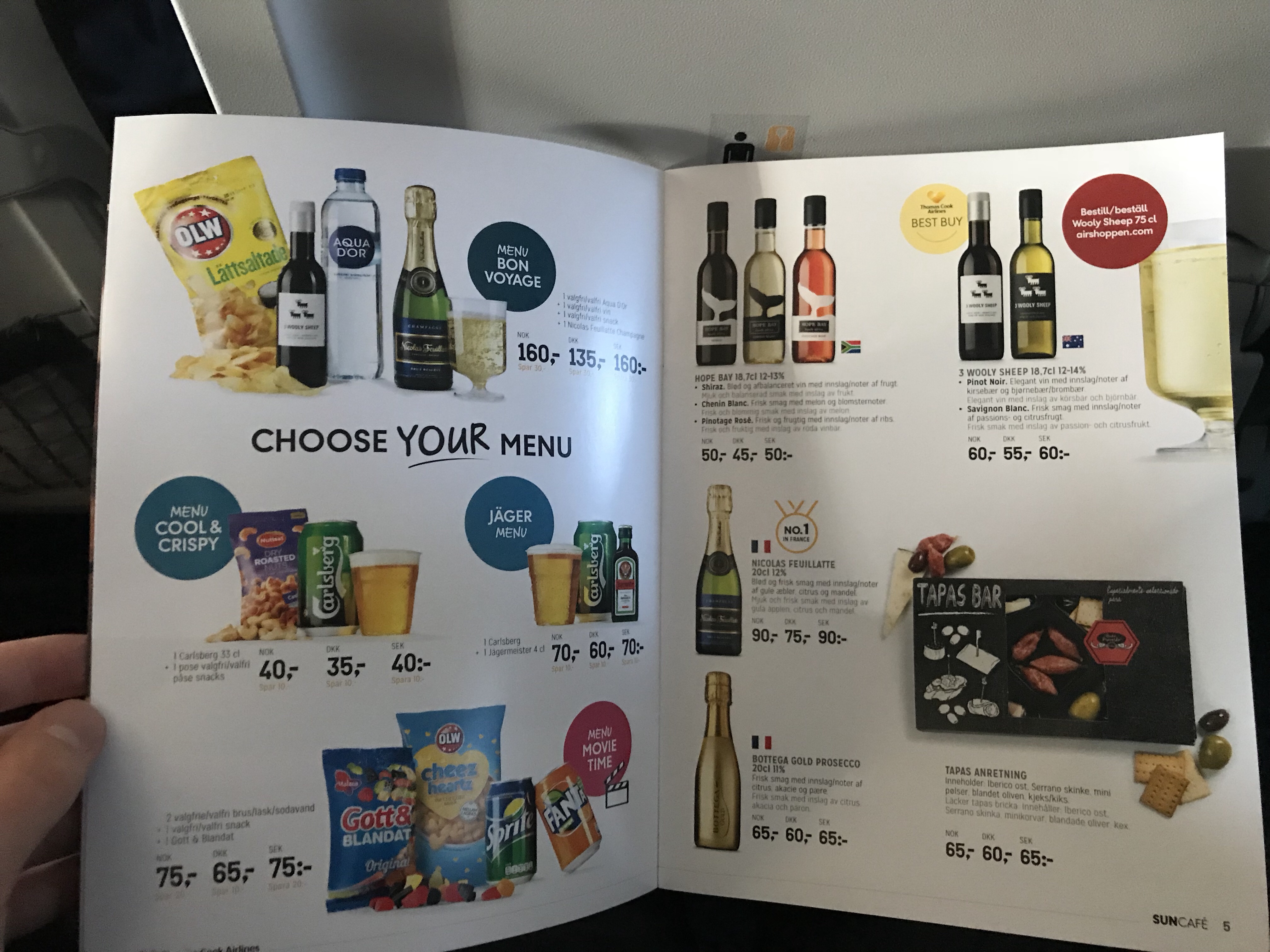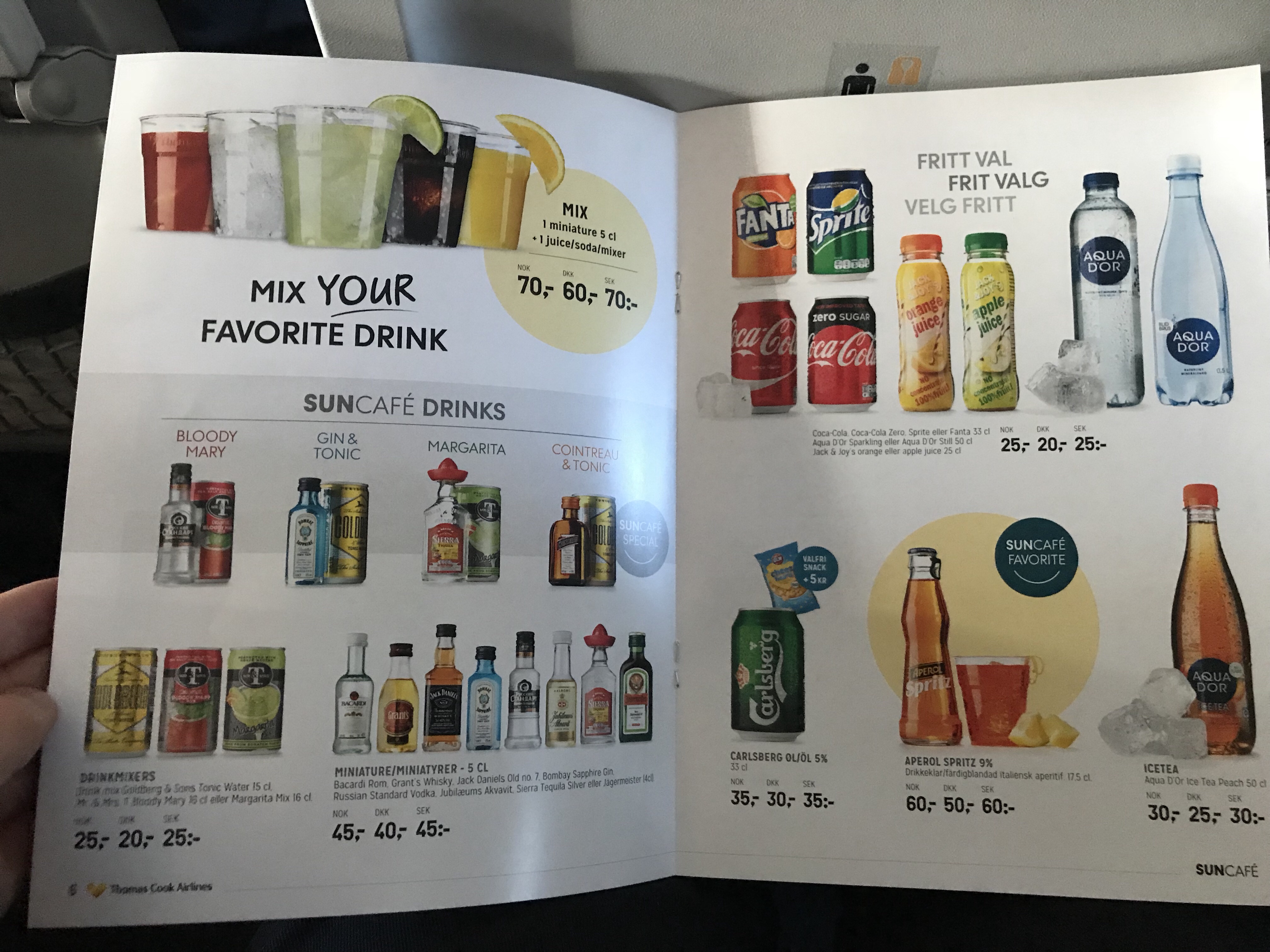 Food onboard
We opted to upgrade to a 'Royal Meal Meat' which is 295 sek per person. It is quite steep, but then a drink of choice (except champagne) is included, so in the end it is 130 sek (€14) more than a regular meal and a beverage – in my mind it was worth it. The Royal Meal came on a tray with 'real' porcelain bowls and plates, and all dishes were served at the same time. First up was a Swedish Skagenröra, meaning a shrimp, dill and mayo salad, and some sliced salmon. Both were surprisingly good, especially the shrimp salad. Warm bread was also served. Second was a "grilled", it actually had decent charr marks, beef fillet served with green peppercorn sauce and potato gratin. As usual, the meat was quite cremated, but flavours were good. After that was a few slices of nice quality cheese, crackers and a few pieces of fruit (grapes and dried apricota). Finally a square of a really nice mint-chocolate cake that would've been yummy even outside of a plane. This was washed down with Nicolas Feuilatte champagne (90 sek) and Wooly Sheep Pinot Noir from New Zealand (60 sek). Credit to Thomas Cook for providing decent wine onboard!
On the shorter leg to and from Banjul, a small complimentary meal was served. Bread, pastrami and coleslaw on the way to Banjul. Pasta salad, salmon and bread on the way from.
Las Palmas Stop
Since the plane is so small, it has to land on Gran Canaria for refueling, adding about two hours to the trip. On the way there, we just sat around in the plane while refueling. On the return flight however, we had to de-board, go through passport control and security check before reboarding. As I understood it though, this was an exception due to planned service of the plane we arrived in. We kept our seats as it was the same plane model but obviously had to remove all our stuff from the plane.
Did we survive?
All in all, the flight to The Gambia was pretty much a breeze since it's during daytime. We brought and Ipad, ate our upgraded meals and drank champagne. The return was worse though as the plane is tiny and you fly home at night, meaning you'd probably want to sleep. It was nearly impossible to find a surviveable sleeping position (and I'm not a tall person). Since we had the crew seat next to us, there was no window to lean on either for extra support. But, it is still about 8 hours of flying in total, so of course we survived, and it was absolutely worth it to visit amazing Gambia.