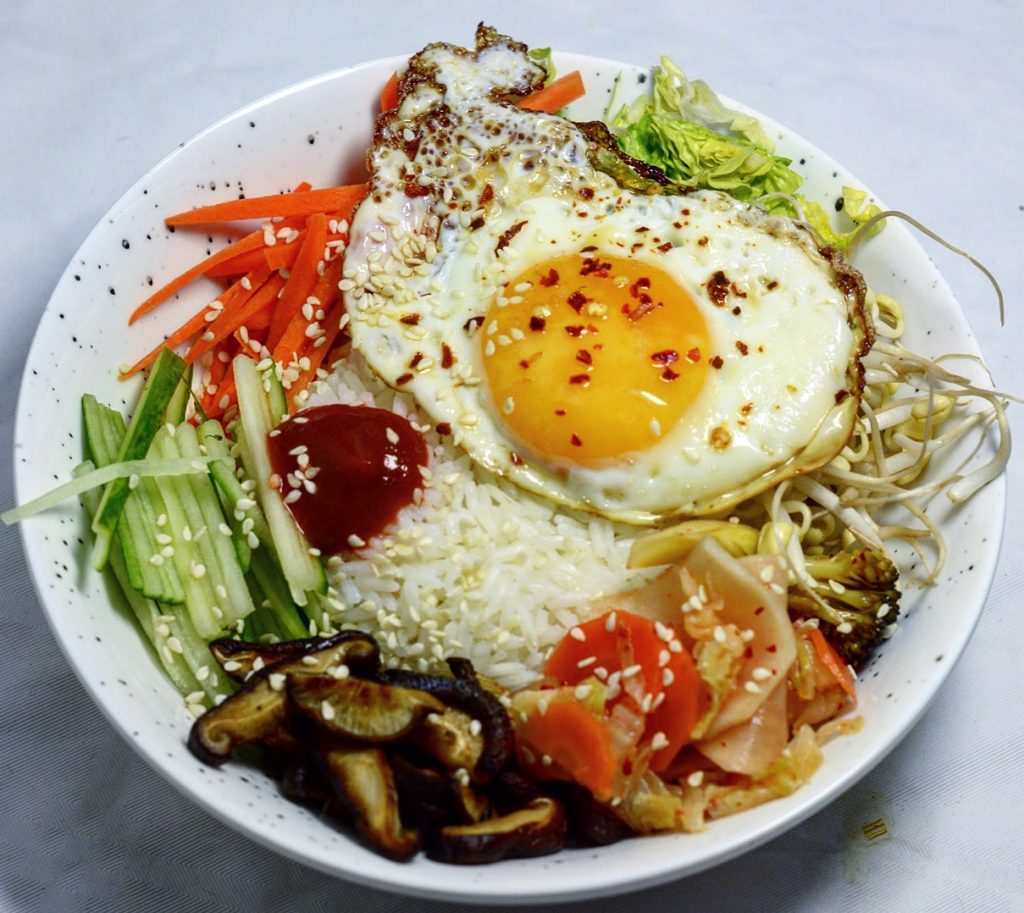 Bibimbap (비빔밥) is a Korean dish that literally means mixed rice. The first time I had bibimbap was in Tokyo after a quite amazing chance encounter with an old family-friend at Shinjuku Station in Tokyo during rush hour. After realizing that us, two Swedes, had run into each other at one of the busiest, most crowded places in the world, not to mention other side of the world, we went for bibimbap.
The bibimbap was served proper Korean style in a hot clay bowl, meaning that the rice and veggies were still cooked as the dish arrived at our table. We then mixed the rice with the also included raw egg, raw and cooked vegetables and hot chilli sauce. The result was a crispy, spicy, semi-warm rice dish with fresh crunchy vegetables (and probably some meat).
Bibimbap can be quite ambitious, with hot bowls and lots of different items put in it, or just a basic 'mixed rice'. The common denominator is that it is always delicious.
Above picture and below recipe is of and for a homemade quite easy-to-make, no fuss vegetarian bibimbap. If you want it meatier you could easily add sliced chicken or beef, or maybe salmon.
What you need for the bibimbap 2-3 persons)
2 carrots
1/2 cucumber
4 eggs
4 dl (1,75 cups) of Jasmine rice
2 stems of scallions
Hot sauce or gochujang chilli paste (you decide how much ?)
1 jar of Kimchi (buy pre-made, making your own is quite an effort)
400 grams of Shiitake mushrooms
2,5 deciliters (1 cup) of sliced lettuce (eg. Iceberg)
Sesame seeds
Neutral oil for frying
How to cook the bibimbap
1. Cook the rice until done.
2. Julienne (eg. slice into thin strips like above photo) the peeled carrots and cucumber.
3. Slice and fry the shiitake mushrooms until golden brown and cooked through. The stems are bit though, so remove them if you don't like that. They taste great though.
4. Slice the iceberg lettuce and the scallions.
5. Fry the eggs.
6. Plate. Put rice in the bottom of a bowl, top with veggies, kimchi, eggs and hot sauce. Then mix everything around for your proper Koream mixed rice or bibimbap.