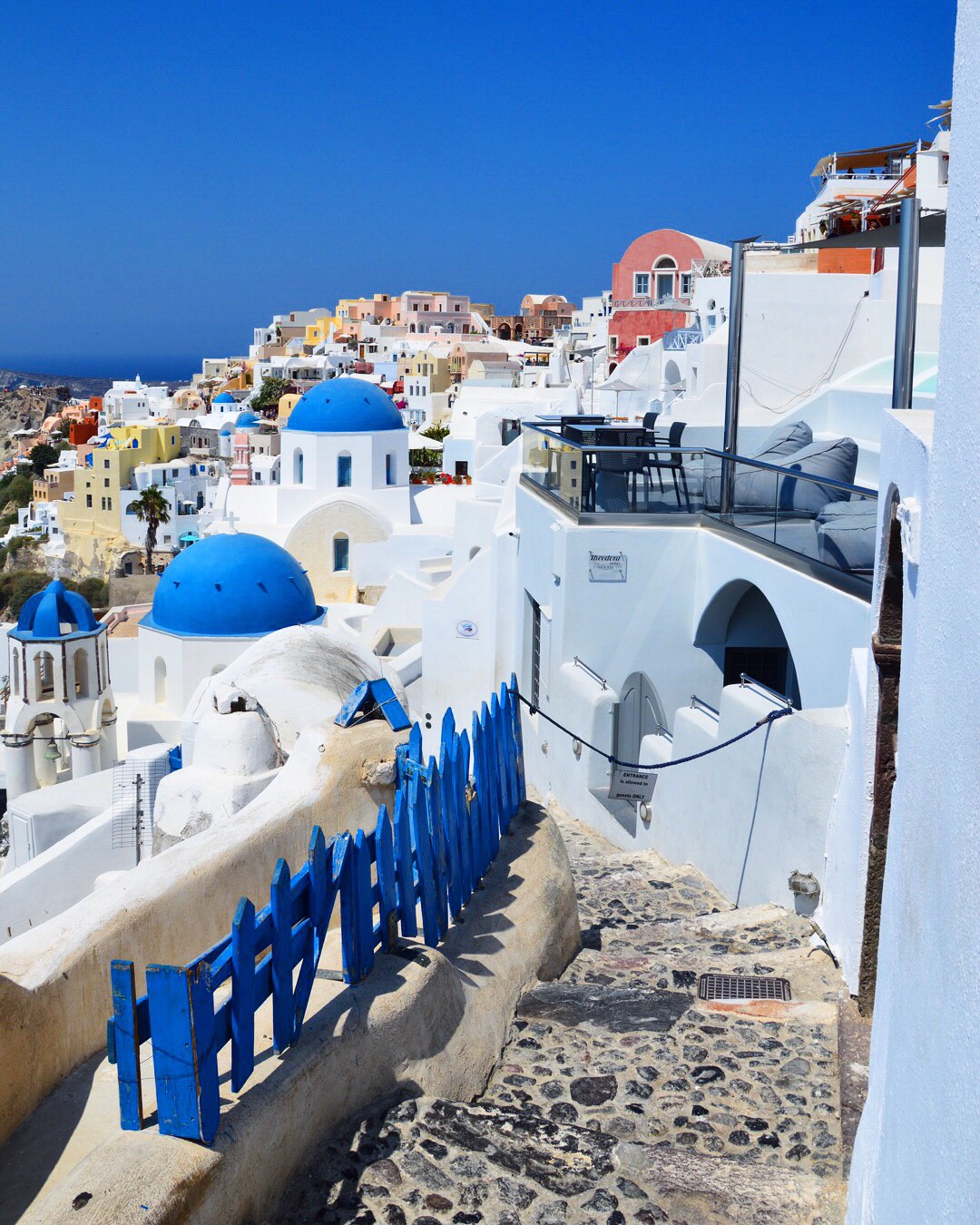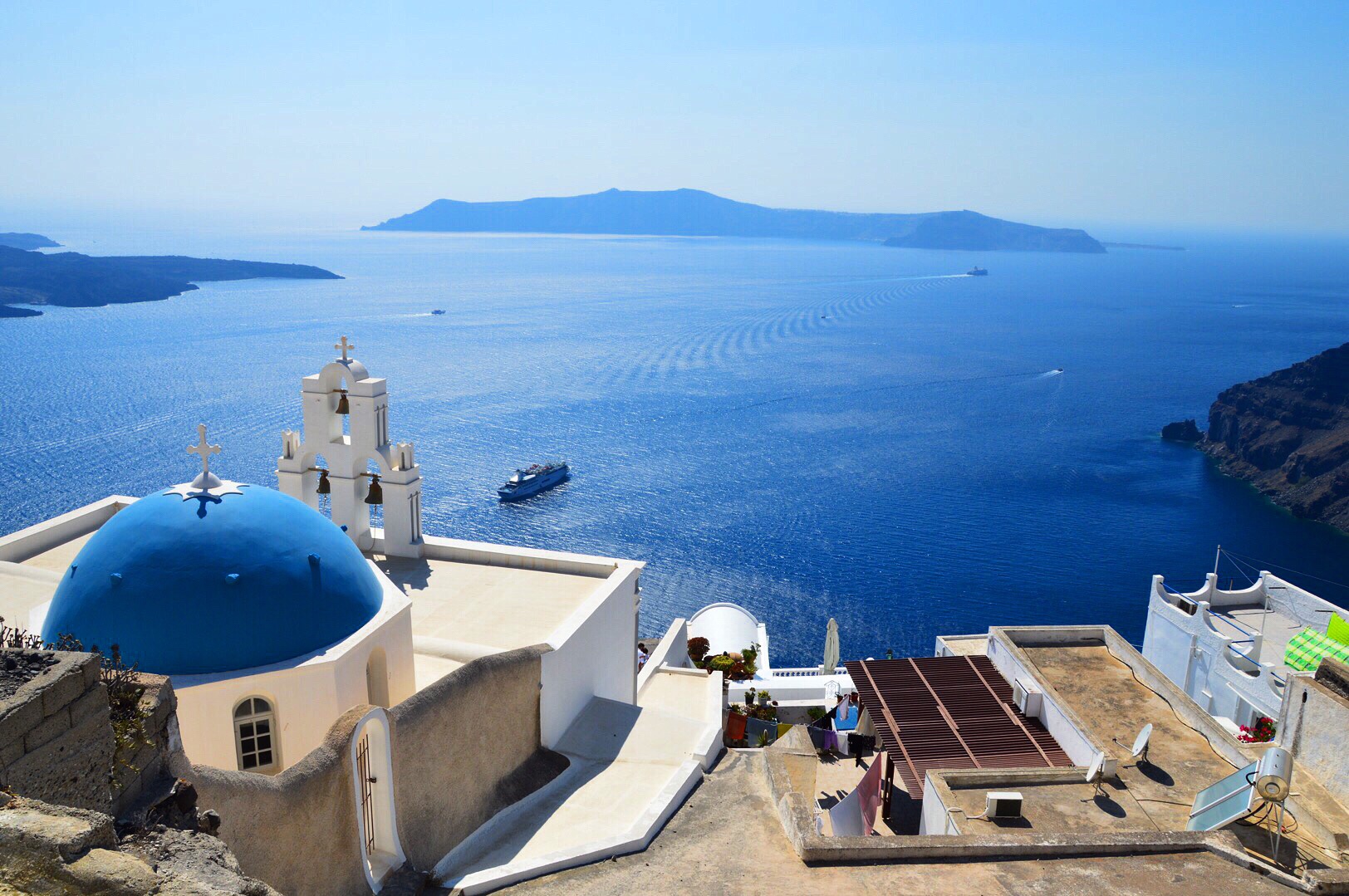 Visited the amazingly pretty Greek island of Santorini a couple of weeks ago. While I've had plenty of Greek food in Sweden, there's nothing like having a proper Greek salad with sun-ripe tomatoes, a juicy grilled souvlaki or a fluffy delicious gyros pita while soaking up the views of the deep blue Med, white chalk stone houses and steep cliffs.
For once, we did not have that much of an agenda on Santorini; the plan was pretty much to laze by the pool, read books, watch the view, and of course, eat a lot of tasty Greek food. Below you can find my favourites (in no particular order).
Argo (Caldera view)
Price for 2: ~ €70
Argo is a sort of fancy restaurant that faces the Caldera in Fira (although the view at some tables is limited. We stopped by our first night without any reservation, but were given a table right away. The food was quite good, especially the tomato keftedes, or fritters made from battered battered local tomatoes. The fava bean dip was nice too with a nice splash of olive oil and warm, fluffy pita breads.
For mains we had a seafood spaghetti and a veal stifado, served with either fries or linguine. We opted for the latter, and hence both had pasta our first night on the island. Sorry Greek food. Oh well, both dishes were good but by no means fantastic. The seafood was well cooked and served in a sweetish "Santorini style" tomato sauce. It was nothing wrong with it, but at €19, I expected to be slightly more wowed. The stifado was quite nice, tender and well-seasoned but could've been served with something more inspiring than chips or spaghetti.
All in all though, service was nice, food good and the view nice. But probably stick to the Greekier dishes if you're a pasta snob like me.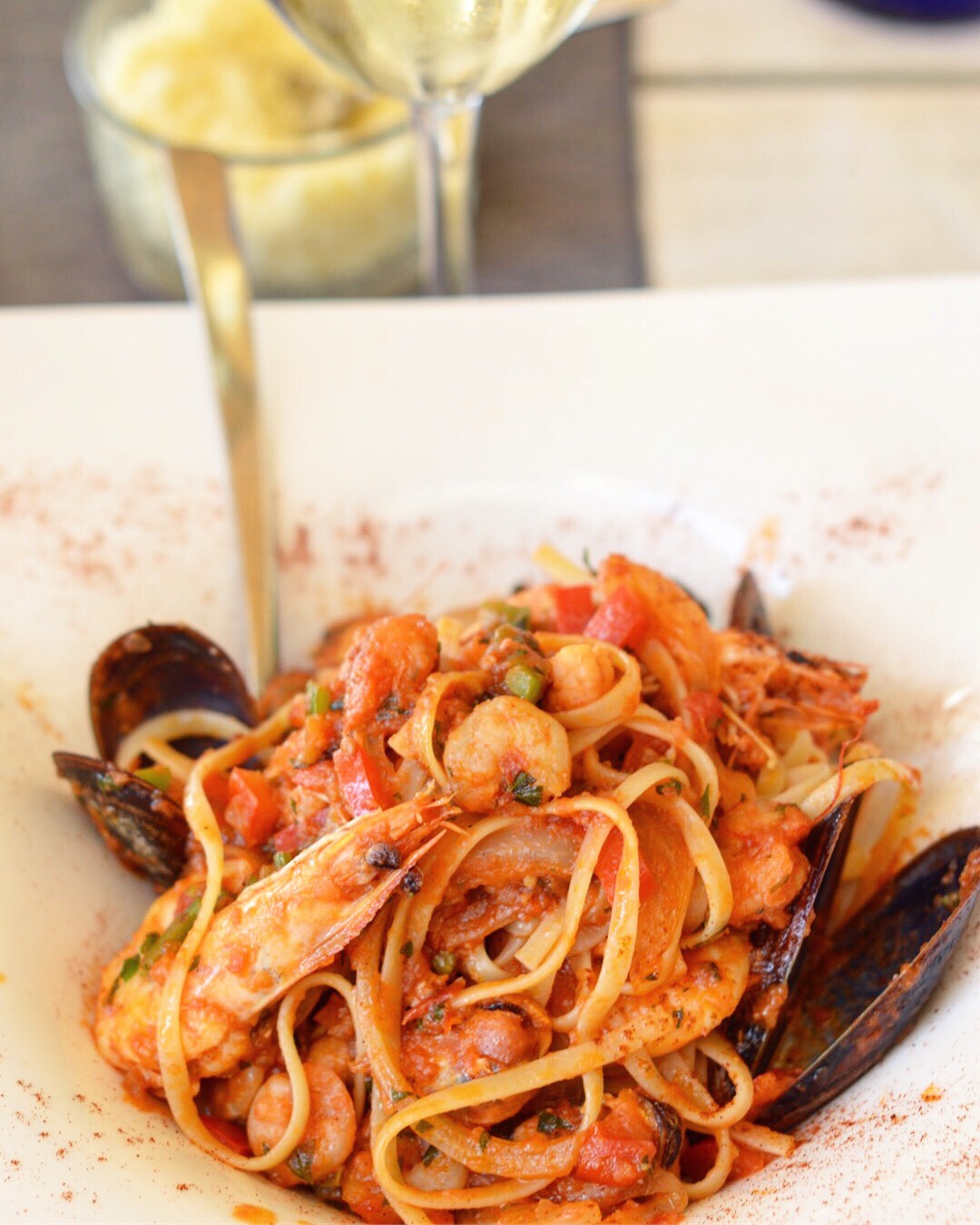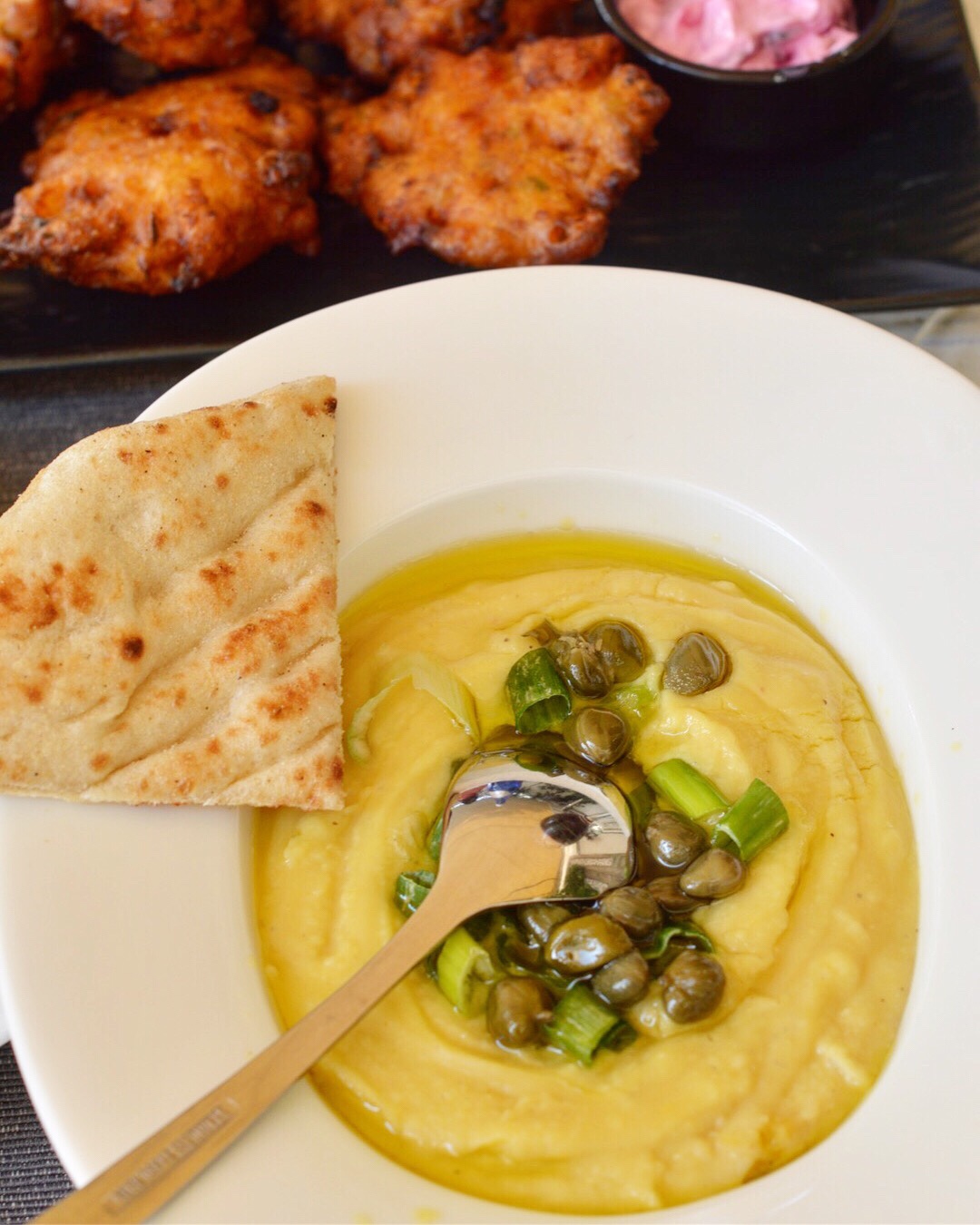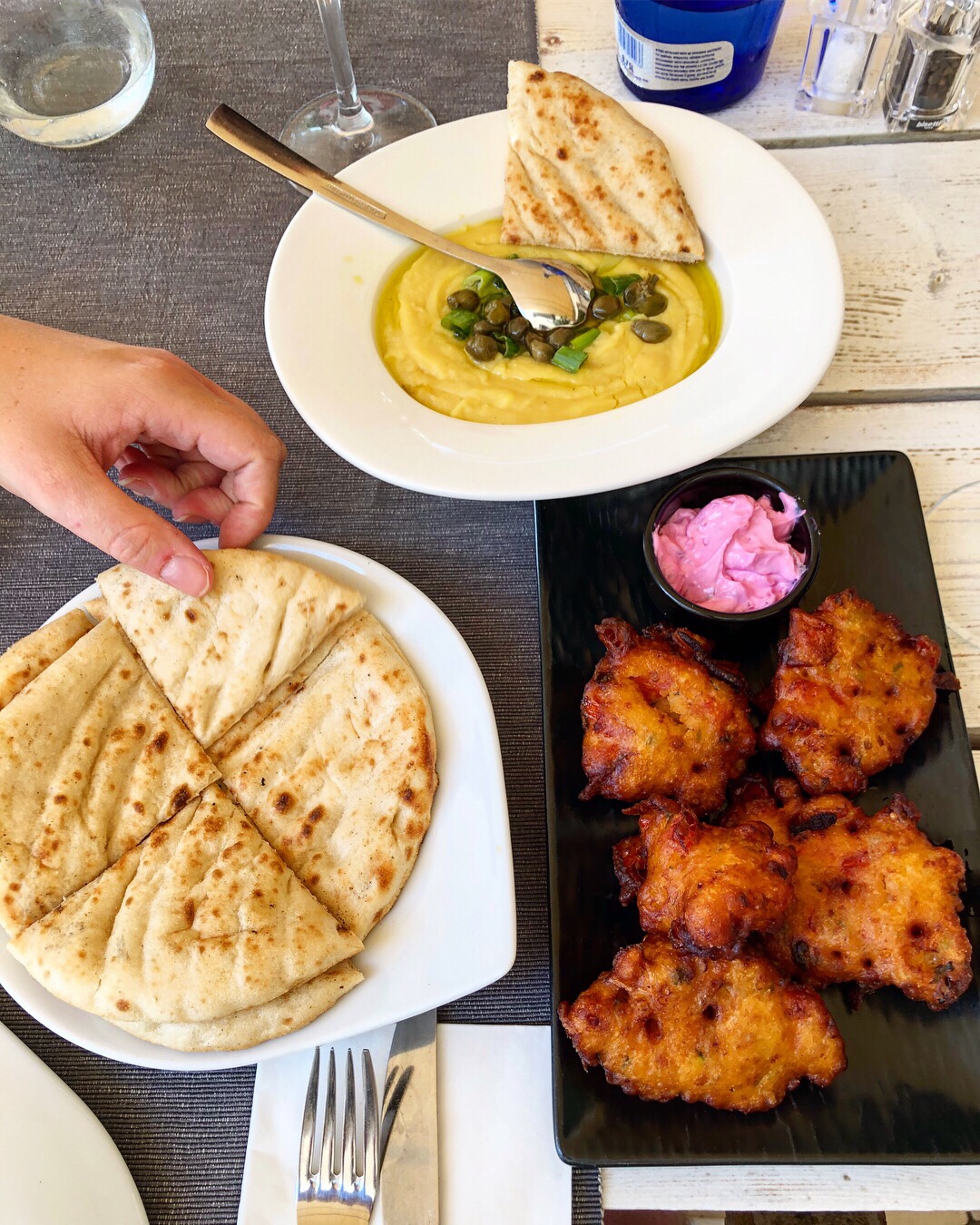 Salt and pepper, Fira (no view)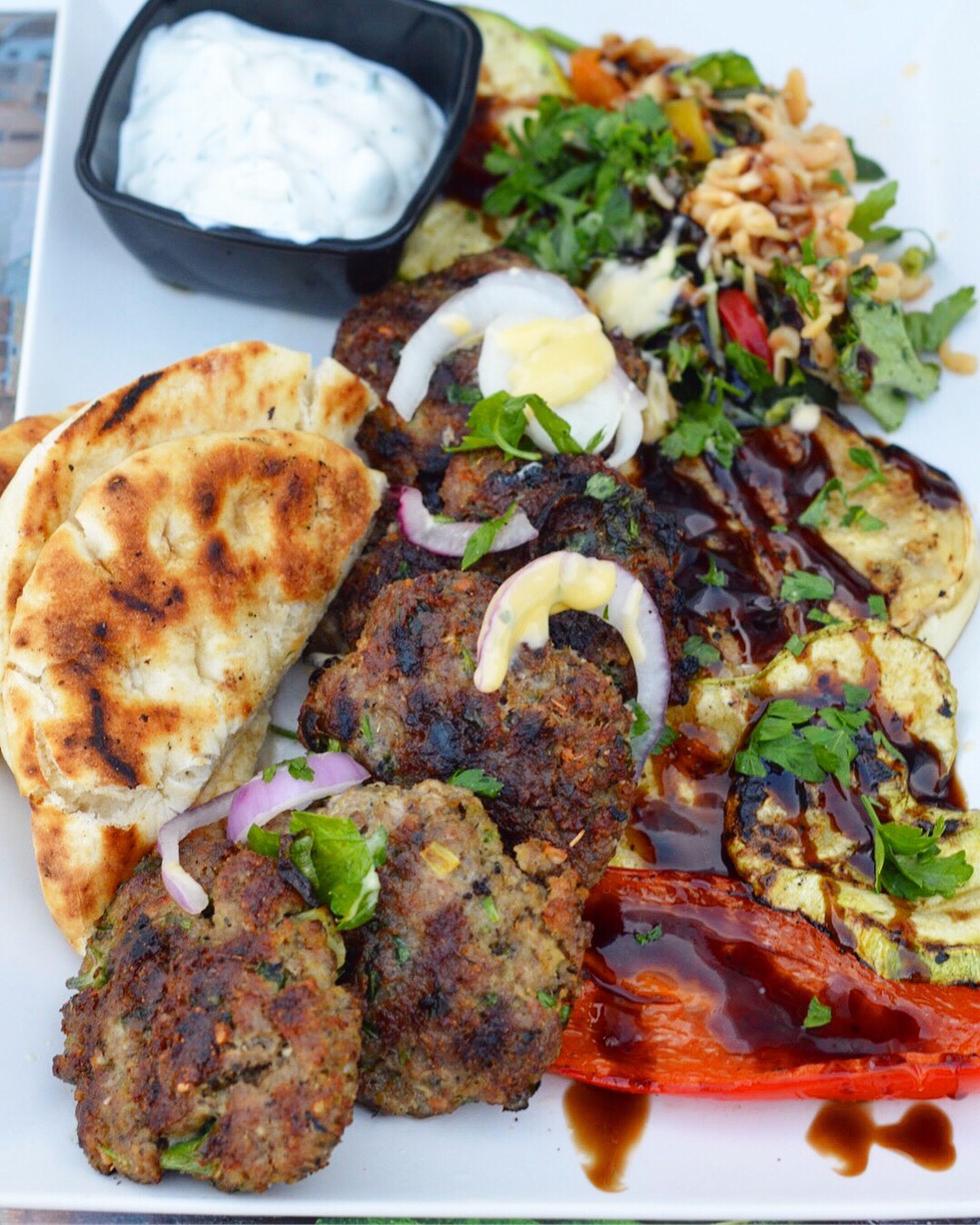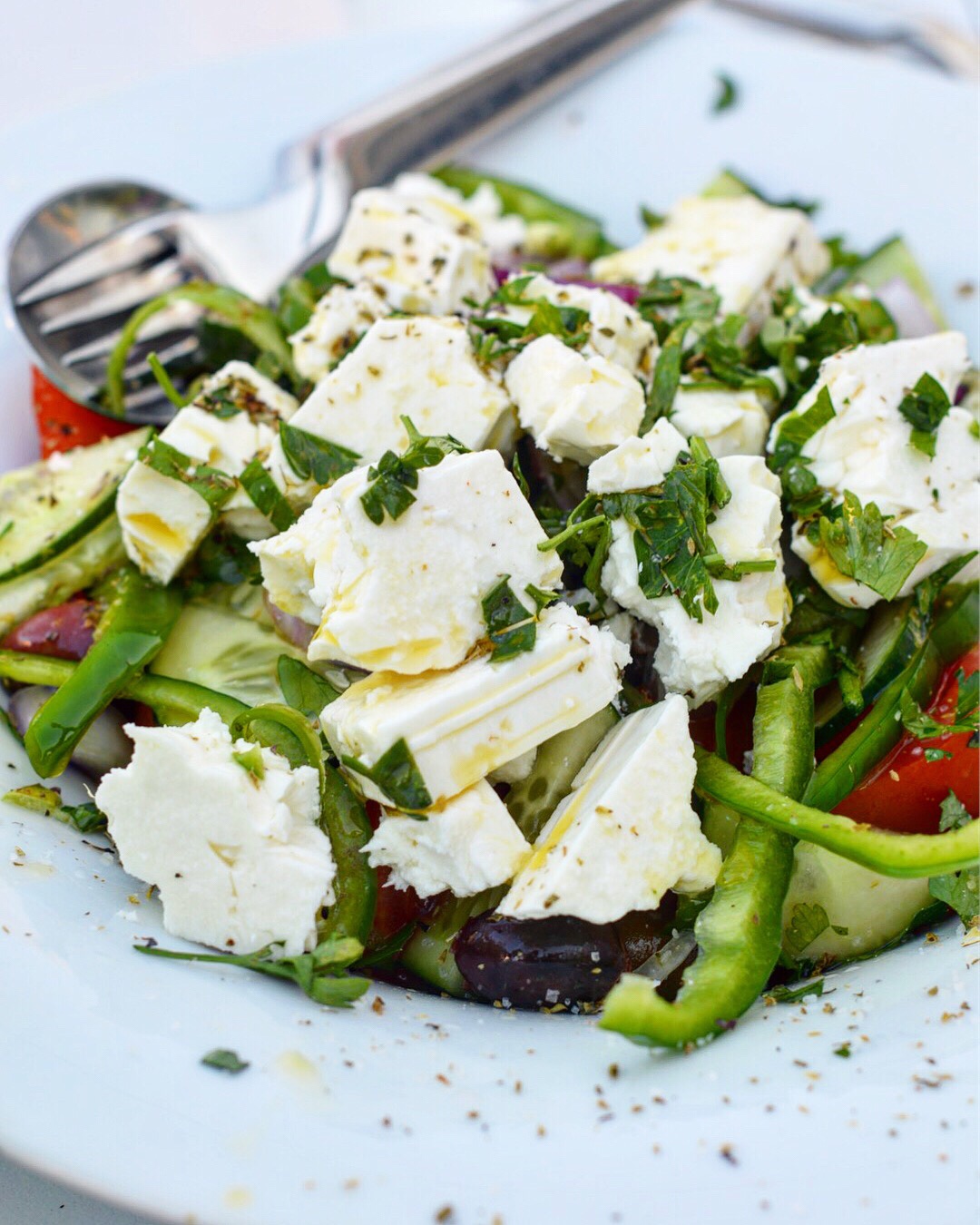 Salt & Pepper is a nice little restaurant, run by a husband and wife, where the husband works in the kitchen, and the wife service the tables. Service is not very polished, but quite friendly and the food is tasty. I tried their keftedes, Greek meatballs, and they were yum, so was the Greek salad. Save some space for dessert which was complementary.
Price for 2: ~ €45
Lucky's Souvlaki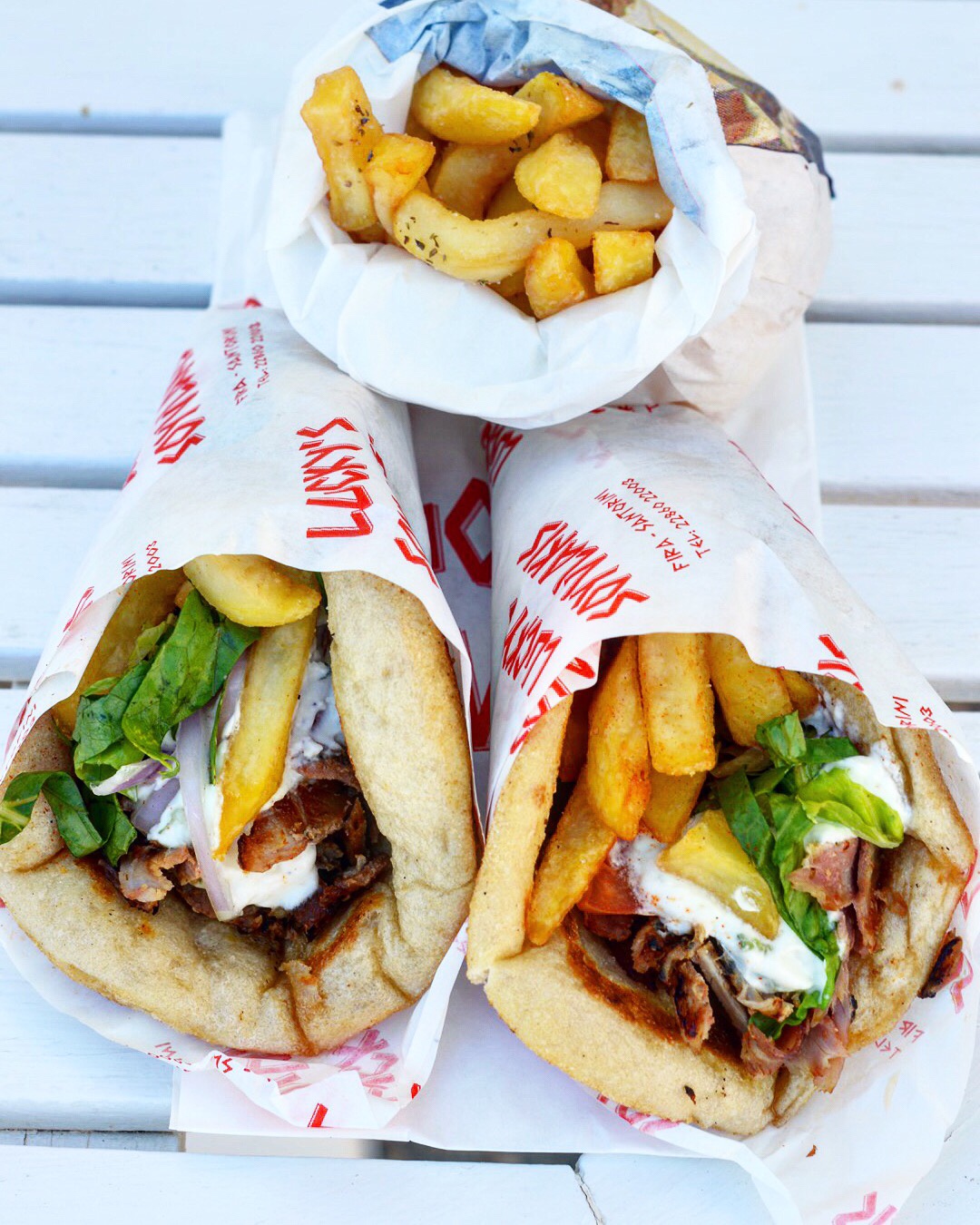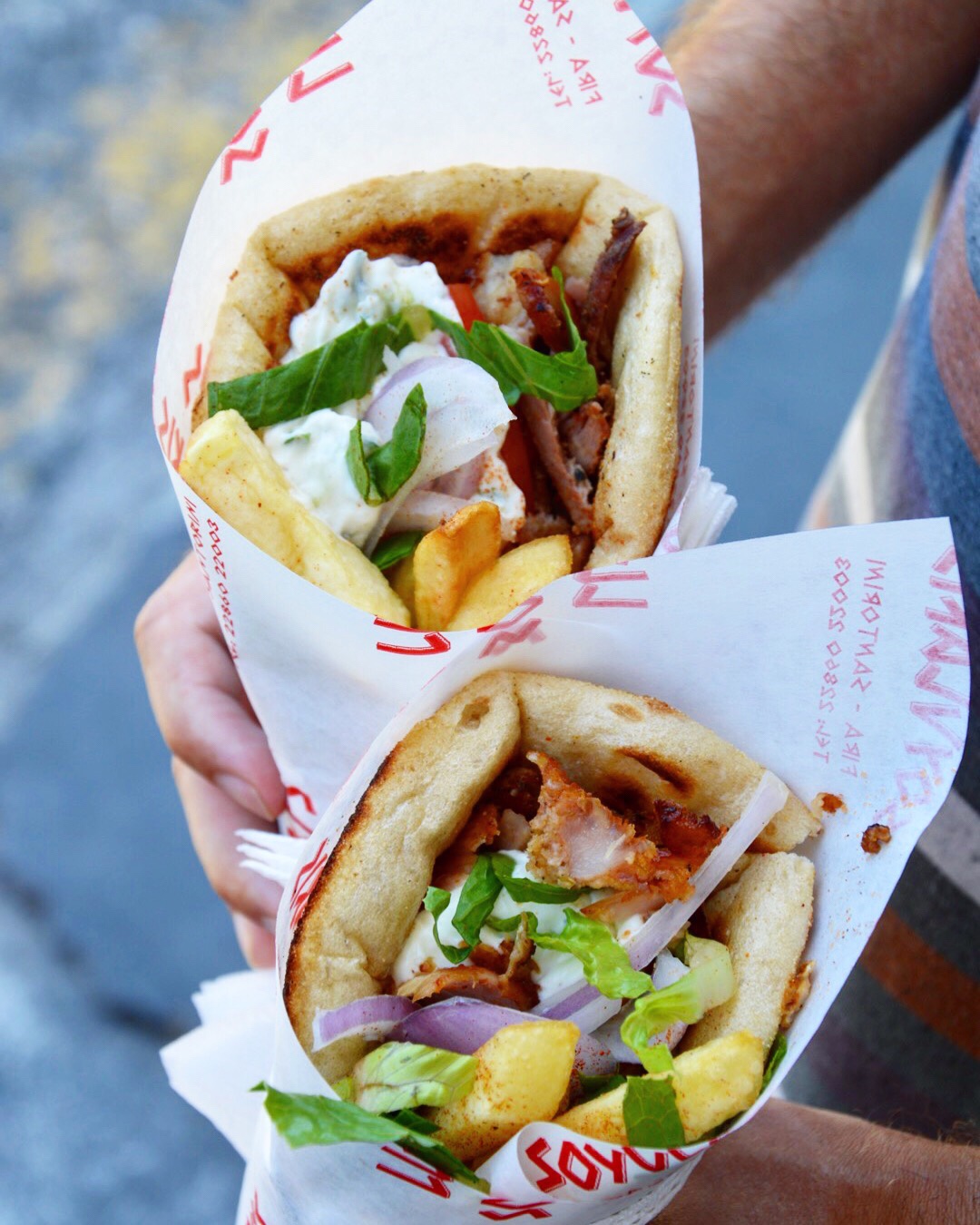 Of all the places we visited in Santorini, the downright most tasty food was at Lucky's Souvlaki, a small, quite unimpressive looking venue on the tourist street close to Fira's bus station. What they do is souvlaki; meaning kebab-style meat skewers; gyros, which is shaved, döner kebab resembling pork or chicken shaved vertically from a rotating spit, and a few other foods, served fast food style, meaning mainly wrapped in fluffy pita bread, slathered in tzatziki and then washed down with a cold mug of Alfa beer. Or two.
Another great benefit was that it was not only the tastiest, but also the most affordable of all the places we visited during our week. A nice little lunch kit with two gyros (pronounced yeeros), fries and a drink was €9,5.
Anemoloos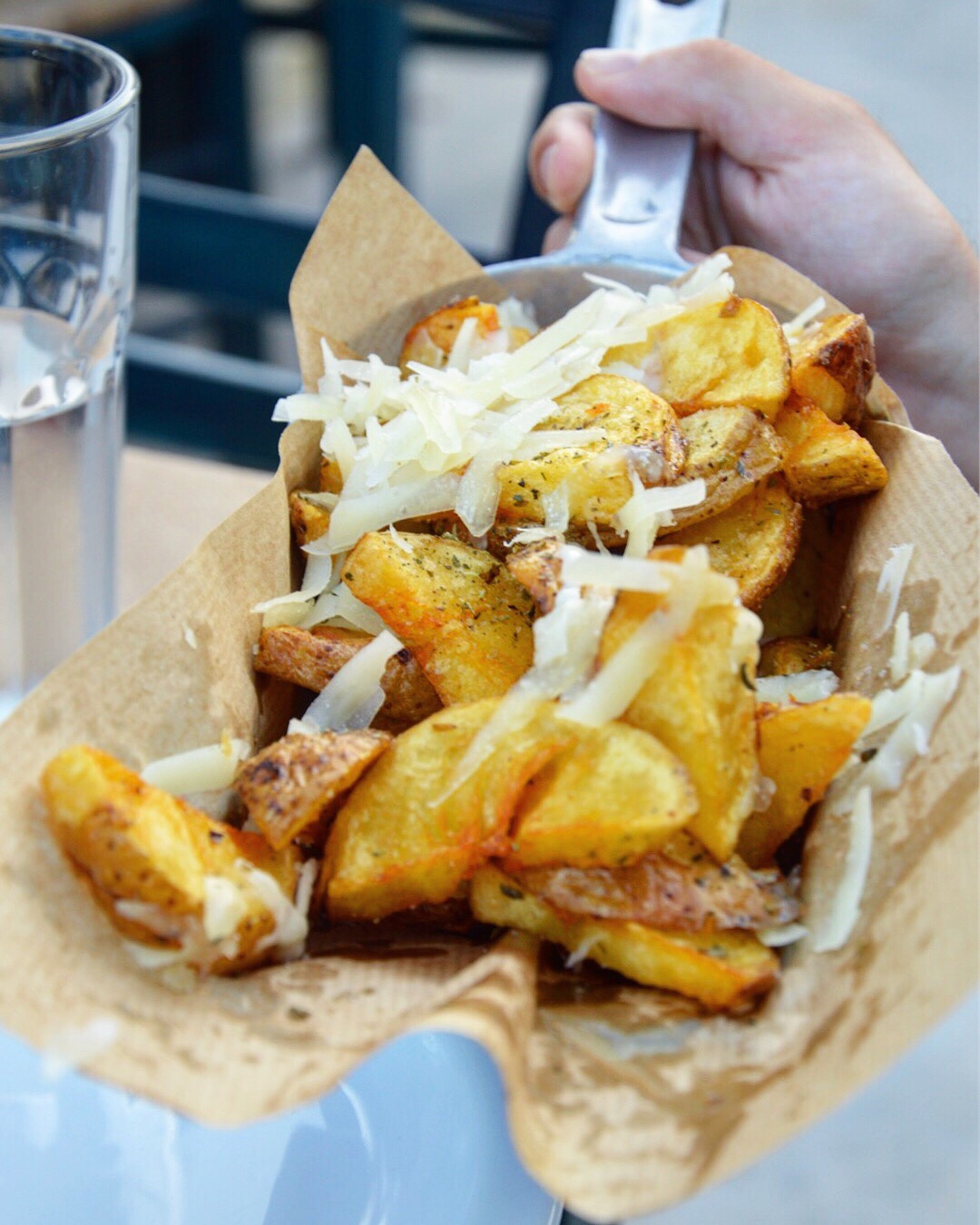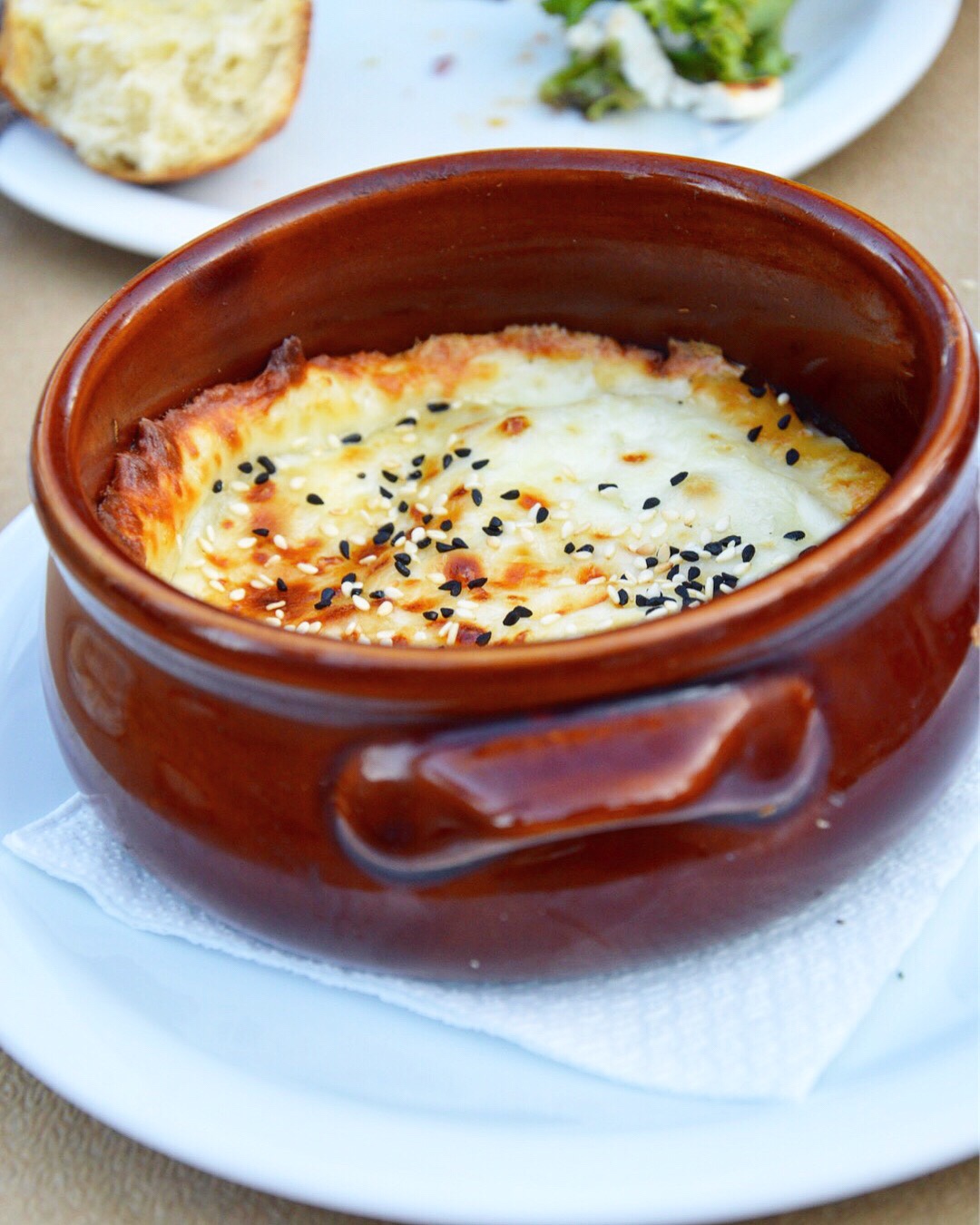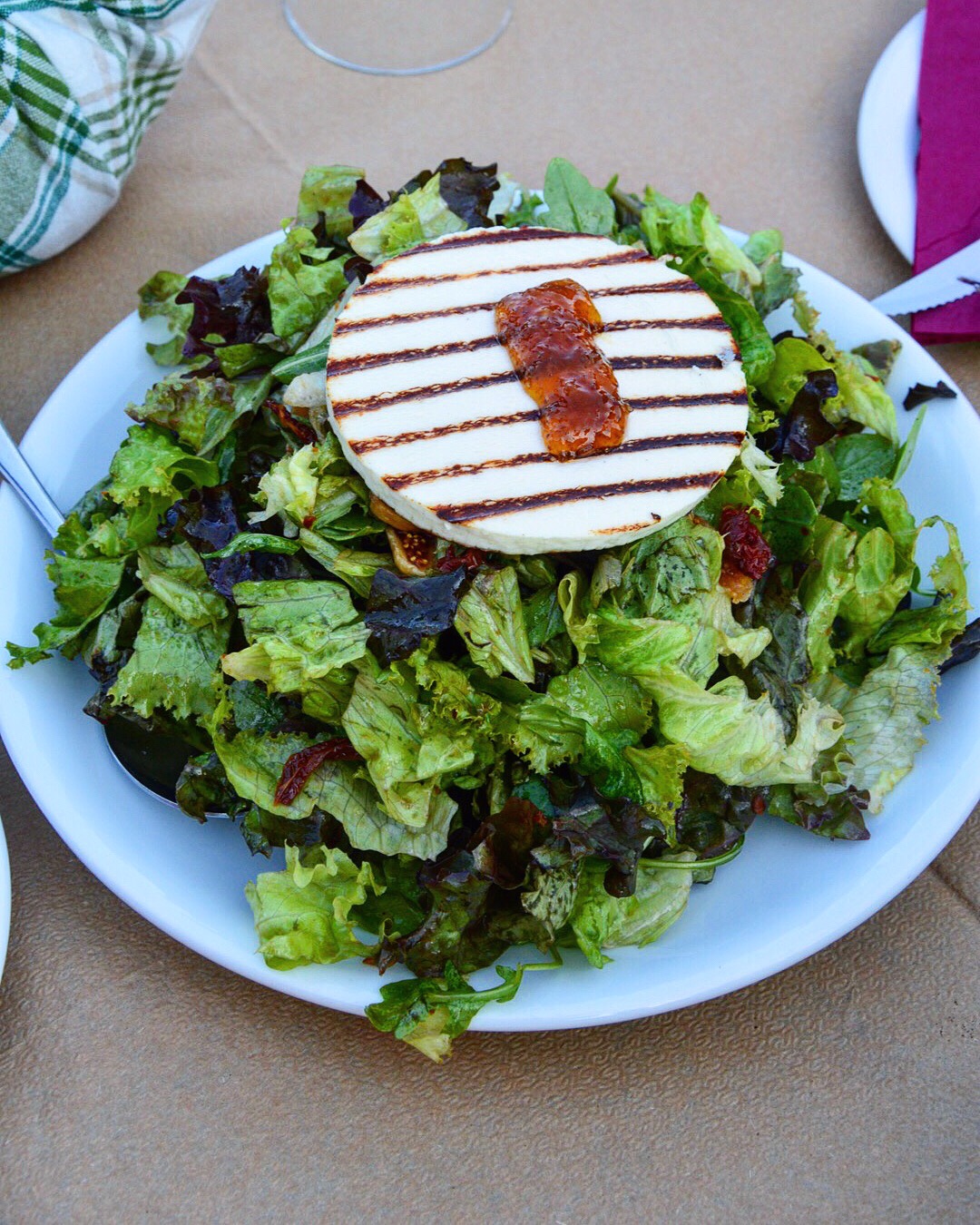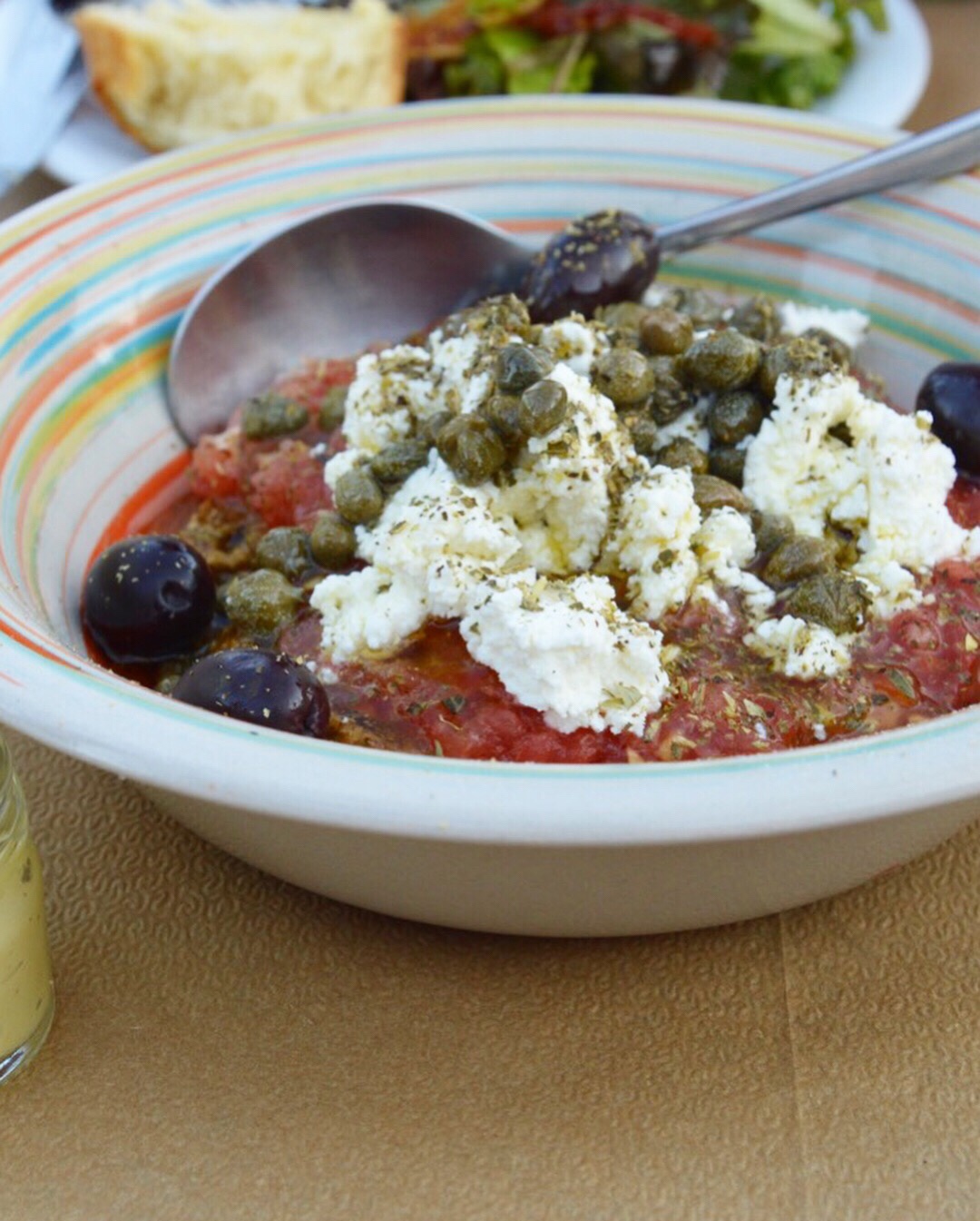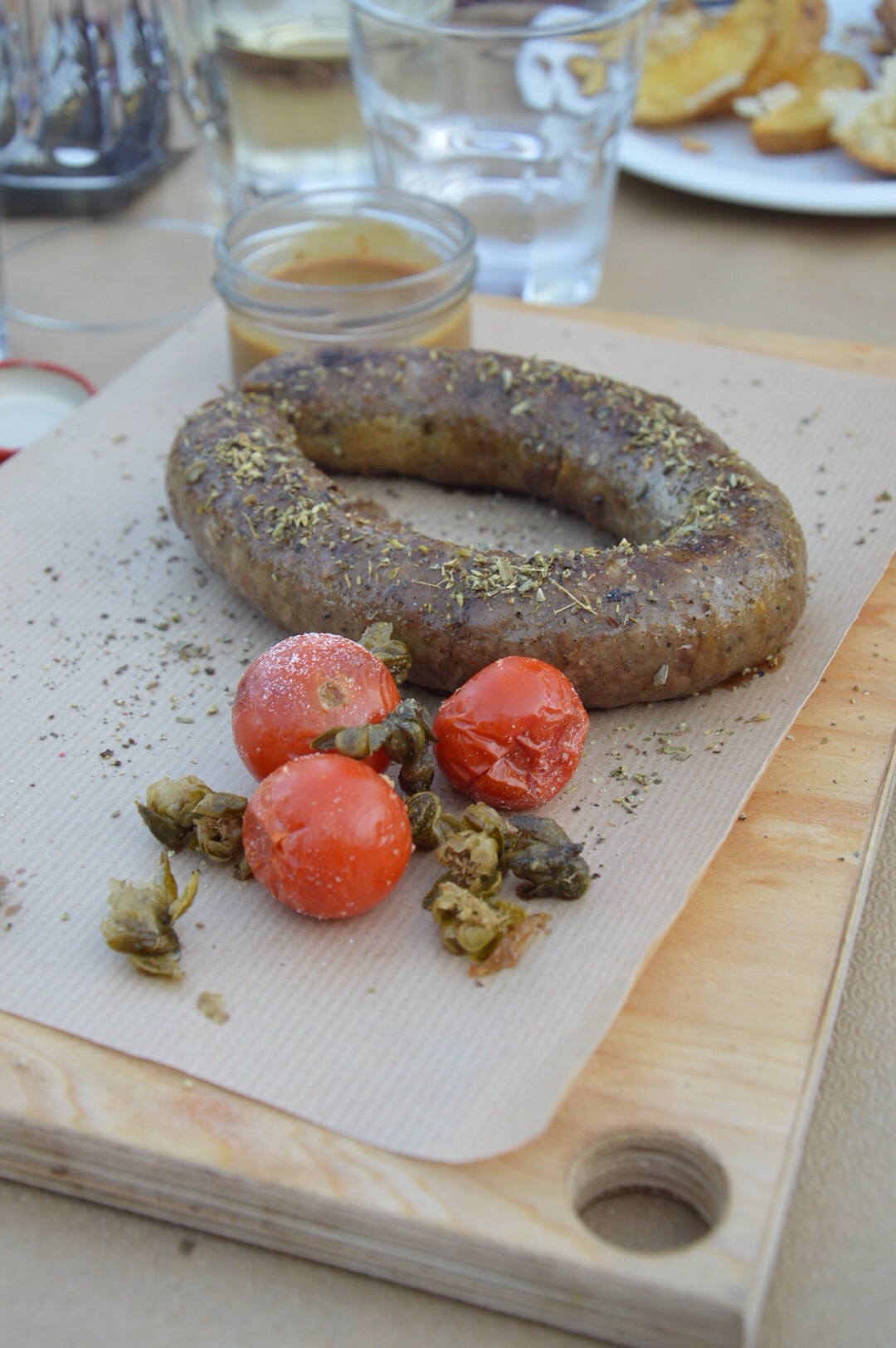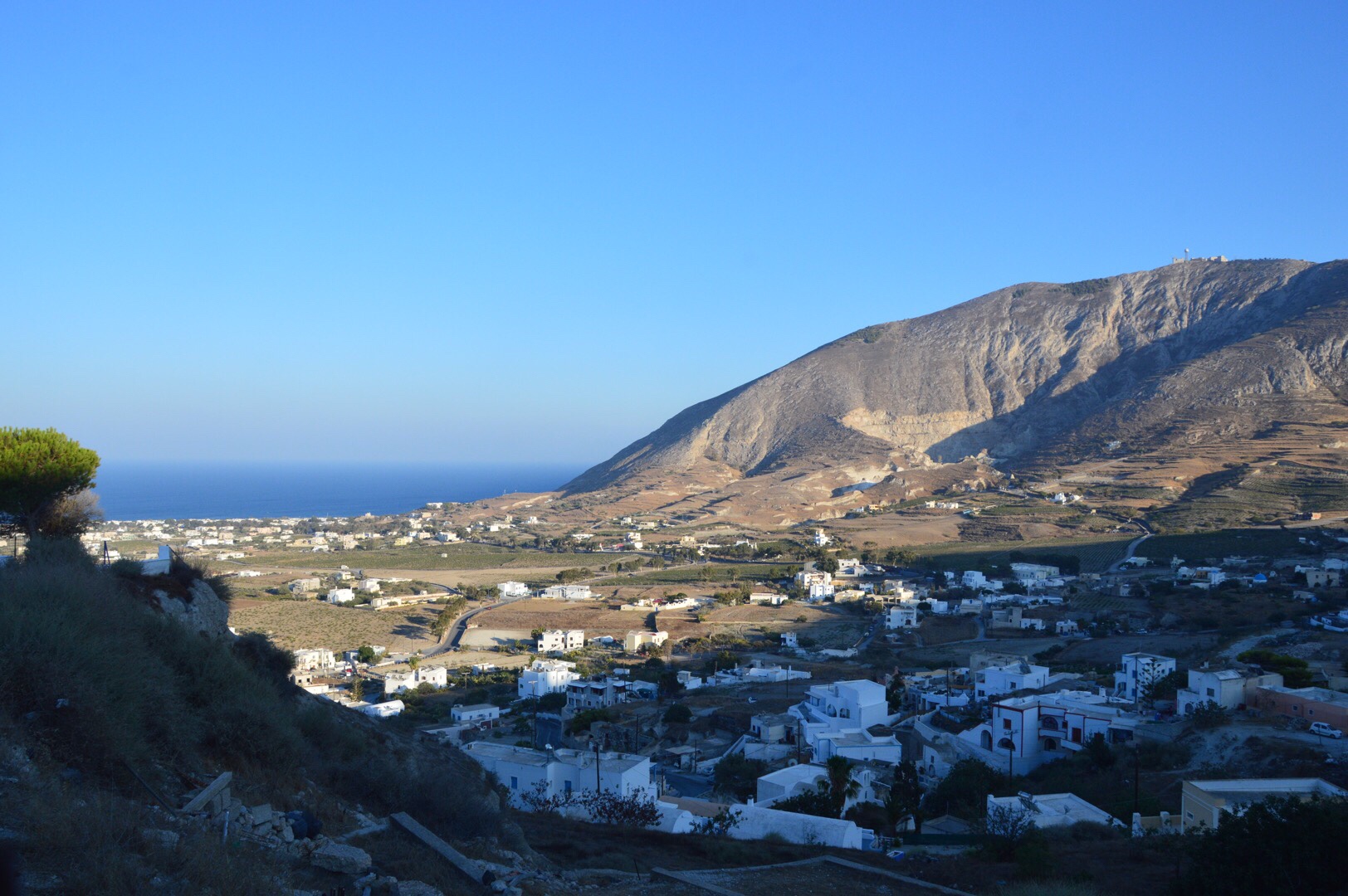 Situated a bit of a drive from central Fira, with stunning views of the non-caldera side of the island, Anemoloos served up some of the best dishes we had during our visit to the island. The restaurant served local dishes, meze style, meaning loads of small platters of extremely delicious food that we shared among the table.
Favourites were the Santorini style Greek salad with capers, grilled pork belly and the grilled sausage. Also deep-fried potatoes with shaved butter was (as you can tell) very delicious.
Price: Since we were part of a tour during our visit, prices were never displayed, but I'm guessing prices were affordable.
Parea Taverna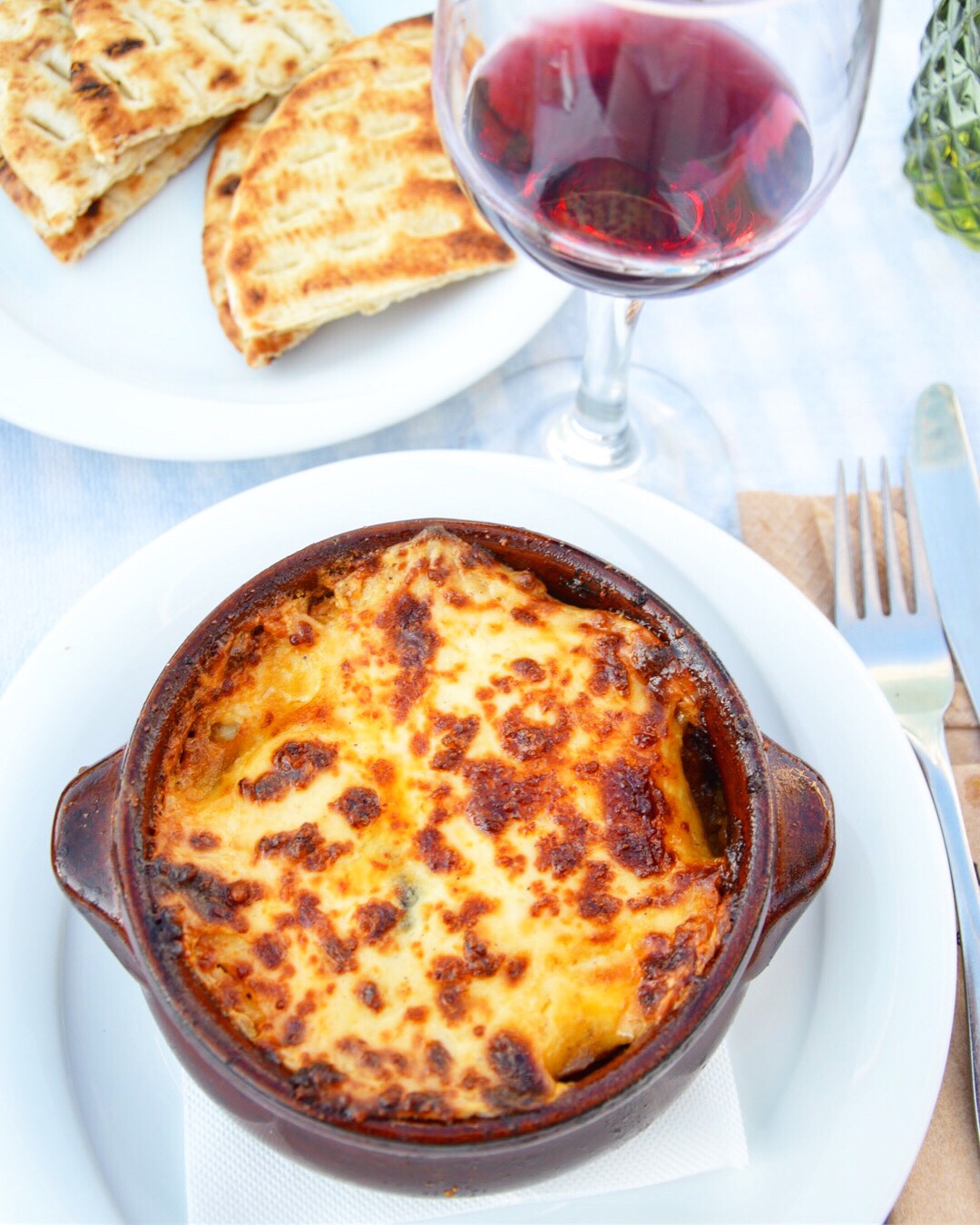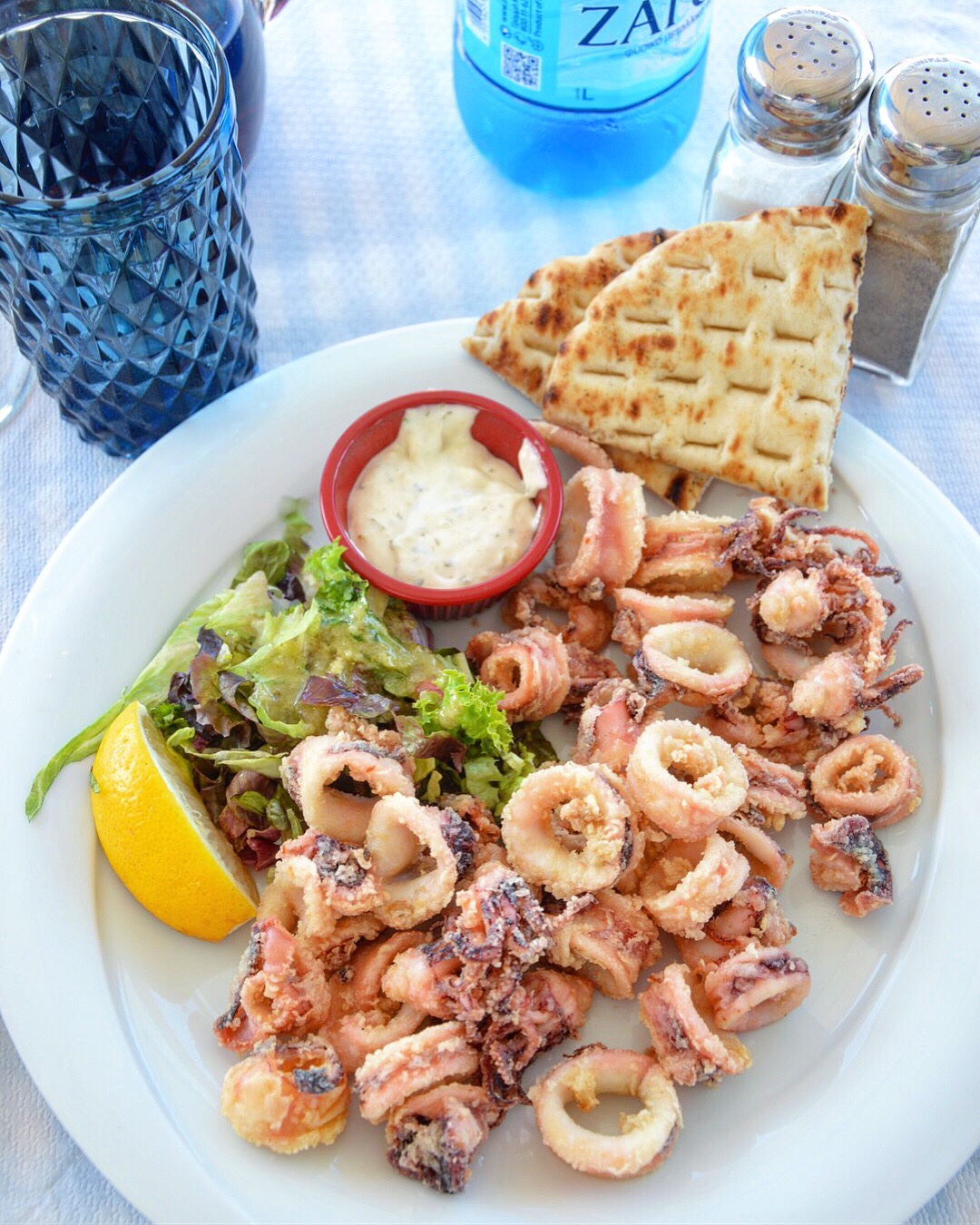 In the touristy part of Fira, but lacking a caldera view. Food is tasty, without being spectacular. We had a very tasty moussaka, and nice, soft and crunchy-from-the-batter calamaris.
Price for 2: €45 with wine.
PK Cocktail Bar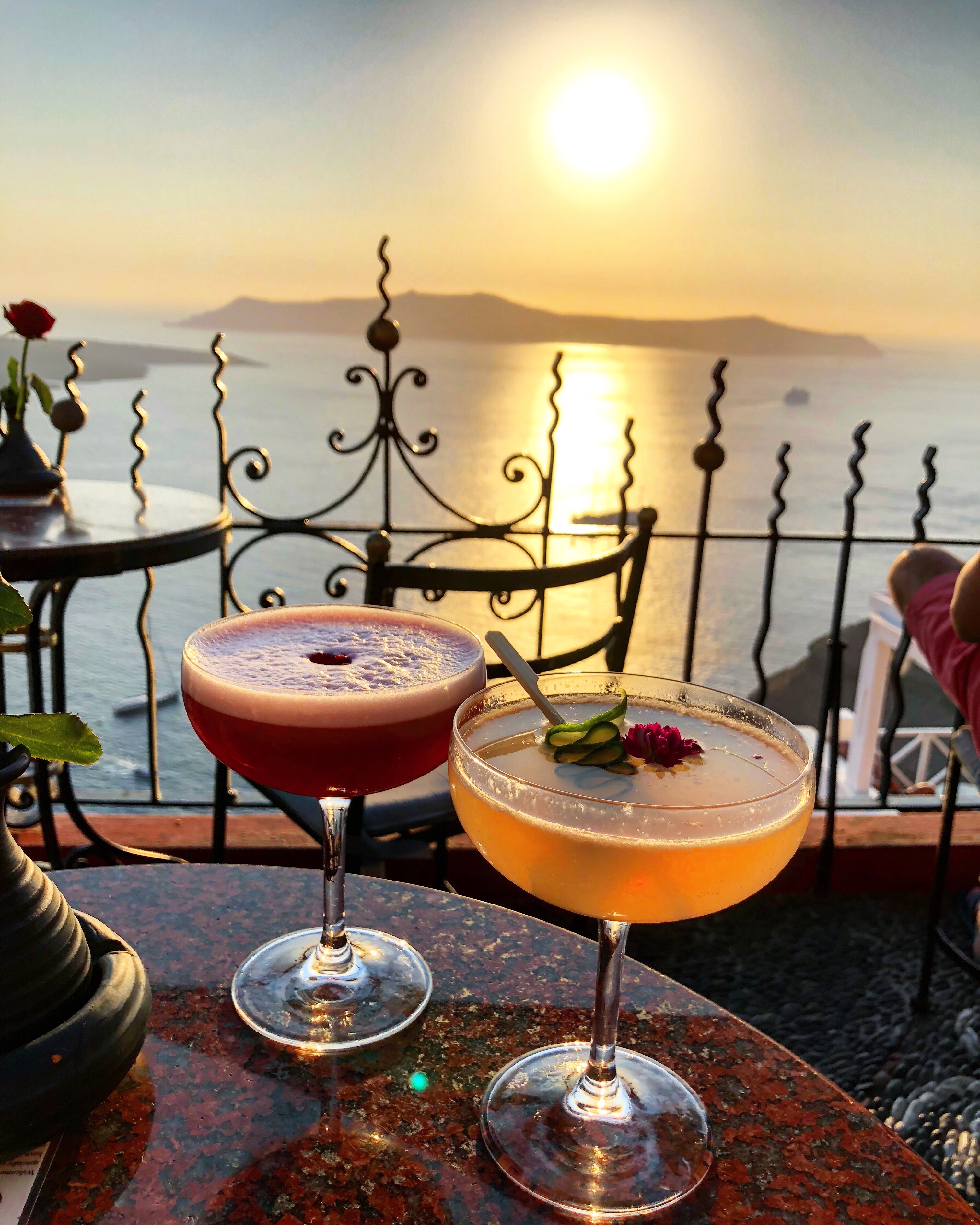 Towards the end of our visit, we found the not-so-hidden gem PK (Palia Kameni) Cocktail Bar. The place offers incredible views, incredible sunsets and incredible cocktails. The prices are relatively expensive, but not crazy expensive. To score a nice seat, you can pre-book spots for a €10 (online) or €20 (walk-in) deposit that is then removed from the bill. Cocktails starts at ~€9 and goes up to ~€20. We tried a couple and they were all great.
Aktaion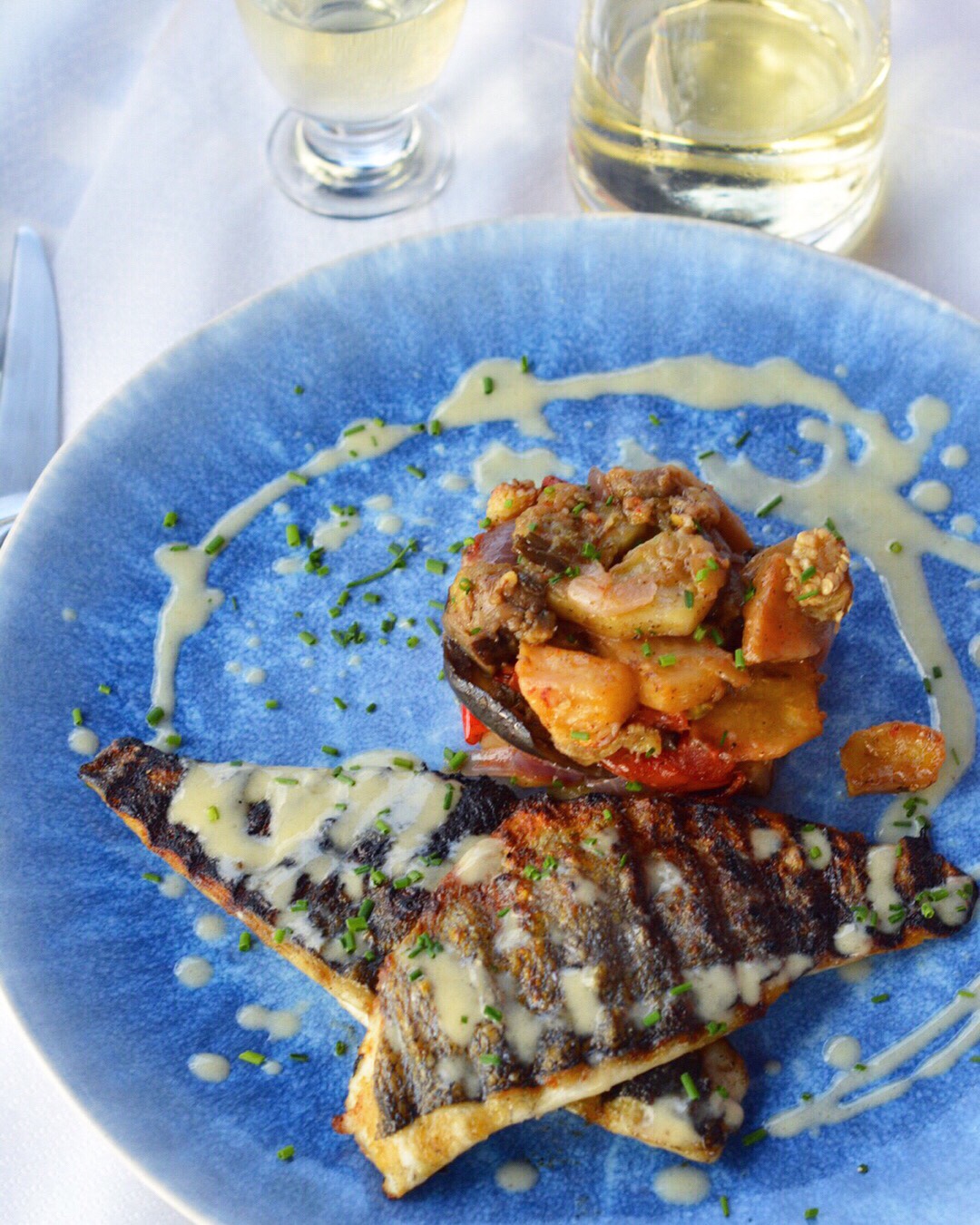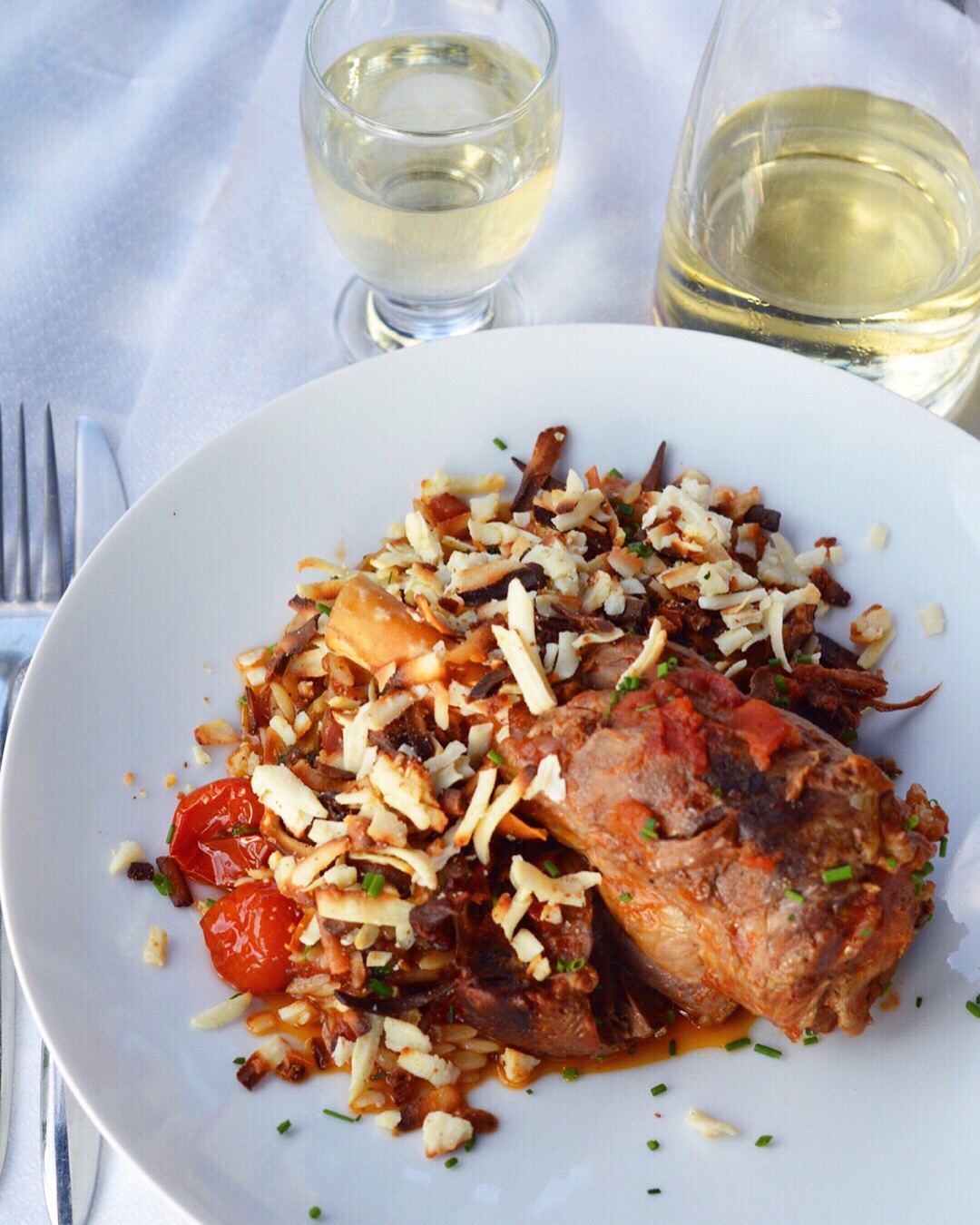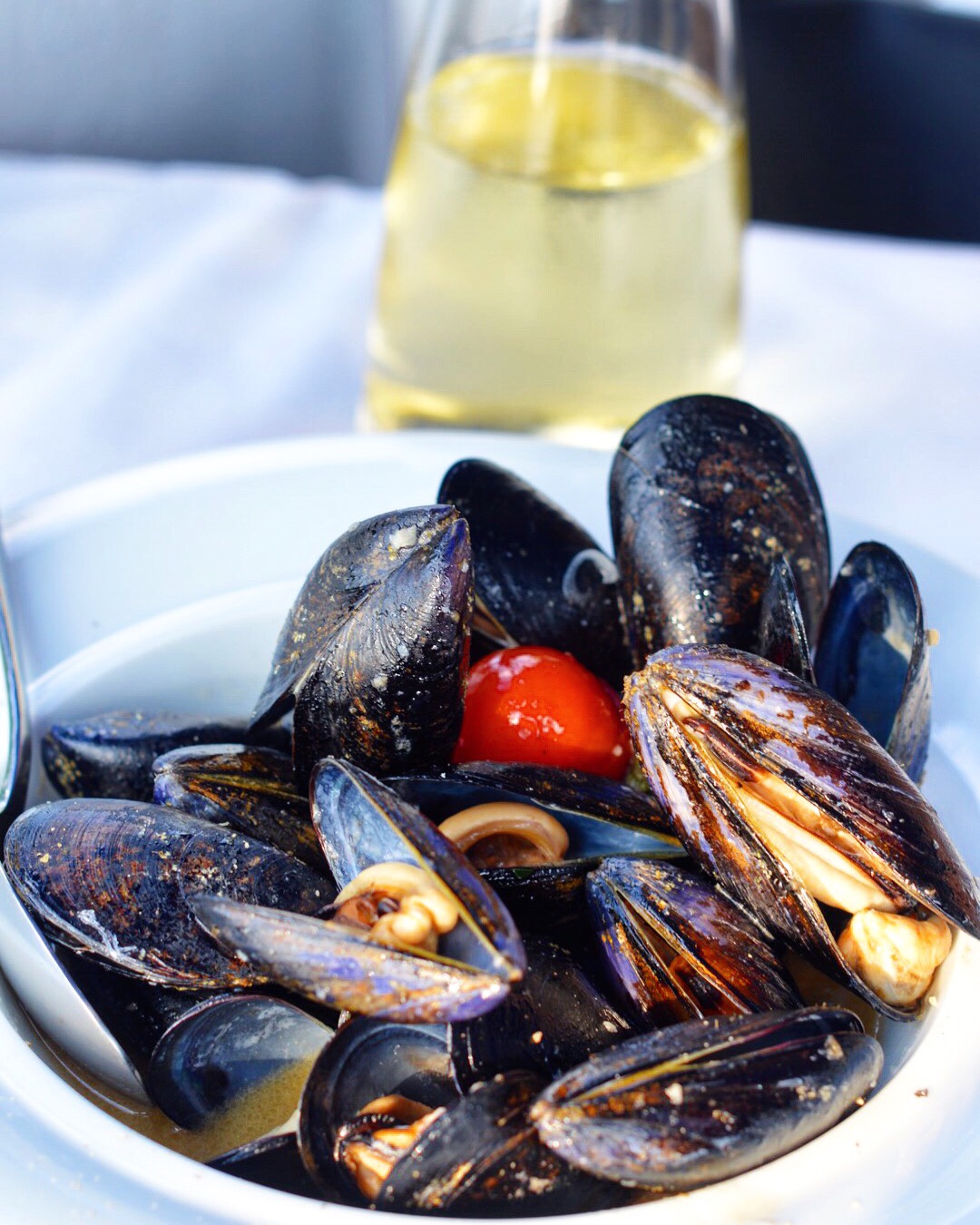 Aktaion was probably my favourite restaurant in terms of food in Santorini. Unfortunately we showed up without a reservation and only got an hour to eat (totally our fault), they did their very best to accommodate us.
We had their fresh sea bream with baked vegetables and lime sauce; falling-if-the-bone tender slow-baked lamb shank with roasted mizithra cheese, and Ouzo-spiked mussels.
As mentioned the food was great. For once I felt like also trying a dessert, but no time unfortunately.
More than in any other place we visited in Santorini (except for Anemoolos which was similarly great in quality), you could really feel the love in the food at Aktaion. The quality was a notch up compared to the competition.
Very recommended, but make a reservation in advance. And then walk along the edge back to Fíra (there is a footpath all the way), amazing views.
Price was ~€50 for two with house wine.
To Ouzeri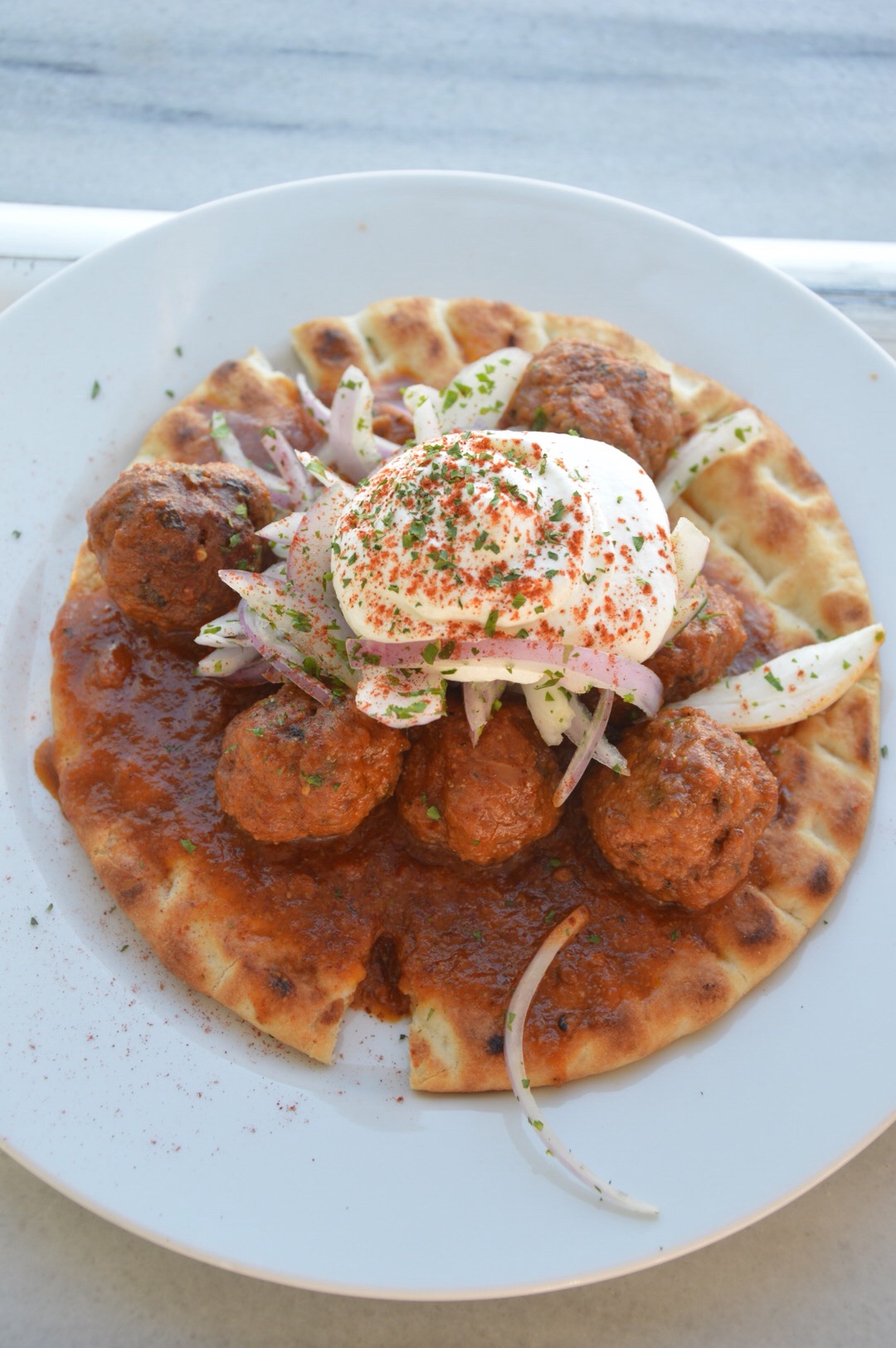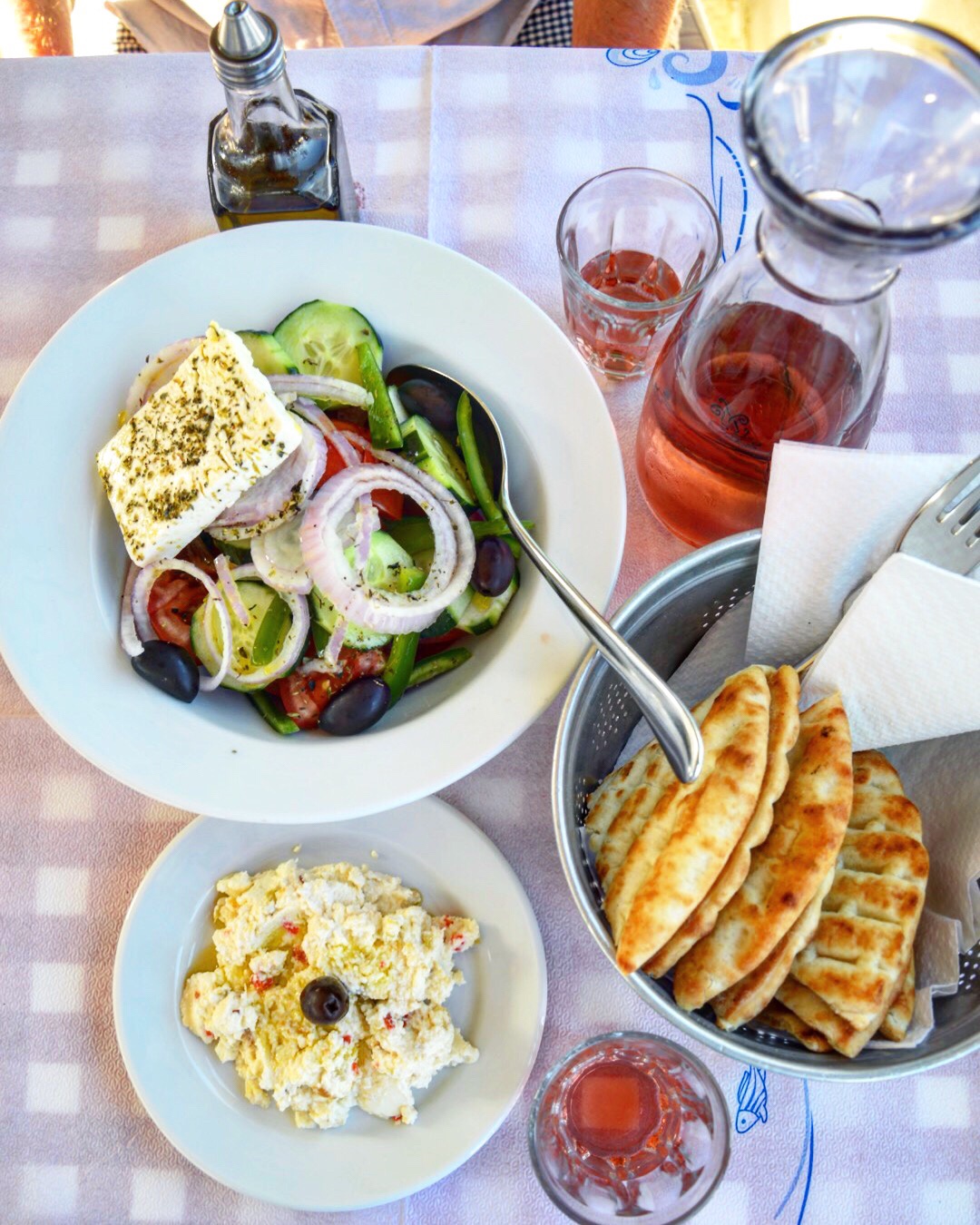 Our last meal was enjoyed at To Ouzeri, very close to the caldera view, but without the view. Food is wholesome and tasty, but not fantastic. We had a spicy feta dip, warm pita breads, Greek salad and soft meatballs in a slightly spicy cumin-scented tomato sauce.
Price was around €40 for two including wine, starters and two mains.