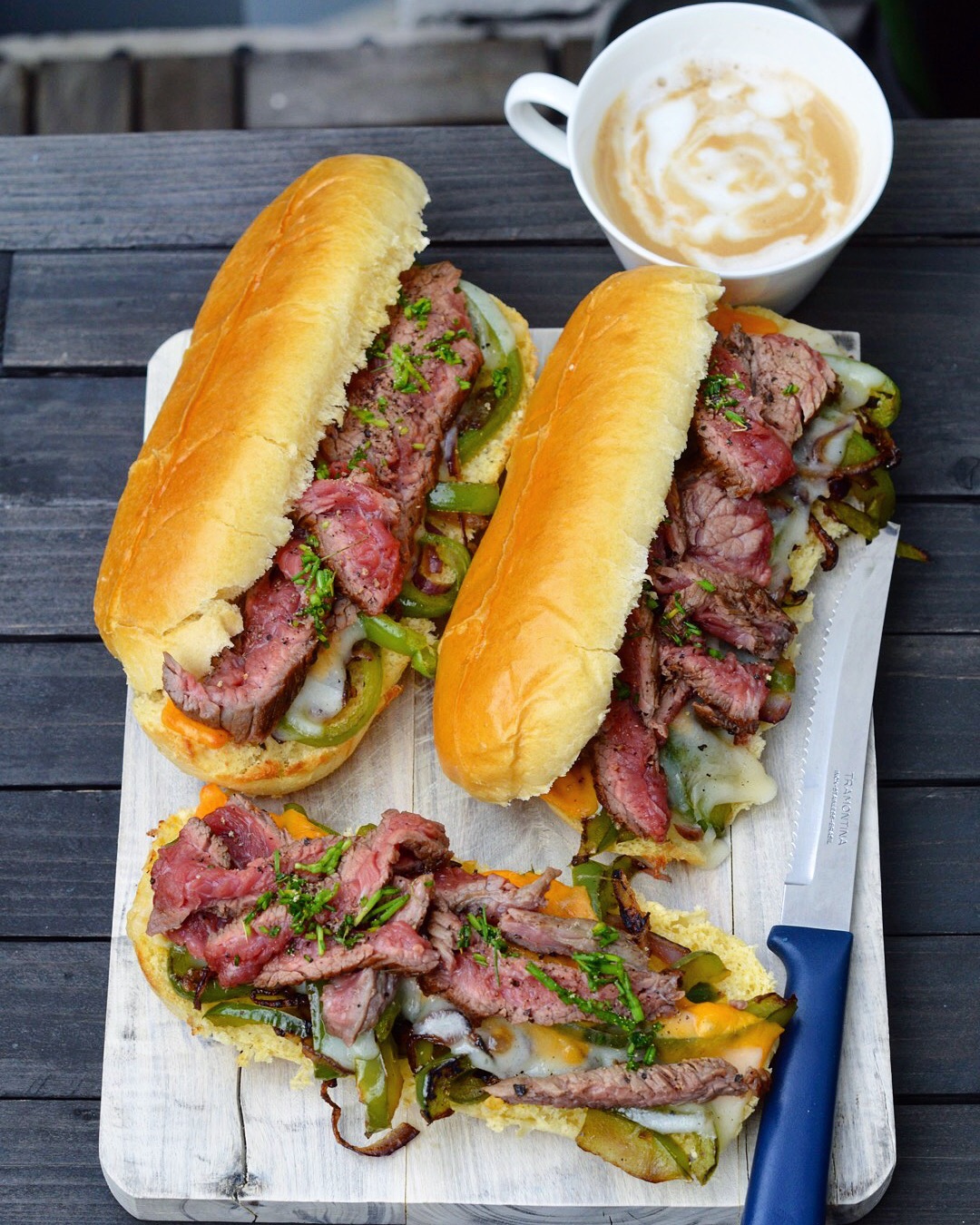 The other day I found a piece of Provolone cheese in my next door supermarket. Many years ago (I sound really old now) I tried to make Philly cheese steak sandwiches at home, featuring thin slices of rib-eye steak/entrecôte, fried peppers & onions as well as a thick layer of melted provolone cheese. Needless to say I loved it. Hence, I though it might be time for another round of cheese steak sandwiches last weekend, and I must say they turned out really well. Not to mention it's really easy to make.
What you need (for two)
About 150 grams of flank steak
One green bellpepper
One red onion
One clove of garlic
2 soft bread rolls (I used brioche hot dog rolls)
Provolone cheese (I also used some leftover burger cheddar)
Vinegar, salt, pepper
Cooking instructions
1. Trim, and then rub the flank steak with salt and pepper. Let rest in room temperature. Also set your oven to 150 degrees celsius or similar.
2. Slice bellpepper and onion in thin slices. Finely chop the garlic clove.
3. Heat a pan until it starts to smoke (eg. is really hot). Sear the meat on both sides until your prefered cooking grade. I go for medium rare. Let the meat rest while you continue with the preparations.
4. Fry bellpepper, onion and garlic in oil on medium heat until soft. Splash over about two teaspoons of vinegar as well as salt and pepper. Take off the heat.
5. Start with the sandwiches. Brush the breads with a thin layer of dijon mustard (skip this if you're no mustard fan). Slice the breads and put the fried vegetables on top of the bottom part of the bread. Add sliced cheese and put in the oven for about a minute to melt the cheese. Put in the top breads at the same time but separated to get them warm.
6. Slice the flank steak as thinly as you prefer and stack it on top of the cheesy vegetable bottom bread. Add the top bread. Done!