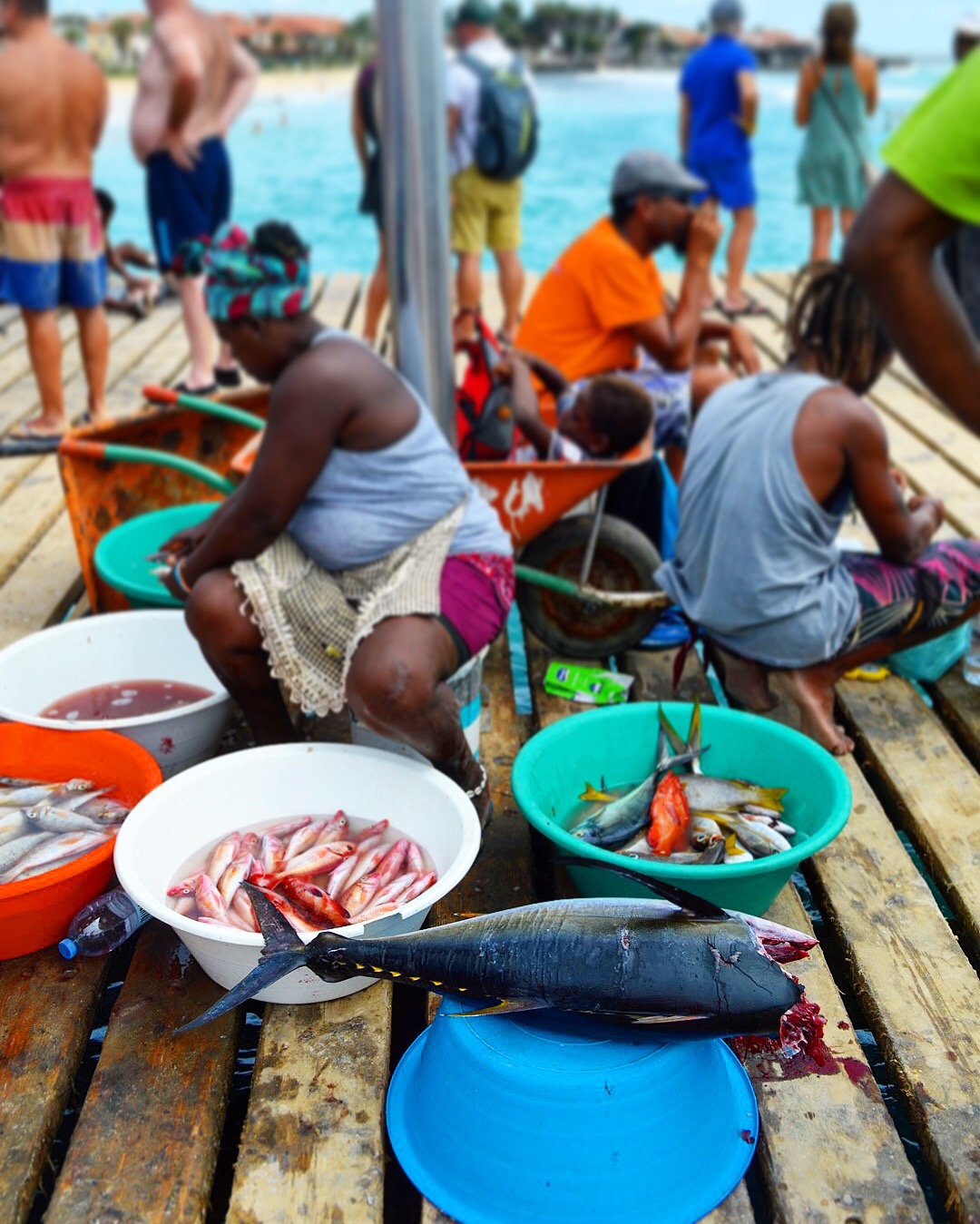 The country of Cabo Verde, or Cape Verde in English is a small group of islands (10 that counts), situated approximately 450 kilometers from mainland Africa. The country gained independence from Portugal in 1975, and hence you'll find a few Portugese influences in the local food. Since we visited Santa Maria on the island of Sal, the article will only cover that area of Cape Verde.
The local fare is quite hearty. The national dish is catchupa, a stew with vegetables, sweet potato and for instance, fish, pork, chicken, chorizo or all, or some of them. The national cocktail is, as in other former Portugese colony Brazil, the utterly delicious caipirinha. But instead of cachaca liquor, the local spirit "grogue" is used. The result however, is equally delicious. Since Sal and especially Santa Maria has a lot of tourists visiting, many restaurants are quite international in their offering, and you'll find Italian restaurants, British pubs, Indian restaurants in addition to the local Cape Verdean food.
Below is what we had during our week in Santa Maria.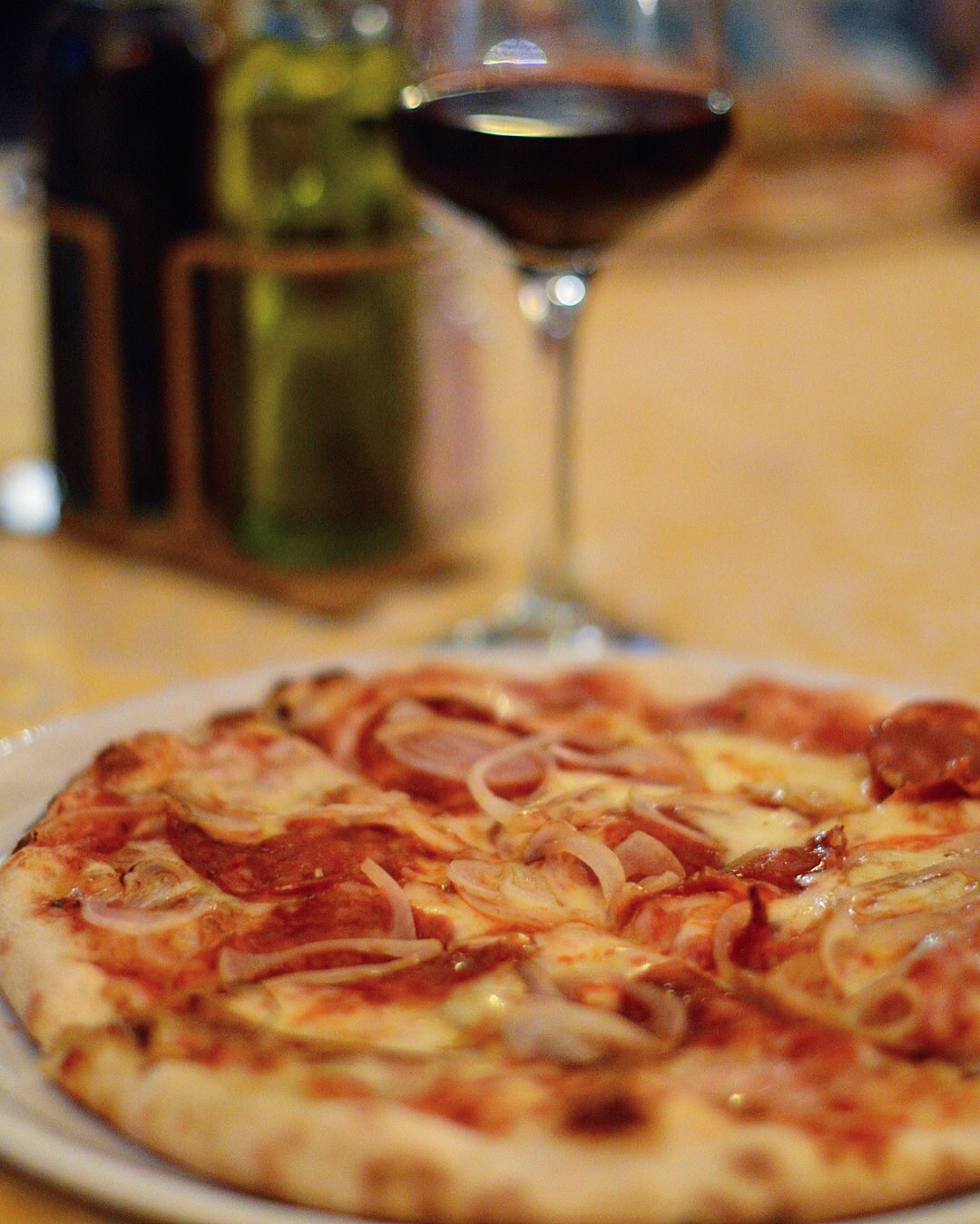 Leonardo Cafe
An Italian restaurant in Santa Maria town, quite close to the pier. We went there after craving pizza and red wine for our Sunday dinner. Leornardo Cafe delivered just that for decent prices, about €9/900 CVE for a pizza, and €4 for a glass of wine. I tried their pizza diavola with spicy salami.
Website (with menu)
La Tortue at the Morabeza Hotel
Since we stayed at the Morabeza Hotel, we visited La Tortue, that is located within the hotel a couple of times. Food quality is actually quite good with for instance a nice take on the local Catchupa stew as well as grilled meats and fish, international and local dishes, and desserts. Try their local cheeses with papaya jam if you want something local.
Website with menu
La Tortue tapas
La Tortue also have a tapas menu which we found was the best they served. Delicious mini burgers, Canary Islands "papas arugadas" potatoes, coconut prawns and a nice cheese board. Bonus tip: visit between 6.30-7.30 pm for a 50 percent discount on house wine, local beer and delicious caipirinhas. Added bonus is the tasty fried dough snacks that are served complimentary with drinks.
Les Palmiers at the Morabeza Hotel
The other of Hotel Morabeza's main restaurants. Menu similar to that of La Tortue above. Prices are slightly higher. We had the catch of the day, which actually were four different choices of fish, including tuna. Prices were around €12. When you select a grill item from the menu (this also applies to the Morabeza Beach Club below) you will get a ticket that you bring to the grilling station where you will get your meat/fish/lobster and where you also pick your condiments such as rice, fried potatoes, veggies, sauces and mayo by yourself. The other a la carte dishes are brought to the table by the service staff though. Food quality is good, but nothing out of the ordinary, what you can expect from a 4-star resort.
Website with menu
Chez Pastis
The fancy restaurant on the island according to most people we met and what we also read about in advance. Since the restaurant is tiny – it's located in an alley a block from the main street in Santa Maria, Chez Pastis is a place where you actually need a reservation. Numerous people walked in and were sent away since they hadn't reserved a table during our visit. We made our through our hotel three days in advance. The restaurant is run by an Italian man and has both Italian dishes as well as a focus on Brazilian premium beef. We tried both the pasta as well as the steaks and everything was quite delicious. The food is rustic and not very refined, so it's nowhere near a Michelin star kind of place, but tasty and quite reasonably priced compared to other restaurants in the area.
Website (no menu)
Morabeza Beach Club
The third place owned by Hotel Morabeza and only open for lunch. They serve quite straightforward food such as pasta, salads, club sandwiches and also the local grilled lobster. As mentioned above, you'll receive a ticket when you order grilled food to pick up yourself. The lobster is quite pricy at about €35, but for that you'll get a whole lobster and there was no problem to split it on two persons. Condiments for both was included. The other dishes are priced around €10.
Website (with menu)
Caipirinha bar
Situated on the beach, between Morabeza's Beach Club and the Santa Maria pier, the feeling is quite Copacabanaesque. It might have something to do with the Brazilian flag, the guys playing volleyball nearby and that you sit down on plastic chairs in the sand and drink tasty caipirinhas (€3) and fried salty dough snacks.
Cretcheu
At the beginning of the Santa Maria pier, Cretcheu is situated. They serve both lunch and dinner featuring stunning views (from the second floor) of the Santa Maria Beach and serve a local Portugese:ish fare. We went for lunch and had the lobster club sandwich which was decently tasty, but not great for the price (€15). We also went for dinner and had a tasty filet mignon with Portugese style chips. Cretcheu does also serve the volcanic Fogo island Chã wine by the glass which is the only place we visited doing that. Since it's quite pricey for Cape Verde (€6,5 a glass), this is a good chance to try it without having to order a bottle.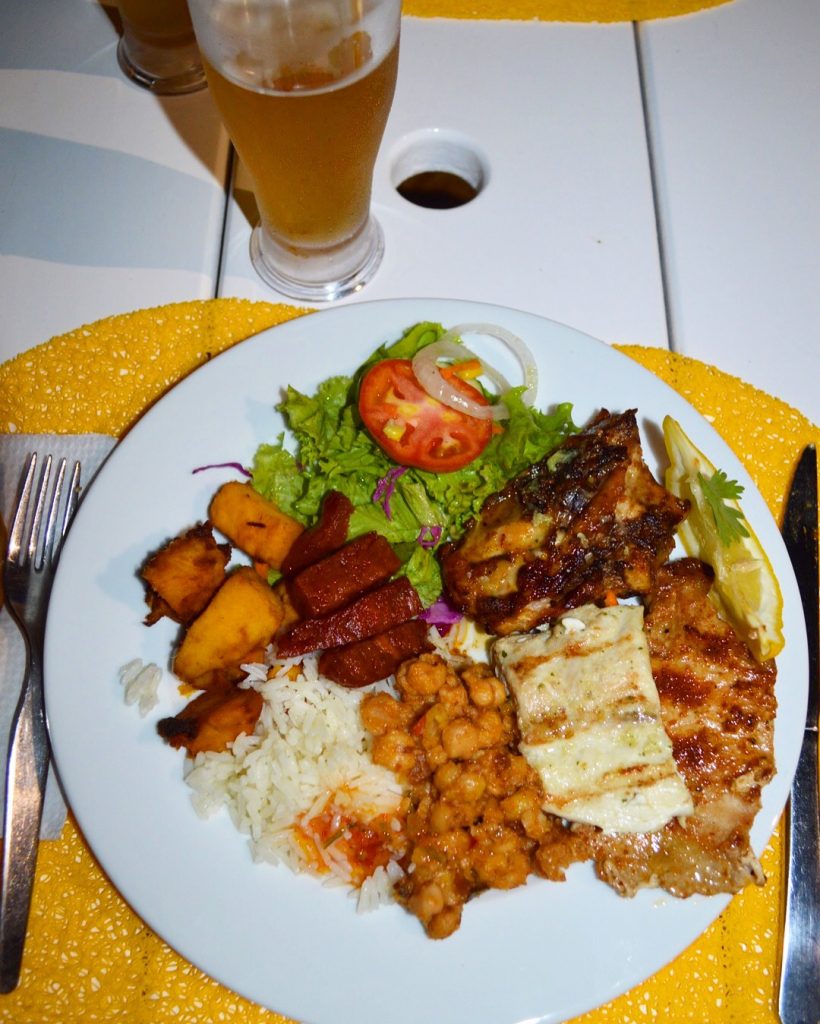 Odjo D'Agua restaurant
This was a pre-booked "Cape Verde night" through our tour operator Ving. I mention this though, since the food was really good. Probably the best we had on Cape Verde. I also heard that Odjo D'Agua run standard (open for anyone) Cape Verde buffets that I guess feature pretty much the same food. Despite the bad quality pic, everything was so tasty with fresh grilled tuna, chorizo, rice, sweet potatoes, grilled chicken and pork, salads and catchupa.
Website (with restaurant menus)