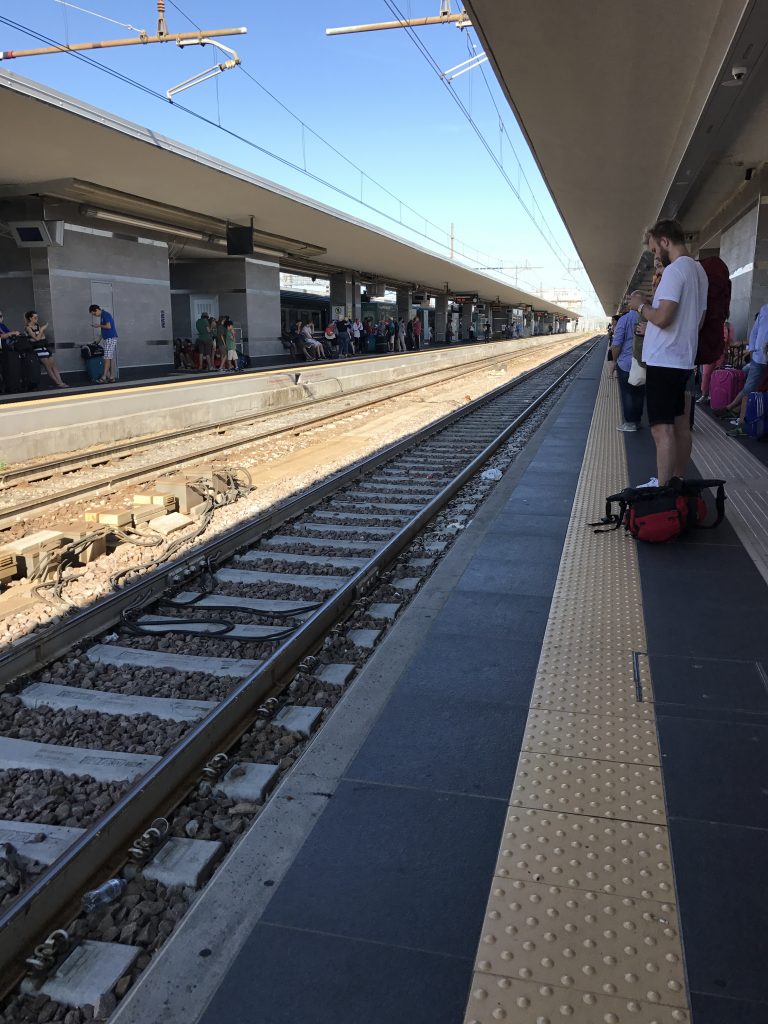 Since I have the fun, but also challenging, ambition of visiting all the countries in the world, naturally I had to visit the small mountain country of San Marino during my eating-frenzy in Bologna recently.
To get to San Marino from Bologna, I could not really find any simpler alternative (apart from driving yourself) than catching a train to Rimini and from Rimini station taking the international Bonneli bus line to the tiny little kingdom in the mountains.
Taking the bus to San Marino from Rimini's Central station
We had done our reading, and were well aware that it may become crowded, especially so since we went in mid-July and on a Sunday, and by some reason the bus leaves only every 75 minutes. As we arrived from Rimini about 9 o'clock, we just missed one bus. We went to the tourist office adjacent to the station and bought our bus tickets. We then crossed the road (where Burger King is) and went to check where the bus would depart. It was now 45 minutes before departure and no one was there. – Good, we thought, and went to the nearby cafe for breakfast (boring sandwich, good cappuccino). About 25 minutes before departure we thought we should go and line up. Unfortunately, during our 20 minute breakfast, approximately 70 people had somehow sneaked past us and now formed a twisted line starting in a few different directions. The law-abiding of us formed a line, and a few more ego-centric soon started their own closer to the supposed bus stop. There was however decent order, despite no staff from the company. Suddenly the bus appeared, half full from two earlier stops, and chaos ensued. The semi-orderly lines formed into a wall of people trying to force their way on to the bus. Fortunately, someone had done a little thinking and another empty bus arrived. This meant that the people still trying to push themselves on half-full bus 1, now tried to push their way off and on to the empty one instead.
I've heard that it is not at all rare for people to be left behind due to the buses being too crowded, but this time I think all of us actually got onboard, even though it meant us less pushy had to stand up for the one-hourish trip up the mountain.
My suggestion here would be to get on the bus on one of the earlier stops before the Rimini Central station (or just grab a taxi) if you're traveling during high season. If I were the bus company I would do much more frequent departures or sell reserved tickets on a few departures. The return was not much better, but we eventually managed to at least get a seat.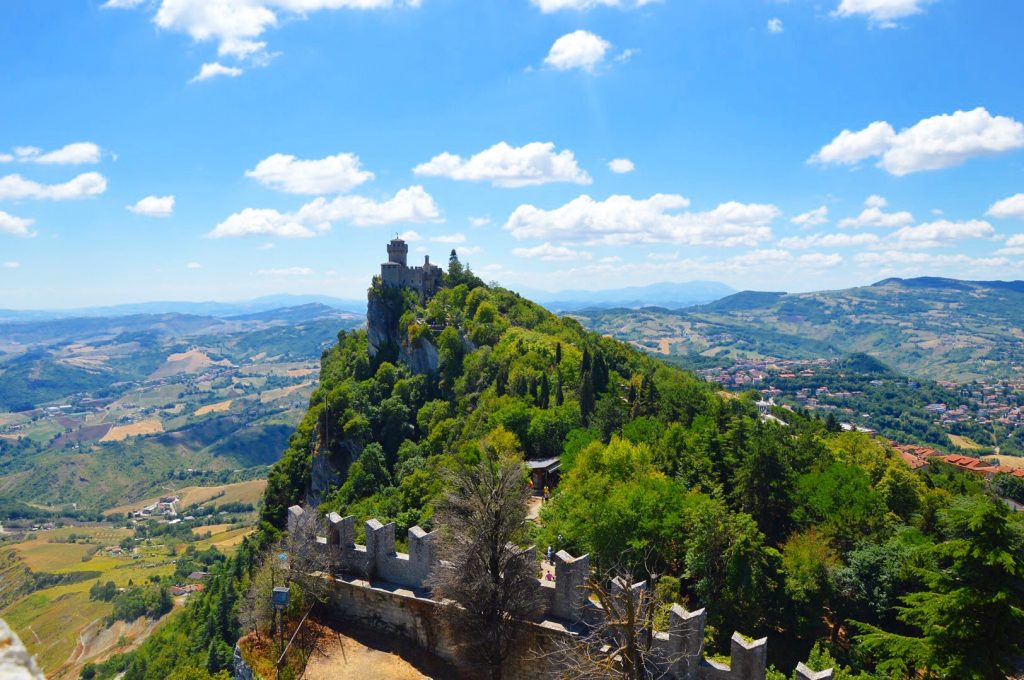 San Marino, the land of beautiful views
Anyway, after the sort of painful trip we found ourselves in San Marino. The tiny mountain kingdom has a resident population of approximately 33 000 (2016) and is not a member of the European Union (although the border with Italy is open, so no passport control). This also mean that the free intra-EU roaming is not in effect in San Marino, eg. shut off your roaming (or at least check with your service provider).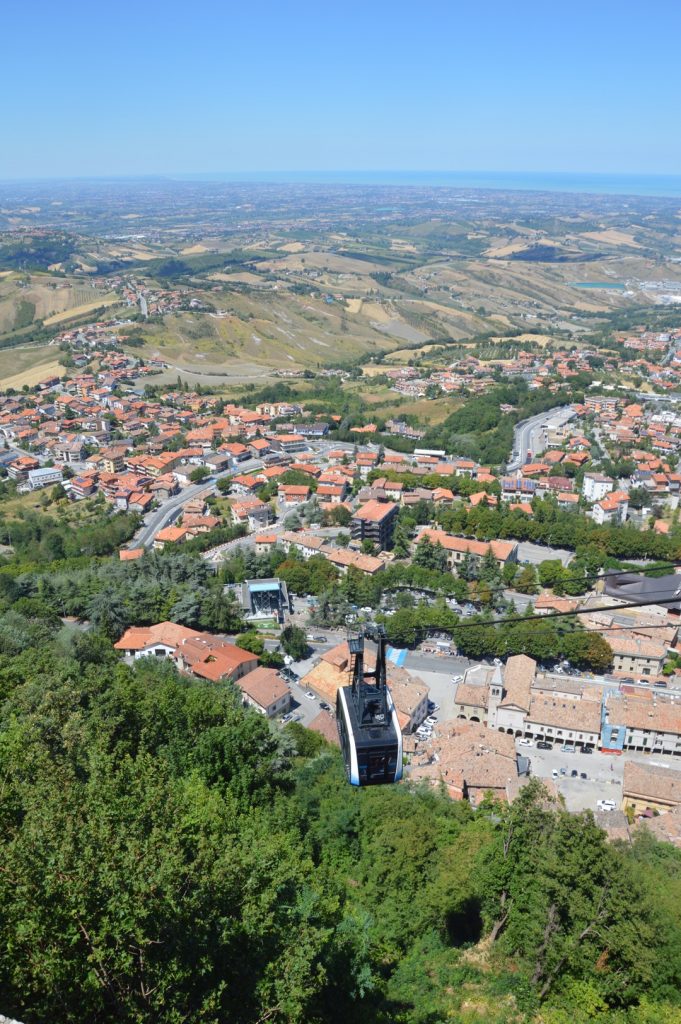 We had about 5 hours before we needed to go back to Rimini for our trip back to Bologna and chose to spend the first part visiting on of the towers of San Marino for some views of the kingdom itself, the surrounding countryside and also of the Med, looking very inviting in the distance.
Then there was food, of course. I had found a restaurant called La Terrazza that I'd booked online a few days earlier. Problem was, many restaurants was named "La Terrazza" due to having a view, and I had not internet. Fortunately, after some walking around we found the correct La Terrazza and were seated with an incredible view over the surrounding area. We ordered a Piemontese craft beer that the waiter suggested as well as a board of local charcuterie, cheeses and condiments.
I had read in advance that they eat a fair bit of rabbit in San Marino, so naturally I had to try their "Strozzapreti al ragú bianco di coniglio e olive taggiasche". A delicious rabbit ragu with mini olives on strozzapreti pasta.
The food at La Terrazza was actually very nice, even though slightly pricey. The atmosphere was very relaxed and it was a nice contrast to the busy streets outside crowded with touristy shops and day-visitors like ourselves.
Our schedule worked out in the end and we caught the bus from San Marino back to Rimini about 3 pm and then the Trenitalia train back to Bologna 4.30 pm. Happily we found out that they sold bottled Aperol Spritz onboard which we enjoyed together with the scenery for the rest of the trip. A long day, but absolutely worth it in the end.