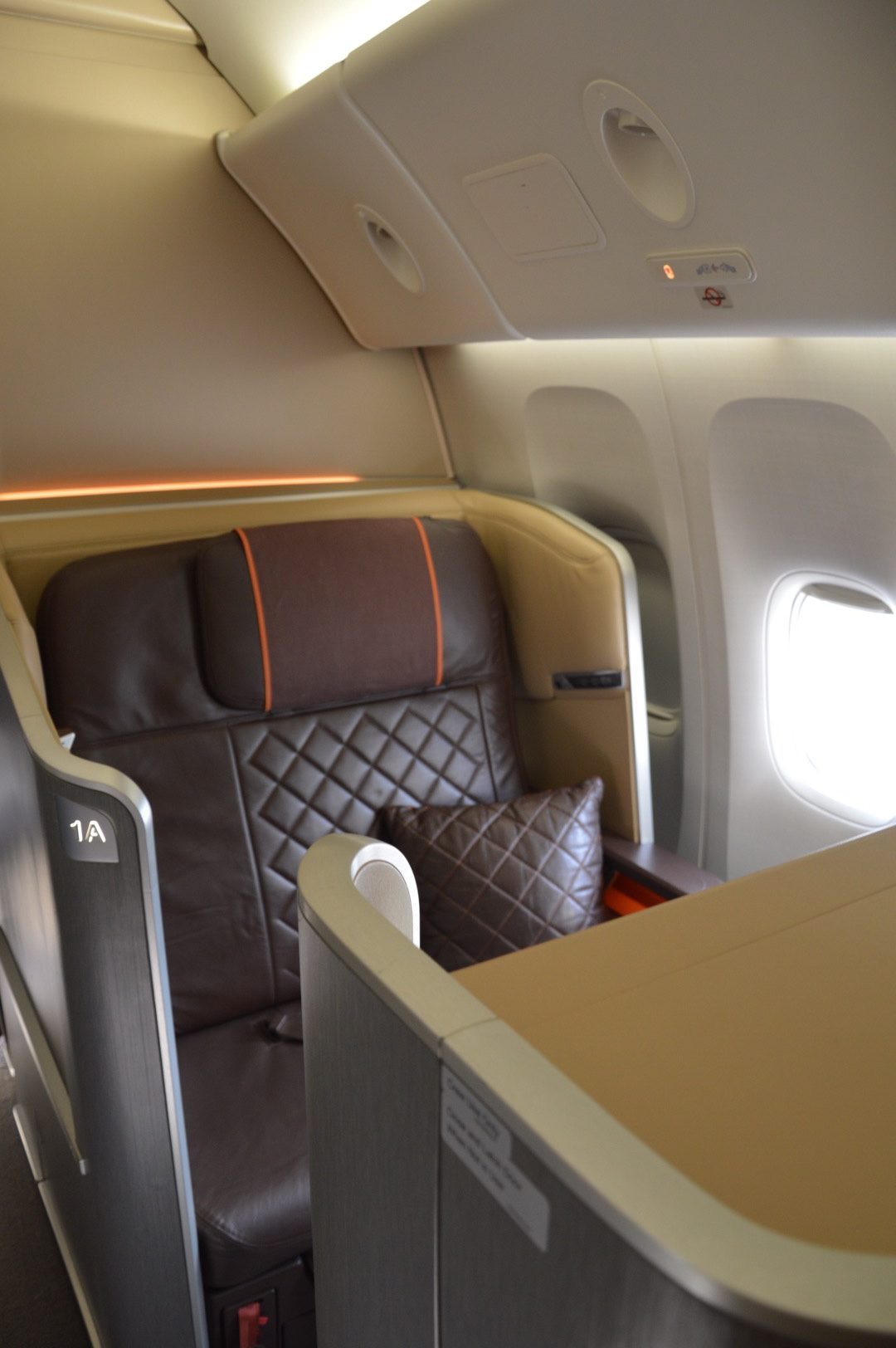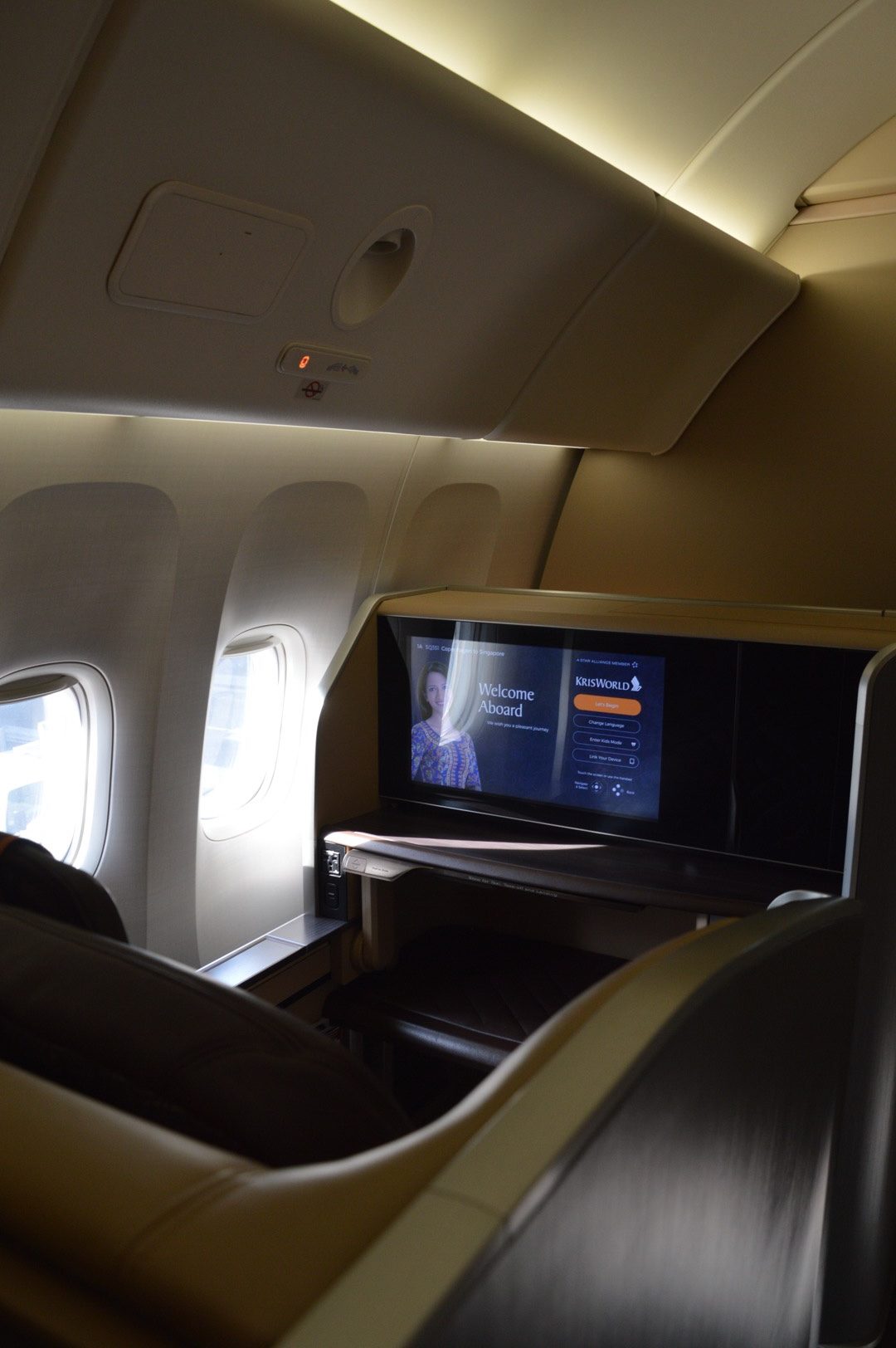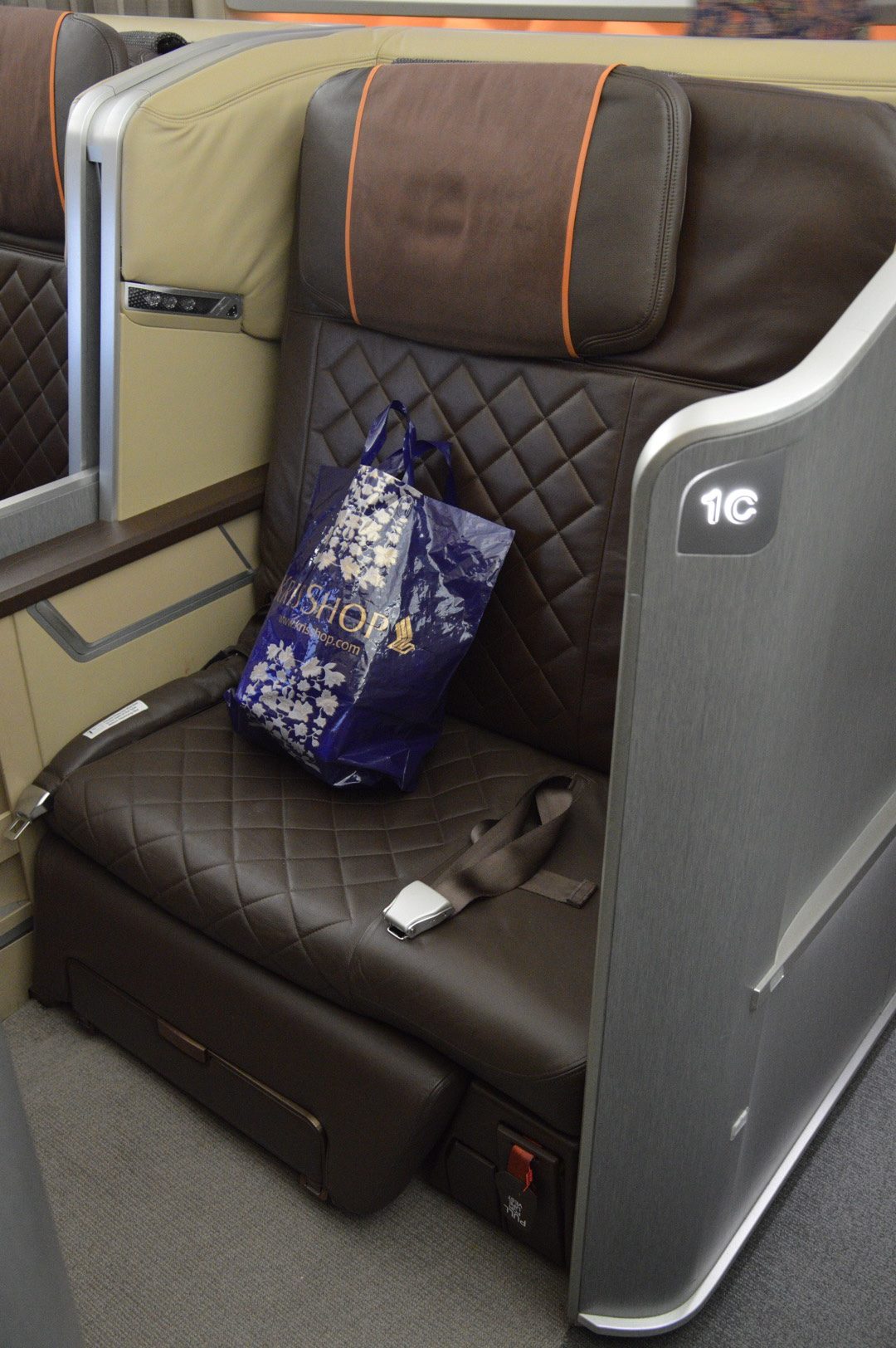 I recently returned back to the cold after a fantastic trip to Asia which started off with a trip with Singapore Airlines in First Class, thanks to burning a couple of years worth of Eurobonus points (airline miles).
As a perk for Scandinavian passengers, the usually-with-Eurobonus-points-off-limits First Class cabin is since a while back now available to book on the Copenhagen-Singapore route, giving less rich travellers like myself the opportunity to try among the best of the best in the skies.
After a relatively non-exciting SAS Plus flight from Stockholm, we arrived Copenhagen Airport. We weren't sure which lounge to use, since we are not gold card holders and Star Alliance has two lounges in Copenhagen; SAS Gold lounge and SAS Business lounge.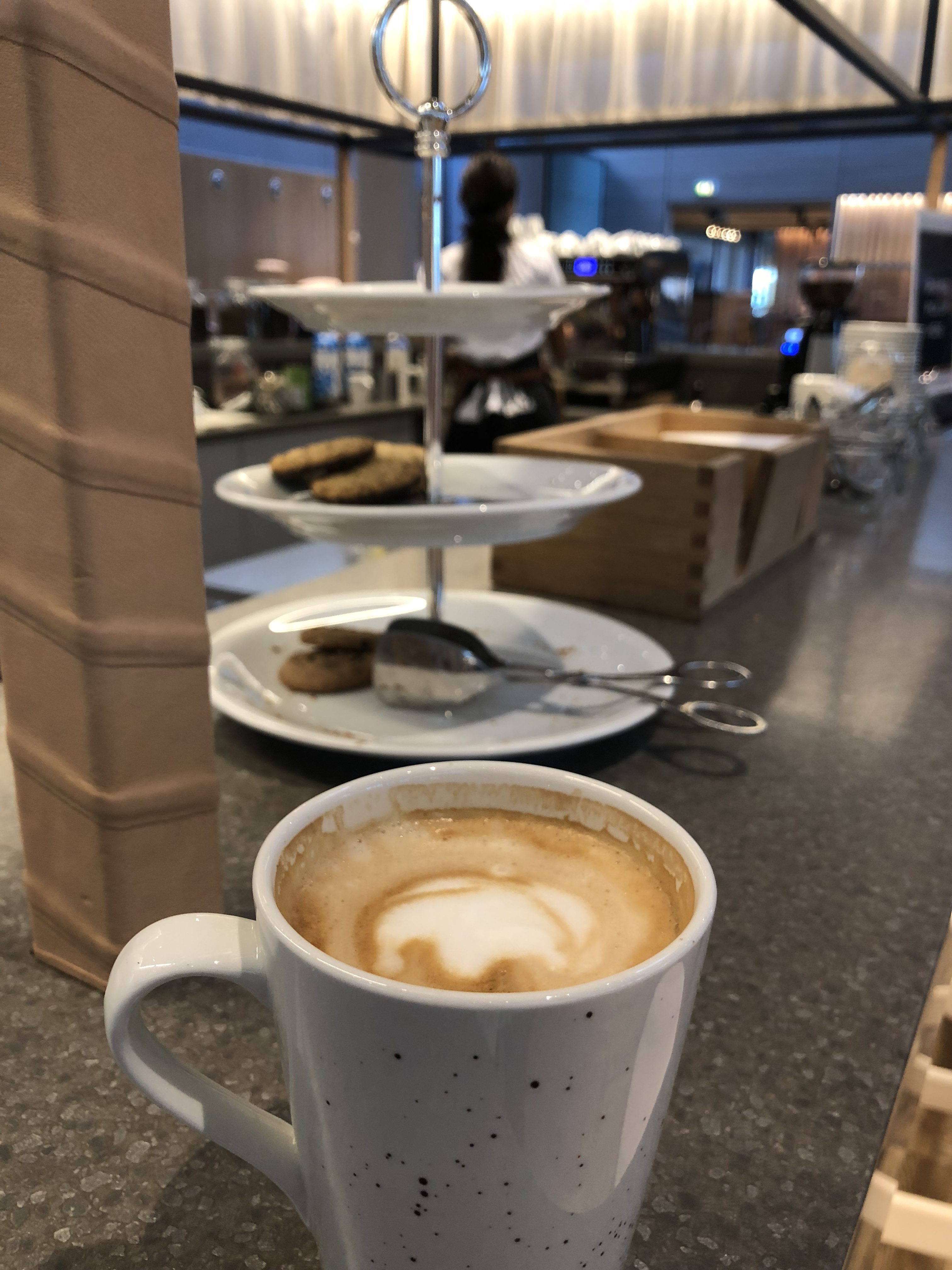 SAS Gold Lounge Copenhagen
When we arrived the lounge reception area we showed our first class tickets and were immediately pointed towards the Gold lounge; Yay!
While not incredibly exciting, it had a decent buffet, a good enough selection of alcoholic beverages (but no bubbly), and best of all: a Barista manned coffee bar. While it closed the second we arrived due to staff shortage, our initial dissapointment was turned into the opposite when they opened an hour later, producing a nice latte, even with some latte art vaguely resembling a heart.
But, really, who cares about the lounge when you are about to try Singapore Airlines' First.
Boarding SQ351
When arriving the gate area of our flight, we saw our names on a screen with a message to approach. Apparently we had to show our visas to China, which we did not have due to planning to use the 144 hour transit visa. After some (very friendly) discussion we were registered and handed new first class boarding passes and asked where we would wait so they could keep an eye on us as we would be boarding the plane First (sorry).
Just a few moments later a man with a first class sign appeared, we discreetely waved and he came and walked us to a check in counter. It was time for the experience to begin!
Upon entering the cabin, a technician was working on my seats reading light, something the staff clearly was displeased with. I did not mind at all, as the guy was just finishing work when we arrived, but it made me wait a whole minute or so before being able to sit down (which I used to take pictures). Nevertheless, the staff apologized immensily on several occassions and after a while they told me they'd decided to hand me a couple of hundred SGD worth of inflight shopping vouchers as compensation. While I was already totlly happy with the free-flowing Dom Perignon and Krug champagne, this was quite impressive in terms of service and their ambition to create a perfect experience.
Food and drink onboard
Shortly after take-off the meal service (lunch) started. Unfortunately Singapore Airlines' book the cook service is unavailable on the Copenhagen-Singapore route, but a few days before leaving we could log in and see what meals that were available on our particular flight.
To drink there was plenty of good stuff, while mainly focusing on Krug and Dom Perignon champagne, we tried some of the onboard red and whites as well as whiskey (Blue Label and something Scottish).
The food was given our location extraordinarily delicious even though it was of course in the end still airplane food.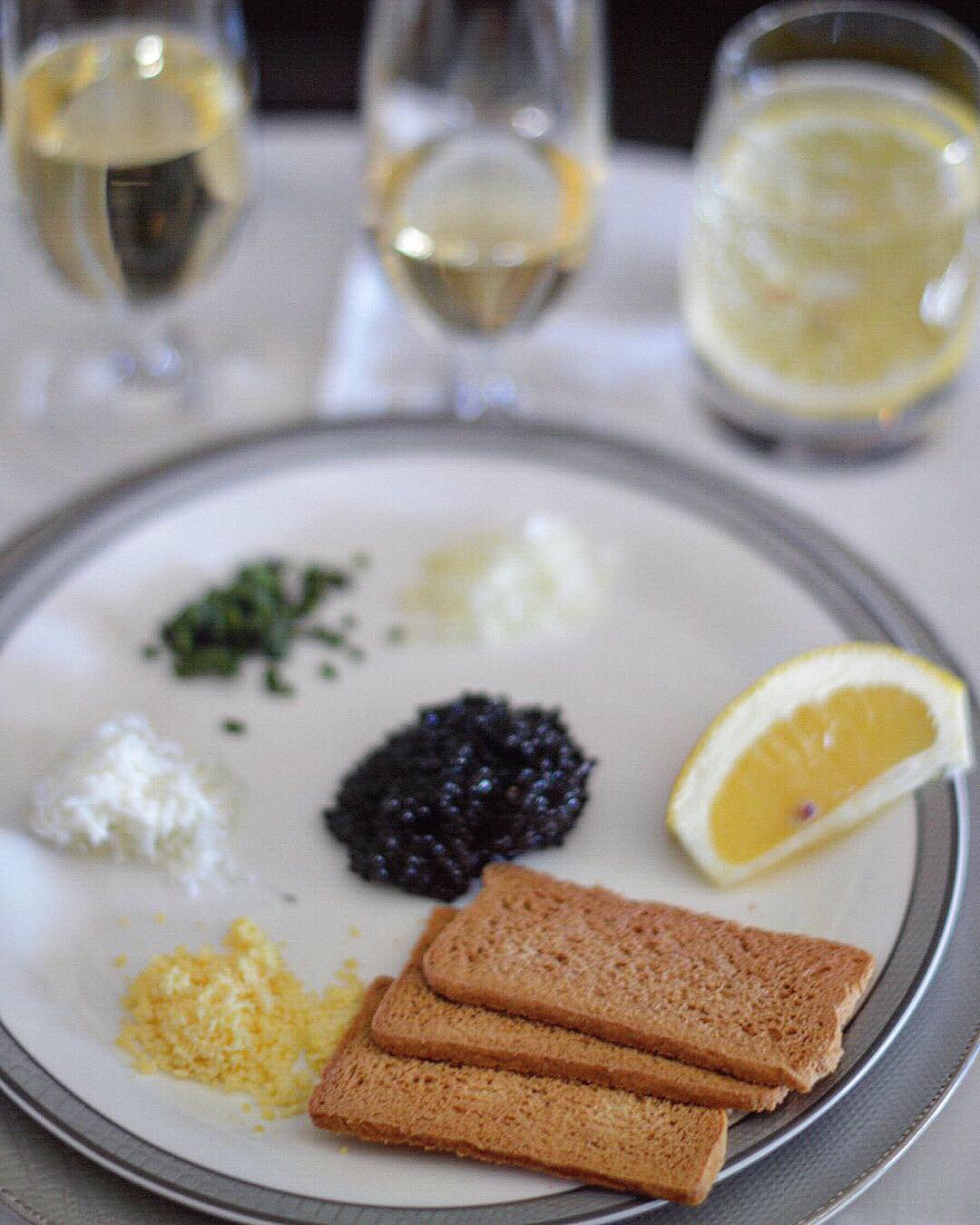 First up was chilled Malossol caviar with Melba toast and condiments (chives, lemon, egg, raw onion).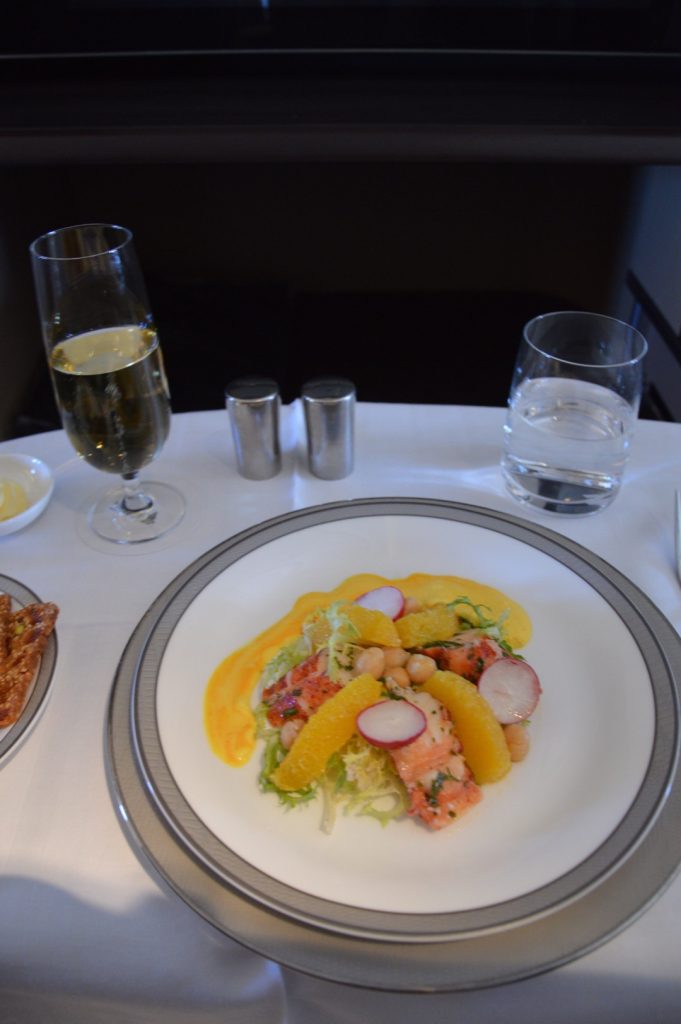 It was either caviar or lobster for starter. I asked to have both, but they were short on supply. Luckily I traveled with my partner so I convinced her to take the lobster salad so that we could try both. The caviar won.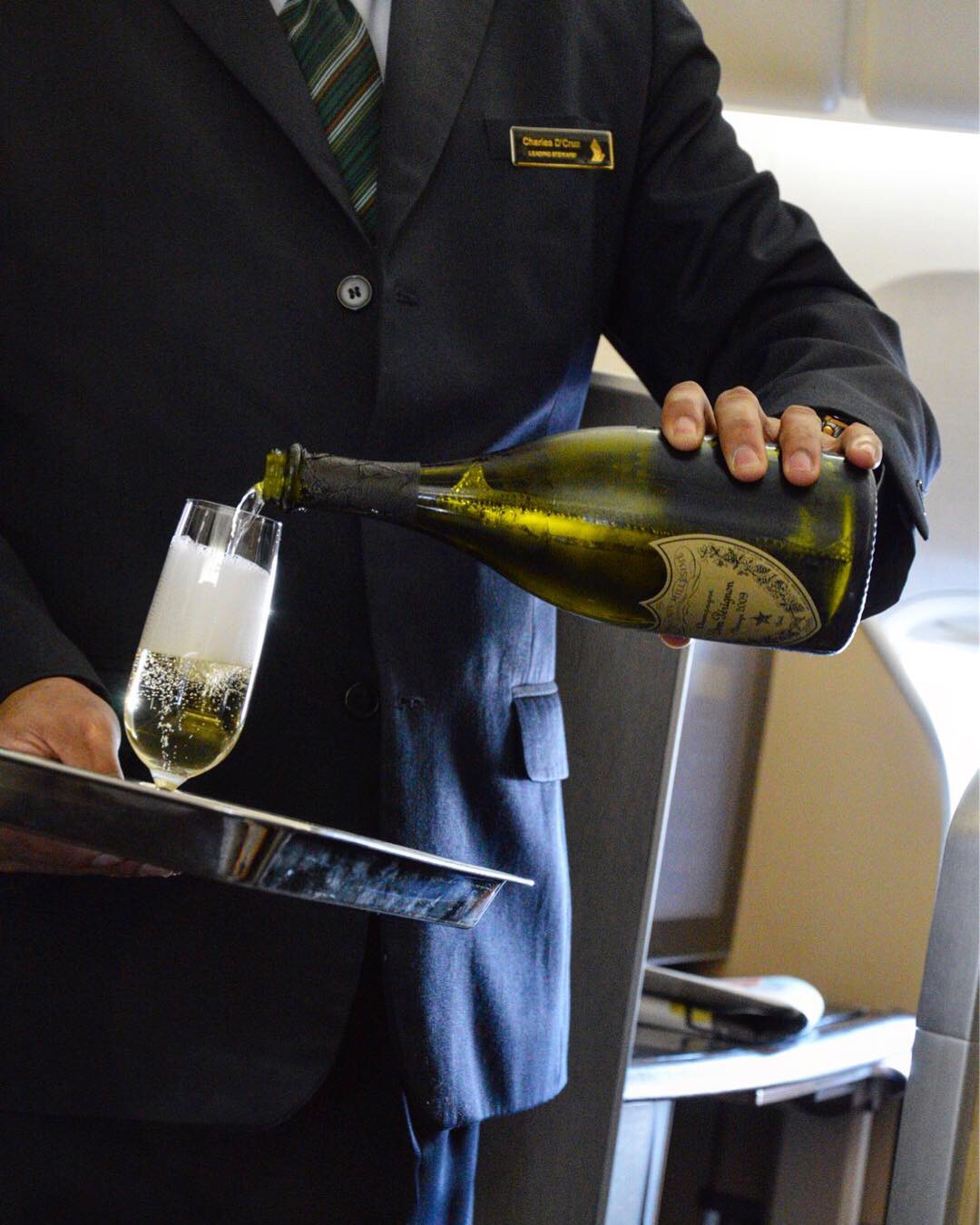 "Care for some more Dom Perignon, sir?" –– Well, if you insist!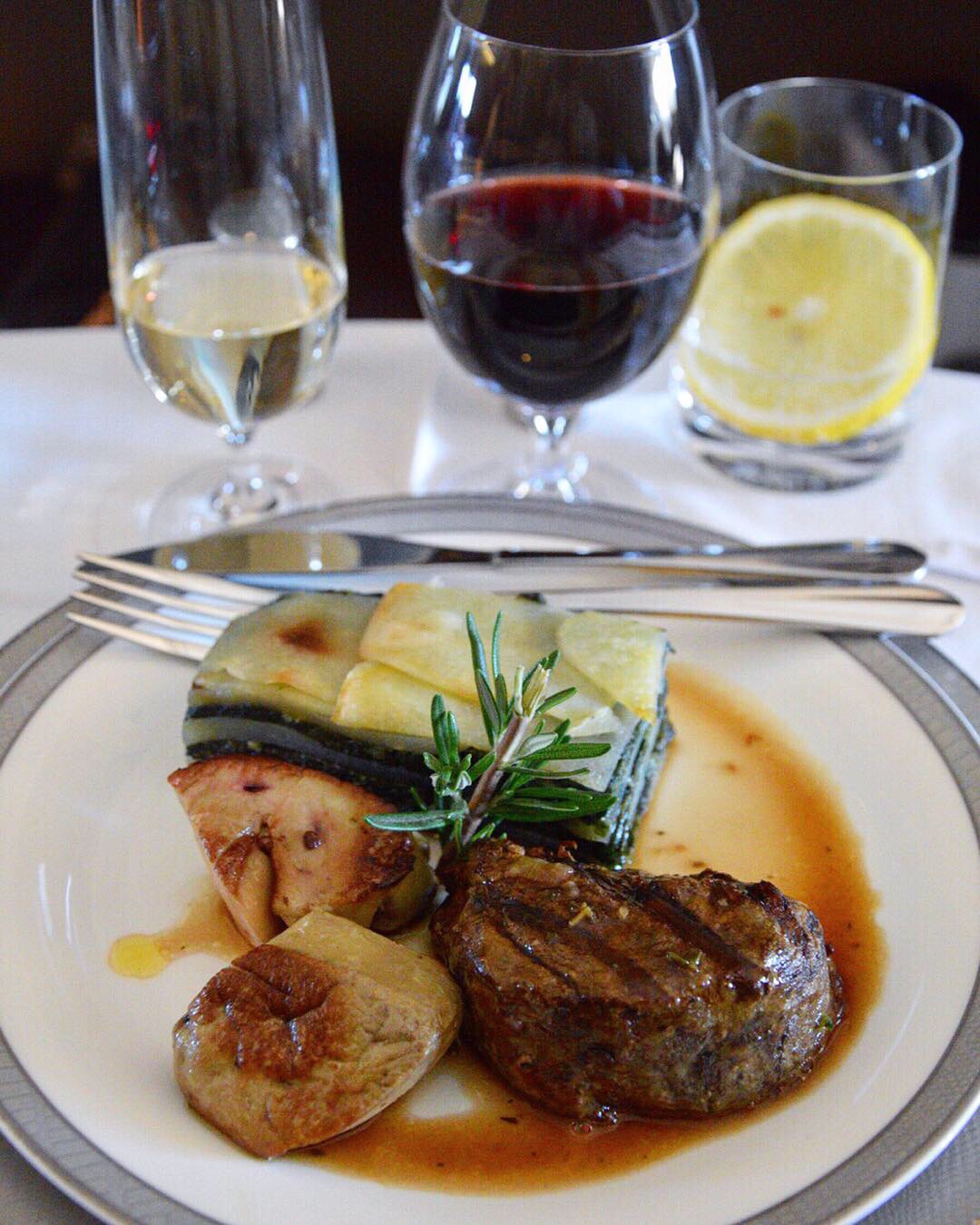 Main course: sirloin Rossini with decently tasty steak, fried foie gras, marsala wine sauce, Pommes Anna (potato cake), spinach and mesclun salad. Decadent and tasty, but a notch under "wow".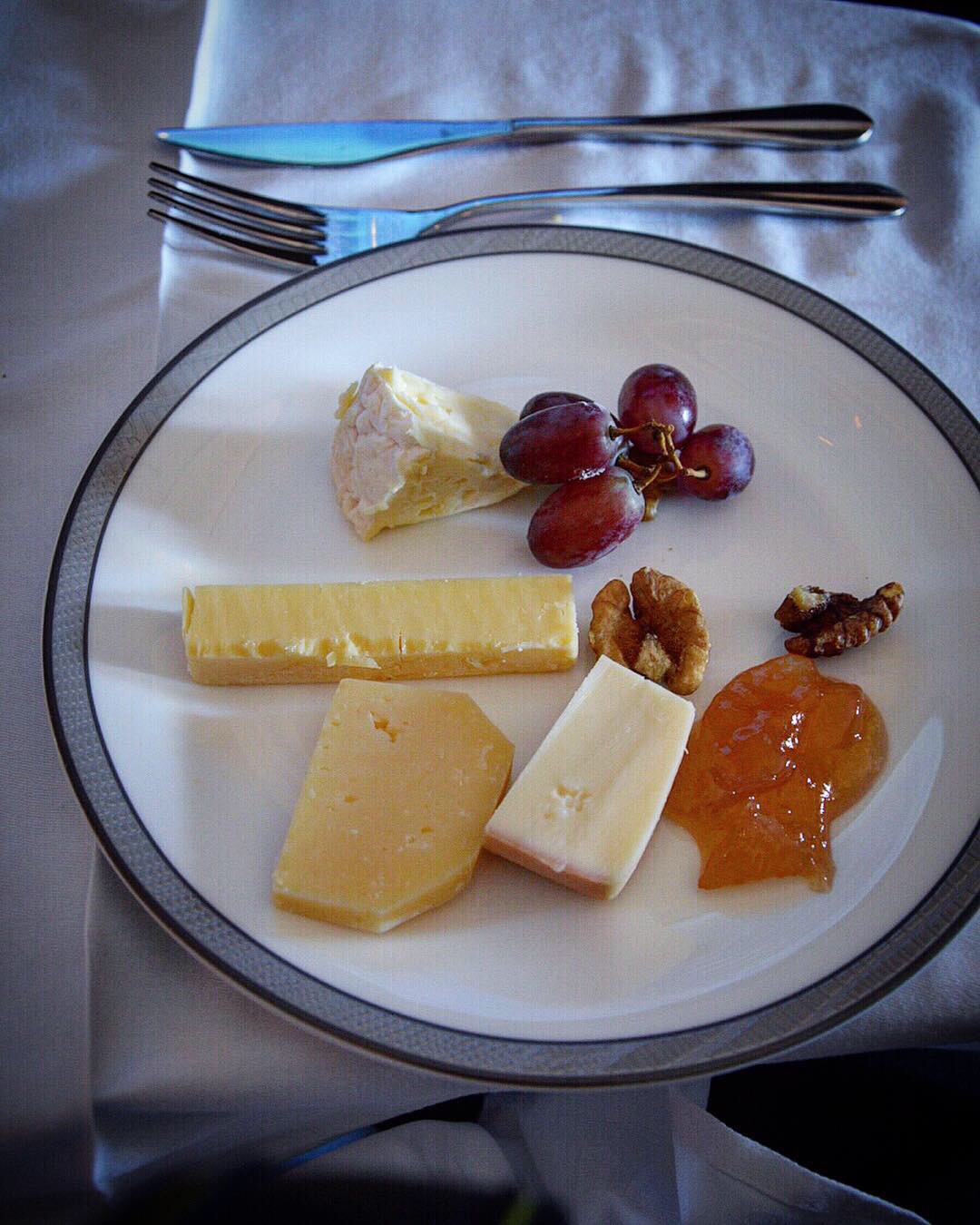 Cheese board.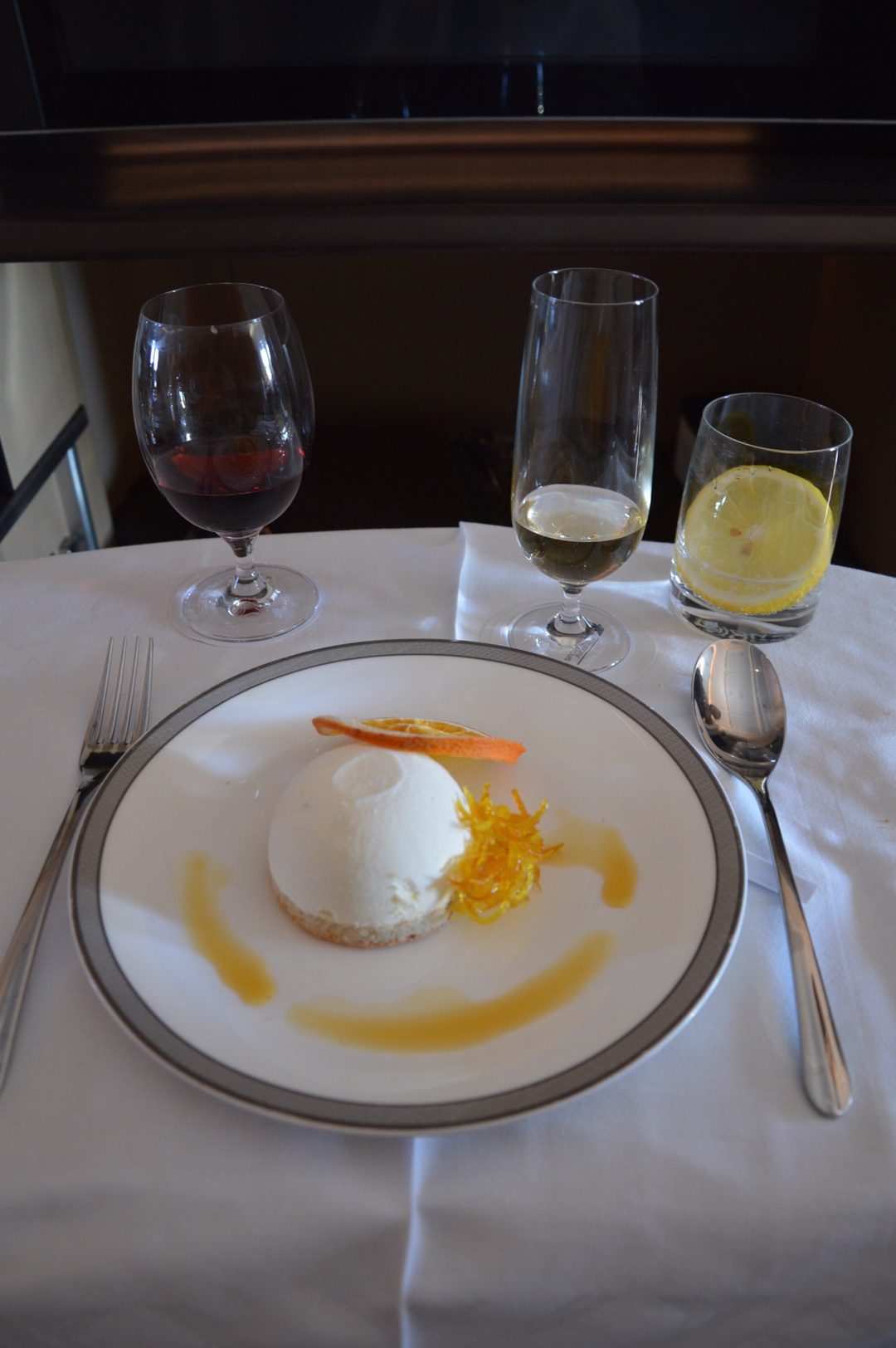 Some kind of delicious ice cream cake finished of the meal. At this point I was beyond full.
The seat and First Class cabin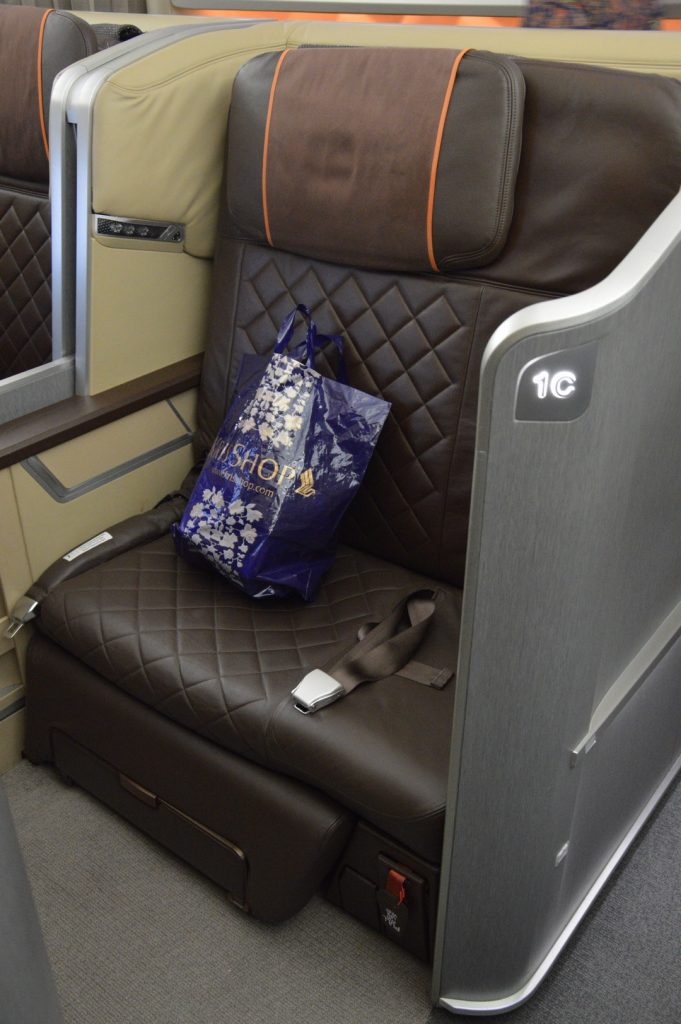 The First Class cabin onboard Singapore Airlines' 777-300ER is quite tiny, since it only consists of one row of seats, meaning there are only, maximum, four first class passengers onboard.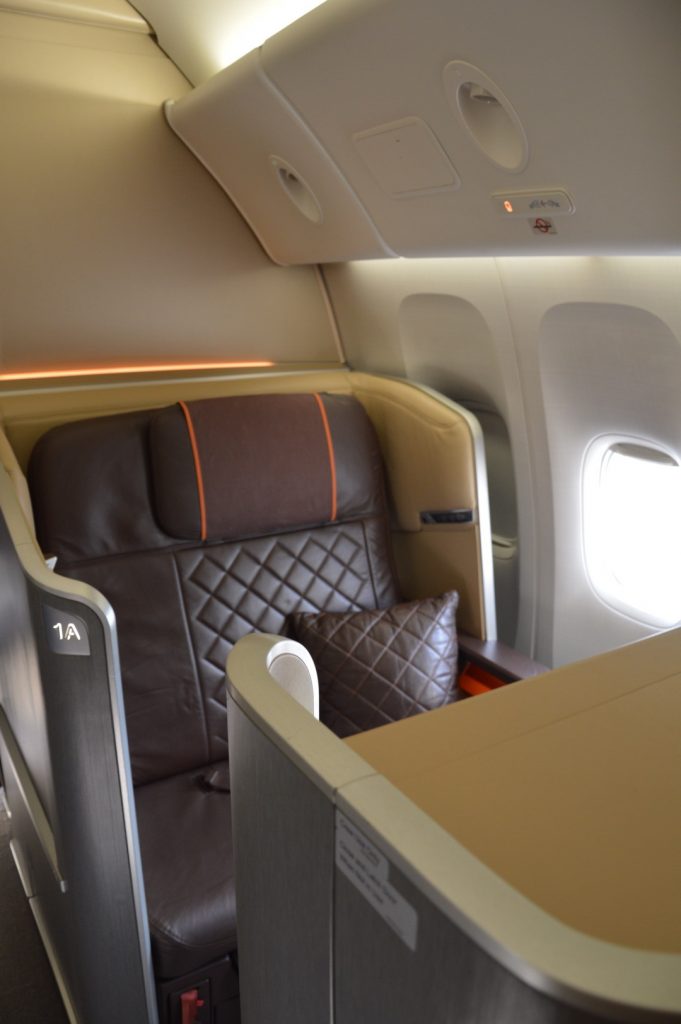 While very roomy and comfortable, especially in terms of width, it is not a 'suite' per se, with for instance an actual "door" you can slide shut, as some airlines offer.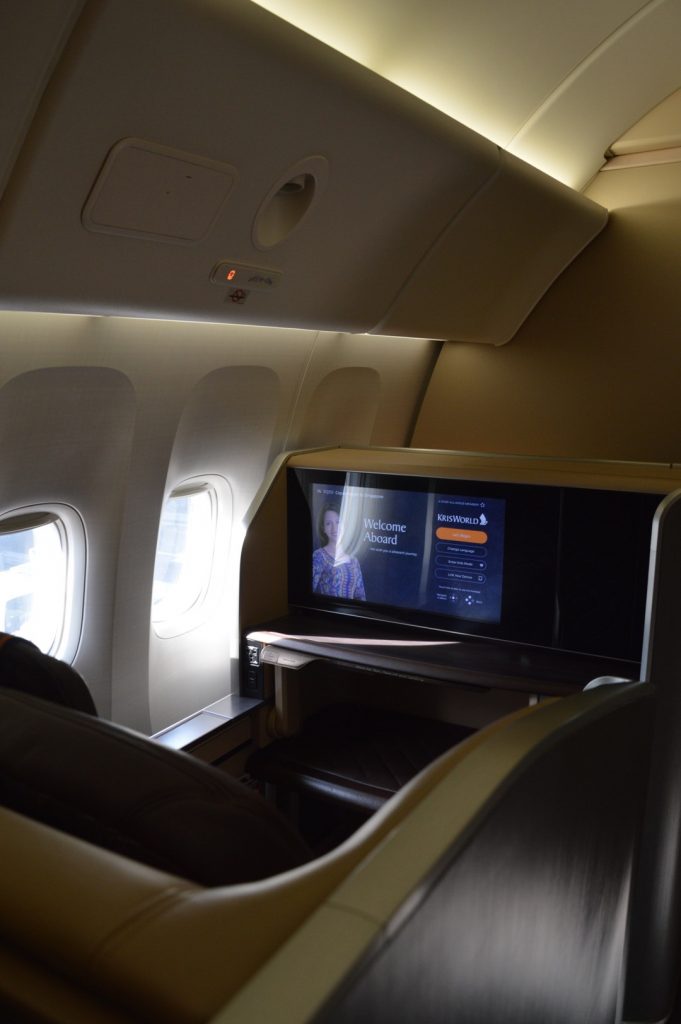 But you wont suffer, the seats were as mentioned very comfortable for pur 12 hour flight. We actually managed to share one seat, sitting next to each other watching a movie, eating chips and drinking champagne. Incredibly nice. Especially since we usually fly economy, and all too well know the pain of sleeping leaned against, at best, a window, that 200 or so less fortunate passengers were doing at that same time.
When it was time to sleep, our seats were turned into comfy beds with matresses and duvets, and I got a short 3 hour sleep before it was time for breakfast. That breakfast by the way wasn't too exciting, on the other hand probably due to me being way too tired.
Next time I'll try to throw in some more sleep, but it's very hard when you literally are up in the clouds with fantastic service, comfort, drinks and food.
Conclusion
I'm definitely no premium cabin flyer, even if I try to when possible. If I pay myself (this trip we used miles) I almost always fly economy class. So I guess what I am trying to say is that I really appreciate how good and special an experience this was.
Having said that, I've before tried Asiana First Class as well as Thai Airways' First Class, and while both have slightly "better" seats than Singapore Airlines' 777-300ER First, I still think that my trip with Singapore has been the best so far. The attention to detail, the amazing service from the friendly crew, the wines, the food made this an extraordinary experience I will definitely forget – and hope to sometime experience again.