This is a paid article in collaboration with Julbordsmäklarna.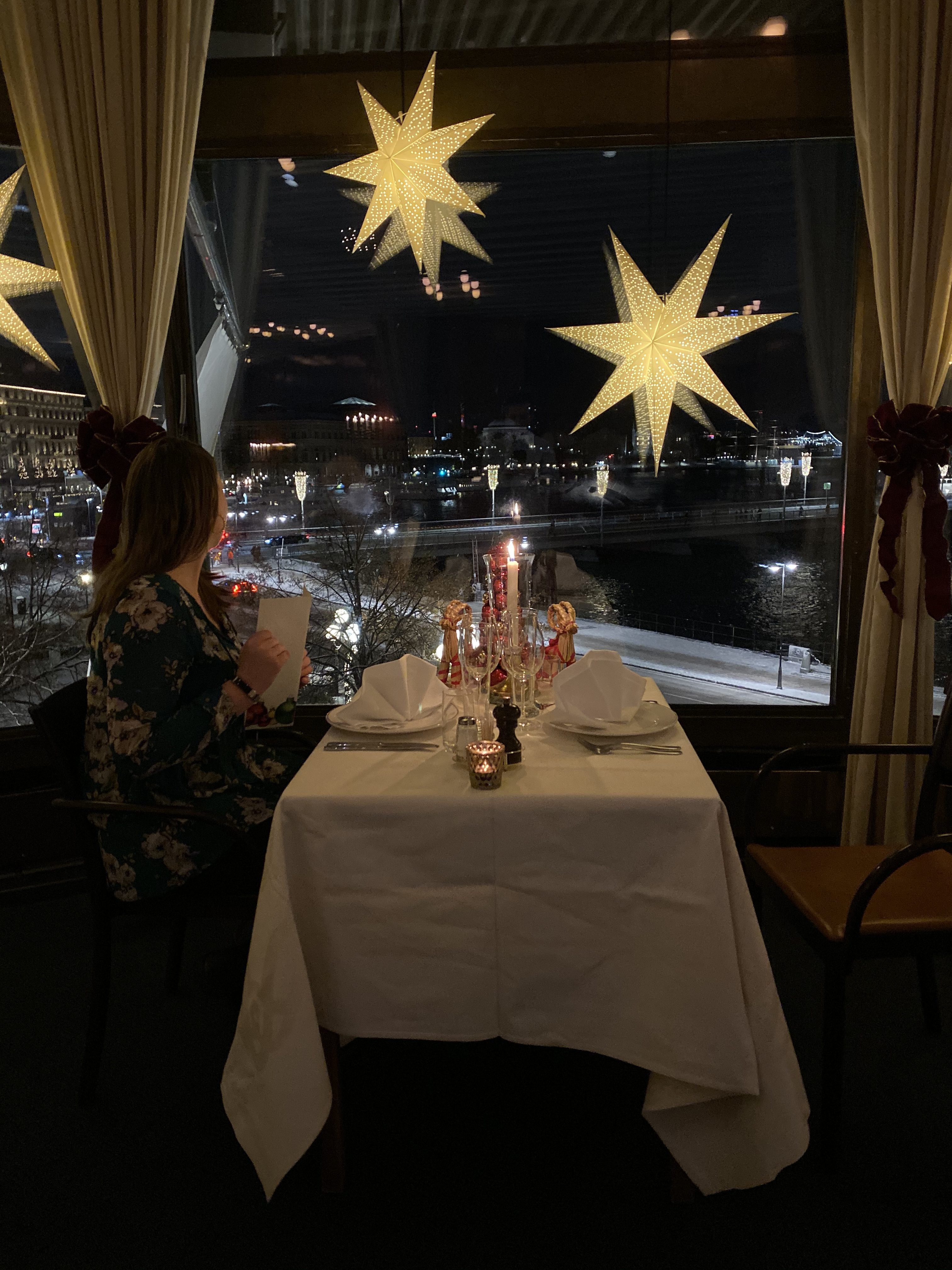 I recently visited Operaterrassen, a sort of fancier julbord– julbord being Swedish for a Christmas buffet – the literal translation being 'Christmas table', that you eat during the Christmas period, which roughly stretches from the 1st of December until Christmas Eve on the 24th.
Booking Operaterrassen using Julbordsmäklarna.se
I found and booked my table at Operaterrassen with Julbordsmäklarna, an easy and convenient online service that allows you to browse through and find your prefered pick among around 300 different julbord around Stockholm – and also nationwide in Sweden from 2020. Also, Julbordsmäklarna does not add any extra charge on top of the regular price.
Operaterrassen
Operaterrassen (or the Opera terrace) is located in the Stockholm Opera, built in 1773. It is pretty much in the very heart of Stockholm, and being up two stairs from street level, feature stunning views over Blasieholmen and the Grand Hotel, Stockholm's old town and the surrounding water.
Vegetarian options
While Operaterrassens julbord is heavy on meat and seafood, there are a few vegetarian options. This is probably not your first pick for a julbord as a vegetarian and even less so if you're a vegan. There are a couple of different salads, cheeses, breads, omelettes, cabbage and sauces, and of course the desserts, that lack meat or fish (to my knowledge).
Old school but very friendly service
We had our personal waiter, an older gentleman that possibly was the genuinely nicest waiter I've ever run into. Super relaxed and friendly in a very much non-posh way – as you may fear a little in places like Operaterrassen that has been around for a long time.
Seven rounds of Swedish Christmas food
Our waiter suggested that to fully appreciate the dinner experience, he recommended that we took "seven turns". I've never done that, but hey, when in a super old restaurant – stick to tradition!
Round one: herring and condiments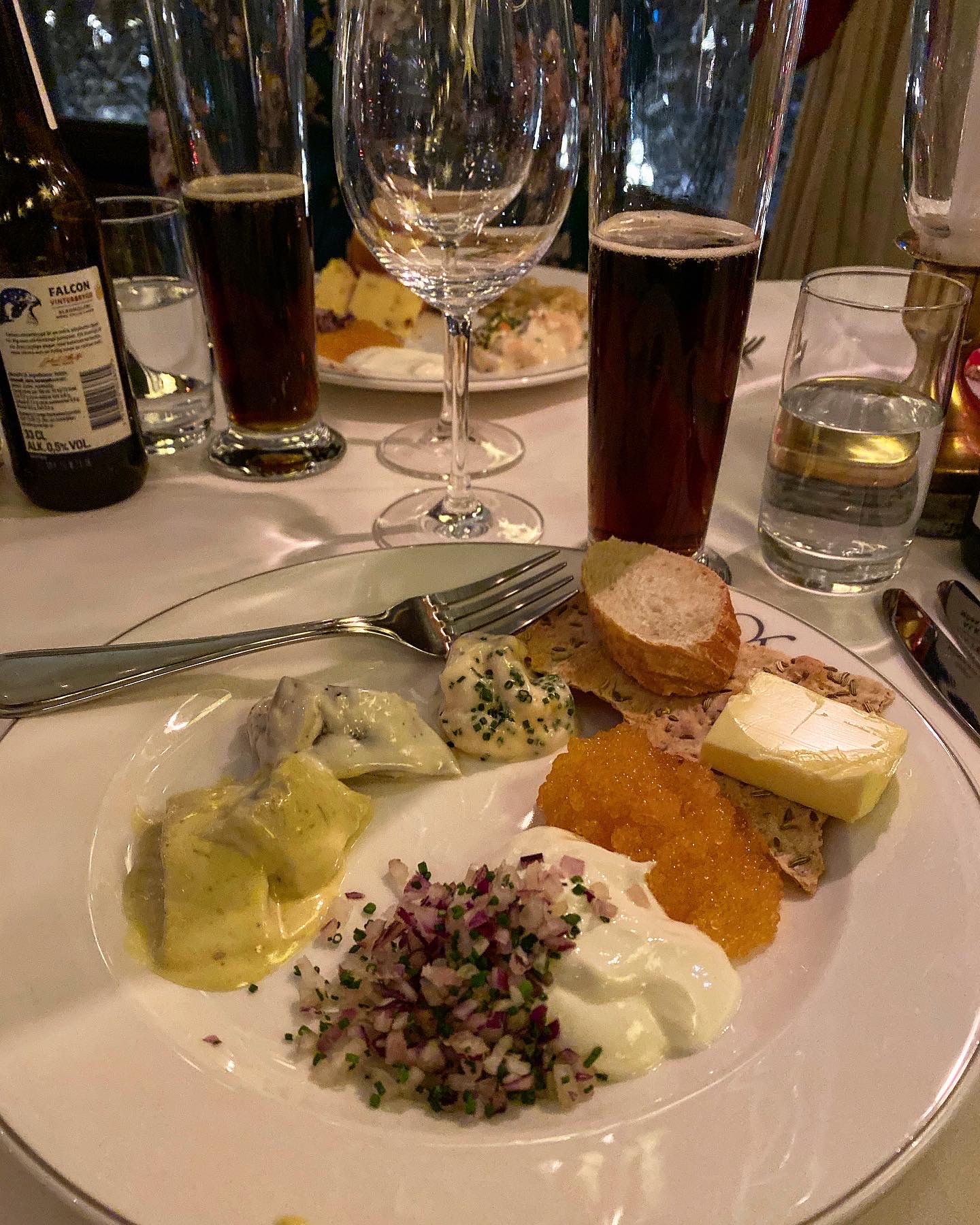 Herrings; fish roe (much tastier than it might sound) with sour cream and finely chopped red onion; prawns in mayonnaise, and a carraway crispbread I rebeliously nabbed from the cheese table (that's round 5!).
Round two: Mixed seafood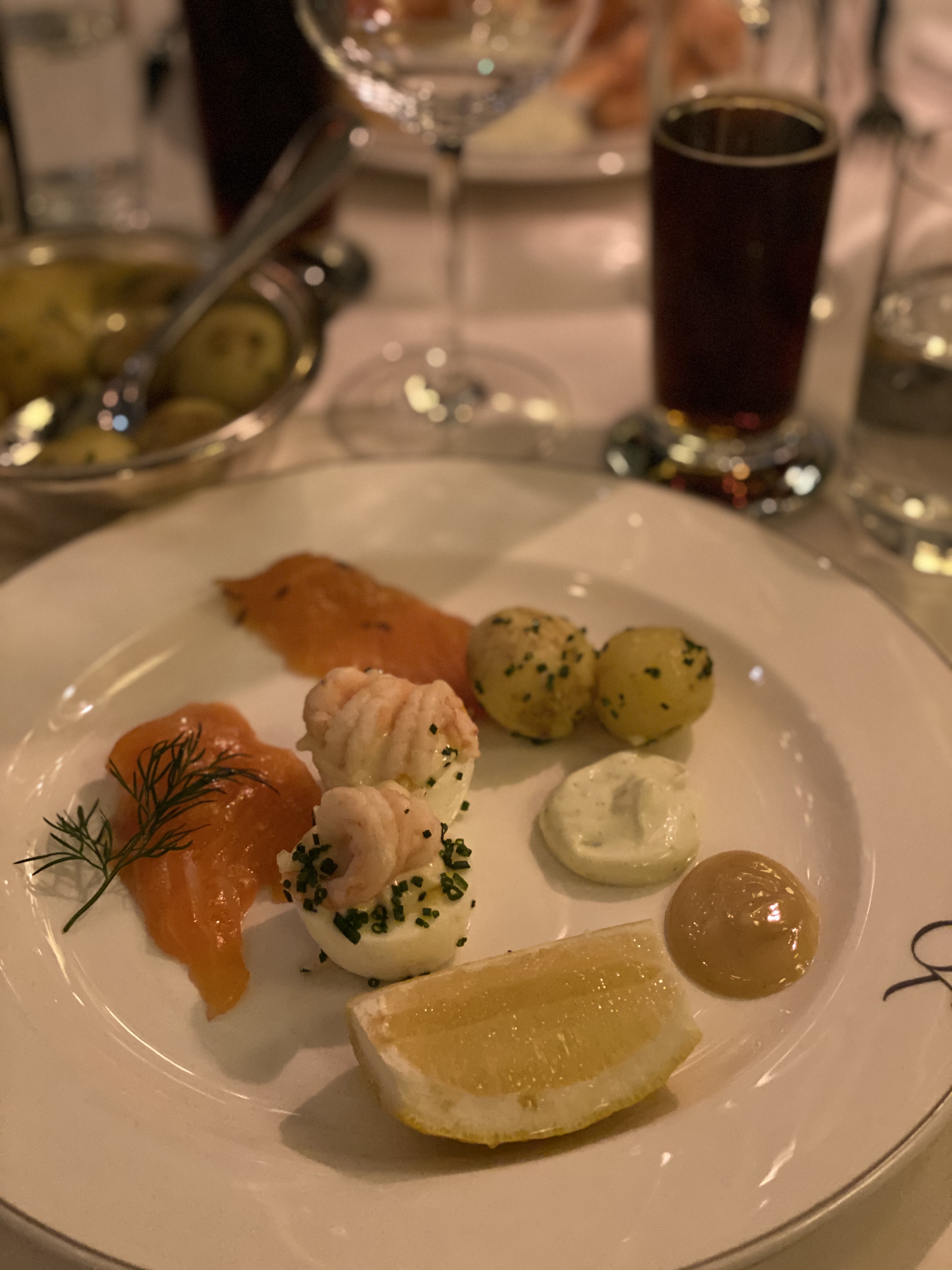 Two kinds of salmon: gravlax and smoked salmon. The gravlax was amazing and came with a very nice hovmästarsås, a mustardy sauce we put on salmon in Sweden. There were also eggs with shrimps and a bunch of pretty little potatoes that were separately brought to the table.
Round three: coldcut meats and condiments
Waldorf salad; smoked reindeer; pork roll; Christmas ham with coarse mustard; pickled veggies; kale & orange salad, and beetroot salad. There was plenty more in the buffet, but this was what I tried.
Round four: warm items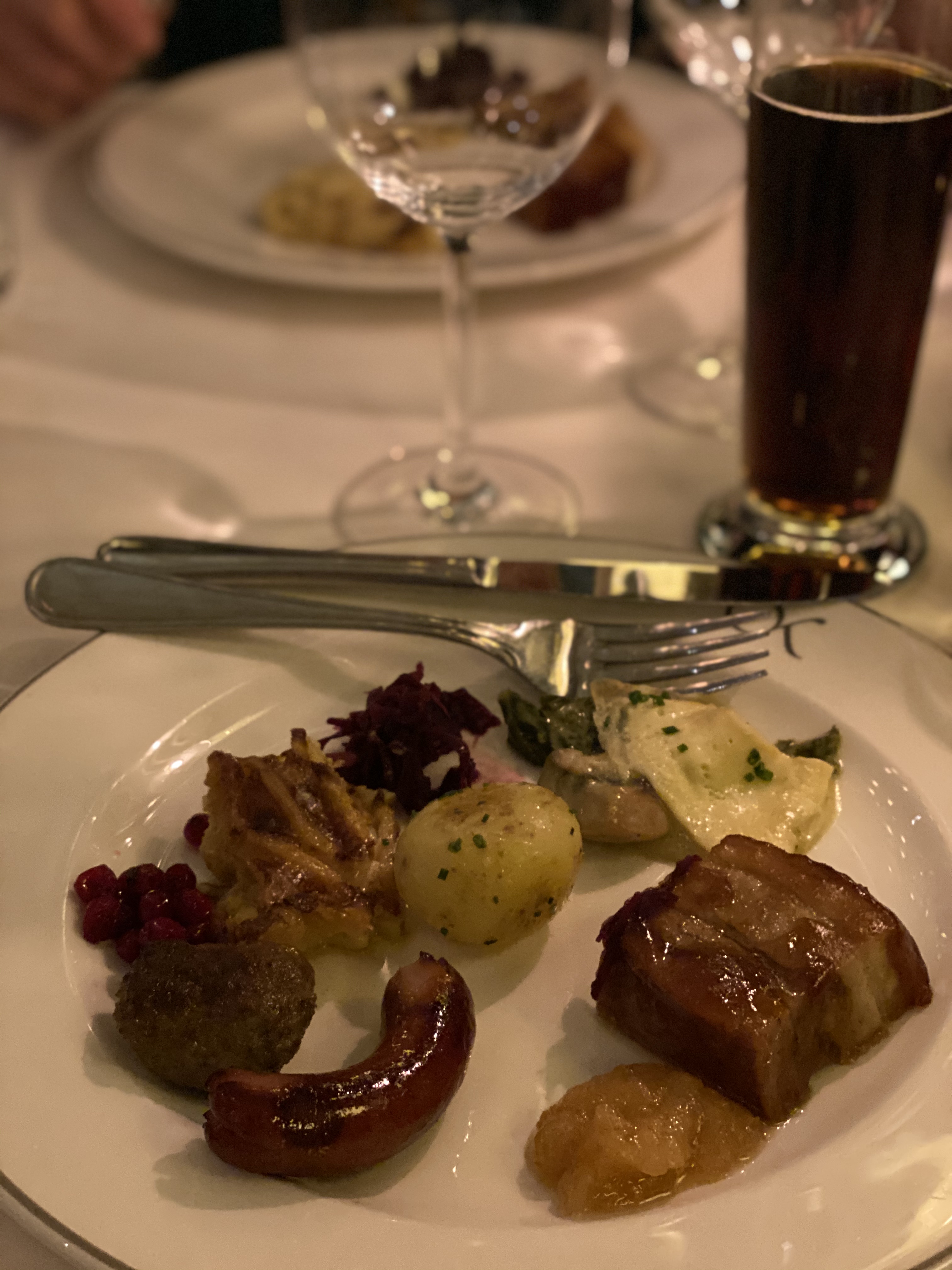 Prince (pork) sausage; meatballs; Jansson's temptation with potatoes, cream & anchovies; mushroom and kale omelette (so good!); red cabbage, and finally pork ribs with the best ever apple sauce. Super traditional flavours, but really well made and delicious.
Round five: Cheese
I'm sorry dear reader, but I failed both our friendly waiter, myself and possibly you at this point: I did not really have room for cheese. The cheese table looked good though, although quite small.
Round six: Dessert
This was the highlight of the evening. It wasn't hugely assorted, but everything I tried was really good. The ostkaka, Swedish baked cheesecake was great with cloudberry jam and whipped cream. The ris á la malta, a creamy cold rice dessert was super smooth and surprisingly light. The cake, a quite clever version of Swedish Princess cake with the usual plain cream replaced with licquorice cream, and more traditional raspberries. Nice combo, and I'm not really that keen on licquorice usually.
Round seven: Christmas candy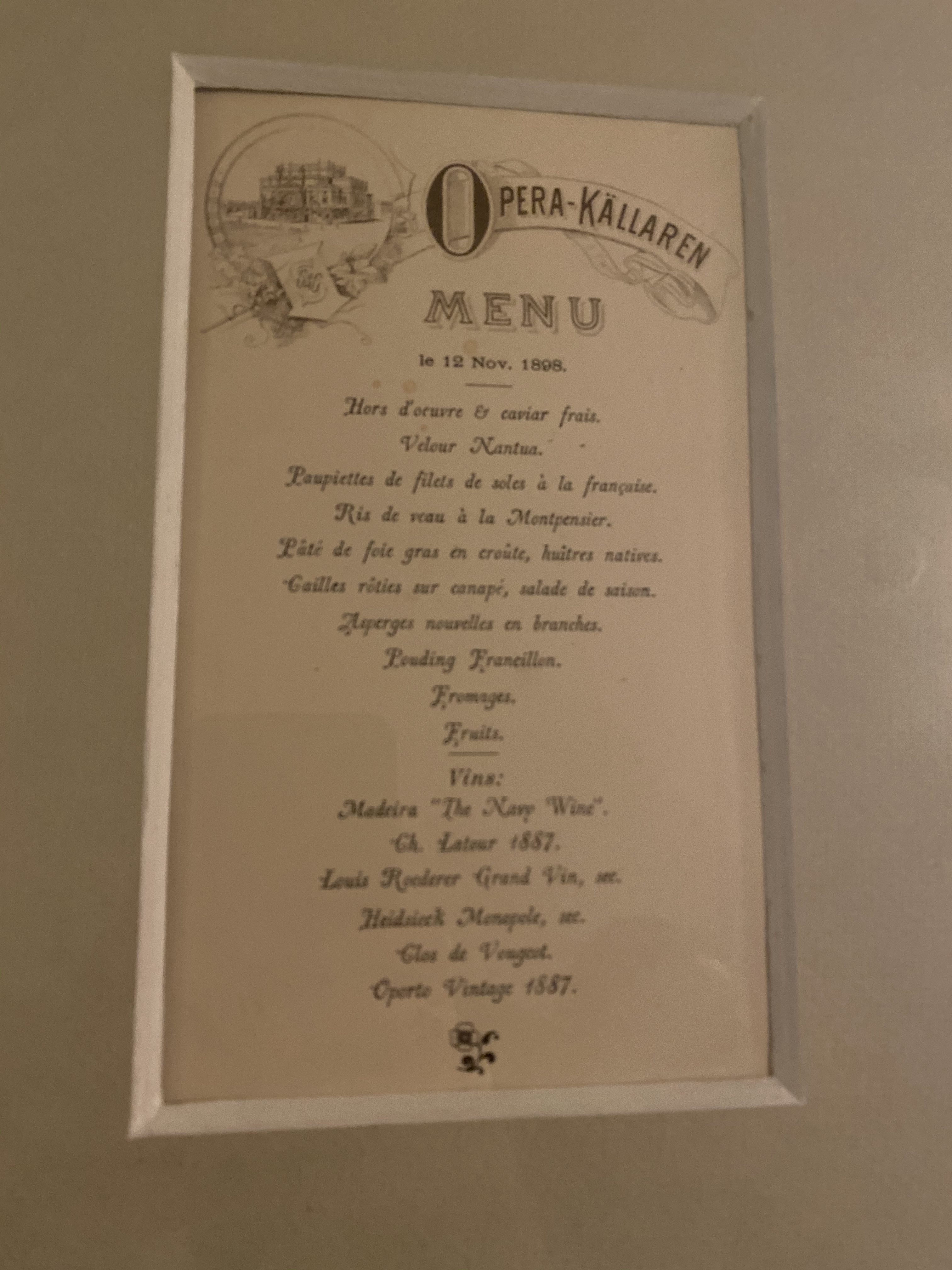 Since I did not take any good shot of the finishing Christmas candy, I'll leave you with this menu from Operakällaren downstairs from 1898. I can report, however, that the candy was very nice. I had marmalade candy, 'mint kisses', knäck (chewy, nutty toffee), chocolates and even a candy cane. Then I couldn't fit anymore food in, and had to give up.
I really liked my visit to Operaterrassen and would happily go back. If you'd like to read more about julbord in Stockholm – have a look at Julbordsmäklarna's list below of Stockholm's top 20 julbord.
Merry Christmas!
More:
Julbordsmäklarnas top 20 Stockholm julbord (In English)