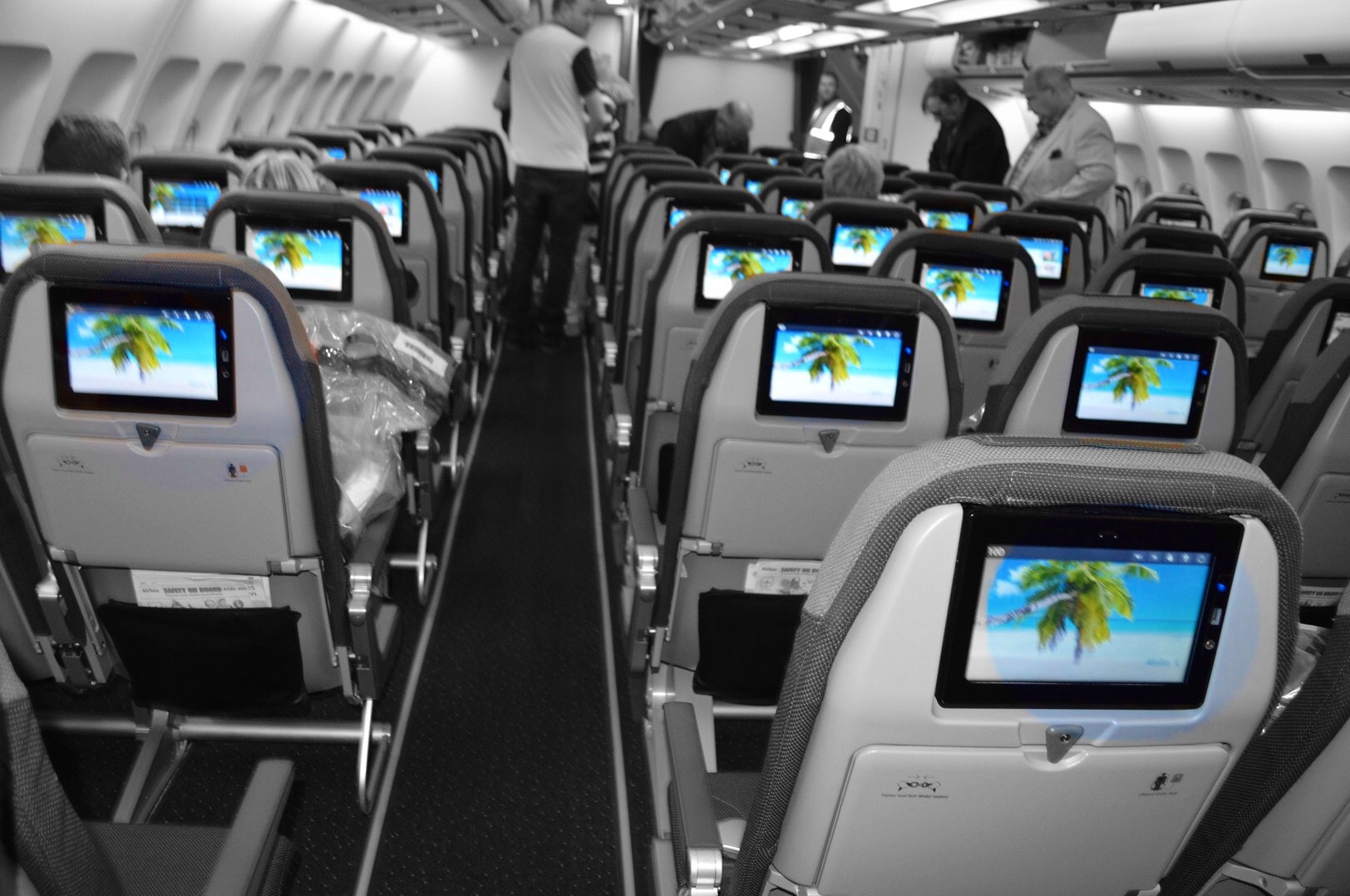 Just got back from our trip to Cape Verde. We traveled there with Swedish tour operator Ving, which is part of Thomas Cook Northern Europe. Hence, we flew with Thomas Cook Airlines for our 7 hour trip (actually 6 hours, 40 minutes) to Cape Verde.
I will write more about the actual Cape Verde trip (and the food) in a separate post. UPDATE: Here it is – a guide to what to eat in Sal's Santa Maria.
Anyway, as the cost for upgrading to Thomas Cook Airlines' Sun Class was quite affordable (600 kr or about €60) return, we opted to go for it. What it gave us was basically another 10 cms of space and our own front of the plane-cabin. Otherwise food, personal tv screens and service was the same as regular economy. So this "review" pretty much covers that as well, for the interested.
Seats
The whole plane, an Airbus A330-300 felt quite new and clean. The personal screens were HD and was one of the best I've seen on any flight. You had to pay to access movies (35 kr/sek) and some of the other content. However using the inflight map, listening to music and viewing some of the other content was free. You could also plug in your own headphones and charge your USB-device through the screen which in my mind is a huge plus.
Food and drink
I eavesdropped to a conversation about the food between one of my fellow passengers and one of the flight attendants. Apparently Swedish pre-fab food company Dafgårds handles the inflight food catering for Thomas Cook Scandinavia. The food was quite good for being on a plane actually. Everyone was served the same dish which on the outbound trip was chicken salad followed by pannbiffar (Swedish burger patties) with peppercorn-cream sauce and mash as well as a standard airplane dessert. Warm, really fresh (best on a plane I've had I think) bread was also served. On the return we had Skagen mix (it's supposed to be shrimps in mayo – this was more likely surimi or something similarly awful), followed by a really (for an airplane) tasty beef stroganoff. The finale was a tasty but very sweet chocolate mousse.
Drinks were sold, and you could get a small bottle of Pommery Champagne for 90 kr, or a glass of nice New Zealand Pinot Noir or Sauvignon Blanc (3 Wooly sheep) for 65 kr. There was also a less expensive wine as well as a couple of drink packages. We opted for the "Bon Voyage" with one bottle of Pommery Champagne, one bottle of whatever wine you prefered as well as snacks and water for 150 sek.
This meant we got pretty much a Intra-Europe business class experience (with more legroom) at the cost of roughly 1000 kr or €100 extra per person. It was surprisingly nice to be honest and for a total of almost 14 hours in the air, quite a bargain according to me. Now they just need to install wifi, and I'd be thrilled to fly Thomas Cook Airlines' Sun Class again. 🙂