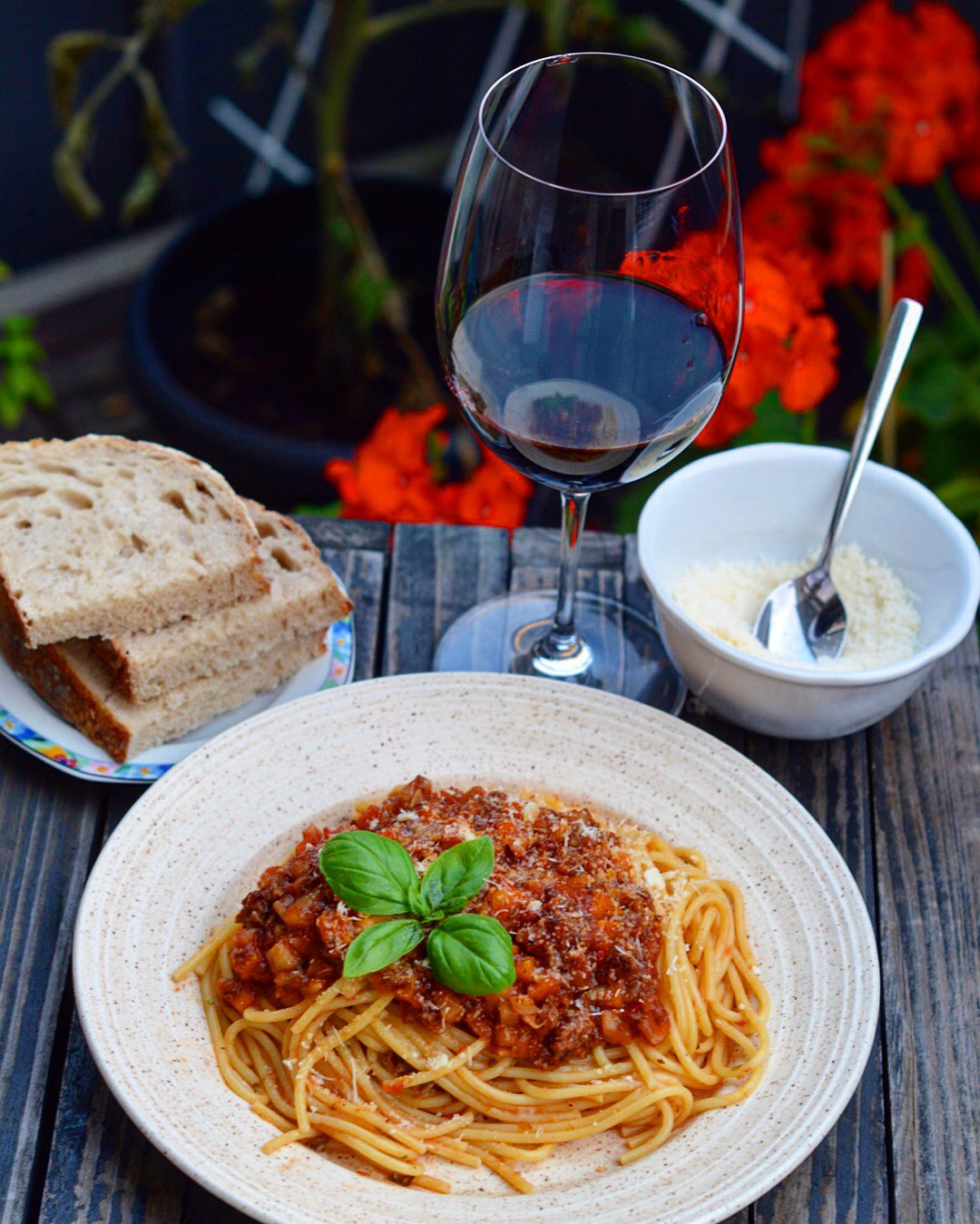 If I were to spend the rest of my life on an island, eating only one dish of my choice, it would almost certainly be a classic spaghetti bolognese. Most people are very aware of this Italian classic (although they call it ragu) and there are probably almost as many versions of this dish as there are people cooking it each day. Anyway, this is my version of spaghetti bolognese.
If I cook a bolognese or "spaghetti och köttfärssås" as we say in Sweden, during the week I usually skip both bacon, red wine and finishing butter. So feel free to do the same if you want the dish healthier or for instance without pork. This is a dish that's almost required to be accompanied by a glass of red wine while you cook and then eat it. But only almost.
What you need (for roughly four persons)
500 grams of minced beef
1/2 package of bacon (or pancetta if you feel fancy)
2 carrots
1/2 small head of celeriac
1 onion
4 cloves of garlic
1 can of finely crushed tinned tomatoes (I usually use Mutti brand)
2 cubes of chicken stock (or substitute with your own)
3 tablespoons of dried oregano
2 teaspoons of tomato paste
Spaghetti (I usually use De Cecco or Martelli – but eg. Barilla is fine too)
Parmesan cheese
Olive oil for frying
Red wine, about a large glass
Salt
Sugar
How to cook it
1. Start with the chopping. Peel and finely slice garlic and onion. Also peel and dice the carrots and celeriac into small cubes, about the size of a pea. Slice bacon or pancetta into quite thin slices.
2. Heat a tablespoon of olive oil in a pan. Add the bacon/pancetta and let fry until browned, but not crisp. Add the beef mince to the bacon and let fry until it begins to brown as well.
3. When beef has cooked, using a different pan if possible (otherwise just add into beef pan) fry the garlic, onion, celeriac and carrots until soft.
4. If not in the same pan already, pour the fried veggies into the beef and bacon pan and add red wine, tomatoes, oregano, stock cubes and a pinch of sugar. Cover with a lid, add low heat and let simmer for 2-8 hours, occasionally stirring and adding water/wine as the sauce reduces.
5. About 15 minutes before the sauce is ready, boil the pasta in plenty of salted water. Remember to keep some of the cooking water  before draining the pasta as it is needed to finish the dish.
6. When pasta is cooked, set aside some cooking water and add a knob of butter into the meat sauce. I usually also add some extra oregano as this stage, about a teaspoon or two.
7. Add spaghetti and about half of the meat sauce into a pan together with about a deciliter of the cooking liquied. Stirr over heat until the water has reduced and the spaghetti is covered with meat sauce.
8. Serve spaghetti, with extra meat sauce on top. Of course a generous serving of Parmesan cheese is also required. A glass of red, a tasty bread and a simple salad dressed with balsamic vinegar and good quality olive oil is almost mandatory.
Enjoy my favourite dish!