Just got back from a five day visit to the exciting and exotic Moroccan city of Marrakech.
For once, we had not planned that much in advance, leaving it to our at-the-time cravings what we were to eat.
We had a general idea about Moroccan food upon arrival, but in the end managed to eat both the obvious stuff such as tagines and cous cous; the 'middle road' such as the (in)famous bastilla pigeon pie, and more unique stuff such as old school berber food.
Read below about where and what we ate.
Riad Itrane (hotel)
Ultra-romantic setting by the pool.
The first night in Marrakech we had pre-booked a traditional Moroccan dinner in our hotel, or riad, which is a traditional style Moroccan hotel.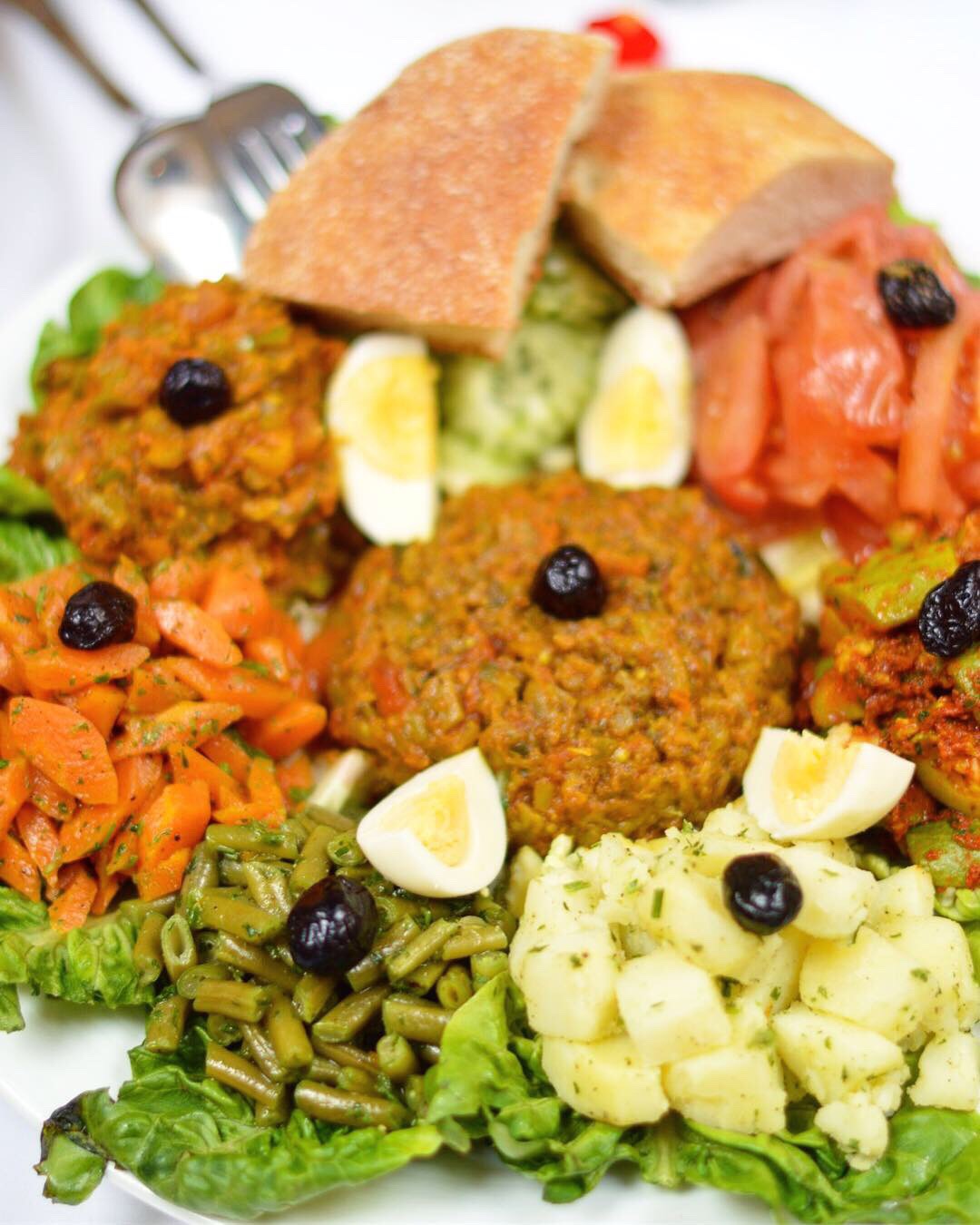 Moroccan salads started the feast. Carrots, beans, potato salad, aubergine, tomatoes and eggs. Also olives, harissa and fluffy Moroccan khubz bread. Delicious.
For main: the national dish of Morocco, tagine which is a stew that is slow-cooked in a clay pot named… tagine (or tajine), this one with chicken, confit lemon and green olives. Sooo good.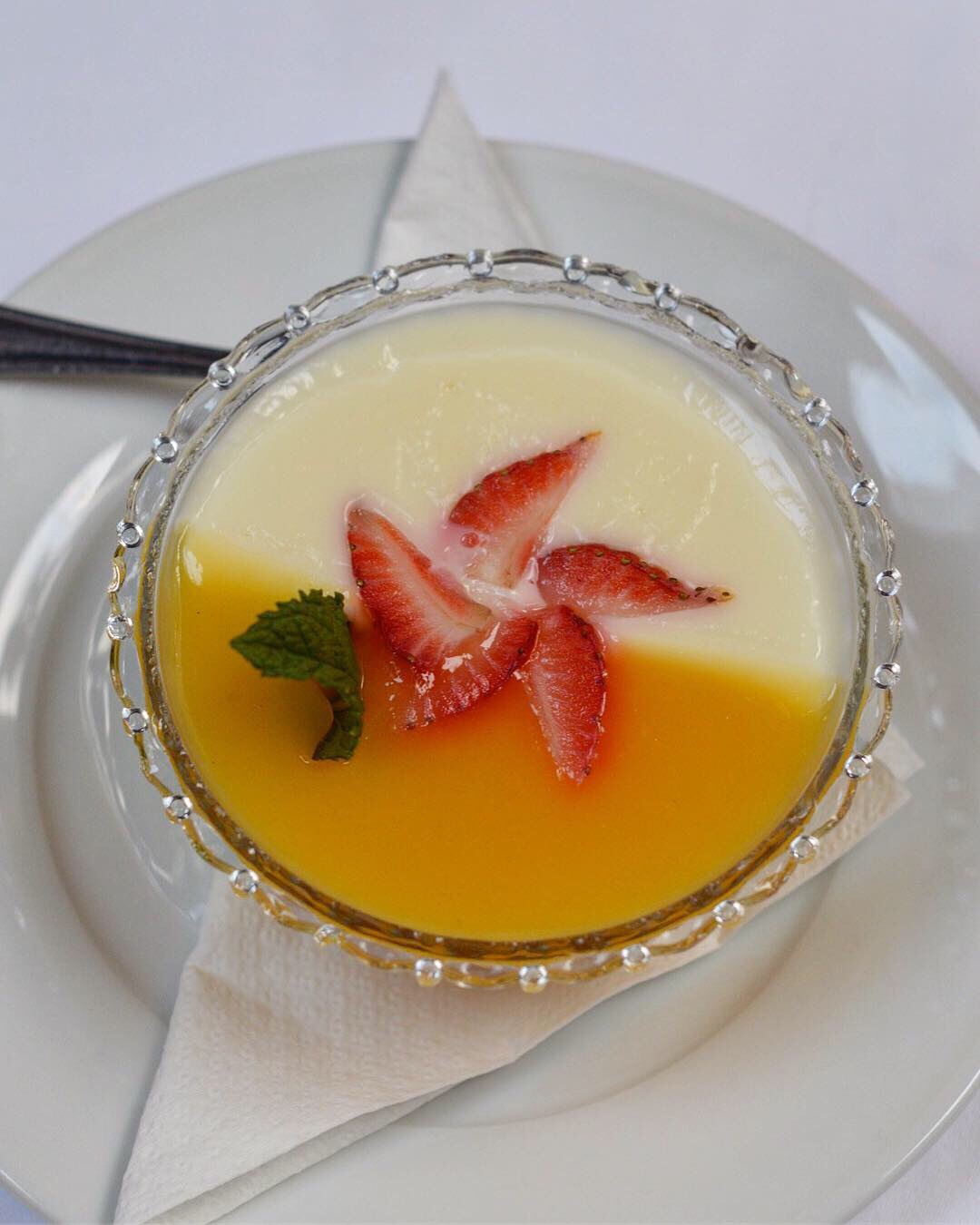 Nos nos (half half) with milk pudding, orange coulis, strawberries and mint. A little pannacotta-y.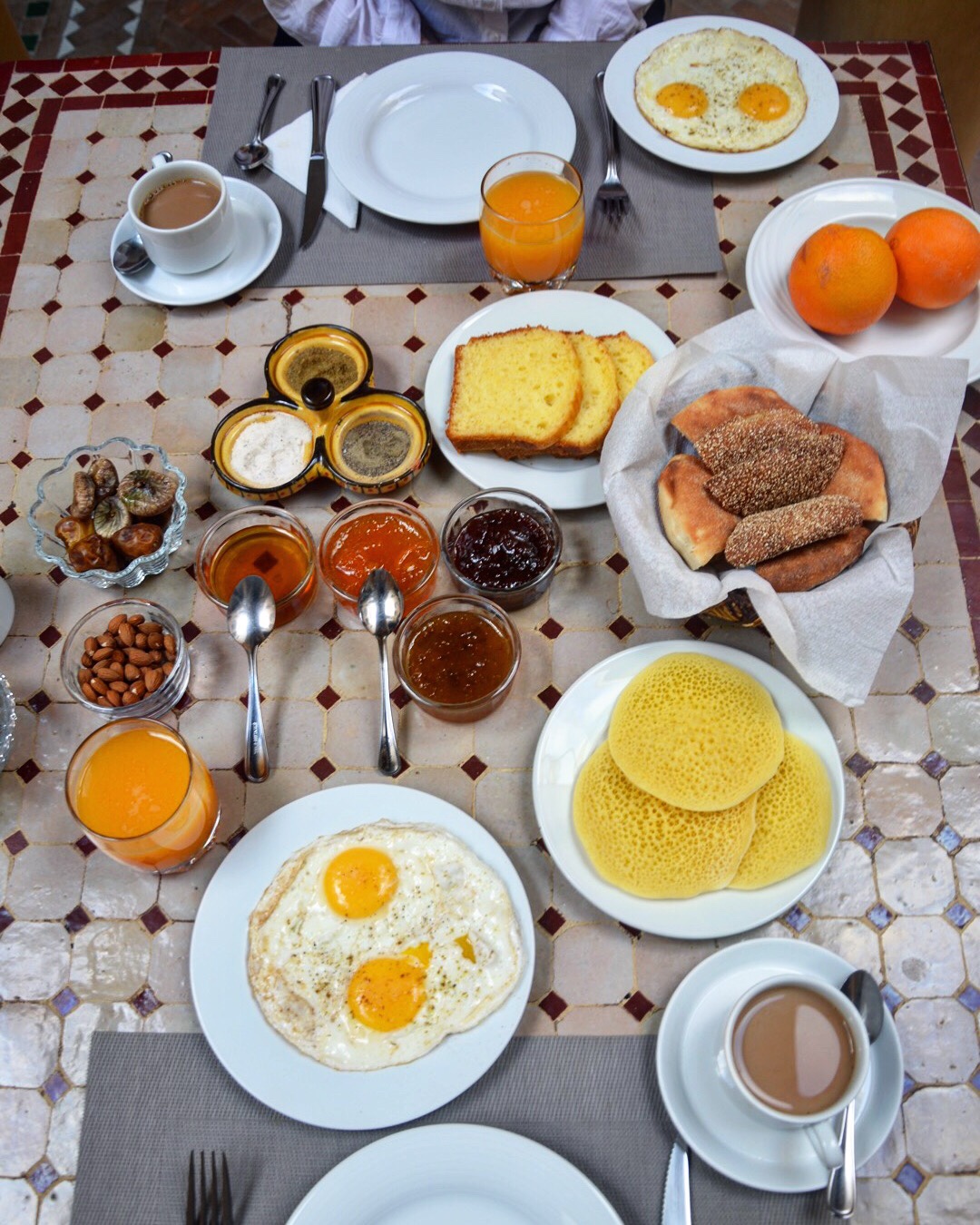 Moroccan breakfast, also served at Riad Itrane. No buffet within sight, instead a lot of small dishes delivered to your table. Eggs with harissa and cumin, semolina pancakes, jams, dates, nuts, flatbreads and cakes. Each day the menu changed slightly which was nice.
Price: €25 per person for the dinner. Breakfast was included in our stay. Do note that the restaurant might or might not be available only to guests. Contact them in advance (they speak English and are friendly).
Naranj Lebanese restaurant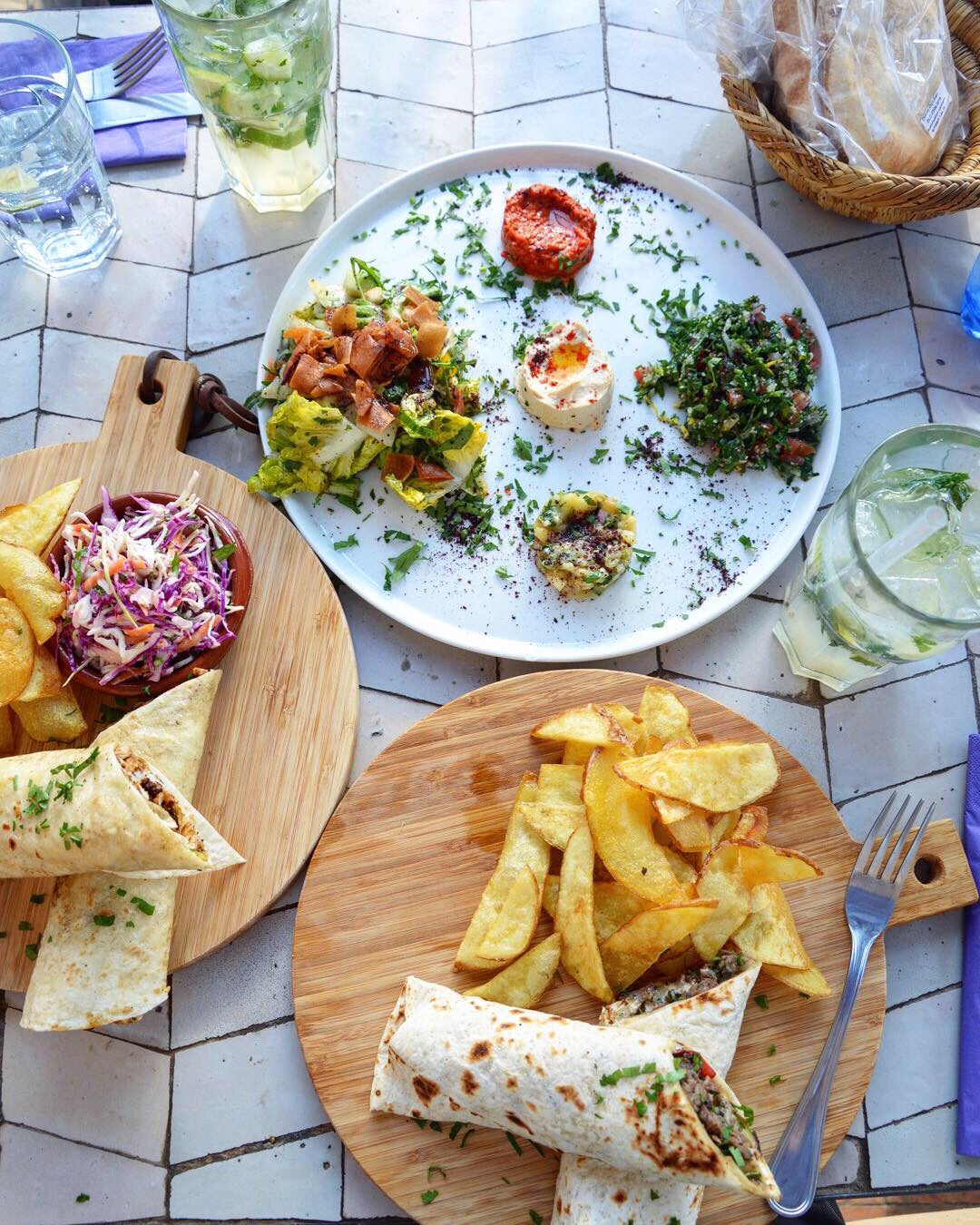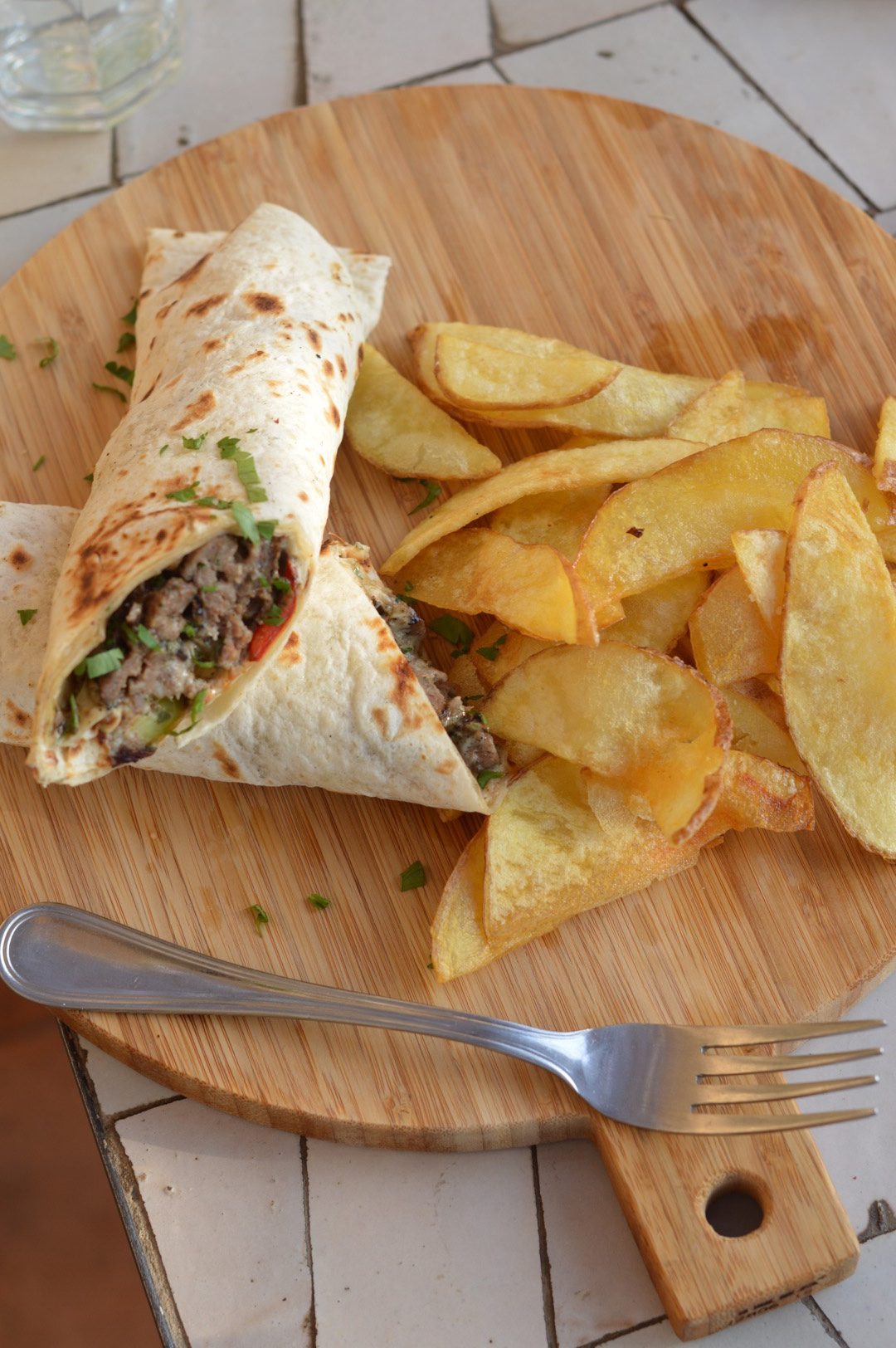 Lebanese sandwiches, one taouk with chicken and one kefta with meatballs. Served with super-tasty potato chips and cabbage slaw. The (virgin) mojitos were nice too.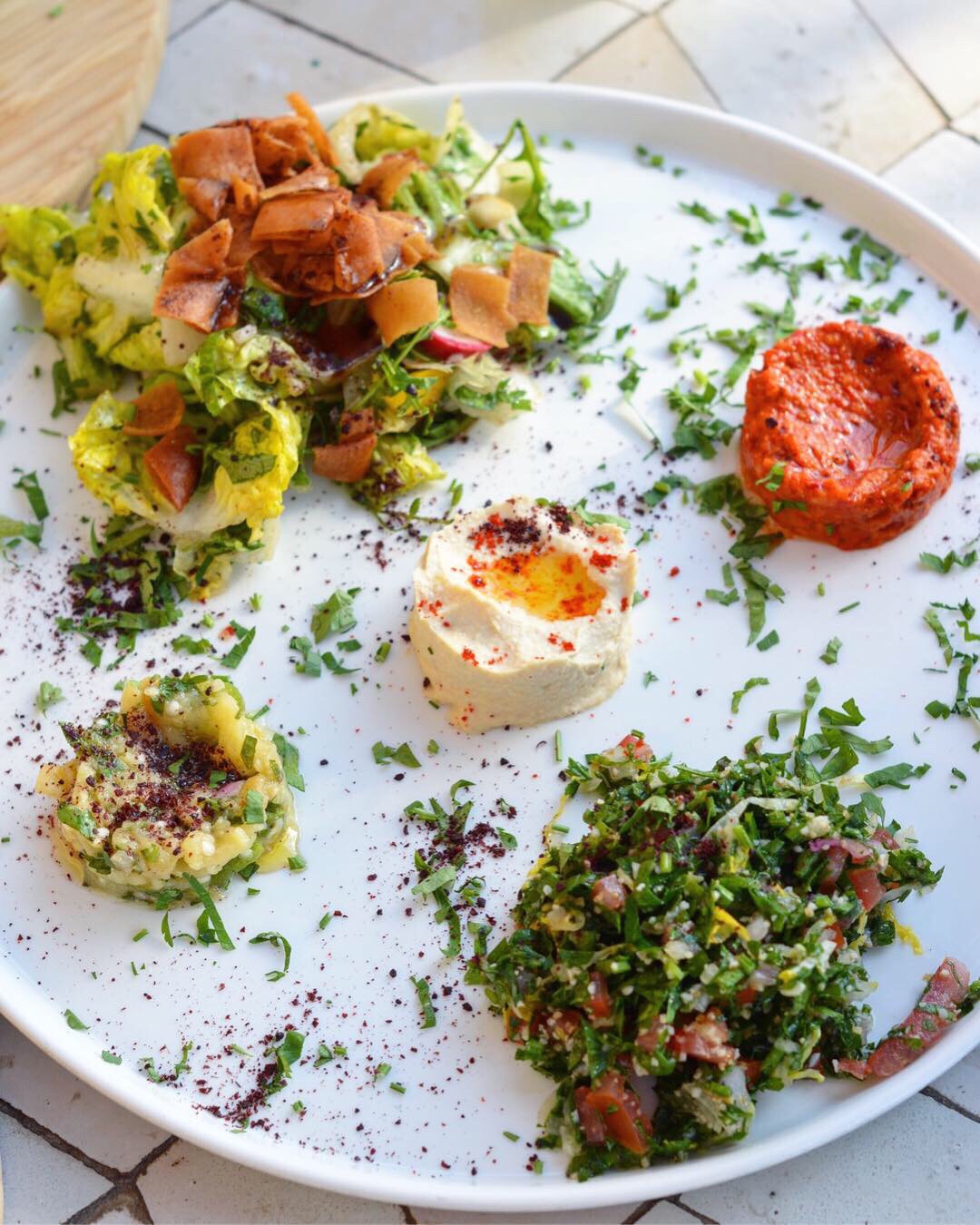 Meze platter. A bit small serving size on the dips, but good quality and very tasty.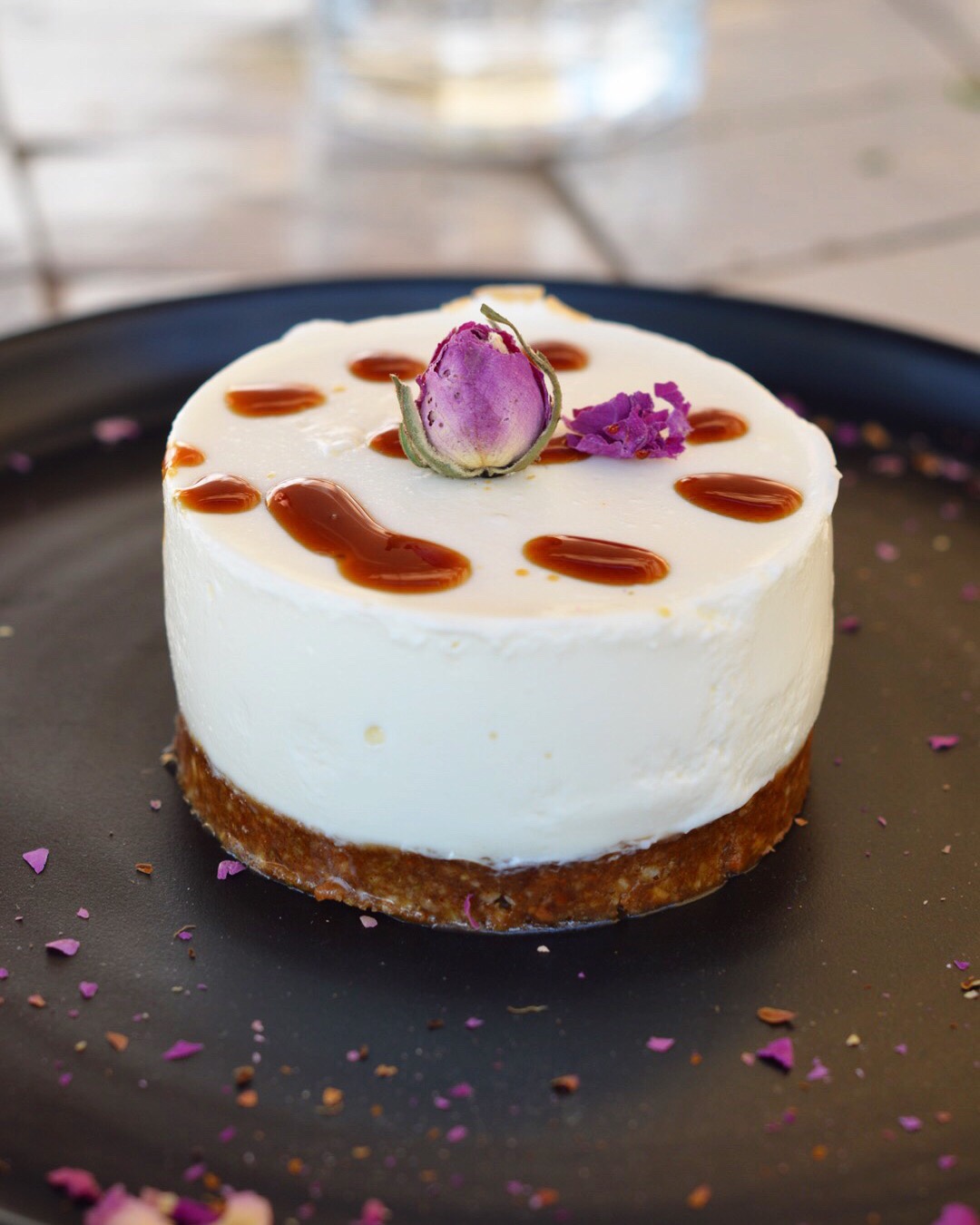 The prettiest dessert in a while: Slillo cheesecake. Slilo or sellou is an unbaked Moroccan sweet usually served for ramadan. In this interpretation the slilo formed the bottom layer (ground anis, sesame, honey and almonds) and was then topped with a creamy, soft cheese layer and a final sprinkle of rose leaves. So, so good. And clever.
Price: About €45 for two with shared starter and dessert, two mains, two mojitos and a bottle of water.
Website: http://www.naranj.ma
Pepe Nero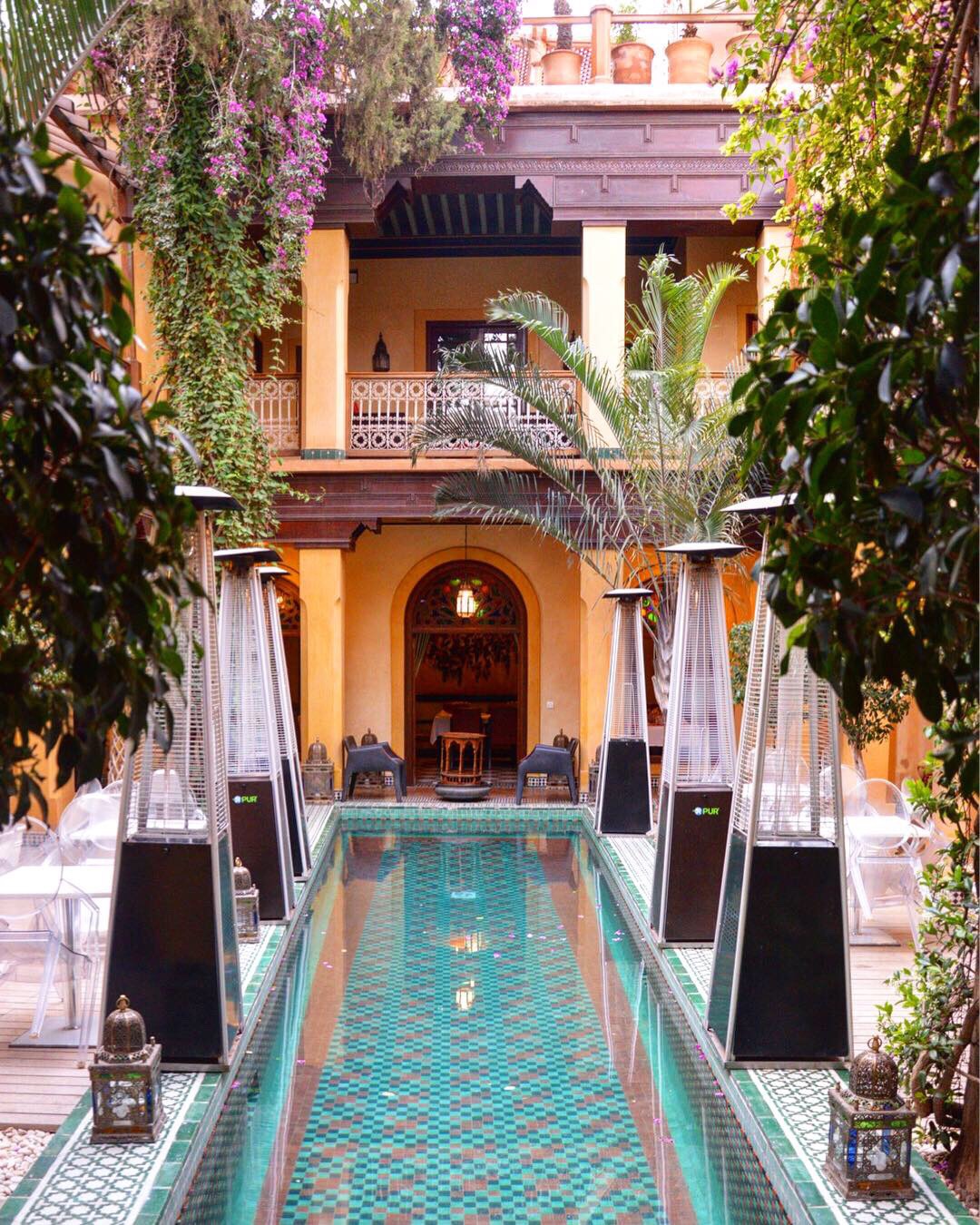 Another super pretty location: Pepe Nero, one of Marrakech's fanciest restaurants serving both Italian and Moroccan food. We tried the latter.
Extremely tender slow roasted shoulder of lamb.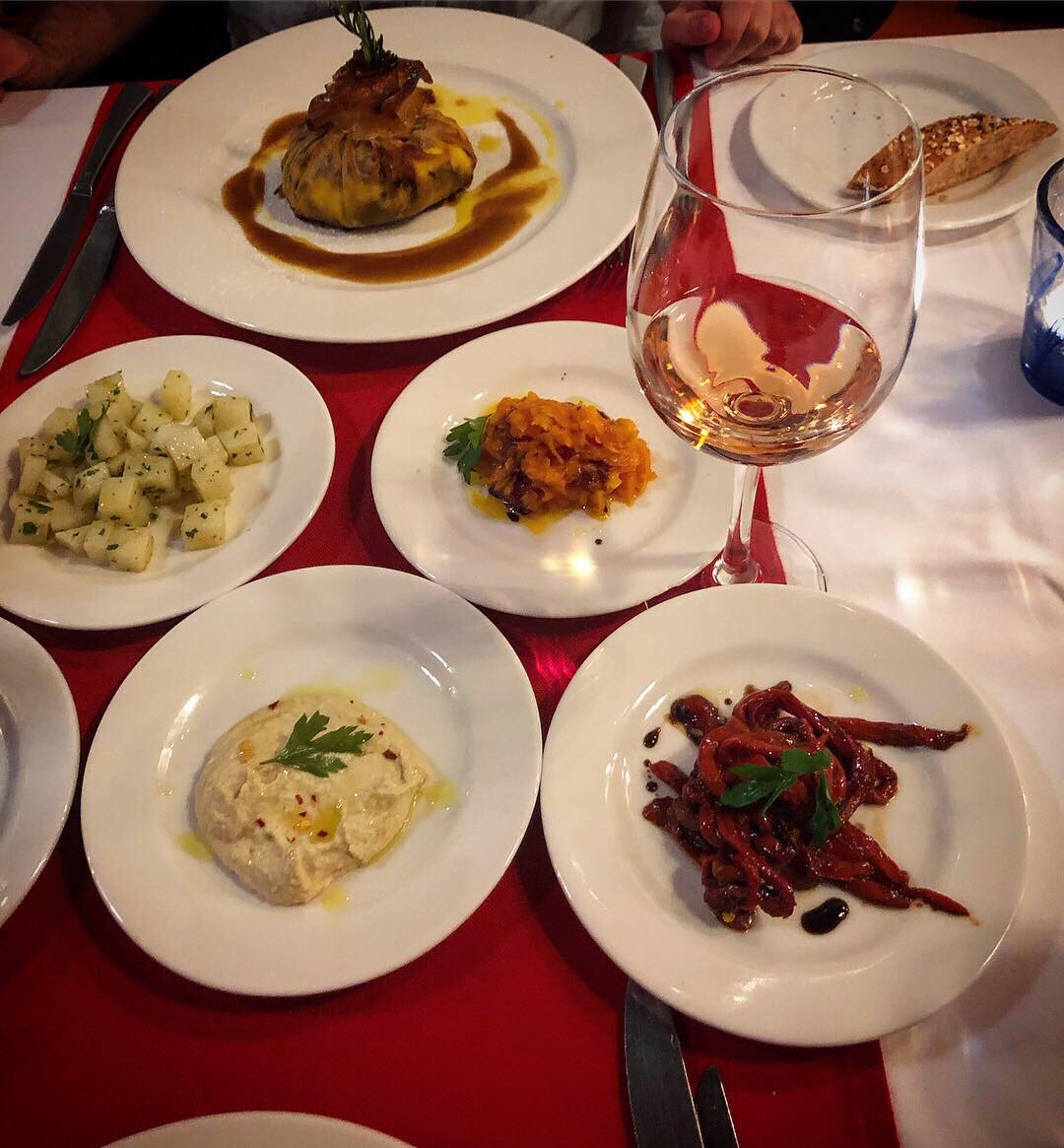 Moroccan salads, including carrot salad, amazing texture (and flavour) baba ganoush, hummus, roasted peppers and potato salad. Enjoyed with local President rosé wine.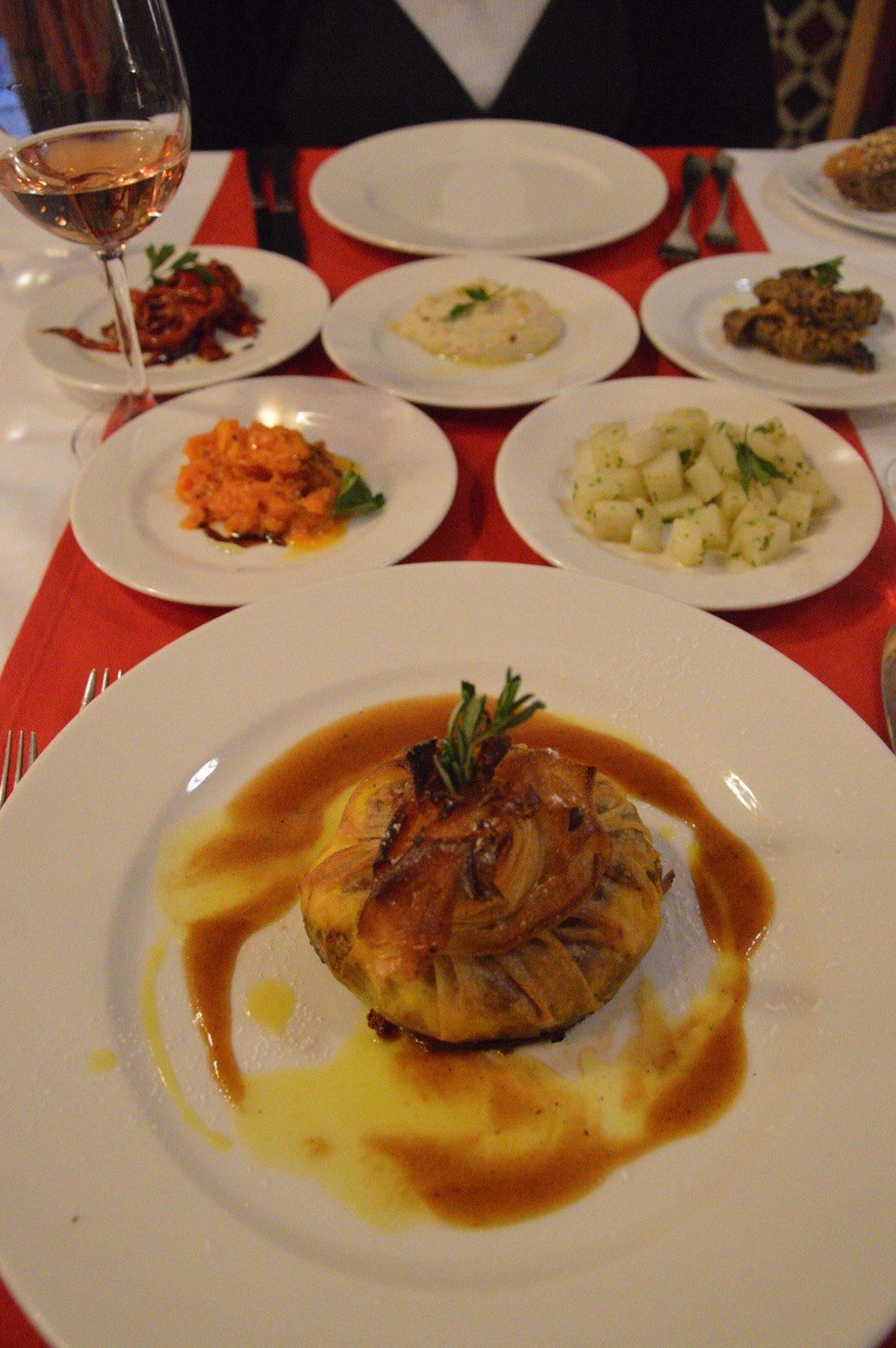 Pastilla: crispy Moroccan pigeon pie. Both sweet and savoury. Sounds weird, tastes delicious.
We finished the meal with a few Moroccan pastries and mint tea. The dessert was least exciting, but tasty enough.
The ambience is quite fancy and also quite touristy, at the same time service was so-so. Prices are high, but the food is tasty. And they have wine. So it wasn't my favourite experience in Marrakech, but I don't regret going either.
Price: About €95 for two starters, a shared main (serving for two) and a shared dessert with mint tea, as well as two half bottles of wine and water.
Website: http://www.pepenero-marrakech.com
Chez Brahim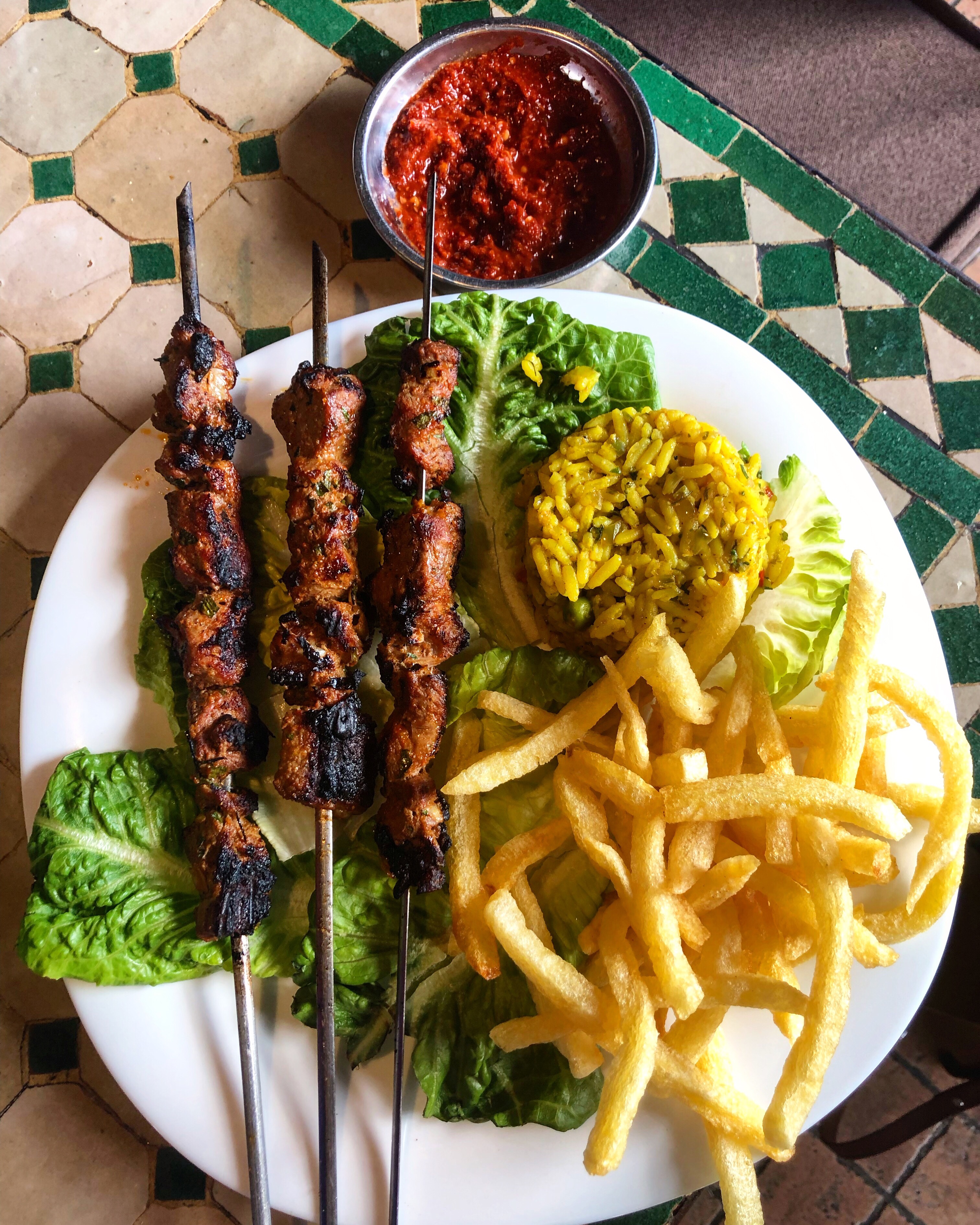 We visited Chez Brahim since it was very close to our hotel and that it had good reviews on both Google and Tripadvisor.
While nothing spectacular, Chez Brahim offered relatively decent food for a decent price in the middle of the medina. The lamb meat was grilled and quite tasty, the fries weren't that exciting and the rice thing was lukewarm at best.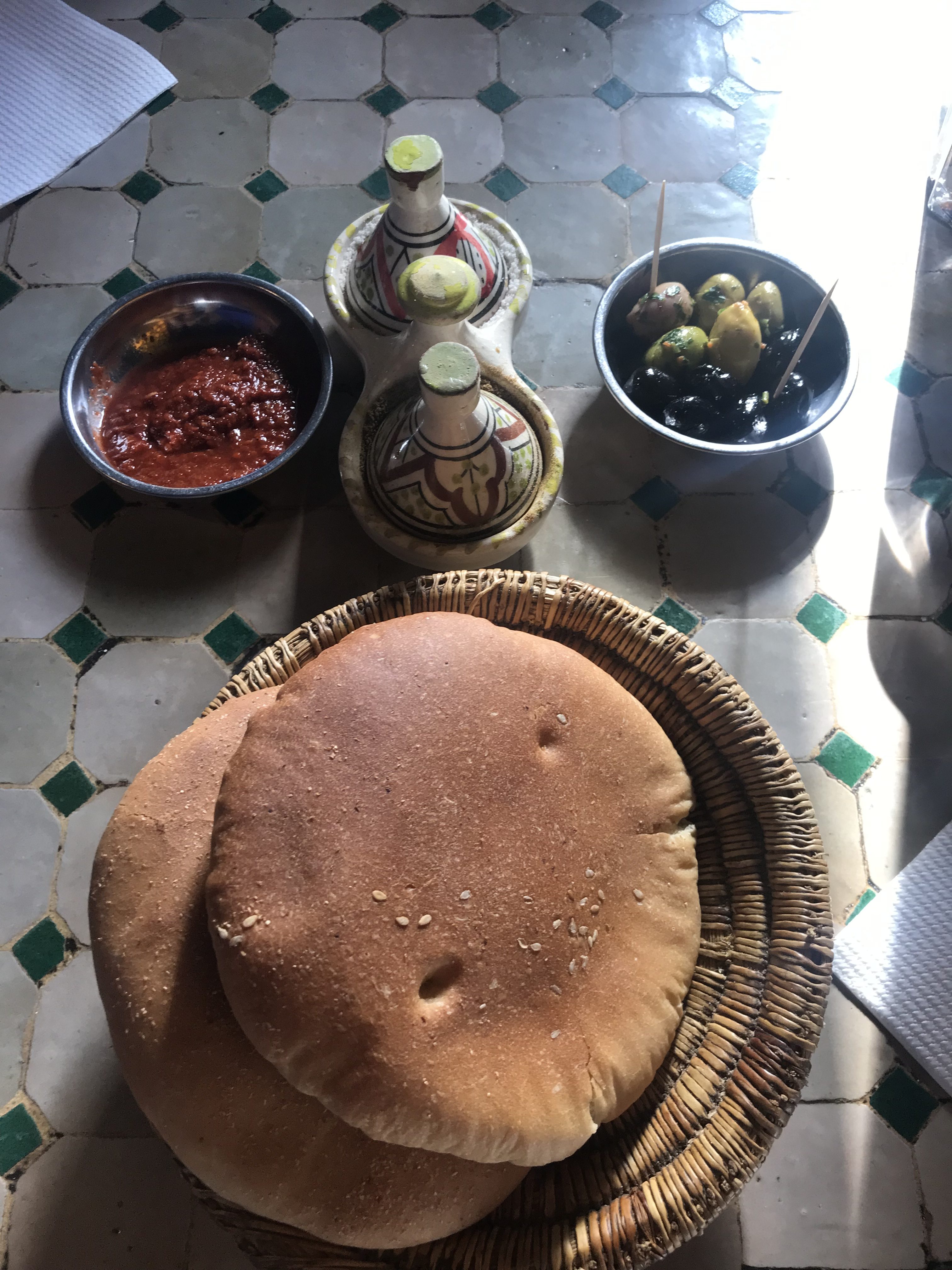 What was quite delicious though was their khubz flatbreads with harissa and olives we got when we arrived.
Price: About €18 for two mains, soft drink and water.
La Vallé Atlas Ourika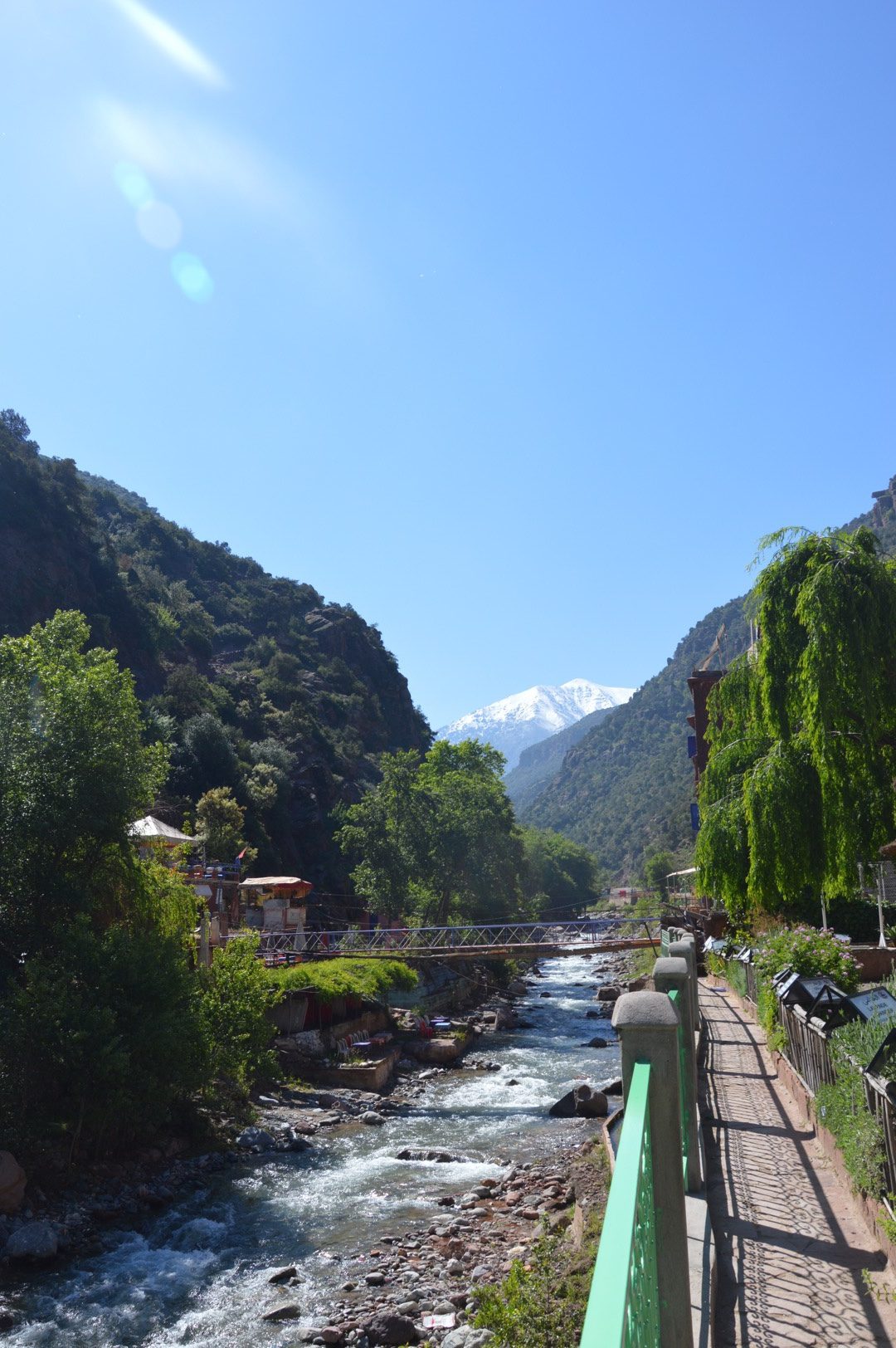 The river along (or pretty much in) the restaurant is located.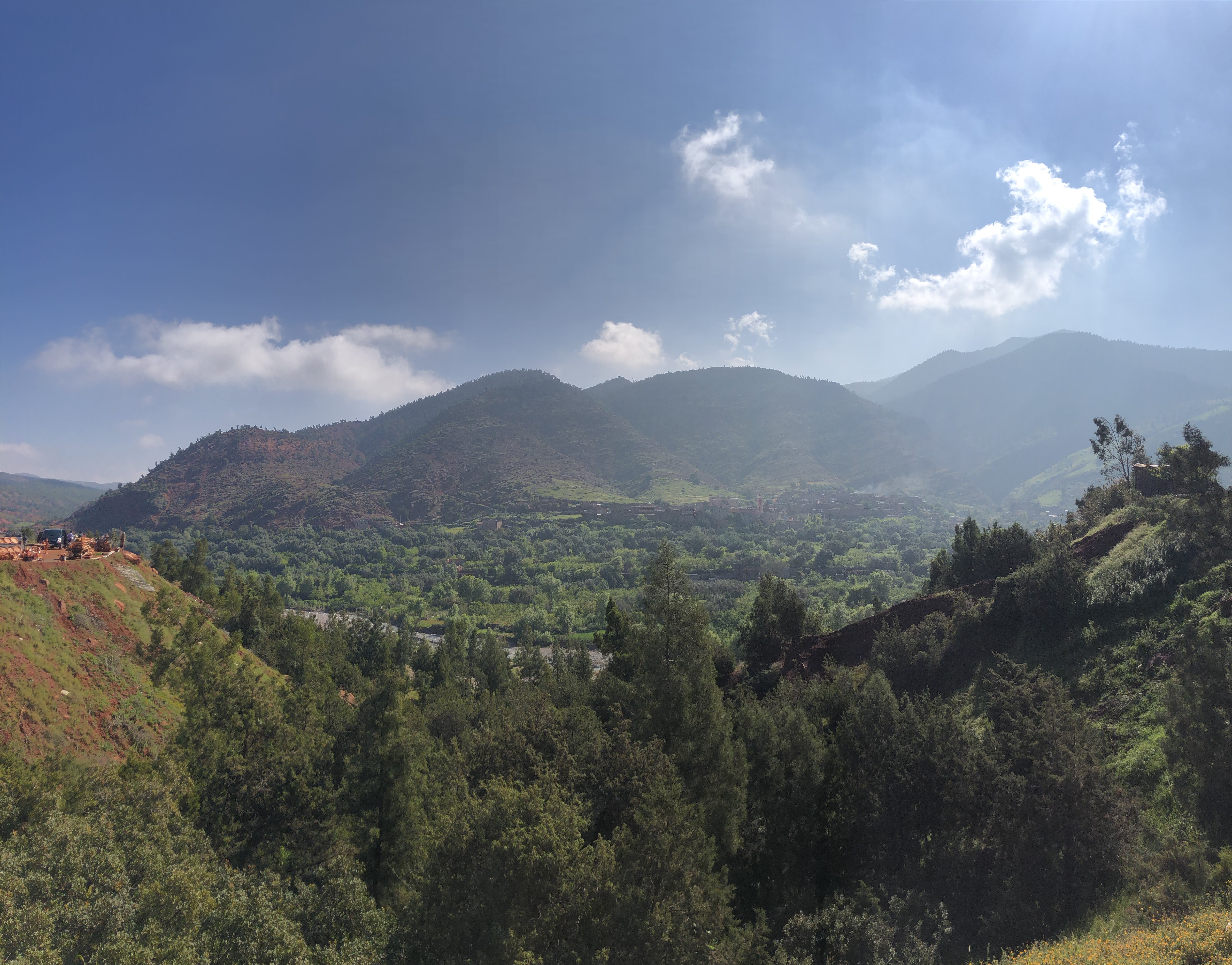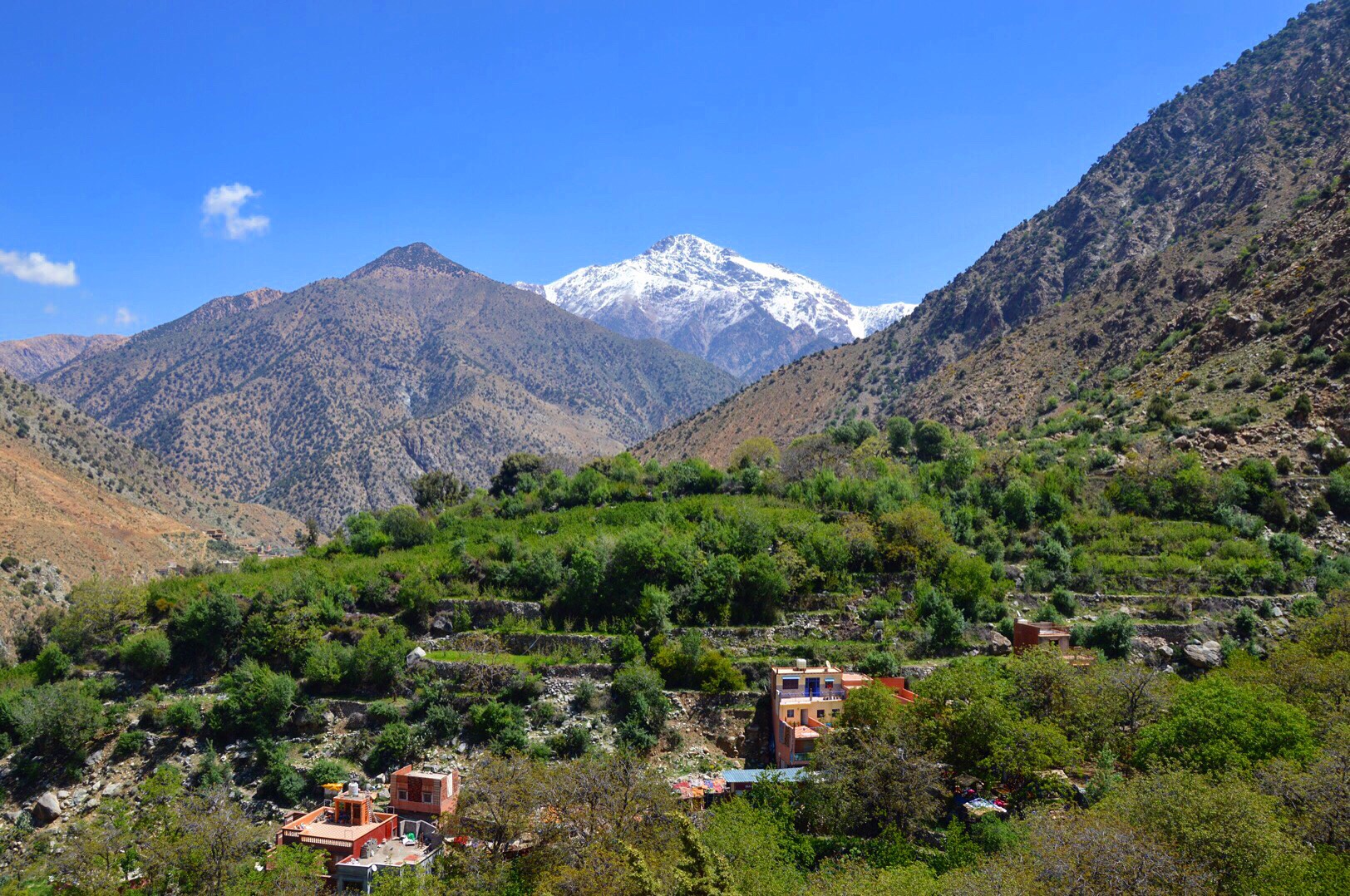 Bonus mountain pictures.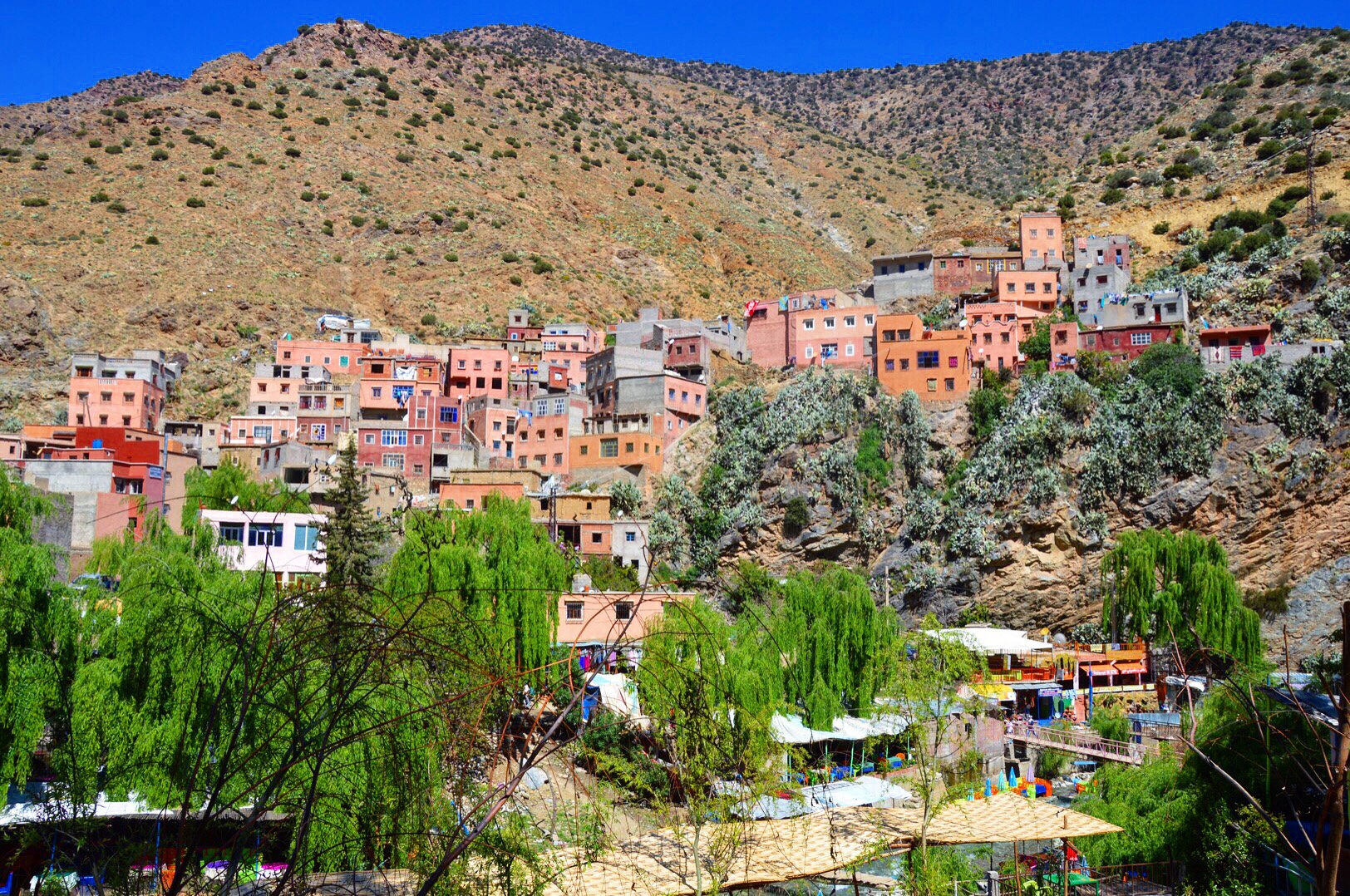 While visiting beautiful Ourika Valley, situated in The Atlas Mountains we had lunch at La Vallée restaurant. Located on a sandbank in the river, location was stunning.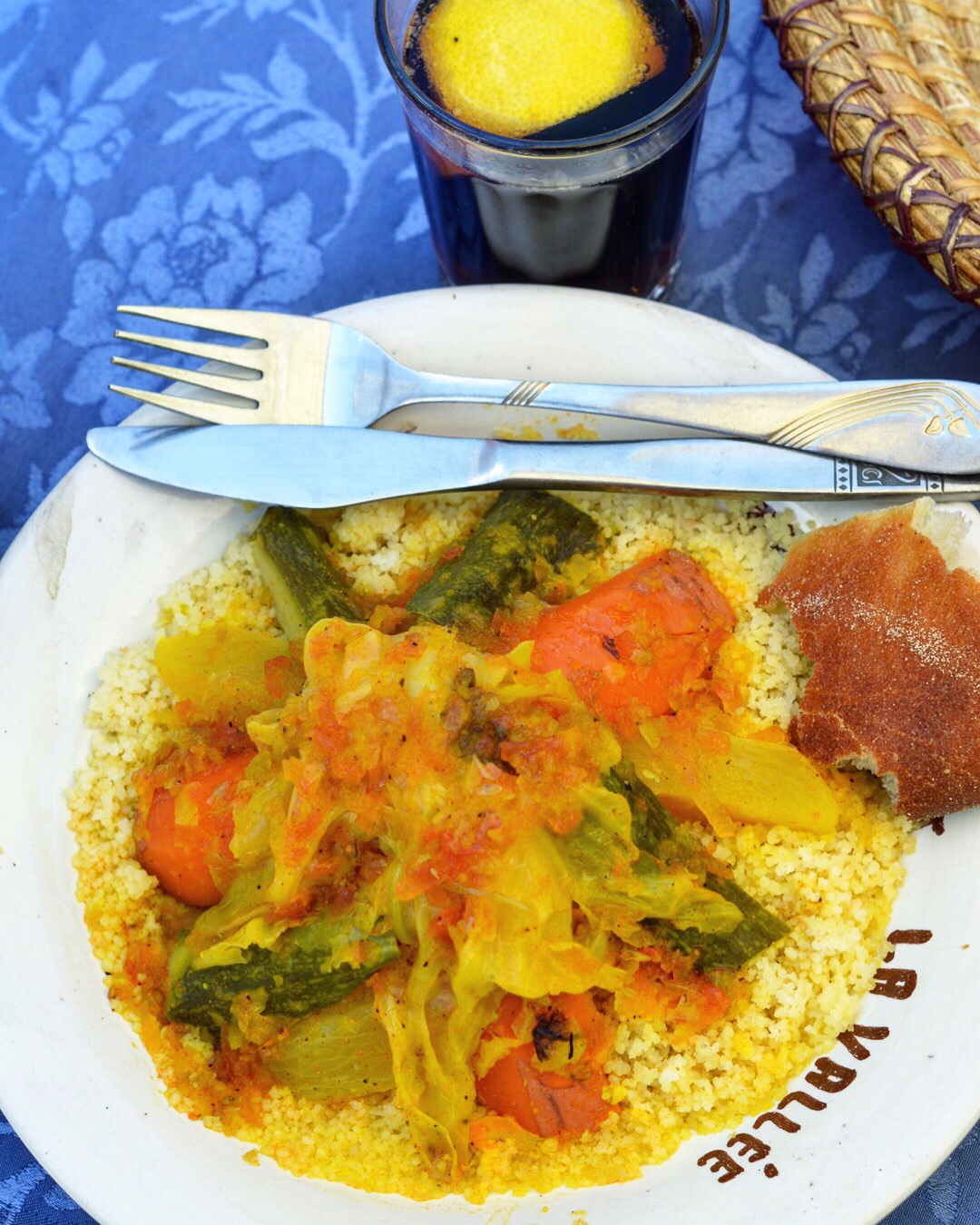 Food was quite nice with above cous cous served with seven kinds of roasted vegetables and chicken.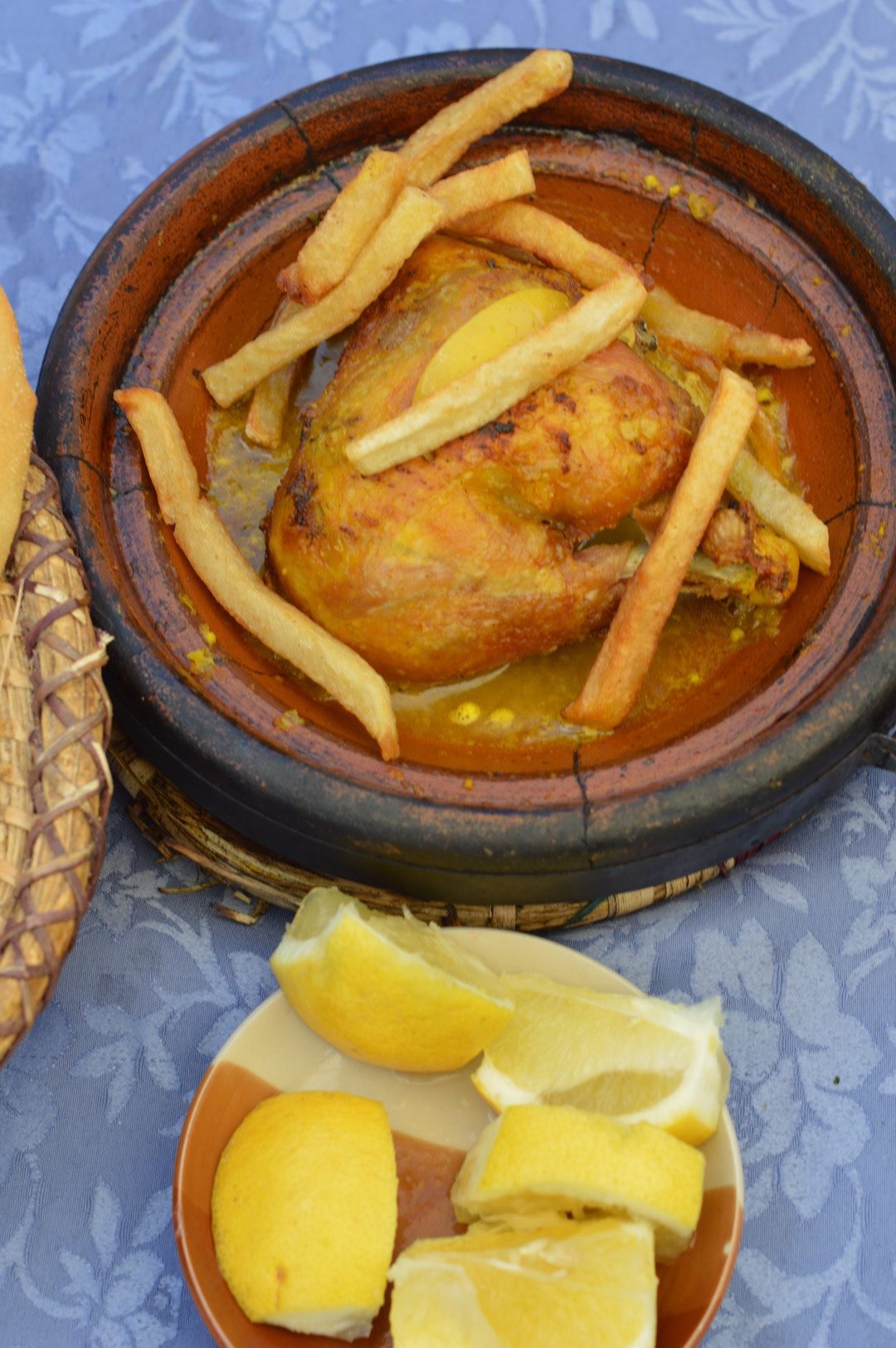 Berber chicken lemon tagine with a few fries. More of roasted chicken, less of stew than the other tagine we had.
Price: About €18 for two mains, soft drink and water.
Blackchich Café
At Blackchich café, we ate some of the most well-cooked food of the trip. The restaurant is Senegalese-Moroccan so they have both West African dishes such as Chicken Yassa or peanuty domoda stew as well as old school Moroccan berber dishes. They are located in the medina with three floors of seating, where the final one is an open roof top with very nice views of the city.
A minus for me though were that by some reason a pack of cats hung out there, standing by the table begging for food and actually trying to snatch some, so you had to watch your food which was annoying. That might have been a problem specific to just that day.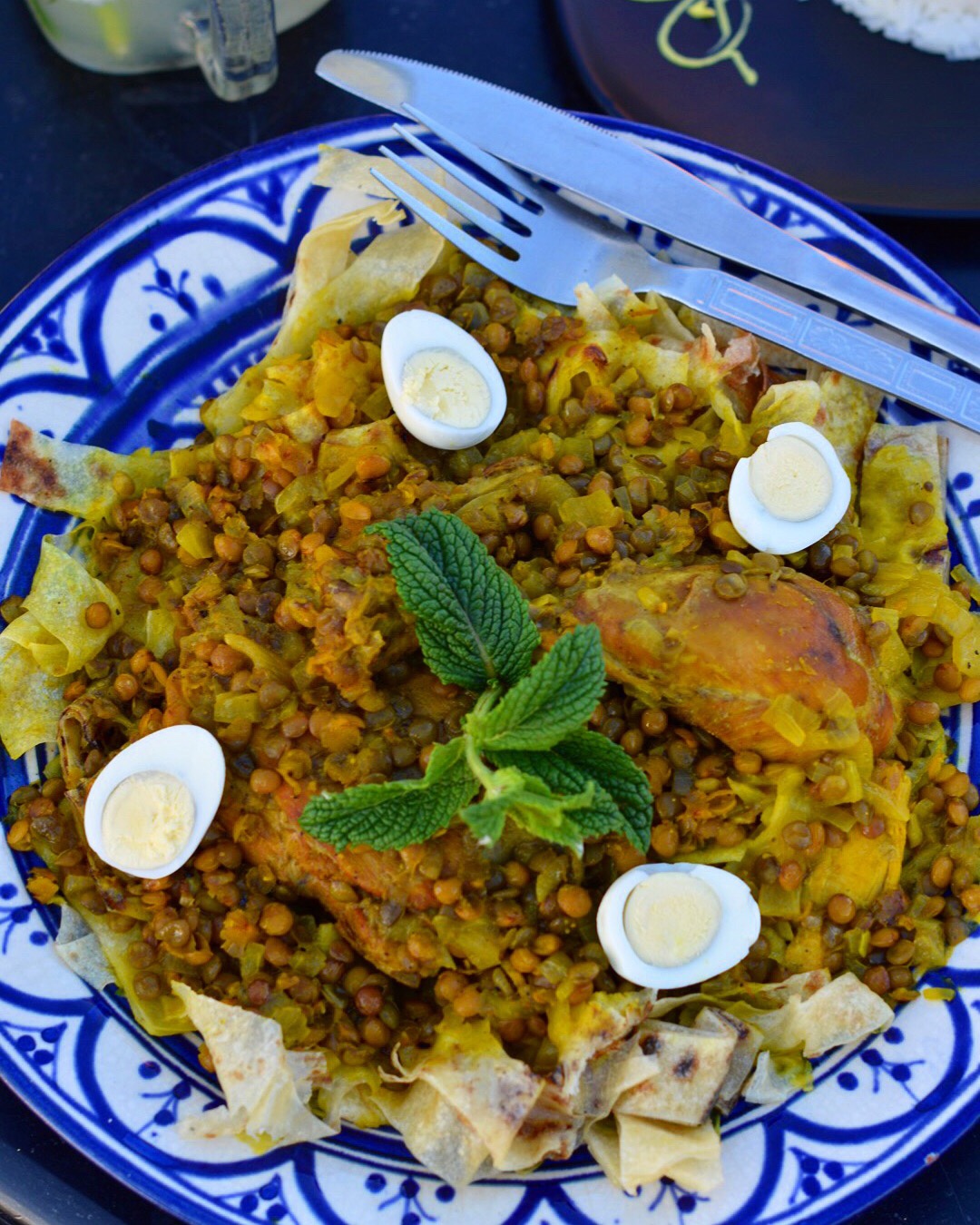 I had Rfissa, an old berber dish with slow cooked chicken and lentils in a rich butter sauce topped with quail eggs and served with steamed msemen crepes (latter being almost pasta-like since the msemen is cut into ribbons). Clever, tasty and very rich.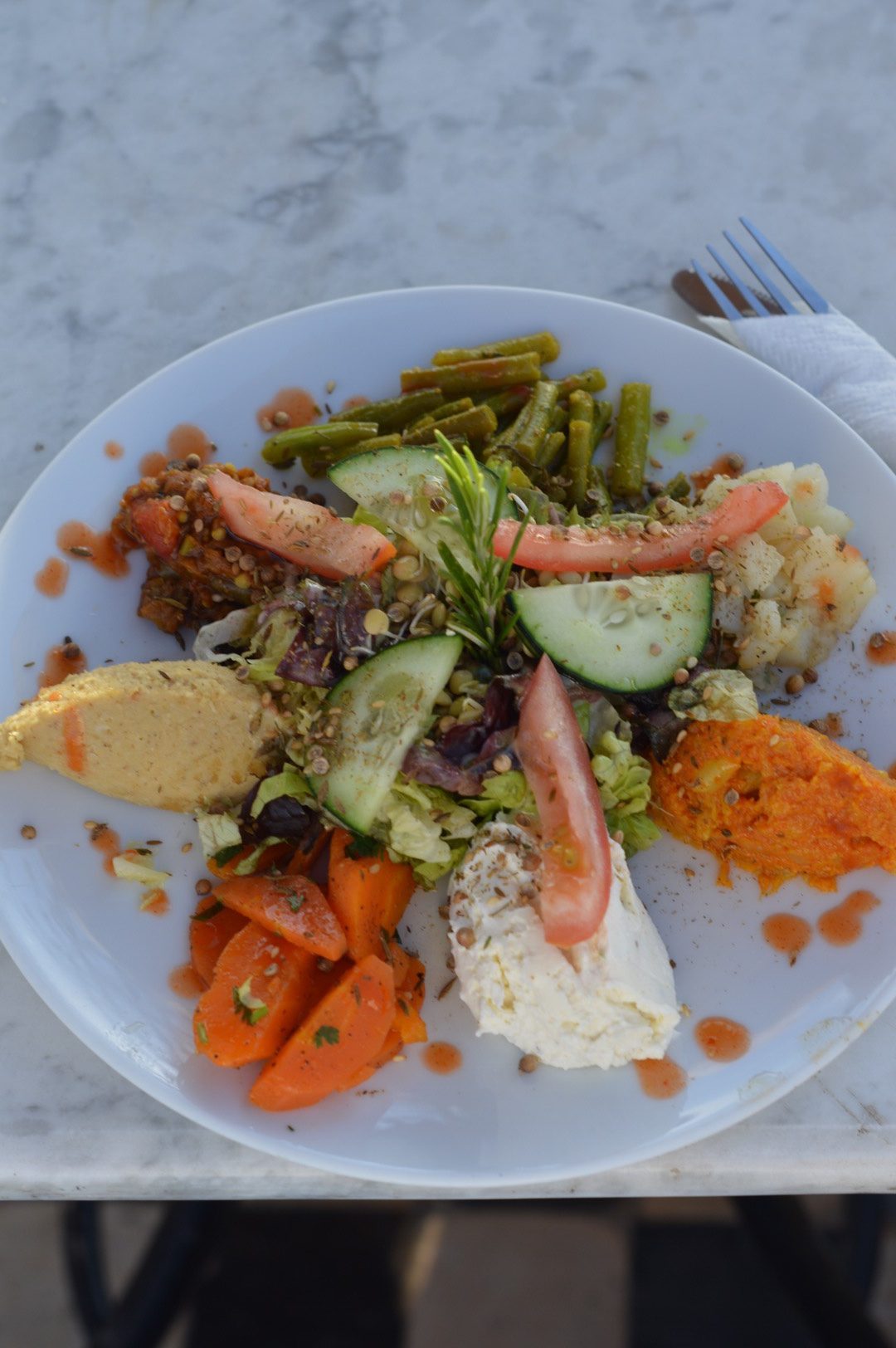 We also tried their meze platter with the usual suspects hummus, bana ganoush and Moroccan salads, which came with a fluffy flatbread.
Price: About €40 for a mint lemonade, coke, a shared starter and two mains.
Maison de la Photographie (House of Photography)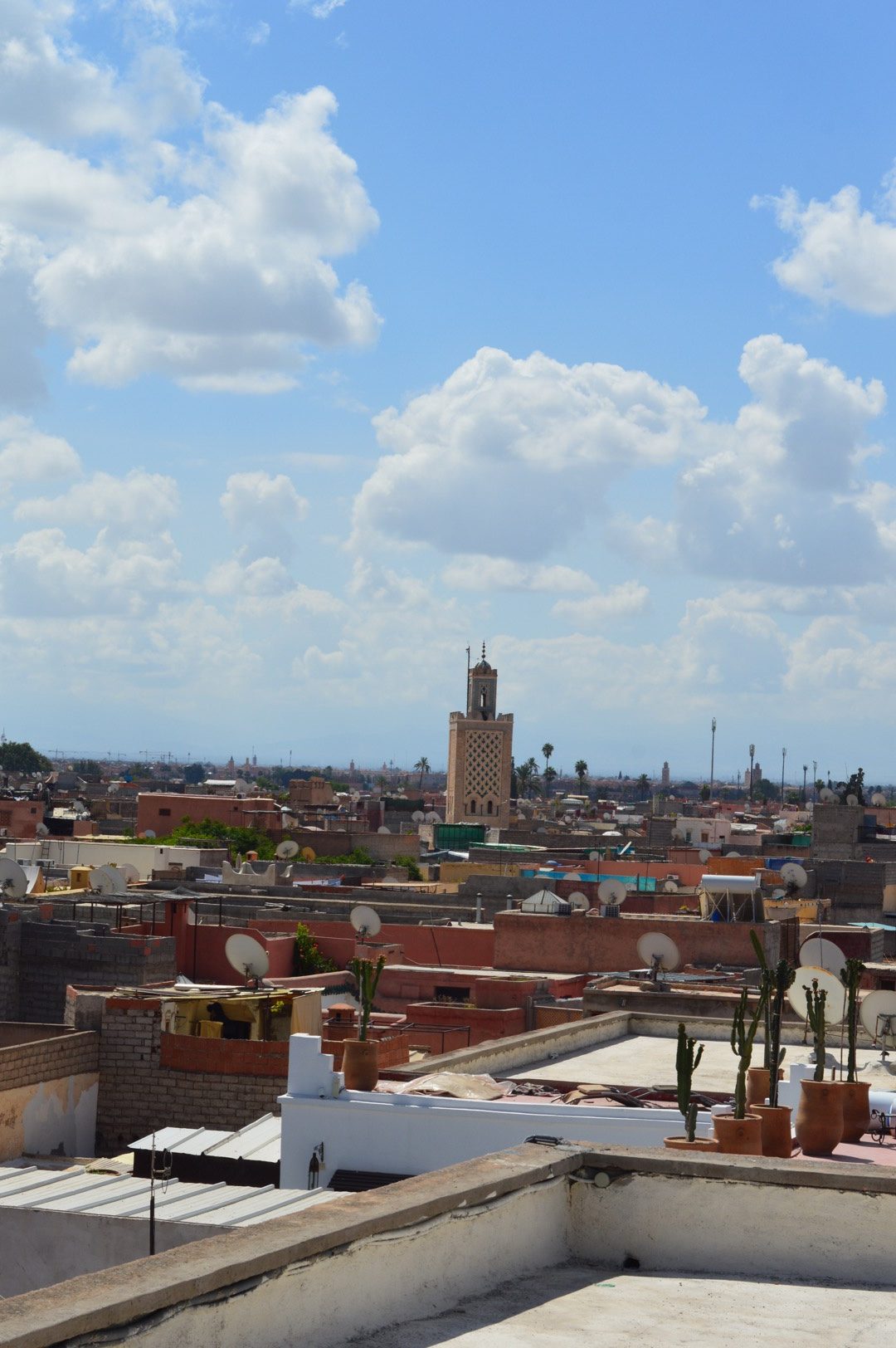 Another place with a nice rooftop is the Maison de la Photographie, a small photo museum in the medina. After admiring their old photos of Marrakech for a while you end up at their small café where you can buy both food and (non-alcoholic) drinks. Most people (and us) had a relaxing glass of mint tea before departing againfor the craziness of the medina.
Price: €2 for two mint teas.
Website: http://www.maisondelaphotographie.ma/