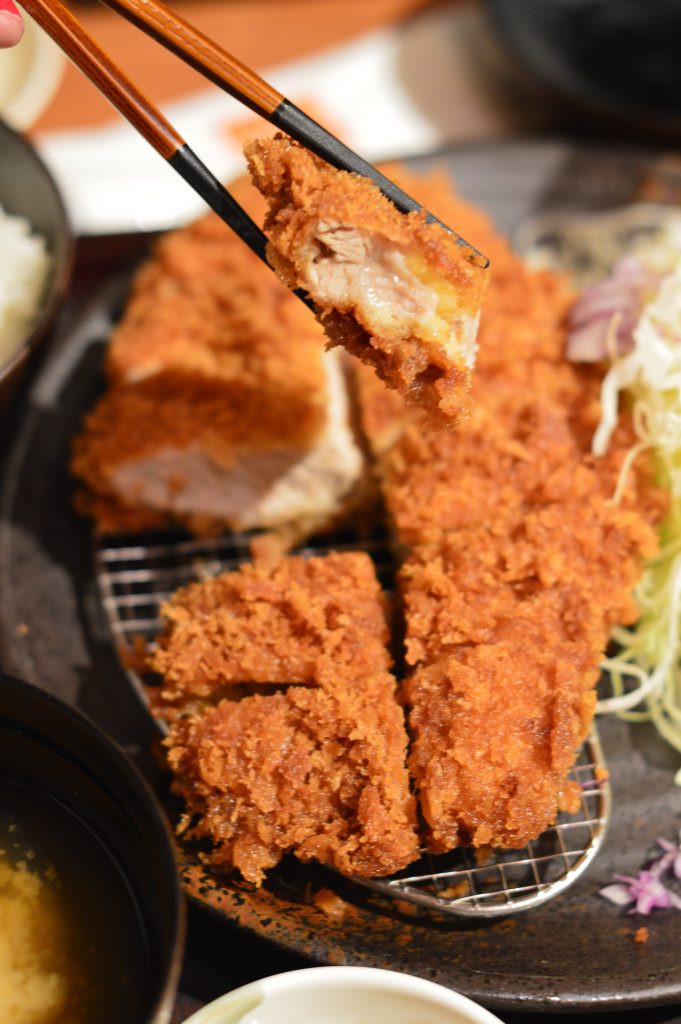 One of my favourite Japanese dishes is tonkatsu. Tonkatsu or panko crusted deep-fried pork cutlets is a dish similar to a schnitzel with juicy pork covered by a crunchy panko (Japanese breadcrumbs) crust. 
During our recent trip to Japan, we had tonkatsu twice; once at Wako, where we went last time in Tokyo, and once at Maisen, a place I've been reading about a lot and what usually show up when you google "Tokyo's best tonkatsu".
Wako tonkatsu in Kyoto Station
We went to Wako in Kyoto Station, situated on the upper floors of the Isetan department store inside the station. Bonus trivia is that you can go outside from the restaurant floor where Wako is and up a couple of stairs/escalators to reach a nice rooftop area with views over Kyoto, although with a wall in the way of proper photos.
At Wako we opted to try one of the more expensive premium versions of pork for our tonkatsu. I believe the cost was around 1800 jpy, meaning roughly $16. According to the staff, it was juicier with a higher fat content and hence slightly more expensive. After a round of frosty beer mugs, our tonkatsu arrived. Since the tonkatsu came as a set meal, which it usually does in Japan, we also got rice, pickles, cabbage slaw and grated daikon radish. The tonkatsu pork cutlet was, just as advertised, nicely fatty and soft, as well as the breading crunchy. A nice thing with tonkatsu is that it, when done properly, lacks almost any excess oil. So given the relative healthiness of the sides, it doesn't feel that bad to eat. Despite being a couple of hundred grams of deep-fried fatty pork. Wako's tonkatsu is a really nice one and in my mind well worth a visit.
Price ($$) and website
We paid roughly 2500 yen a person with premium pork tonkatsu set meals and a beer. Website with sample menu in English (scroll down to Kyoto and then Wako JR Isetan for address): click here.
Next place to enjoy tonkatsu was, as mentioned above, the legendary Maisen or Mai-Sen. We went to their outlet close to Tokyo Station in Daimaru shopping mall, located on the 12th floor. Bonus trivia for this place is that the view from the restaurant floor's restrooms is quite spectacular. We went quite late, so we could snap a few sneaky restroom pictures since no one else was there.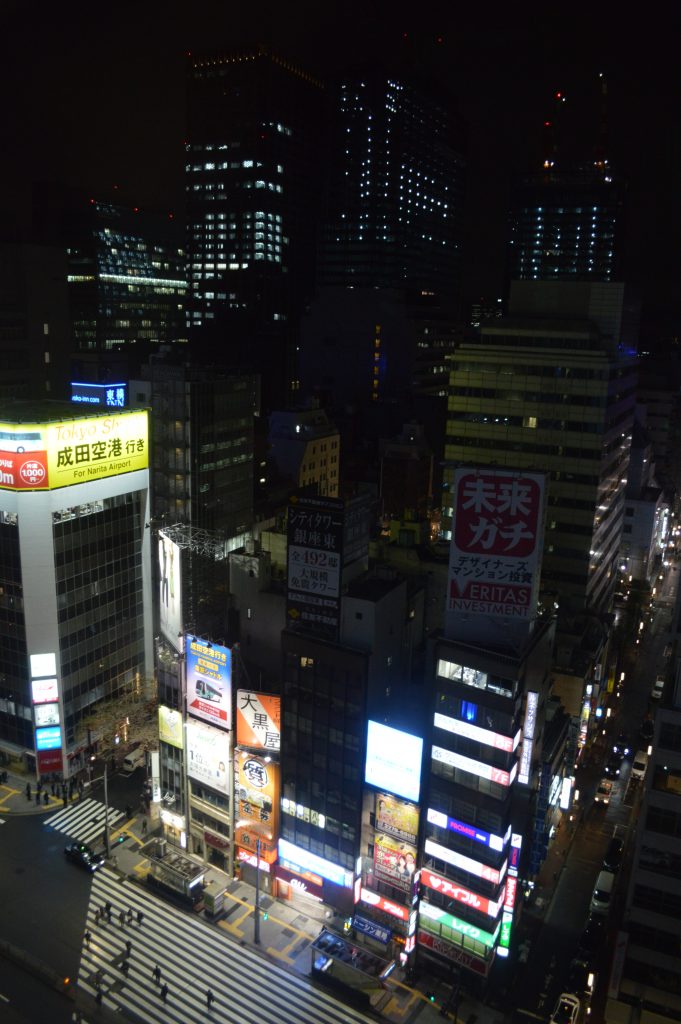 Bathroom views from the restaurant floor of Tokyo Daimaru shopping mall.
Anyway, the food. As per usual, we ordered a round of beers and a set meal each, opposed to Wako, this time with fillet instead of loin, meaning slightly less fatty meat and also a slightly smaller amount. I think it was 100 grams of fillet instead of 150 grams of loin, for the same price. The tonkatsu was served with rice, miso soup and cabbage slaw with a tasty lemony yuzu dressing. Once again, the breaded pork was not at all oily from the deep-frying. The meat was slightly less juicy compared to Wako, but that did not really matter as the crust was so crunchy and delicious. It actually felt more balanced than with the premium high fat content-pork tonkatsu at Wako, since it was almost overwhelming with both fatty pork and being deep-fried.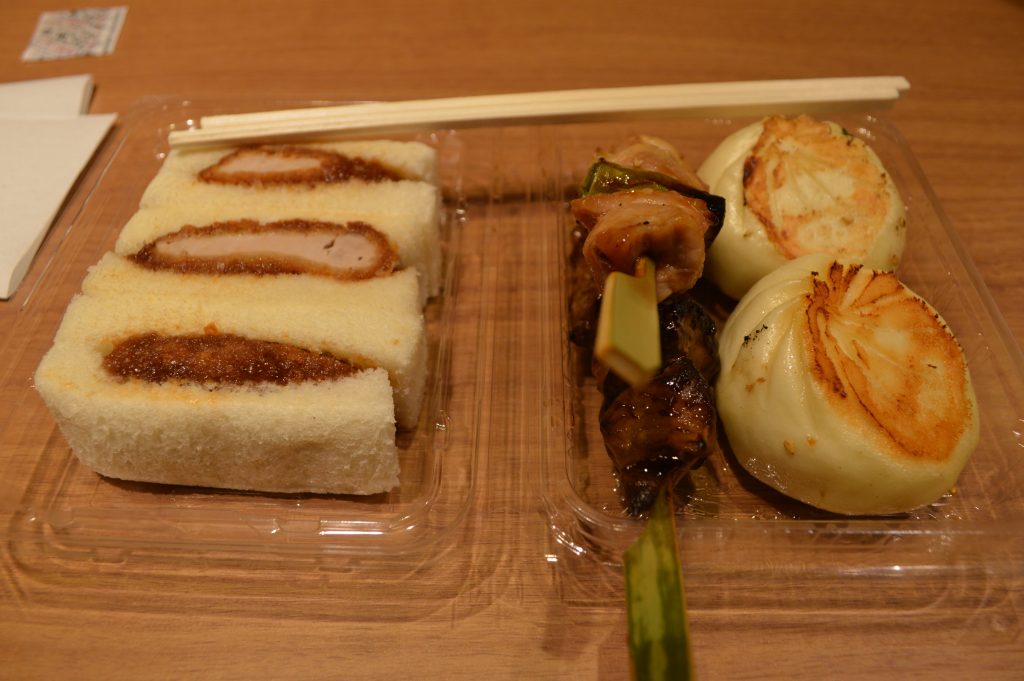 Katsusando from Maisen. Tonkatsu in white toast bread. Good stuff.
Maisen's katsusando – tonkatsu sandwich at Tokyo Foodshow
Another thing we tried and that you probably should too if you like tonkatsu is Maisen's katsusando. Katsusando is a tonkatsu sandwich, which means sliced cold tonkatsu in a white bread sandwich with some tonkatsu sauce spread on. We had Maisen's katsusando that we bought at Tokyo Foodshow in Shibuya, a whole floor of food where different outlets sell their different types of food and where you can both pick up take-away as well as dine in at a couple of communal stand up tables.
Price ($$+) and website
Maisen is slightly more expensive that for instance Wako, and we paid about 1600 yen a person for one of the cheaper set meals on the menu. Maisen's website, only in Japanese. Address (google maps link).