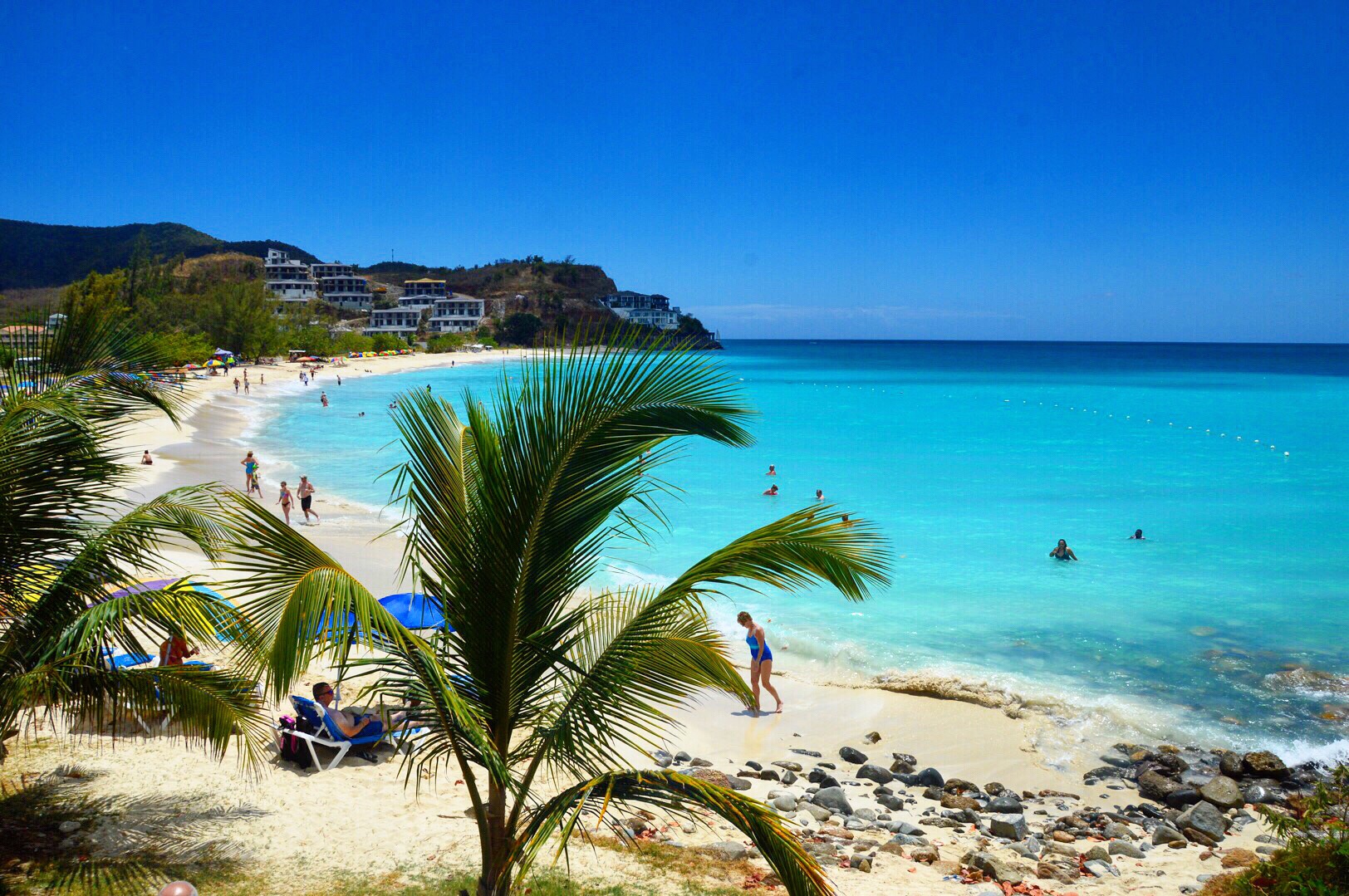 In March I made my fifth cruise, a trip onboard the old but gold Adventure of the Seas, taking us from San Juan, Puerto Rico and around the South-Eastern Caribbean, including; St. Maarten (airport beach); St. Kitts (cocktails in a 1920s train); Antigua (crazy pretty beach); St. Lucia (pitons and beautiful scenery), and Barbados (soca, rum punch and also crazy beautiful beach[es]. I've sorted it under each day, including food and drinks onboard.
Day 1: Boarding in San Juan, Puerto Rico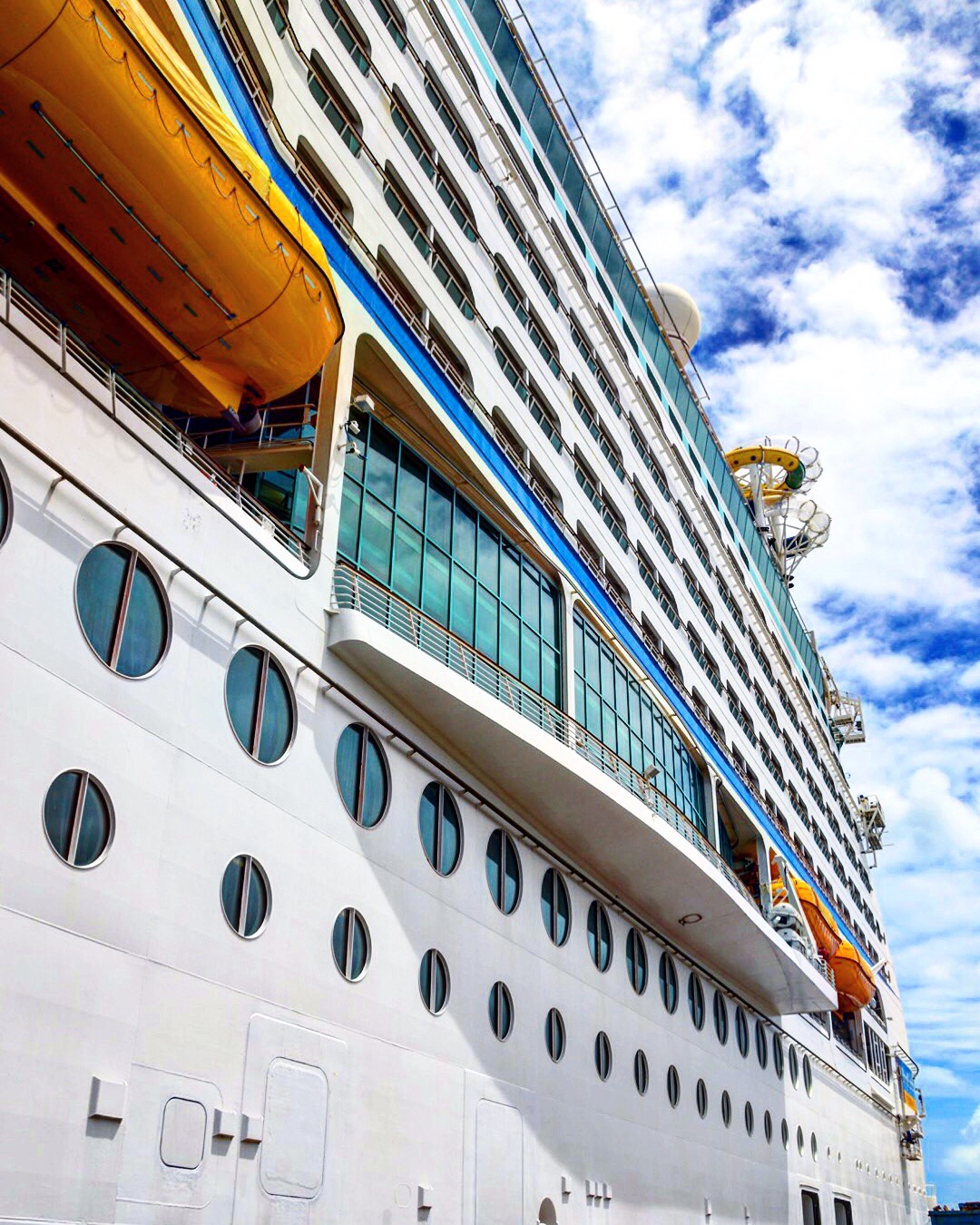 Boarding
We were e-mailed a day in advance where we were advised that we should board at 2 pm. But since we had to leave our AirBnB rental apartment at 11 am, we took an Uber straight to the port. At the port we left our bags, went through security, took the dedicated gold line (since we have cruised once before with Royal Caribbean), and swoosh, we were onboard.
The ship
The Adventure of the Seas, which was our ride around the Caribbean for the next seven days, is a beautiful if slightly old ship. It was built in 1998, but you really couldn't tell since she recently was renovated, at least not in the public areas. The cabins felt a little worn, but not too bad either.
Cabin aka stateroom
We stayed in an interior stateroom, as the cabins are called. Since there is no window, it gets really dark when you close the lights for the night. If you feel claustrophobic, maybe leave the bathroom lights on. In the cabin is also an interactive flatscreen tv with a couple of tv channels, access to eg your onboard account and the ship's own different channels. The ship's Wi-fi signal reached our cabin (maybe all) on level six too, so we could use internet while in bed. Speaking of the bed, we had s comfy double and slept like babies (could perhaps have something to do with our all-inclusive drinking packages as well).
Deluxe drinking package
We opted for the deluxe drinking package which covers all drinks by the glass, alcoholic and non-alcoholic up to $12. This covered most drinks onboard, and not only the cheapest stuff. There were plenty of wines by the glass to choose from in the main dining room; all beers and cocktails despite the really fancy ones, and sparkling wine in some, but not all restaurants and bars. Also be aware that some drinks are priced differently around the ship. Eg. A certain glass of wine can be priced above $12 in the main dining room, and below in a bar, and vice-verca. Generally though, we drank what we felt like without feeling limited, while still staying below the $12 cap. Top tip though: Bolero Bar has a glass of delicious Vilarnau cava for $12 (and awesome mojitos and caiprinhas).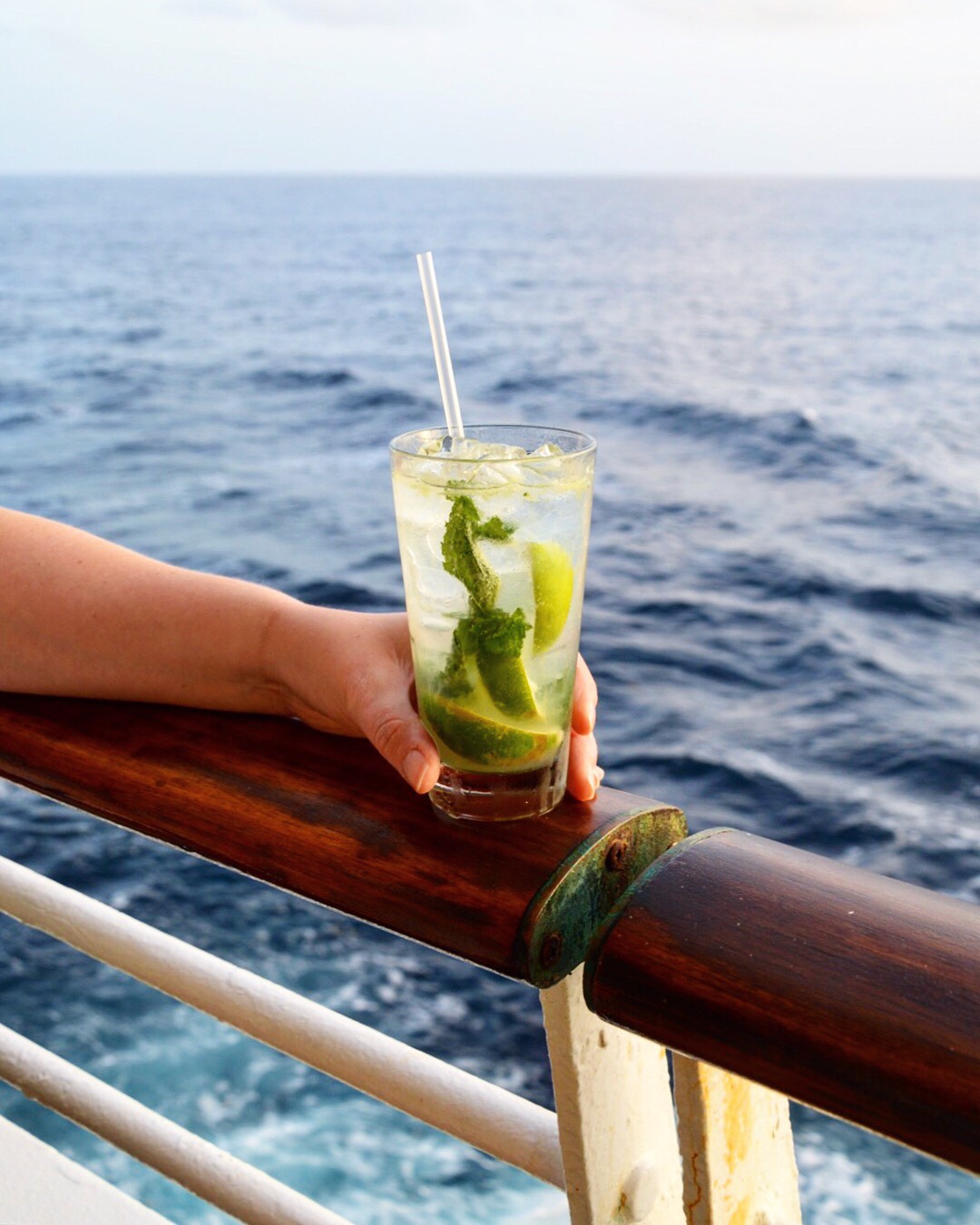 We definitely felt we got value for money, using our package benefits for sparkling water for dinner, specialty coffee and fresh squeezed juice for breakfast and soft drinks – in addition to alcoholic drinks. Although I am not so sure it was great for my liver. ?
Dinner in main dining room
We had opted for "My Time Dining" when booking our cruise, meaning we could choose our own time to eat instead of the traditional scheduled 'seatings'. We talked to the maître d, which told us that either 6.15 or 7.30 pm were the best times, as it would be calmer and more available tables. We consequently booked 7.30 for all our nights onboard right away, which resulted in us having the same table (and waiting staff) for the entire cruise, which was good.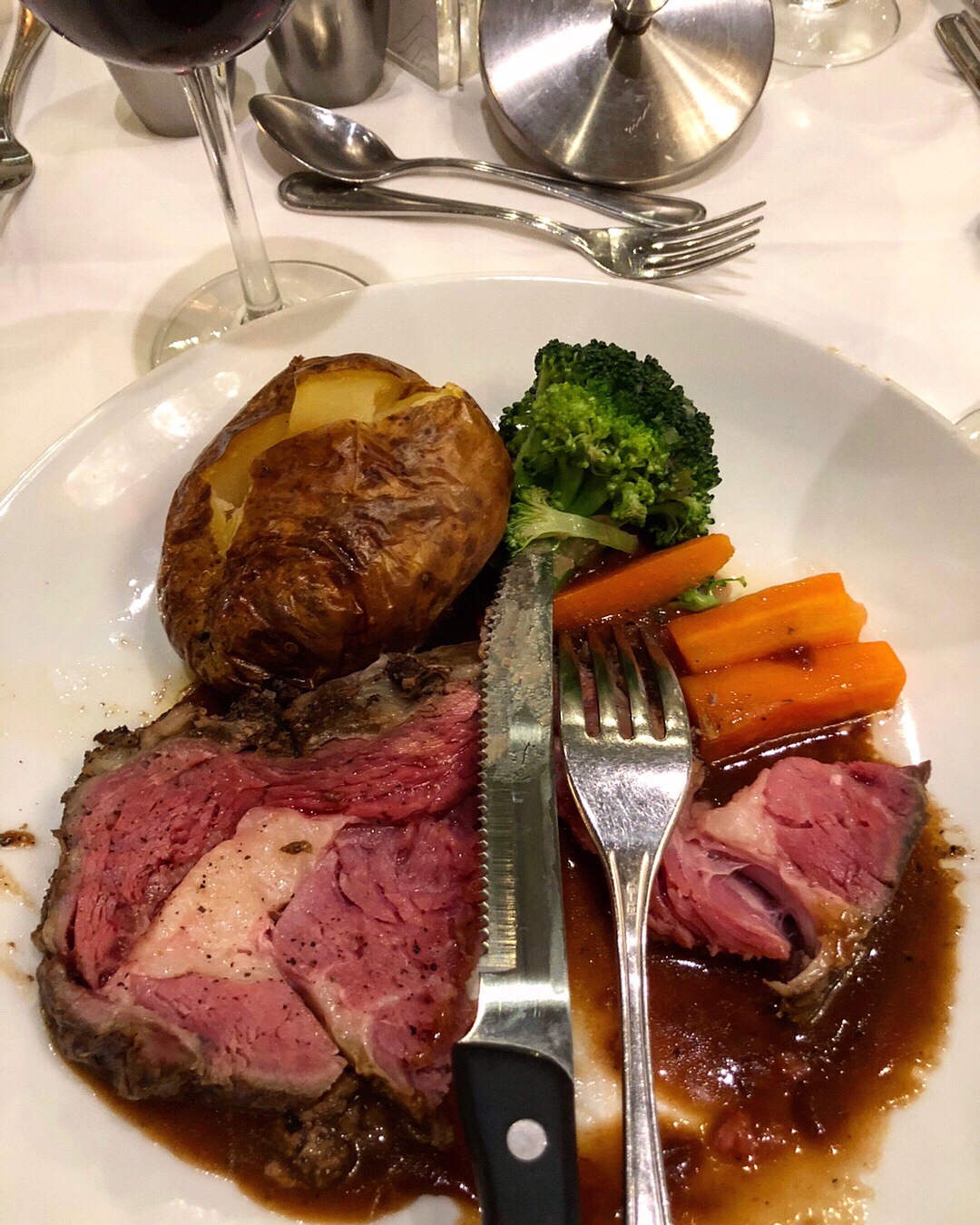 Our first dinner consisted of this perhaps not spectacularly photogenique aged prime rib of beef. It was delicious though, served with crunchy vegetables, pan gravy and baked potatoes. In my mind the food onboard Royal Caribbean is surprisingly good, better than I remember it from cruising with them in 2010. And I'd like to think that my taste has improved since.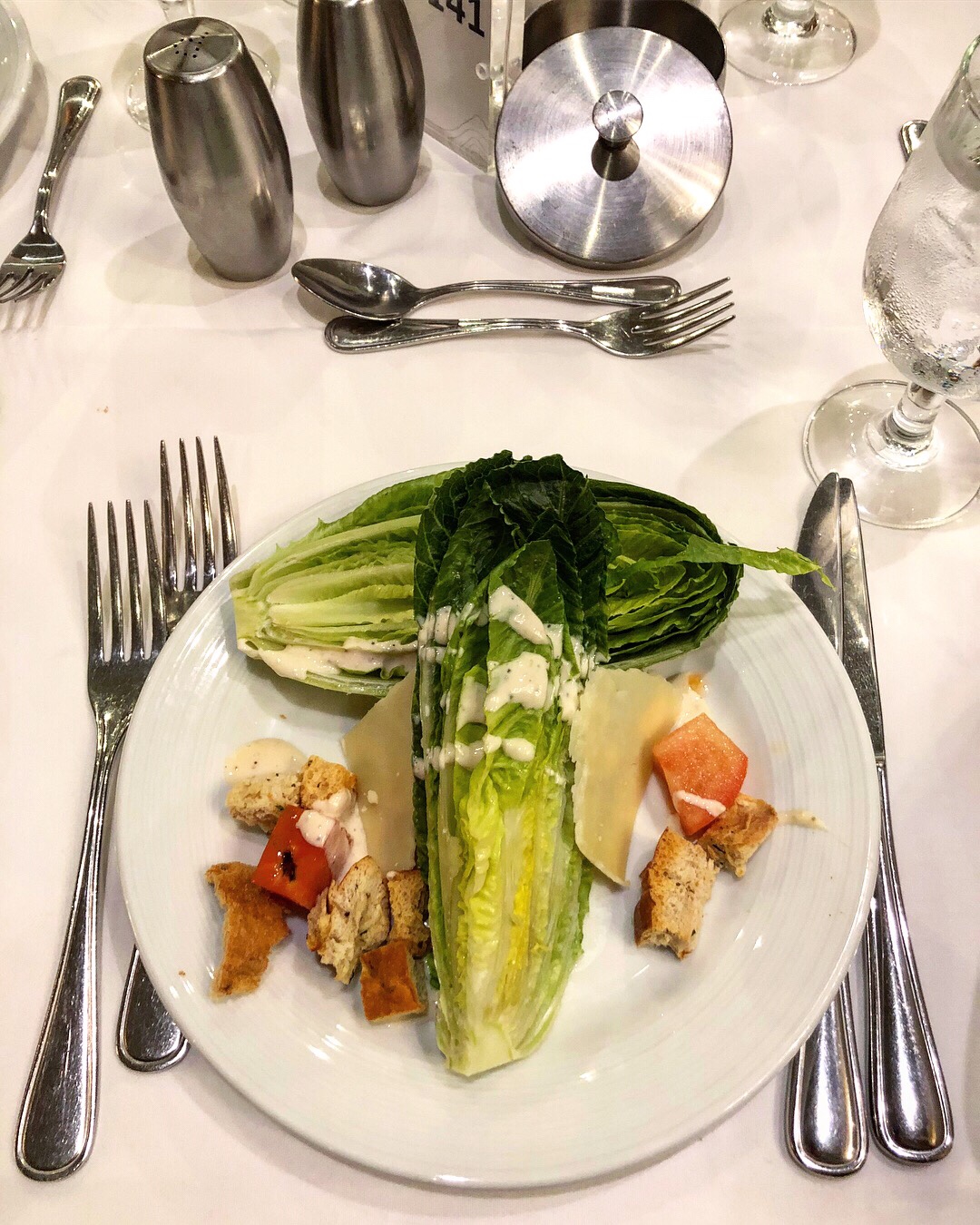 I got a little mocked on Instagram for this Caesar salad that my followers apparently did not fully approve of. It was too much lettuce, as can be seen. But despite the rustic serving it was quite delicious.
Day 2: Philipsburg, Sint Maarten
The first port of call during our cruise was the Dutch and French island of St. Maarten. The ship is docked at the quay, and hence there was no need to tender. Actually we walked ashore on all stops which was convenient.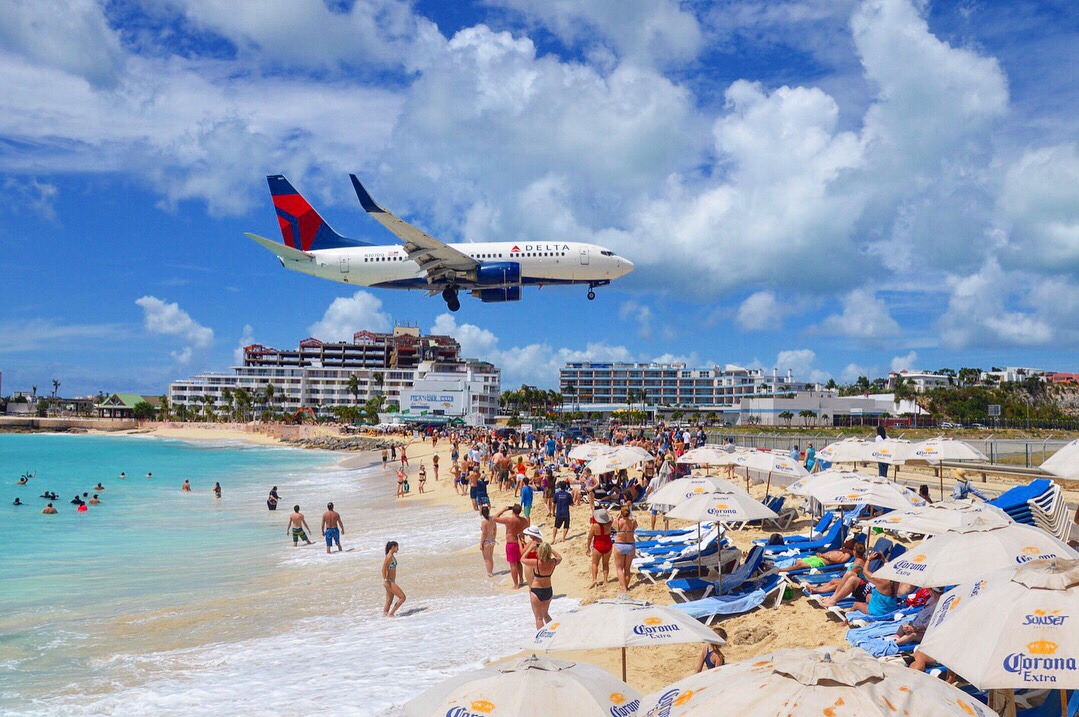 Maho Beach and Princess Juliana Airport
We had opted to visit St. Maarten's possibly most famous site; Maho beach, situated at the end of the runway of Princess Juliana International Airport (SXM). We picked the convenient option and joined the ship's own tour providing transport there. The beach is quite small, chairs and umbrella were $20 (we actually heard staff discuss among themselves that cruise passengers should pay an extra $5 over the listed price in the bar), and while we were there the waves quite high, but those facts weren't that important given how cool it was to be right in the path of the incoming jets. For each dot appearing on the horizon, growing as it approached, anticipation among the beach crowd grew: "is it a big one?". While we visited, both Delta and Jetblue touched down and it is really a special feeling standing just a couple of meters below a landing jet.
Read and obey the signs though as someone that left the beach standing on the road even closer to the runway recently died after falling due to the wind.
Dinner in the main dining room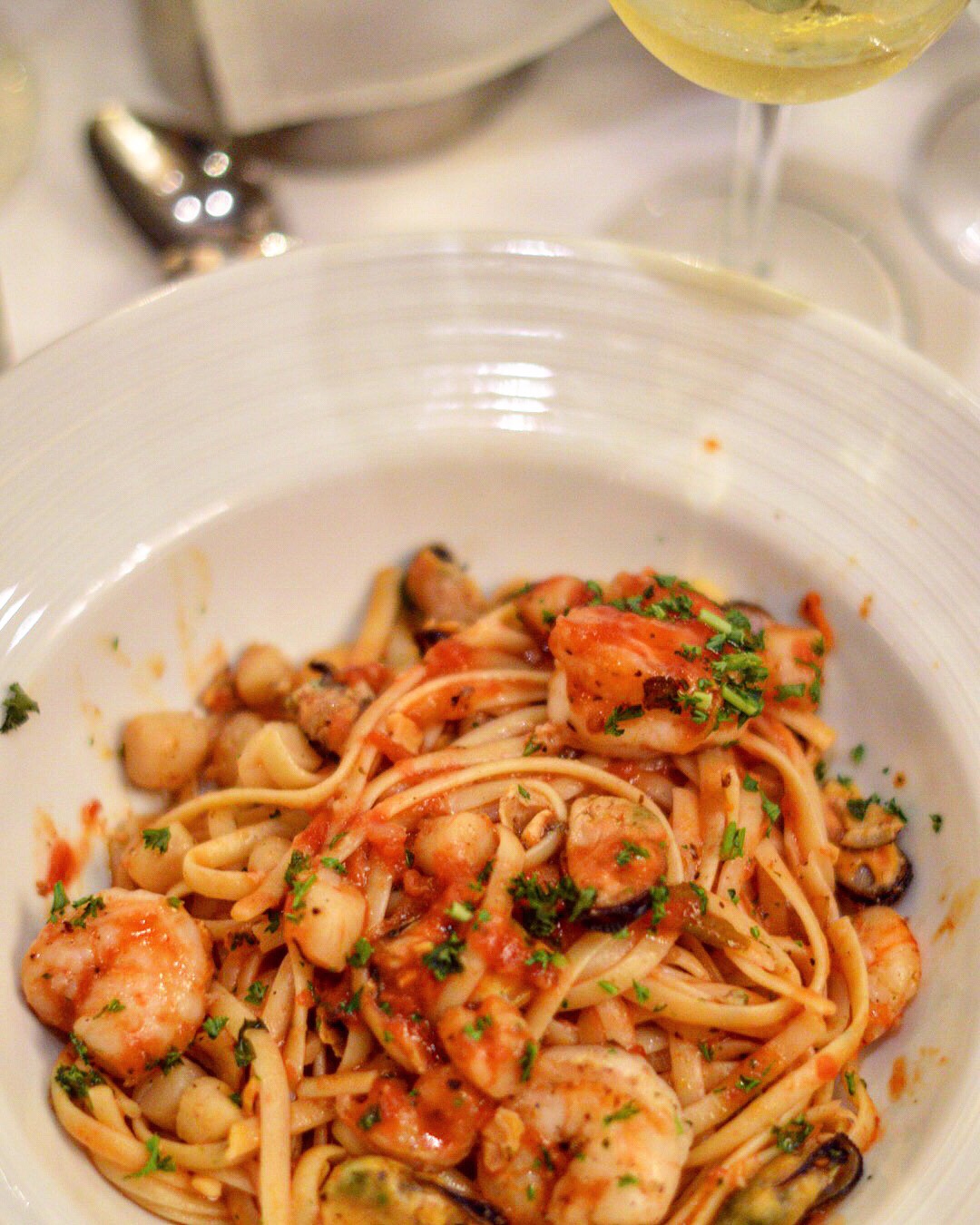 A really, surprisingly, delicious seafood pasta featuring perfectly cooked linguini with bay scallops (so sweet and tasty), mussels and shrimps in a Chardonnay reduction. Great seafood, nice silky tomato sauce and pasta cooked al dente. I wasn't expecting such a nice pasta onboard a cruise ship. I'd be happy to pay for this in any restaurant.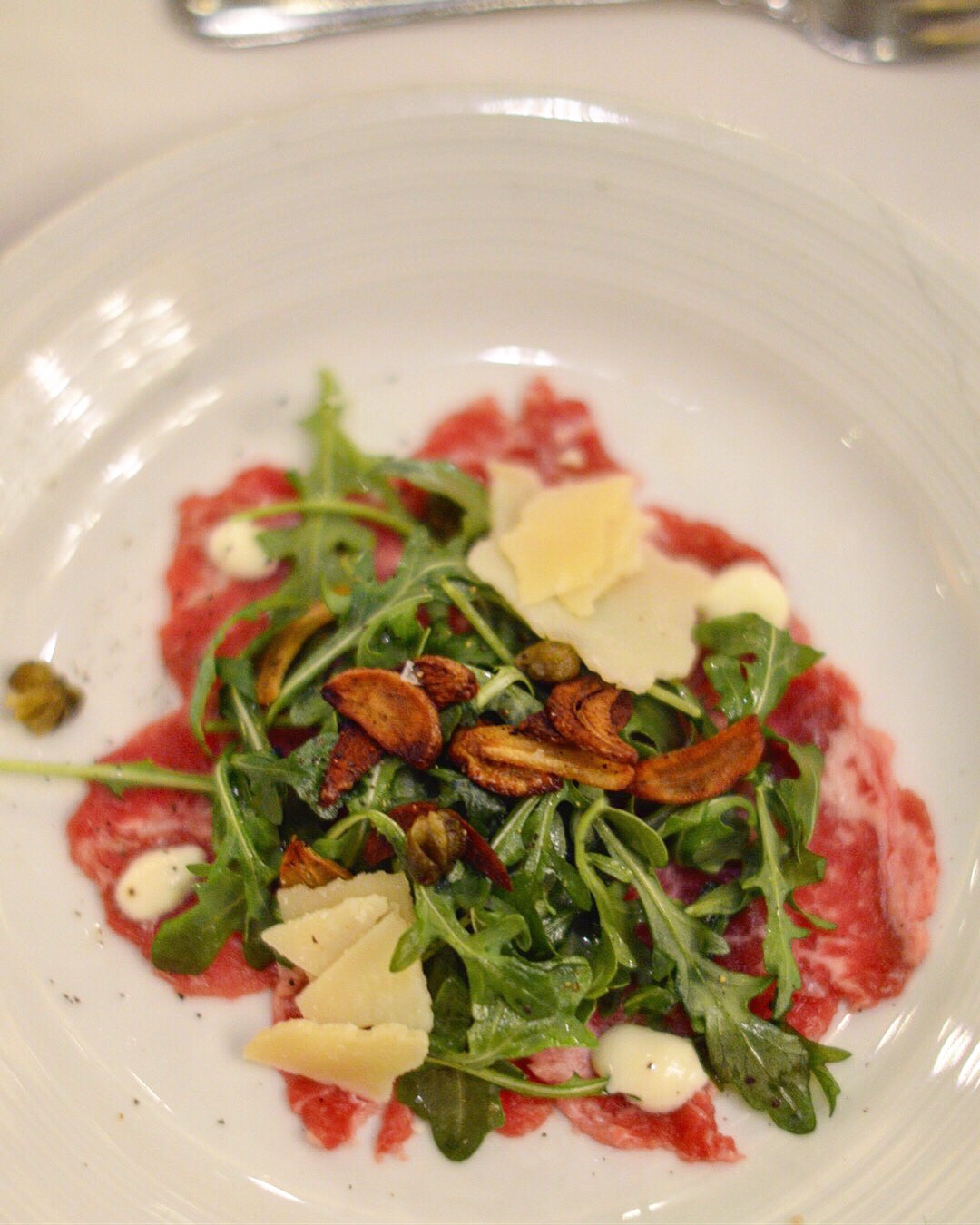 Beef carpaccio with parmesan, rucola, garlic chips and mayo was very good as well.
Day 3: Basseterre, Saint Kitts
Our third day on the ship we arrived St. Kitts in the island nation of St. Kitts and Nevis (pronounced 'knee-vis' we learned, I always thought 'nevvis').
St. Kitts Scenic Railway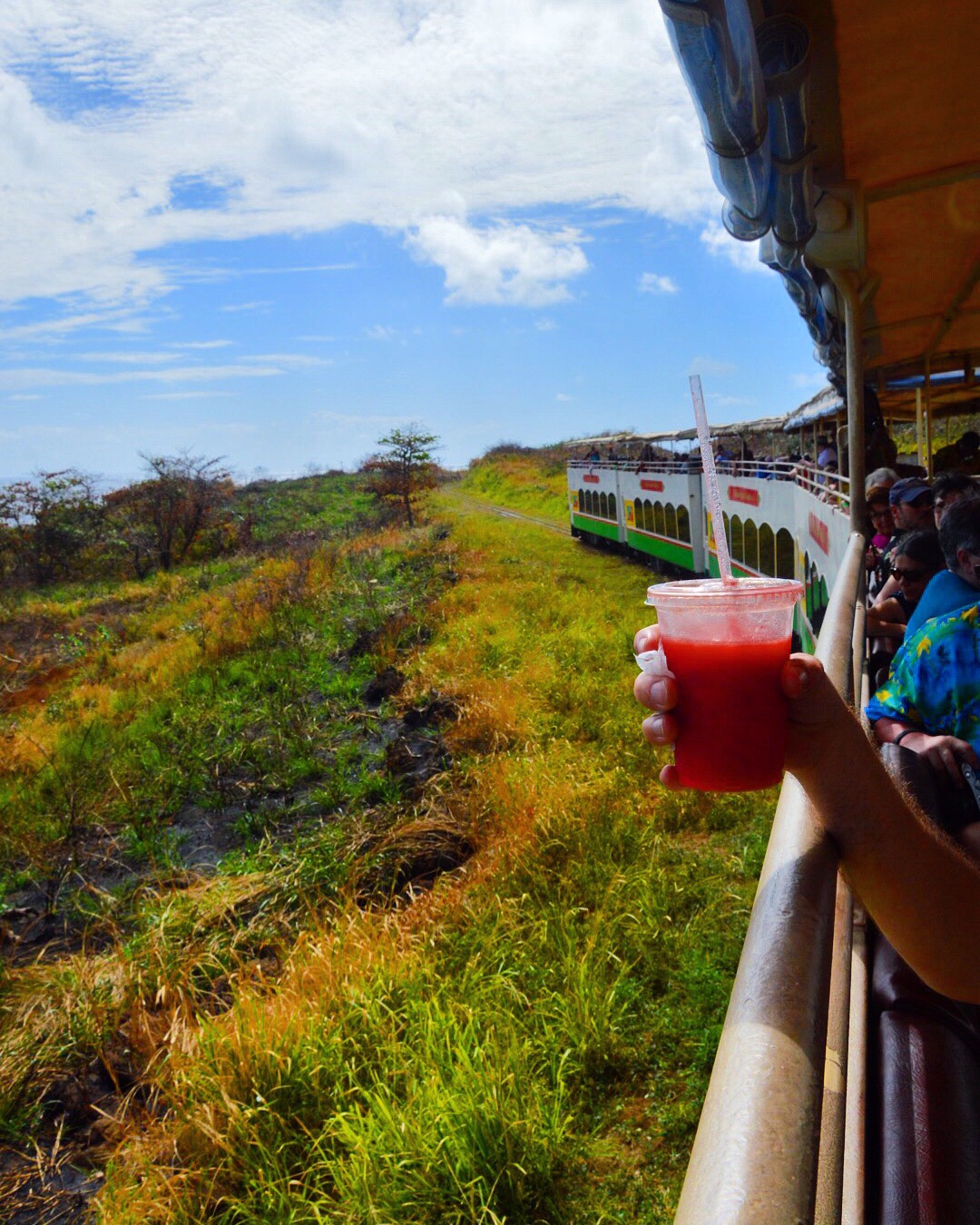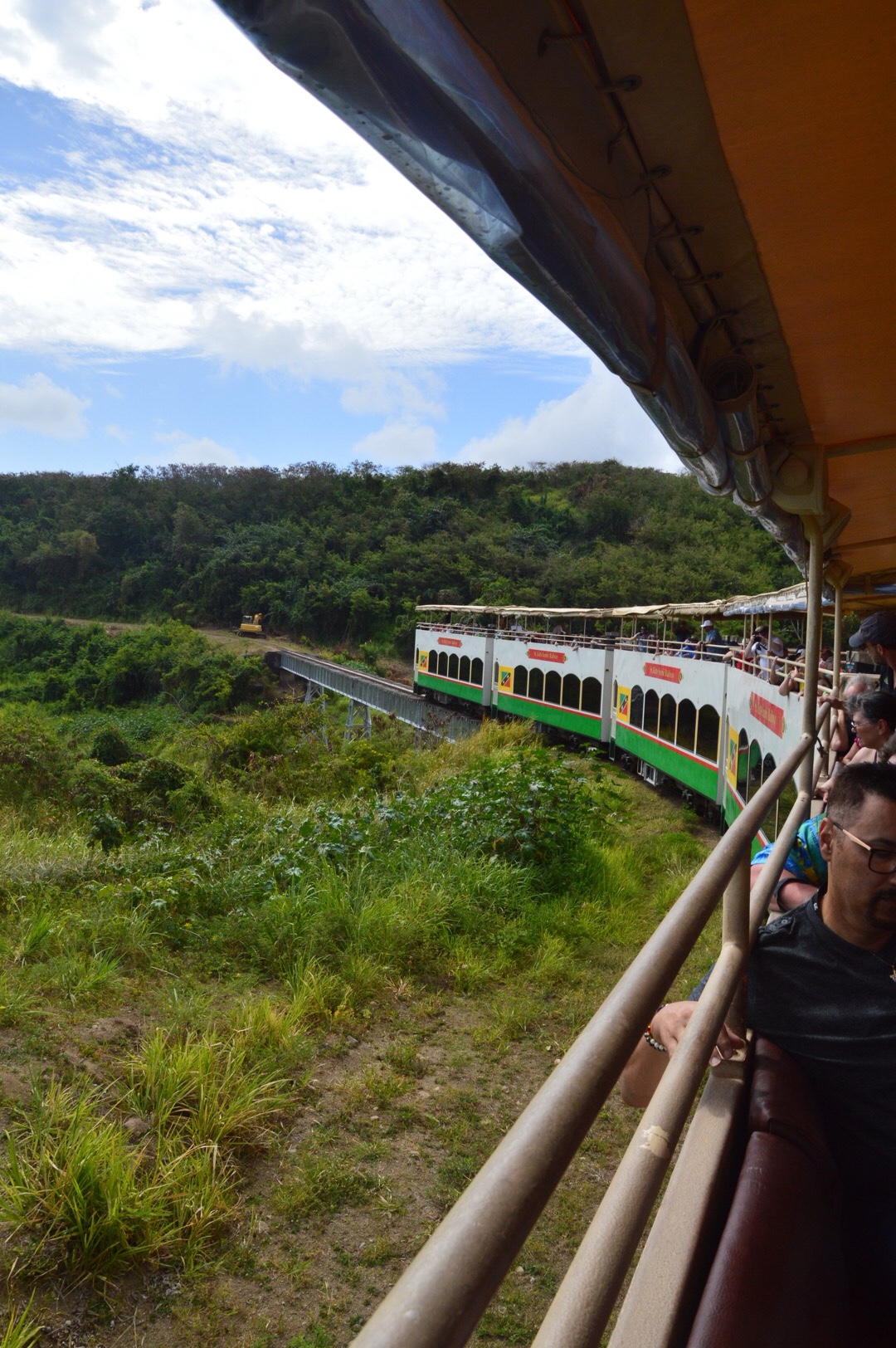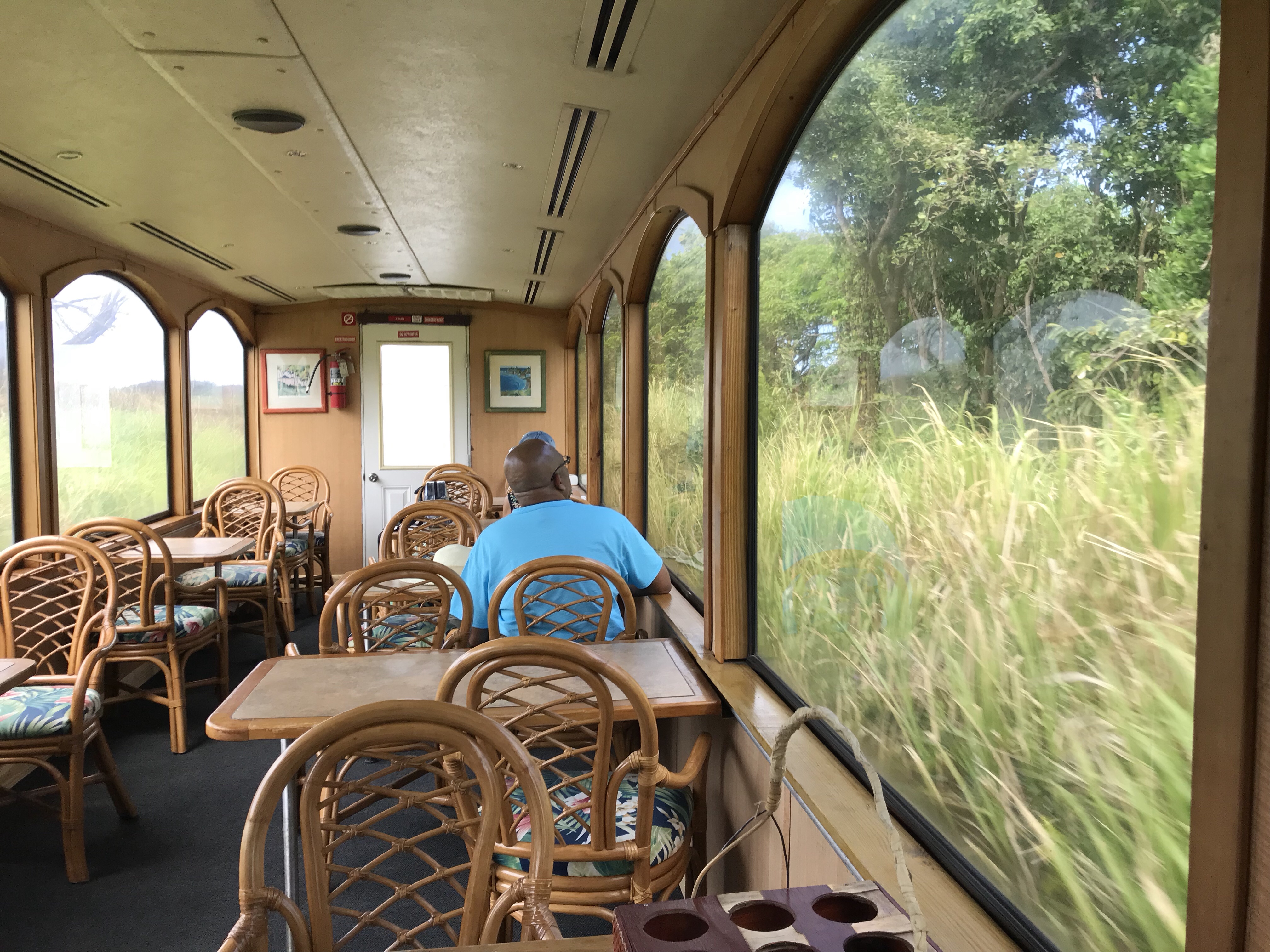 After reading about it, I couldn't resist to take the old school, 1910s-constructed railway, built for the transportation of sugarcane. In these times though it is used to transport another bunch of sugar-loaded commodities – us.
During the approximately two hour ride we were taken around the island, soaking up some beautiful views of the landscape, villages, mountains and sea, while being served complimentary drinks such as piña coladas, strawberry daiquiris (what I had) as well as water and soft drinks. There was also a choir onboard that went from carriage to carriage, singing local tunes. A very nice and comfortable trip, if pricey, in an old school train.
Harbour lunch in Basseterre
Before heading back to the ship, we took a short stroll around the cobble streets of Basseterre, St. Kitts and Nevis' small capital. In the harbour, there was a small foodcourt, which included a small place selling local dishes called Island Thyme. We were hungry as well as had raided the Adventure of the Seas' lunch buffet for two days straight, and, were keen to try some local food. It should be added though that they 'forgot' to return our $2 change on a twenty bill, which I always find annoying. If I'd like to tip I decide so for myself (and this is not a table service place).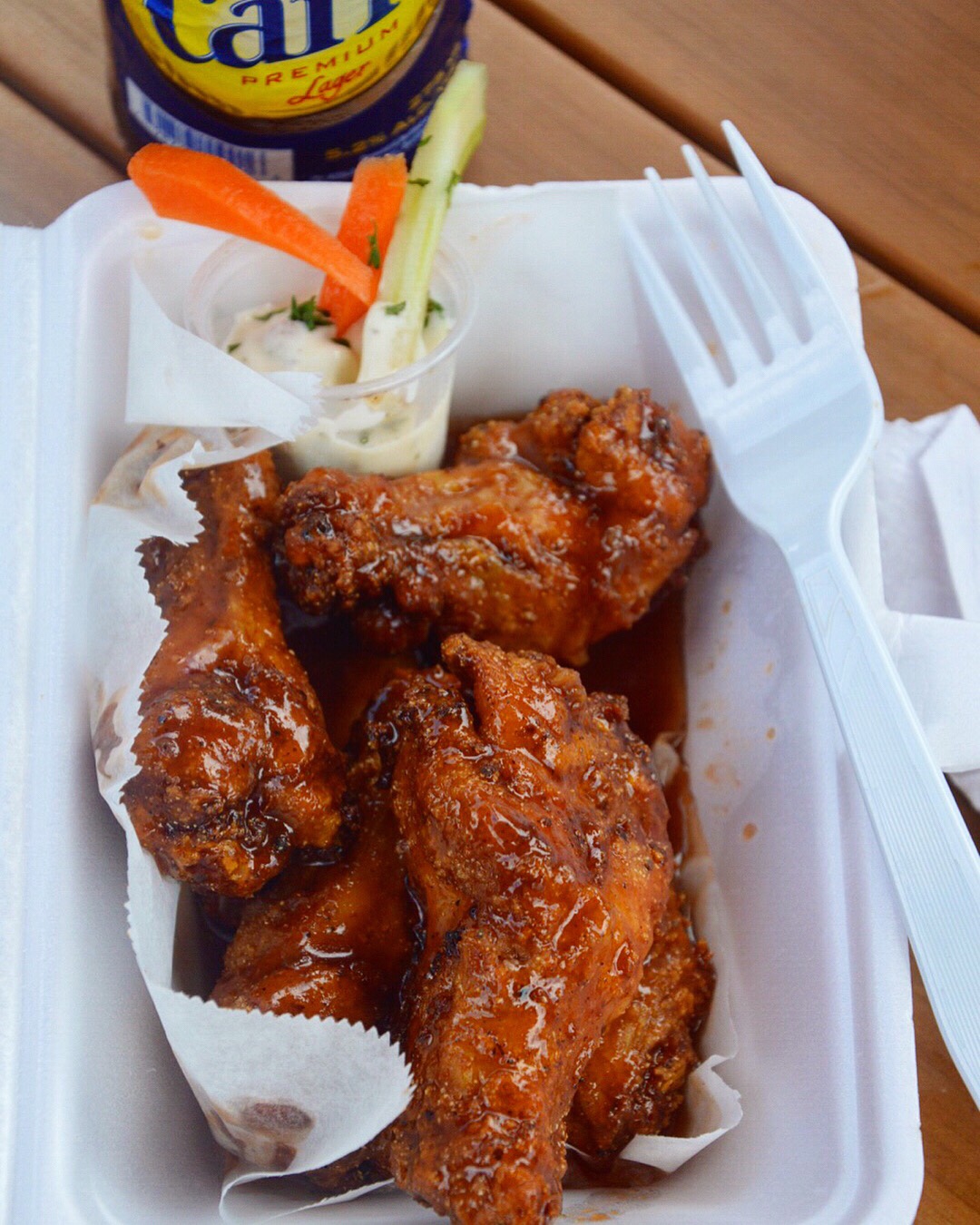 Hot, crunchy and spicy 'calypso wings'.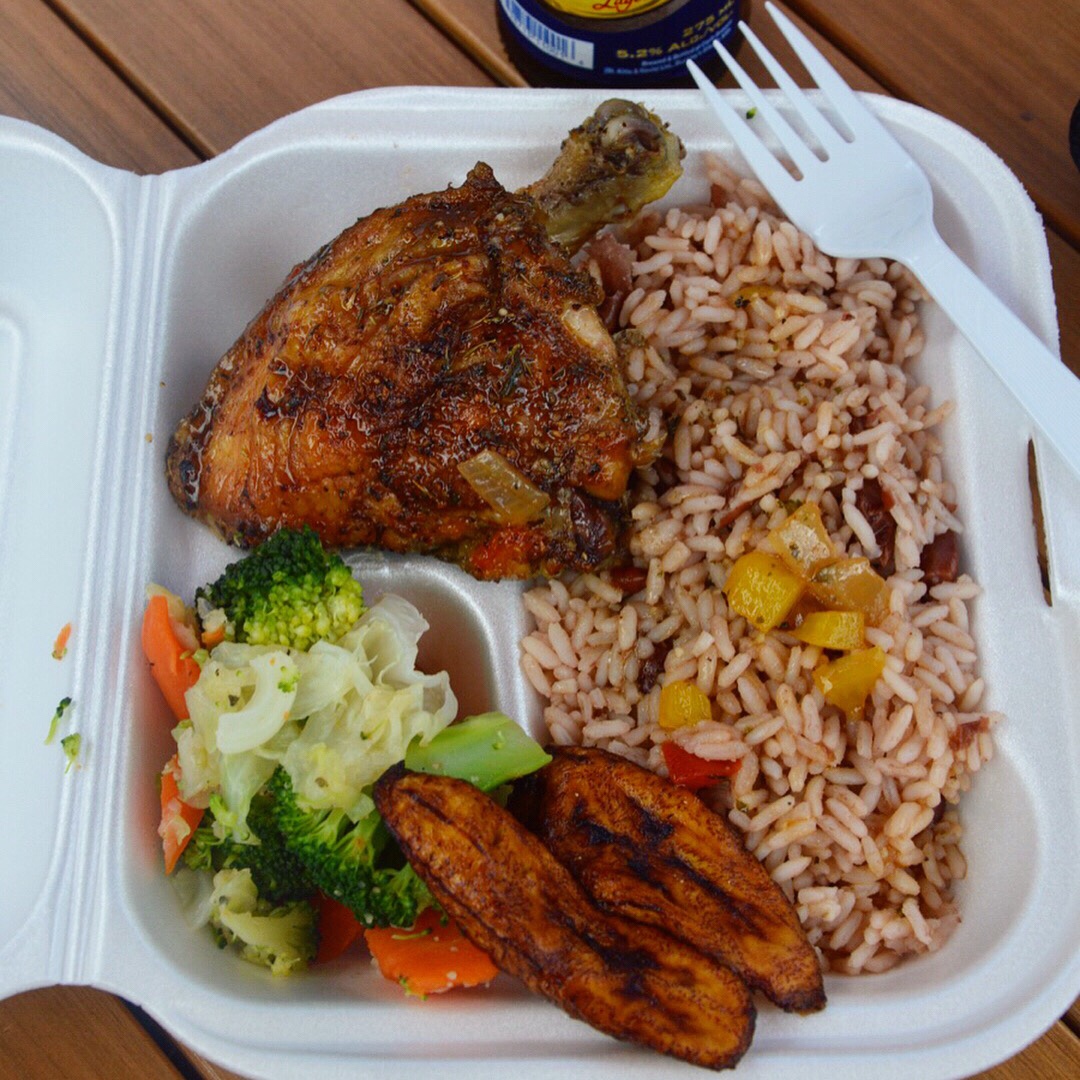 Delicious, juicy roasted chicken with peas and rice (with peas meaning beans) and plantain (green banana fritters). All washed down with an ice-cold Carib beer.
Dinner in the main dining room
Italian night onboard, and I went for the not so mature, but oh so good, option of spaghetti bolognese with San Marzano tomatoes and pecorino cheese. Really beefy and again surprisingly tasty for being on a ship. The starter burrata were one of the most creamy and delicious burratas I've ever had.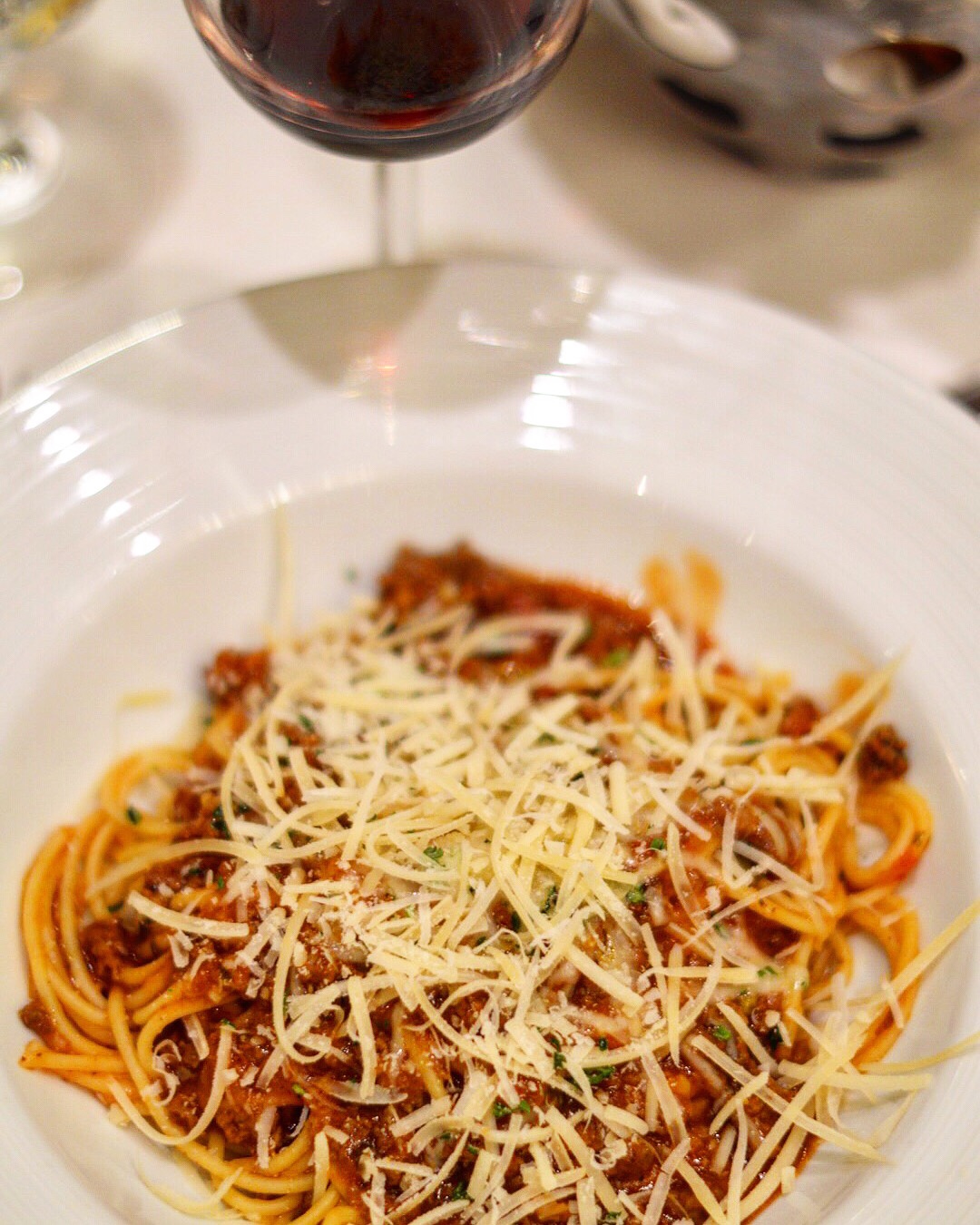 Adventure of the Seas' bolognese wasn't on the menu all nights, but nearly.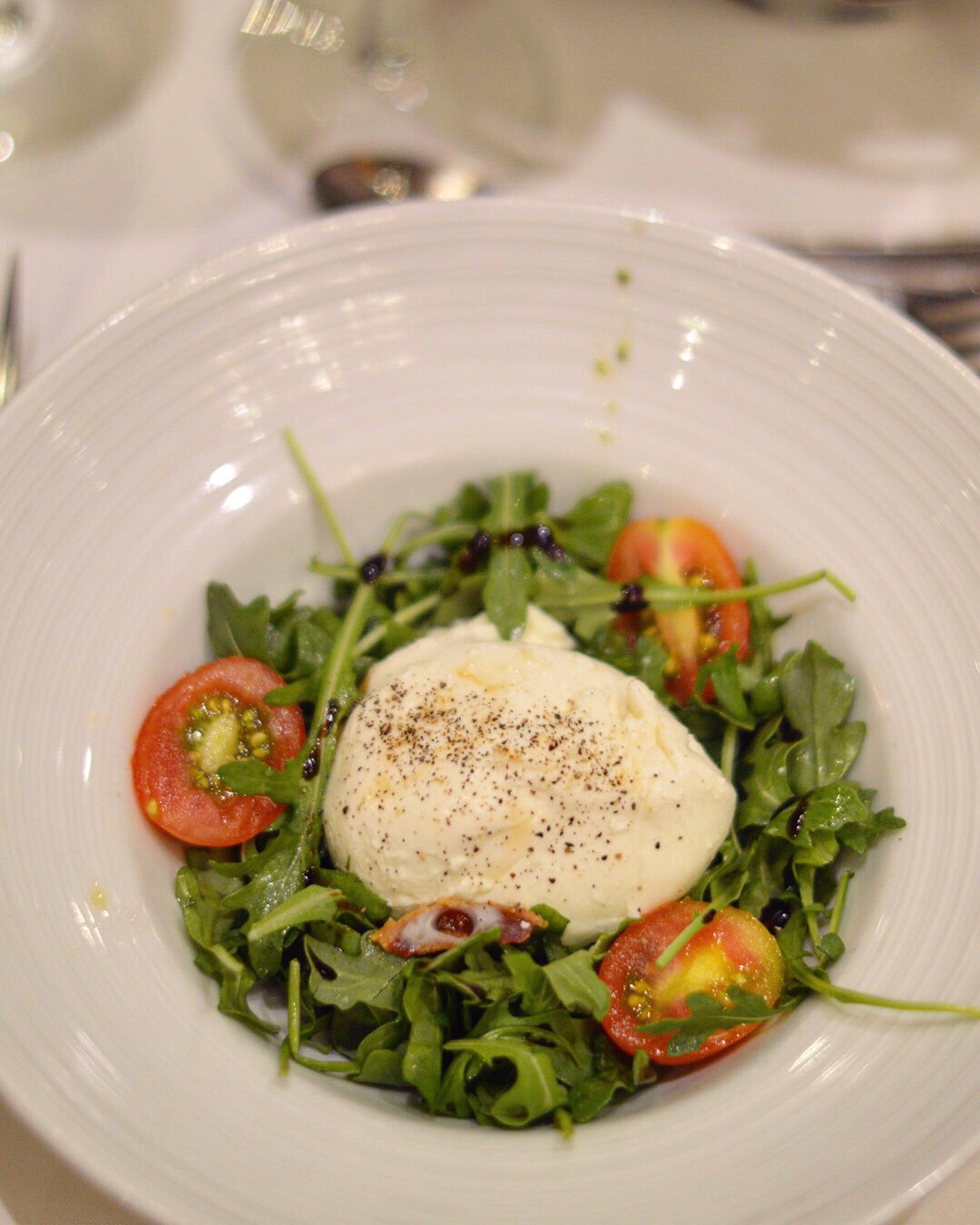 Reaaally good burrata cheese with bacon, rucola, tomatoes and pesto dressing.
Day 4: Saint John's, Antigua and Barbuda
Our fourth stop was in St. Johns, the capital city located on the island of Antigua, in the island nation of Antigua and Barbuda. Finally it was time to hit the beach properly (even though Maho Beach was a beach I was mainly there to take cool shots of planes).
Ffryes Beach, Antigua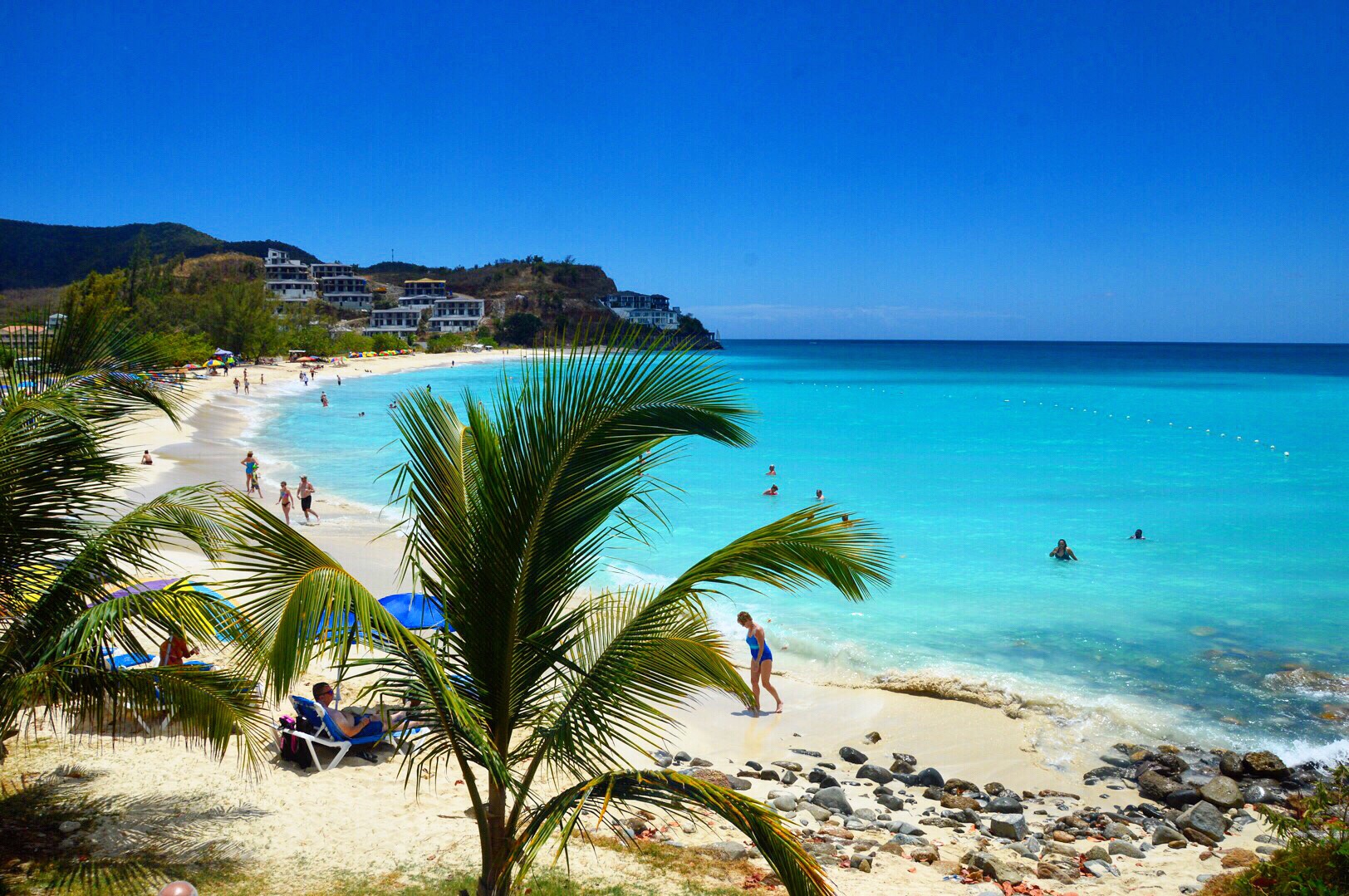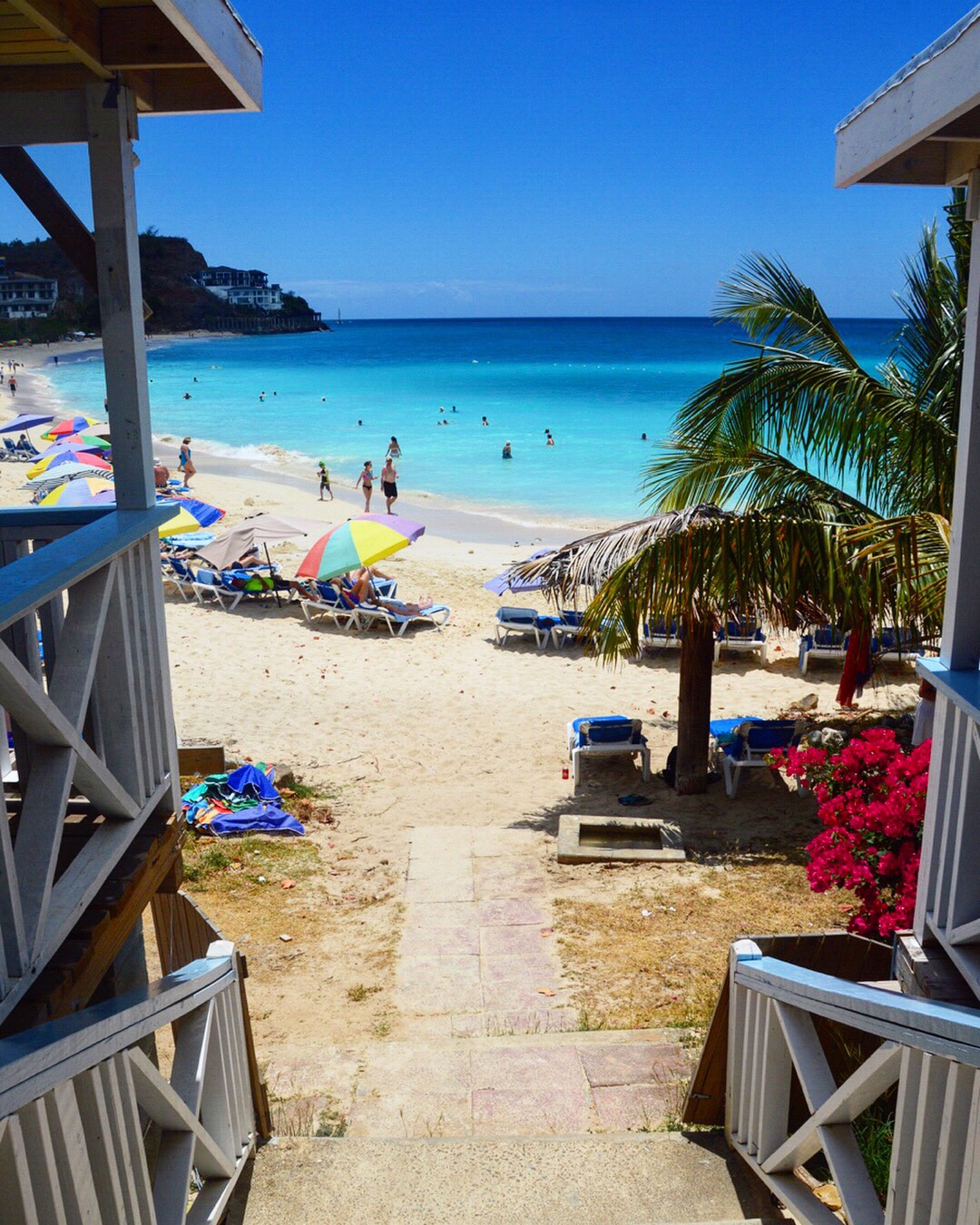 We had booked Beach Extravaganza or something like that, which included transport, a sun lounger (but not an umbrella – that would've been a bit too much extravaganza, hey?), a surprisingly delicious lunch and two drinks (or more if you'd take your cousins' drink vouchers as well as our nearly passing out-drunk fellow cruiser did). Anyway, after a quick trip through St Johns, we arrived the stunning Ffryes Beach (yes, with two "f"). Having visited Vanuatu in the South Pacific just a few months ago, I was almost dissapointed that Ffryes was even more beautiful. In my mind the South Pacific is unbeatable, but I now realise I might be wrong.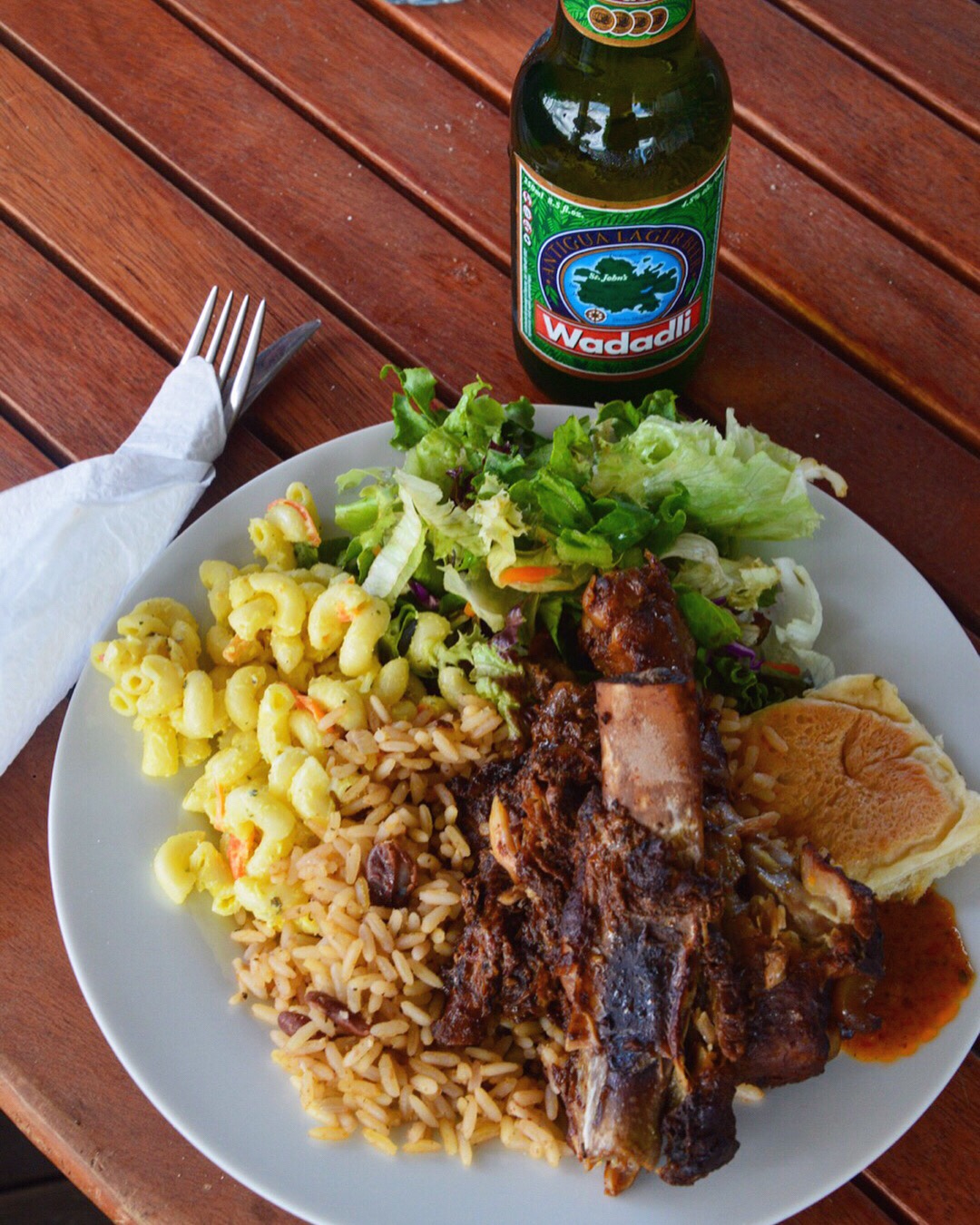 The mentioned lunch, a buffet featuring macaroni salad, falling-of-the-bone-tender beef ribs, grilled chicken, regular salad, rice and beans, garlic bread and various sauces and dressings was served on the beach restaurant and bar; Dennis'. The food was really good and well–cooked. Nothing particularly gourmet, just very tasty. Local Wadadli Beer and Rum Punches were included 'free drinks'.
Day 5: Castries, Saint Lucia
Our fifth day on the ship we arrived the, in my mind at least, mystical island of Saint Lucia. Green, lush and beautiful, with an active volcano, and the two 250 000 year-old lava domes The Pitons I felt a little bit I had landed in Jurassic Park, or something.
The Pitons and volcano tour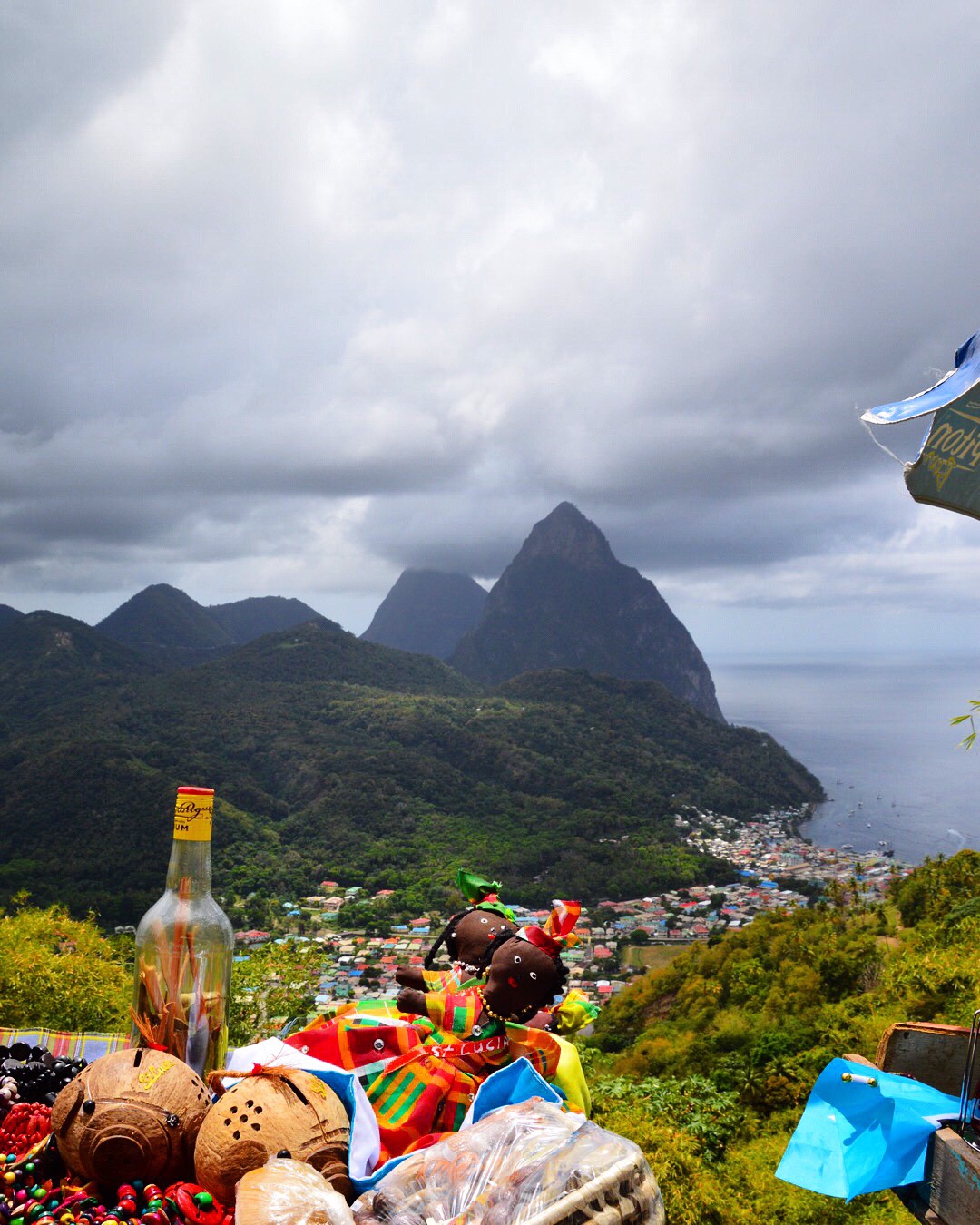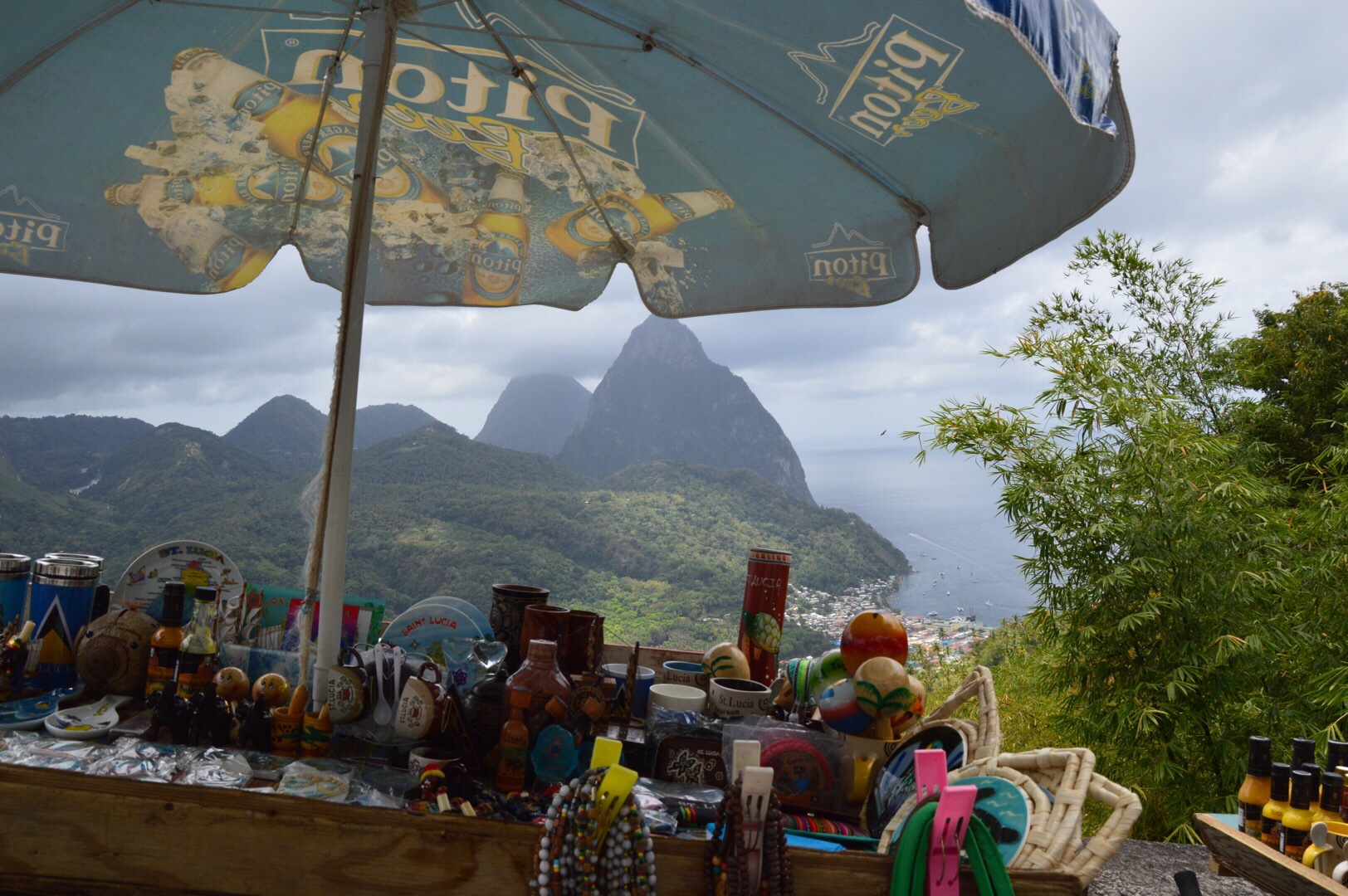 Once again, we took the convenient route and opted for one of Royal Caribbean's tours. Our tour took us, via a photo and banana ketchup tasting stop in Marigot Bay, to Soufrière, on the Saint Lucian West Coast. After driving through Soufrière we visited the Soufrière volcano, which is still active. From a distance we could ourselves see the action, with the bubbling sulphur springs. We were also treated to a massive rainfall. During the trip we stopped for pictures of the Pitons at a few spots, and we finally visited a restaurant for a complimentary drink, which was a splash of juice in a plastic cup.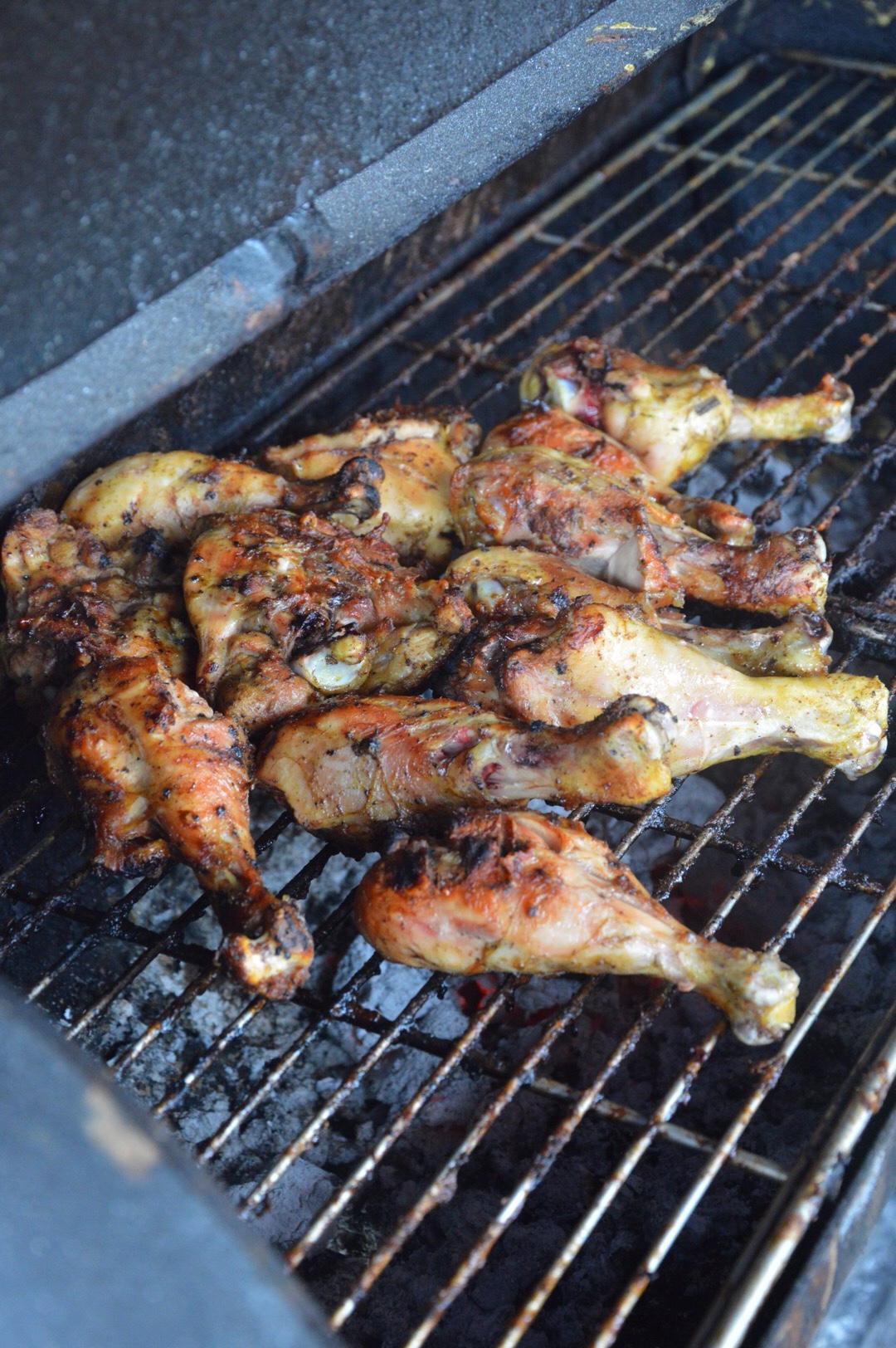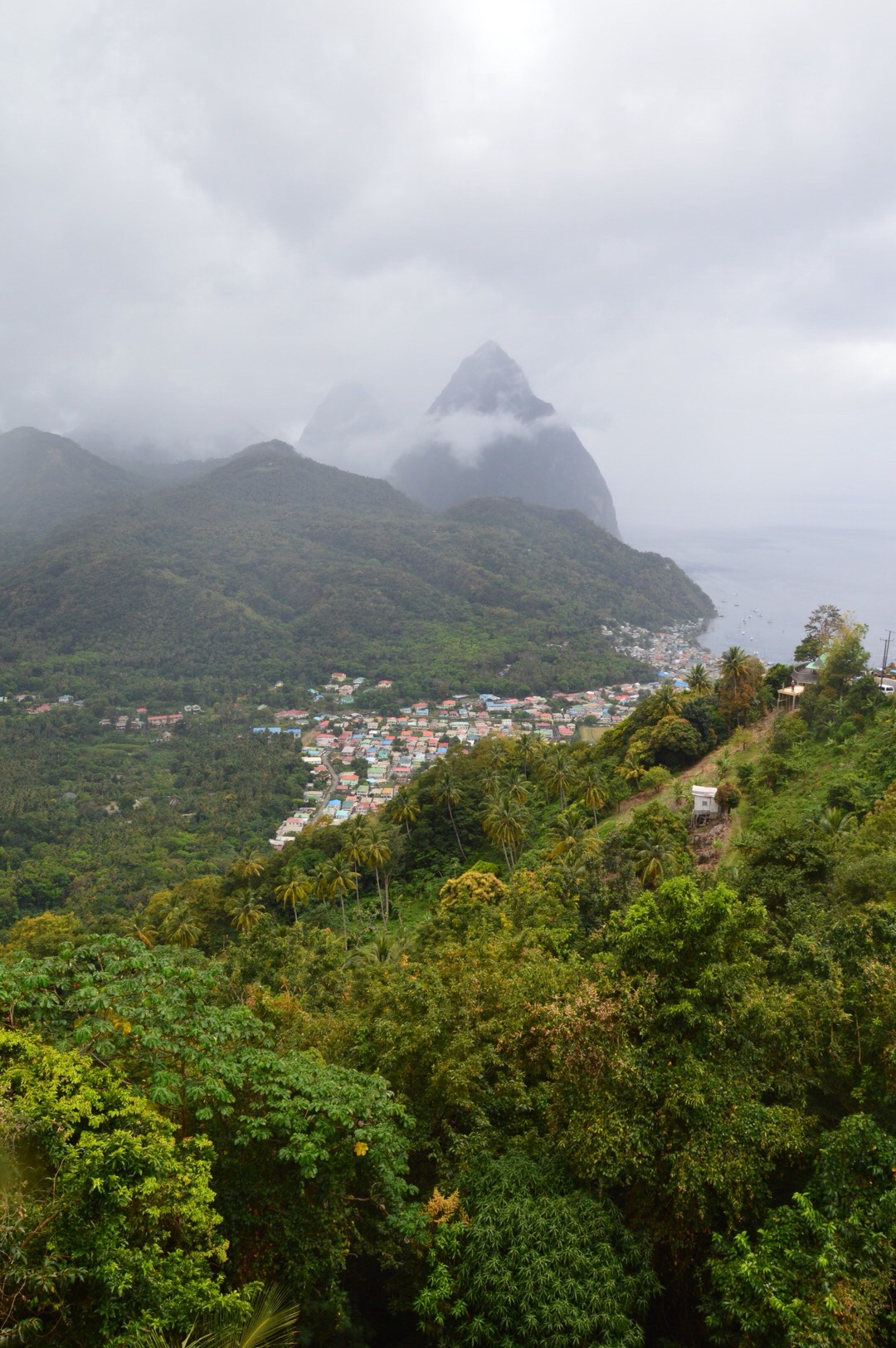 Here you could also buy a snack in the shape of grilled jerk chicken and some fried stuff. Tasty enough, but nothing special. There was a tremendous view over, once again, The Pitons, and the city of Soufrière below.
Day 6: Bridgetown, Barbados
Our sixth, and final, tropical island of the cruise to visit, was possibly also the place I looked forward to the most: Barbados. We walked off the ship as in every port and reached our tour outside the terminal.
The Island Style Beach Hopping Tour
Worth noting, is that this tour is like 8 in the morning. Also worth noting is that you will be force-fed (that is an exageration) beverages, alcoholic and non-alcoholic, while listening to thumping Soca-music by a (my guess) aspiring stand up comedian that made you scream" wooo" when the driver honked the Jitney (did I forget to mention you'll be in a open-sides jeep bus?) . Doesn't sound too bad? Then this tour is for you. I started off by hating the tour (I was mildly hungover, and it was in the GOD DAMN MORNING), but ended up loving it. The guide was just too much fun, and the sort of friendly competition with the other tour bus and their guide on the same route was hilarious. The beaches, too, were incredible.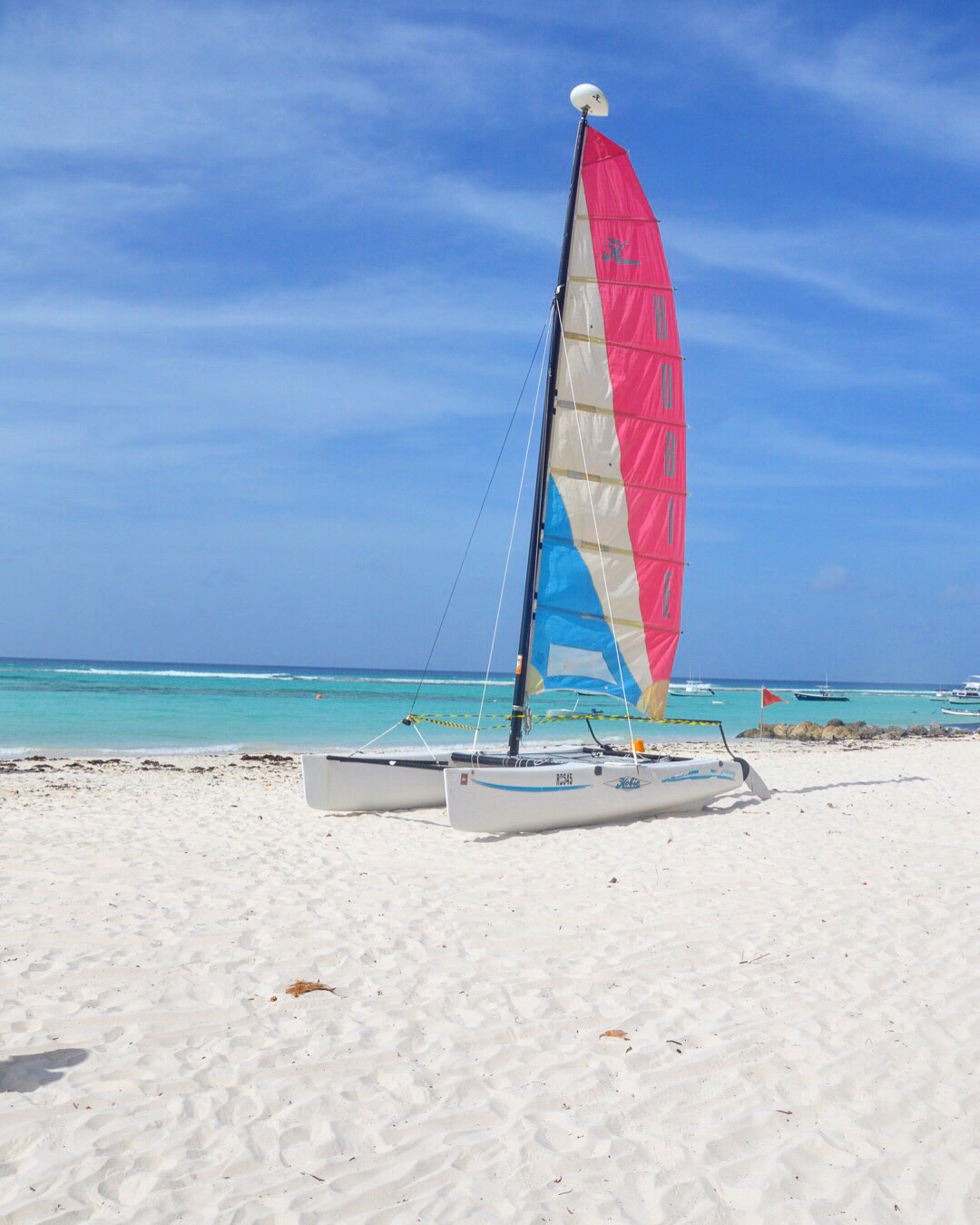 Our first stop: Worthing Beach. White sand, turquoise water, palm trees, calm waves, and suddenly a bunch of wild sea turtles swam next to us. Paradise. Free facilities, eg. a restroom available.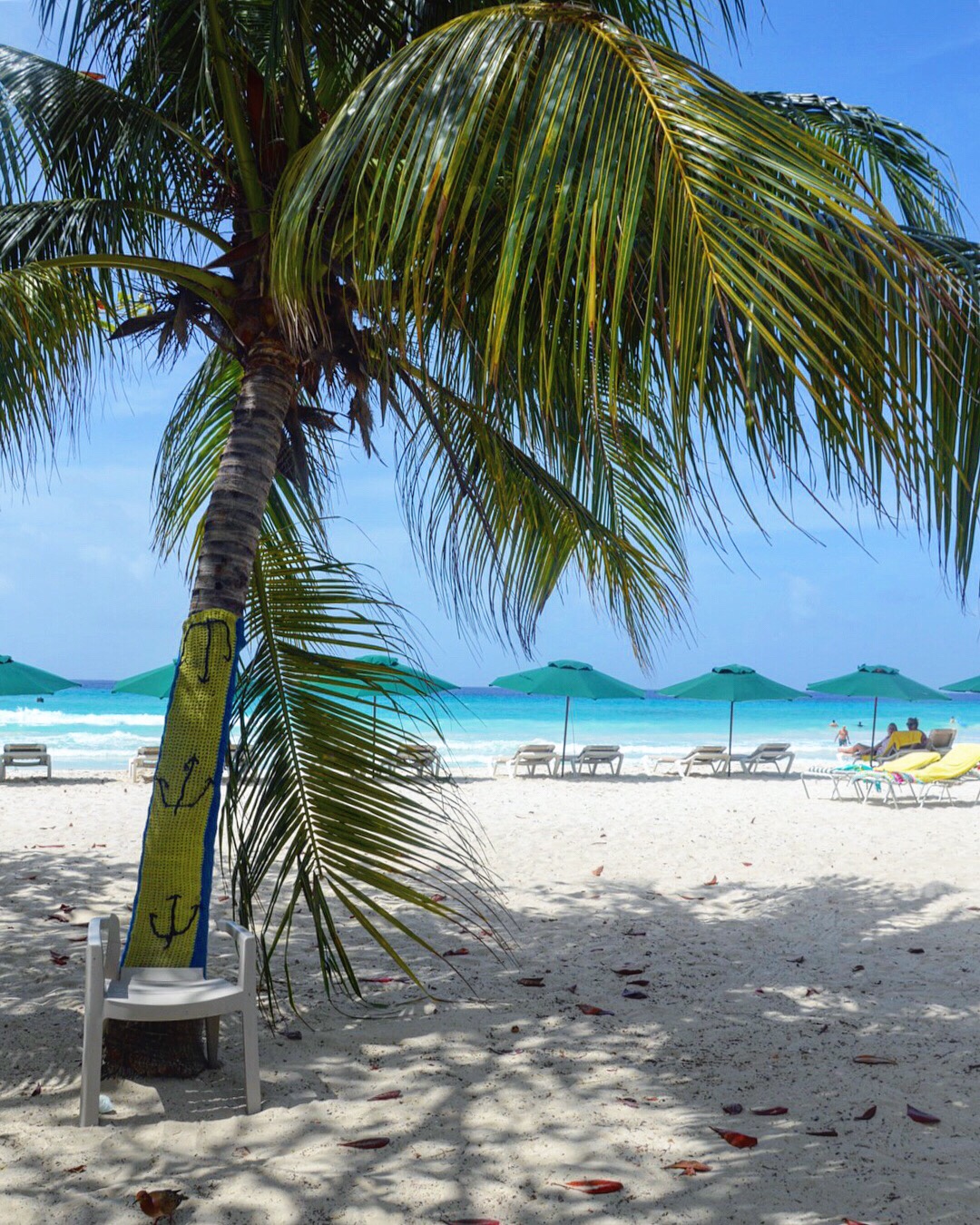 Next stop: Accra Beach. Another beautiful beach. Since the time was passed 11 am I joined the drunken haze of my fellow bus mates with an ice-cold Barbadian Banks beer. Note, you had to pay for loungers on all beaches, we only had chairs on Accra Beach, which was $10 for two chairs and an umbrella. Trivia is that the umbrella guy was incredibly cranky and that the chair guy tried to sell us weed. No facilities here (that were obvious anyway).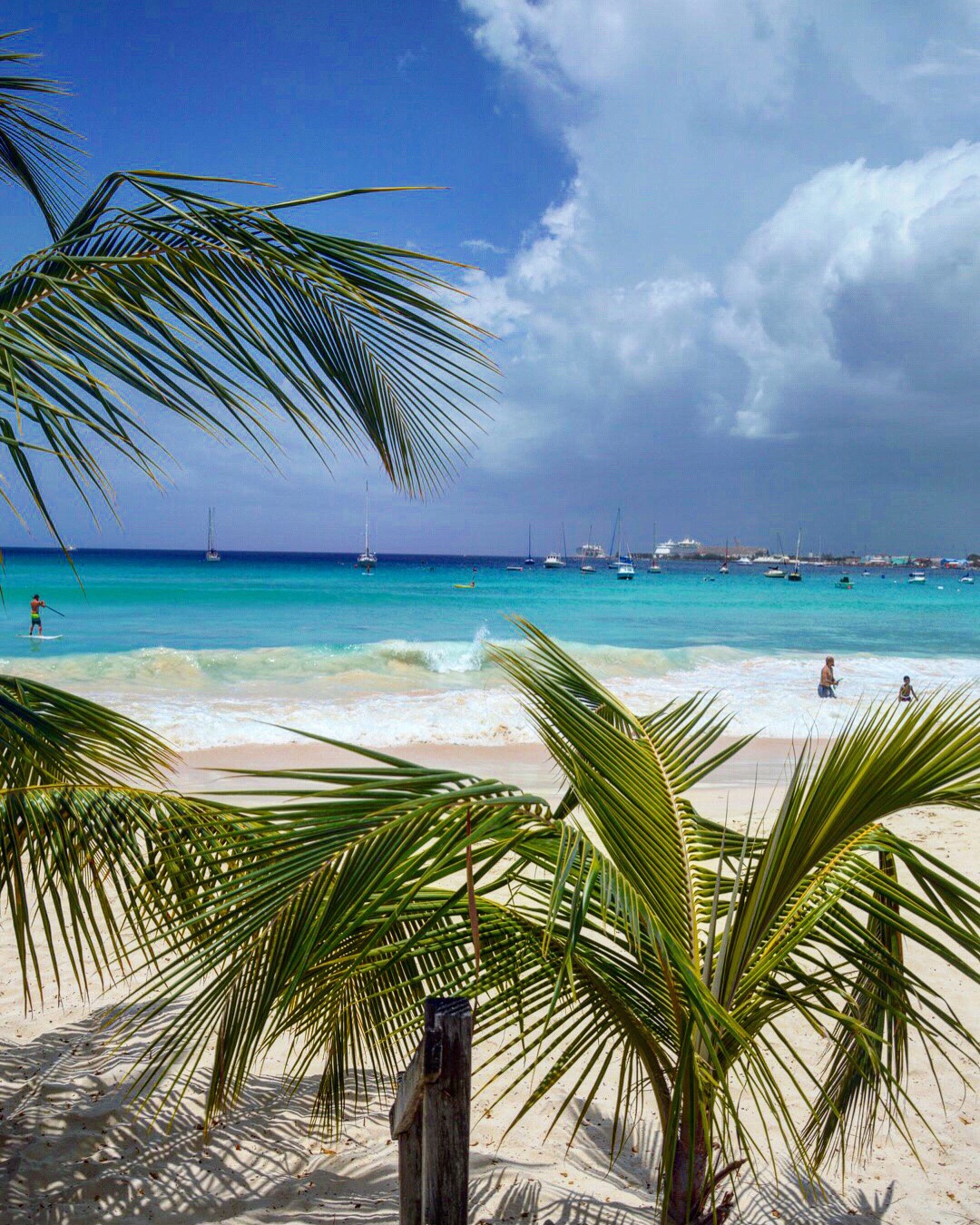 Last stop of the tour: Pebbles Beach. Another pretty beach with slightly larger waves (poor mom-in-law made a face plant getting attacked from behind). We also saw turtles here out in the waves.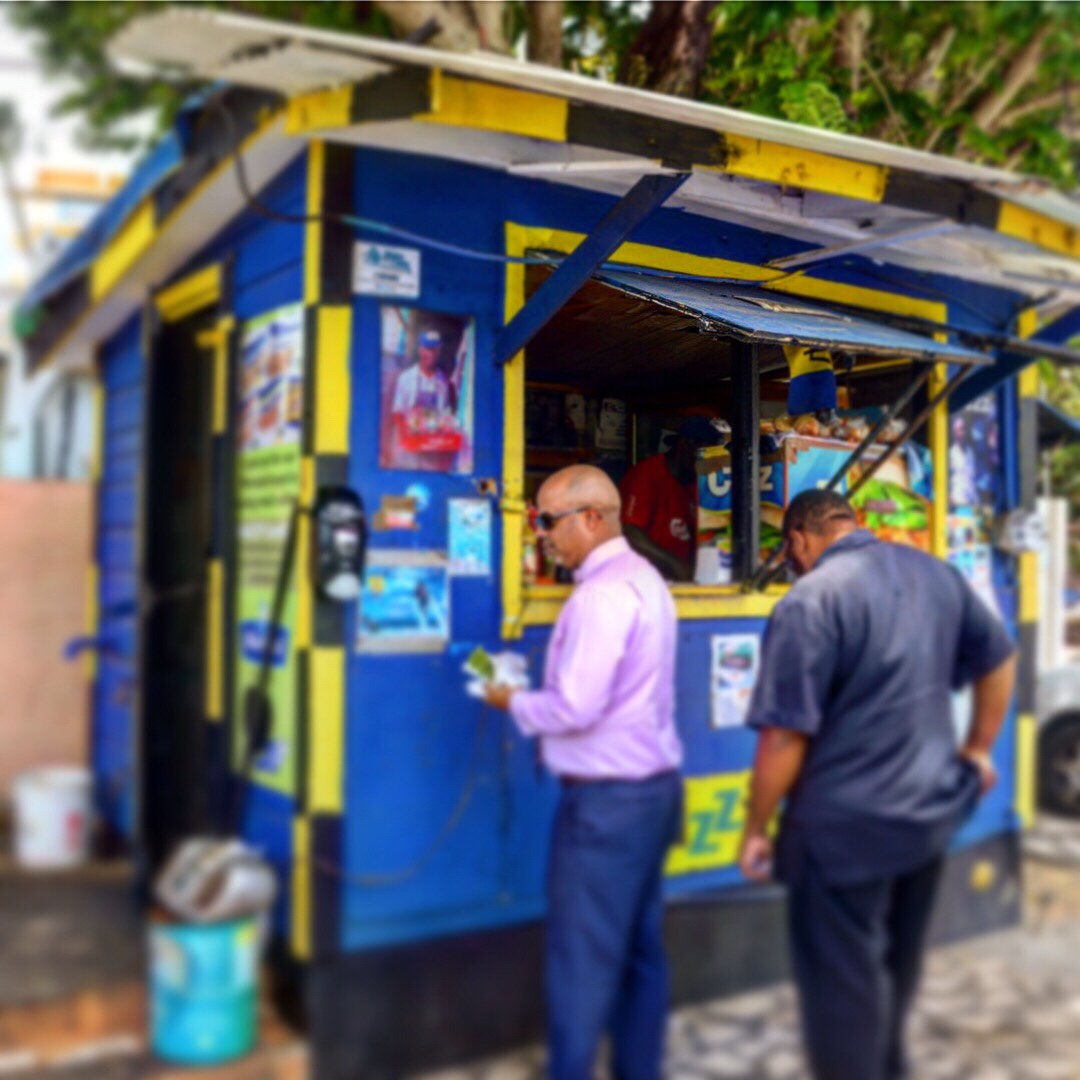 Possibly the best with this beach though was the small shack at the end of the beach called Cuzz's Fish Shack. Cuzz serves up fish cutters which are pretty much fried fish sandwiches. The cutters are filled with fried crispy flying fish, lettuce and optional cheese (we opted out). You then dress the cutter yourself, we followed the lead of the locals and added Bajan pepper sauce and mayonnaise. At $4,5 it provided a relatively filling, but really delicious snack. Especially with the amazing view over the beach.
Dinner in the main dining room (LOBSTER!)
I wasn't sure if they'd kept the formal night lobster from our 2010 trip, but fortunately this was the night.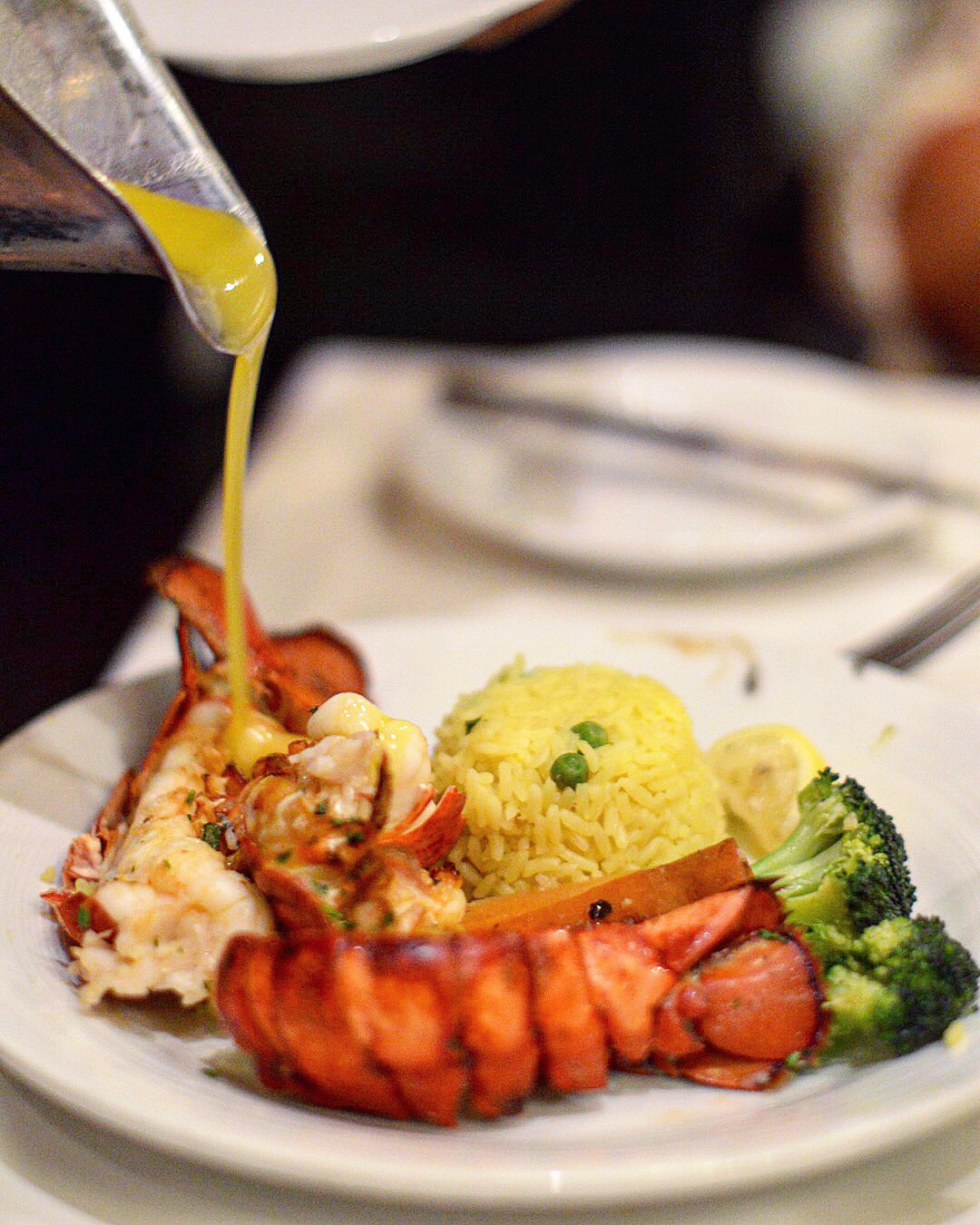 The lobster dinner consisted of a broiled lobster tail (I managed to negotiate two) with lemon saffron rice, seasonal vegetables and a healthy splash of drawn butter. While I did not love the sides, the lobster meat combined with the drawn butter was really delicious, and it worked really well with a glass of buttery and oaky Kendall Jackson Chardonnay.
Day 7: At sea (and dinner at Chops Grille)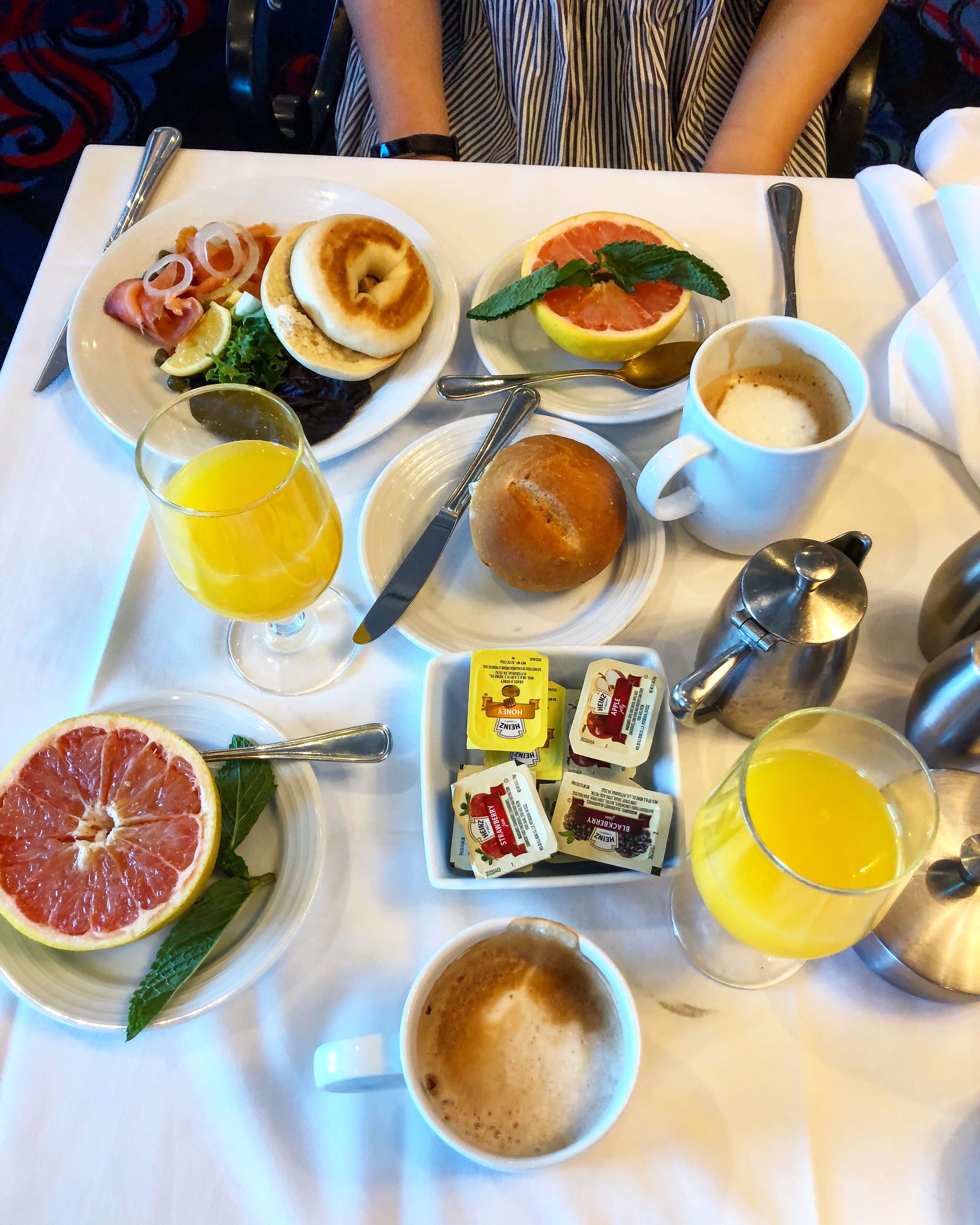 Our final day and night onboard honestly started with a visit to the gym, then a fancy a la carte breakfast in the main dining room featuring eggs benedict. This is still included in the price by the way, only gripe is that you might have to wait in line a while for a table.
After breakfast we opted to go for a round of mini golf which also is available, free of charge, outside on the deck. Despite a bunch of feral kids constantly running over the tracks, it was quite fun (probably because I WON).
It should be added that there's also a surf wave-simulator, a climbing wall, an ice skating rink, water slides and numerous other options for a more active vacation, we were just too lazy to use any of those. Even though we sort of planned to visit the climbing wall at one point during the cruise.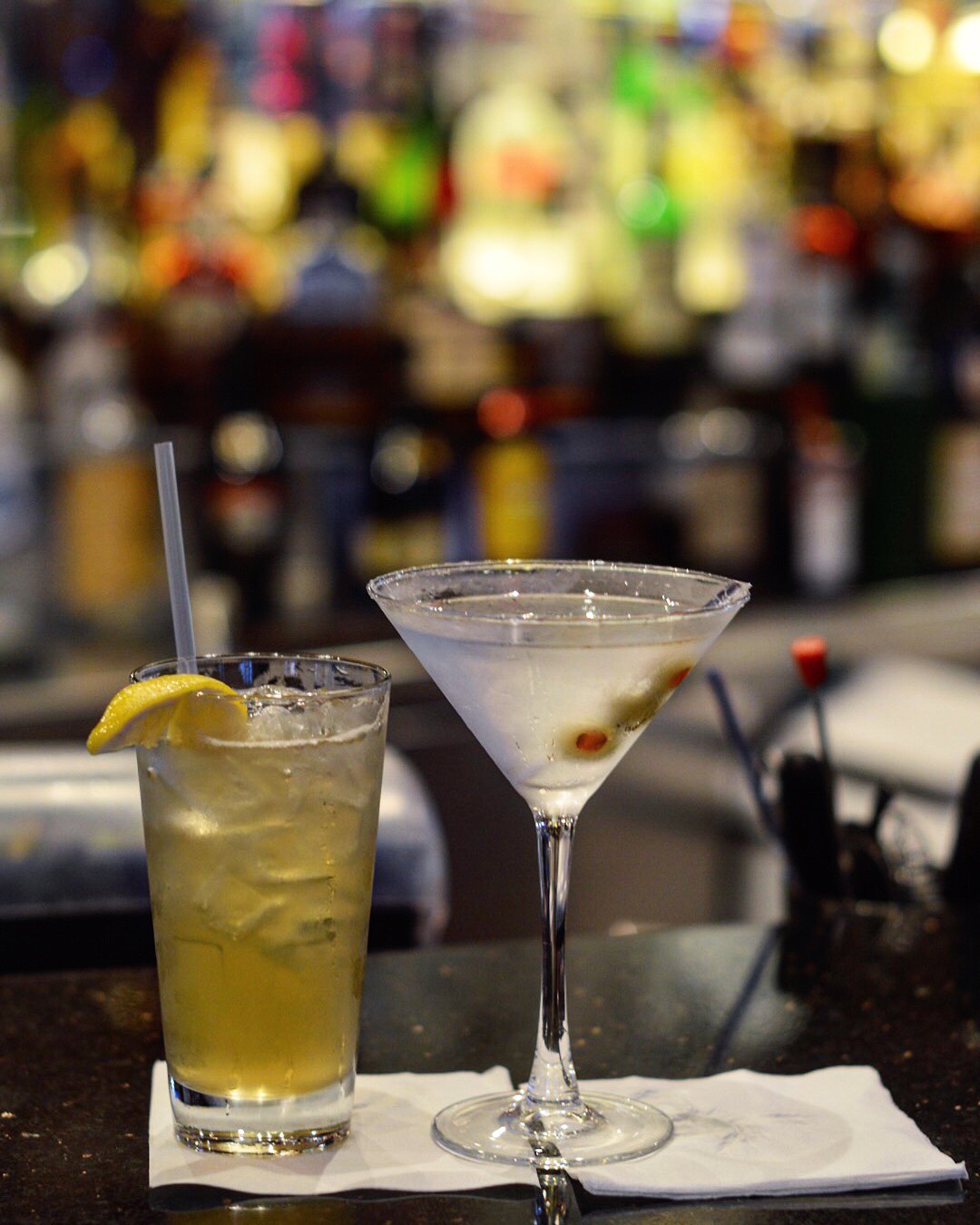 I've mentioned it before, but the cocktails onboard are quite good. Definitely on par with a decent bar ashore (not counting the pool bar which's cocktails were so-so). So before going for our last dinner, we visited the Casino Bar which makes the second best cocktails after Bolero.
Chops Grille steakhouse specialty restaurant on the Adventure of the Seas
I've always liked those kind of luxurious, yet not posh, American steakhouses that Chops Grille seems to be. I've been on five cruises so far, and I've never forked out the extra cash for a specialty restaurant (save for Johnny Rockets, which we, then 20-somethings, actually paid like five bucks for, during our first cruise). Anyway, it was time to see if it was actually worth to pay extra, despite the food we could have for free definitely was nice. We paid around $40 each, and for that we could choose almost what we wanted from the a la carte menu except for lobster and a seafood tower that was extra-extra.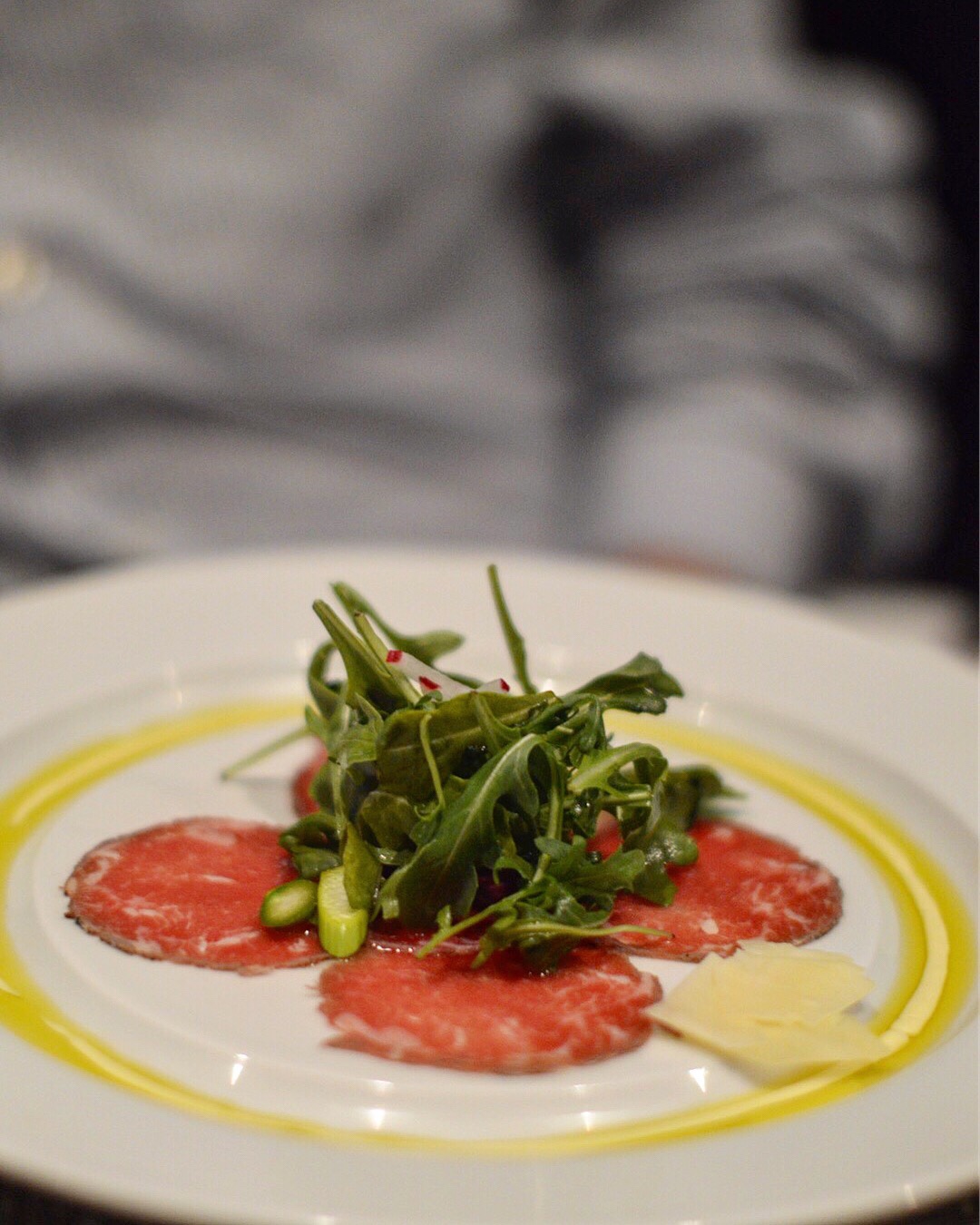 After a first bread serving starring an onion foccacia (really good) with whipped butter, we had charred carpaccio with truffle oil, mayonnaise, rucola and parmesan. It was tasty, but nothing spectacular.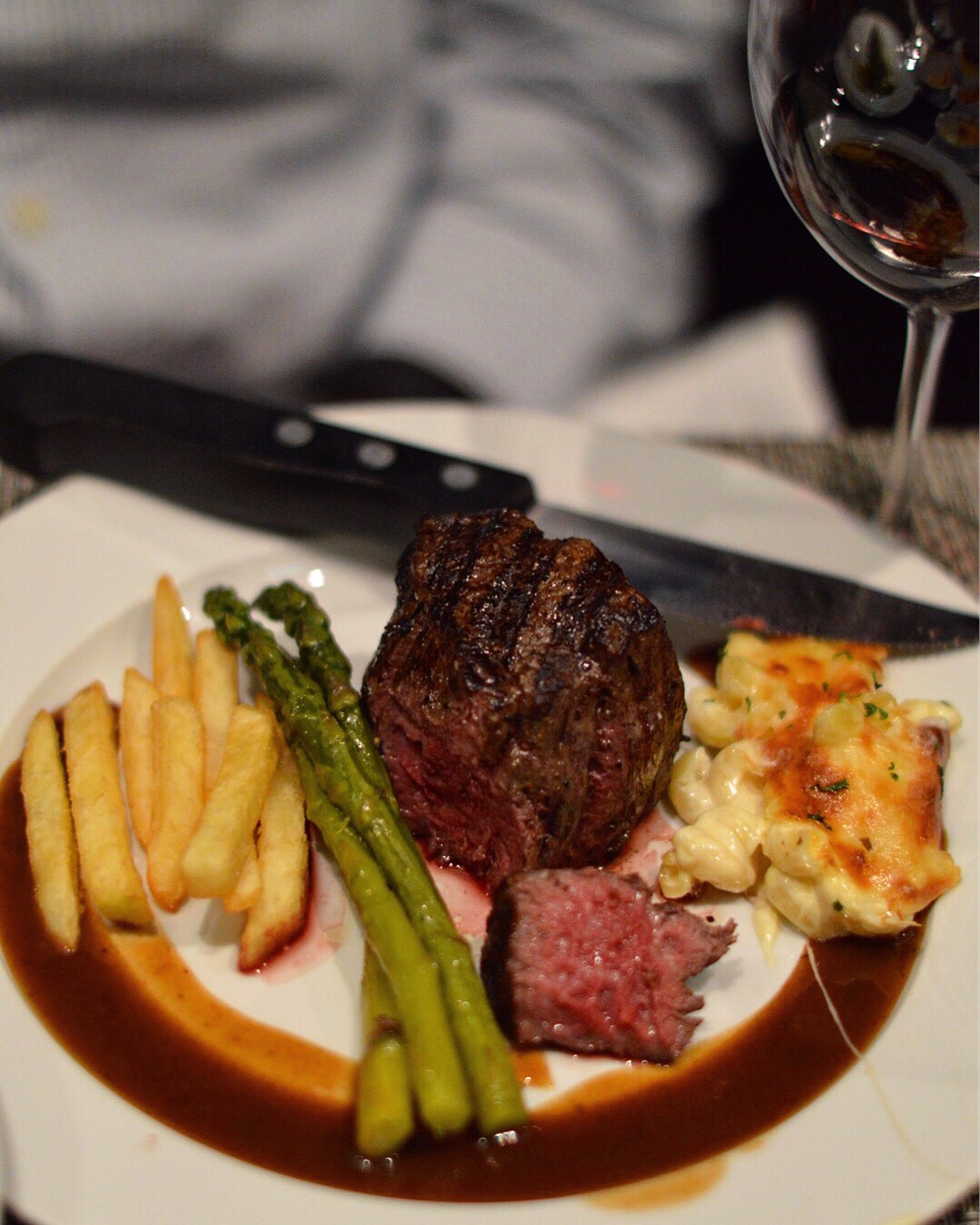 The main however: mm-mm-mm! Perfectly cooked medium-rare filet mignon (beef fillet) with truffle fries, asparagus, mac & cheese and sauce bordelaise (red wine and beef marrow). So good, and washed down with excellent Australian Cabernet Sauvignon, served in fancy Riedel Glasses.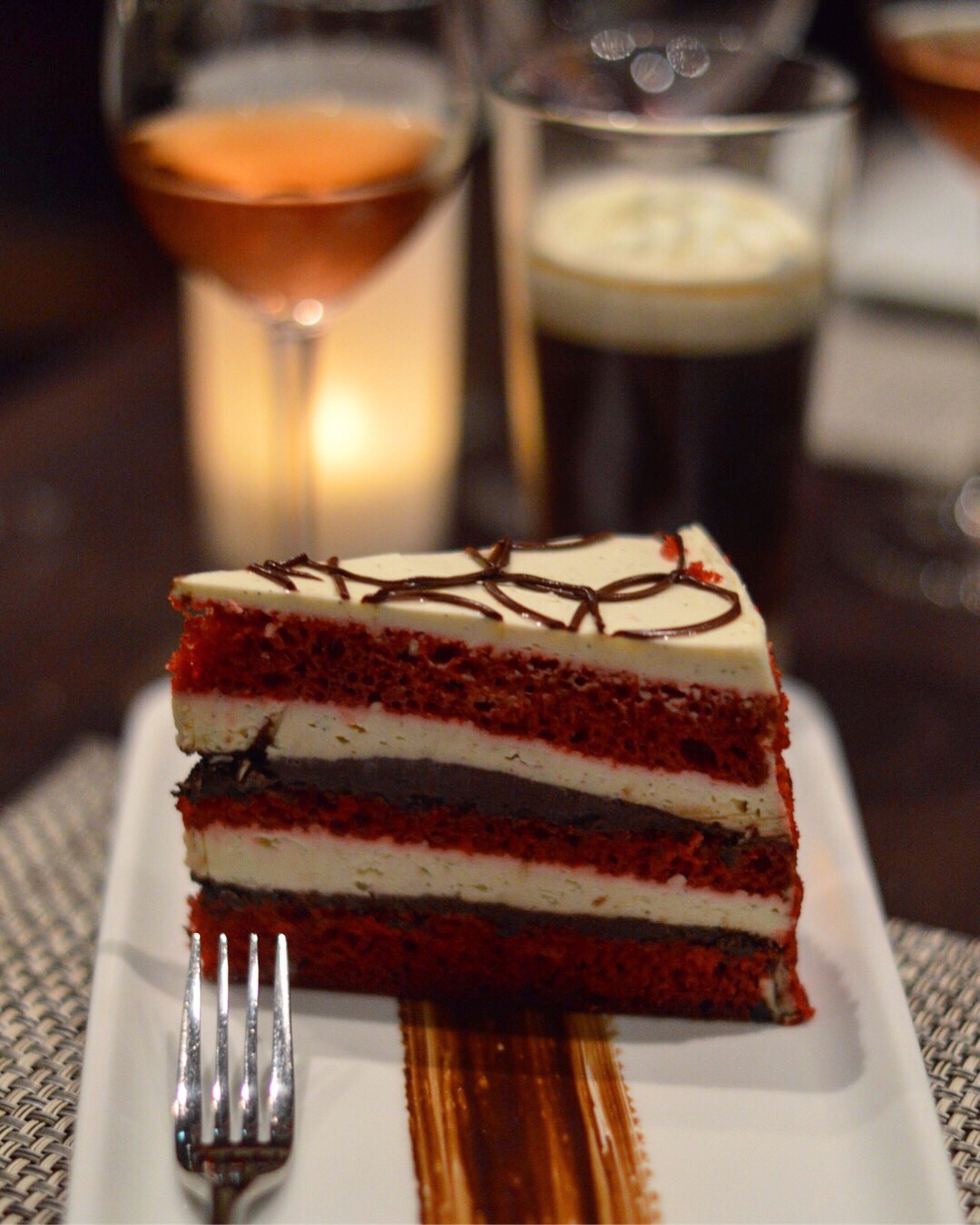 I read somewhere to save space for the red velvet cake, because it was really something. It was quite good, but not extraordinary in any way. I also ordered a cold brew coffee cocktail that wasn't any good at all in my mind.
Service-wise, all staff on the ship is quite friendly and service minded, meaning you'll be pretty used to good service. Chops Grille was still a step up though, and staff were, fast, friendly and quite knowledgeable. All in all I was very happy and will definitely book Chops Grille on my next cruise.
And that was that. After Chops Grille, we decided to make a last visit to all of our favourite bars onboard, giving our deluxe beverage package a last spin, before a last sleep before arriving back in San Juan, Puerto Rico the following morning. We departed the ship around 10.30 am, being among the last passengers off the ship.