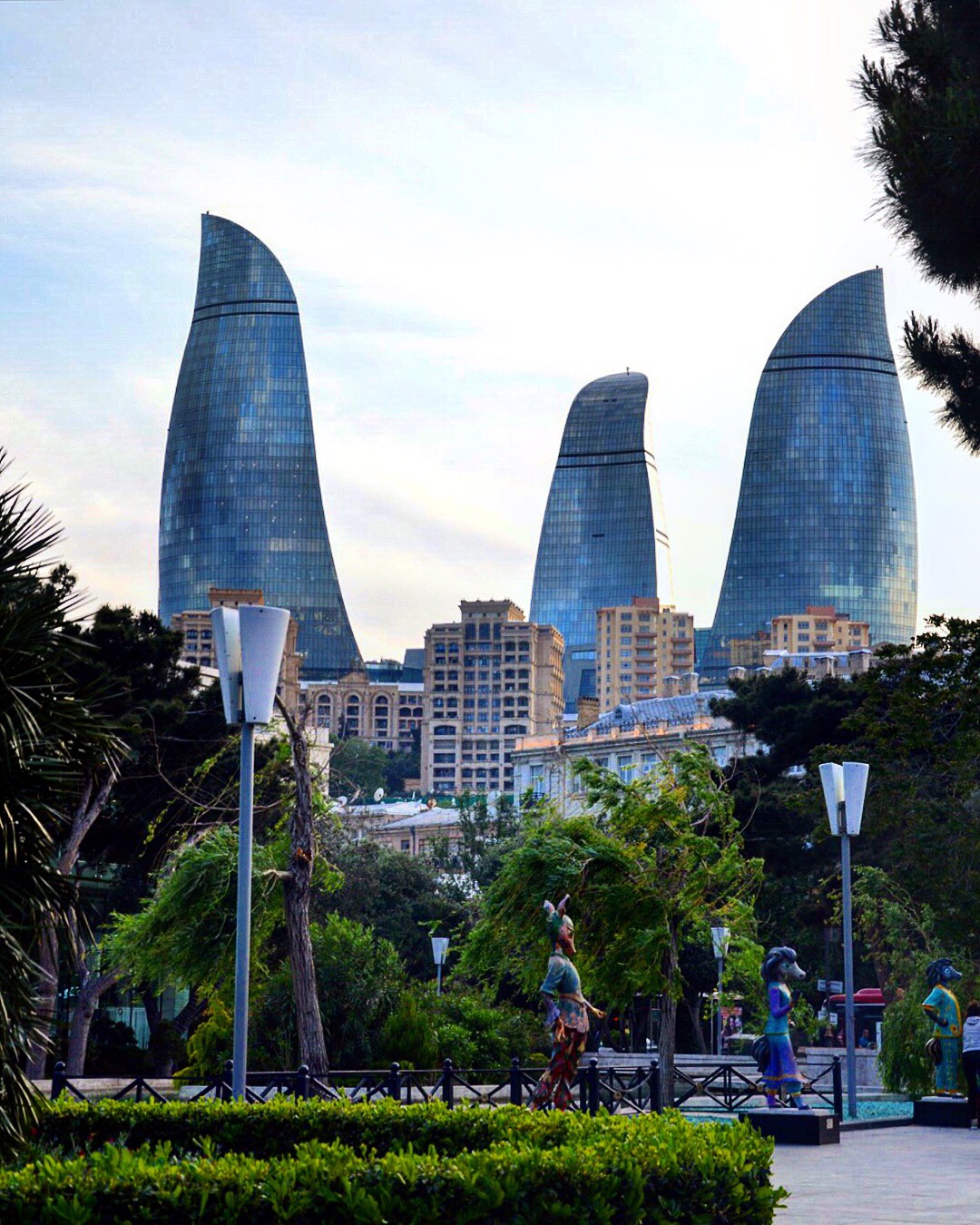 Since I learned about the new Azeri "Asan Visa", an e-visa, replacing the former tedious process of applying for a visa at an Azerbaijani embassy, I've been really keen to go. Who can't remember the promotions for the country during the 2012 Eurovision in Baku (Yay, Sweden won!); Azerbaijan – Land of Fire; Azerbaijan – Land of Horses, and so on, clearly I needed to go.
Last Winter I scored tickets to Baku during the Swedish public holiday of Kristi himmelsfärd this May, and hence, our visit turned into a short Thursday till Saturday night-affair.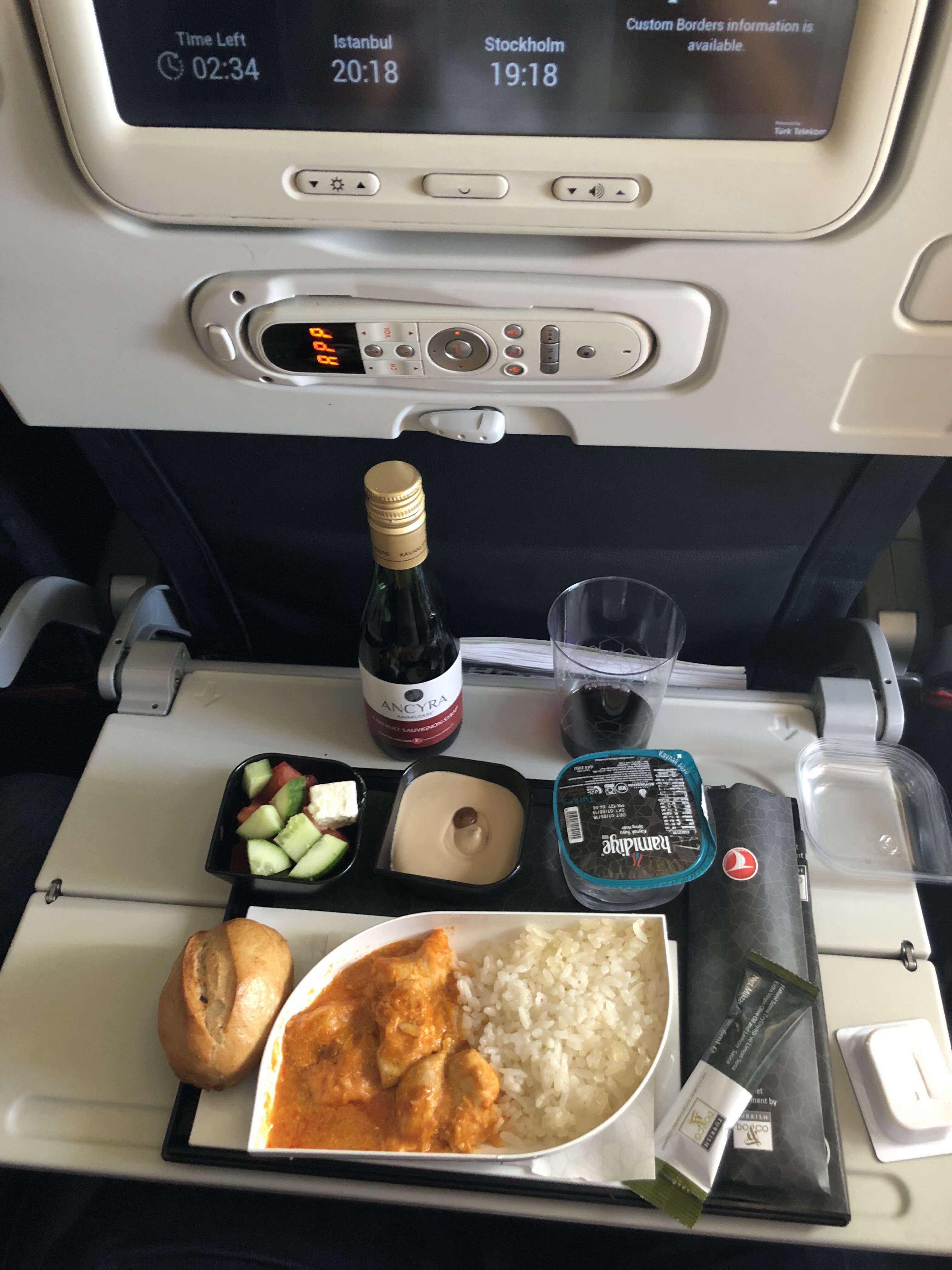 Stockholm-Istanbul-Baku with Turkish Airlines
We flew with Turkish Airlines via Istanbul and the entire trip, including a three hour stopover took about 9 hours. I should add that Turkish is surprisingly good with entertainment screens at every seat and free food and drinks. On our return leg from Istanbul to Stockholm we flew in a widebody jet with even better standard and space.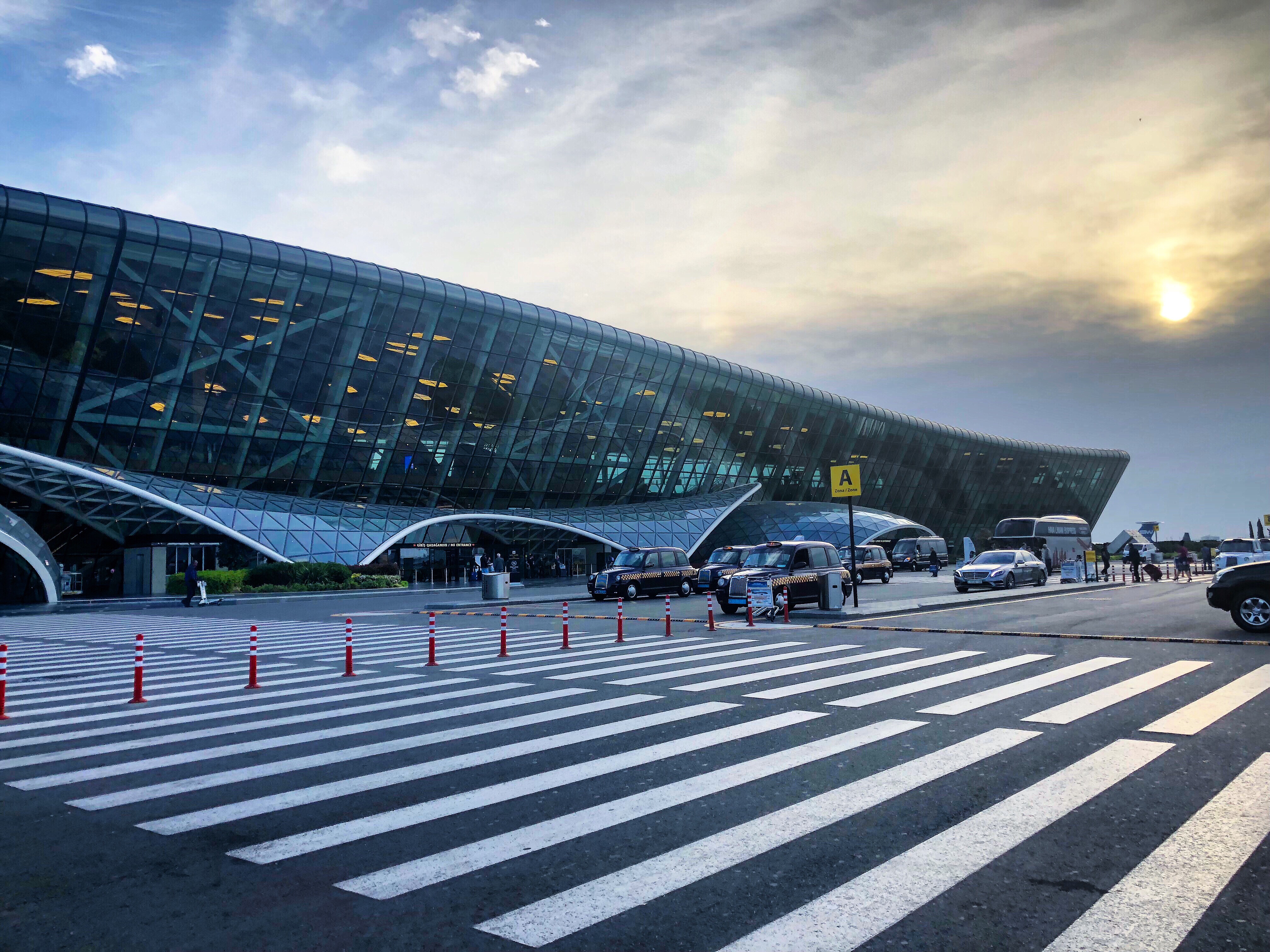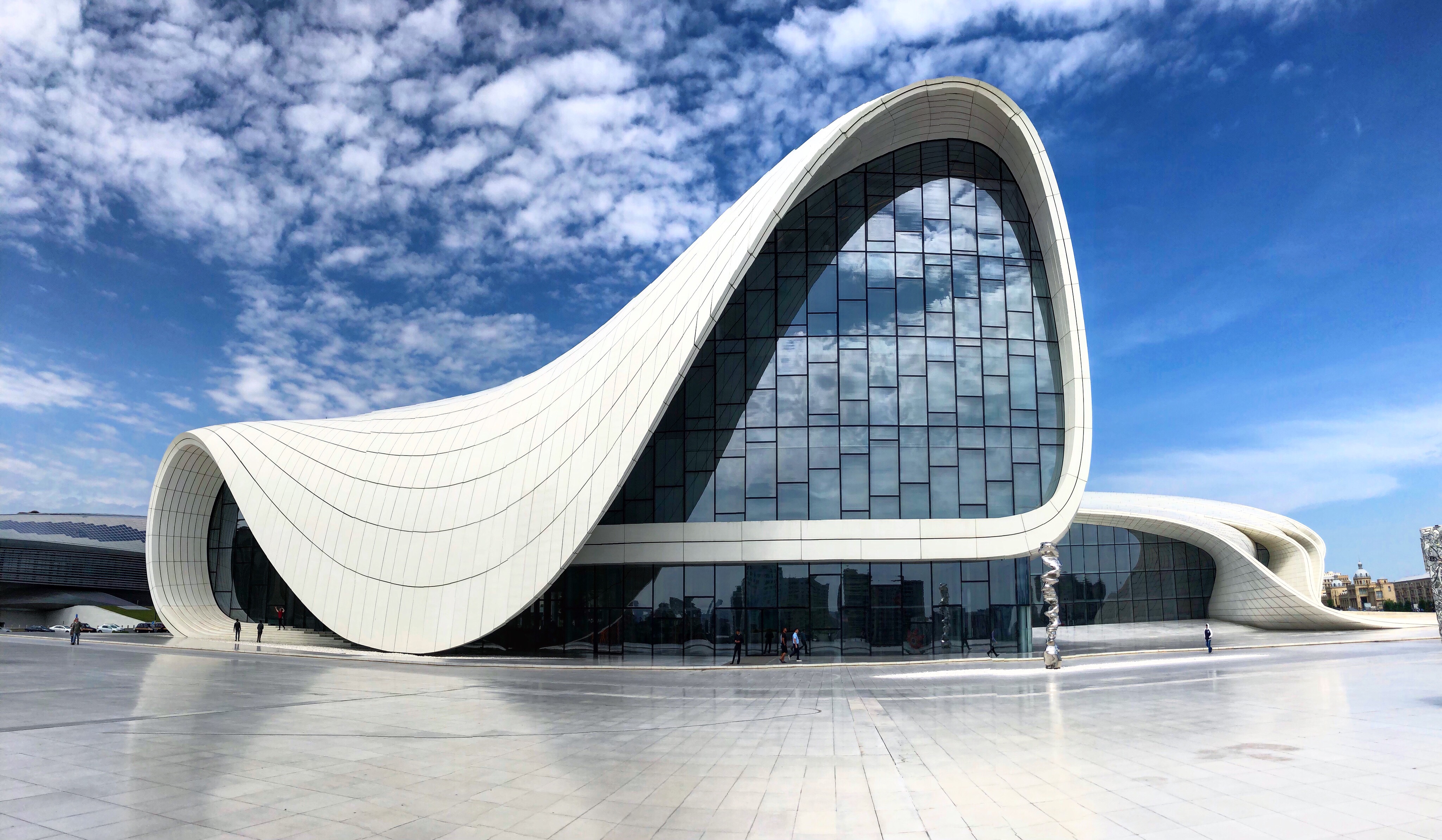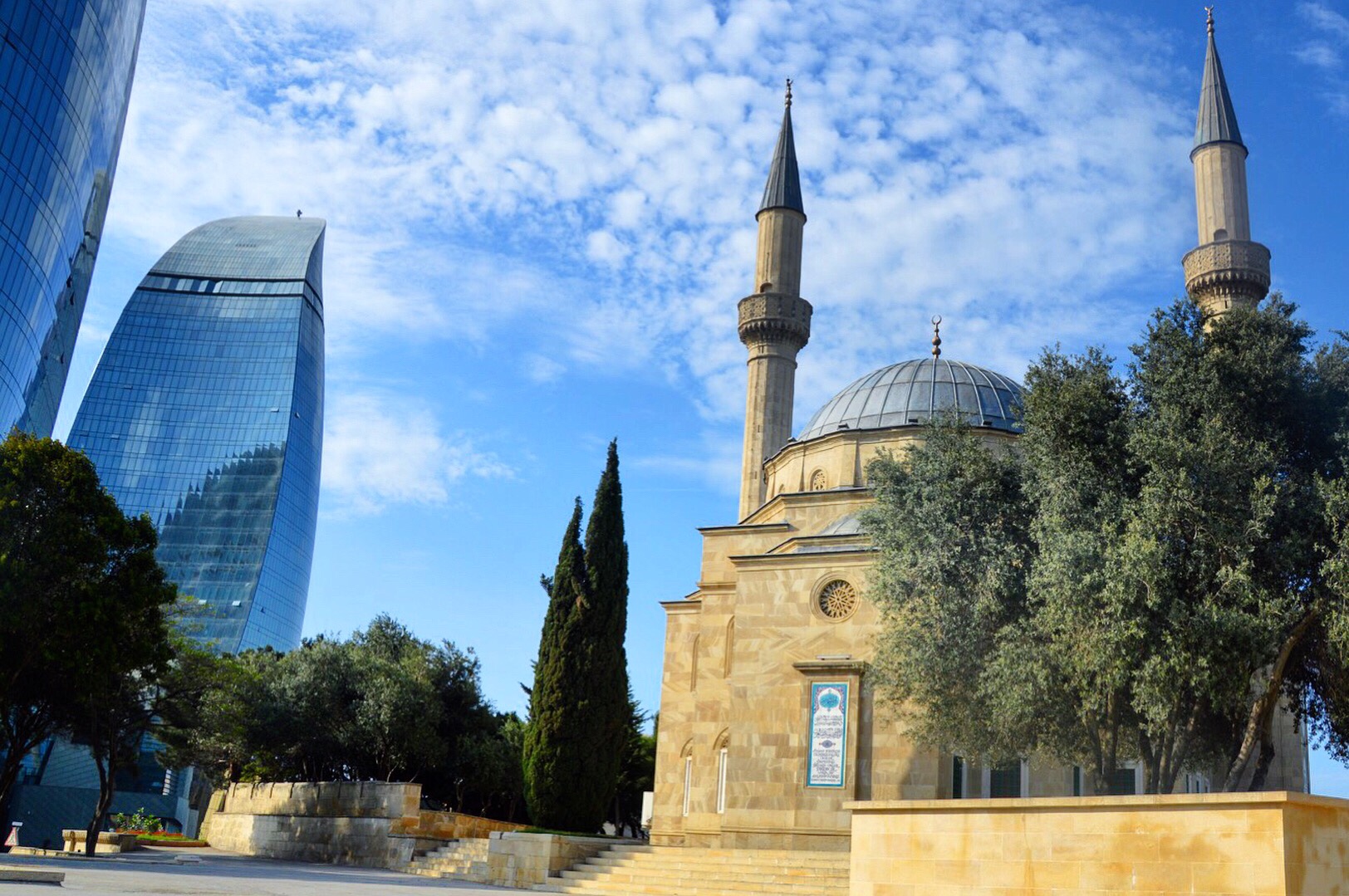 When landed in Baku, we were struck of how nice the airport was. Clean, modern and with fast free wifi. The line to immigration wasn't as great though and took about 40 minutes. I visited neighbouring Armenia last year, so they asked me about the stamp and where in Armenia I'd been before letting me in.
We had a pre-booked airport pick-up by our hotel, the surprisingly excellent Holiday Inn Baku. Since we landed at 5 in the morning, it was very nice to just jump into a pre-arranged car and be on our way, despite triple the price of an Uber which we later realised (it was still only about €20 though).
Arriving our hotel, our room wasn't ready despite a confirmed early check in. To compensate, they offered us free breakfast, and of we went to our first taste of the Azeri cuisine.
Azeri (and international) breakfast at Holiday Inn Baku's Marina restaurant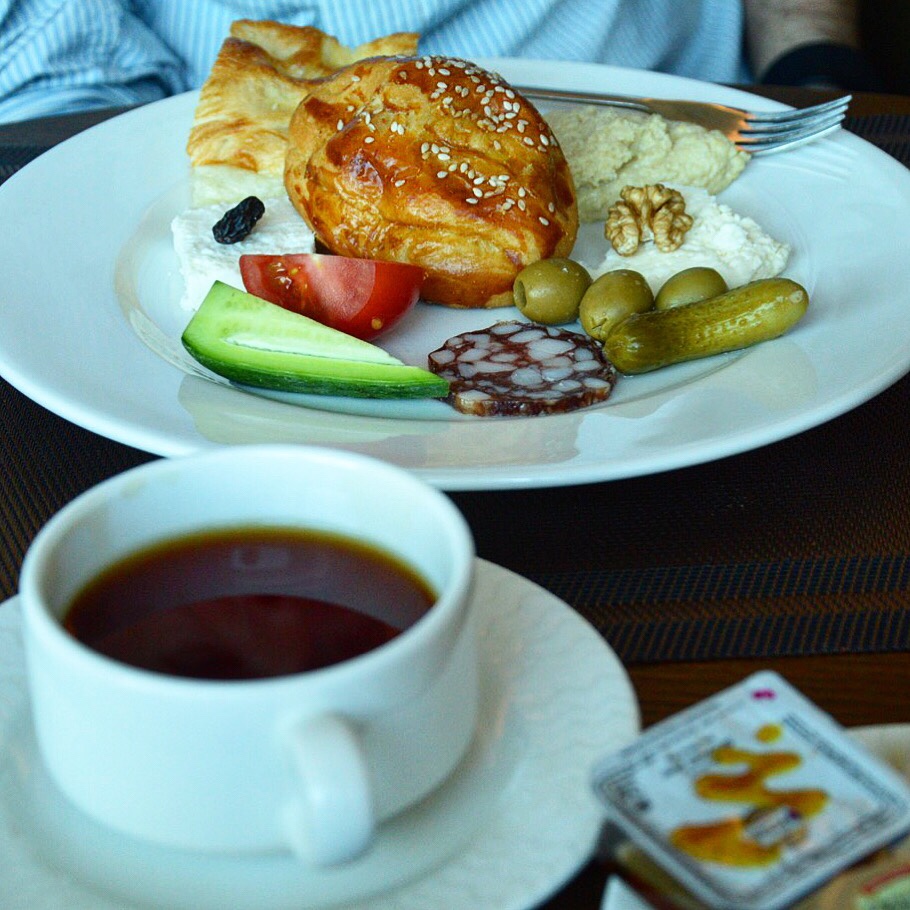 I'd read beforehand about Azeri breakfasts and was keen to try flatbreads with local Motar cheese and honey. Fortunately all were available so together with some other stuff like tasty vegetables, made-to-order omelettes and hummus we got to tick them off the list accompanied with a cup of tea before we went to pass out.
Turkish breakfast at The House Cafe Baku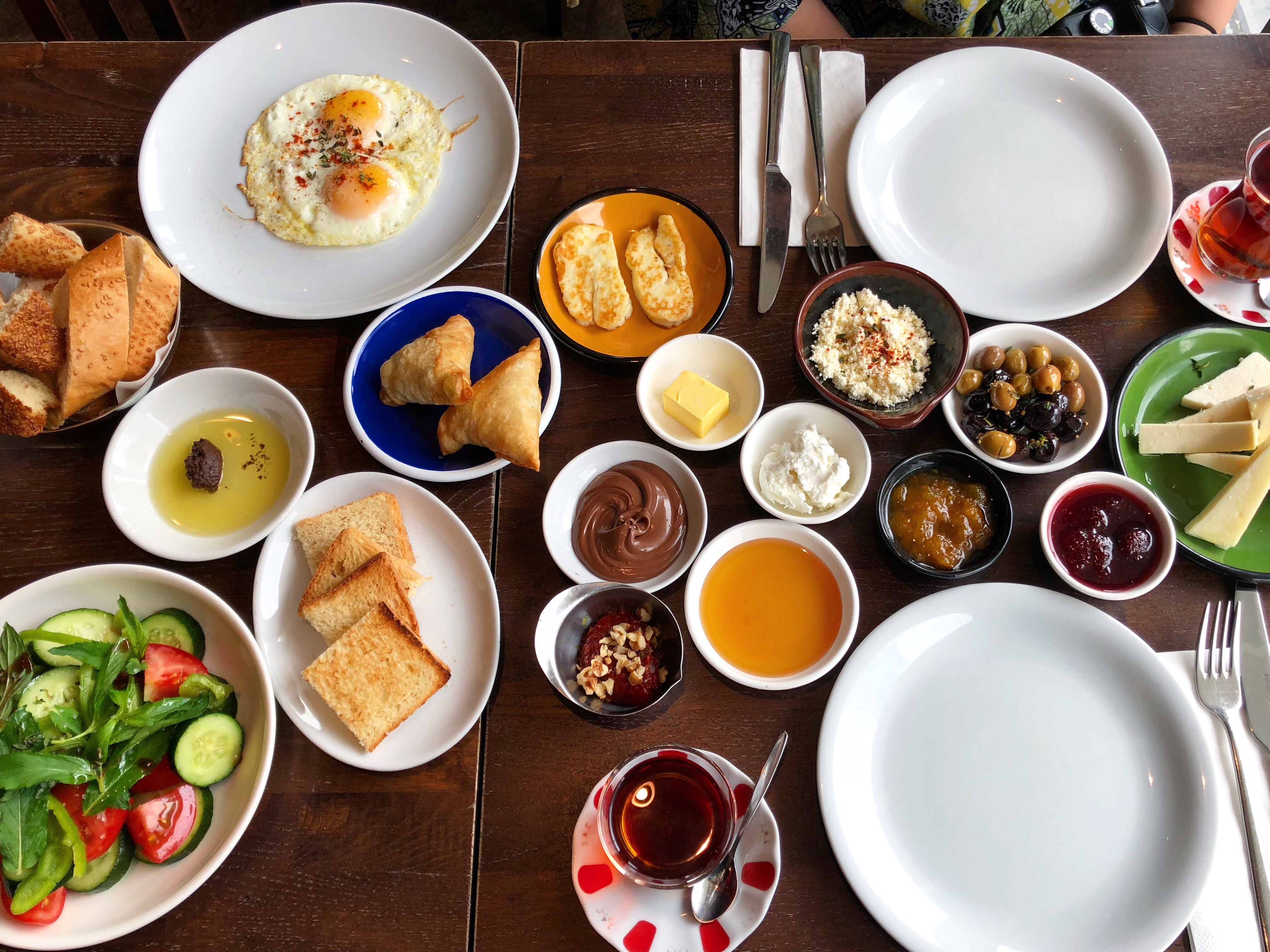 The House Cafe Baku is located in the swanky Port Baku Mall, just across from our hotel, the Holiday Inn Baku. It might not be the most genuine of restaurants or breakfast places; but oh my good was this place good. We ordered a "big breakfast platter" that in reality meant that they covered our entire table with little platters and bowls of delicious stuff. There were feta cheese pastries, honey, local cheese, fresh veggies, bread, toast, clotted cream, nutella, olives, fried eggs, fried halloumi; coming to think of it – much like an 'oriental' afternoon tea. Oh yes, tea was included too, in fact two glasses each, encouraging watching the view and other people during a prolonged breakfast. Loved the place.
Firuze restaurant, Fountain Square Baku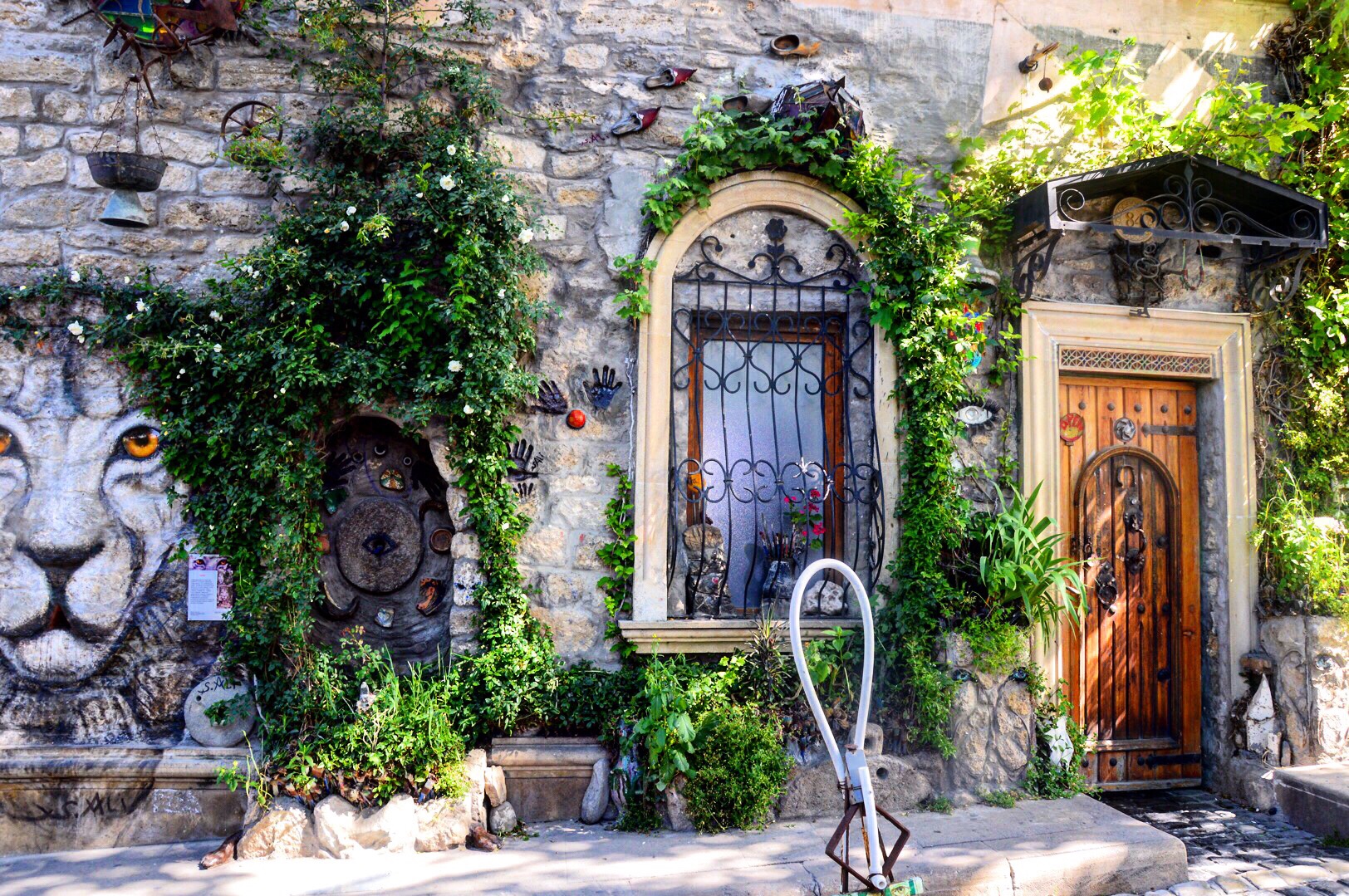 Close to Baku's beautiful old town is the Fountain Square, surrounded by Western chains such as Mcdonalds and KFC, as well as a few tourist traps according to rumour, and also a couple of really nice Azeri restaurants. By some reason they all (Narqiz, Firuze, Dolma) were located in cellars below ground. We tried two of them, the first being Firuze.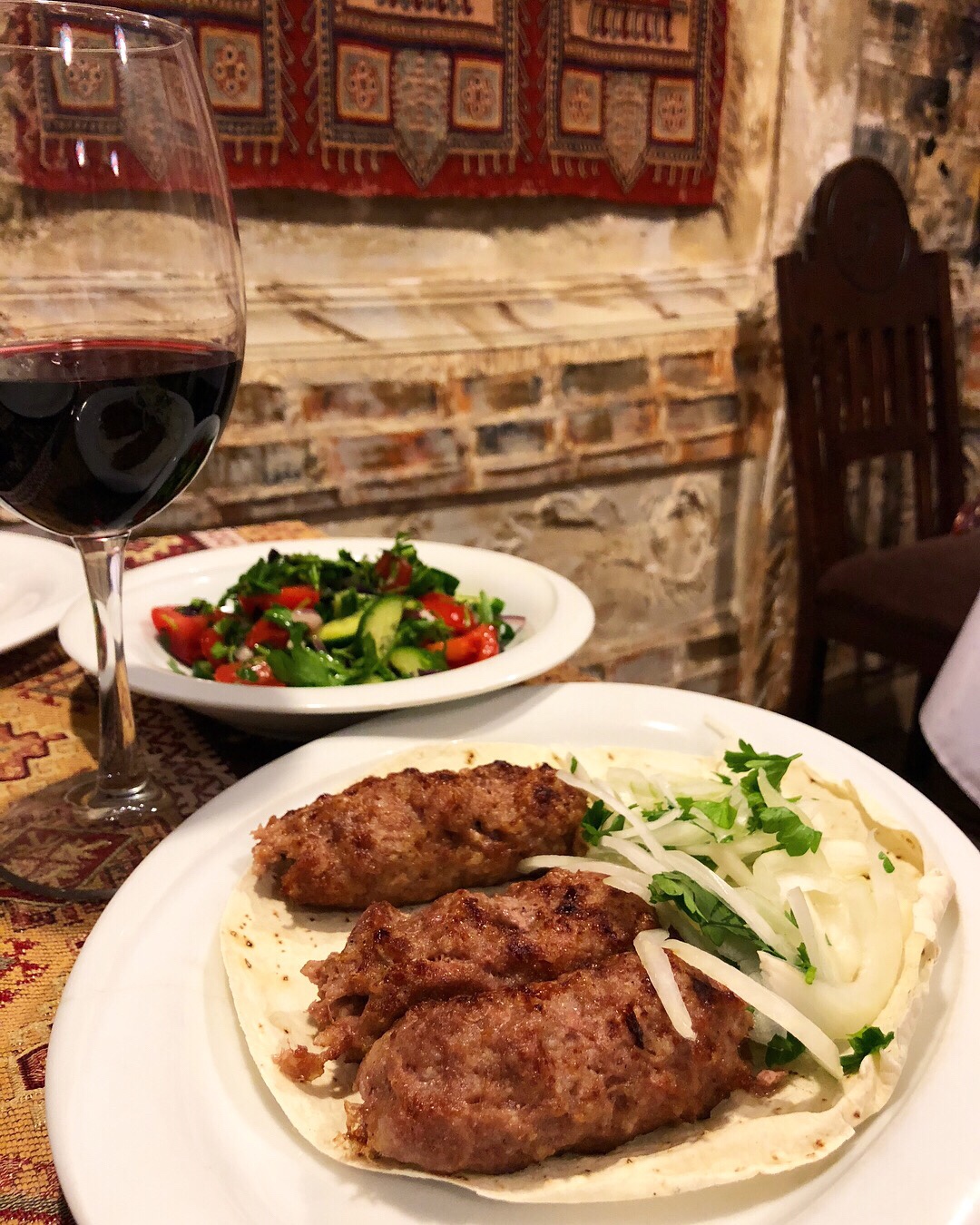 Lyulya kebab (minced lamb) with sliced raw onion on a lavash flatbread. In the background: choban salad with finely sliced cucumber, tomatoes, onion, parsley, dill, olive oil and lemon juice.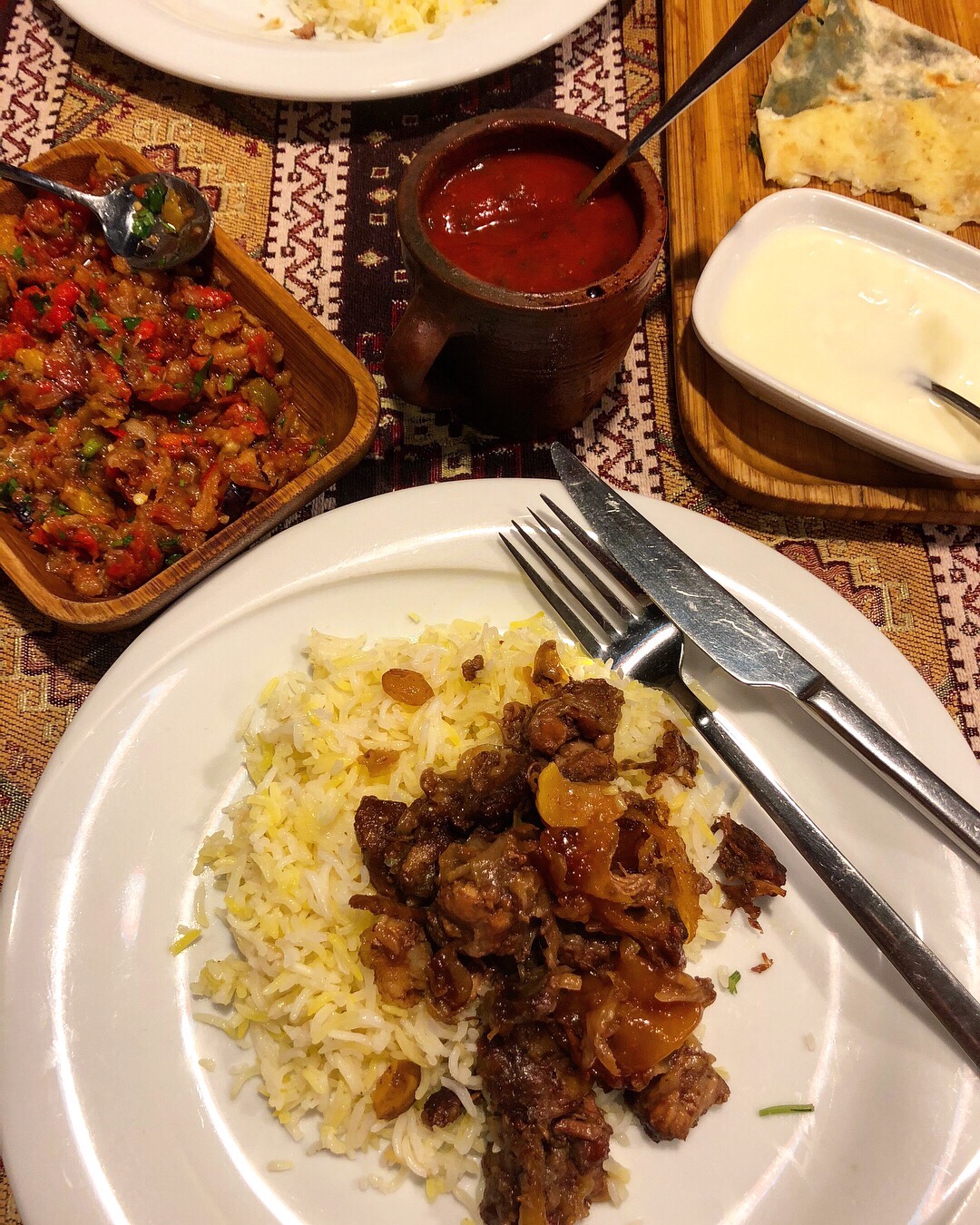 A Central Asian staple is the plov. As I understand it, originally from Uzbekistan, this rice pilaf is eaten all over the region. The Azeri version was served with the rice and the meat/stew separately (in other countries everything is mixed like, say, an Indian biryani. The above plov featured falling-off-the-bone tender lamb, apricots, raisins, plums, quince juice and chestnuts, on top of fluffy, buttery rice.
We also tried their mangal salad (top left), which consists of coal baked vegetables that are roughly chopped and mixed with olive oil and lemon into a sort of a salad.
Our last dish at Firuze was qutab (top right): flatbreads stuffed with spinach, cheese or pumpkin and then fried. A bit like a quesadilla I guess. Very delicious too.
Price
All, washed down with one glass of local beer and one glass of local red wine each came out at roughly €25 in total.
Dolma Restaurant, Fountain Square Baku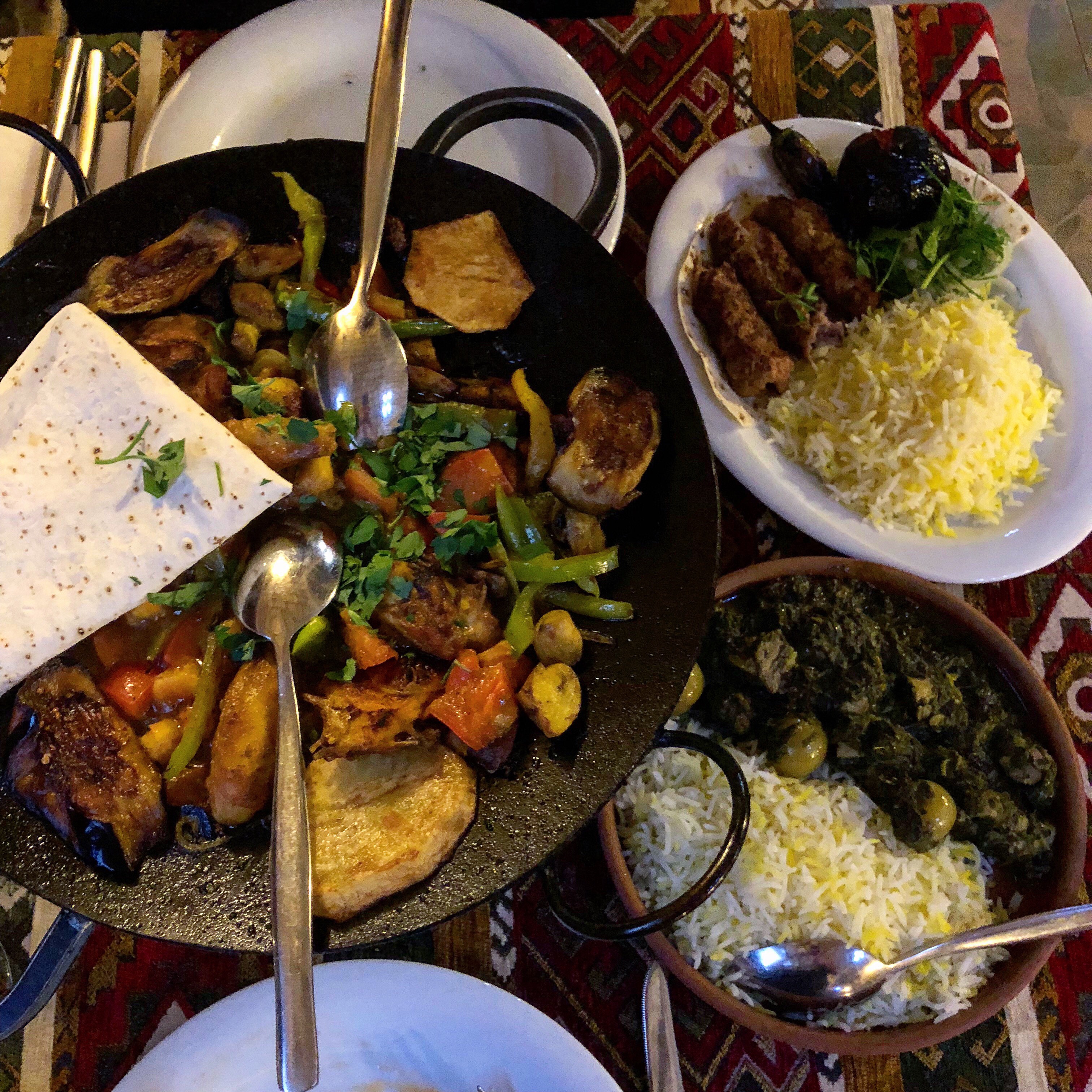 Dolma is, like Firuze, located in a basement without windows and hence the pictures aren't that exciting – but luckily, we had our best meal of the trip here. Chicken Sadj (cooked on coals at the table), Turkish spicy Adana kebab, plov Sabriz with lamb, greens, tart plums and of course buttery rice. Also another round of my Azeri favourite; mangal with flatbreads. Hillside Prestige red wine to drink.
Price
Prices were again very affordable; we paid 45 Manat (~25€) for two persons with three drinks and four shared dishes.
Sumakh Restaurant Baku
Doing research for the trip, Sumakh reappeared several times as one of the fanciest places in town if you wanted to eat local Azeri food. Owned by the Beat Group that has a couple of venues around town, it is definitely at least in part aimed at foreigners with an English website, with menu and all. The restaurant is quite nice, with a local feeling to it. Although fancier than the places mentioned above, it did not feel overly luxurious and prices were quite humane except for the beluga caviar starter below.
A short story: last year we went to Georgia, and upon returning to Sweden we had a spare €100 in Georgian Lari with us that we forgot to change. In Sweden they told us the bills were worthless due to an upcoming switch of bills in Georgia. We then took them to Frankfurt Airport on another trip, Moscow on another. We finally brought them to Baku, a year later, and said that if we'd be able to change them we'd have beluga caviar during our visit. And guess what…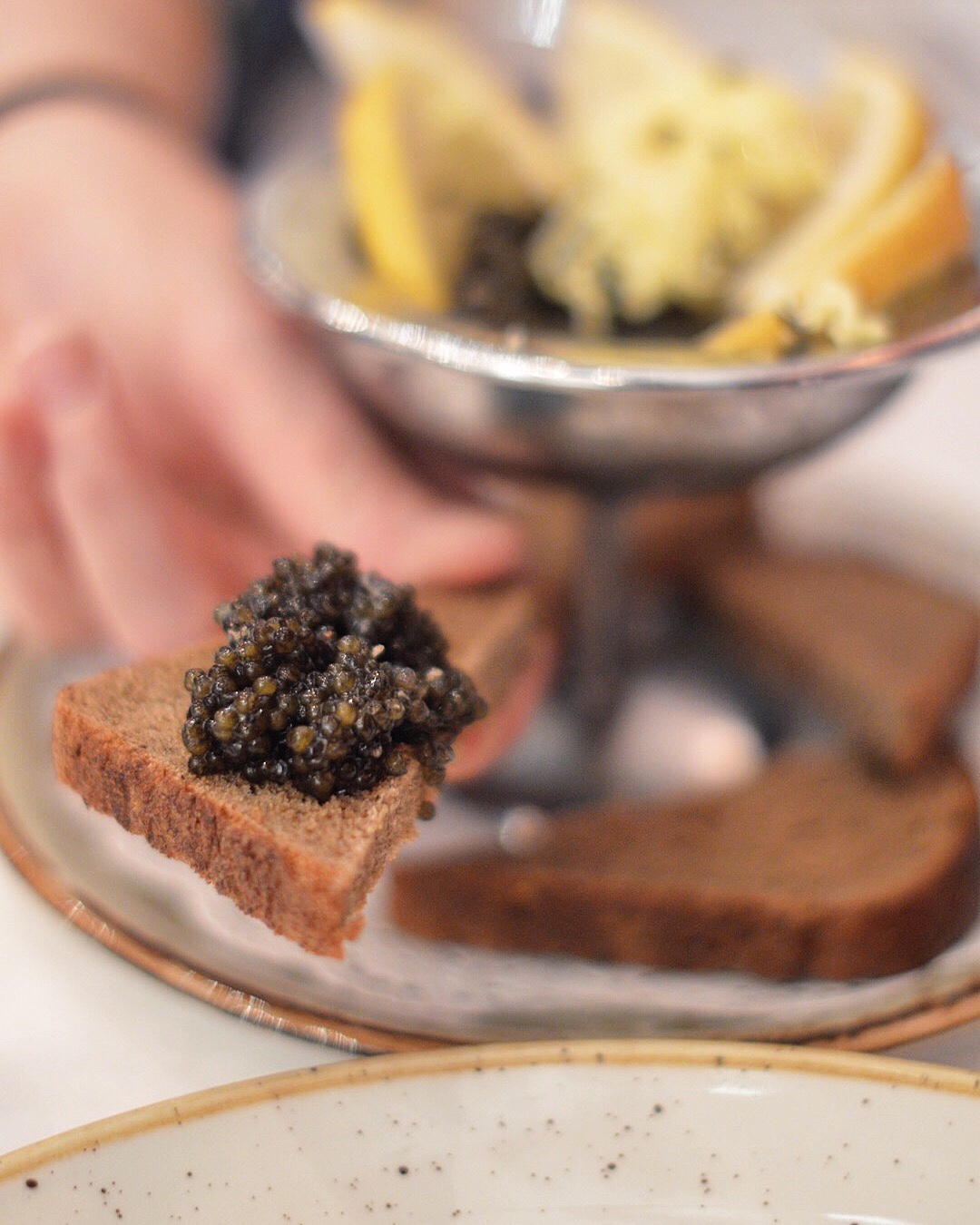 Said and done, we ordered the Caspian Sea Beluga Black Caviar (~€60) and two shots of vodka. It felt very oligarchy, and extra cool being just a few blocks from the actual Caspian Sea. Dissapointingly though, I did not find it that spectacular taste wise. It was salty, fishy and had some extra bite to it compared to "regular" roe or caviar, but in my mind not warranting the price. It was served with local black bread, shaved butter and lemon which I did not really get either.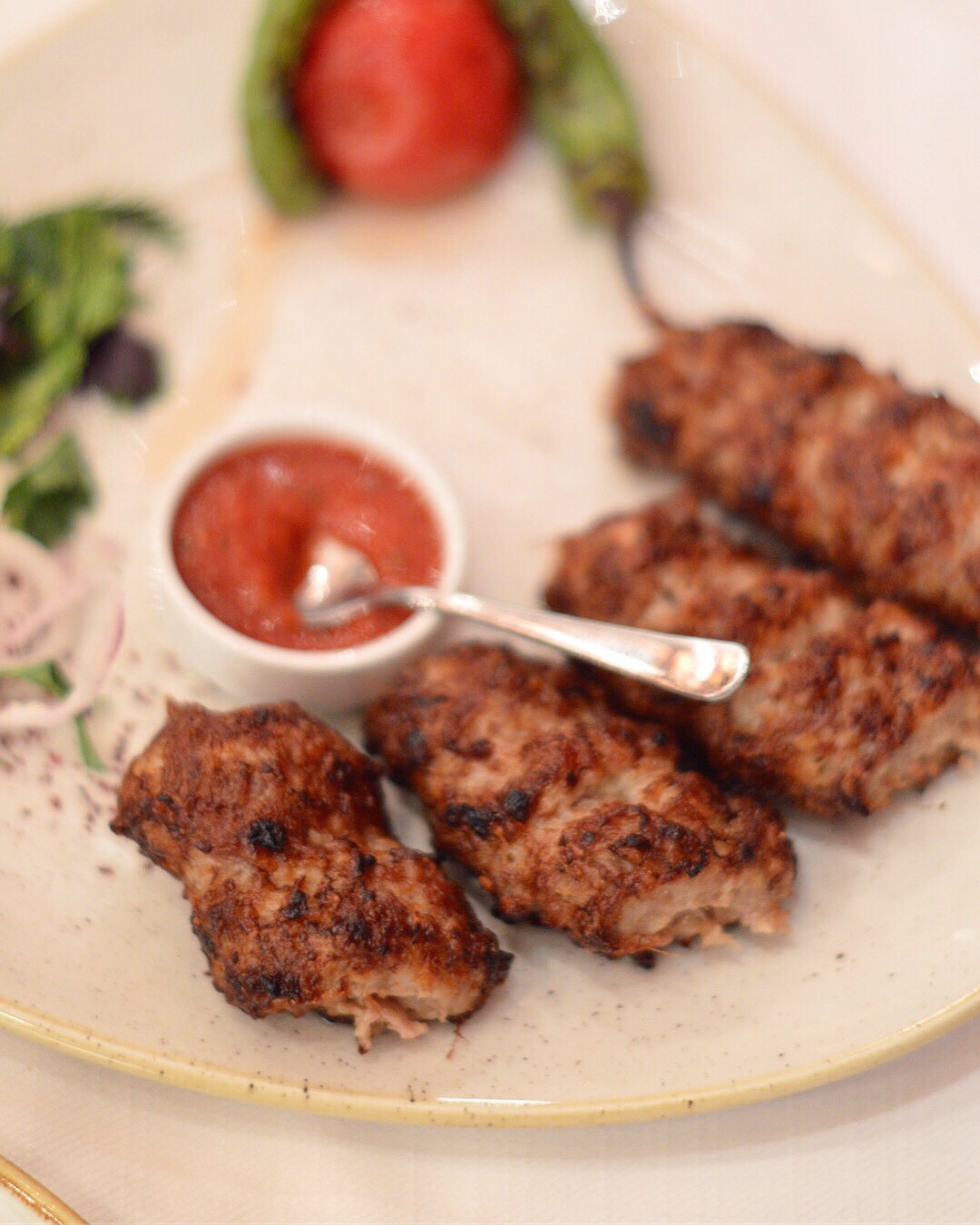 Fortunately, despite the slightly dissapointing caviar, the rest we had was great. The lyulya kebab above was incredibly crunchy on the crust, probably due to being wrapped in lamb fat before frying, and then yet very soft in the center. Totally delicious.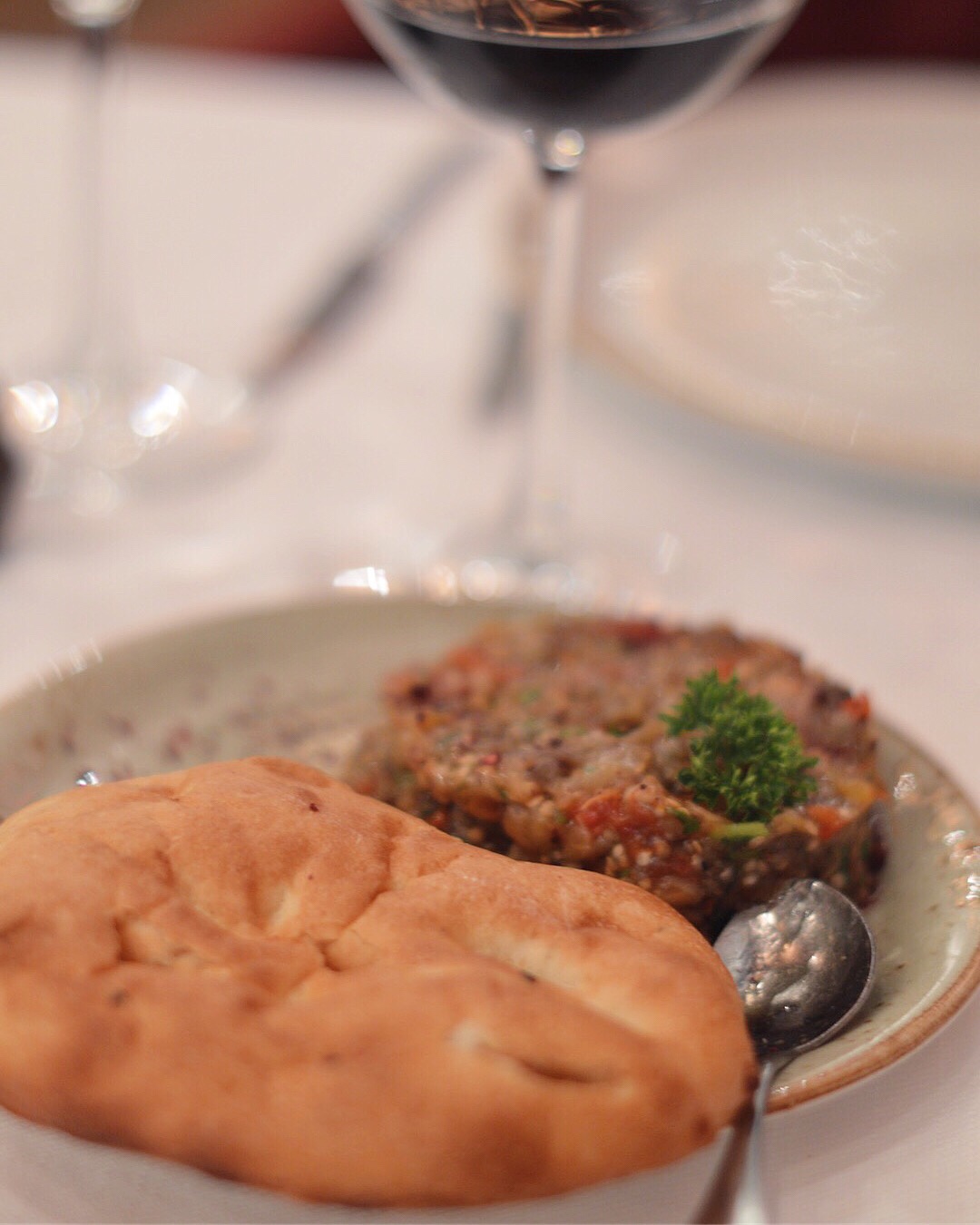 Mangal salad with coal baked tomatoes, flatbread and local red wine.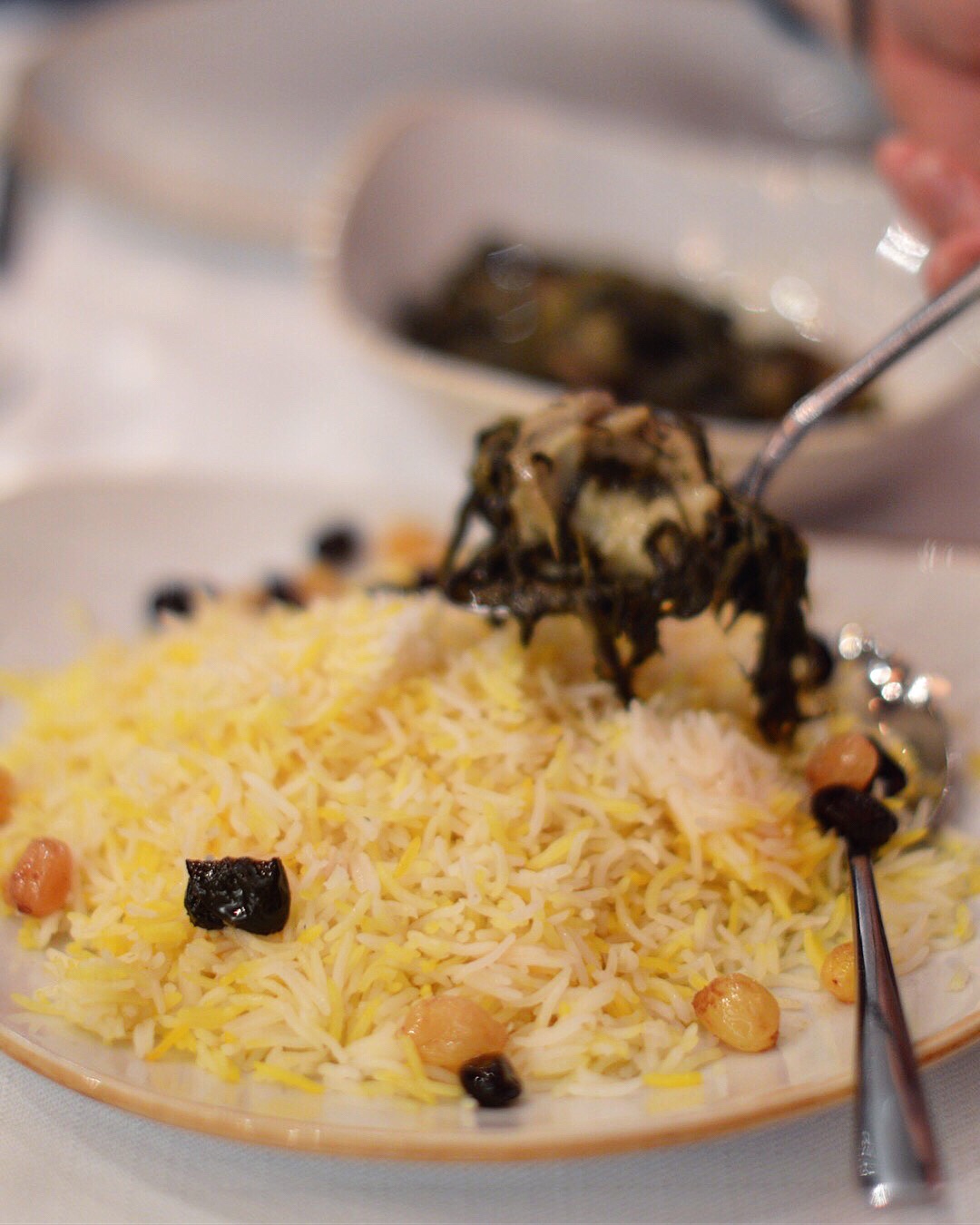 More delicious Azerbaijani plov pilaf.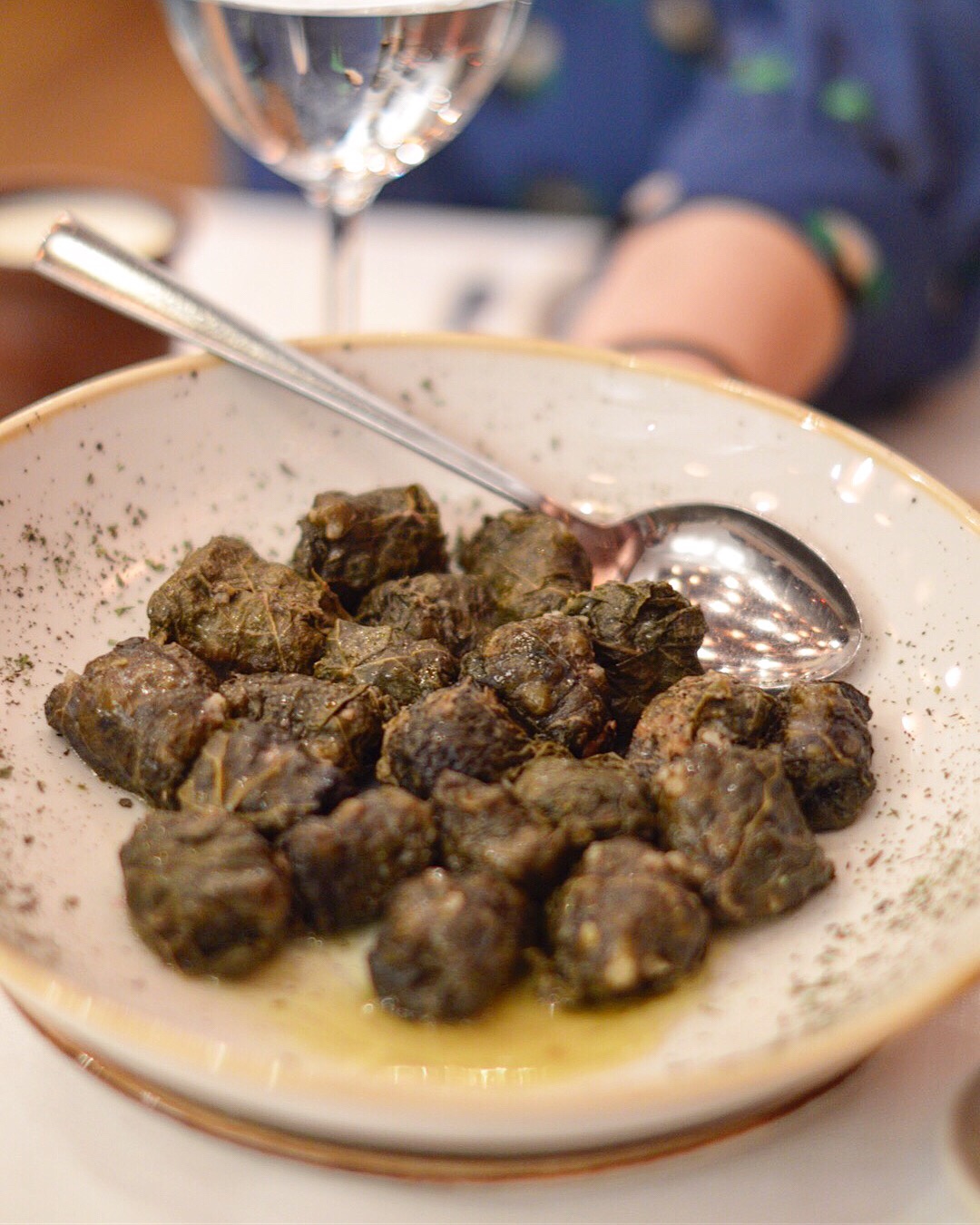 Dolmas, tiny parcels with meat wrapped in vine leaves. Mmmm mmm. These dolmas were the best I've ever had.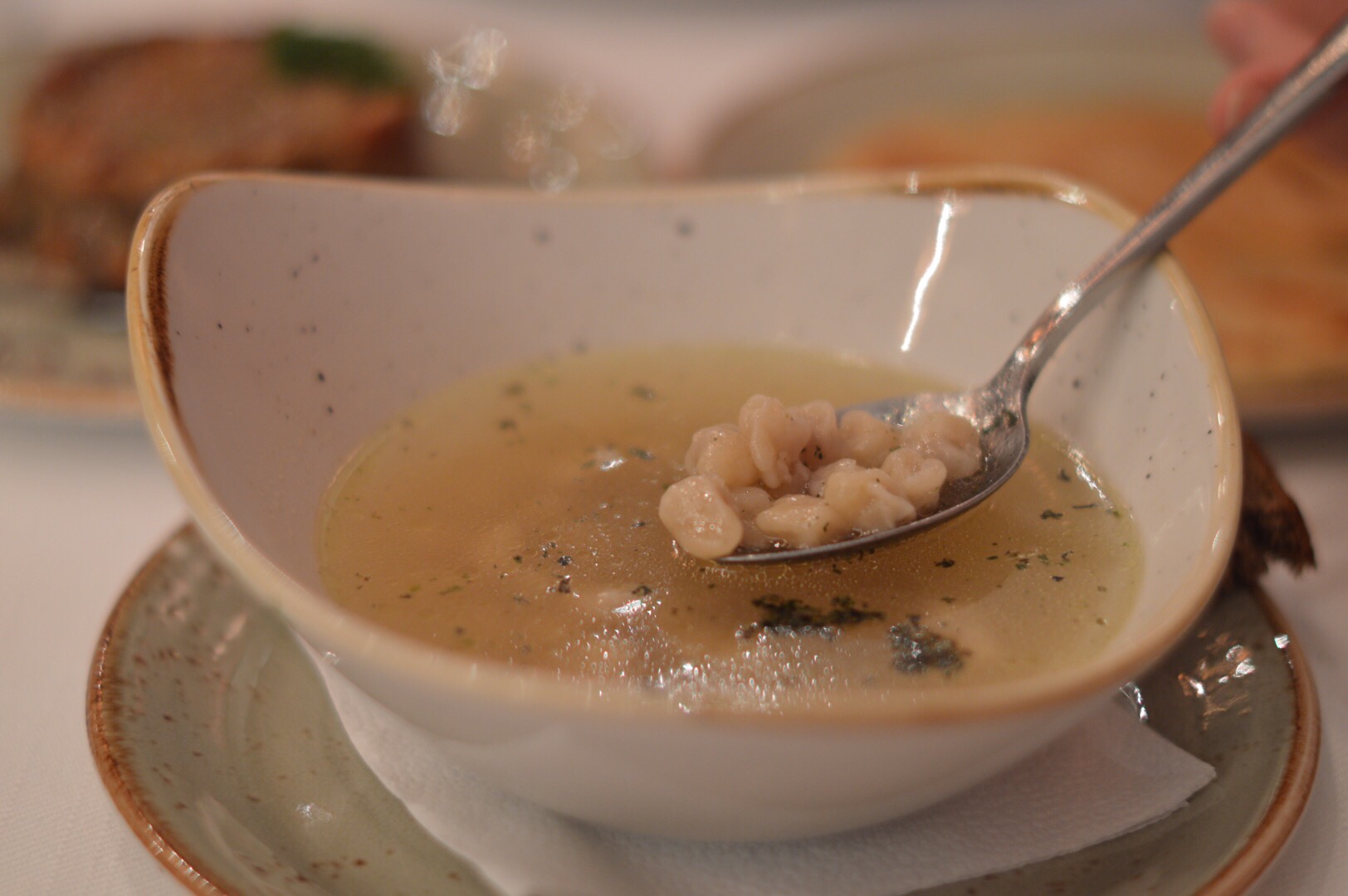 Dushbere: small dumplings in a clear broth.
Fancy, but not posh. Sumakh offered a great dinner with tasty food, efficient service and relatively affordable experience. Not counting the €60 Beluga Caviar, our tab would've landed at €40 with vodka, wine and loooads of food. Now, in total, it came out at roughly €100.