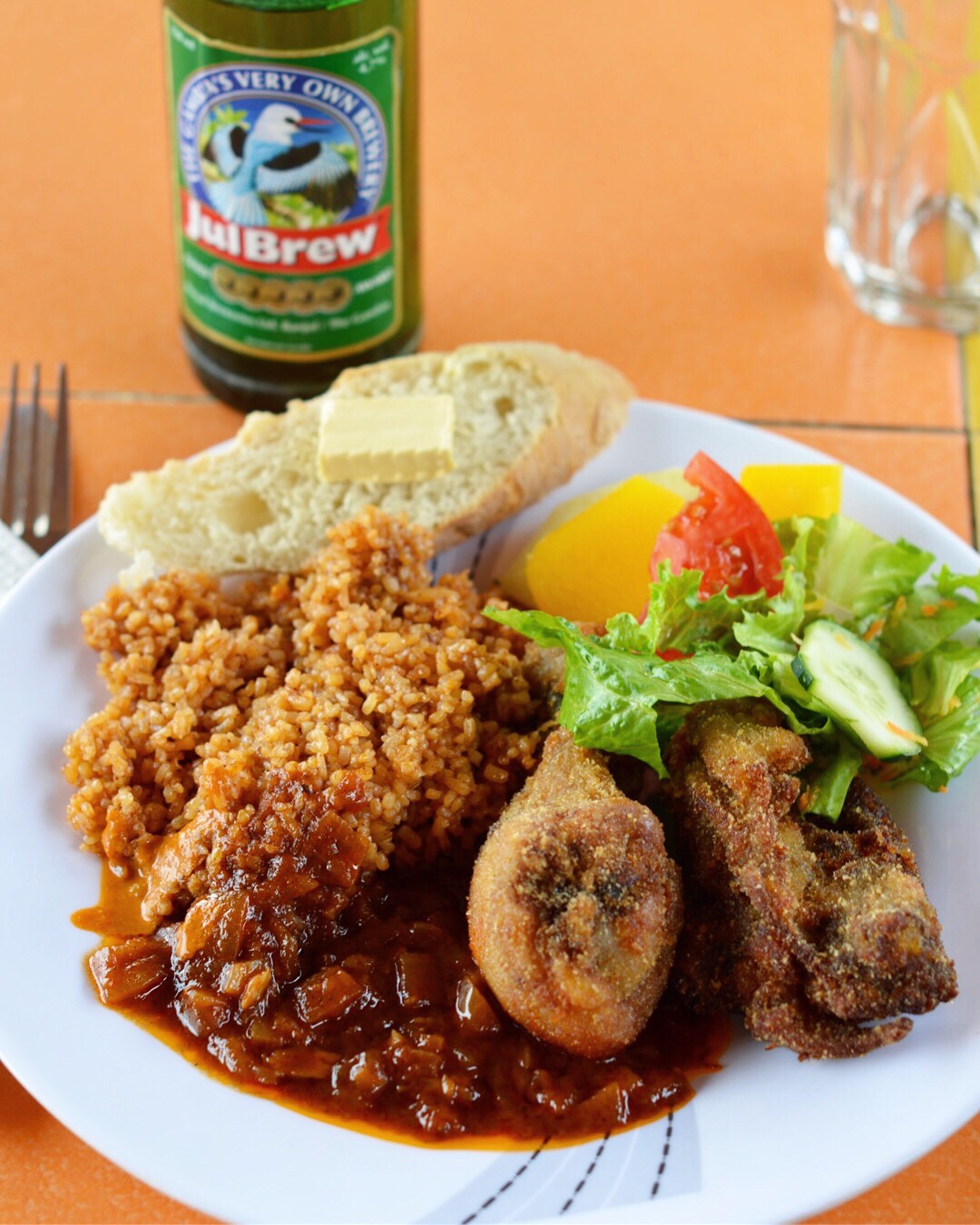 Just got back to minus 10 degress Celsius after a week in the tiny but amazingly nice West African nation of The Gambia.
The first time I tried to visit Gambia was last year, but due to the then long-time ruler's refusal to step down after losing the elections and the neighbouring countries threath to invade – we did not go. Last autumn we had booked another trip, but that time we couldn't go either. But hey, three times a charm! This time we managed to make it, and what a trip we've had. So without further ado, here are my Gambia what to and drink eat during a week in "the smiling coast".
What to eat in the Gambia
Situated in Western Africa, landlocked by the larger nation of Senegal The Gambia obviously is influenced by the surrounding region. Dishes like yassa, benachin and domoda are all available over the entire region in various shapes and names. Before leaving, I had read that Gambia's somewhat famous for its food, but the sources I found were slightly biased, so I took that with a grain of salt. But I shouldn't have, they were right – Gambian food is great. Below is what I tried, although I was not even close to try everything I wanted during my limited time in the country.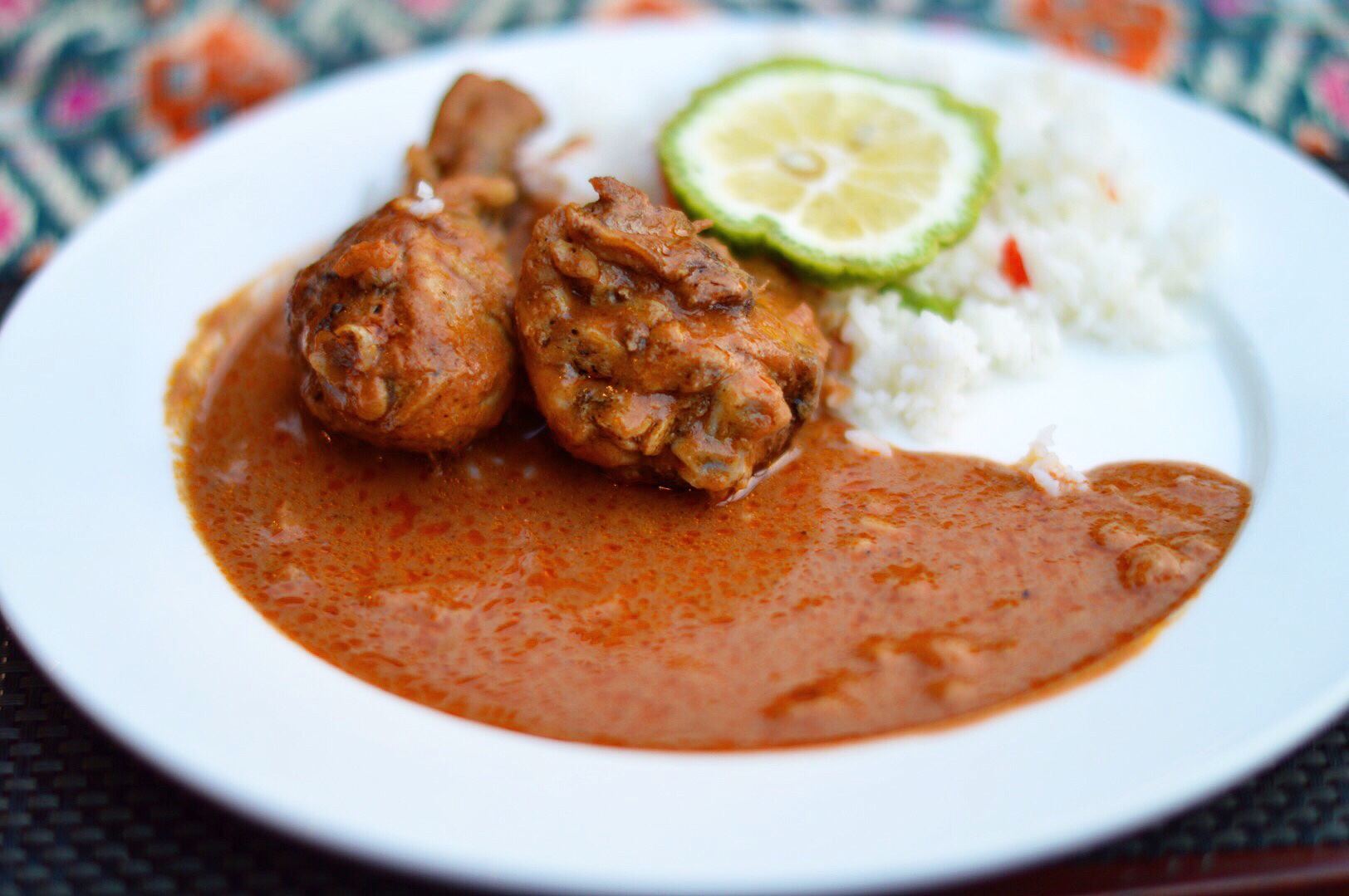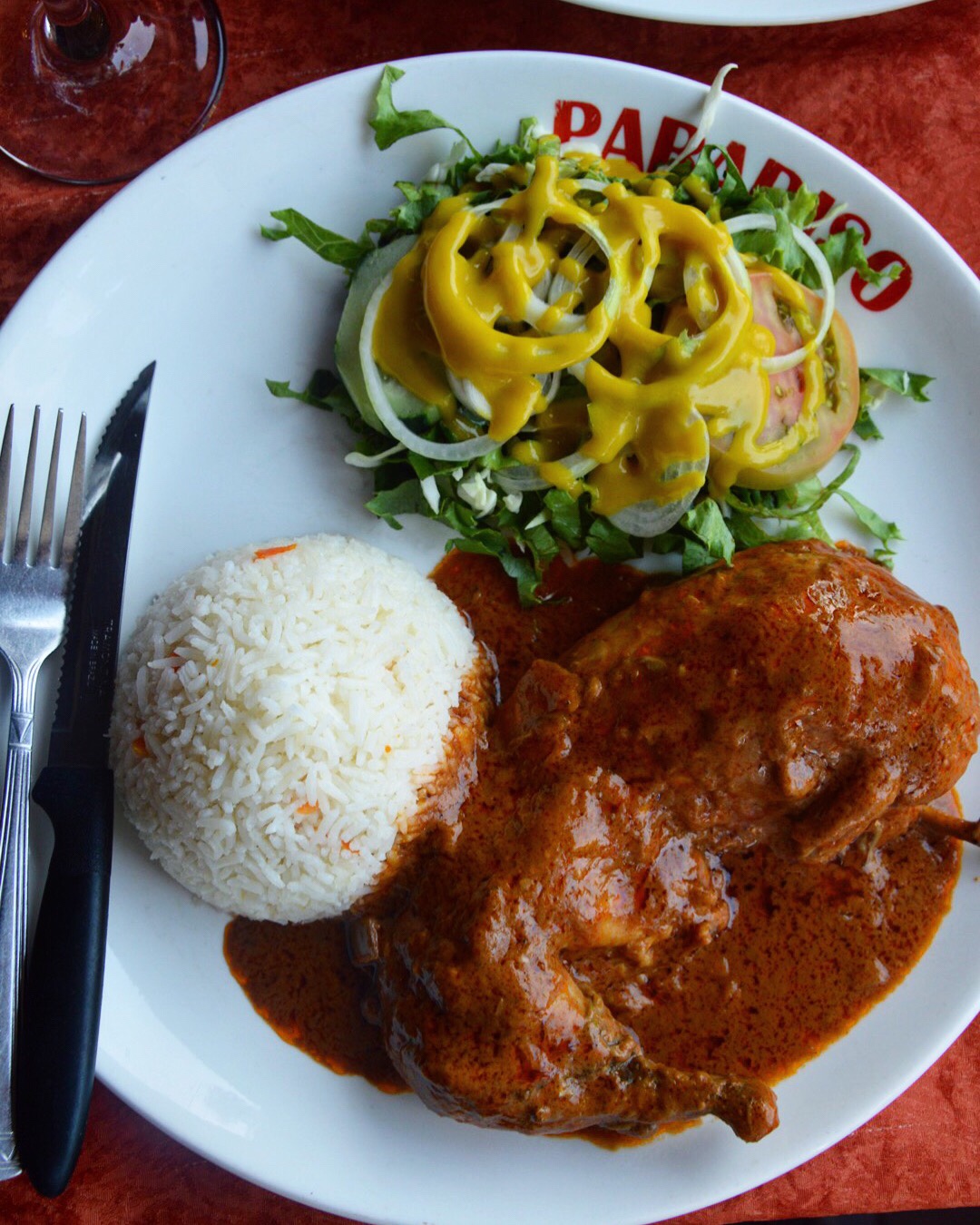 Domoda
A peanuty groundnut stew usually served with your choice of protein. I tried it with beef and chicken. Both were great and you can also have it with fish and prawn, for instance. The flavour is a little bit like Thai peanut sauce – satay, but it's saucier and richer/meatier in flavour. This was my favourite of the different stews and sauces I tried during my visit. In addition to groundnuts (peanuts) there is also tomatoes, onion and usually from what I understood also lemon or lime. The meat is slow-cooked in the sauce and both chicken and beef versions were "falling off the bond tender". Served with rice and veggies.
I tried domoda at:
Paradiso on the Senegambia Strip (my fav).
Senegambia Beach Hotel (on their buffet).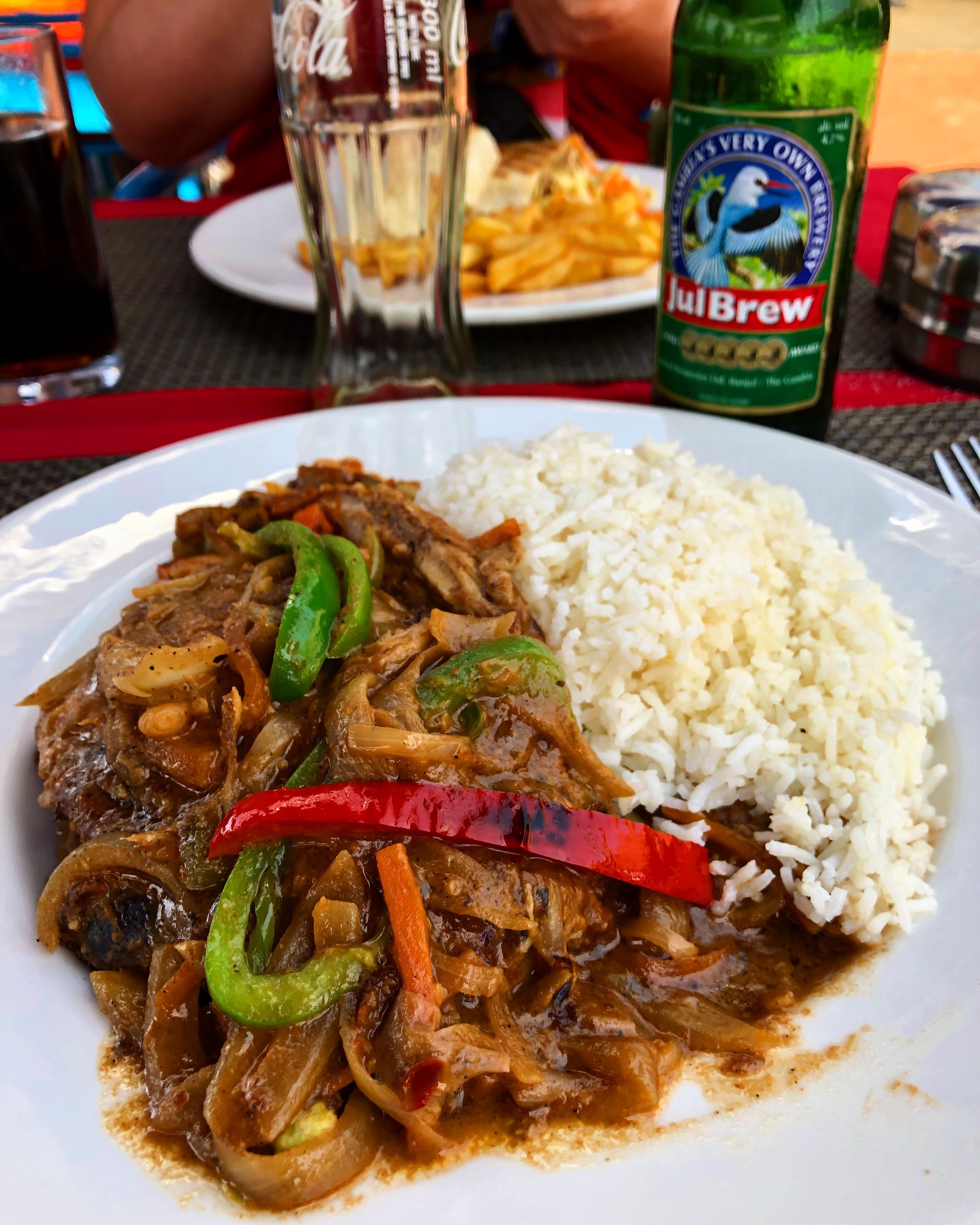 Yassa
Originally a Senegalese dish called yassa au poulet but now popular all over West Africa. Yassa is an onion and lemon sauce or stew that is cooked together, like the domoda above, with chicken, beef, prawns or fish. We had versions that were a little bit spicy and also ones with a hint of ginger, making the yassa taste borderline Asian wok. No matter the different flavouring delicious. Fresh, rustic and yummy. Served on rice.
Where I tried yassa:
My favourite: at Senegambia Beach Hotel's beach restaurant (a la carte). They also have a really nice yassa wrap on their menu. Only open for lunch though.
Nefertiti beach restaurant in Banjul (buffet).
Rainbow restaurant Paradise Beach (Sanyang).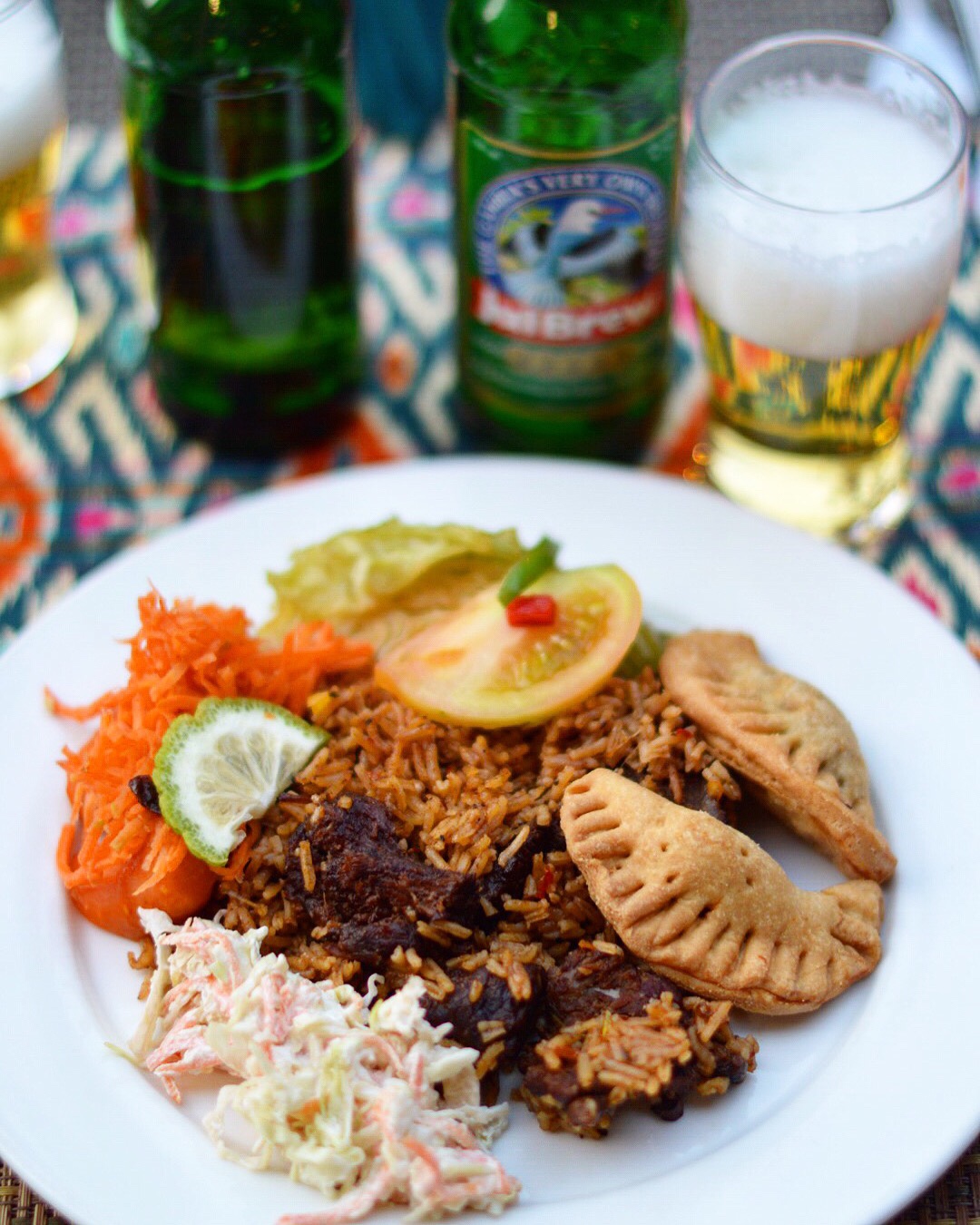 Benachin (aka Jollof Rice)
Benachin is a rice dish and it names means literally one-pot. Famous all-over West Africa under the name Jollof Rice this is a hugelt popular dish with tomatoes, onions, rice and oil that are cooked together, once again usually combined with your protein of choice. A really delicious, slightly oily rice dish which I had both with and without meat. My favourite version was with slow-cooked tender chunks of beef incorporated though.
Where I had Benachin rice
My favourite: Senegambia Beach Hotel, on their evening buffet (approx 650 Dalasi).
Did not try but heard from several sources that Kadie-Kadie was realy good and where the locals go for benachin. Only open for lunch though from what I heard and less busy from 14:00/2 pm.
Afra (aka dibi)
Afra is a quite simple, but delicious Gambian and West African dish also known as "dibi". It is basically grilled or fried meat or chicken as well as onions that is post-grilling combined with a savoury, salty "sauce" of maggi stock cubes. You can eat it in a soft tapalapa bread (similar to baguette) or with rice.
Where I tried afra
In above picture the afra is enjoyed with beef domoda, coleslaw and Gambian meat pies at the Senegambia Beach Hotel's dinner buffet.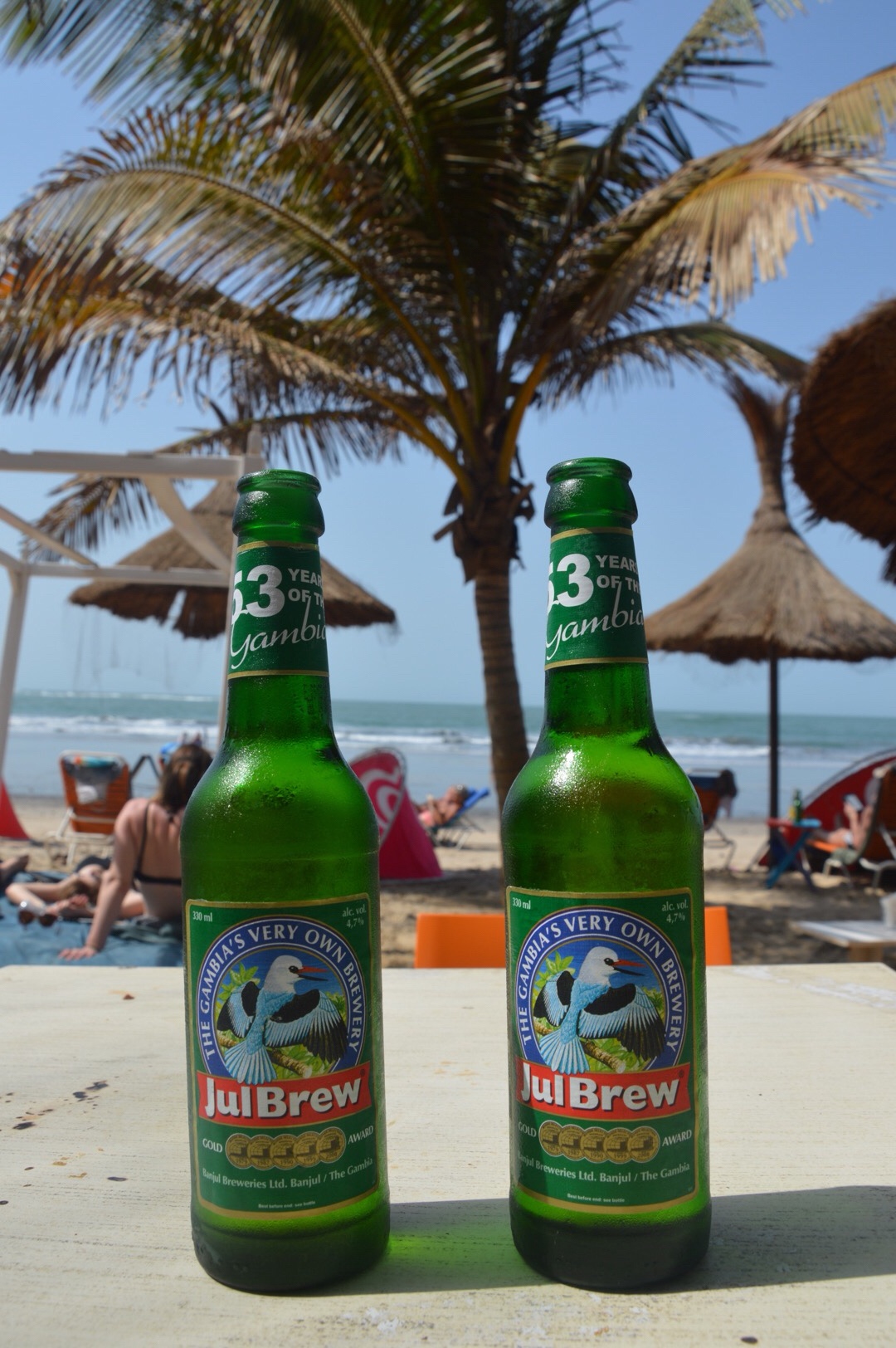 Julbrew
Gambia has their own beer, made by Banjul Breweries – hence: Julbrew. Although nothing spectacular, Julbrew, is a nice, relatively light (4,7 percents of alcohol) beer that works well with the local food as well as enjoyed ice cold in the sun. Prices vary from what I saw from about 35 dalasi (€0.8) to about 80 dalasi (€1,7) in restaurants. In supermarkets/mini markets slightly cheaper.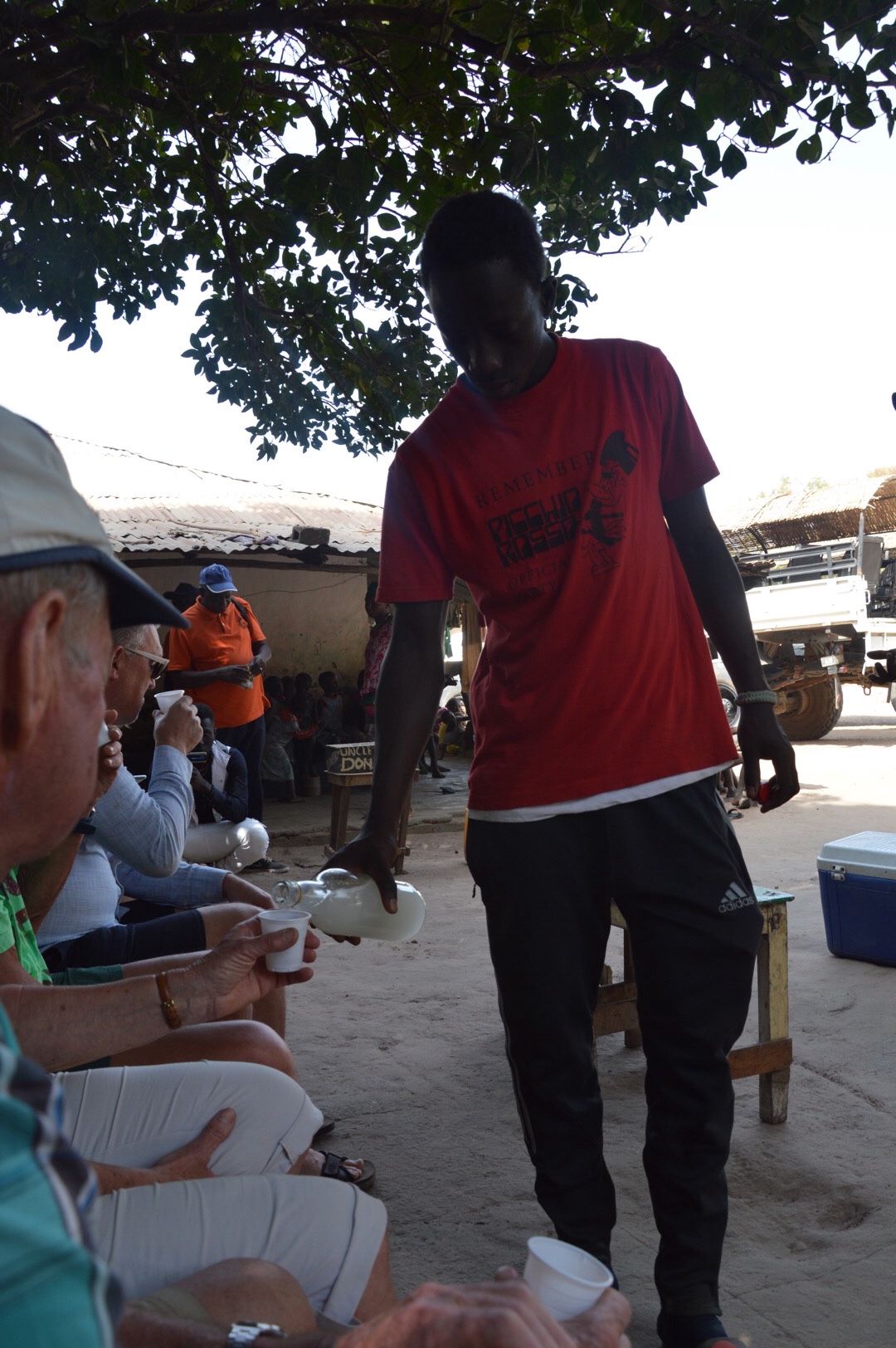 Palm wine (aka Sum-Sum or Kill Me Quick)
Palm wine is tapped, as the name implies, from palm trees. After a bit of time resting the sap, alcohol is created and within two hours palm wine reaches about 4 percents of alcohol. If it ferments longer, up to a day, it gets even stronger. After more than a day of fermentation though, the palm wine eventually turns into vinegar. We tried both the freshly tapped stuff which was non-alcoholic and the fermented and distilled version of local 'fire water" aka sum-sum or locally named Kill Me Quick that was about 50 percents. Strong stuff!
As mentioned above; what a great food destination Gambia is! If you like slow-cooked food, stews and rich, savoury sauces, at really affordable prices, this is a great place to visit.