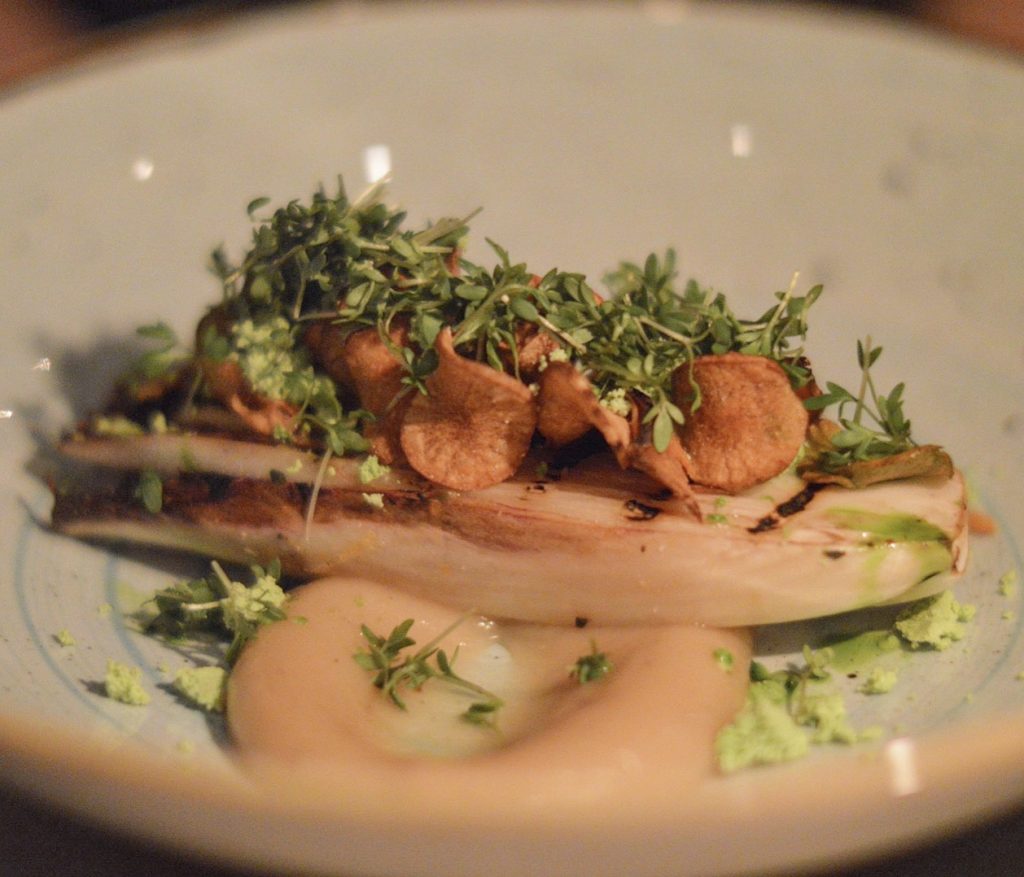 I recently visited Mosebacke Etablissement, the restaurant of entertainment venue Södra Teatern, situated at Mosebacke Torg on (or more like on top of) Södermalm in Stockholm.
The restaurant has a new menu that I was invited to try (eg. the meal was paid for by the restaurant). The menu has a focus on 'aware' comfort food, according to themselves. Most of the dishes are meat and fish free. However you have the option to add a supplement of 100 grams of meat or fish to any dish. Mosebacke etablissement serve 'medium sized dishes', meaning you'll meed about 3-4 to get full if you're decently hungry like me. We ordered from the standard a la carte menu, and tried most dishes. Above is the tastiest dish, grilled endive with a smooth and smoky Jerusalem artichoke purée as well as artichoke crisps. Delicious with great contrasting textures.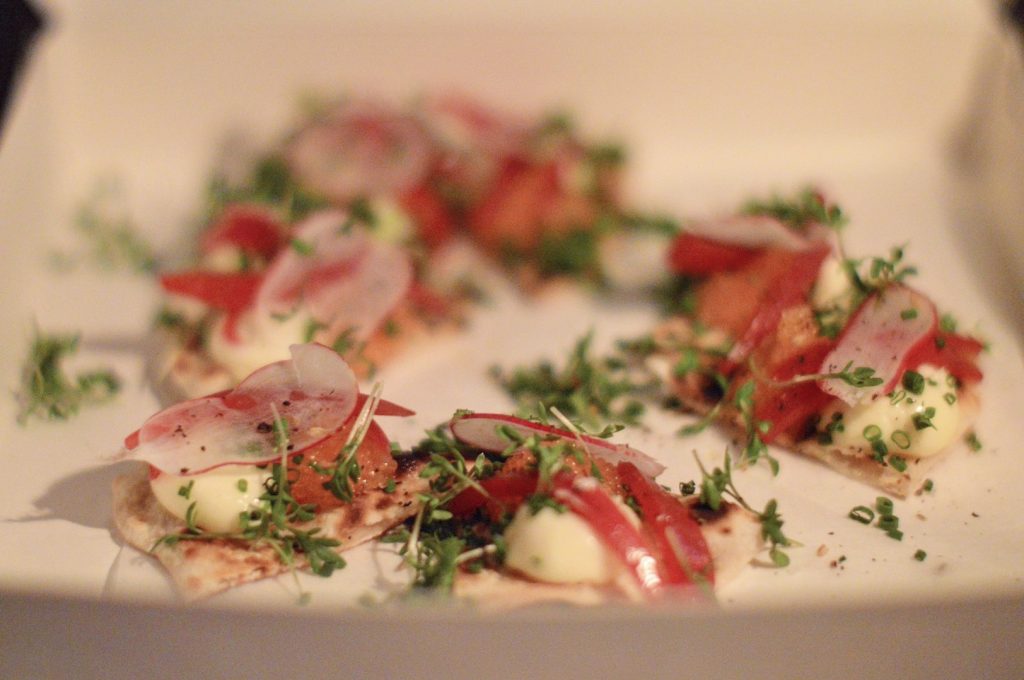 A mini pizza, served in an equally mini pizza box. The pizza was served room temperatured with a Västerbottens cheese crème, whitefish roe and pickled red onion. Delicious.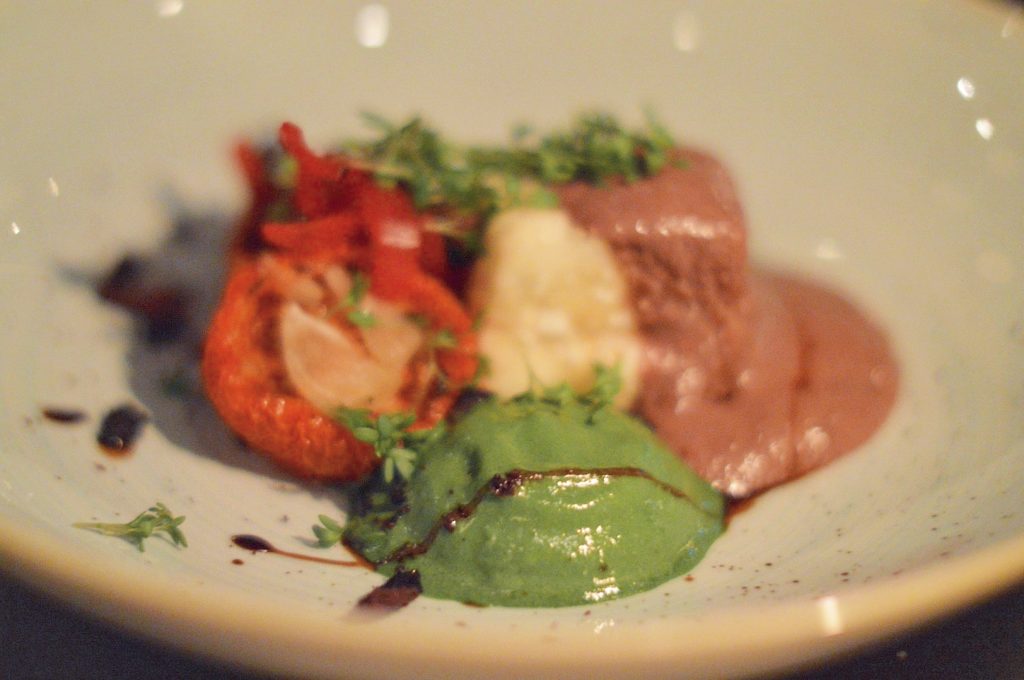 The fried feta cheese salad sounded great, and tasted good, but was less impressive than I had hoped for. Good quality lightly fried feta cheese, baked tomatoes, basil foam and a tapenade-y 'sauce'. Also a couple of dried olives that we found in a few of the other dishes.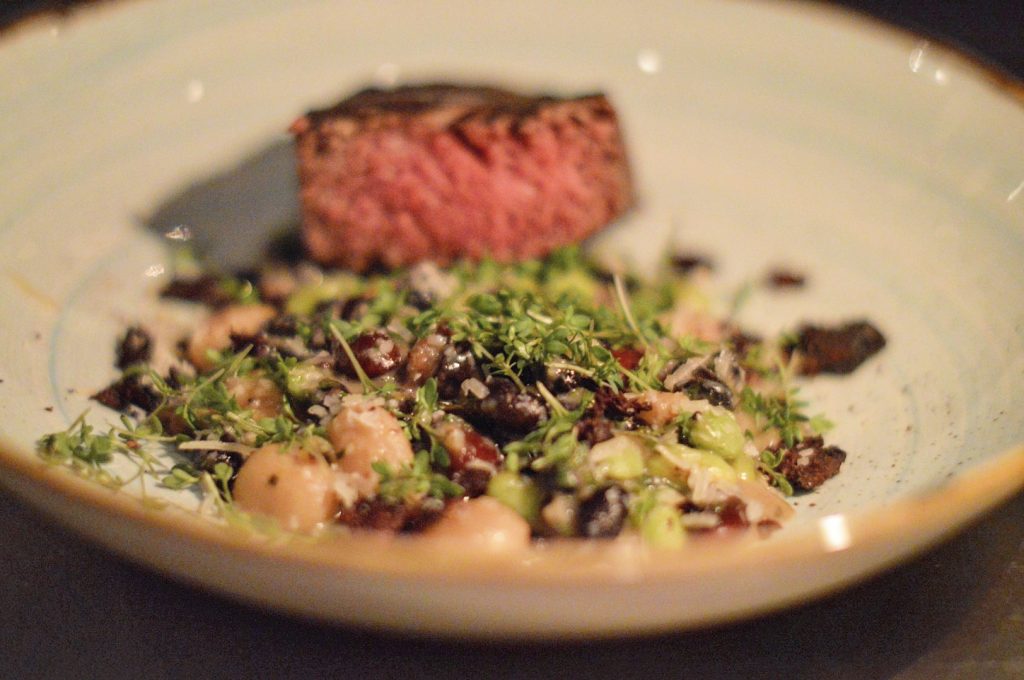 Beanotto (bönotto), was a risotto flavoured bean ragout of sorts. Beans, parmesan, shiitake mushroom, and smoked onion. Creamy like a risotto with nice al dente beans. The recommended 100 grams of grilled steak worked well with the beanotto.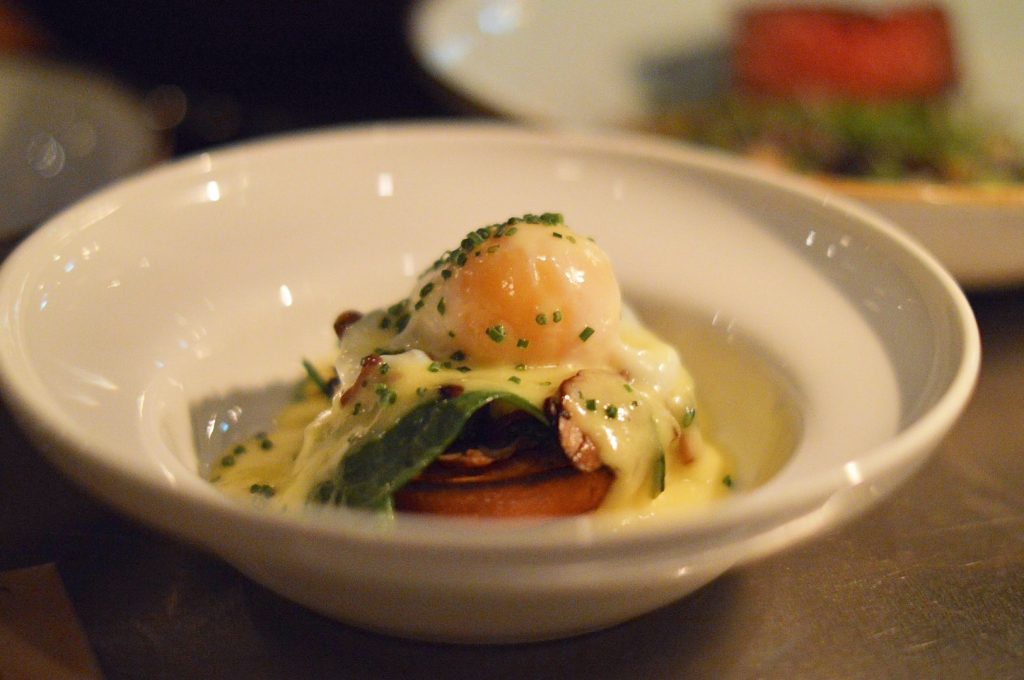 Benedict. Brioche, smoked mushroom and hollandaise sauce. Tasty like a benedict should be. Probably works better for brunch than as a dinner dish.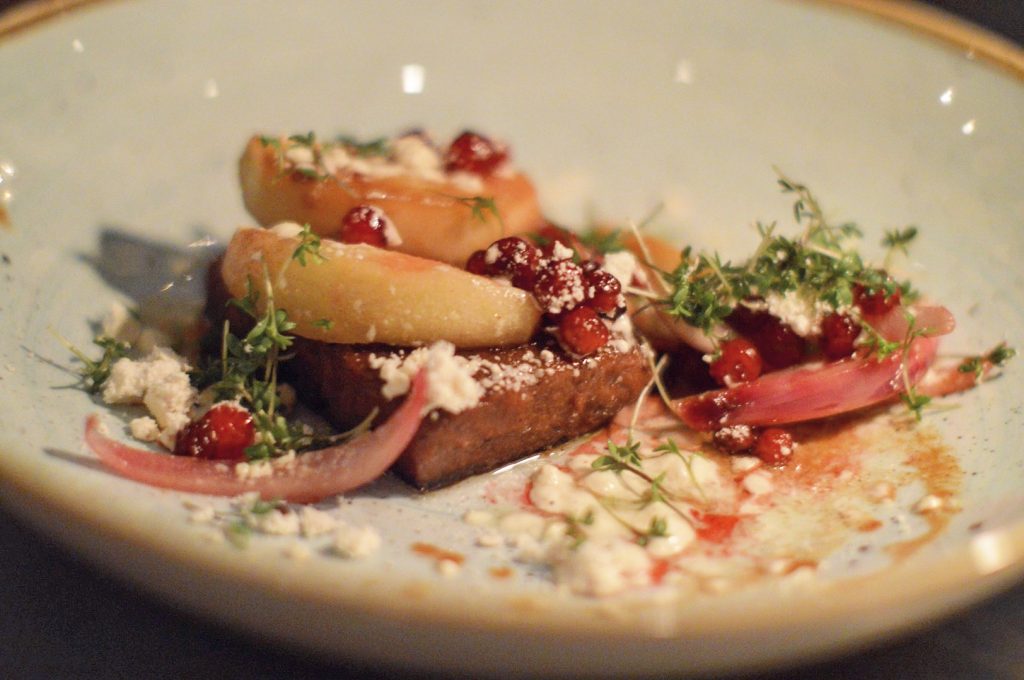 The vegetarian take on Swedish blodpudding or 'blood pudding', which is similar to the British black pudding was quite cool. They've managed to make a beetroot version that was relatively close to the real deal. Served with lingonberries, fried apple wedges and browned butter. Yum.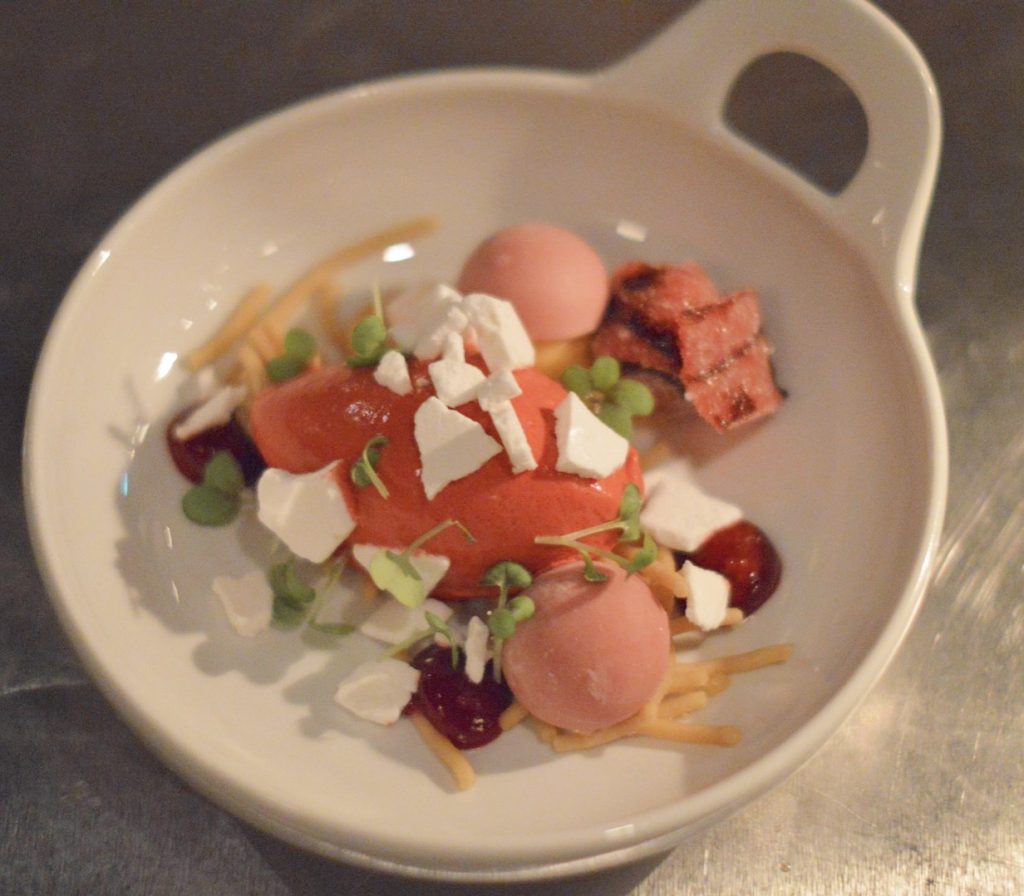 When it was time for dessers, we decided to try all of the menus three options, for the sake of research, of course. First up was the raspberry ice cream with a licorice band, lemon meringue and sorbet.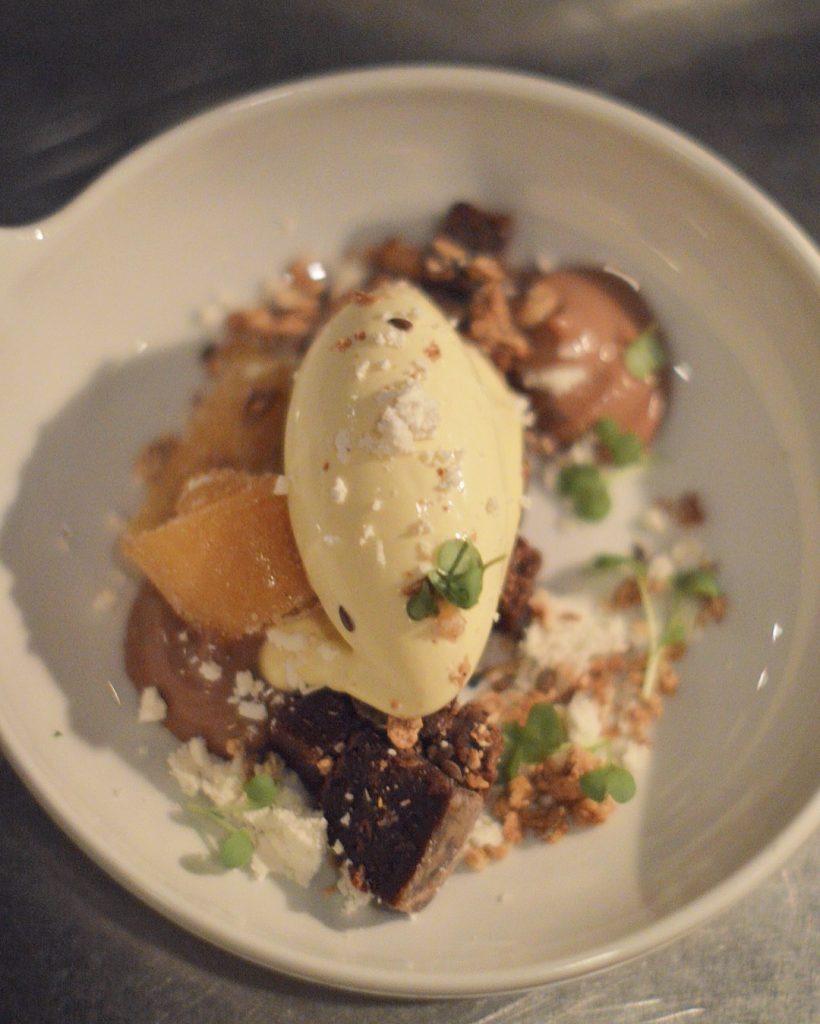 Next was a chocolate brownie with passion fruit ice cream, a passion fruit 'band' and granola.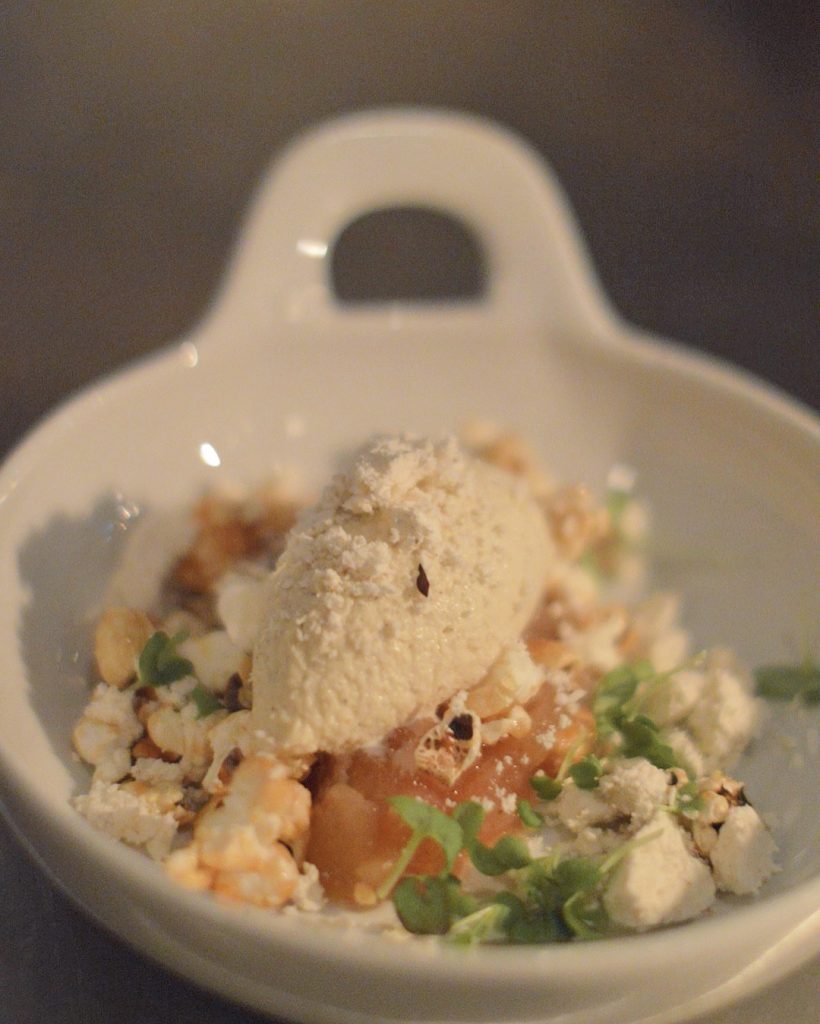 Finally, and most creative was the popcorn ice cream that was served with an apple compote and cinnamon. I think I hinted some extra browned butter in this delicious dessert.
The verdict
All in all, it was a nice, tasty dinner at Mosebacke Etablissement. It's not Michelin food, but for 90 sek a dish it's still a quite good deal considering it is both tasty and pretty dishes that are served. Some of them better than others. Next time I'll have a Västerbottens cheese and löjrom pizza with a glass of bubbly finished with the popcorn ice cream.
Price
€€