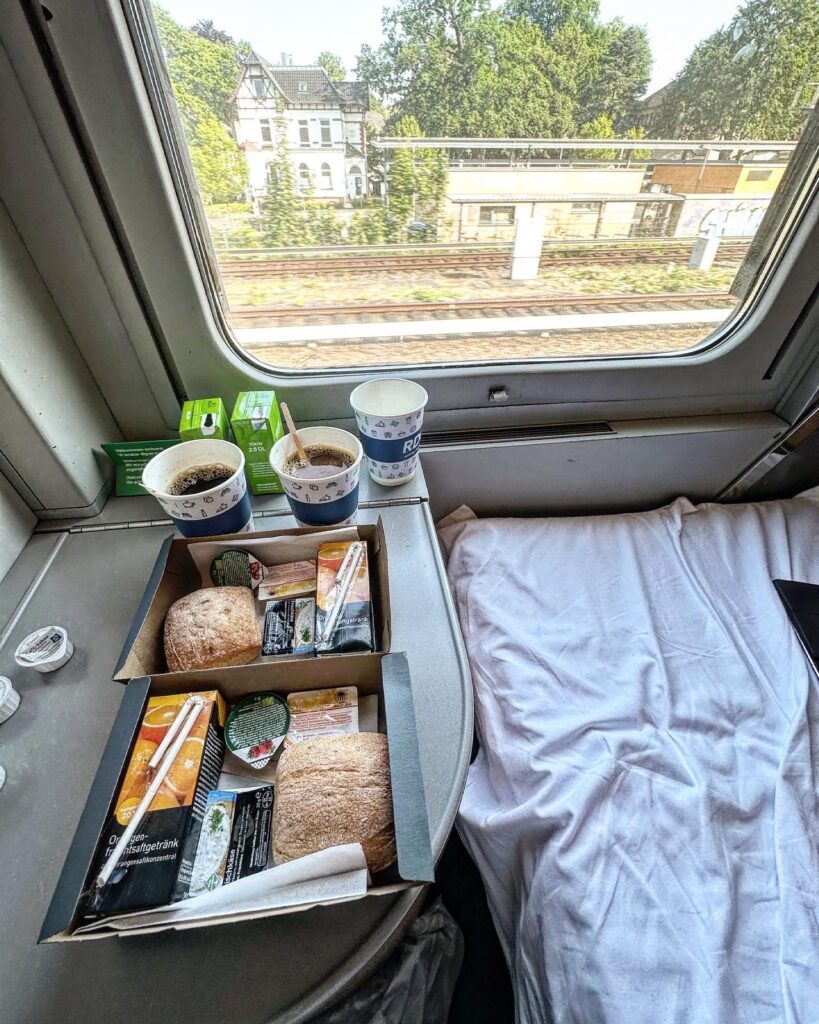 I've grown fond of train travel the last couple of years with train trips from Stockholm where I live, to both Malta in 2019, and to Scotland last year. It's an incredibly (mostly) comfortable experience compared to flying, you just take your bags to the central station, no lines, no checking in, no waiting, no slow boarding. Just jump onboard and you are already on your way.
This year we wanted to visit Slovenia which we had planned to go to in 2020, but due to a certain pandemic, we had to cancel the trip. When we started to look at ways to get us there, and while studying the map we noticed that Venice, where I've never been, but always wanted to go, is quite close, and from Venice there are lots of ferry lines connecting it to Croatia. Our goal was to finish the train travel part of the trip with a week of sun lounger-ing in a nice resort somewhere, and Croatia has a lot of such places.
Okay, so with the route set, it was time to start building the trip. We do not use a travel agency or a rail pass as we usually go by a combination of private sleepers on night trains and then in first class on day trains. Instead we just logged on to each train company's website and booked straight through them. Mostly we used Austrian ÖBB's website which is quite easy to work out. The Stockholm to Berlin train we booked on Sj.se and paid for with credit card.
A reason for the entire trip was that I wanted to try out the new SJ Euronight train, that goes from Stockholm to Hamburg, and during the summer all the way to Berlin. Since a first class sleeper compartment with private bathroom was quite insanely priced at around 6500 sek (~€550), we opted for a second class one, where you have the compartment to yourself, but with shared bathroom and shower in the carriage. For that we paid the still very costly price of 4000 sek (approximately €320).
Before boarding our train, we went on a dinner shopping spree in Stockholm's central station since there's no dining car onboard the train, although there's a small kiosk. In Stockholm's Centralstation there's quite a lot of eateries such as McDonald's, Burger King, Urban Deli's take out kiosk, and several bakeries from which you can bring take away food. There is also a large COOP supermarket, and proper restaurants such as Luzette and Urban Deli where you can have a sit-down meal. We opted for a mix of McDonald's cheeseburgers and fries; shrimp salad from Urban Deli; a bag of chocolates and water from COOP and some dinner rolls from Gateau bakery for a train picnic.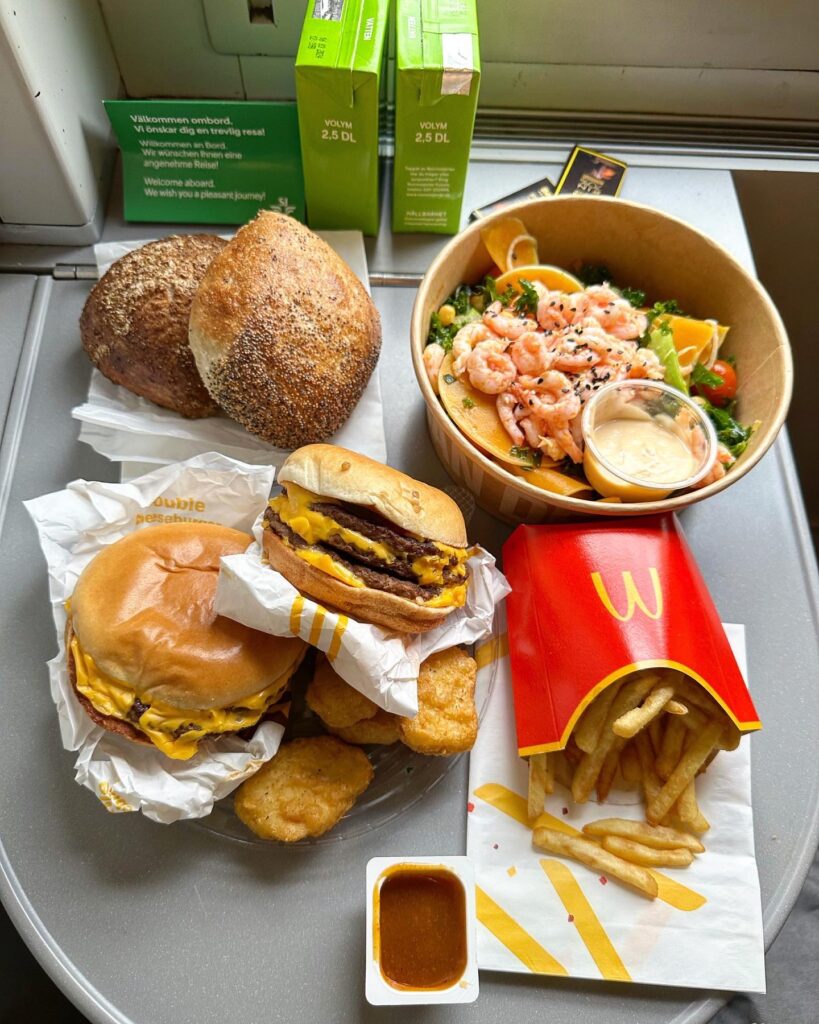 Then it was time to board the train, which left right on time just before 18:00 o'clock.
Our second class sleeper was quite dirty when we entered it, crumbs on the floor and also an empty champagne bottle under the bed which we found after a while. It was also quite dusty and when touched, our sofa gave a way a little dust cloud. Not so nice.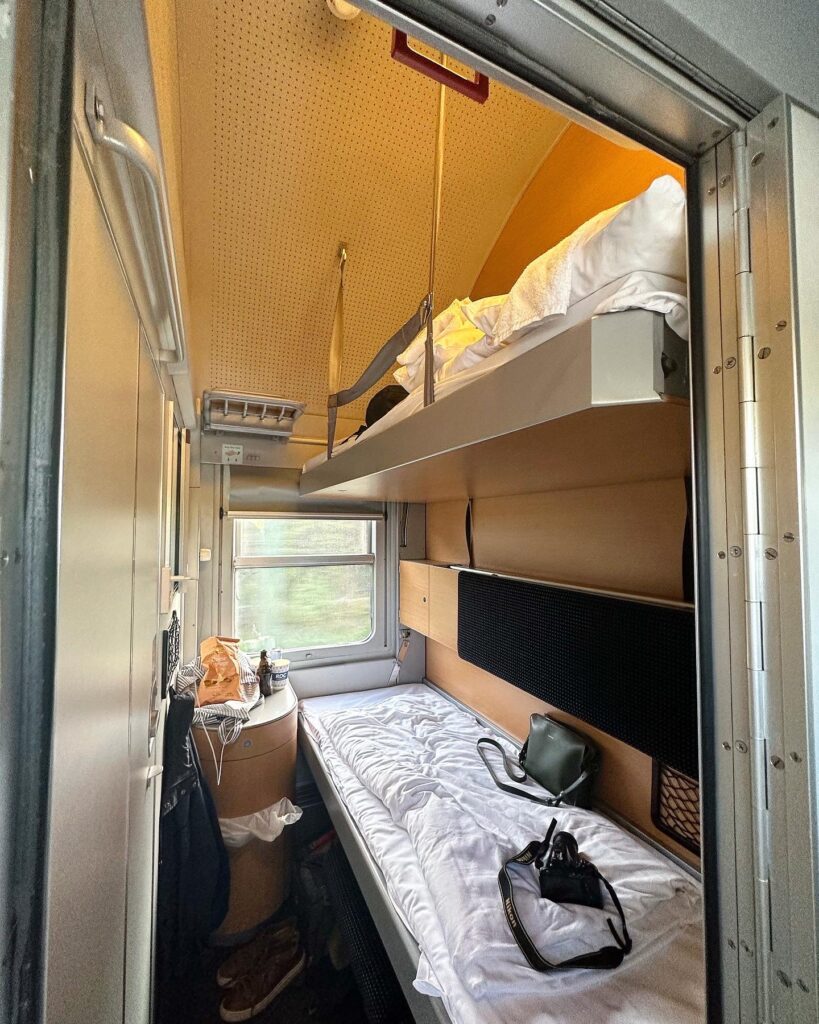 Despite this, we had our little train picnic dinner and was still quite happy with being on our way. After a while we heard some clicking noises and suddenly a child appeared in our compartment, seemingly the door lock between ours and our neighbour's compartment wasn't too effecient and despite being locked from our side the child could still easily open it. He looked as surprised as we did though, apologized and quickly retreated back to theirs. But not very safe.
After dinner we went to check out if there was any life onboard, remebering a night on the Arctic Circle Train with a dining car full of happy beer drinking tourist on their way to see northern lights. No such luck though, we overheard the staff telling another passenger that they wanted a dining car for the train, but since there are different train tracks in Sweden, Denmark and Germany, they couldn't find any that worked all the way. My suggestion is take one from Stockholm and leave it in Malmö then, no one's going to eat after midnight any way. But maybe that delays the trip too much.
What was offered was a small kiosk where staff sold drinks, snacks and I think maybe some kind of light meals. In our compartment 'information folder' it was stated that staff would come around with a trolley service, but that never happened.
After a quite reasonably priced (for Sweden) €5 cold German beer together with watching the moonlight crossing of the Øresund Bridge to Denmark, it was time to hit the sack. Sleeping quality was standard for a train I'd say. It was quite comfortable and we both slept okay.
The next morning, we had to go out to the kiosk to pick up the breakfast box that was included in our sleeper compartment. It consisted of a bread roll, jam, butter and juice, and you also got free coffee or tea.
At this point, towards the end of the trip, the train looked like a dump unfortunately. The hallways had trash and paper on the floors, and the toilets hadn't been cleaned and was really, really gross. I've sent SJ a complaint about this, but they haven't yet responded about a month later. We'll see if they do.
In the end though, we arrived safe and sound, and on time, to Berlin Hauptbanhof, one of my favourite train stations with lots of food, shops and connections. For us it was time for a brief one night stop though in the nearby Intercity Hotel, a few 100 meters from the station.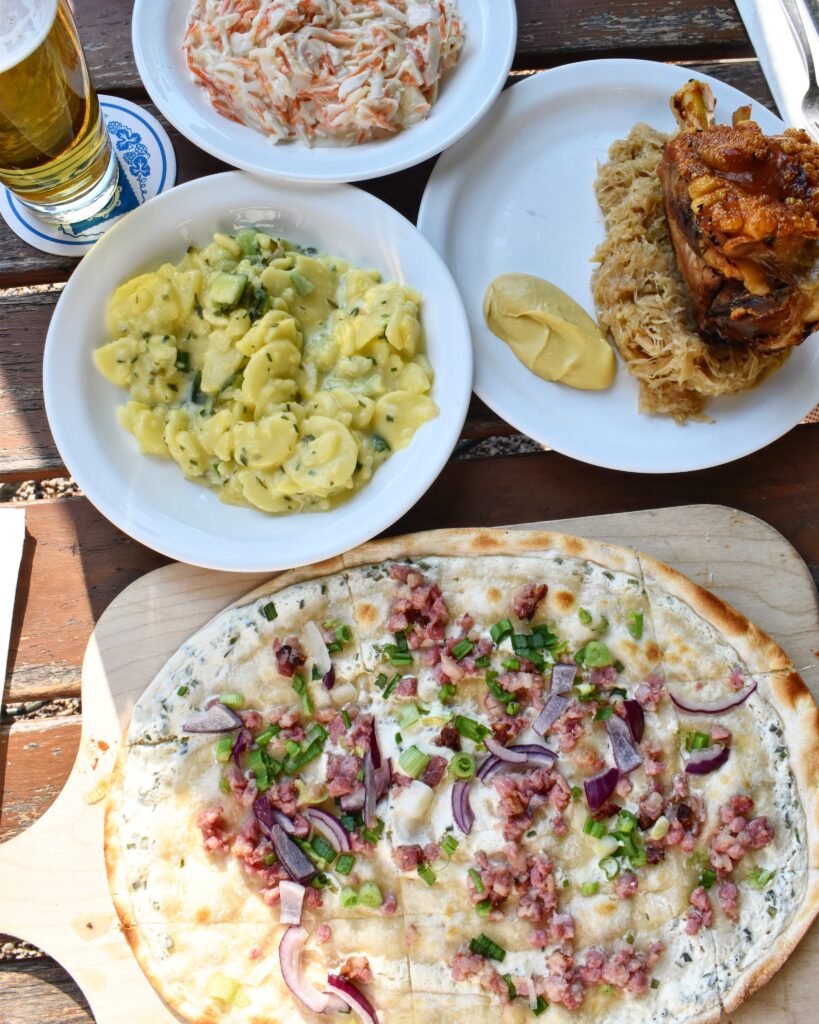 A tip, if you stay near the Berlin HBF and want to have a proper German dinner, is to visit Zollpackhof restaurant and biergarten. Good prices, full of locals and tasty food. It has both a quite affordable self service part where you pick up you food yourself from a sort of food court concept, or a terrace with table service. We chose the former and were quite happy.