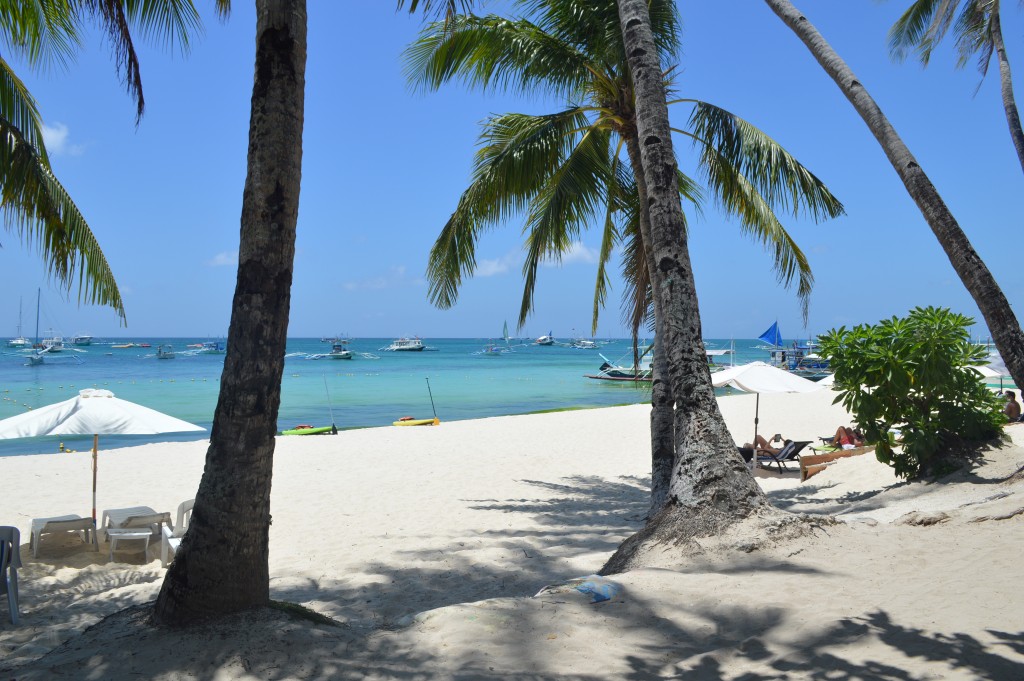 Sitting on the plane bound for Singapore at the moment and thinking back on the Boracay experiences from the last seven days. Boracay, as you may know, is an island in the South China Sea, mainly famous for its pretty beaches, more specifically "White Beach".
Prana Restaurant
But if you know me, you know it won't be just beach life. One has to eat too. On Boracay, we stayed at the Mandala Spa and Resort, situated among lush greenery on top of a hill overlooking the ocean. Since we arrived quite late we opted to have our first meal there, a miniature tuna dish and healthy Thai red curry with whole grain rice in the resort's Prana restaurant.
Mandala Spa and Resort
Mandala Spa has a massive focus on health and relaxation. So much that we were upgraded to a "Digital Detox Villa" that lacked both wifi and a TV. Even worse, the mini bar was only stocked with things like dried mango, healthy nuts and organic wine. That is no wifi, no tv and no beer. I felt like I was part of the movie "Couples' Retreat". Fortunately things improved. The TV, i could not do much about, but we cheated on our digi detox-room with locally purchased sim cards. To be honest, the reliability was quite poor, but it worked better than no internet at all (to the resort's defence there was free wifi in the lobby). We also bought local beer from the local super market, and abrakadabra, the only-organic-wine-issue was a thing of history as well.
In all seriousness, the Mandala Resort and Spa is probably one of the better places I've stayed in, and despite I can't really live without internet, the villa, the surroundings an the staff was really great. The food's a bit expensive though, and portions are a bit small. You do feel however, that there is some serious thought into the options, all I tried was quite delicious despite being made extra healthy. Especially their breakfast dishes were really delicious, although slightly pricy compared to other options on nearby White Beach.
The food of Boracay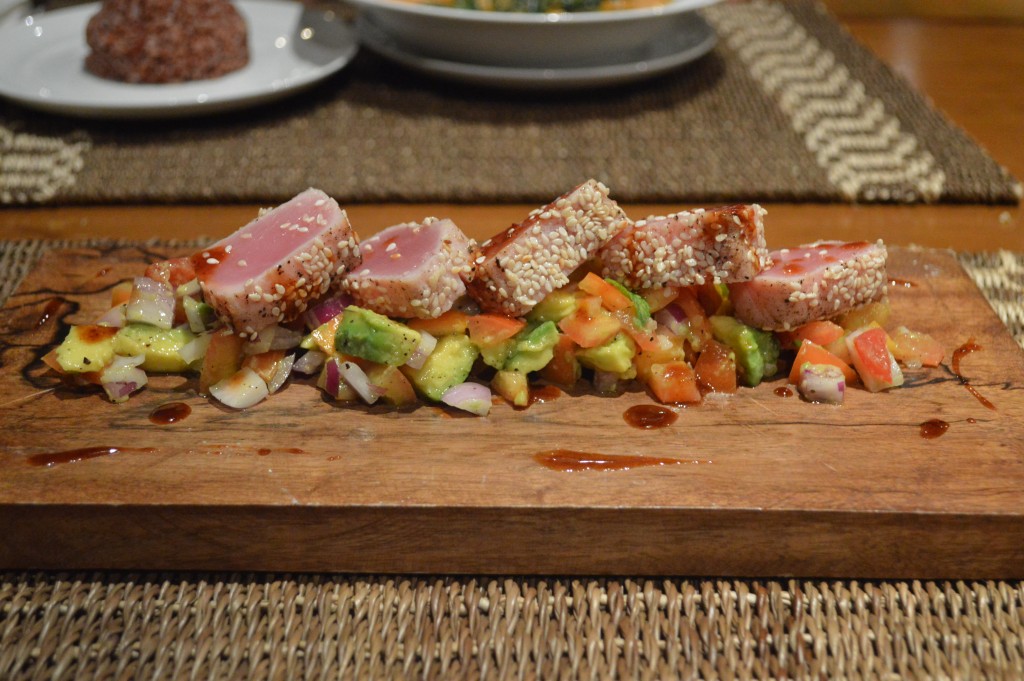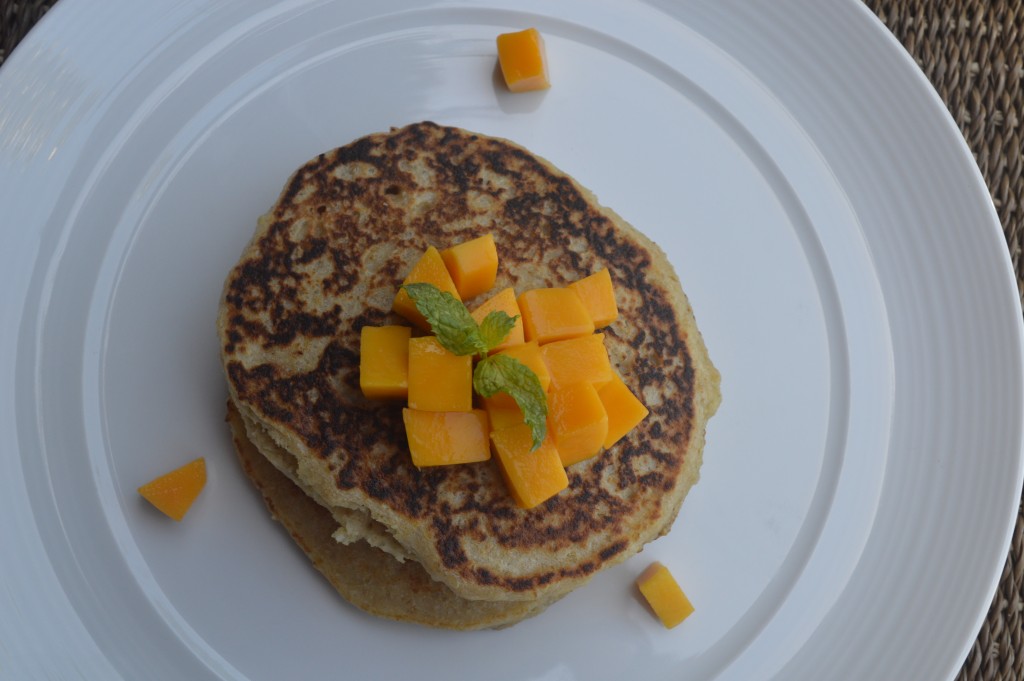 Above: tuna main course, as well as quinoa pancakes with mango for breakfast at Prana, Mandala Spa and Resort.
If healthy holistic food is not what you're after in Boracay there are several other options waiting for you. We did quite a lot of research before our trip and tried a lot of different places on Boracay and being an island, there aren't any fantastic food experiences, but still very good food to be had. Below are my favourites.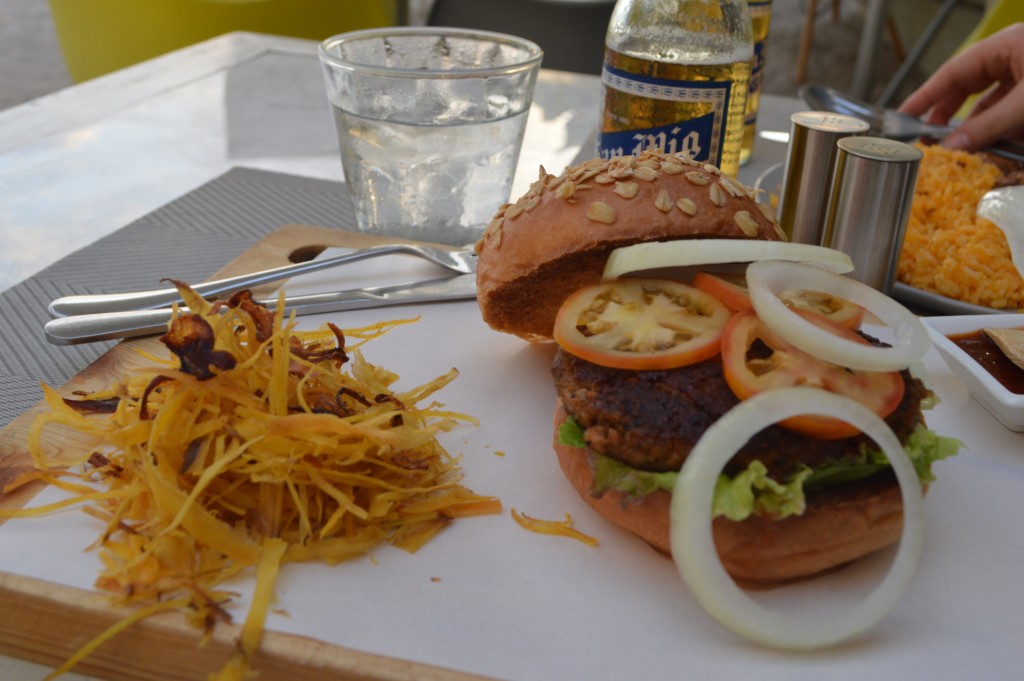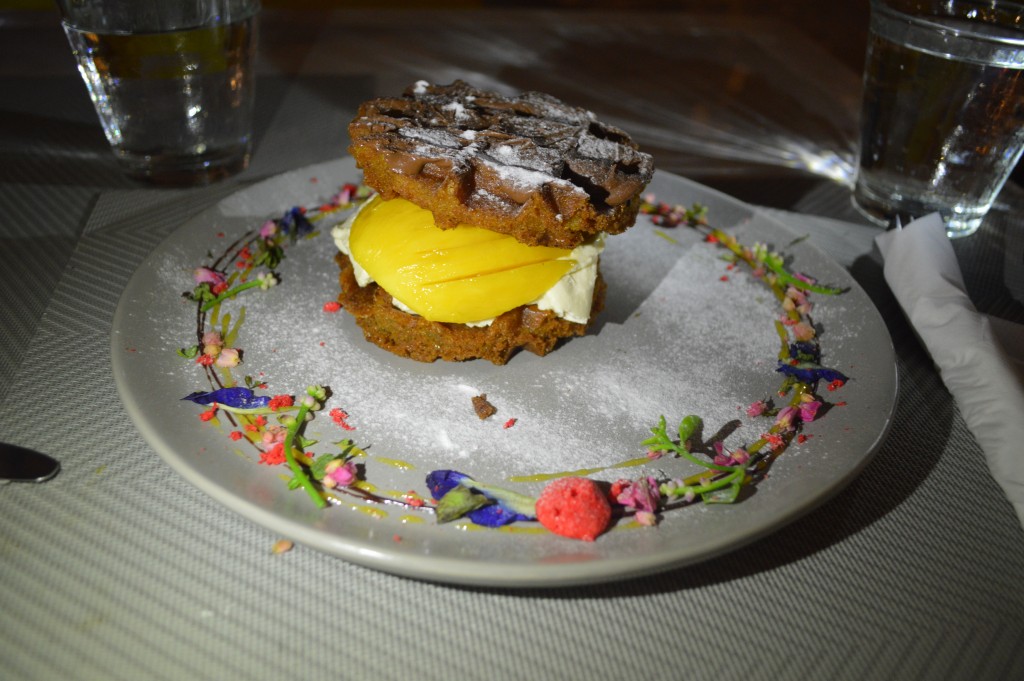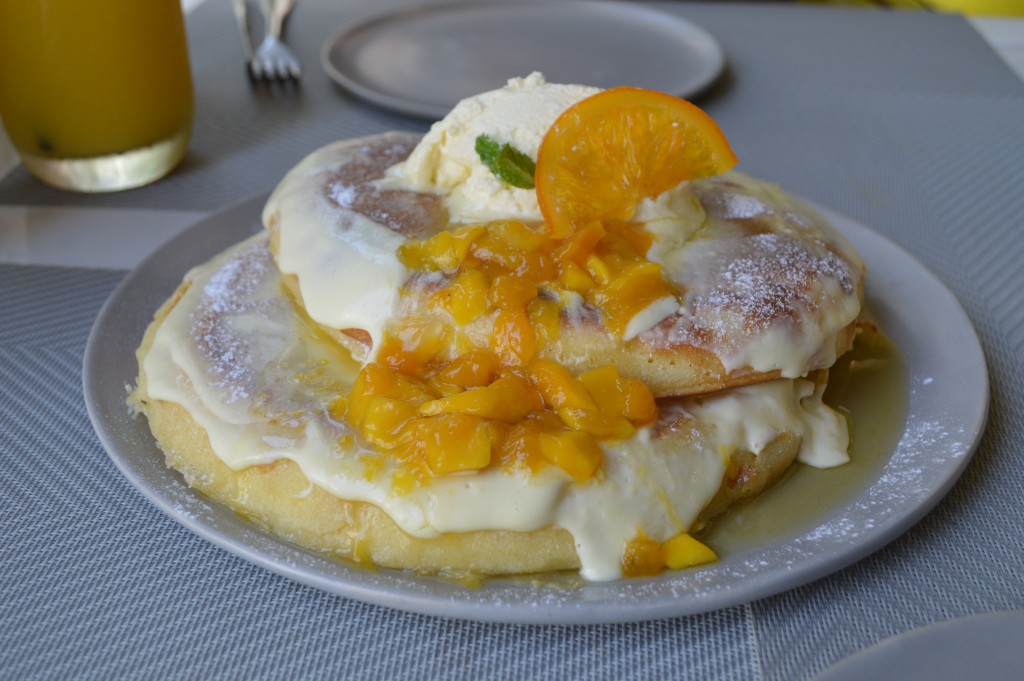 Above: Choriburger, wonut and giant pancakes at Sunny Side Cafe.

Sunny Side Cafe
Our first day we had dinner at the Sunny Side Cafe. The Sunny Side Cafe has (at least) two sister restaurants on the island, Spicebird and Super Magic Burger, and is a modern hipsterish coffee shop meets restaurant. They are serving western-style breakfast dishes like French toast, pancakes, grilled sandwiches and really good coffee as well as twists on local favourites like the Chori-burger, a delicious spicy chorizo burger with a sweet and spicy tomato dressing, served in one of Sunny Side's fluffy brioche buns. We actually went back several times to the SSC and enjoyed both their eggs benedict made with perfectly poached eggs on English muffins with hollandaise and thick cut bacon. I also tried their ginormous pancakes with cream cheese and mango. Sort of pricy for Boracay, but very good food and drinks. Not to miss is also their dessert "wonut", which is a deep-fried waffle which we opted for having served with fresh mango, whipped cream and nutella. So unhealthy, so delicious.
Prices: $$$
Location: pretty close to station 3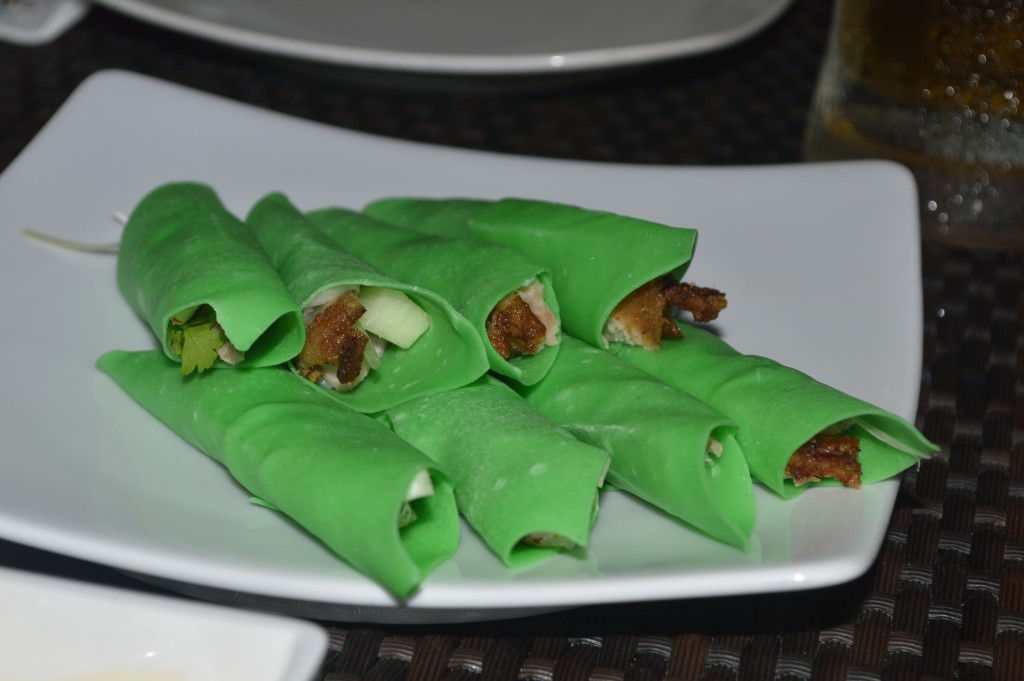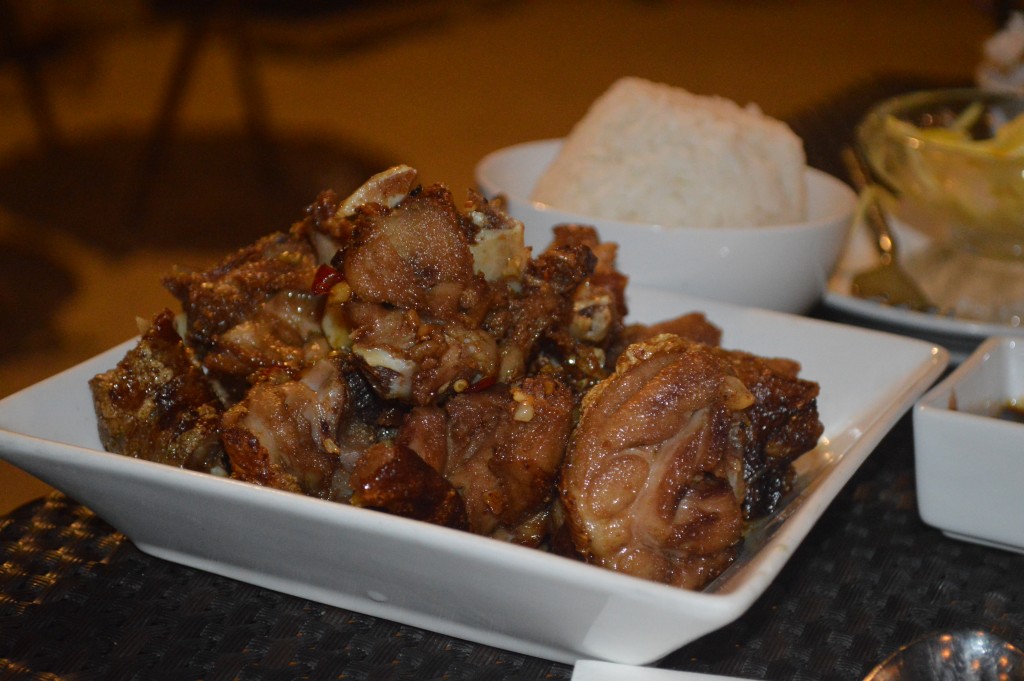 Above: Pandan pancakes filled with "lechon" suckling pig, as well as stir-fried lechon at Mesa.
Mesa
Mesa is a sort of fancy Filipino restaurant chain that we saw both in Manila and on Boracay. One of the perks of eating at Mesa Boracay is that they have extended the restaurant (although many White Beach restaurants did this) on to the beach itself. So you sit on the beach itself enjoying dinner. From my experience this is something you usually have to pay extra for in certain resorts. So I found it very nice. Anyway, the food at Mesa is very nice and especially so is the crispy lechon. Lechon is basically a roasted suckling pig, a very popular dish in the Philippines. At Mesa, you order from 1/6 of a lechon (which the two of us did) up to an entire pig. The lechon is served two ways, sliced in pandan pancakes and then the remaining lechon is stir-fried in chili and garlic. Sort of like peking duck. Except for the pandan pancakes that were on the dry side, the both dishes were really delicious. The stir-fried suckling pig (note that they stir-fry the already crispy roasted pig) was really something. Best dish we had on Boracay, but also the most expensive at around 1 000 ++ Php.
Location: Close to station 2 at the Henan Resort (former Boracay Regency).
Prices $$$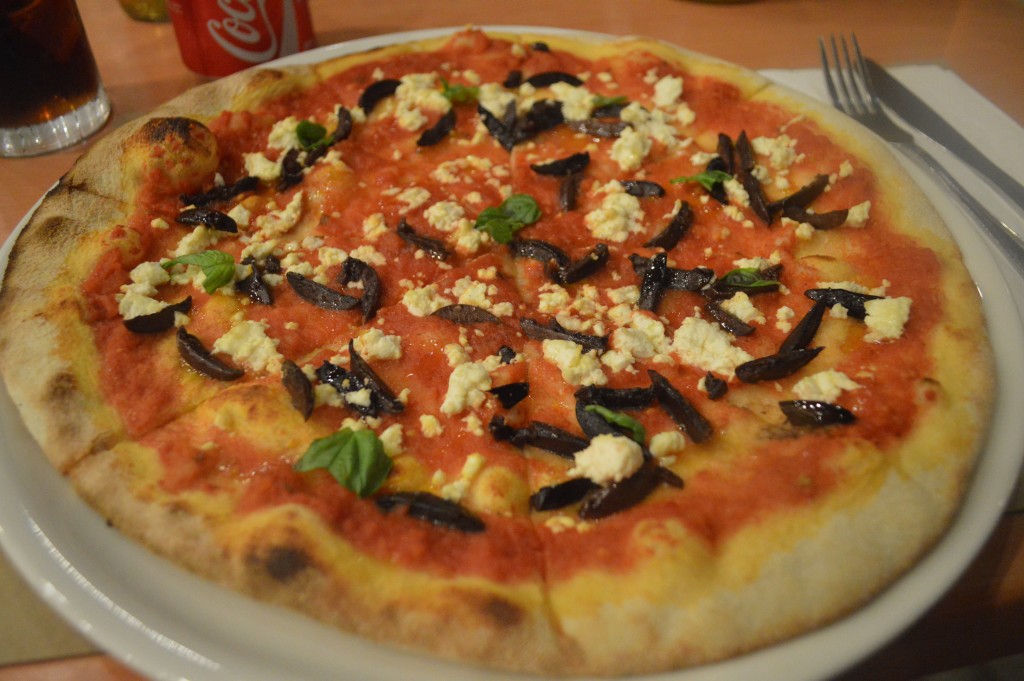 Above: Pizza at Aria.
Aria
One night we did a short break in our Filipino eating experiences since we were both desperately craving pizza. We did a little research about the local pizza situation, and based on empirical evidence from a walk-by combined with written reviews we went for Aria restaurant. Aria is an Italian restaurant located adjacent to D' Mall near Station 2, and I read good things about their truffle pasta, but it was pizza that was the focus of the night. We ordered a Greek pizza, with olives and feta, and a "Diavolo" with mozzarella and spicy salami. Pizza's were surprisingly great and I really enjoyed mine. The dough was nearly perfect but the mozzarella cheese could have been better.
Prices $$$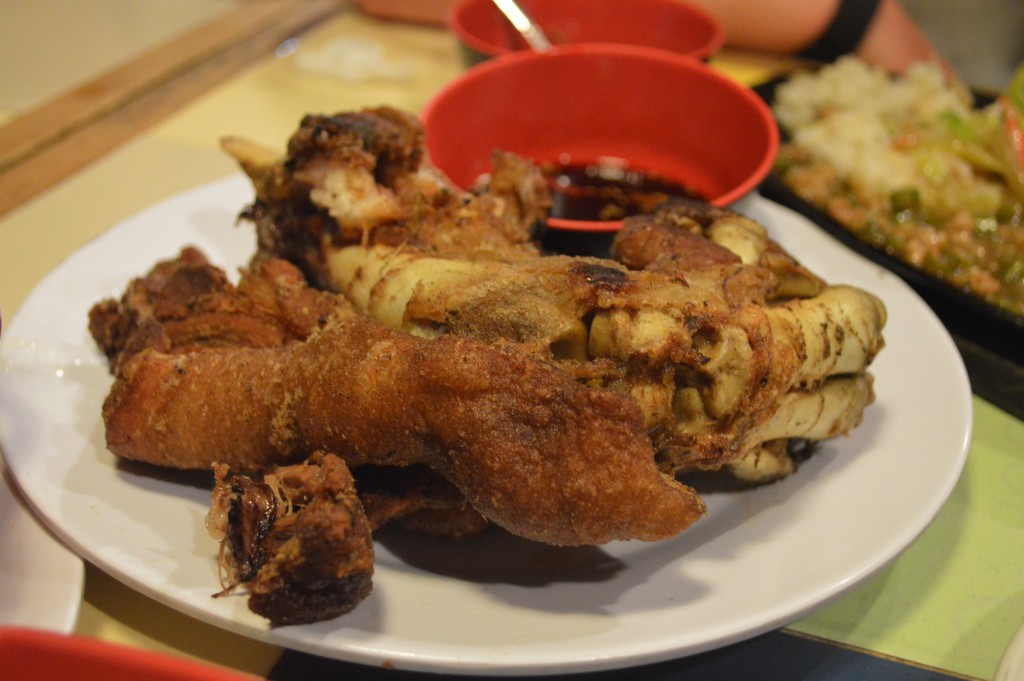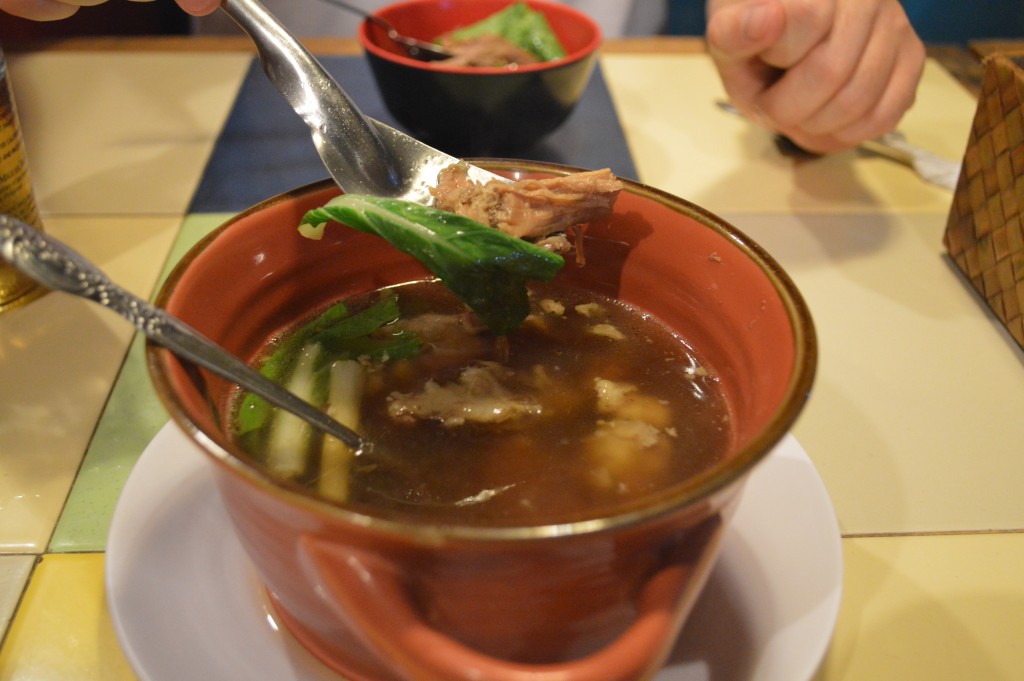 Above: Smoke Resto, bulalo and crispy pata, at Smoke Resto.
Smoke Resto
When visiting Manila, one of our taxi drivers started chatting with us about Filipino food, and I asked him about his favorite dish. "Bulalo" he answered, and as it happened, Smoke Resto on Boracay had been awarded for the best bulalo in the entire Philippines. Smoke Resto is an authentic Filipino place situated in sort of an alleyway just off White Beach. We arrived quite early and was immediately seated at a table, however just a couple of minutes later the place was full and a line had formed. We ordered (of course) the bulalo, which is a soup with beef shanks and marrow bones that are cooked for a long time to make a really flavoursome broth as well as melt-in-your-mouth-tender meat. I can see why they won their award, a seriously tasty soup. We also tried "crispy pata" which basically was a deep-fried "schweinshaxe" or pork shank, and we also had their beef in dark soy and garlic sauce served with rice. All their dishes were quite simple in look and ingredients, but so tasty, as well as inexpensive. An added benefit was that the place felt really authentic, much more so than many places on the White Beach Strip.
$$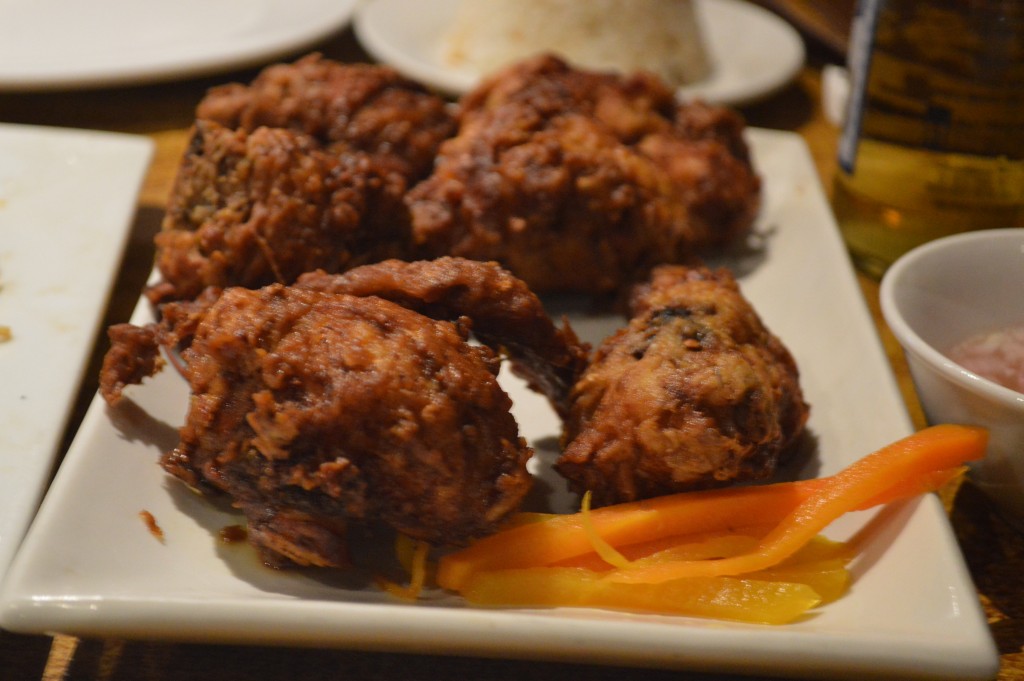 Above: Garlic fried chicken at Gerry's Grill.
Gerry's Grill
We visited Gerry's Grill first in Manila and then again on Boracay when we learnt of its existence. Food was as good as in Manila and we tried their pancit noodles, their pork floss adobo, garlic fried chicken, water spinach and grillad pork skewers. Everything delicious, although not spectacular. Prices are very good though.
$$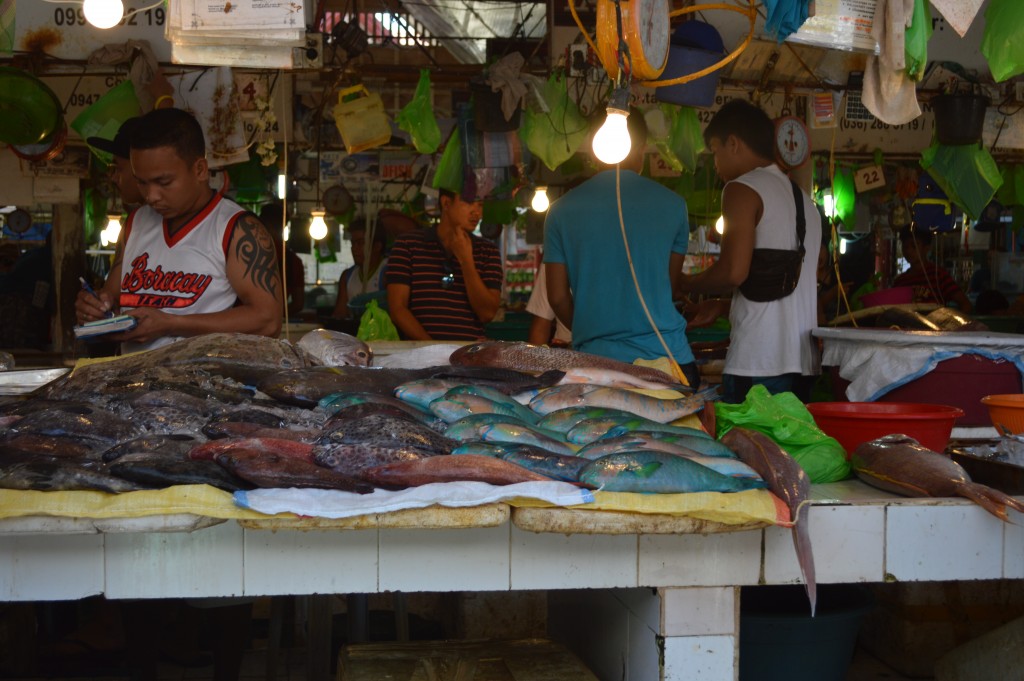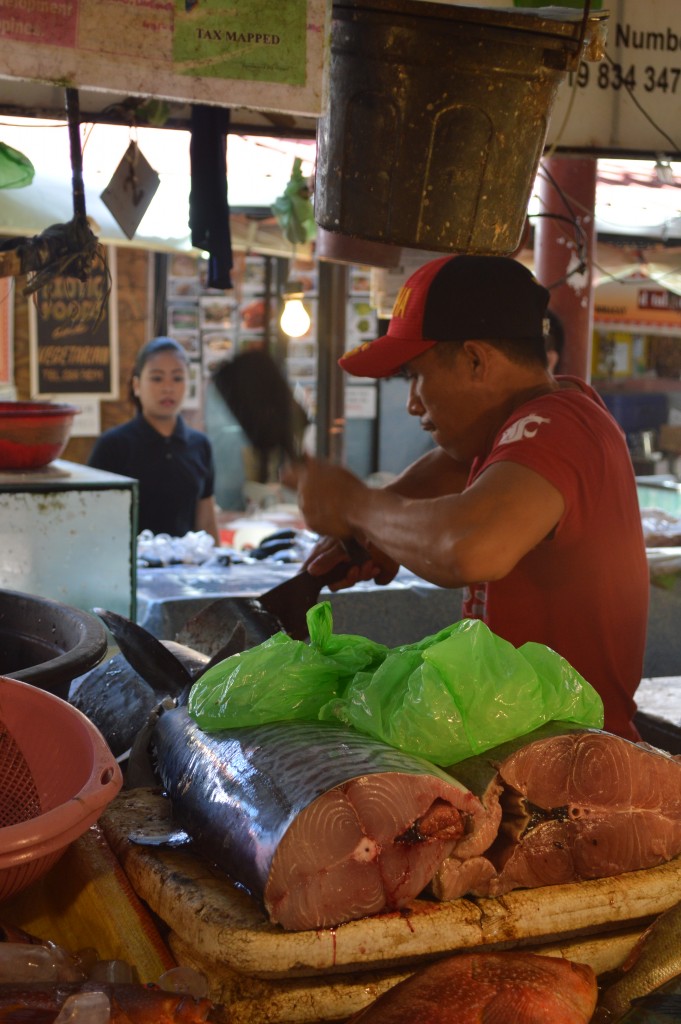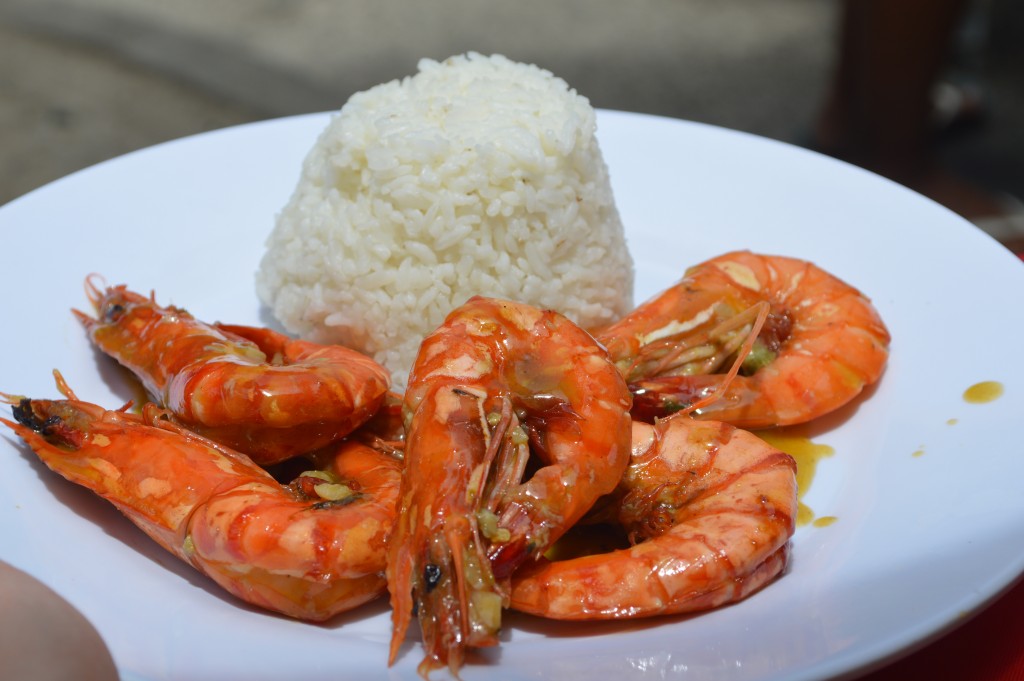 Above: D'Talipapa market action as well as our prawns that was bought at the market and then cooked at Sababi Paluto restaurant.
D' Talipapa and Sababi Paluto restaurant
The local wet market on Boracay is called D' Talipapa and is located along the main road a few blocks from White Beach. We had a bit of a struggle to find it, but if you walk up to the main road along the street up from White Beach that passes a McDonald's, you're on the right way. When you reach the main road, turn right and just walk a couple of meters until you see signs to D'Talipapa. You can also reach it through the alleyways from White Beach strip. Can't really give a good description for that though. Well, the experience then. We visited quite early in the day, and the market was quite relaxed. The idea is that you purchase fresh or still alive seafood or fish from the vendors, you need to haggle a bit. We did not reach that great of a deal, but we were happy with the small discount we got as it was a fun experience first and foremost. We bought a dozen of prawns and went to the nearby Sababi Paluto restaurant since they had the most customers. Paluto means that they cook the food you bring according to your instructions, and we got a small menu with prices for the different options available and opted to have our prawns sautéed in butter, garlic and a hint of chili. The food took a little while to arrive, and meanwhile we could enjoy watching the grill chef cooking others guest's whole fish fillets, making us regret only buying prawns. The food arrived and was really delicious. Although the prawns were slightly expensive, having them cooked was not, so all in all it turned out to be one of our both best and most inexpensive meals of the week on Boracay. Very recommended both for the experience and the tasty food.
$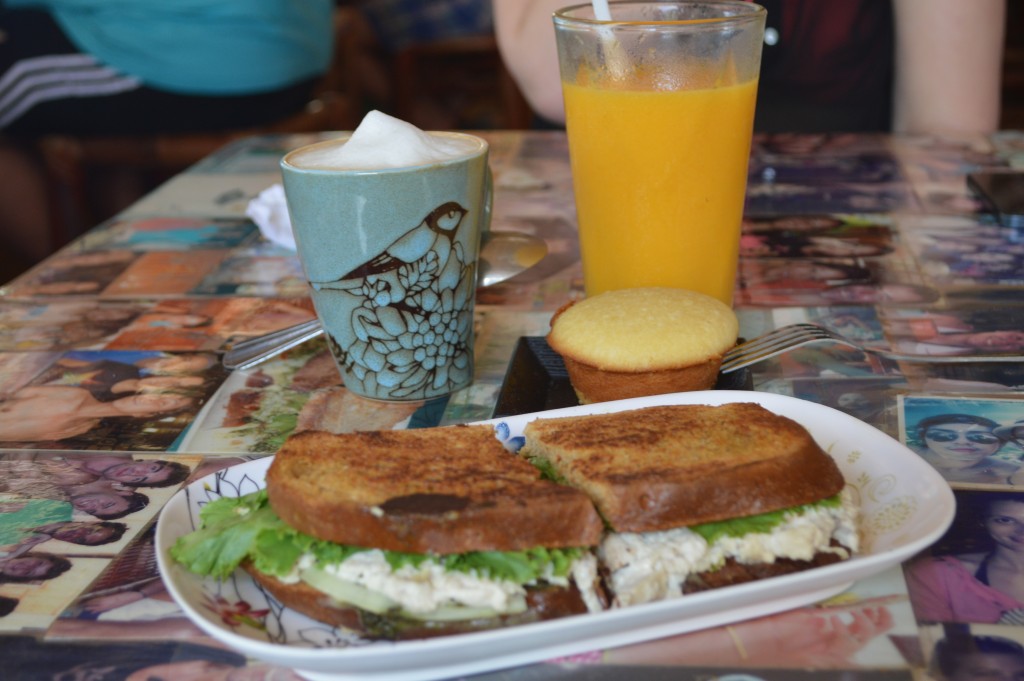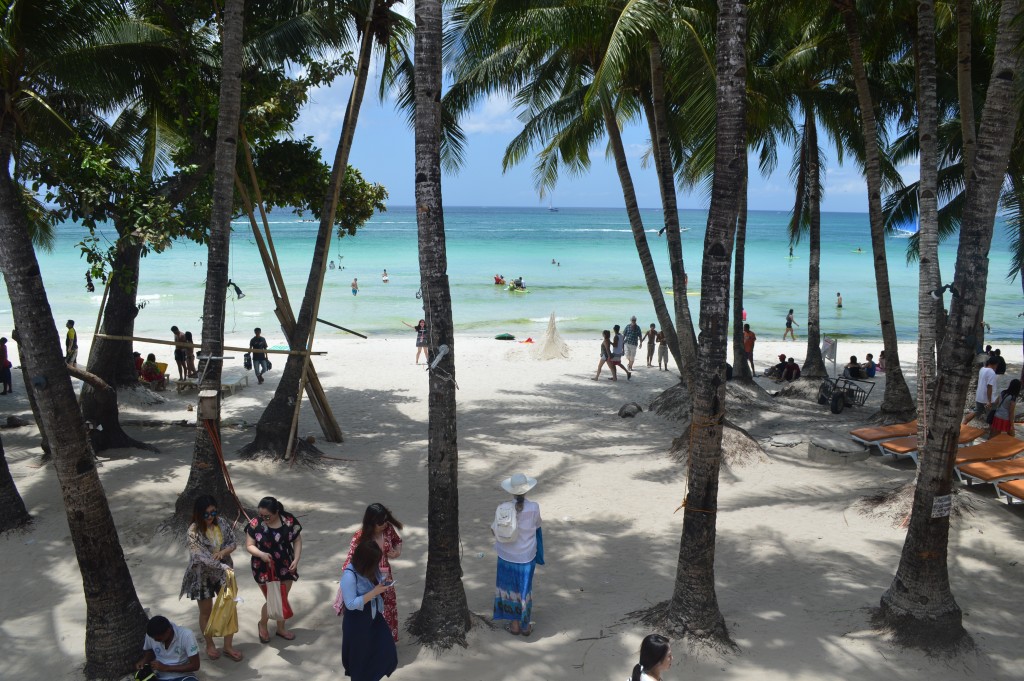 Above: Real Coffee Boracay's chicken sandwich, coffee, juice and kalamansi muffin.
Real Coffee Boracay
They have dishes like grilled sandwiches but are famous for their kalamansi muffin which I found was the best of the things I tried. Coffee is also better at Sunny Side (above).
Location: just outside D'Mall with views over the beach from second floor.
$$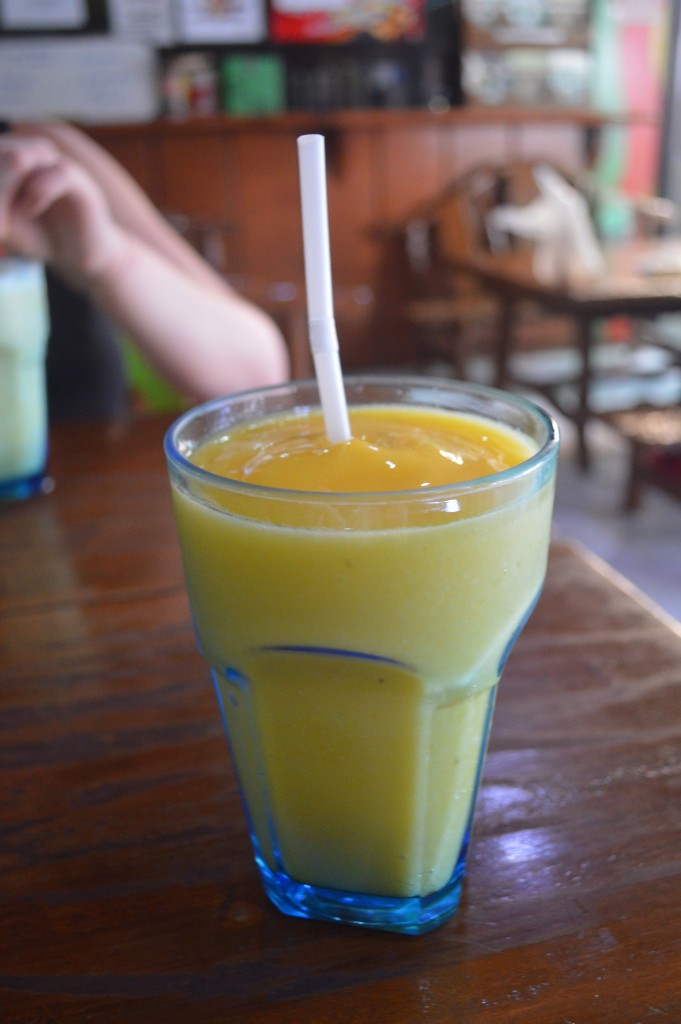 Above: Juice at Jonah's fruit shake.
Jonah's fruit shake
On main road, so a bit of treck through alleys if you're going from White Beach as we did. Worth the walk though, ask a local if you can't find it. Note: it seems like there was (or still is) a Jonah's on White Beach itself, but we couldn't find it. So we walked from about Gerry's Grill towards the main road and managed to find it after asking a few locals. It's not far, and the fruit juices and shakes are delicious.
$