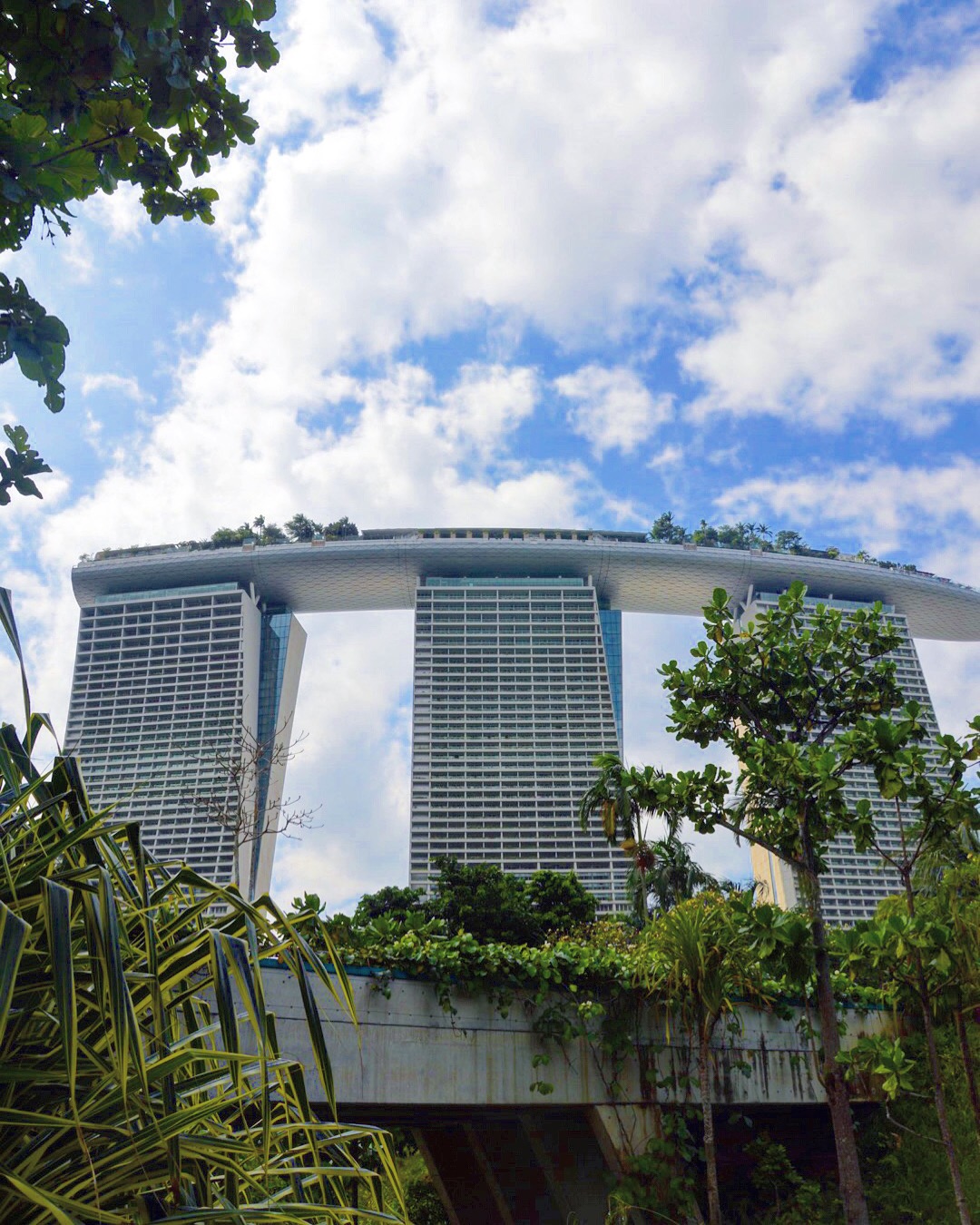 Being my third visit to Singapore, I've not been able to miss the enormous, pretty-yet-slightly-ugly, structure of three buildings topped off with an ironing board, sort of.
The space ship-y structure is of course the Marina Bay Sands, a huge complex including a hotel; casino; giant shopping mall; the world's most Instagrammed swiming pool; and, naturally, canals with gondolas.
In spite of my slightly pretensious intro, I've always loved Marina Bay Sands. I have a thing for futuristic, slightly over the top architecture, and MBS together with a couple of buildings in Dubai might be one of the best examples of that style.
So, anyway, third time in Singapore, and we decided to fork out and stay our last night at Marina Bay Sands.
Price for one night in a club room
After doing lots of research we decided to go for a club room, which in addition to the room also gives you a range of perks. For one night we paid around 650 sgd in total with taxes. A huge price for one night, but it was sort of worth it.
Checking in
As we arrived the Tower 1 with an Uber, we ditched the lines in the gigantic main lobby and instead entered the Sands lounge for our check in procedure. It was calm, there was free coffee, tea and water, and they made you sit down in a comfy leather chair while taking your details. We purposely arrived early (11 am) to see if we would get access to the pool or even early access to our room. Fortunately both. First they said we would get a temporary visitor card so to access the guests only infinity pool, but the moment after the room was also ready, and off we went to the 49th floor.
The room
I had hoped for a room facing the city (despite booking the cheaper option facing the ocean and Gardens By the Bay), but no luck. We could however see the city from the hallways, lounge and pool so no worries in the end.
The room had decent sized balcony, and surprisingly for such a fancy hotel there was a cockroach on it (not in the room though). Otherwise the room was meticulously clean and fresh. It was big and airy, with all the things needed such as a flatscreen TV, large bed, mini bar, free wifi and a fancy looking bathroom with both shower and a tub. Since the hotel is sort of a destination in itself, we did not spend a great amount of time in the actual room in the end.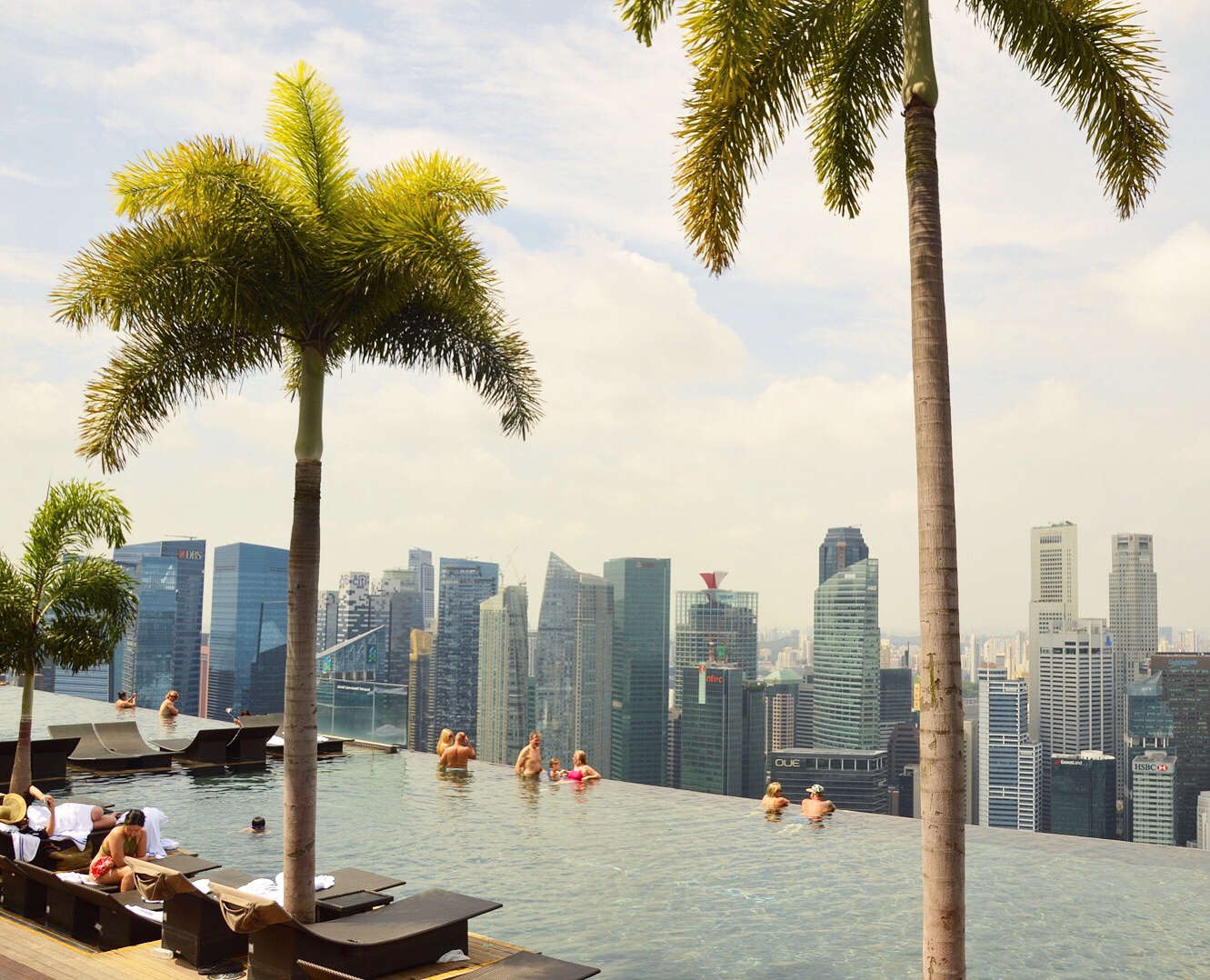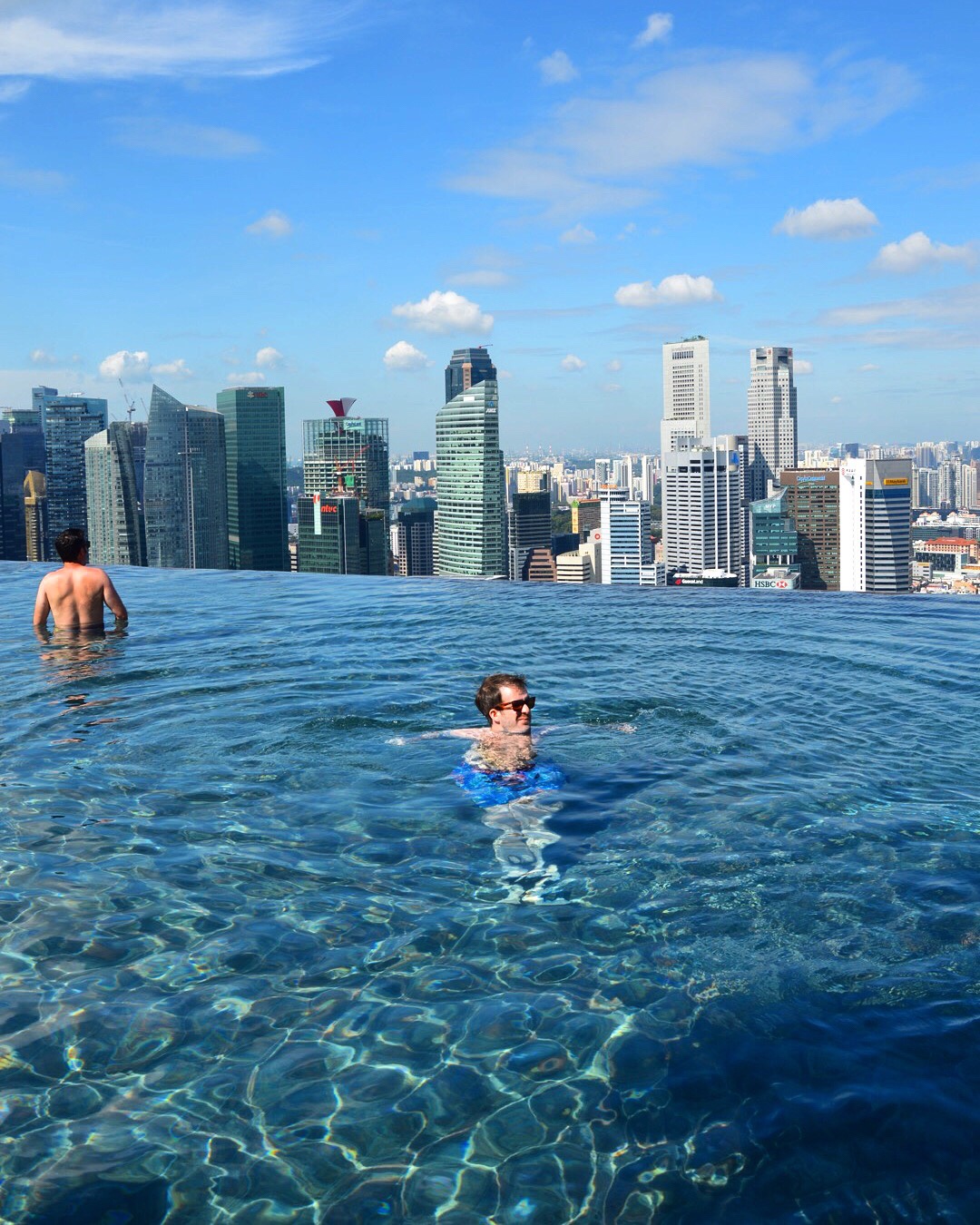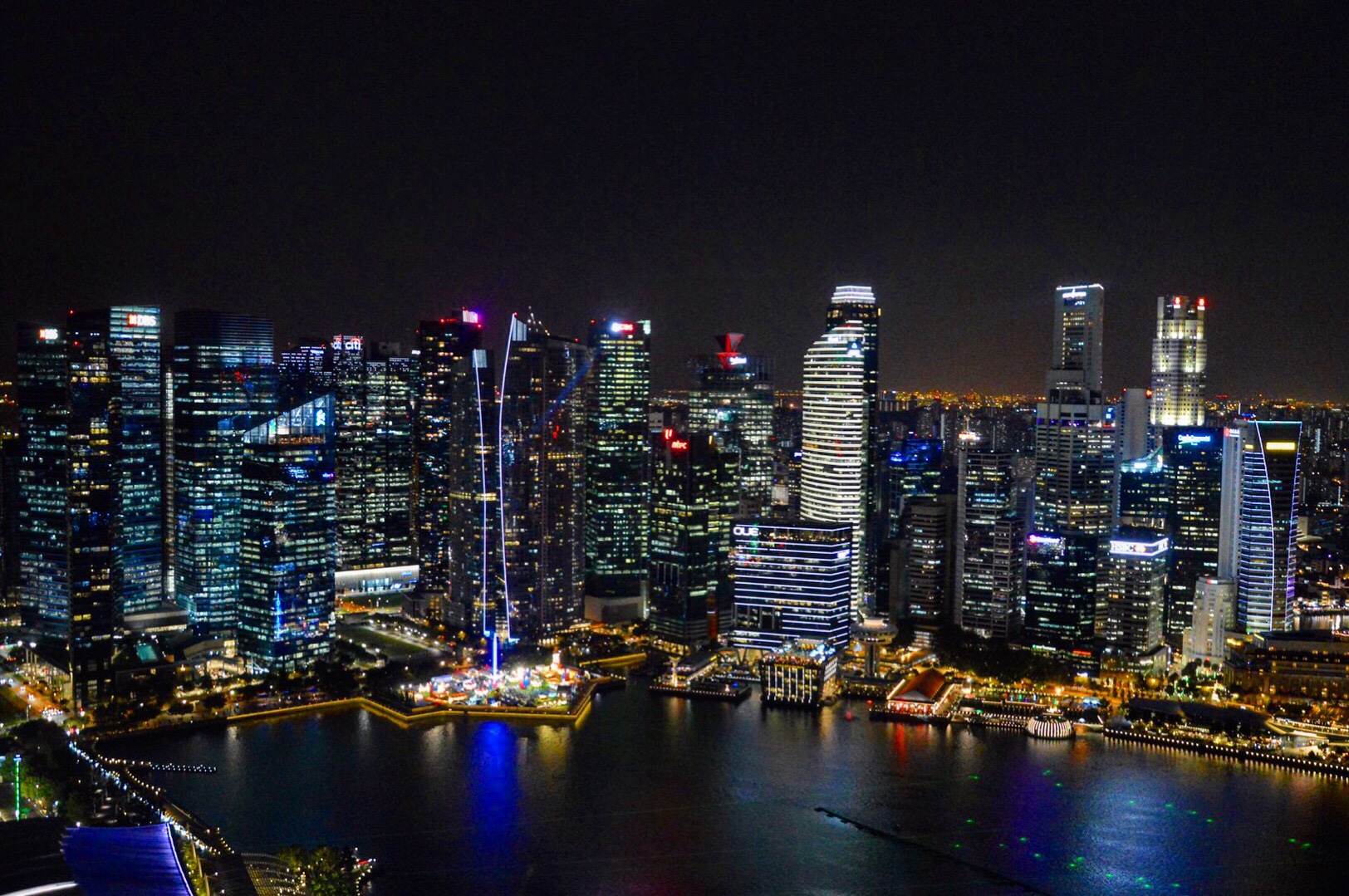 The swimming pool
Marina Bay Sands is probably most famous for its 57th floor swimming pool. Only accessible for hotel guests (although you can sneak a peek of it from Cé la Vie Bar and the admission Sands SkyPark) it offers really spectacular views over Singapore's skyline and a hint of vertigo as the infinity pool seems to end right at the edge of the building (which it sort of does, although there's a bit of edge a bit further down which is only visible if you swim up to the edge). Definitely the coolest (pun intended as it was sort of cold) pool I've experienced. It was quite busy during our visit, but the pool is looong so there's still plenty of space to sunbathe and swim. There's a fair bit of selfie game going on, but less to that I anticipated. And again, the views themselves pretty much motivate the stay in my mind.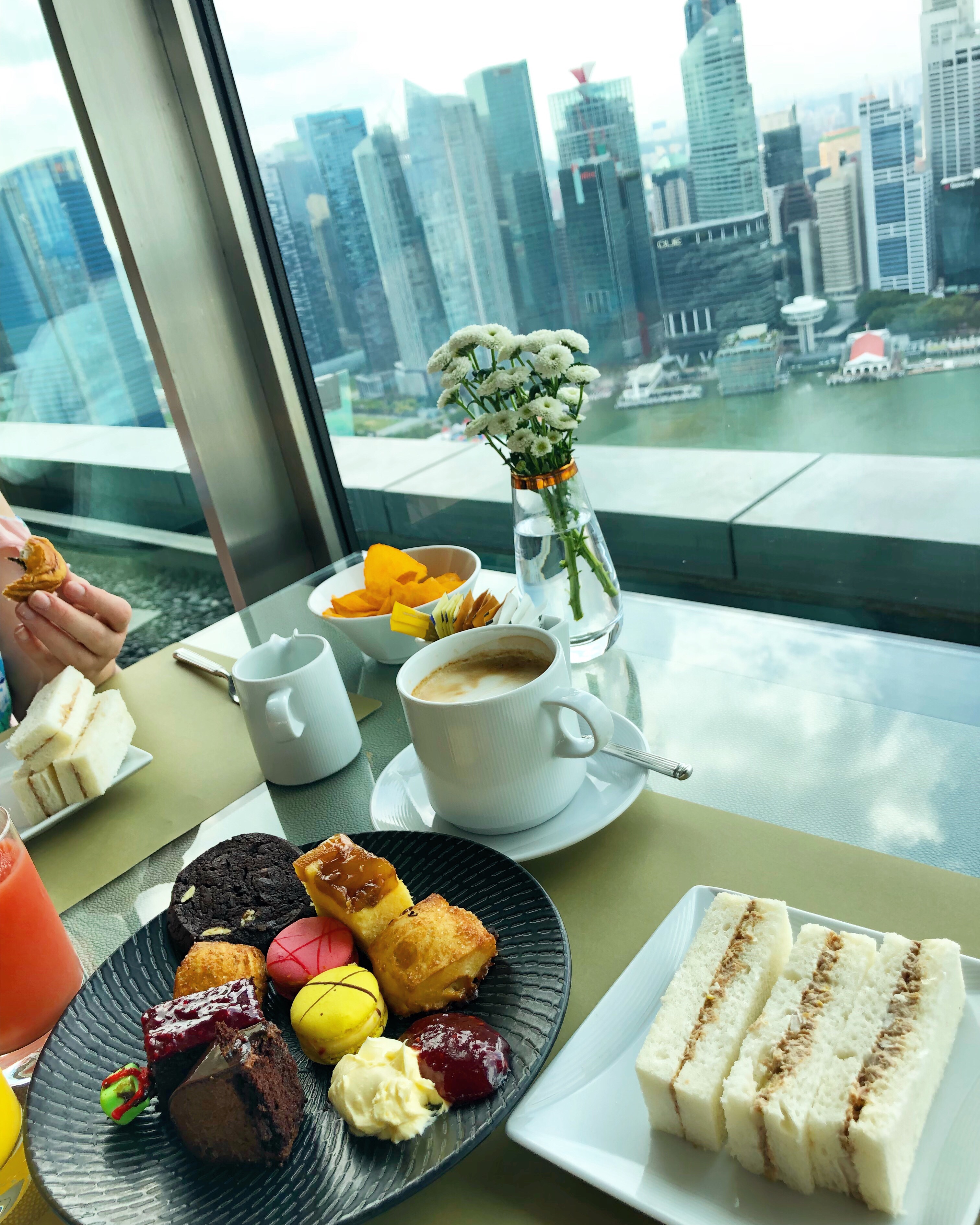 The afternoon tea
In the Club 55 lounge (as name implies located on level 55), which is included in club rooms, afternoon tea is served from around 2 pm and lasts for two hours, until 4 pm. The afternoon tea consisted of a buffet with both savoury and sweet items, but with a focus on pastries and cakes. Great macarons! You are offered coffee (including speciality coffee such as cappuccinos) or tea when you arrive, which is brought to the table. The coffee was so-so, but the buffet items were really nice.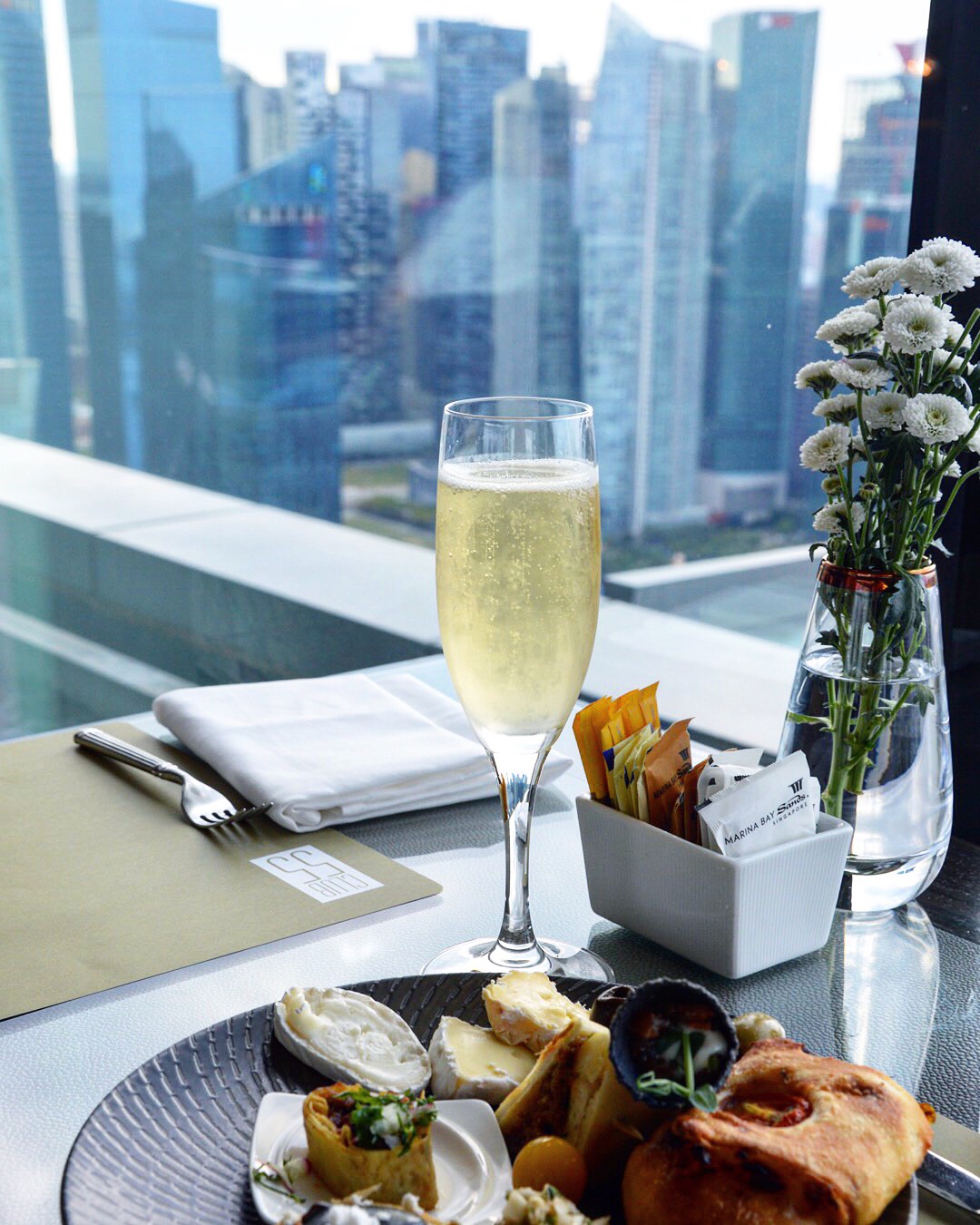 https://foodetccooks.com/wp-content/uploads/2018/01/img_8550.mov
Evening canapées (with free champagne!)
After a brief chance to reload, evening canapées with complimentary cocktails or drinks are served from 5-7 pm in the same Club 55 lounge. We arrived pretty much 5 pm sharp and there was already a line. Five minutes later the line was quite long. We managed to get a window table which was really nice for taking pictures as the sun started to set during our visit. Like the afternoon tea, a buffet is served and is self service. This time it was more focus on savoury stuff, and they had a quite good selection of small and tasty bites such as quiches, cheese, salmon, grissinis, olives and dips. If you're a bit greedy like us, you could quite easily have a quite filling meal.
Drinks are served to the table and they emphasised that there's one (alcoholic) drink at a time. Greedy as we were I think we managed to drink 4 or 5 glasses each of Piper-Heidsieck champagne that was included along with a bunch of other drinks and cocktails. A great argument for the extra $150 SGD we paid extra for a room with lounge access, since "real" champagne is quite pricey in Singapore and we probably drank like a bottle each with possibly the best view in the city.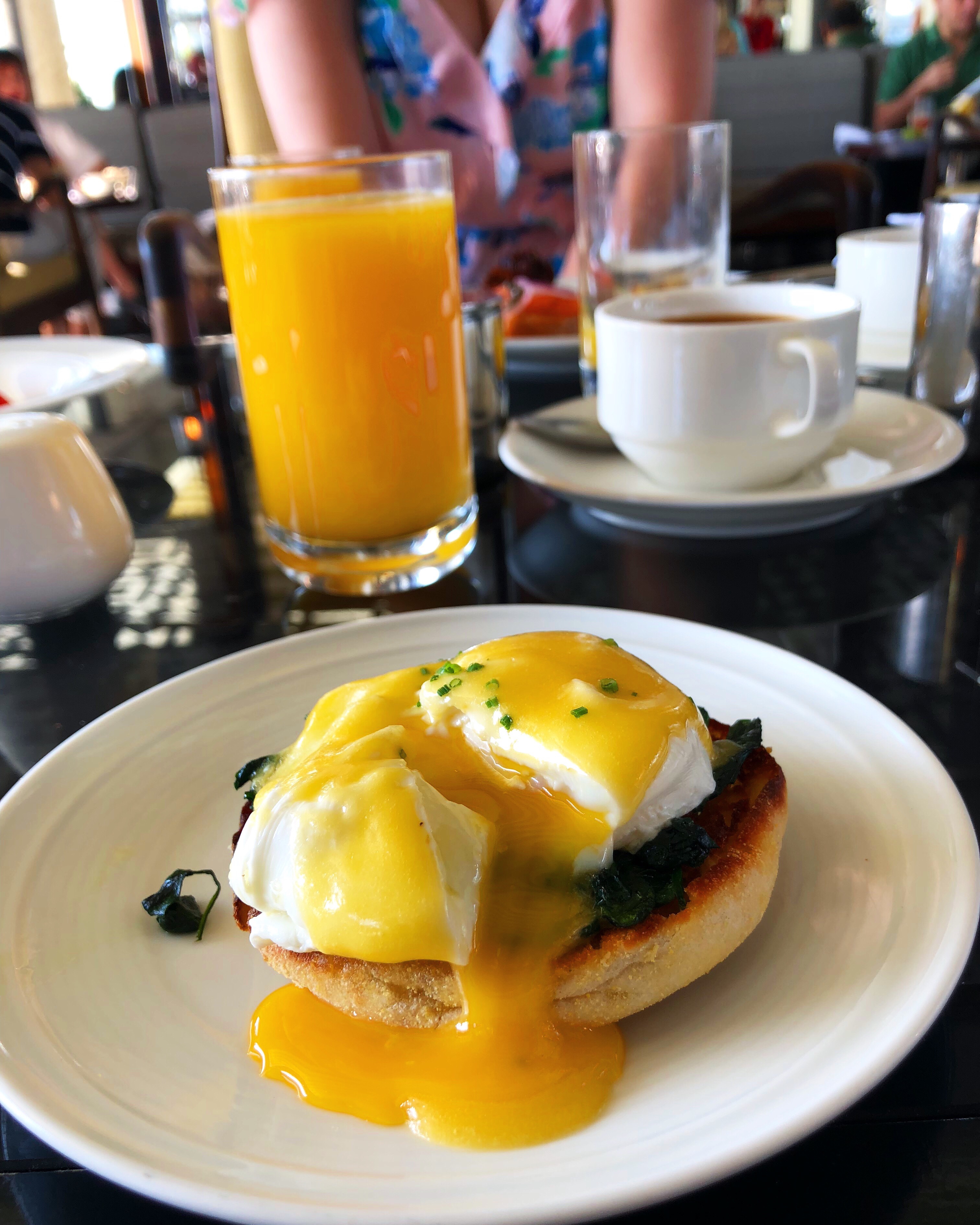 Breakfast
As a club guest you're again entitled to breakfast in the Club 55 Lounge. Although you can also choose to have it in the lobby, OR by the pool, at Spago by Wolfgang Puck. "Why eat inside when you live in a land of that's pretty much covered in ice and snow half year", we thought and took of for Spago around 8 am. There was quite a few that had the same idea though, and we had to wait in line for 10 minutes or so before we were seated. The breakfast was really good fortunately and definitely worth the wait. You can order speciality coffee (included in price) but they won't tell you, as we realised too late after a few cups of bland "hotel coffee". You can also order your eggs according to preference, which included eggs benedicte style, meaning poached on an English muffin with hollandaise sauce. Apart from this a quite large buffet is available with high quality food – both Western and Asian. Tasty freshly squeezed juices too. A very nice breakfast for sure.
The verdict 5/5
Despite us paying pretty much the exact same price for one night at the Marina Bay Sands as we paid for our four prior nights at the Hotel Bencoolen at Hong Kong Street we actually found it quite worthwile. I probably wouldn't stay there for an entire stay even if I could properly afford it since there's so much stuff going on that you wouldn't really have a chance to properly experience Singpore. But for 24 hours of feeling like a millionaire, I'd say it's worth its price if you find a deal similar to ours (650 sgd incl taxes).