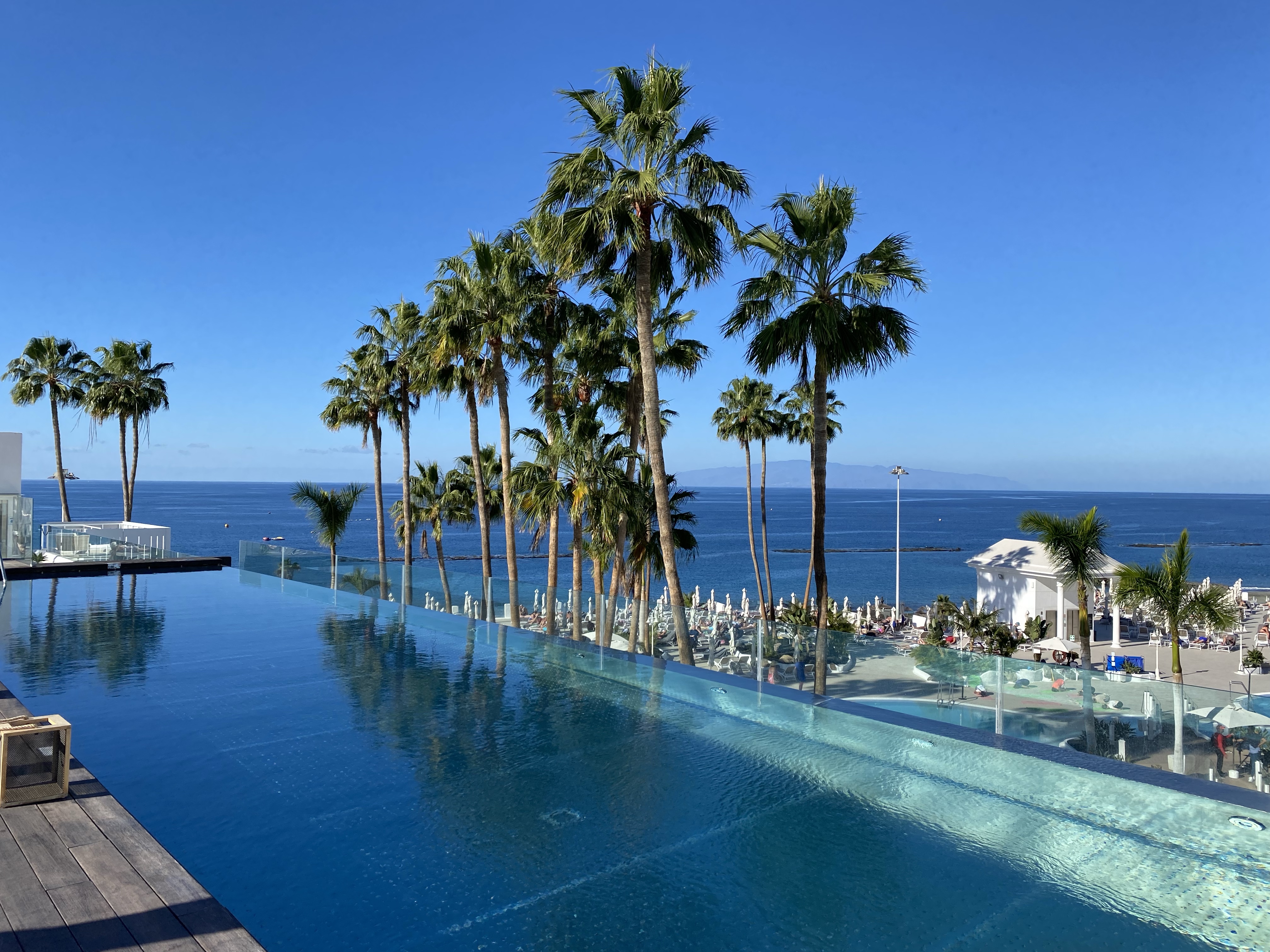 After two years of covid restrictions, cancelled trips and spending almost all of our time at home, we decided to try out how it was to travel in a changed world.
We decided that we wanted to stay in the EU for our first post-covid trip, and decided that Spain, and more precisely Tenerife, offered the weather, the travel rules (only covid passport when we went) and also the direct flights we were after.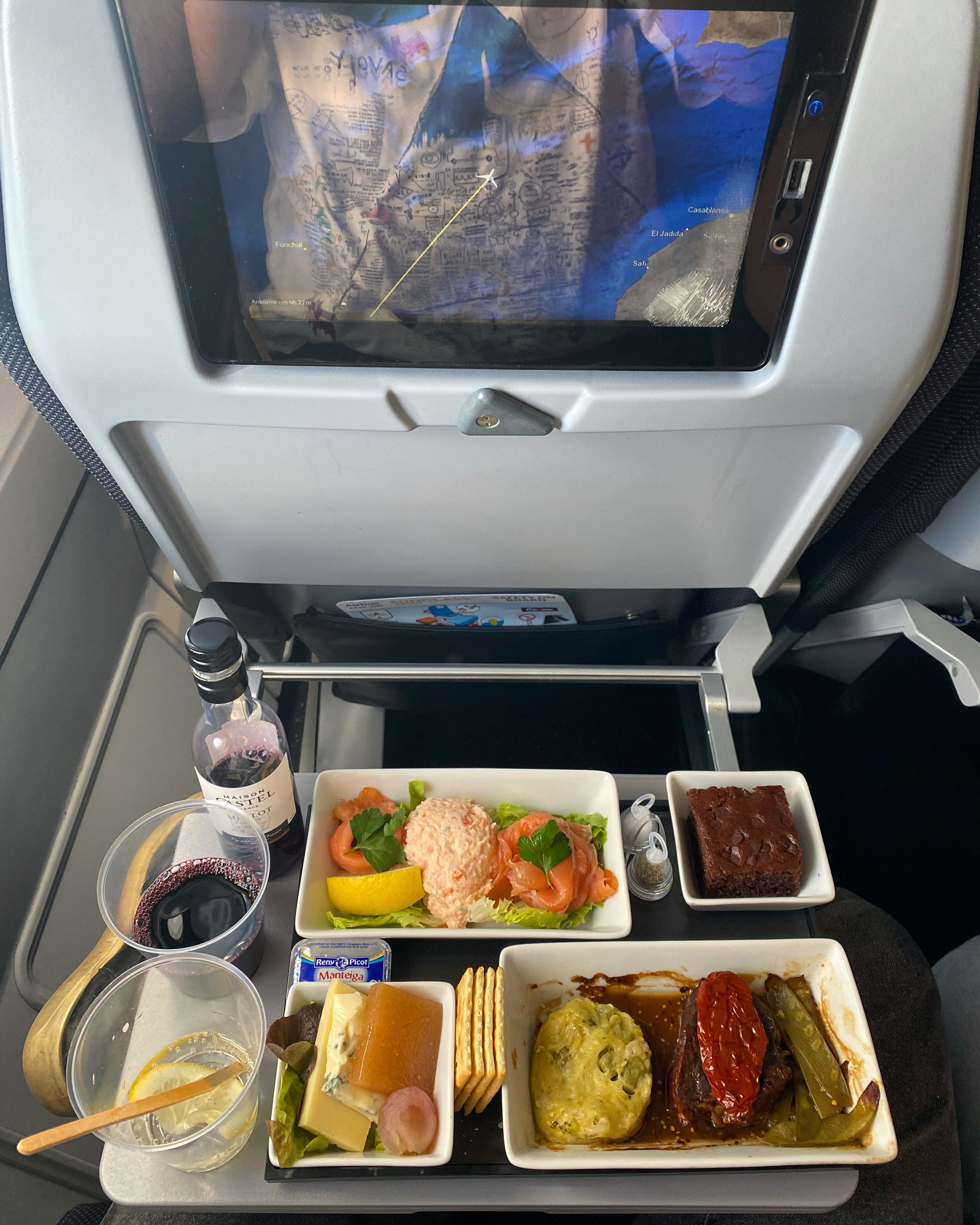 Stocholm Arlanda – Tenerife South with Sunclass Airlines
Tour operator Ving's airline Thomas Cook Nordics has changed their name to Sunclass Airlines (but why?!), but except for the new name I didn't notice any difference. We booked their premium class onboard their A330, which to the Canary Islands just came with an extra 700 SEK price tag, for a 5 hour return flight! Super deal. When booking premium class you'll get around 15 cm extra legroom, free checked in luggage, free headphones and a free meal. Not sure what these cost in regular class, but those 700 extra is probably just 3-400 extra after add-ons. We also decided to splurge and upgrade to their premium meal for the return leg for 195 SEK each, but that includes a drink which is ~70 SEK if you select wine. The meal which consisted of salmon mousse and smoked salmon, beef fillet with potato gratin, cheese and a tarte, was decent, but like many airplane meals, the meat had been cooked too long and was super dry. Last time I ordered the premium meal, on my way to Gambia, it was much better.
Entering Spain with our health control forms and Covid rules
After our flight had landed we showed our Health Control Forms that we had filled in online before the trip, these are currently mandatory for entering spain when travelling from a country at risk, but was quite easy (and free) to complete. We had printed our forms and just showed the QR-code which was then manually scanned.
While we visited in December 2021 there was an indoor mask mandate, meaning you'll have your mask on basically everywhere when you have passed a doorway, doesn't matter if the area has a roof or not. Shopping malls, inside the hotel, even in the outside pool area you wore a mask if moving around. Only time you took it off was when you sat down in a restaurant or on your sun lounger, or went for a swim. Apart from (almost) always wearing a mask the atmosphere was very relaxed, all stores, bars and restaurants seemed to be open and people both behaved and seemed to enjoy themselves.
Vacation time at the Guayarmina Princess in a Platinum room
When staying in a platinum room you have a separate check in desk that also works as concierge. It took a little time to go through all details, but you got a glass of complimentary cava (or orange juice) while waiting, which was nice.
Junior suite with side sea view
We didn't really care for size of the room, but wanted the Platinum perks which starts from junior suite, and since the price was almost the same for a "side sea view" junior suite compared to one without a view, we decided to go for that room category.
The room was quite cool with a free standing bath tub in the middle of it, almost next to the bed. The minibar was stocked with both beer, white and sparkling wine as well as soft drinks, and the first round was free when in a platinum room. The room was situated next to a slope, so despite being on the fourth floor people walking by outside were quite close. The sea view was angled but quite good and we could see both the ocean and the neighbouring island of La Gomera from our balcony. We did not spend a lot of time there however as views are everywhere in the hotel.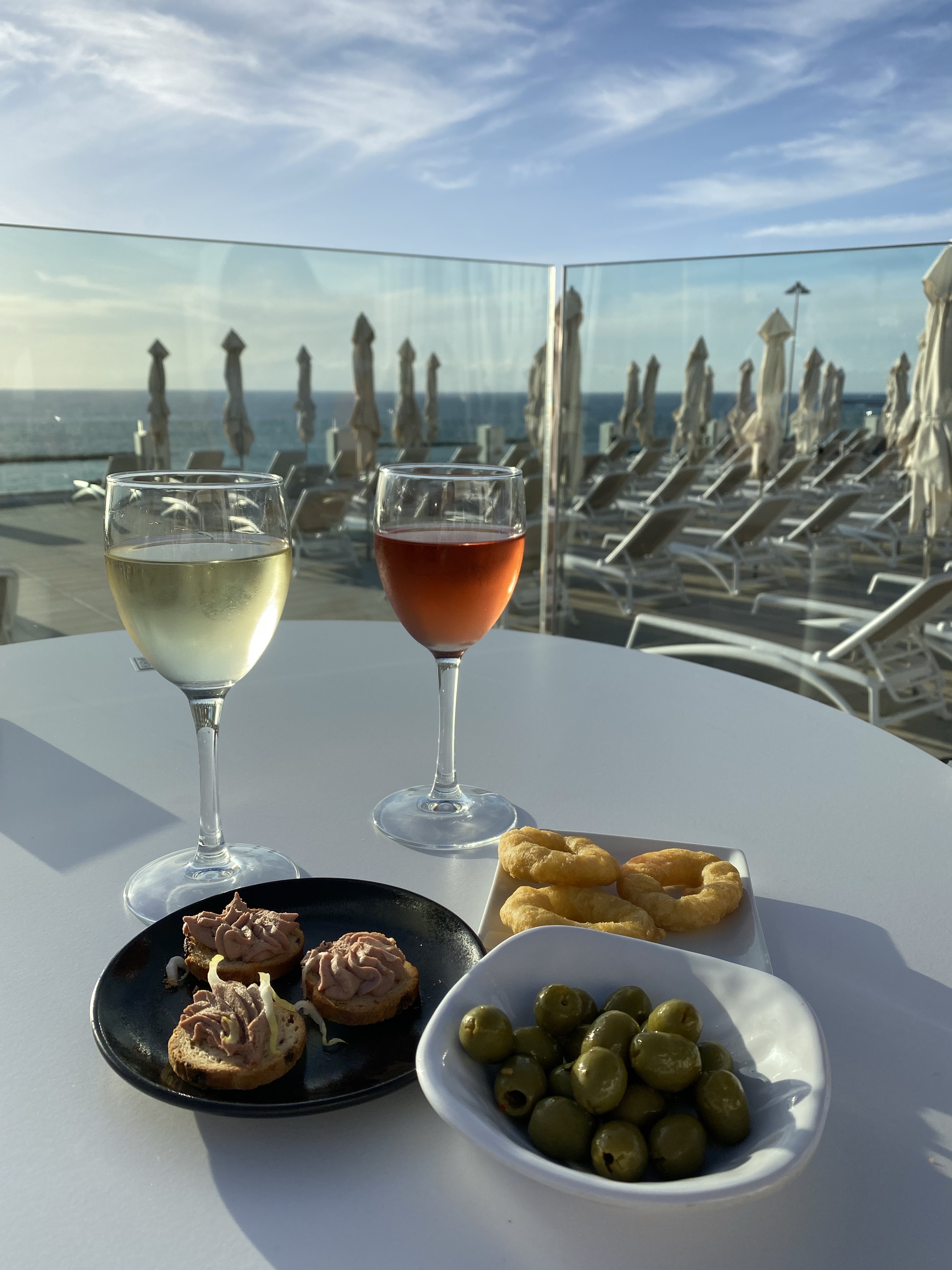 Cocktail hour with sunset and volcano eruption views (at least in December 2021)
One of the nicest perks with Guayarmina Princess' platinum concept is the daily cocktail hour between 17 and 18 o'clock (5-6 p.m.). it is pretty much what it sounds like, each day you'll be served a couple of different drinks (as many as you like) and snacks for an hour. There was beer, soft drinks, rosé, red, two kinds of white wine and bubbles the days we went. The snacks were usually olives, something deep-fried like croquettas, and small canapes with for instance tuna. The cocktail hour is held adjacent to the platinum restaurant which has a terrace with amazing view over the ocean, La Gomera, and the sunset. In December the sun went down a few minutes past six, so each day offered a great sunset paired with your drinks. And we got to see the last puff of the volcano eruption on La Palma while sipping on our drinks on one of our first nights, but probably not something to expect for the next 100 years or so.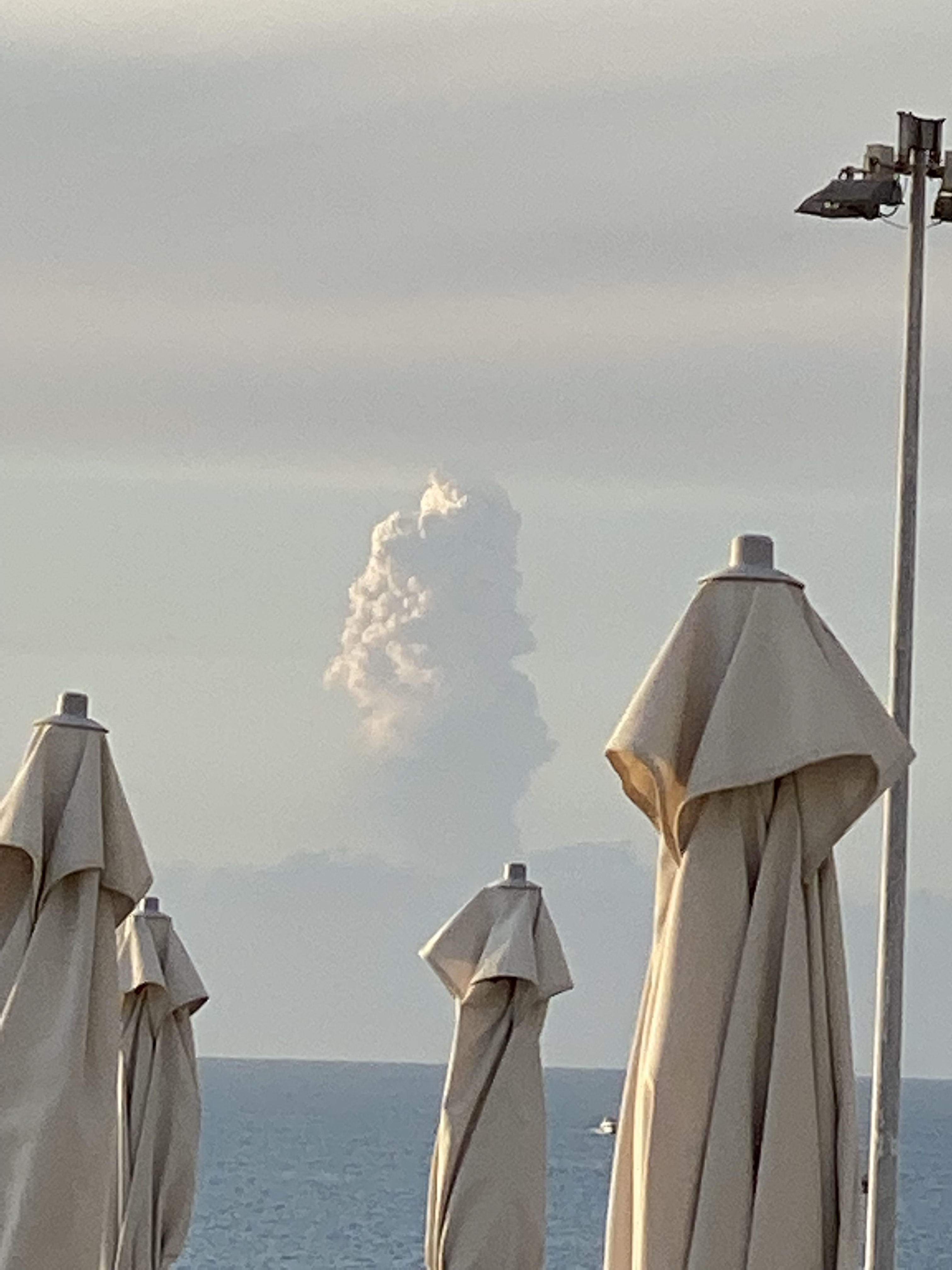 The "App"
Due to covid, Guayarmina Princess' Restaurants are booked by a super convenient new service, they call it an app, on their website. You log in, pick a time slot and then you have your allocated time. This works (and is mandatory) for breakfast, dinner and the pool chairs. Me being a planner, and someone that also gets stressed by the constant "hope it's not too busy at breakfast" and "hope we'll be able to get a sun lounger before other guests claims all of them with their towels", thought this was amazing. You could sleep until late breakfast at 10, then after finishing you'd go back to the room, relax for an hour and then rock up by the pool and your reserved lounger at noon. Like a holiday always should've been. Great concept indeed.
Restaurants in Guayarmina Princess (with platinum full board)
When we booked our stay, our plan was not to eat that much in the hotel. But the price for what we thought was daily buffet was about €10 each, so we thought we'll book that and then we use it to eat in on some nights and go out on some. When we arrived however, we were told that we as Platinum guests could choose any restaurant we want when on half board. Meaning we could opt for full a la carte meals in both the Roast steak restaurant and the semi-fancy Platinum restaurant as many nights as we'd like.
The buffet "Food market"
You can have both breakfast, lunch and dinner at Food Market, and while we only tried breakfast and dinner, I'm sure their lunch is good too. I've had quite a number of buffets in my life, eating the smörgåsbord on the 'Finland ferries' from Stockholm to Helsinki crossing the Baltic Sea to visit relatives, more times than I can remember.
Despite not being a huge buffet fan, I can happily say that Food Market is really good. Maybe not "a gastronomic dream for true foodies" as their website discretely states, but still very good for a hotel buffet. The selection is huge, the quality is of quite a high standard, food is replenished often, and there are several stations where they make a la carte stuff as you order it. Also extra marks for local Canarian dishes such as rabbit, the classic wrinkly papas arrugadas salt boiled potatoes with delicious mojo sauces and fresh sea food. It's also nice that you can sit outside which makes the experience a little less busy. It's not super tranquil inside.
Breakfast is also good and of the same quality. The amount of choice is borderline spectacular, and they have (nice) oddities like fries, which one headachy morning (damn you Café Steps dry martini) gave me the opportunity to make a BLT breakfast sandwich with a side of fries. There are two egg cooking stations for freshly made eggs and omelettes, there's churros and a nutella pump, good bread, yoghurt, fresh fruit, and lots of other stuff.
The Roast
One night we decided to visit The Roast, the hotel's 'modern' take on a steakhouse. They have a semi-a la carte concept at The Roast, where starters and dessert are served at a buffet but mains are ordered a la carte. We tried a few starters which featured items for making your own salad, a bit surprisingly sushi (not great, but not terrible) and a few others. The roast also differs a little bit from the other restaurants as they have a couple of dishes that, like the other restaurants, are included, but they also have a few premium cuts that comes with an additional fee. We were a little bit tempted to try, but being cheapskates we went for the included-in-half board mixed grill instead, which featured a quite generous plate of grilled meats and sausages; pork, chicken, entrecôte/rib-eye, chorizo, morcilla blood sausage as well as a few fried pimientos de padrón. This came with chips, and we picked up a couple of sauces from the buffet since we like sauce. We really like sauce. Desserts? Can't honestly remember, but they were probably alright.
The Platinum Restaurant
Like Food Market buffet restaurant, the Platinum restaurant serves both breakfast and dinner, both inside and outside on the amazing cocktail hour-terrace, mentioned earlier. Bookings for dinner are open from 6.30 by the way, so if you get a last order of drinks a few minutes before six, you might be able to stick around until dinner time if you ask nicely.
The breakfast includes a small buffet with slightly fancier ingredients and items than in the ordinary buffet, such as freshly squeezed orange juice, pastries, and on some days sparkling wine. The selection is much, much smaller though if that is important to you. The main difference however is that you also can order a la carte breakfast dishes, as many as you like. We usually went for their delicious pan tomate; Spanish bread fried in olive oil topped with grated tomatoes and a slice of serrano ham. There is also a fresh fruit platter, full English breakfast since many (most?) of the guests are from the UK, Spanish tortilla omelette, eggs to your choice, pancakes, and a few other dishes.
Dinner is, as mentioned, served from 6.30 and is a la carte except for starter which, like at The Roast is served at the buffet. The Platinum restaurants starter buffet is much nicer than in The Roast though, some nights there was all you could eat shrimps and langoustines and while I still would've prefered starters a la carte too, the quality was very good and you always found something you liked.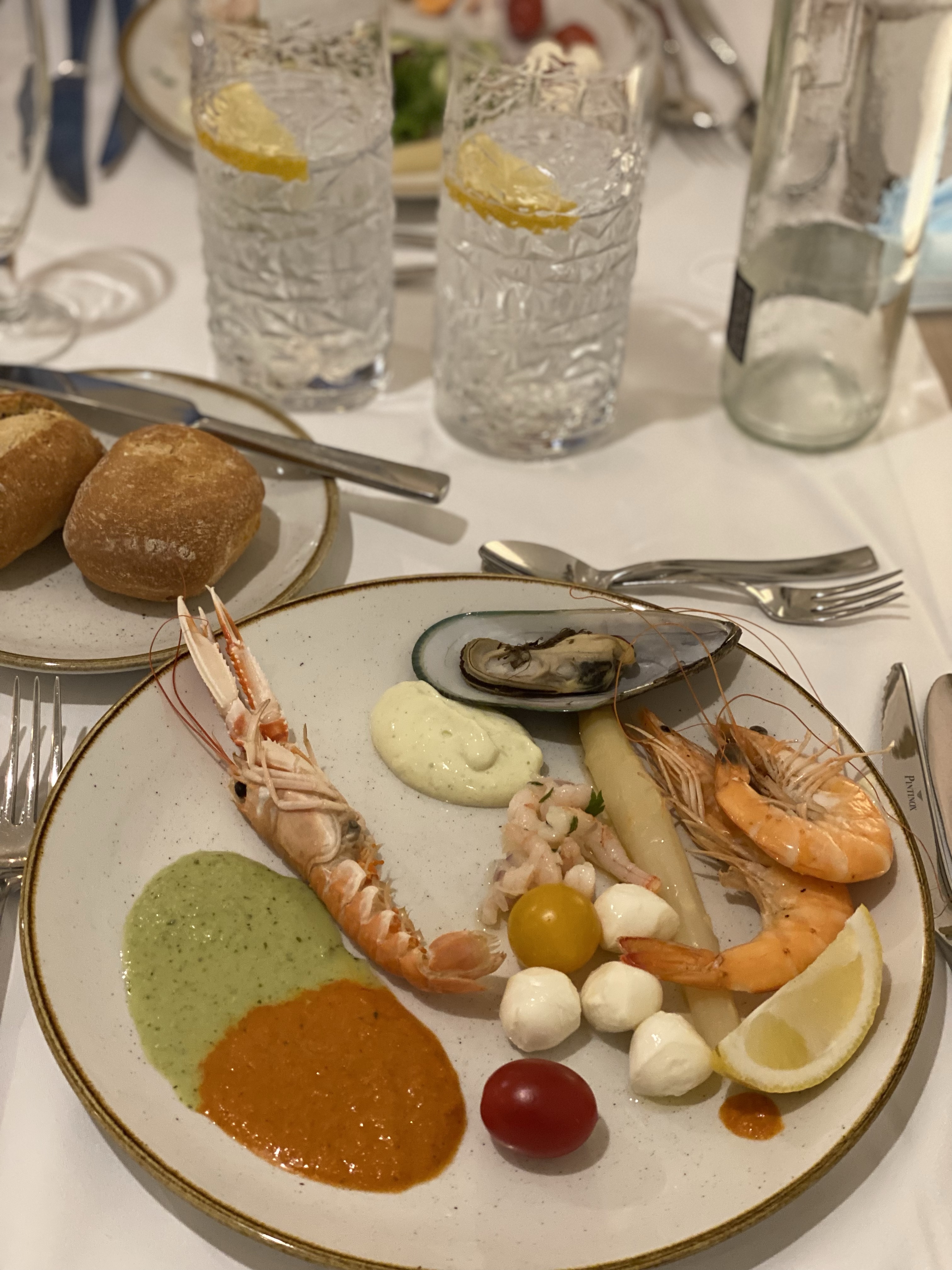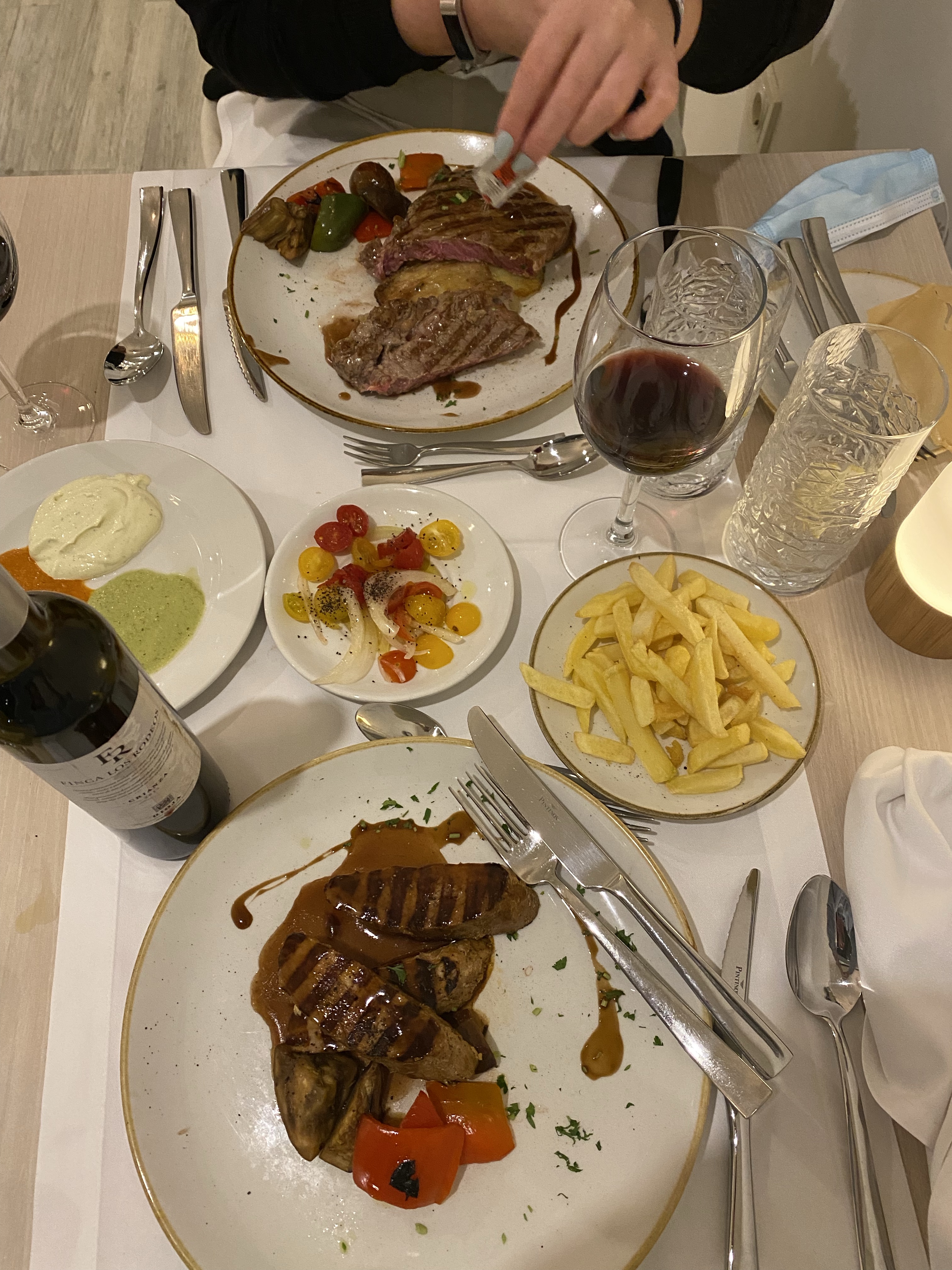 There was about six or seven main courses to choose from each day, and on top of that they also had a few extras such as a daily pasta and special meat dish. The quality is not amazing, but good. Think cruise ship. Our favourite of our three visits was the Iberian pork. Super juicy grilled fillet with red wine sauce and roasted potatoes, that we changed to fries since we are heathens. As in Roast restaurant you are free to complement your main course with items from the buffet, we could, for instance, not have enough of their mojo sauces, and the aioli was decent too.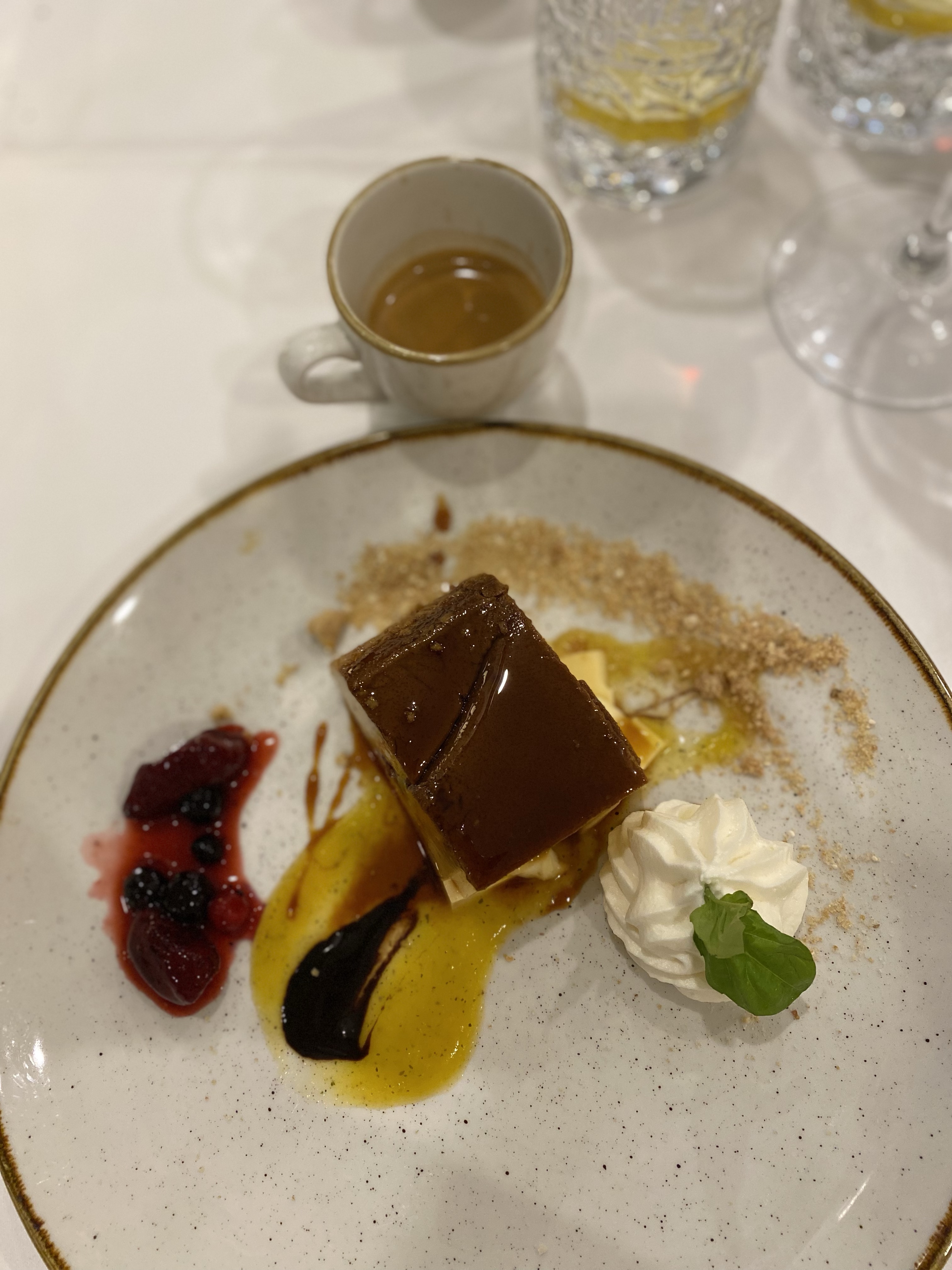 Like the mains, there was a decent selection of different ones to choose from. The quality was, again like the mains, quite good, and we particularly liked their homemade flan with cream. There is a Nespresso coffee machine which you can use (whenever during the day, but also at dinner) if you'd like coffee with your dessert. There is also cheese, crackers and jam in the buffet if you want something less sweet to finish. Or both, as our waiter advised us.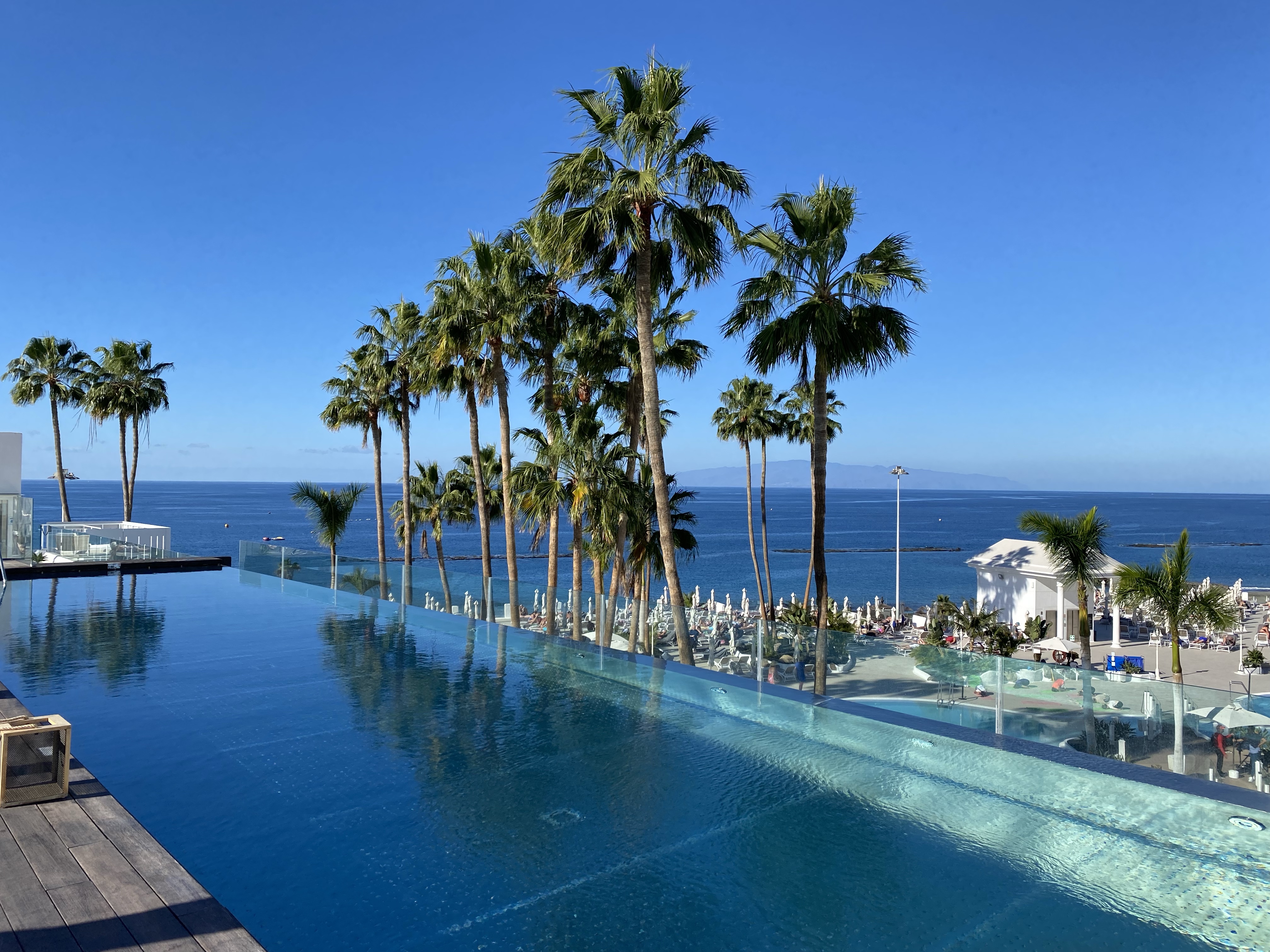 The Platinum swimming pool
The last one of the perks, and booked through the Guayarmina Princess web app, is the amazing Platinum pool. Amazing in terms of views, mostly, as the pool itself, while heated and pretty is quite small. The area around the pool with the bar and the incredibly views over the Atlantic Ocean and La Gomera is spectacular. A top tip is to check the numbers on the sun loungers your first day to see which one you prefer. You can only reserve chairs for one day at a time though. We usually picked one by the pool, but there are also cabanas/day beds that looked really nice. If you get thirsty there's a bar and there are also bathrooms at the end of the area, away from the bar, close to the stairs/fire escape.