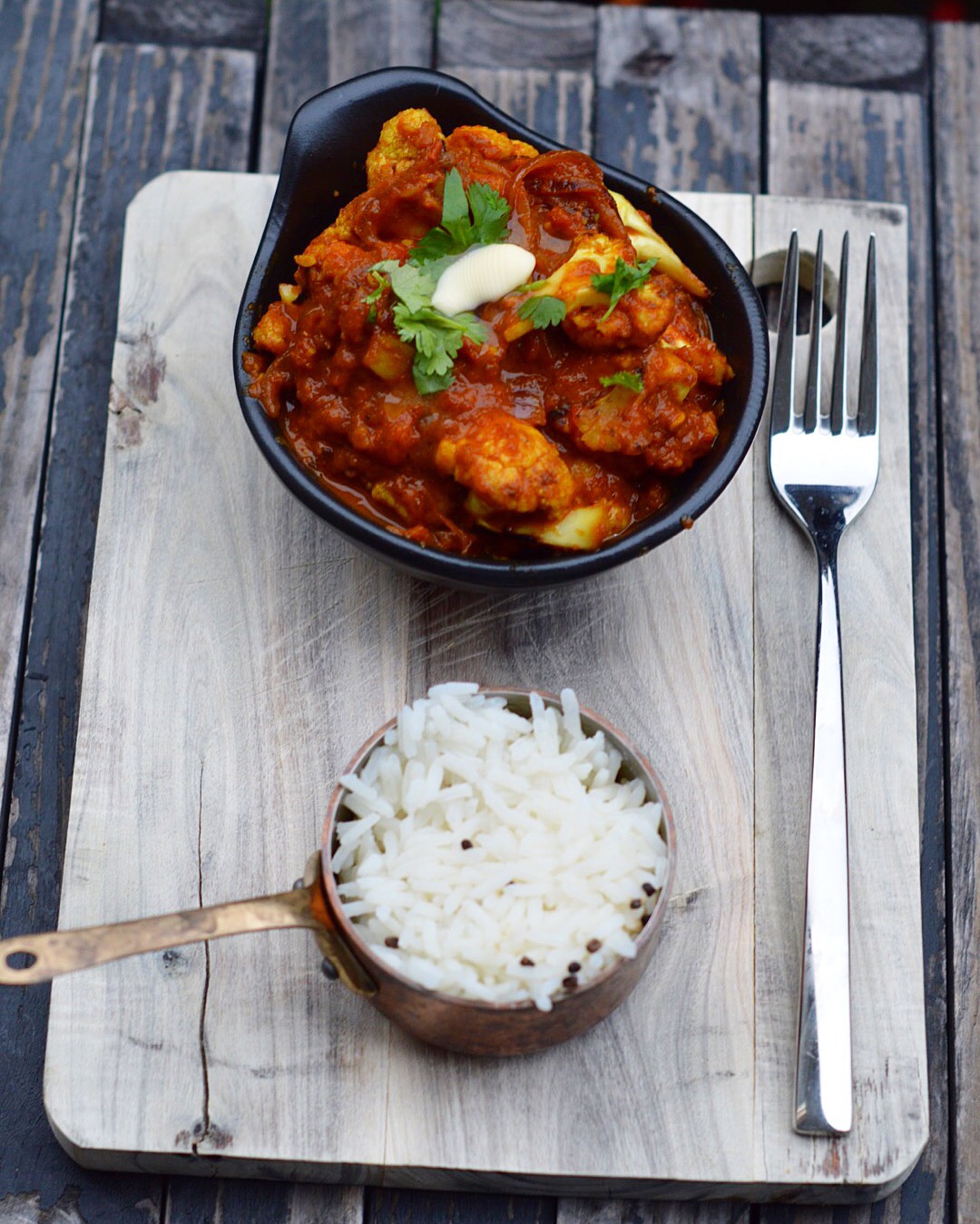 The other day it was Monday again. Monday usually means vegetarian for me. It all started with the 'meatless Monday' concept a couple of years back, and then I kind of got use to eat only vegetarian (all rules with exceptions though) on Mondays. This week I felt like curry, Indian curry, and thought roasted cauliflower should work well with it. It did…
What you need
1 head of cauliflower
2 cloves of garlic
1 red onion
2-3 fresh finely chopped tomatoes or a can of tinned tomatoes
3 tablespoons of cream (or substitute with yoghurt)
1 red chilli
1-2 tablespoon each of garam masala, cumin and turmeric
Neutral cooking oil for frying (or Indian clarified butter – ghee, if you're very ambitious)
Serve with
Fresh coriander/cilantro
Basmati rice
How to cook it
1. Start with the cauliflower. Cut it down to bite-size florets. Then slice the red onion into "half moons" and finely chop the garlic and red chilli.
2. Heat the oil in a cooking pan (I actually used a wok to get it all to fit). When the oil is quite hot, add the cauliflower florets and fry them until the are starting to brown. When that happens, reduce the heat a bit and sprinkle over half of the garam masala, turmeric and cumin.
3. Continue woking the cauliflower until the spices are starting to toast and the florets almost look charred. Then remove the cauliflower from the heat and puts in a bowl or similar, cause you're continuing using the pan/wok.
4. Add some extra oil if needed and fry the red onion on quite low heat until it starts to brown. Then add garlic and chilli and let fry until soft, but not browned. Add the remaining garam masala, turmeric and cumin and let toast for a minute or so before you quite quickly (so it doesn't burn) move on to next step.
5. Add the tomatoes to the onion, chilli, garlic and spices. Stirr and add some water if needed. Let simmer on medium heat for about 10 minutes. Season with salt and possibly some sugar depending on how tart the tomatoes are.
6. Add cream or yoghurt to the curry, continue to simmer for a few minutes. Meanwhile, roughly chop a bunch of fresh coriander and then add that, and the now cooled roasted cauliflower florets to the curry. Let simmer for a minute more or so. Taste, and if all's well – serve with steamed rice, and a knob of butter, if you feel that you deserve it.