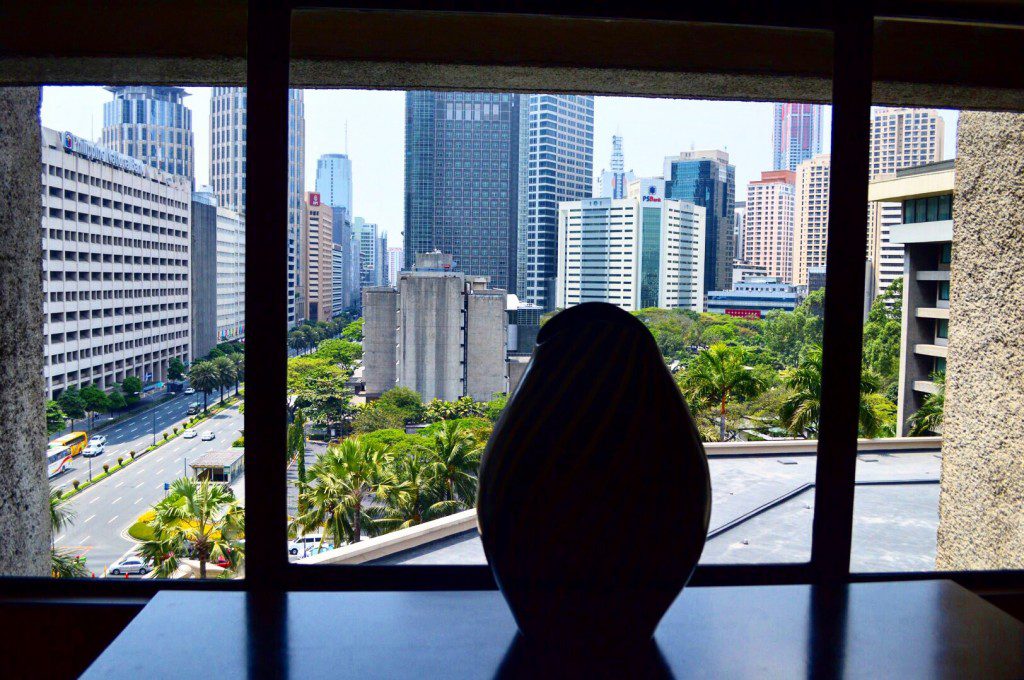 After an amazing flight in Thai Airways' first class (no, I did not win the lottery, I just saved up on air miles) we touched down at Ninoy Aquino International Airport for three days of eating and exploring the Filipino capital and mega city Manila.
Since we got a really nice price (for a Peninsula) we opted to stay at the Peninsula Manila Hotel, situated in Makati, one of sixteen cities that make up Metro Manila – an area with a 35 million population.
Our first day was spent mainly lazying around the hotel and its vicinity. We had a pretty good, but by Manila standards hideously expensive, dinner in the hotel's Spices restaurant featuring Pancit stir-fried noodles with pork, chicken and prawns. We also had Inihaw Baboy, a grilled pork dish.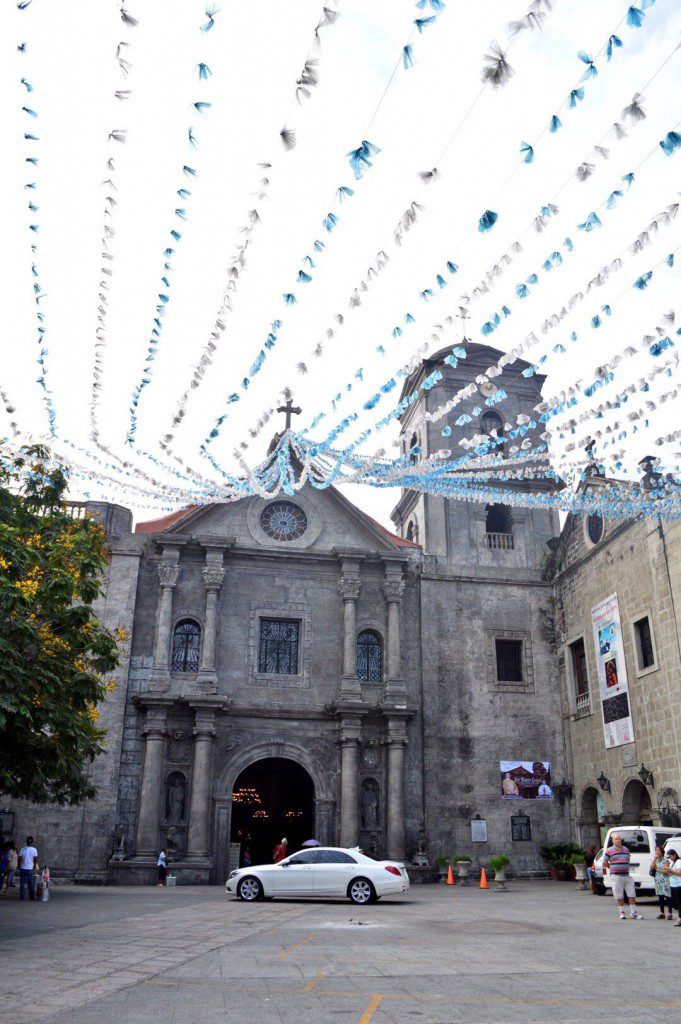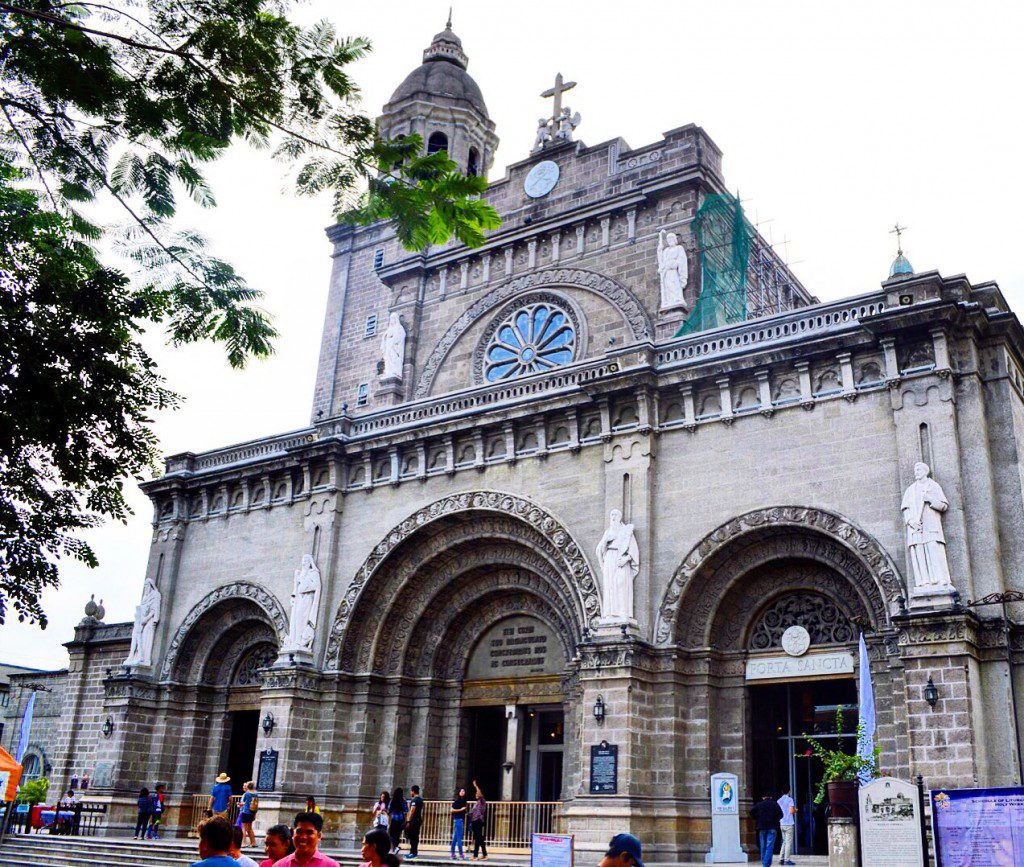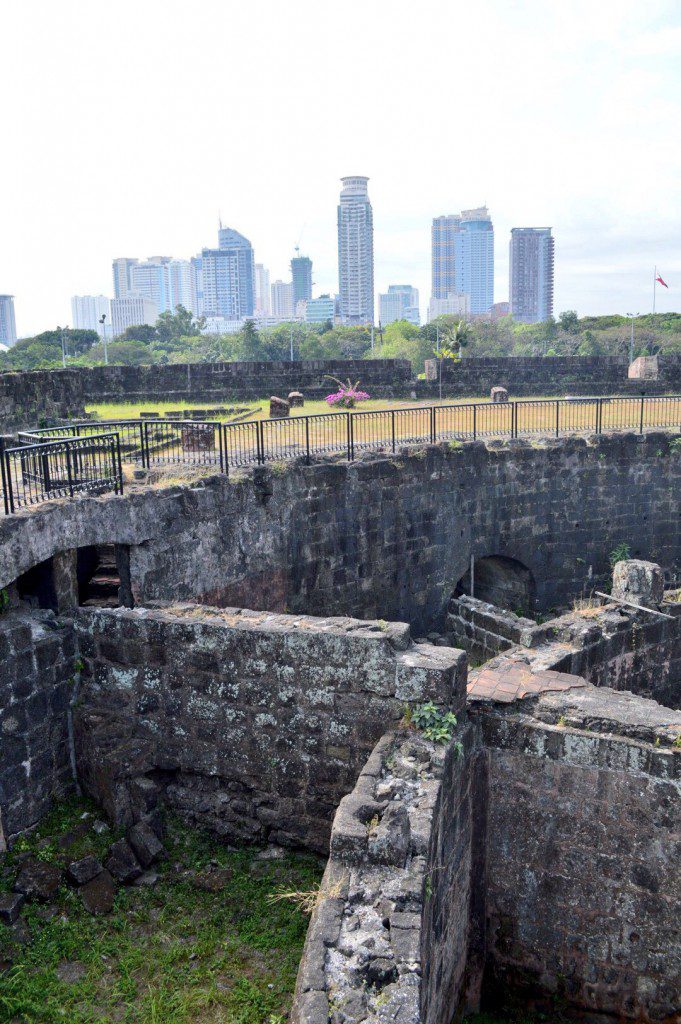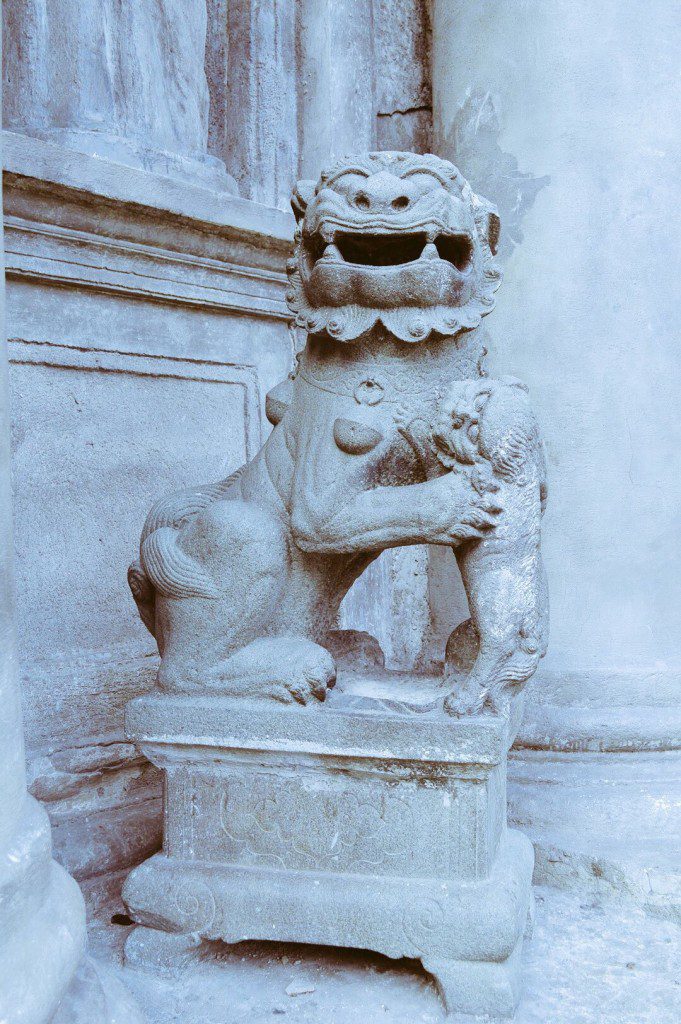 Intramuros, inside the old Spanish walls
Our second day was spent touring Manila's walled city, or old town Intramuros (inside the walls) built by the Spanish in the late 1500s. We selected to get a private tour with "Yolo Tours" which for a reasonable price merged their Intramuros and food tour into a one day experience.
We begun by visiting the Manila Cathedral where we managed to walk right into an Easter mass attended by lots of locals. The Philippines is quite religious and roughly 85 percent consider themselves Christian.
During the World War II Intramuros was heavily damaged (according to our guide basically flattened out) by American bombings of the occupying Japanese invaders. One church in the area managed to survive the war though, the impressive San Agustin Church that was opened in 1607. A hidden secret rests in the church's ceiling and walls. What you ask?  Read on next week and I'll tell… Just kidding. The secret: All the stone carvings are actually painted.
Bull's ball soup in Binondo
After the interesting and sometimes sad history lesson of Intramuros, Manila and the Philippines we went on to Binondo, Manila's Chinatown.
Our first stop was the Café Mezzanine, a place that the local volunteer fire brigade additionally had as their hang out between alarms. We did not experience it, but the restaurant has their own alarm bell, signaling the firemen when there is a nearby fire. We were their for a couple of dishes. First and foremost the soup number five.
Soup number five is a potent (pun intended) soup with bull's testicles as its main ingredient. It felt somewhat appropriate to enjoy balls for which the restaurant profits went to the volunteer firemen which definitely showed some balls putting out fires in their spare time. How was it then? The soup's broth was quite tasty. Salty and fatty. The bull's balls themselves weren't the best thing I have had, but tasted basically like fatty beef.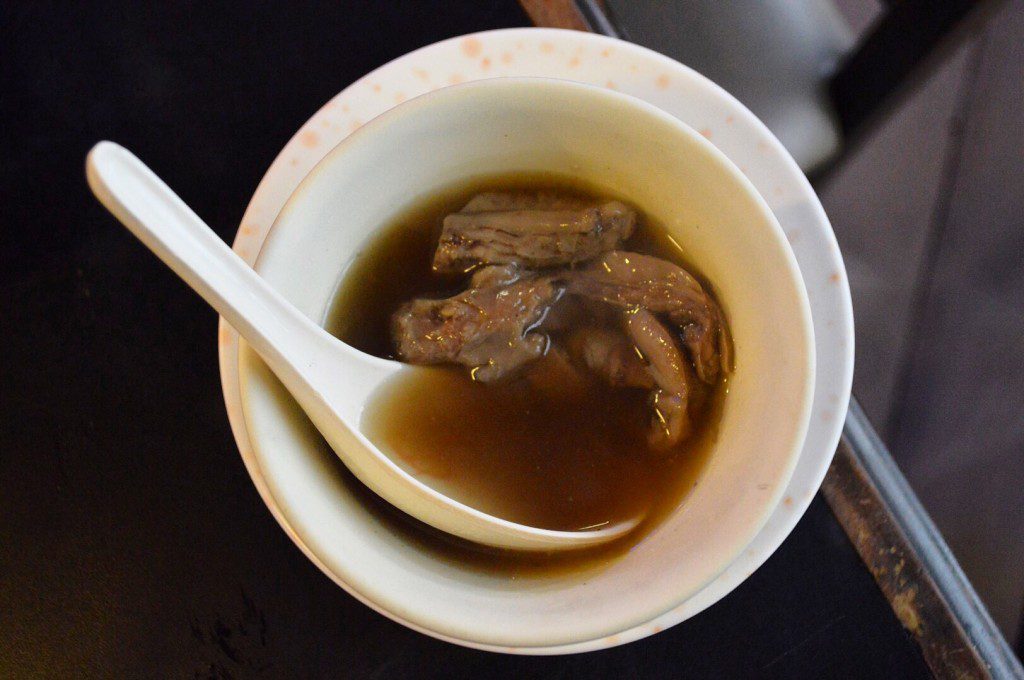 We also tried the slightly more easily digested pork and chive dumplings which was dipped in a soy, chili and kalamansi (local lime:ish fruit) dipping sauce.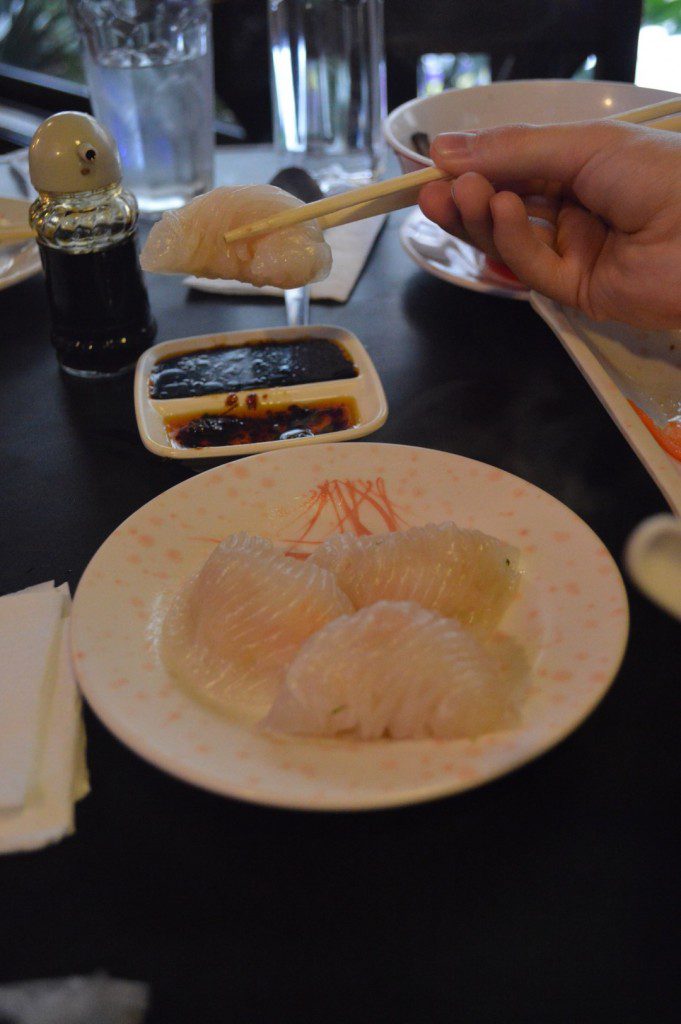 Next stop was "Sincerity Cafe and Restaurant" where we had crispy Filipino spring rolls, or "Lumpia". We also had a quite delicious crispy fried oyster cake; sort of like an omelete-pancake with fresh coriander. The final thing we tried at Sincerity was "Machang", sticky rice with pork and chicken mixed into it, and then baked in pandan leaves. Filipino paella, according to our guide.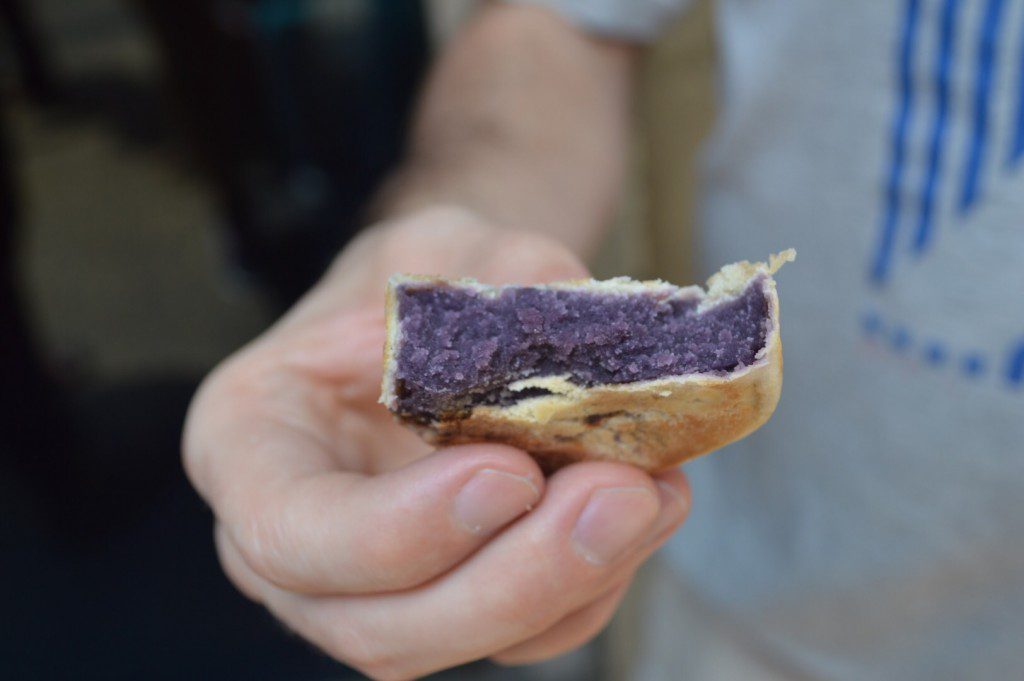 Next stop was a fried "Siopao", a steamed bun, sort of like a bao. The bun was filled with salty and slightly sweet pork, and was in addition to steamed fried on one side.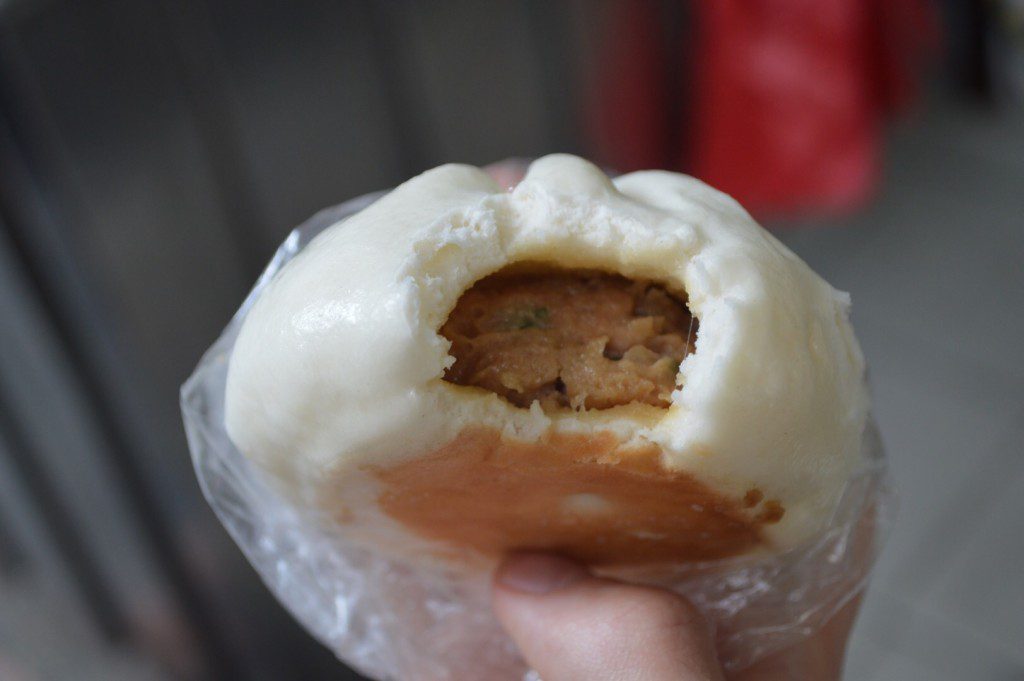 I love Halo-halo
Since we took the tour on a Sunday, a few of the restaurants that was normally on the tour weren't open. Because of this our guide threw in a few extras and we got to try our first halo-halo at national chain Chowking.
Chowking's halo-halo was surprisingly good to be honest. Halo-halo means 'mix-mix' in Tagalog and that pretty much what you do. You receive a bowl with ube (purple yam) ice cream, evaporated milk (the stuff you cook for dulce de leche), leche flan (egg custard), coconut, shaved ice, jack fruit strips, sweetened white and black beans, plantains and jelly which you mix-mix together. It's fresh, it's desserty at the same time, and it's really good.
After the final food item had been injested the tour finished and we went back to our hotel to pass out for a while.
After waking up from our bull's ball and halo-halo inflicted sleep we needed more food. Close to the Peninsula is the Greenbelt shopping area, a mall complex with restaurants, shops and so on. By advise from our guide we went to a Filipino restaurant there called Gerry's Grill. We tried "Sizzling pork sisig", fried pork parts (such as snouze, liver and ears) that was served with kalamansi lime and suppossedly is a popular beer snack.
We also had lechon kawali which is roasted suckling pig belly. We had it with garlic rice and wilted water spinach and it was quite enjoyable and price (1100 php for two including 2 beers each) felt reasonable for the area.
One of the best hotel breakfasts and THE BEST goat tacos
Day three was spent lazying around the hotel for the first part of the day. The Peninsula served up a really good breakfast buffet with both tasty bread (usually hard to find); crispy bacon (also rare on buffets); fresh tropical fruit; yoghurts; cold cuts; local food like pancit noodles, garlic rice and pork adobo; pancakes; waffles – they also had an egg station and my first ever seen juice station. In addition to that they had some seriously good homemade pastries. My favourite one was a mango and vanilla cream Danish pastry with the fresh melting-in-your-mouth mango slices and the soft smooth vanilla cream contrasted by the perfectly crunchy danish. Mm-mm-mm.
After hyper-ventilating for a couple of hours we were again hungry. Based on advise from a couple of friends we set foot on a place called "El Chupacabra", or "the goat sucker". The chupacabra is a goat blood-sucking creature that according to some is a myth.
Nevertheless, we were their to suck some goat ourselves, and after some initial confusion we managed to find the place in an alley close to Makati Avenue (totally walkable from Peninsula/Greenbelt Area).
We ordered the spicy goat meat taco (cabrito) and the "al pastor". Both were seriously good, I would stretch as far as to say that the goat taco was the best I've ever had. Spicy, tender meat, super-thin corn tortillas and simple yet delicious condiments. Good prices too, so definitely a must visit if you like tacos and find yourself in Manila.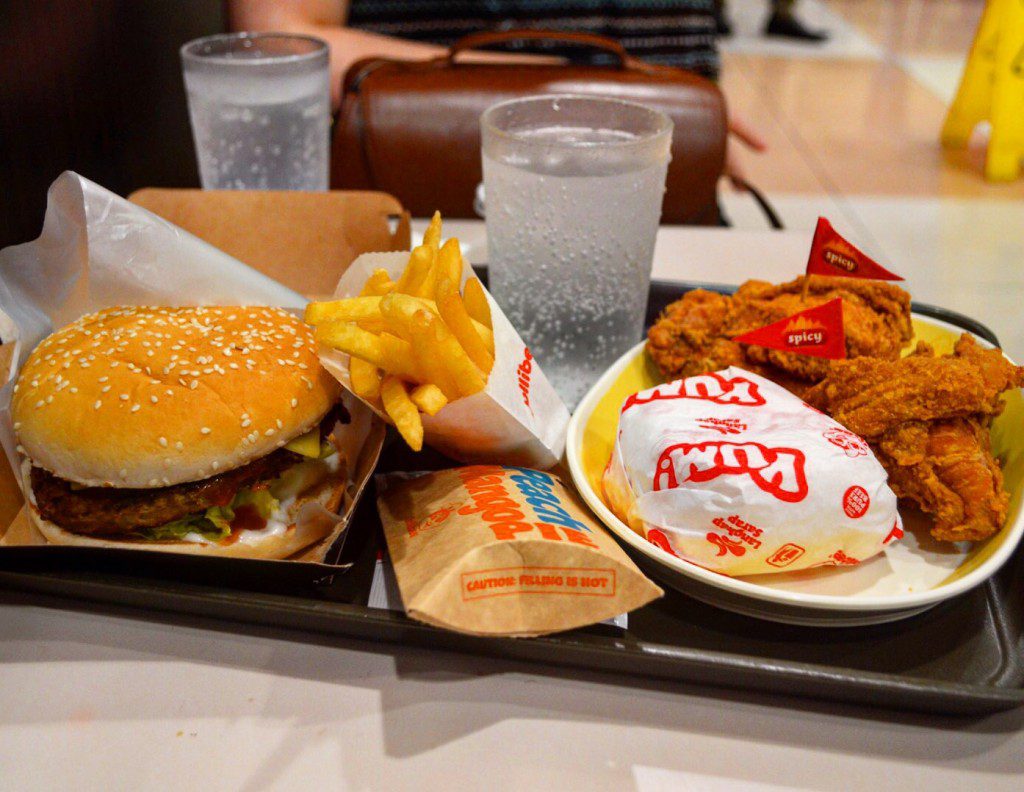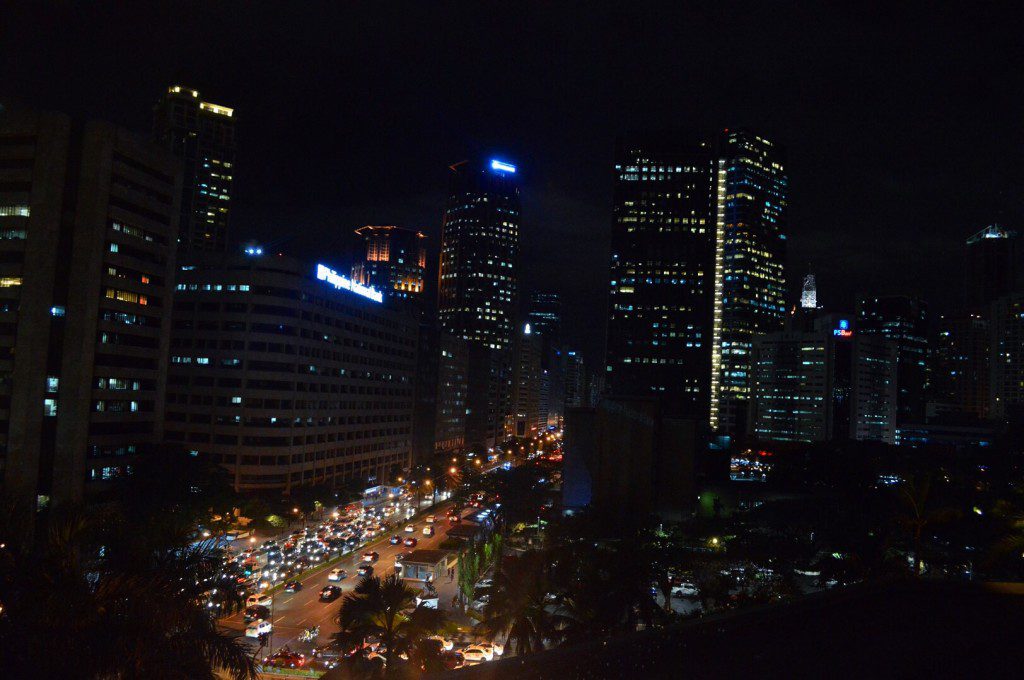 A tenth of a sunset and Jollibee
The rest of the day was spent in the giant Mall of Asia where we went to see the Manila Bay-sunset. Although we couldn't see that much of it due to clouds, it was pretty cool to stroll along the water together with lots of local couples and families hangig out there. By recommendation from our food tour guide we also tried Philippino fast food-chain Jollibee that has spread as far as Doha Qatar lately. Wasn't terribly impressed unfortunately (sorry Filipinos) with my Champ burger.
Our last meal (okay I had one more of the awesome Peninsula breakfasts, but that does not count) in Manila was the Halo-halo Harana. The HHH is one of Peninsula Manila's signature dishes and is a fancied-up version of the Filipino national dessert. It contains leche flan, chickpeas, sweetened kidney beans, coconut gel, the purple yam ube ice cream, sago, evaporated milk, jackfruit, creamy coconu and rice puffs. This was really a treat, but on the other hand it was about 850 php including service and taxes which would've been expensive for a dessert even in Sweden. It was so good though!
After the final mix-mix our time in Manila had come to and end. We're currently enjoying one of the prettier places I've been to: the island of Boracay, under an hour's flight from Manila.