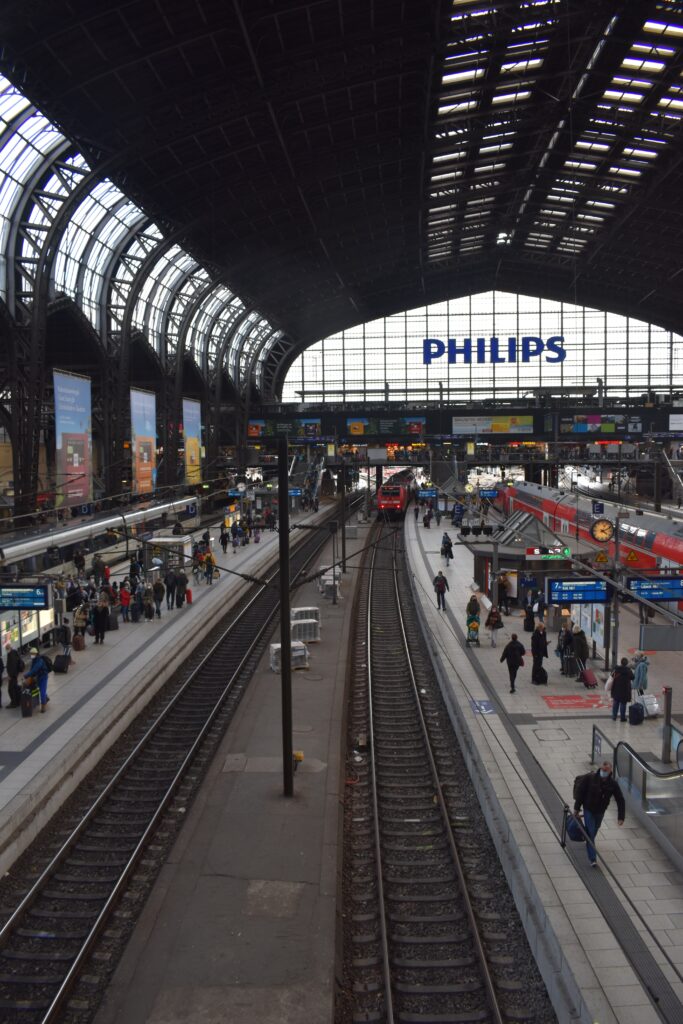 As we lived super close to Hamburg's central railway station, we checked out around 30 minutes before our departure and took the quick walk there to find our first train of the day.
Unfortunately there aren't any direct trains from Hamburg to Amsterdam, so our first trip of the day was with the sleek German highspeed ICE (Intercity Express) train, that reaches speeds of up to 300 kilometers per hour, from Hamburg to Osnabrück in Western Germany.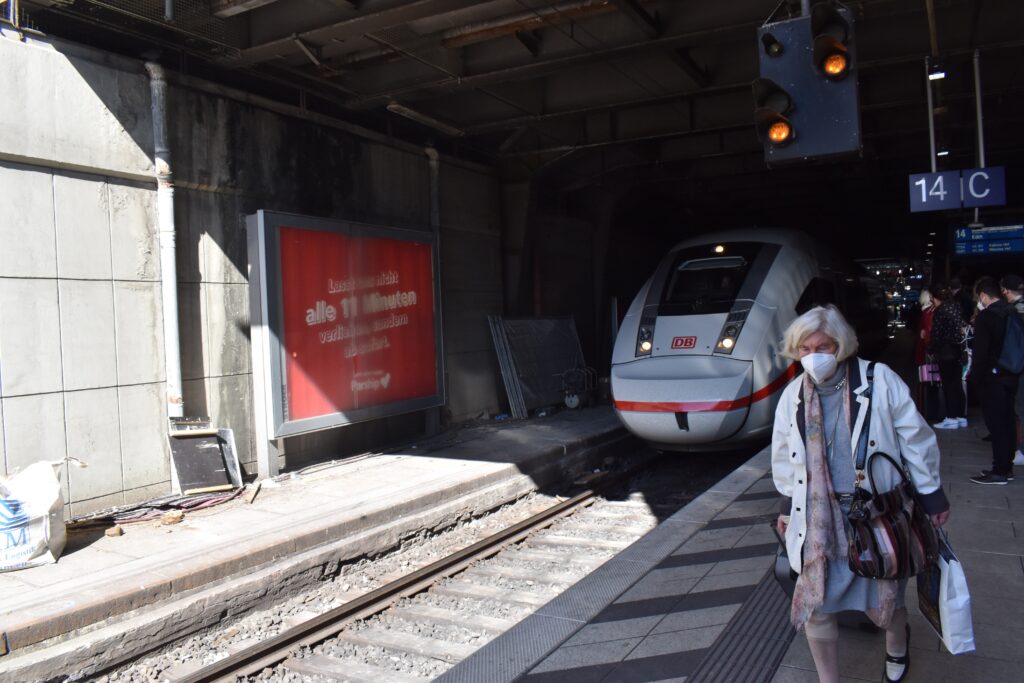 The station in Hamburg was PACKED, but inside the train, we chose to go in first class, it was quite empty. This first leg of the Hamburg to Amsterdam trip was quite short, and since we couldn't find any information of whether there was an onboard restaurant on the next train we where taking, our priority was food, as we wanted to try German train food.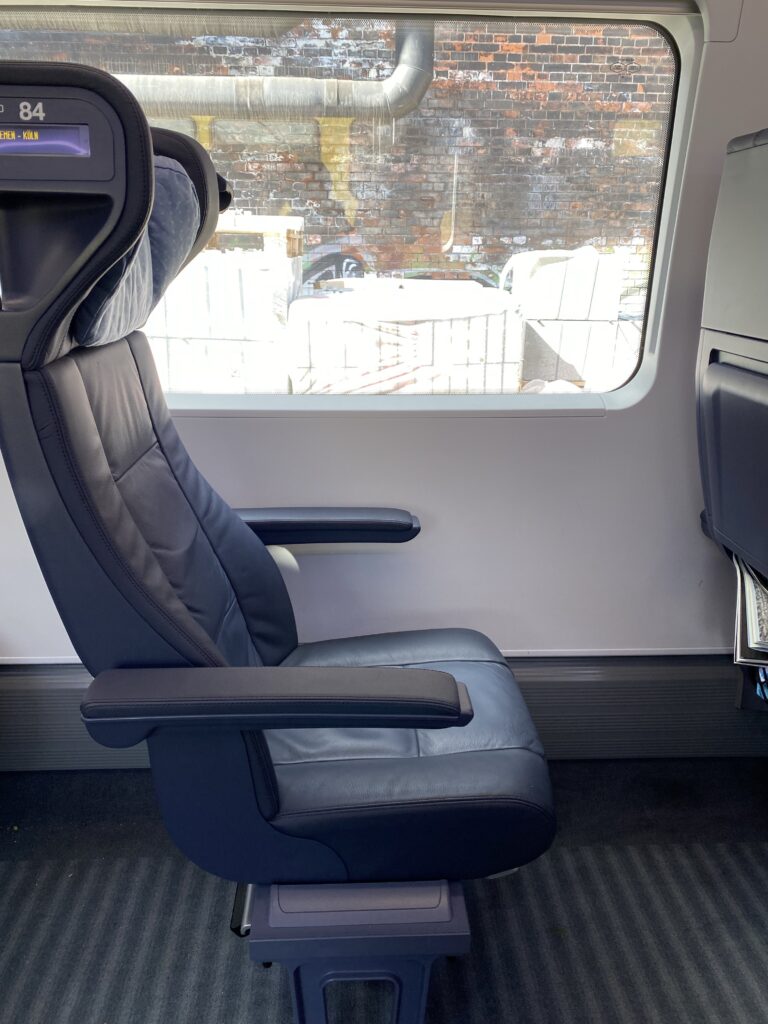 In ICE's first class you get food and drinks served at your seat, if you prefer, but it's not included in the fare, so you still have to pay for it. We had relatively recently had breakfast, so we decided to share a German currywurst with fries, as well as a fassbier (draft beer) each, because draft beer on a train! Unfortunately they had run out of fries and offered us bread instead. Oh well. 40 minutes or so before us getting off the train, the food arrived. I think the quality was quite good to be honest, tasty, hearty and decently priced.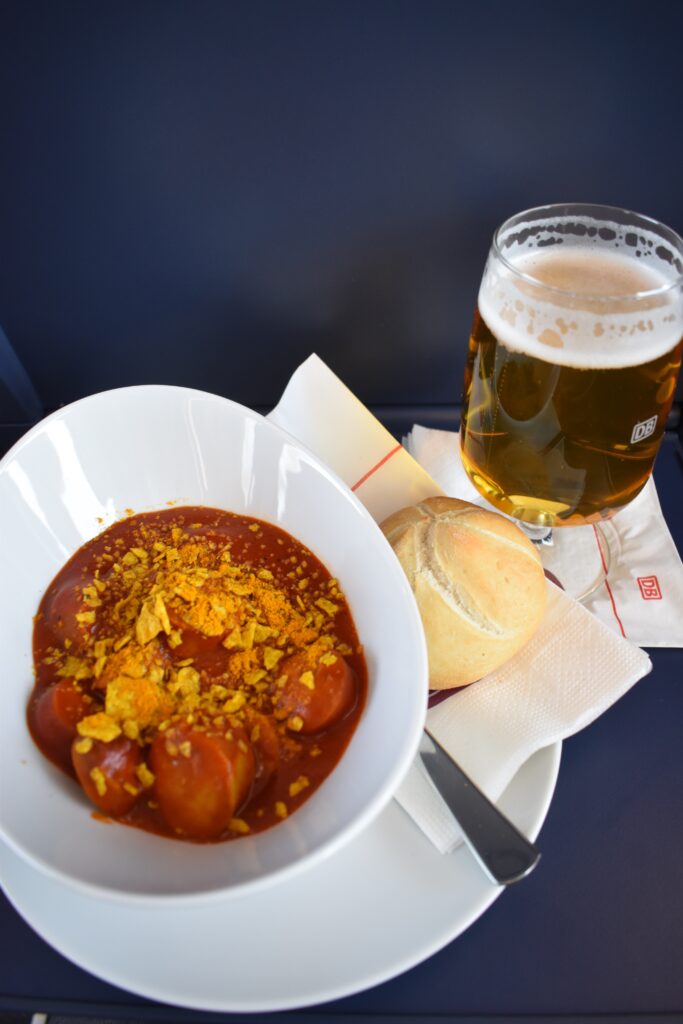 After lunch it didn't take long before we arrived Osnabrück, where we had a 15 minute wait before our Intercity train to Amsterdam was to depart. The station was quite small and it was easy to find our way and walk to the platform.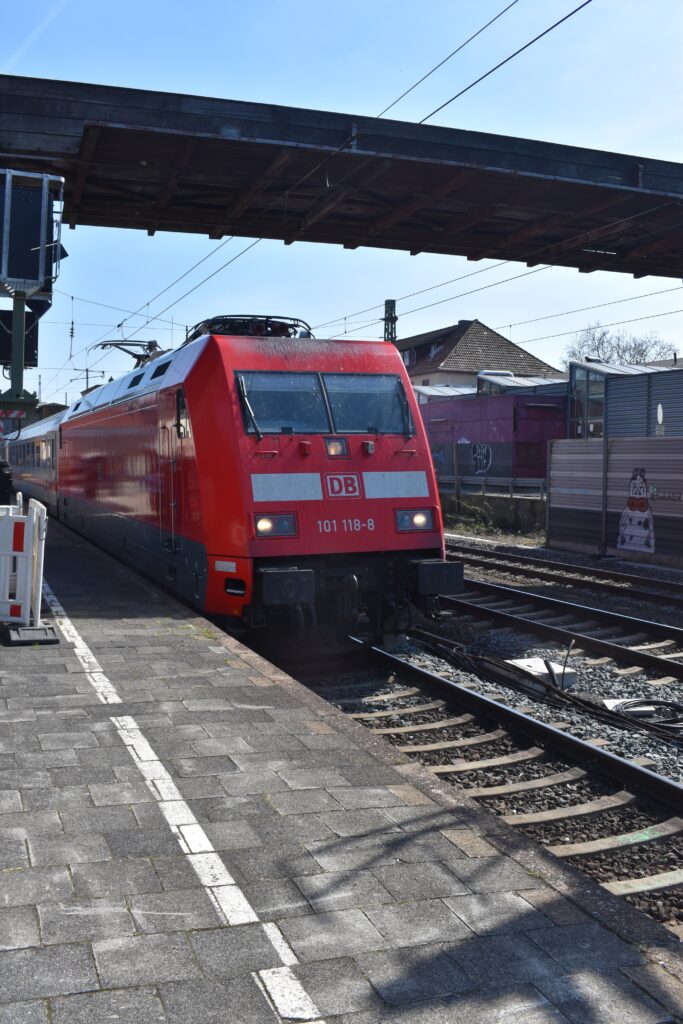 After a short delay, the train arrived and we hopped on the super busy train. Once again we were in first class, but gone was the calm, the plush leather seated "couple seats" and table service, and instead we joined a group of people in a 6-person compartment, where two (very friendly) ladies had our seats. Just like in the Danish train you could travel without a seat reservation, which also on this train led to sort of chaos. After a few minutes of moving bags and people around, we were fortunately seated however, and the trip to Amsterdam could commence.
As the train approached Amsterdam, it was approximately 3,5 hours from Osnabrück, the train got less and less busy. As in Denmark, as fast as the train staff announced that we had entered The Netherlands, everyone removed their masks, as they had just removed most Covid-related restrictions there. To celebrate the border crossing, we headed to the onboard restaurant and, to our sort of sadness, found it identical to the one on the ICE train, meaning we could've had our lunch here on this slow train, instead of rushing it earlier on the ICE. Oh well, we had a glass of German bubbly each which we sipped on watching the Dutch countryside go by outside the window.
Then, a canal or two appeared outside our window, then another, then a tall building, and a futuristic museum. And a couple of skyscrapers. We were finally in Amsterdam, after our five our trip through Germany, and this time we were actually stopping for a while for some eating, drinking and exploring. *Speaker voice*: "More on this in the next episode of Train to Scotland". Tot ziens!