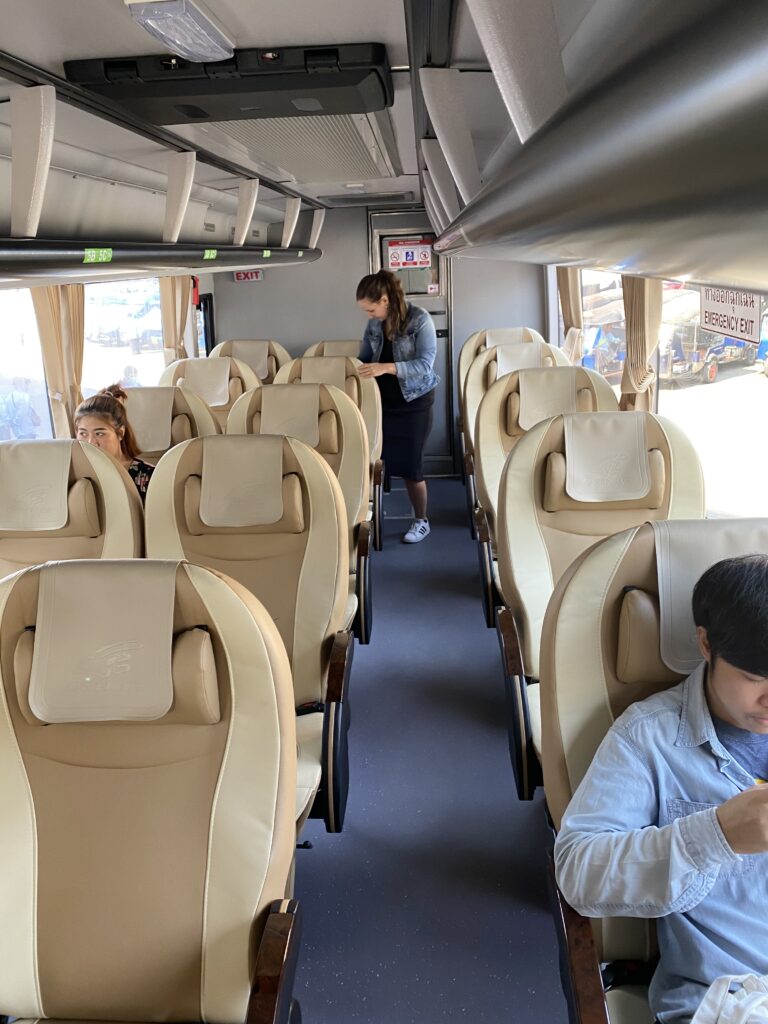 To get from Chiang Rai to Chiang Mai, we opted to take the luxury Green Bus.
Green Bus has an English website, but when we booked we found it a bit confusing and instead we chose to use 12.go, an English language site that lets you buy tickets for various forms of transport around Asia.
They charge a dollar or two extra, but has a really easily navigated website. We paid for our tickets with credit card (approx $25 for both of us) and was sent a PDF ticket that we printed and showed to the bus attendant when boarding, that was it.
There are three different classes of Green Buses from Chiang Rai to Chiang Mai (and from Chiang Mai to Chiang Rai). A standard one, one first class, and then the VIP bus that we chose. Apparently they are all quite nice, but it was only a $5 or so difference between the regular one and VIP so we thought we'd splurge for the 3,5 hour ride.
The bus left from Chiang Rai's bus station in the city center, close to where the clock tower is. It also made a stop at another bus station in the city before it went straight to Chiang Mai.
The onboard experience was quite nice. There are plush comfy leather seats, there's a bus attendant handing out water bottles and a small snack, and the driving was also very nice.
I remeber reading that the bus was super cold due to the air condition, but I was fine in a t-shirt. If you're sensitive to cold, you might still want to bring a sweater.
There is a bathroom onboard, but we never used it during our trip.
The trip took around 3,5 hours with some really nice scenery along the way. When leaving Chiang Rai you can spot the White Temple in the distance on the right side of the bus. You still should go there properly, but if you didn't you can at least see it whizz by.
All in all a very comfy ride, and I'd definitely would recommend it.