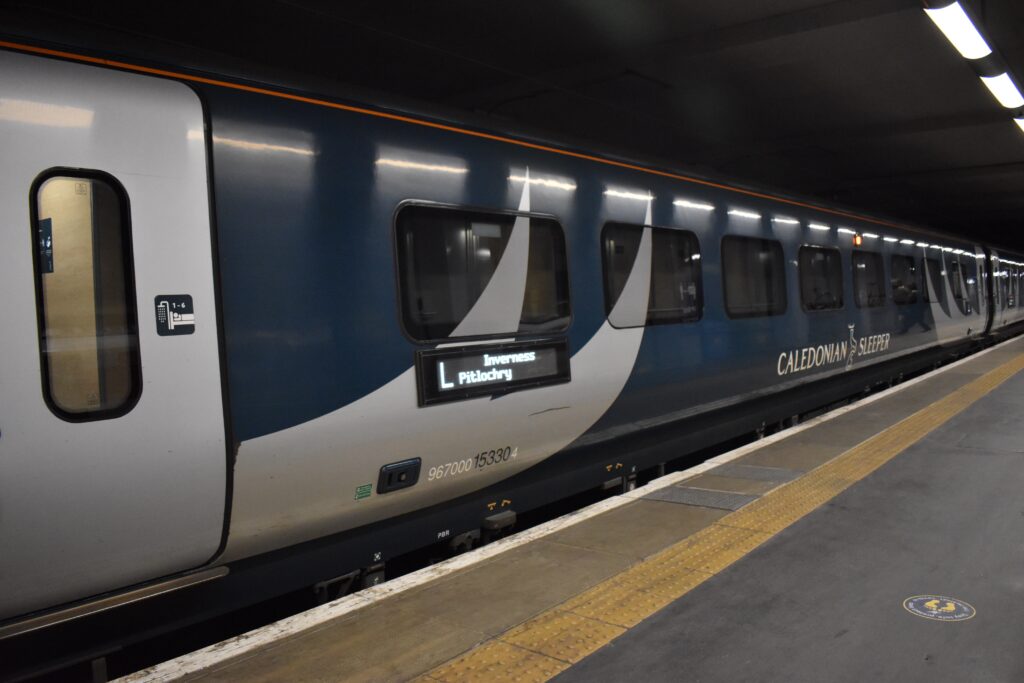 After four days of eating, drinking and walking our way through a surprisingly sunny London, it was once again time for the next part of the journey. And this time, it was for the first time of the trip on a night train, the night train that pretty much was the reason for the whole trip, as since I first saw a Youtube video of it I'd been wanting to go.
The train is called the Caledonian Sleeper and serves two routes: The Highlander route, that goes all the way to Fort William in Scotland, and the Lowlander route that goes to Glasgow or Edinburgh. It offers a sort of hotel experience onboard the train with nice bedding, pillow spray, a sink, bathroom and shower in the compartment (if in a Club Room), included breakfast and a nice dining car, or Club Car as they call it, where you can have both dinner (at a cost) and breakfast. There are also regular seats onboard, but that won't get access to the Club Car, or any of the sleeping perks mentioned, of course.
We were on a Highlander that finished in Inverness, which was our final destination, and opted to book a Club Room, as the Caledonian Double, which as the name implies has an actual double bed in the compartment was a little bit too pricey for us, but we wanted to have our own bathroom.
Our train left from London's Kingscross, as the usual Euston Station was closed for renovation when we travelled during Easter 2022. The departure time was in the evening, around 8.30 p.m. so we were quite tired after a day of walking around town when we arrived the lounge – included in club rooms – around 7. The lounge was maybe nothing to elaborate too much about, but was nice enough with tea, biscuits (of course, we were in the UK), crisps, sparkling water and decent seating as well as electrical outlets where you could charge your phone. There was also beer and wine available from the reception at a cost. Around 8.15 it was announced it was time to board the Caledonian Sleeper, and we walked straight to the platform through a little 'private' walkway.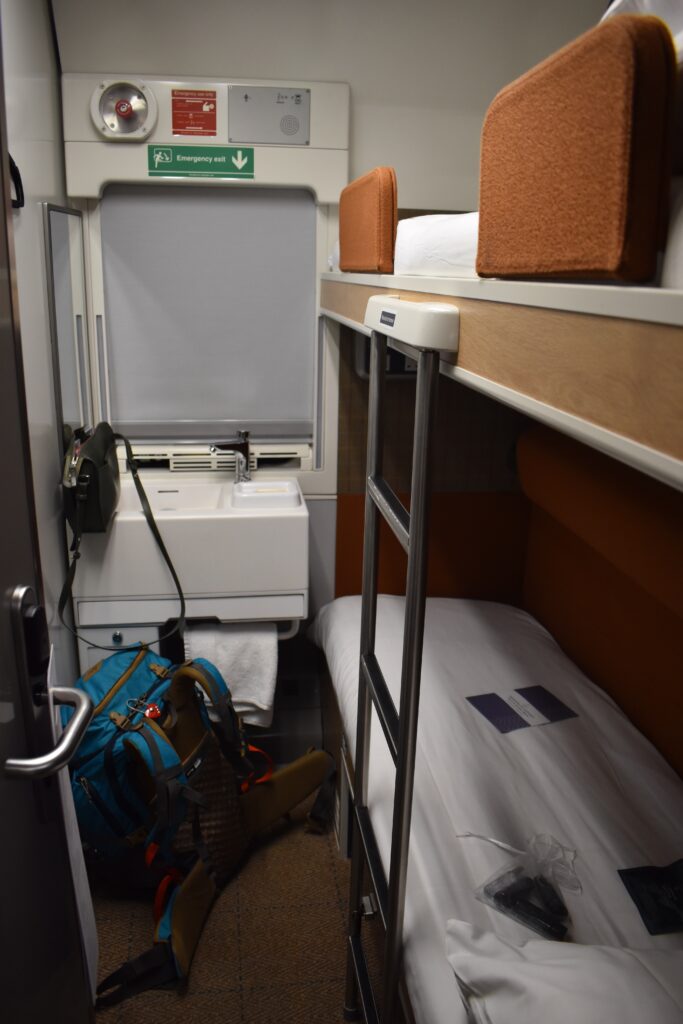 We had to stand for a few minutes on the platform waiting for something before they let us onboard, but it wasn't too long before we were in our small but cozy Club Room. The beds in the Club is bunk bed style and there is a toilet and shower combination in the bathroom. Floor space is quite tiny, but we managed fine with our two relatively large bags. Unfortunately (or actually not so unfortunately) we soon discovered that our toilet couldn't flush. So we used the in-room intercom to call the staff to let them know. A staff member soon showed up and after some work, he concluded that our toilet was broken and we had to move.
The room offered to us as compensation for the inconvenience was the famous Caledonian Double which, without being huge, probably was twice the size of our Club Room, with a decently sized double bed, a painting on the wall as well as a nice amenity kit. It of course also had the in-room toilet and shower like our last room. Super nice and the first time ever I'd slept in a double bed on a train.
Happy with our fortune we went for dinner in the Club Car. The Club Car was decently busy (picture taken when boarding), but we found a nice table for two and were handed a menu each – it's table service in the Club Car which felt extra luxurious. The food and drink offering onboard is heavily focused on local Scottish produce, which I loved. It really felt that we entered a tiny bit of Scotland just by getting on the train. Fun and adventurous. We ordered both the Scottish salmon with lemon sauce, as well as macaroni and cheese made with local Arran and Orkney cheddars, both were quite delicious considering it was on a train. We also ordered a whisky each from their quite (again, for a train) extensive whiskey menu, as well as a beer and a glass of wine. Price was around £45 for the two of us with drinks and food.
After this we went back to our Caledonian Double and tucked in for the night. Maybe having a glass of wine, and some crisps we accidentally brought with us from the lounge, while watching a dark United Kingdom pass by outside the window. Sleep quality wasn't fantastic as the journey was a bit bumpy, but the bed was very comfortable so at least we managed to sleep for a few hours.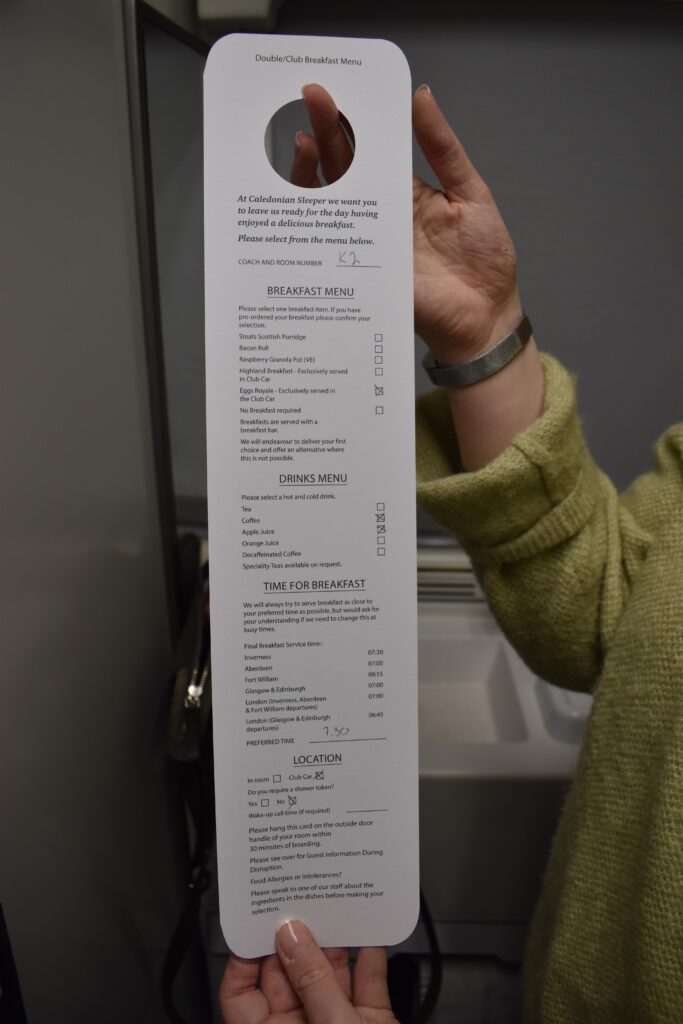 When getting on the train, the first thing we did was so select what kind of breakfast we wanted, there were a few options; larger and small; healthier and unhealthier, as well as if we wanted to eat breakfast in the Club Car or in our compartment. We went for the Highland breakfast, meaning a full Scottish breakfast with eggs, bacon, sausage, mushrooms, beans and black pudding, as well as the Eggs Royale and chose to have it in the Club Car.
The breakfast, as mentioned included in the price, came with additionnal coffee and orange juice, and an amazing vista over The Scottish Highlands, as we approached Inverness. The views just before arriving Inverness was really beautiful, so we were lucky with the timing of our breakfast. Breakfast food quality was decent, better than you would get on a plane, but less good than in a restaurant.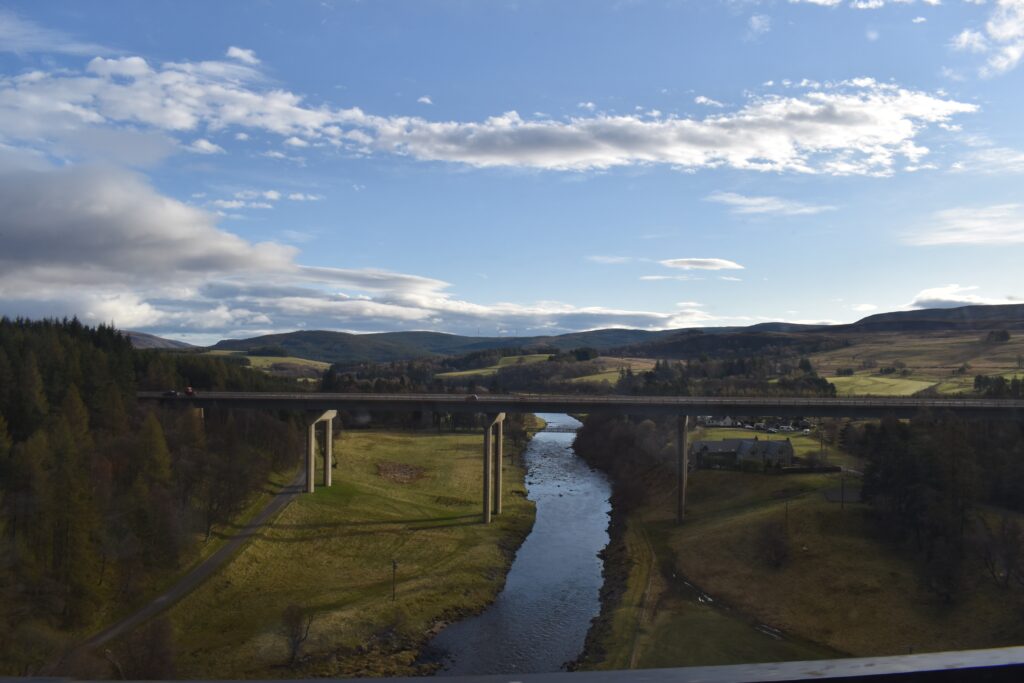 Shortly after we finished our breakfast, it was announced that we approached Inverness, 30 minutes ahead of schedule (boo). As it was the final stop, we didn't have to hurry to get off, but it felt weird to just sit around, so we got off pretty much upon arriving. Inverness has a small Caledonian Sleeper lounge just next to the station building, and we managed to get there exactly as the manager started his shift. We were early, so he got a little surprised we had already arrived, but quickly invited us in and offered us coffee and a nice little chat about Scotland, and gave us some recommendations for how to spend our next few days. There was a also a small but decent snack assortment, much like in the London lounge, of biscuits, crisps, soft drinks and water.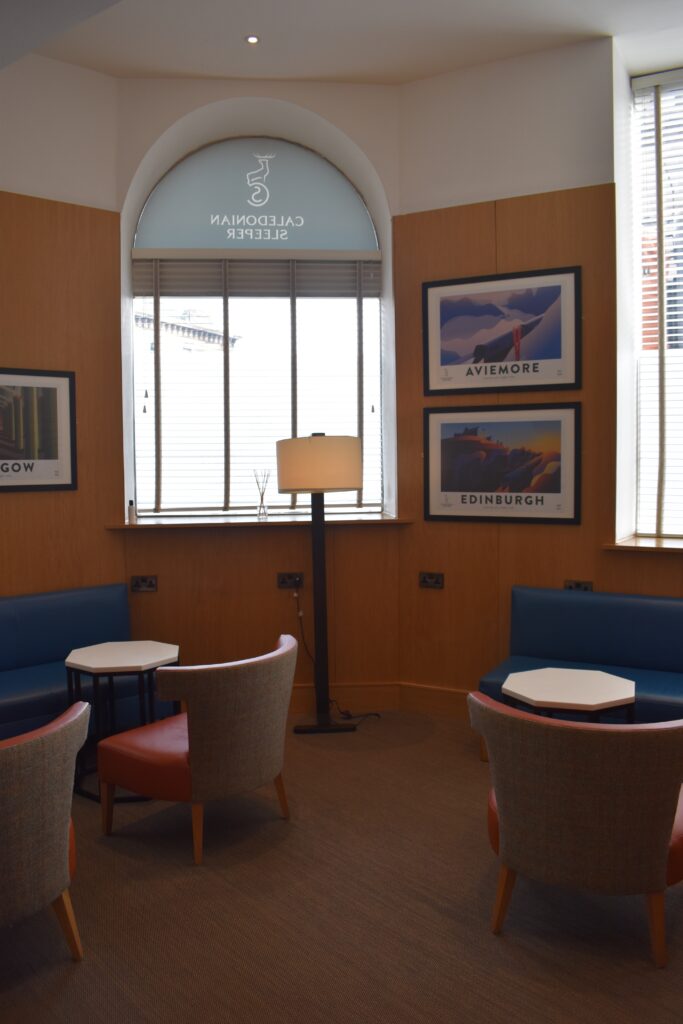 From the lounge it was just a short walk, Inverness is not a big city, to our very good hotel The River Ness hotel by Radisson where we based ourselves for the next four days, before the final train of the Stockholm-Scotland by train trip.