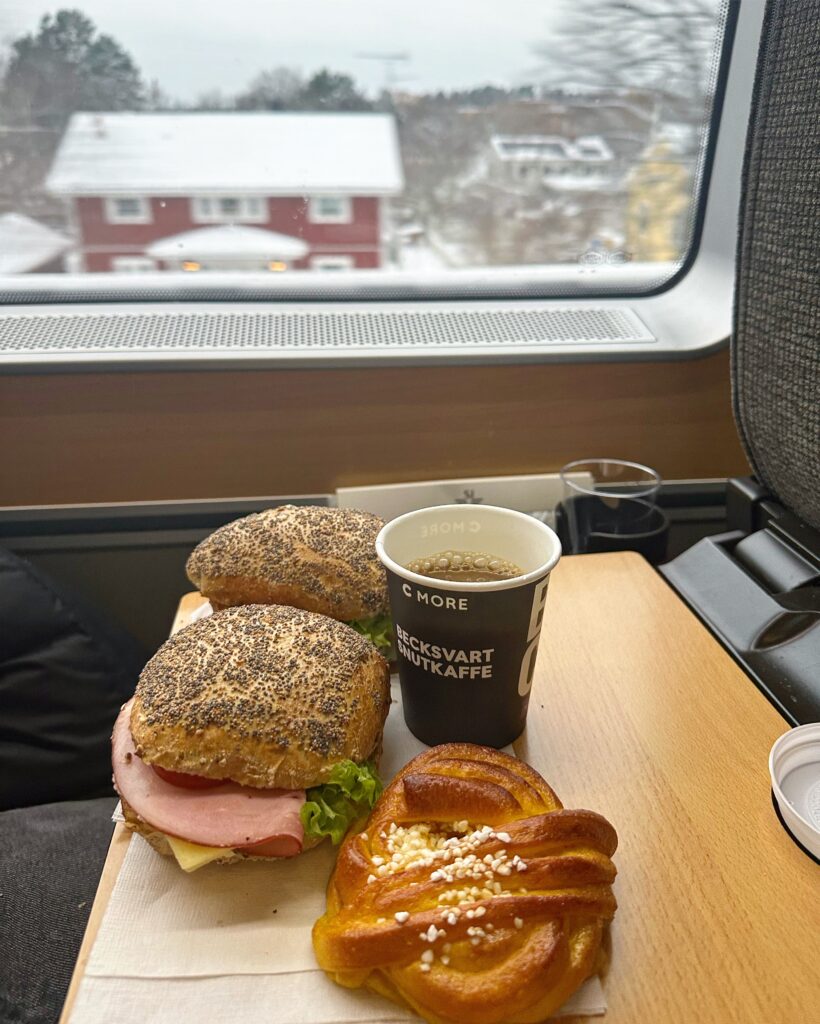 Stockholm-Sundsvall: A night at Elite Hotel Knaust
This Christmas, we found ourselves with a few extra vacation days we needed to spend, and not wanting to spend them entirely on video games and Netflix in the sofa at home, – and prices for flying to the sun in Southern Europe and beyond already steep – we decided to go on a domestic trip.
I've always wanted to stay at the famous Hotel Knaust in the northern city of Sundsvall, and finding out that Sundsvall is a perfect first stop to chop up the long train trip to one of Sweden's most famous ski resorts Åre, where another hotel I haven't stayed at, but been wanting too for ages as well, is situated, the trip started to take form.
Sweden's high speed trains are called X2000 and X3000, they are not that highspeed compared to what you find in continental Europe or Asia, but they travel fairly fast in about 200 kms per hour and are decently comfortable, especially in first class. At the moment at least you can't find one of those going to Åre, but you can take one to Sundsvall in about 3 hours from Stockholm and then continue the trip with a slower train, either with SJ, that also run the high speed trains, or with VY Norrtåg, which is what we did.
Jumping back to Stockholm's central station, we purchased sandwiches and a Christmassy saffron bun at the bakery outlets of Gateau and Fabrique bakeries as we just missed the before-9 a.m.-free-breakfast with a 9:20 a.m. departure in SJ highspeed train first class. Onboard there's free coffee and tea, as well as usually some snacks, sweets or fruit.
The train ride was a relaxing and uneventful one, and we arrived Sundsvall on time just before one o'clock. Since we would be back in the same station the next morning for our continued trip, we took extra notes of how to find our way, which was a bit unneccessary as it was close and very easy to find.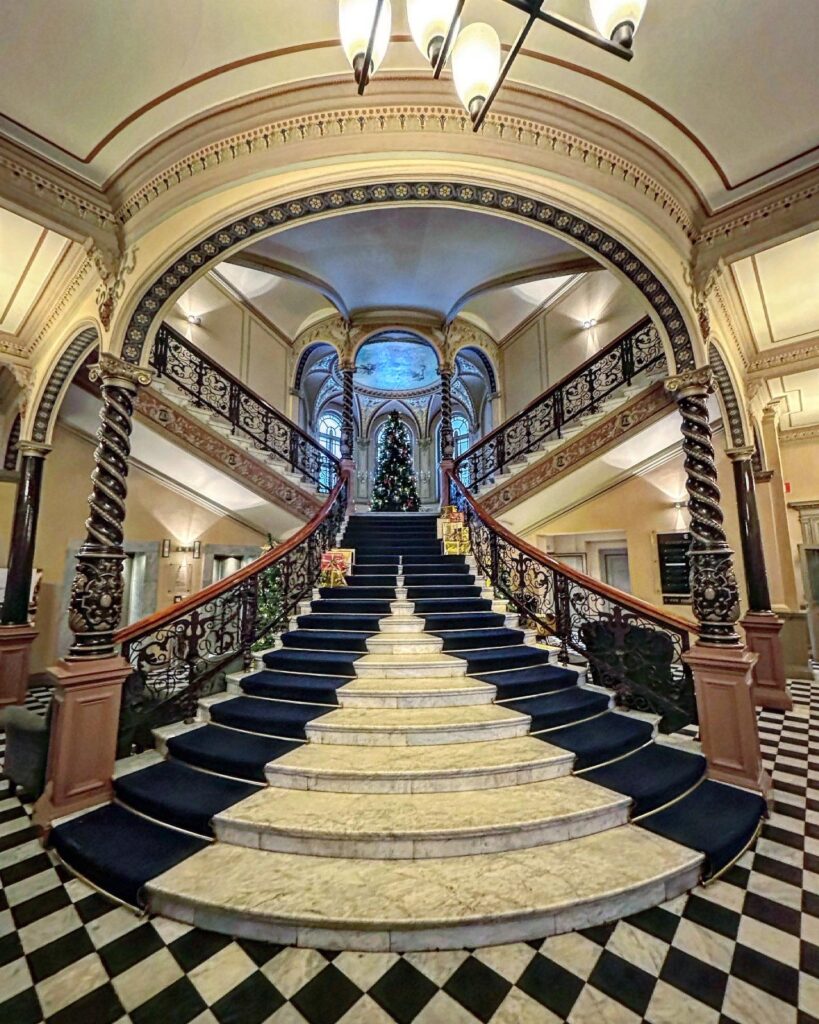 At Hotel Knaust, we of course immediately noticed their marble stair case, for which they are most famous. The hotel was opened in 1891, and lots of history has gone through the building. For instance a Thai king got addicted to salmon salad there in the 1890s, according to legend at least. 🙂
Being about a week before Christmas, the hotel was beautifully decorated, and despite being quite tiny we really liked our cozy room.
After a short walk around the mostly empty city center, as this time of the year the sun goes down early, around 2.30 pm, and it was a Sunday with many shops and places closed, we headed back to Knaust for some in-room relaxation followed by dinner. Like the shops, many of Sundsvall's restaurants was closed due to it being Sunday, but the in-hotel Bishop Arms gastro pub (part of a chain of restaurants all over Sweden) was open.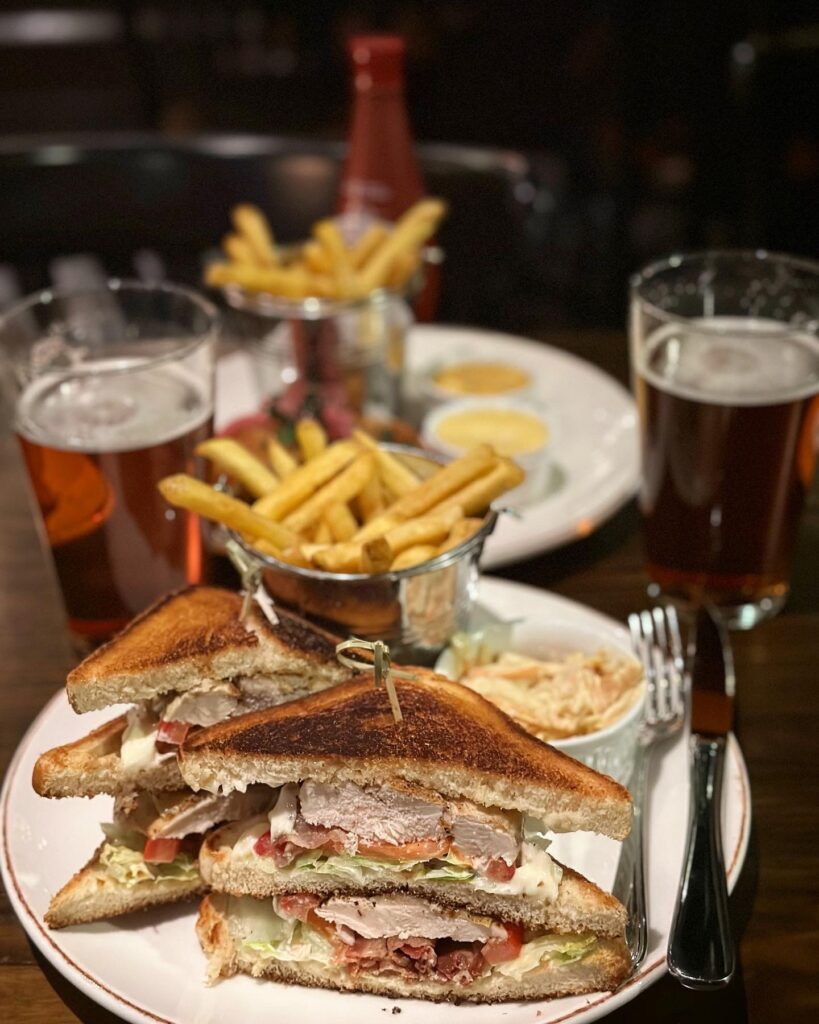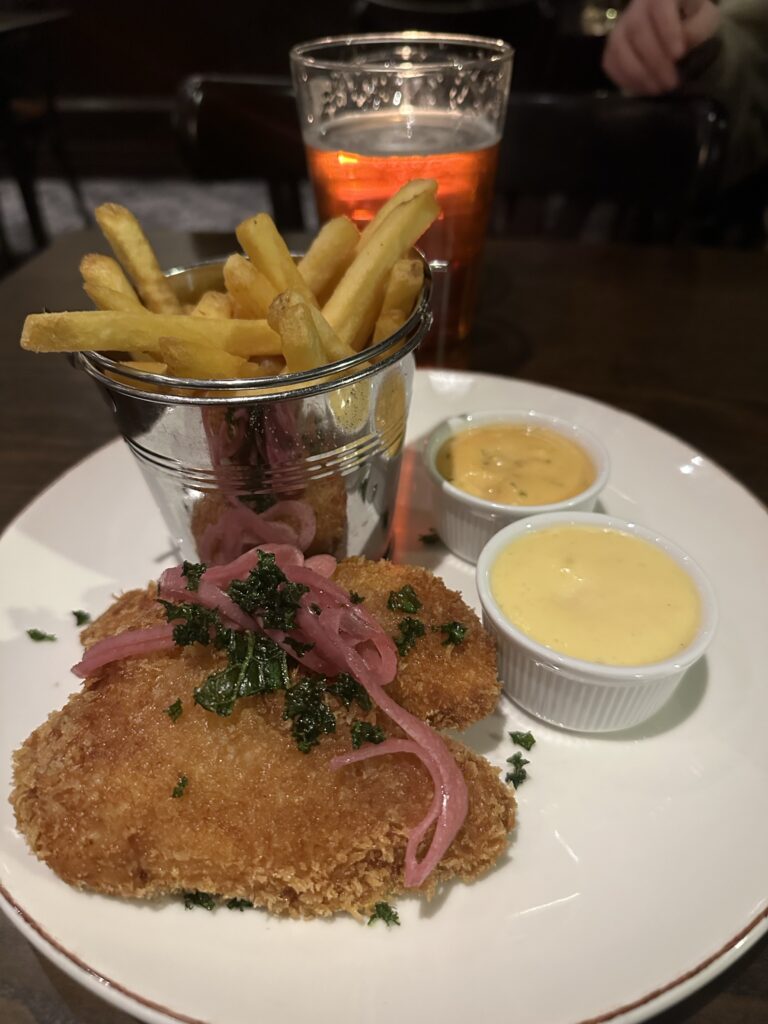 We tried their club sandwich as well as their fish and chips with lobster mayonnaise, paired with two local craftbeers made by Alnöl, which is a pun of Alnö Island where the production is made, and öl, which is the Swedish word for beer. Pun aside, the beer was tasty and the food delicious. My only complaint is that fries were not included with the club sandwich and had to be ordered extra.
After a good nights sleep, we headed for breakfast in the Knaust mirror hall. The spread was decently large, and quality was good. I did not like the scrambled eggs, but the rest of the buffet was quite good. Especially nice with the possibility to squeeze your own orange juice using fresh oranges, as well as a waffle making station with my favourite luxurious Northern Swedish delicasy cloudberry jam, paired with fresh whipped cream. Mmmmm.
Sundsvall-Åre with VY Norrtåg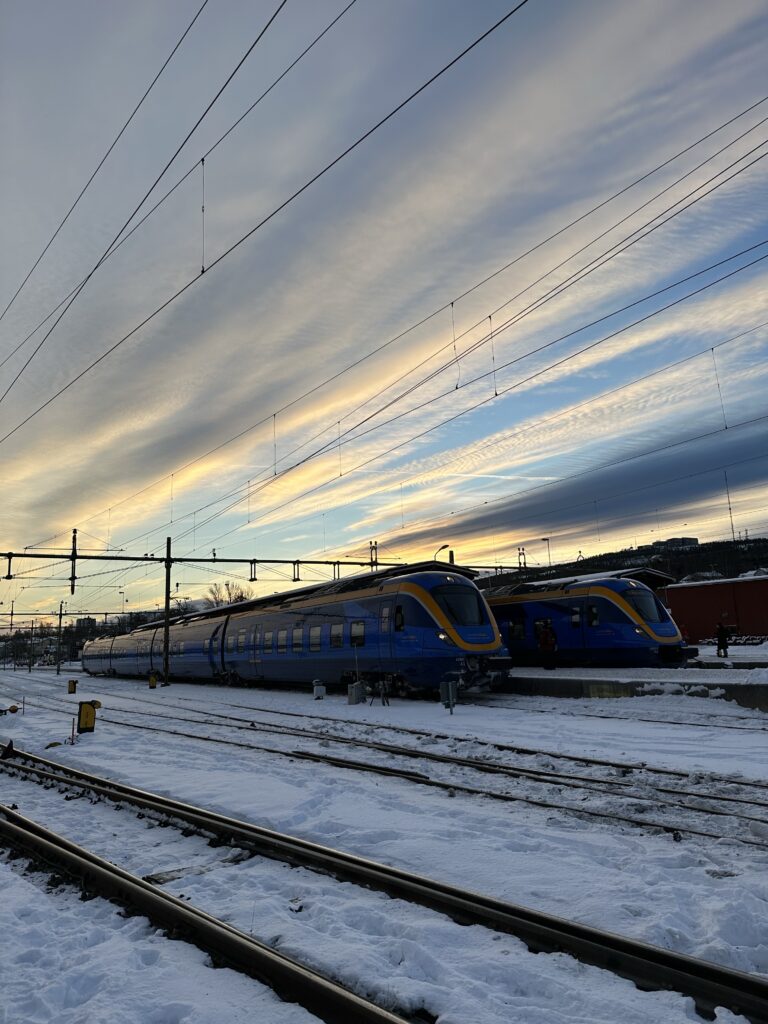 After breakfast it was time to check out from Hotel Knaust and make our way back to the train station. The station house it quite clean, and had a Pressbyrån convenience store as well as free restrooms, which is not that common in Sweden, at least not in my experience.
From Sundsvall Central station the plan was to catch VY Norrtåg's train that starts in Sundsvall all the way to the second to final stop of Åre.
Upon booking we got a little confused as we did not receive any seat numbers on our tickets. Checking on Norrtåg owner VY's website, it stated that every passenger was assigned one, which stressed us a bit. On the train however we realised that we should have read on Norrtåg's website instead where it, like the train information screens clearly stated "free seating and no classes".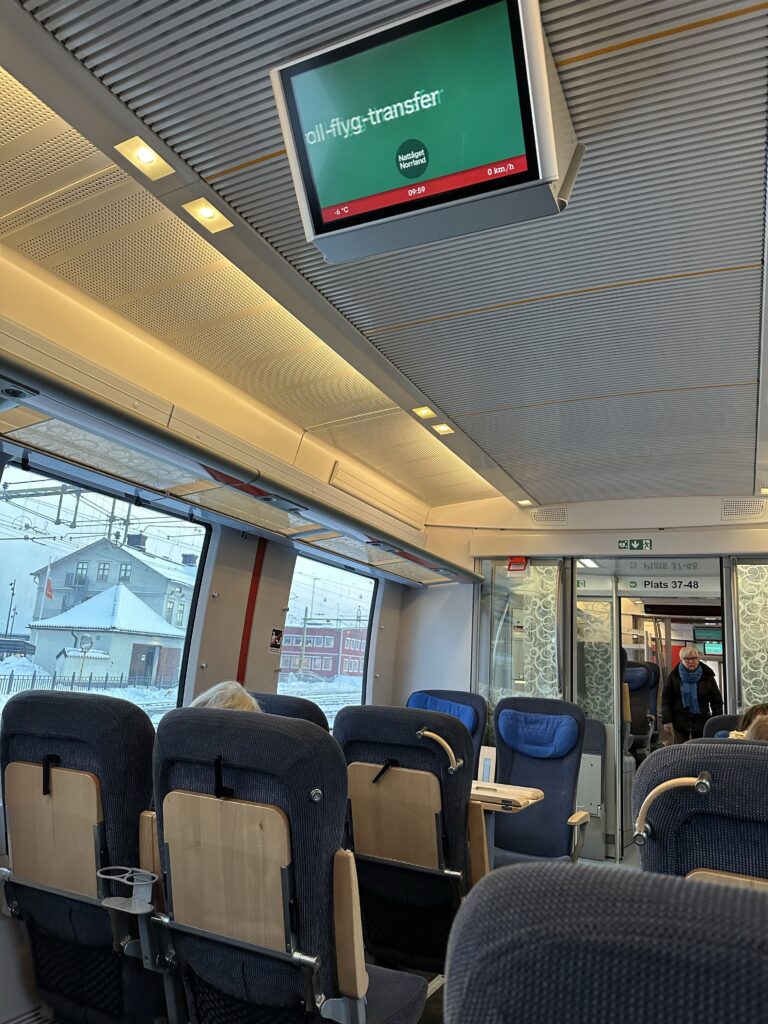 The train trip itself was comfortable enough. There was at-seat electrical sockets so you could charge your phone and the seats were good. In the middle of the train there was a service point where you could purchase snacks, drinks and also food. It wasn't really a bistro, but as far as I understood it they sold food, we only bought some candy though.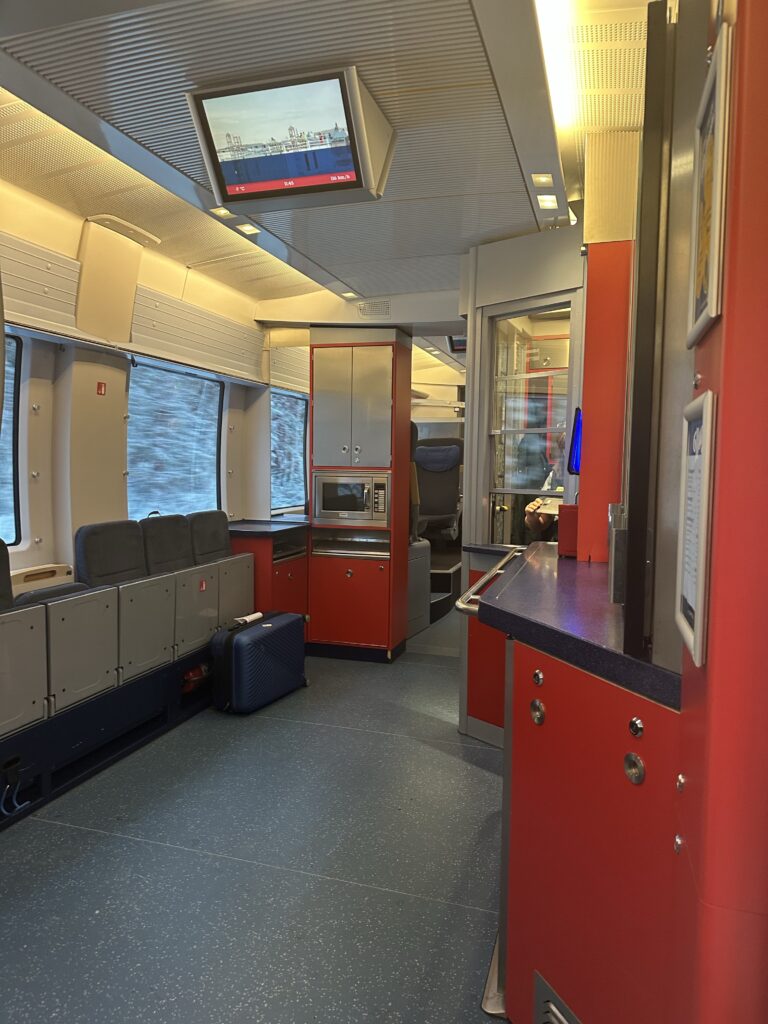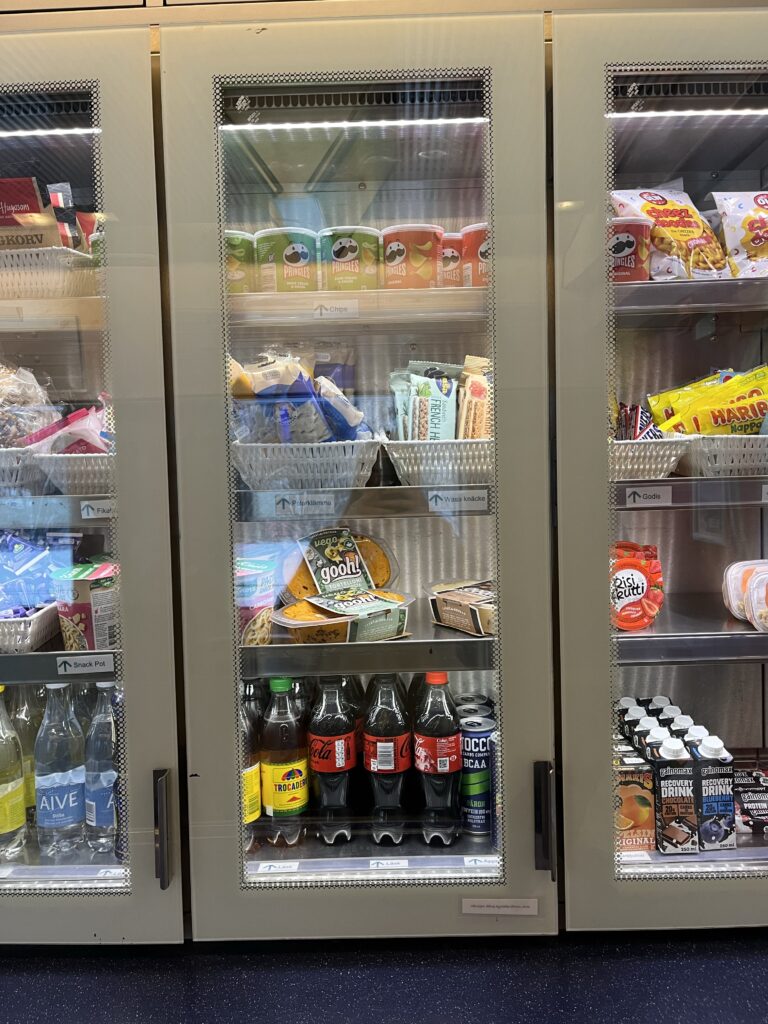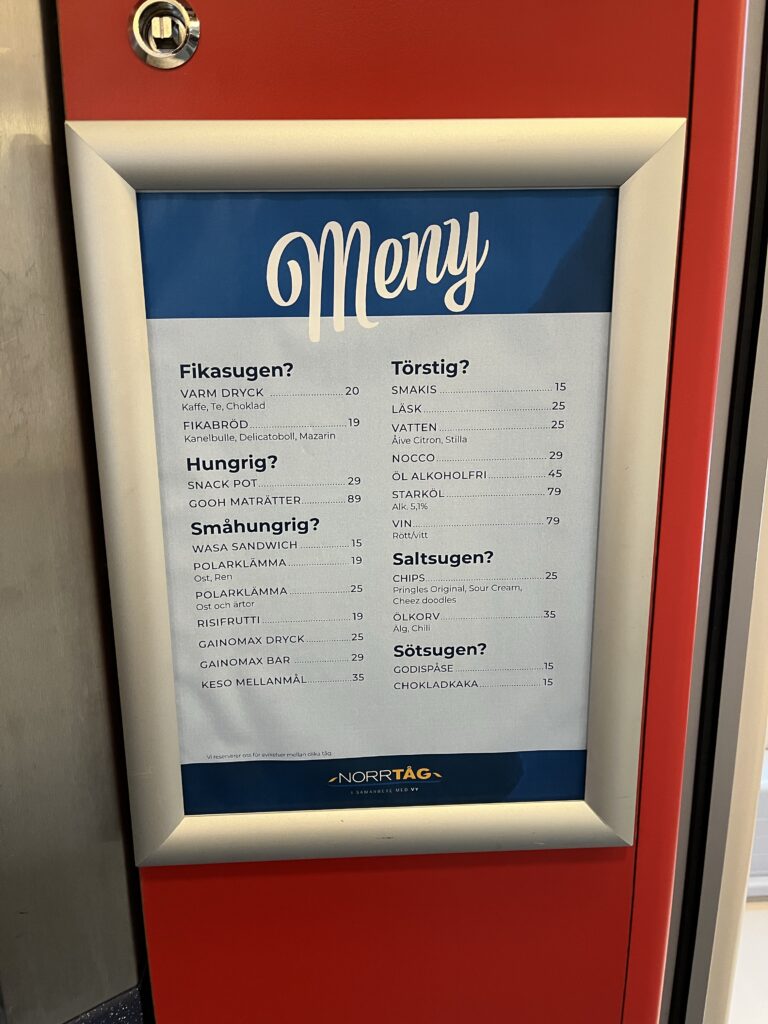 The train is both a long distance and commuter train as it seemed. The further we got from Sundsvall, people jumped on at one tiny rural station, and then off again in the seemingly middle of nowhere. It was really cool to experience this part of northern Sweden with villages, snow-clad forests, icy lakes, and eventually as we progressed towards Åre, taller and taller mountains.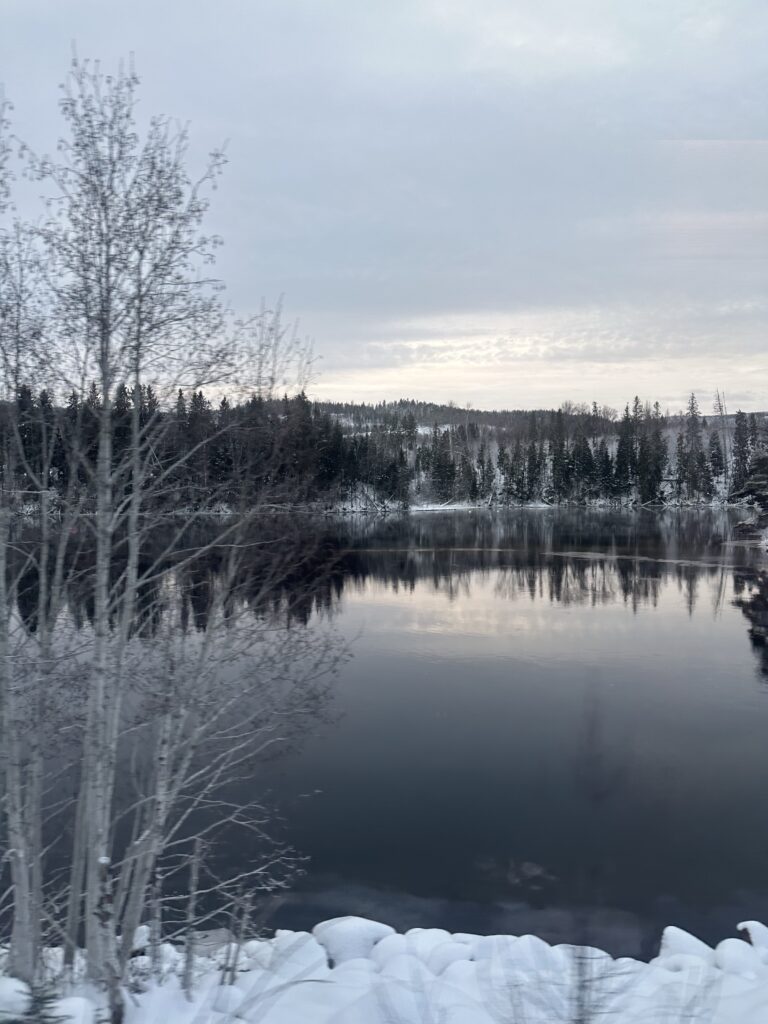 Downtown Åre, a night at Holiday Club and dinner at Hotel Granen
Then, after almost four hours, it was finally time to get off the train as we rolled into Åre station. We had booked our first night at the Holiday Club Åre, a sort of time-share holiday apartment building meets hotel meets shopping center and adventure bath complex. Conveniently it has its own pedestrian bridge from the third floor of the Åre Station building, leading, through a few hallways and stairs, to the lobby. It all sounds very big, which it really isn't, but still is, I guess, for a sort of tiny ski village.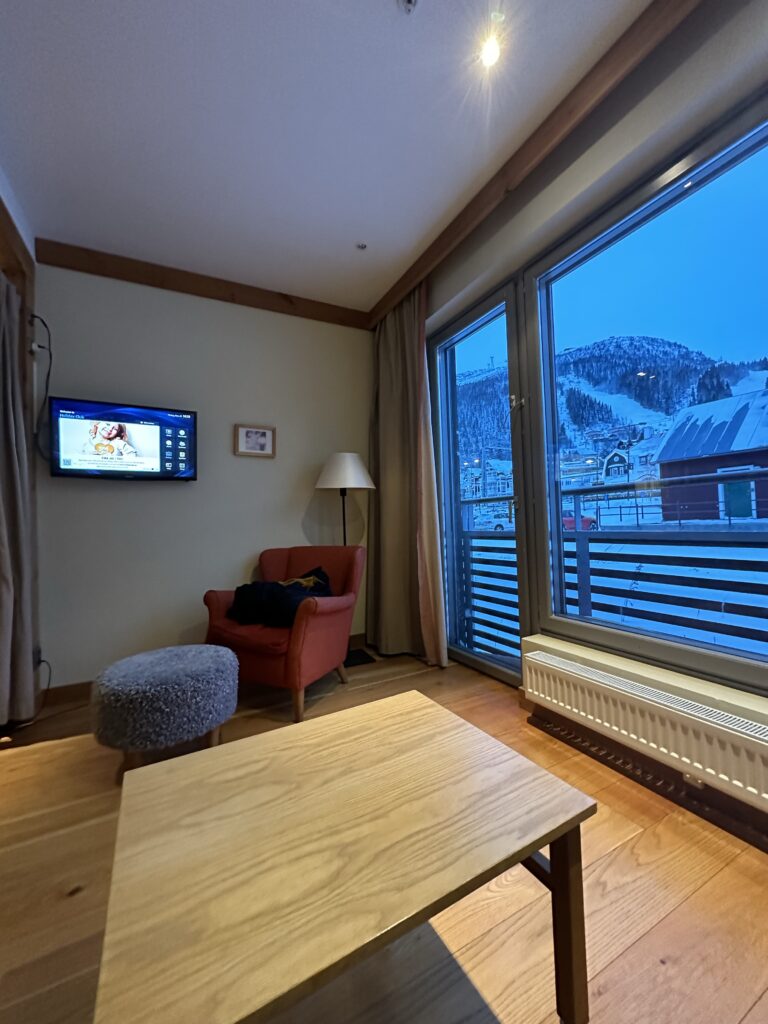 Despite arriving early, we immediately got our room. It wasn't fantastic, and a little broken, but despite being on the ground floor it had a fantastic view of a few of Åre's ski slopes. It was also quite large and could sleep 3 persons using the sofa bed and the curtain to the left in the picture to form a mini-bedroom.
After settling in, we took a 10 minute walk to Systembolaget, the national Swedish liquor monopoly, store to stock up on some local craftbeer from brewer Svartberget as well as some bubbles. After this we headed for dinner at Hotel Granen, a 10 minute uphill walk next to the Åre mountain 'gondola'.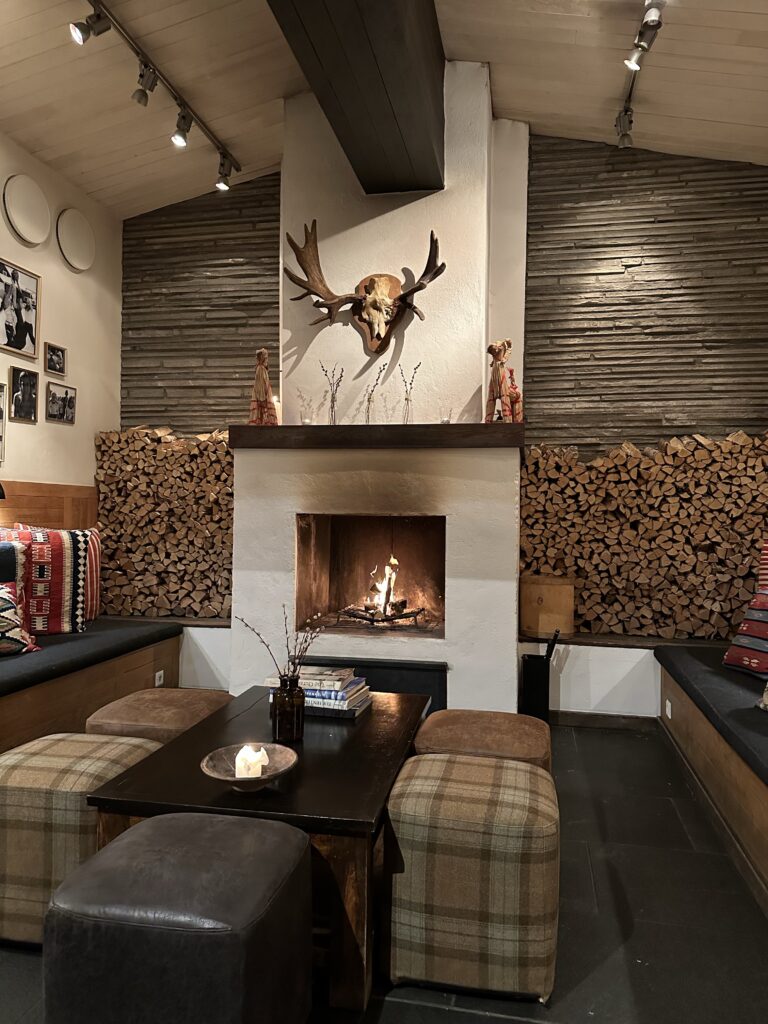 Hotel Granen, translated the fir tree, is owned by Swedish rapper, turned restaurantier and vino, Petter Askegren. Ambience is sort of chic hunting lodge, but very cozy and not overly fancy.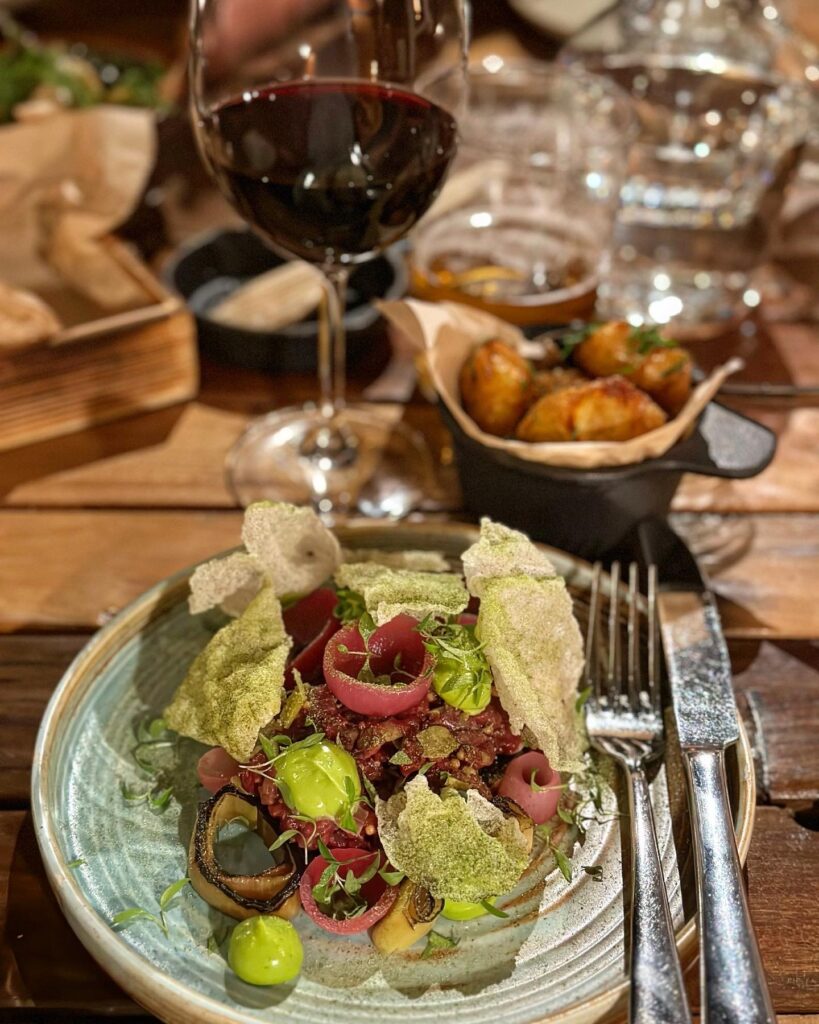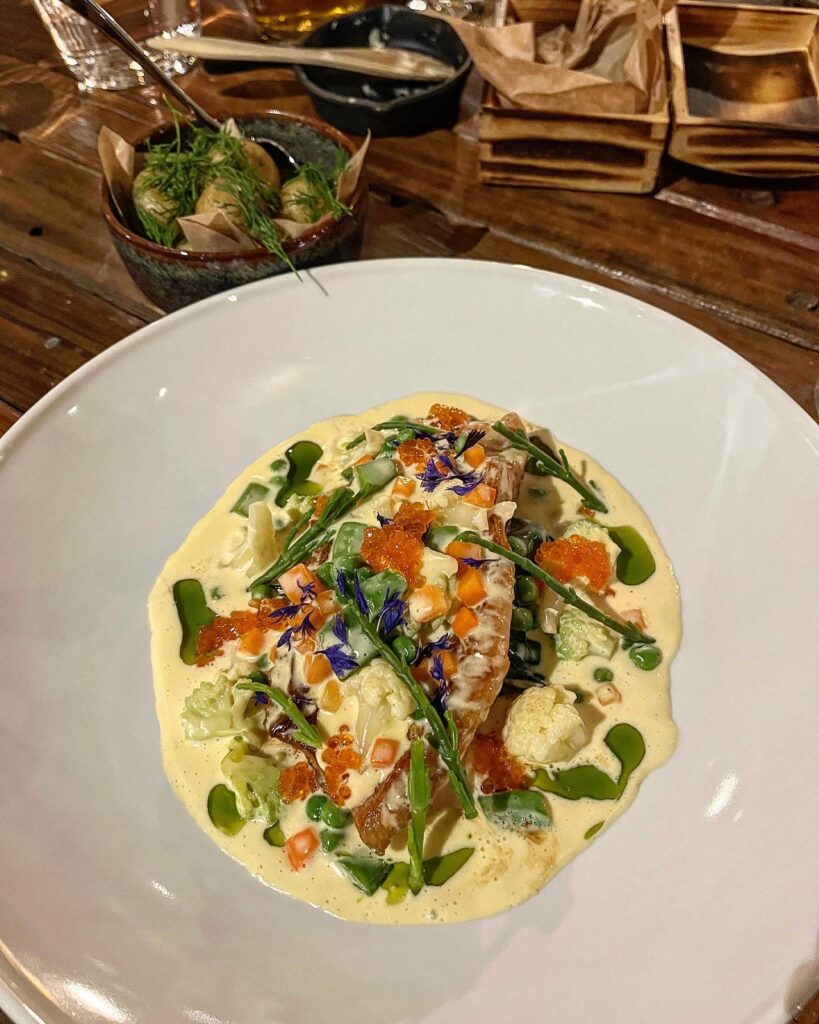 We skipped starters and went straight to main courses. Although we got served a delicious complimentary bread basked with butter to nibble on as we waited for our food. We tried a delicious hand-cut (instead of ground) steak tartare, that came with pickled and blackened leek, parsley mayonnaise, lemon thyme, coarse mustard and a side of BBQ-flavoured smashed potatoes. We also tried the seared rose fish with an emulsion of burnt cream, romanesco, peas and smoked trout roe, served with traditional boiled potatoes with dill.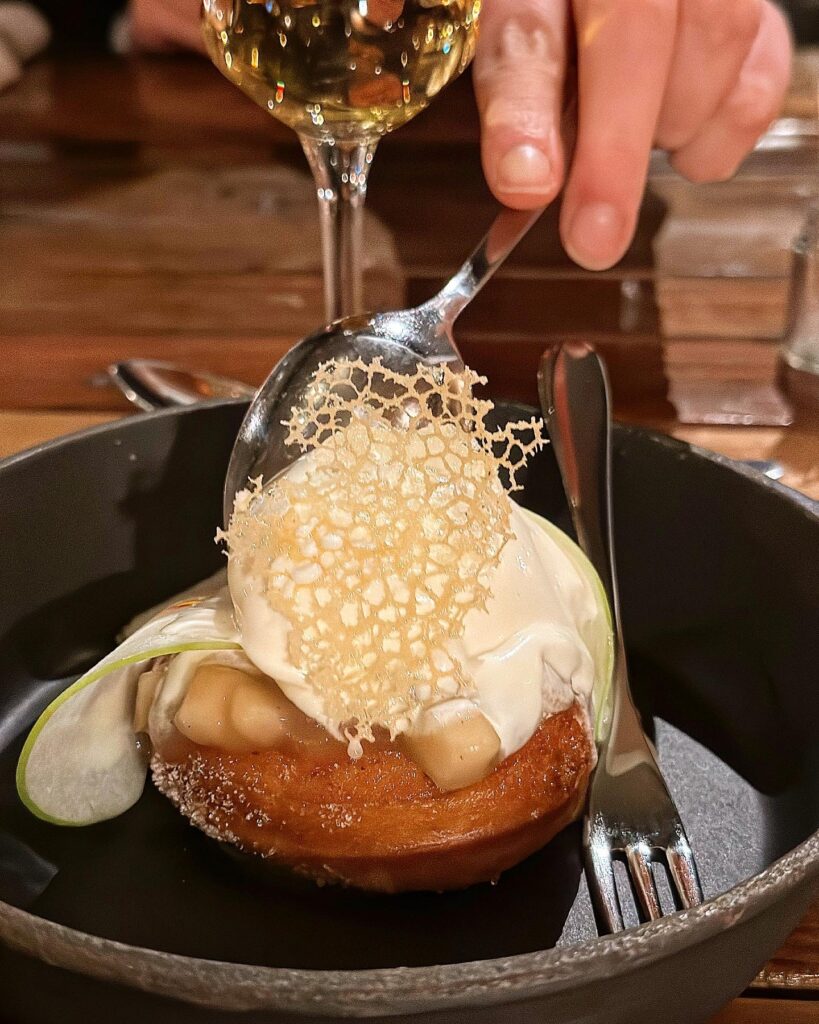 For dessert, we shared a "warm doughnut" with apple compote, Brännlands ice wine granité and cardamom ice cream. Like the mains, the dessert was really tasty, and worked well with a glass of Sauternes dessert wine recommended by the staff.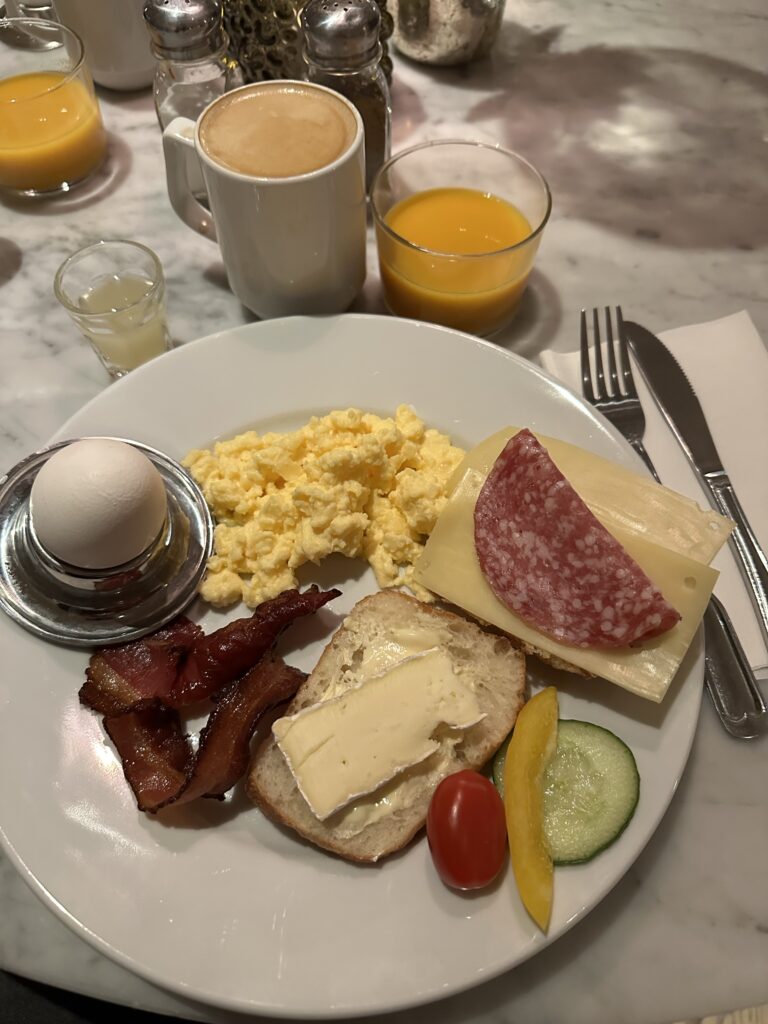 After a good night's sleep, followed by a decent breakfast, at the Holiday Club Åre, we took a pre-ordered cab with ToppTaxi to our next destination.
24 hours of mountain luxury at Copperhill Mountain Resort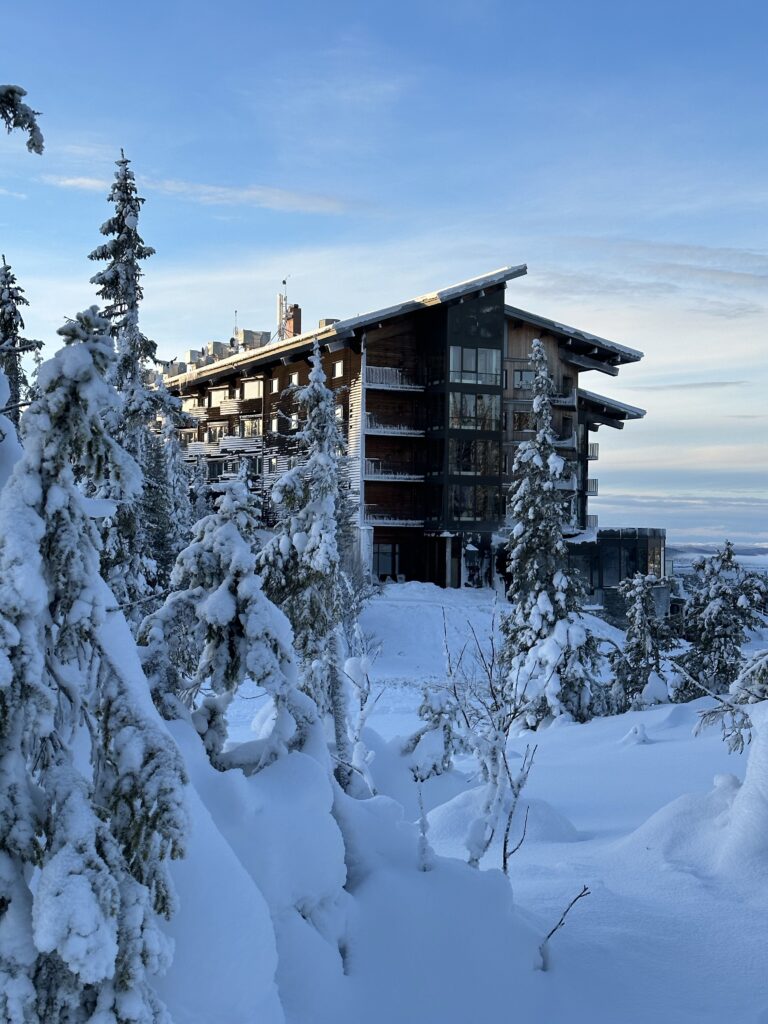 After a fifteen minute drive in almost complete mist, we arrived to the vague contours of a large building – okay, it wasn't that bad, but almost – on top of Förberget mountain in Åre Björnen.
Copperhill, or Copperhill Mountain Resort was opened in 2008, and is a large 112 room luxury hotel with – normally – tremendous views, and location, next to both nature and ski slopes, as well as being a large chunk of luxurious civilisation on top of a snowy mountaion. It has several restaurants, a decent spa, a giant lobby area with a big fireplace and a bar as well as game rooms and various spots for people to gather and hang out. We learned this as they also have the ungodly checkout time of 10 a.m.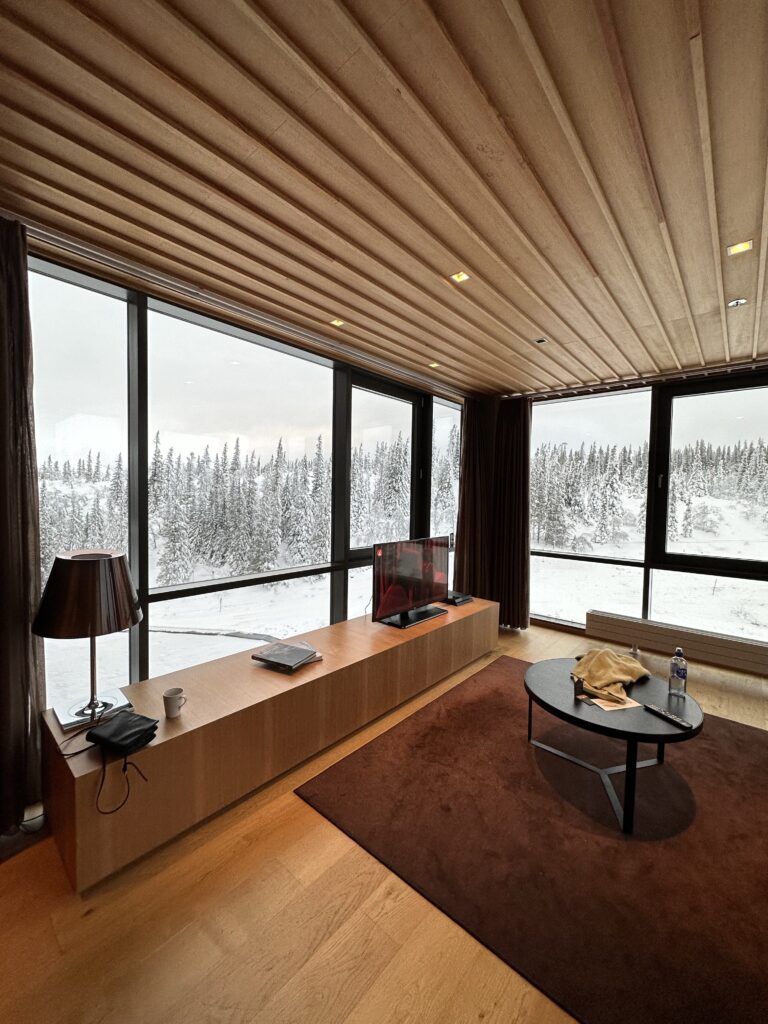 Since we only stayed a night, and since prices weren't terribly good for standard rooms, but pretty good for suites, we decided on the latter. A small standard room with no window was priced at roughly 1 500 sek per night, while a 50 square meter "Silver Deluxe" suite with mountain and forest views in at least two directions costed us 2 200 sek a night.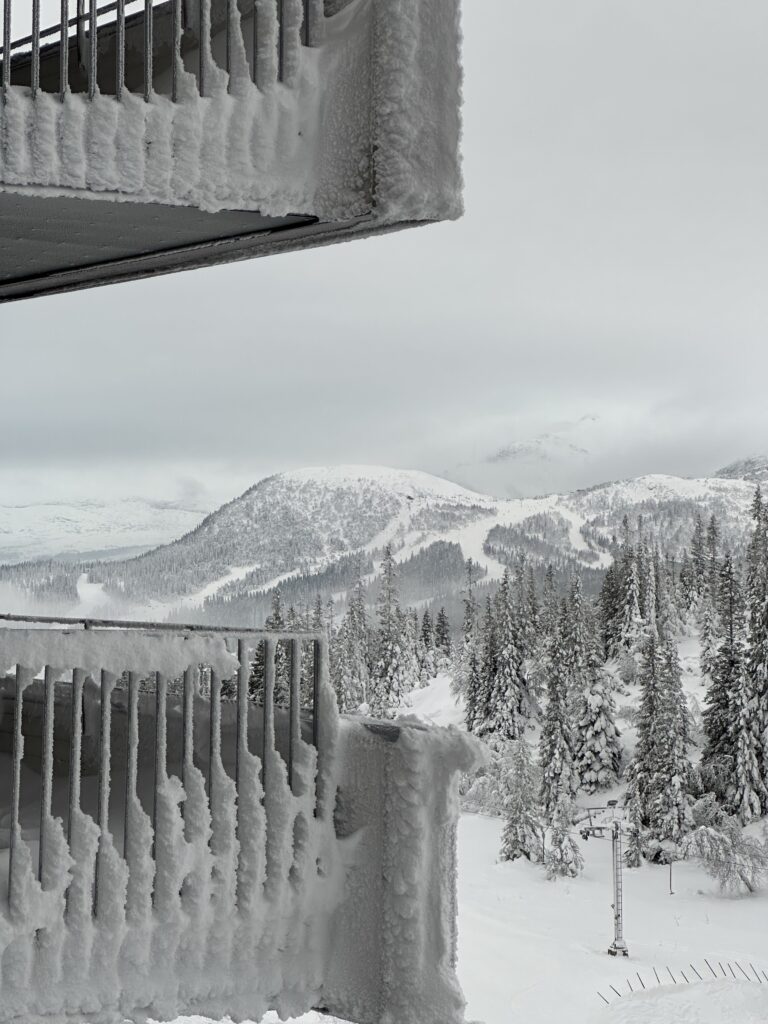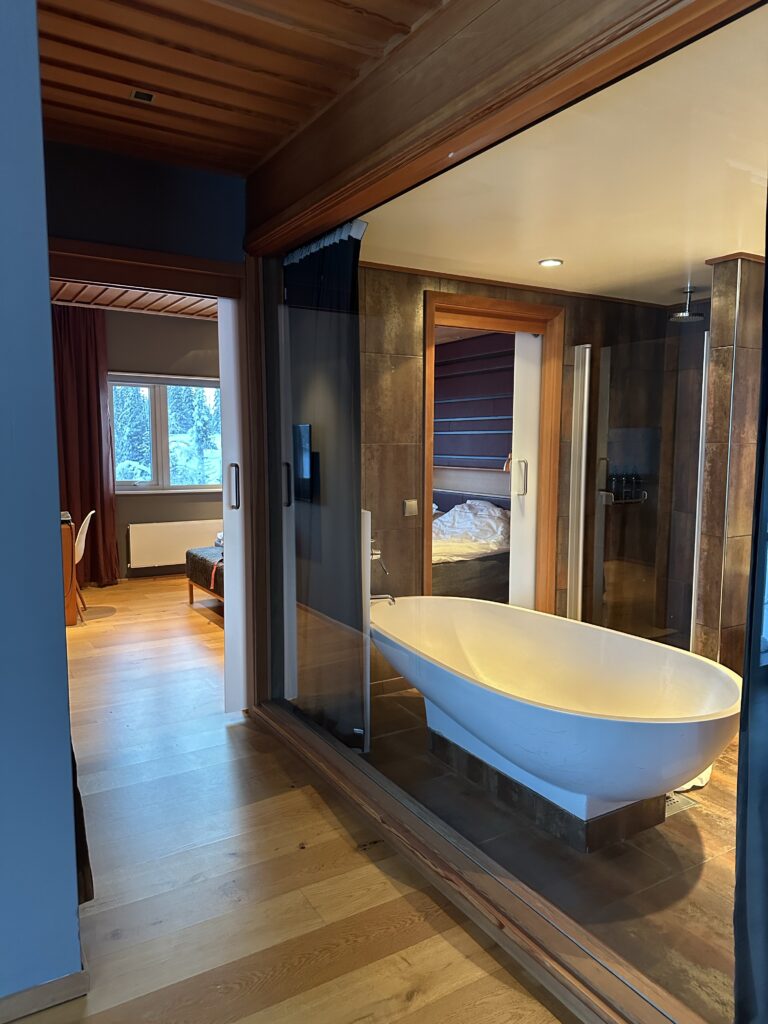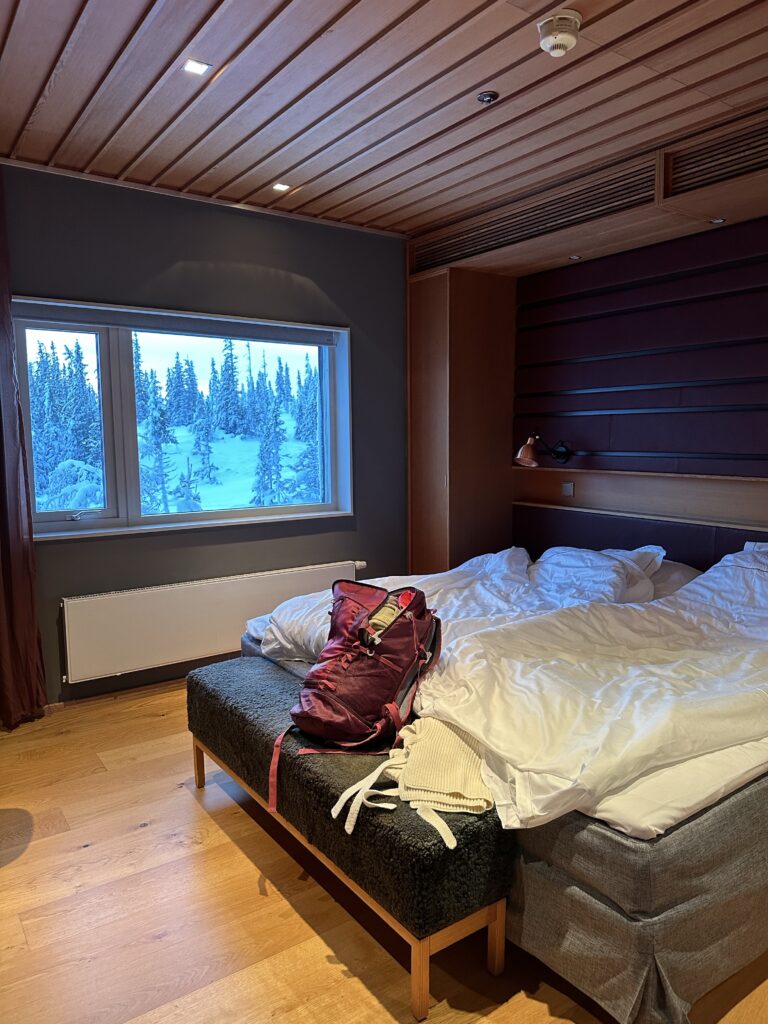 The room, or suite, consisted of a living room part, featuring large windows, which enabled great views over the surroundings (when the mist finally dissappeared), a large bathroom with a pretty, but also slightly hopeless bath tub (do not try to be two persons in it), and a bedroom with a quite large and comfortable bed, mini bar/fridge, another tv, pod coffee maker from Nespresso and a nice forest view from the window.
After checking out our room for a couple of hours it was time for dinner. In contrast to Åre's just-before-the-start-of-the-season-feeling, Copperhill was quite busy. We had booked a table in the main restaurant, and that was probably a good thing as it was almost full. As usual with hotel restaurants, it's a little bit tricky to find decent information about them, but at least Copperhill has some menus online that you can study if you're that inclined (I definitely am) before your visit. Fortunately almost everything sounded delicious, and despite its relatively remote location, I didn't find the prices overly high. The restaurant also had a nice focus on local produce and northern Swedish flavours, which was exactly what I was after this trip.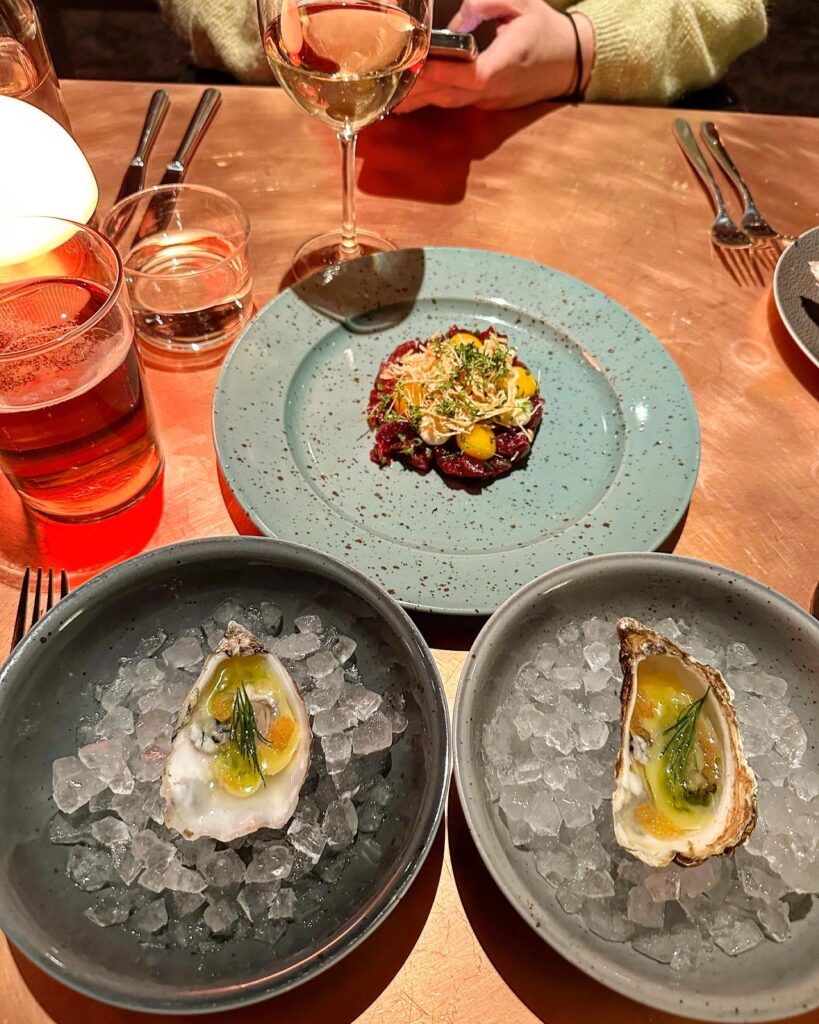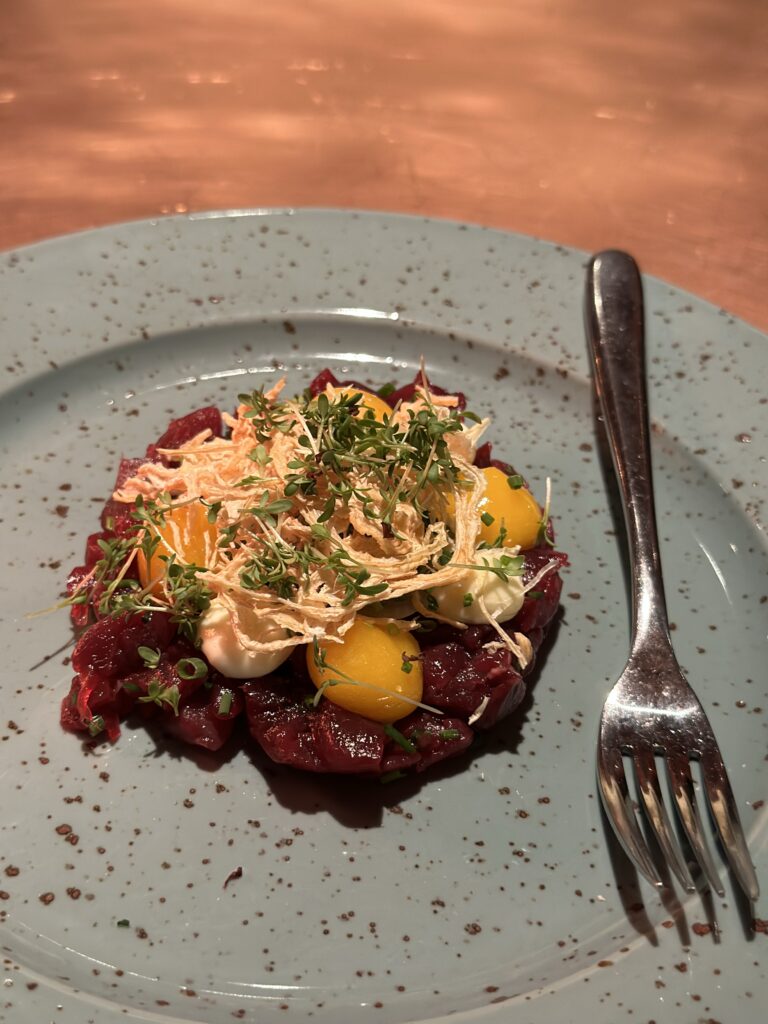 We started with Local's cured moose, which translated into an almost steak tartar-y dish of gin-cured finely cut moose meat with baked egg yolk, dried onion, chive oil and smoked mayonnaise. Very, very tasty. But a little bit on the (too) salty side. We also had an oyster each, which came topped with browned butter, whitefish roe, lemon and chives.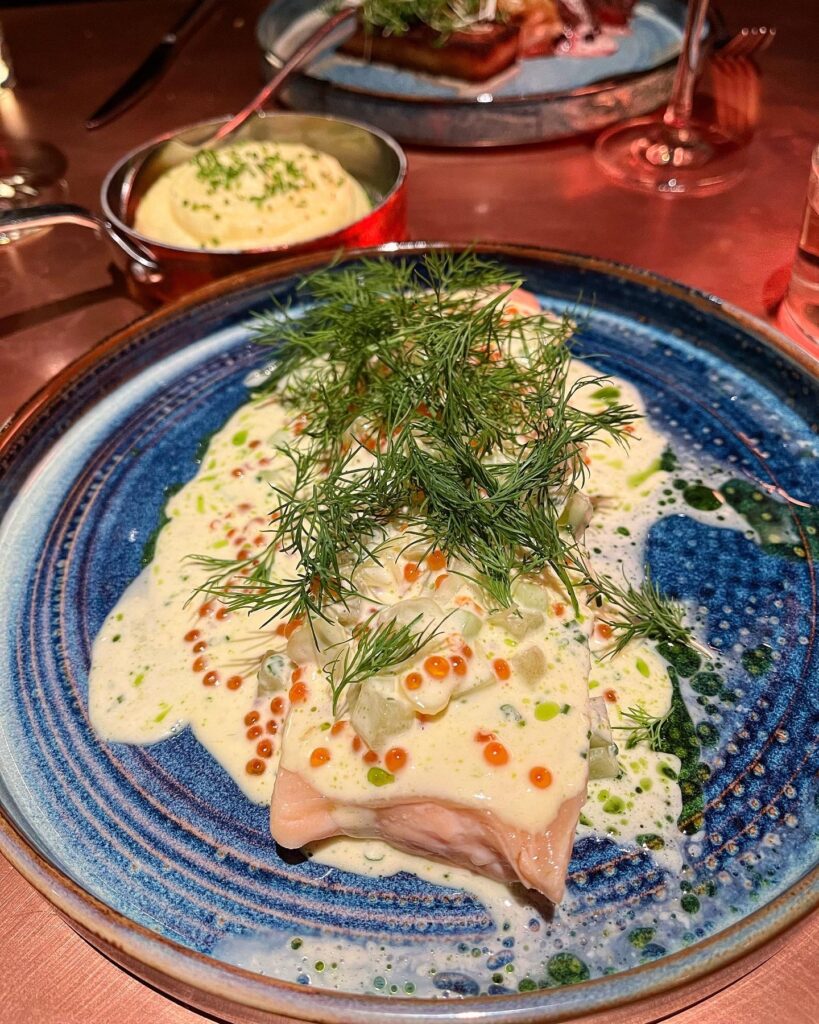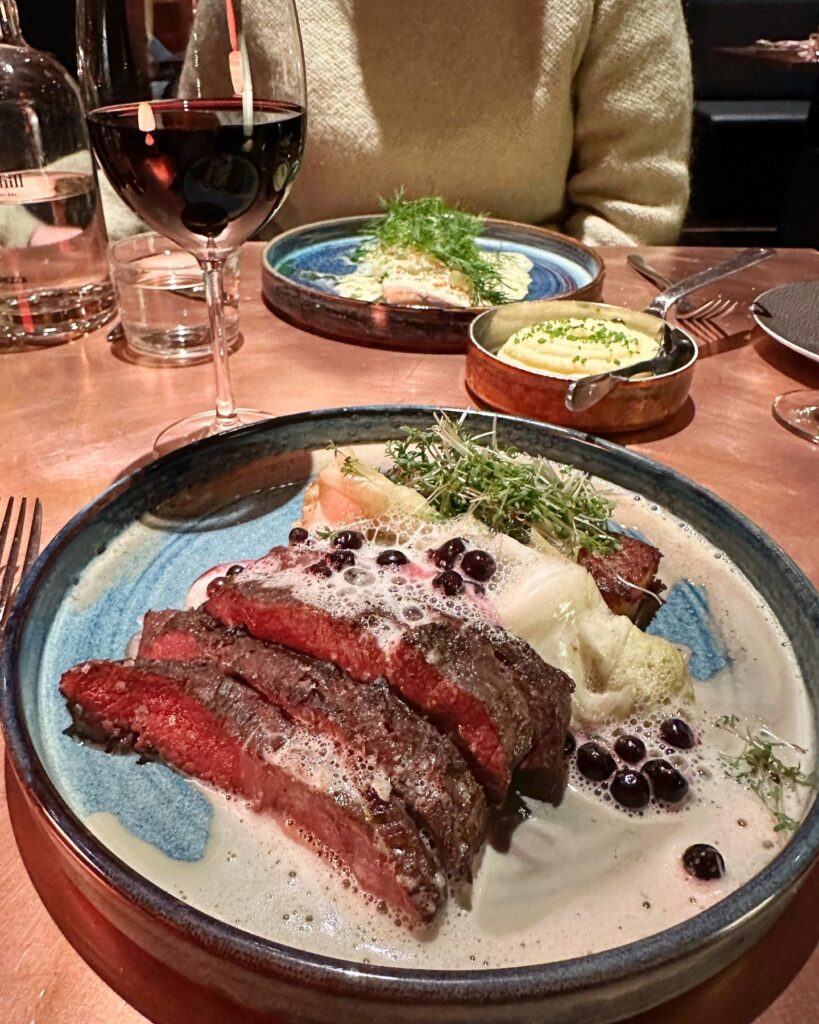 For main course we selected the arctic char from Landön island with apple, cucumber, trout roe, fennel, dill, butter sauce, and potato puree; as well as the grilled venison with black currants, white onion, cabbage, porcini mushroom, a creamy thyme velouté and potato cake. both dishes were absolutely delicious. Good, mild flavours which allowed each detail and ingredient to shine through. Really excellent combination of flavours in both dishes.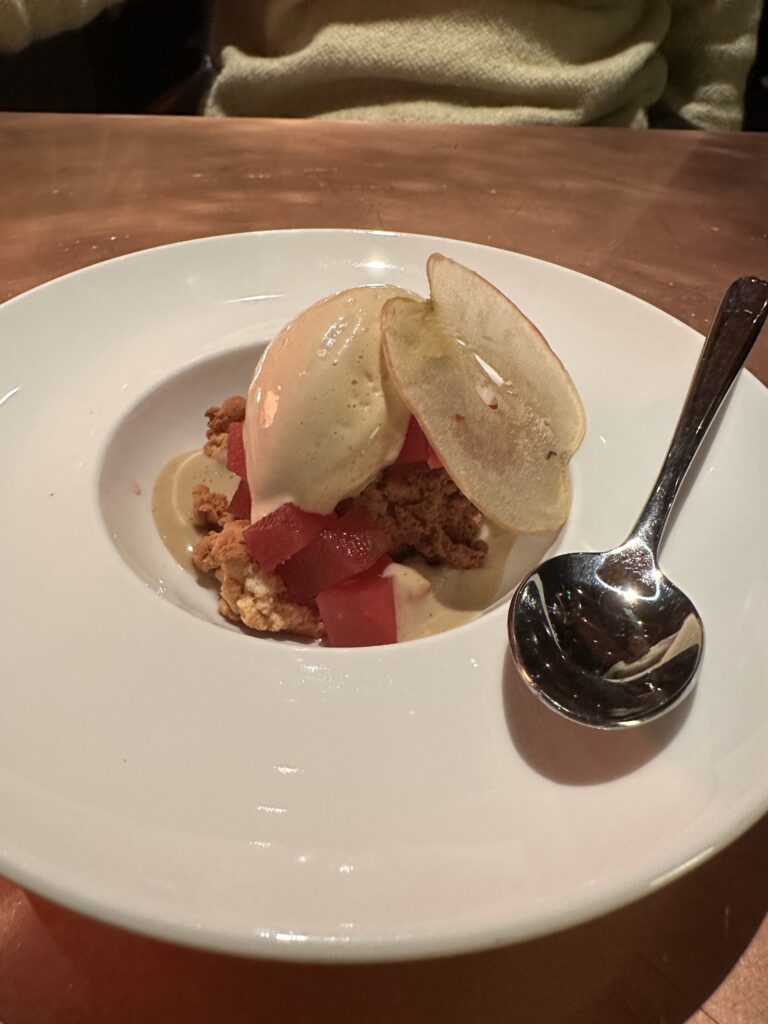 For dessert we decided to share a "Winter apple" with apple cubes, muscovado sugar, vanilla custard, browned butter ice cream, rosemary caramel and roasted almond paste. While still delicious, it wasn't – as – delicious as the starters and the main, and quite brutally priced at 145 sek.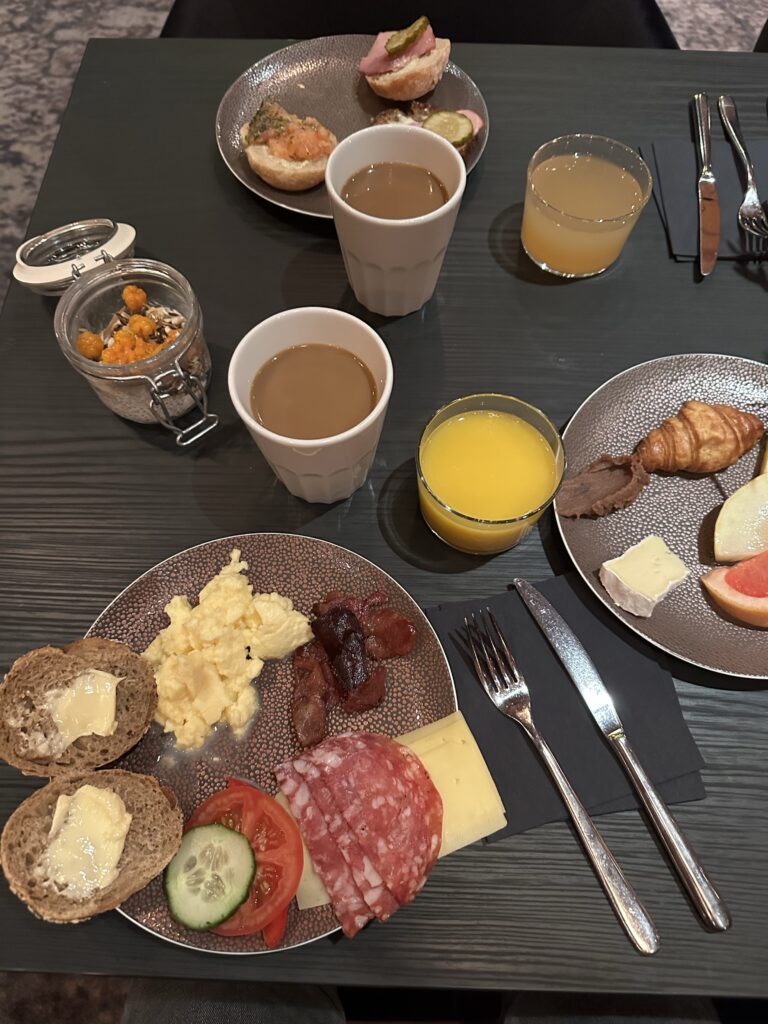 The following morning we had breakfast in the restaurant. It was served buffet style and was of quite high quality, but nothing out of the ordinary. Eggs (a bit watery), bacon, cheeses, coldcuts, a few local items such as game sausages and cloudberries to be put on for instance yoghurt, fresh fruit and pastries was available. It was quite crowded, and quite busy around 8 a.m. but we managed to feed ourselves before rushing back to the room for some final rest and relaxation before the 10 a.m. checkout time. We tried several times to extend it a bit since our train back to Stockholm was departing at 7.30 p.m. in the evening, but as they were fully booked we were told it was not possible.
Instead, we opted to visit the famous spa, that, at the time of writing this, was complimentary for hotel guests if you visit between 10 a.m. and 1 p.m. You had to book ahead via your welcome email that arrived approximately four days before your check in date.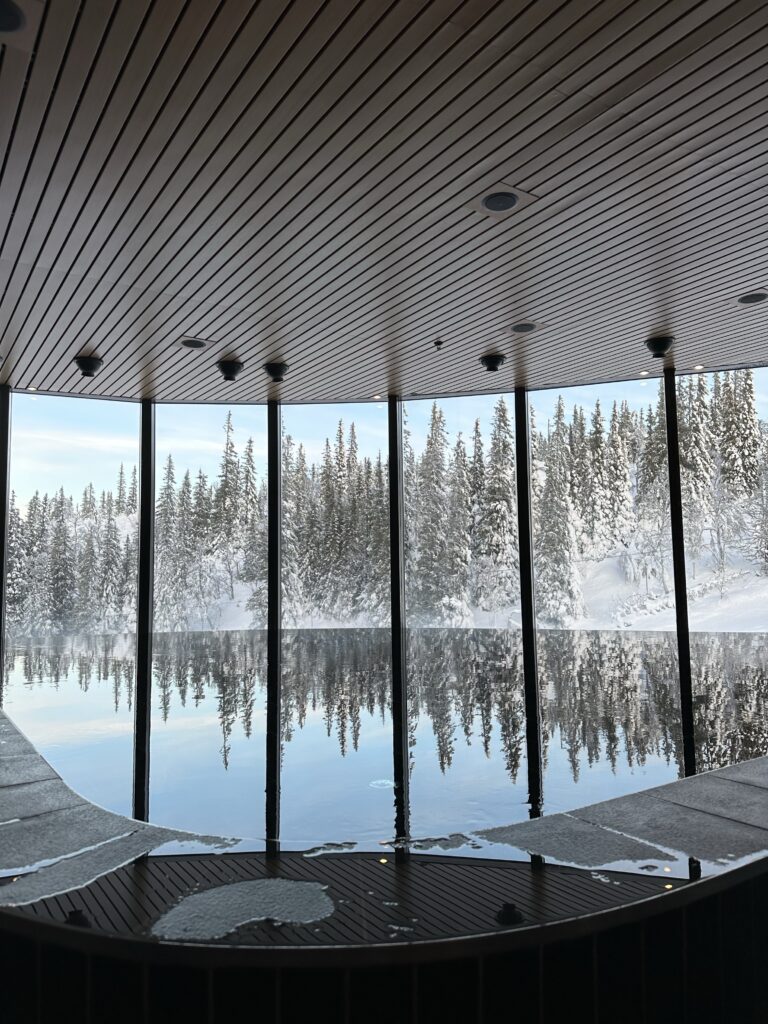 The spa is relatively small, or quite large depending on perspective, or rather if someone else is there. When we arrived we were practically alone with one lap pool, a heated indoor pool (picture above), an outdoor jacuzzi sized pool for maybe 4-6 people, and two saunas (plus there's small saunas in each locker room as well). But steadily as time approached noon, more people arrived, not terribly many, but enough to make it less relaxing and more of a normal pool area. During our selected time slot, the website stated only adults, but there were several children there, so they might have recently changed the rules or did not enforce them.
All in all it was a pleasant experience, but I'm not sure if I'd be happy if I'd paid the non-guest price of 295-495 sek per person, depending on time of the day. It's a great perk to include it for guests between 10 a.m.-1 p.m. though.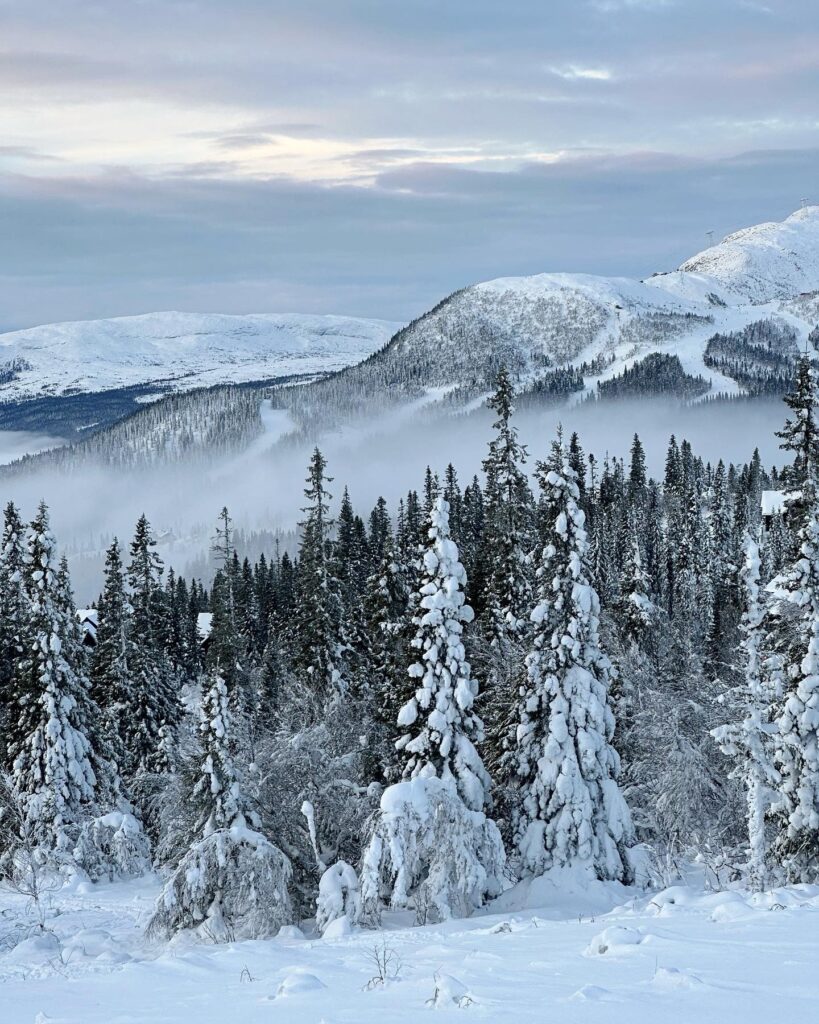 After the spa, we still had roughly 7 hours to kill before our night train from Åre Station would depart. We took a walk around the area where Copperhill Mountain Resort is located. The weather had turned amazing with blue skies and sun, and we could see several mountain tops from our elevated position just outside the hotel.
After the walk we camped out in the lobby, having a coffee and a pastry from their bar/café/fika counter that was delicious.
At around 3 p.m. we asked front desk if they could call us a cab, and then took it to the Åre train station (~ 350 sek) where we had planned to have dinner at the next door Åre Ölkafé restaurant and beer place. They were however closing at 5 p.m. which did not really work for us and our 7.30 departure, so instead we walked up the slope to Mister French, which is a smaller sibbling to Mister French restaurant in Stockholm, as I was craving mussels and fries (it was my plan to eat that at Åre Ölkafé).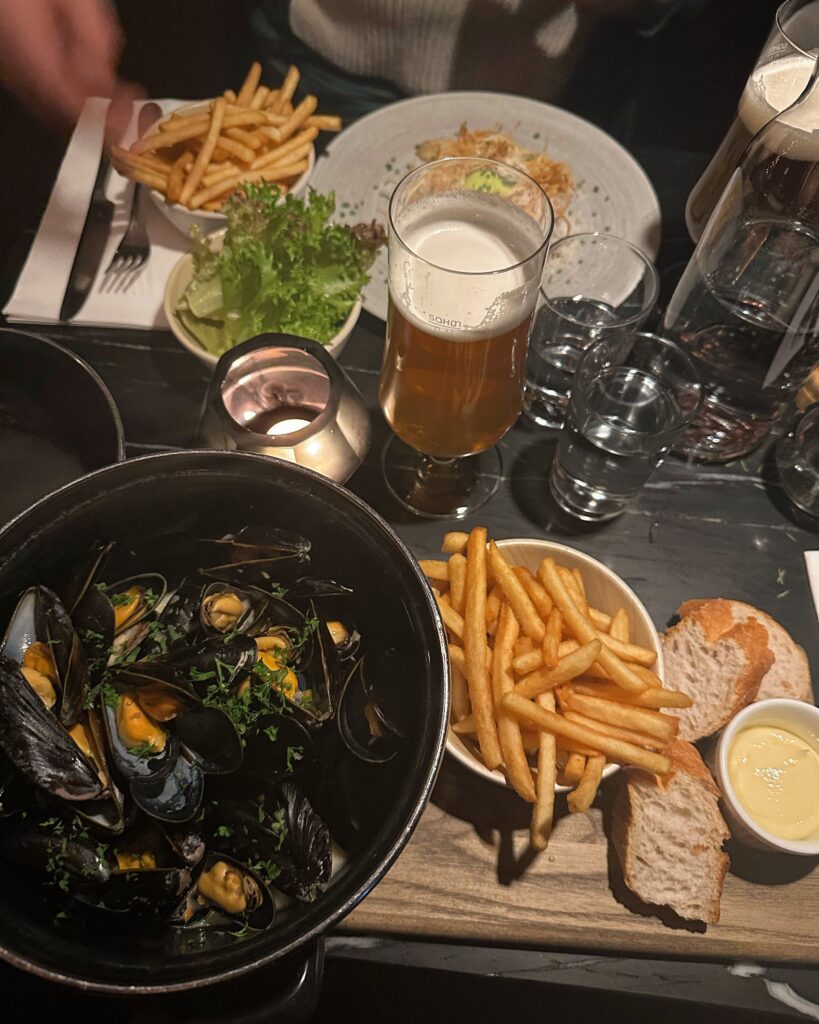 Mussels and fries were good and came with aioli and a few slices of baguette. We also tried their steak tartare that was tasty too.
Taking SJ night train from Åre to Stockholm in a first class compartment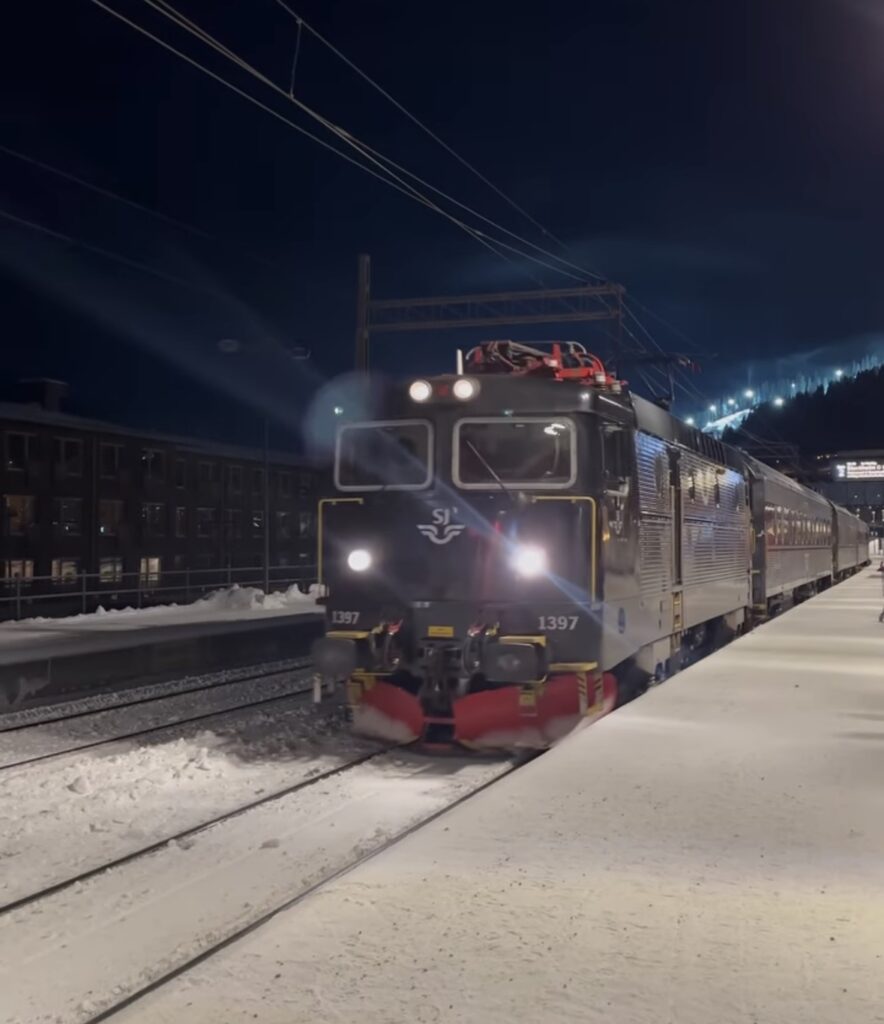 After our meal, we walked the five minutes or so down to the station building. For a small town, Åre's train station is quite large as earlier mentioned, and apart from being connected by an indoor pedestrian bridge to the Holiday Club complex, it also features a couple of floors of a smallish shopping center, with a quite large ICA supermarket on the bottom one. There's also restrooms, but you need to pay to use them, which is something I really dislike about Sweden. It was only 5 sek (tap your card on the card reader outside), but it should be free for everyone, especially in a train station. Fortunately we knew there were free public restrooms at the Holiday Club, just across the mentioned indoor bridge, from our stay the day before, so we walked over and used theirs. We finished our time at Åre station with buying some snacks in the supermarket, and pretty much on time – 7.30 p.m. – our SJ night train bound for Stockholm rolled into the station.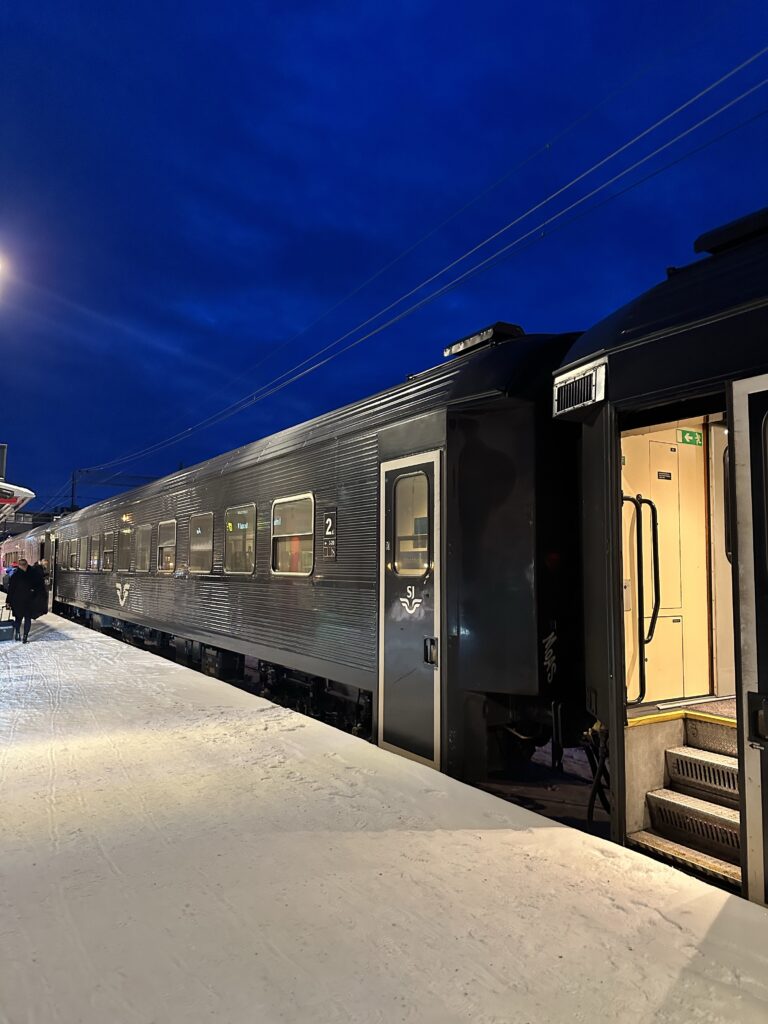 There wasn't that many people getting on, as we had suspected, as it was still a few days before Christmas, and season for going to, not from, Åre was just picking up. At moments it felt a little bit like being alone on the train, as we had booked our own 'first class' sleeper, and barely heard or saw someone for the entire trip.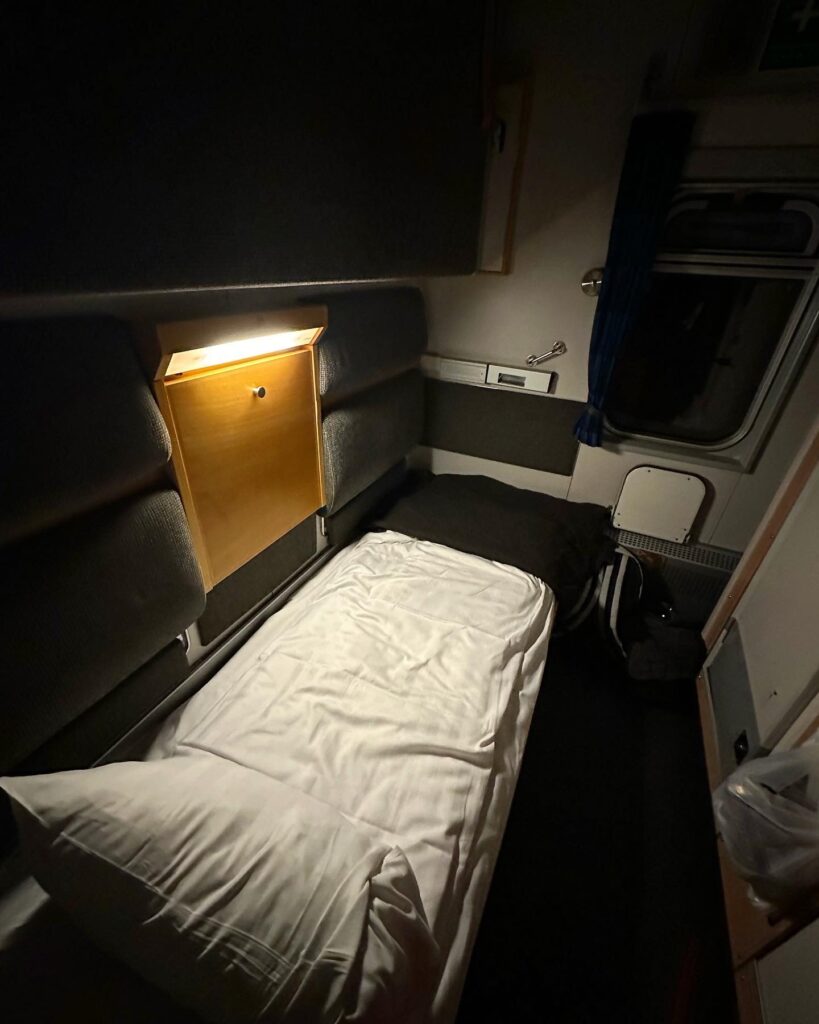 First class sleeper onboard SJ it pretty much the same as 2nd class, except for the added convenience of a toilet and shower in the compartment. There were also only two beds instead of three, so if you're sharing with strangers, it's slightly less crowded. Bed quality was quite decent, and I always find it extremely cozy to sleep on moving trains, similar to the same in business and first on planes, but that is of course usually much more expensive as 10 hours on a plane will take you slightly longer than Åre-Stockholm.
Sleeping quality itself is another story though, and I didn't sleep that great. We arrived Stockholm at around 5.30 in the morning, and were told by the conductor that we could stay in the train until "just before 7", "if we didn't want to wake up in the depot". Those words and the slightly vague time-frame haunted me, so when they put on the engines again around 6.10 a.m. we sort of panicked a little and rushed off the train. Since it was so early, the train bistro that opens at 6.30 a.m. never opened, which I think entitled us to a free breakfast, as we were in first class, at the Central Station Café Ritazza. We were so tired at this point though, so we just walked straight to the connected subway and went straight home for some extra hours of sleep.