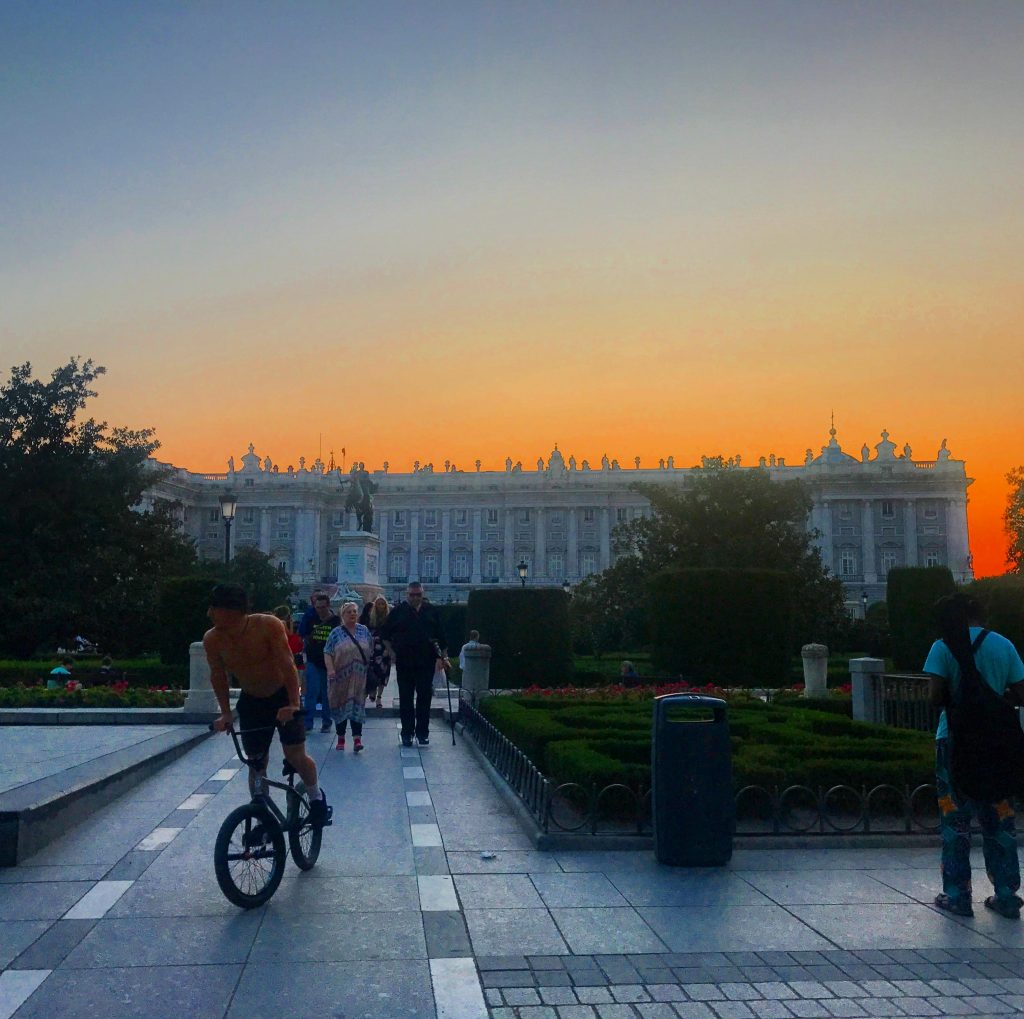 Just got back from a short, fun and busy trip to the great busy Spanish capital Madrid. Unfortunately the image quality is not that great since I only brought my phone. But nevertheless, below are the (mostly) great restaurants I visited.
O'Grove restaurant
Most restaurants that has a man or woman hand slicing pata negra when you enter turn out to be great places in my experience. The thin, nutty and fatty pata negra ham did not dissapont at all to start our meal.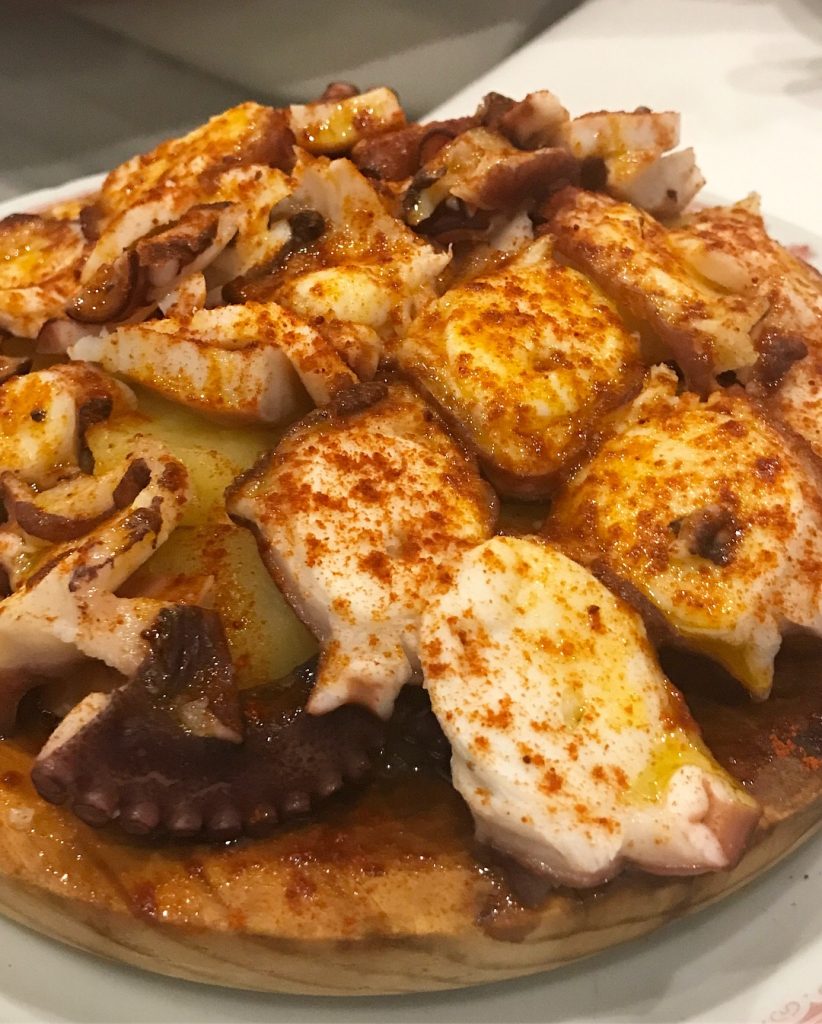 Pulpo, eg. squid grilled and seasoned with smokey paprika.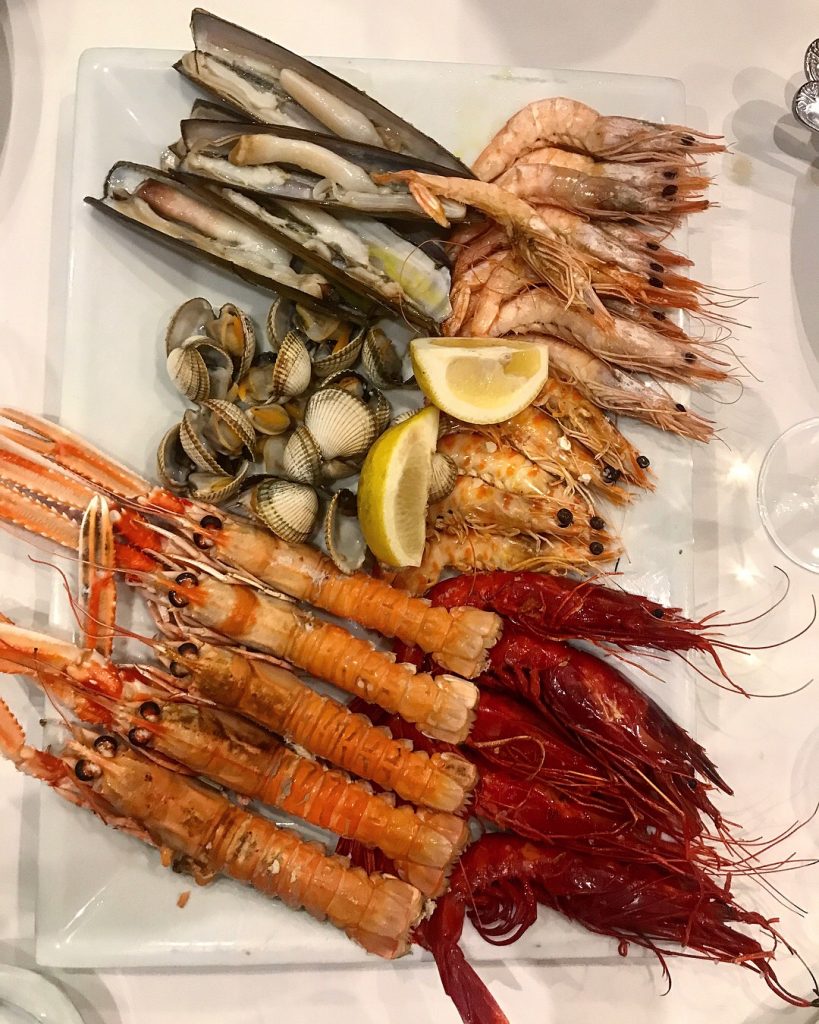 Grilled seafood. Langoustines, prawns, crayfish, clams, razor mussels and lemon. So good.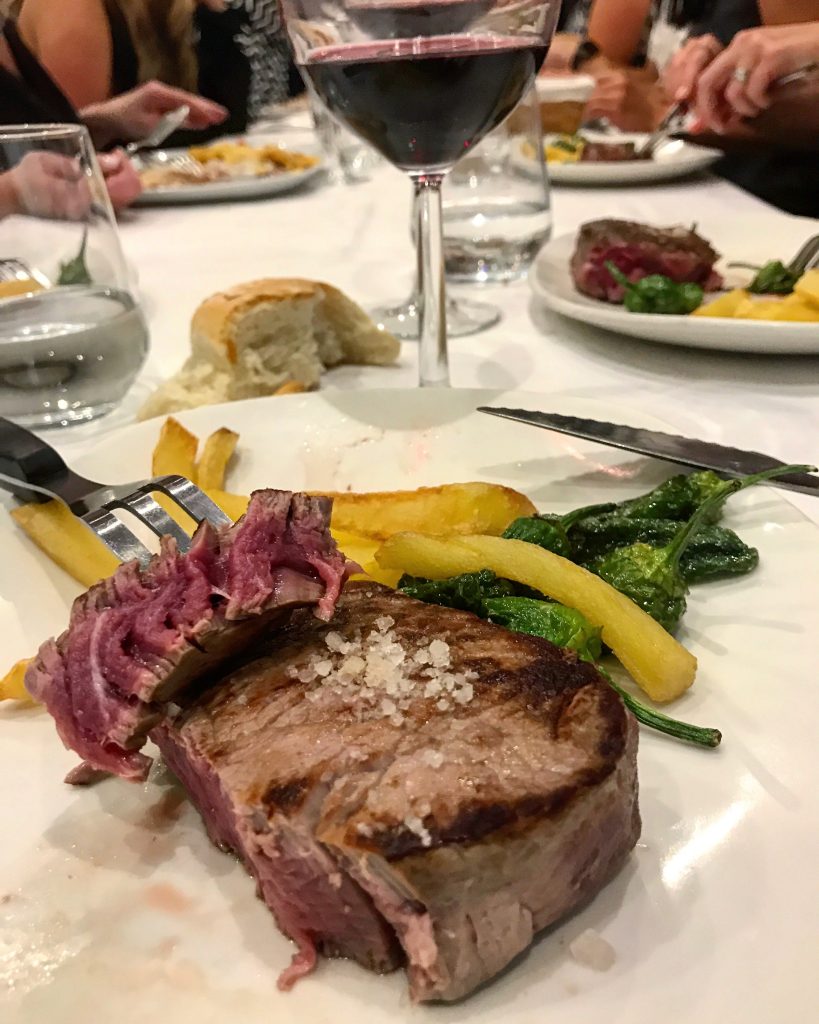 Our main was a perfectly sized (after the enourmos amount of tapas to start) beef fillet, served with only a few chips and piementos de padrón.
El Buey restaurant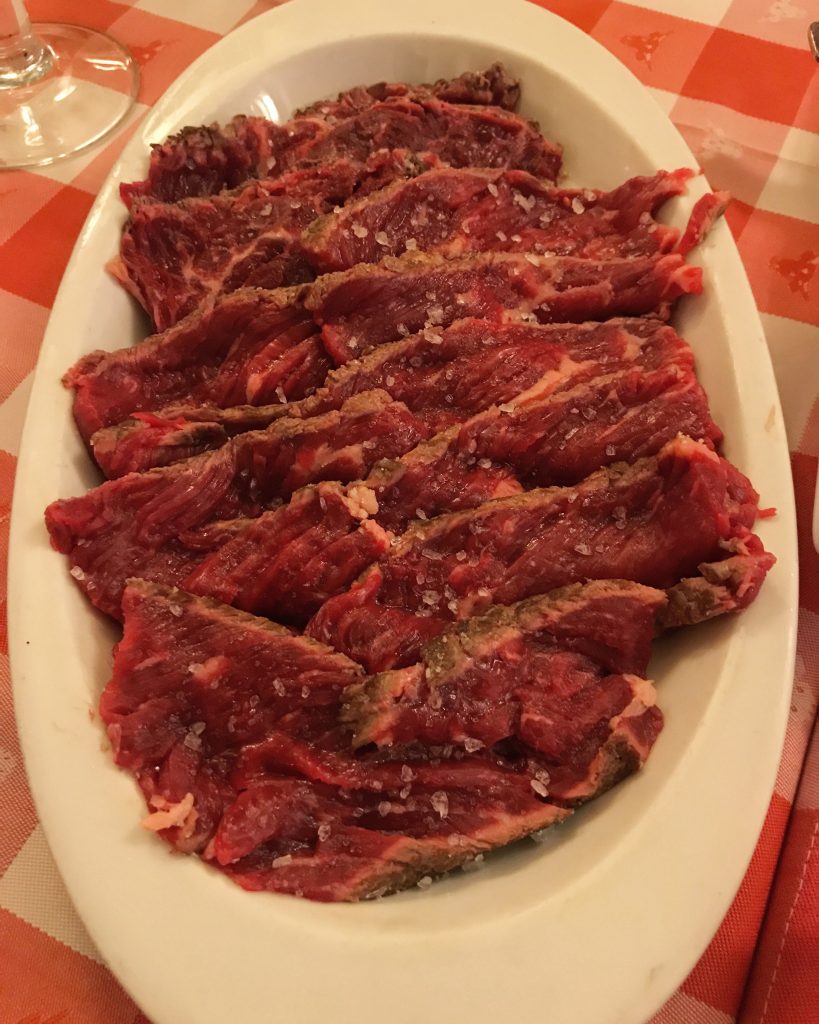 Surprisingly, you got to cook your own steak on a hot plate set in front of you, something I did not realise while booking. This is the steak, pre-grilling. By some reason I took no post-grilling pics. The meat above was really good and was served together with some really good chips/fries and a nice, slightly acidic sauce to baste it in while grilling.
Starters were handed out before the meat and consisted of salad with a mayonnaisy dressing; a ratatouille-like tomato and vegetable stew topped with quail eggs, and deep-fried potato baskets. The same baskets were included with the blood sausage scrambled eggs.
El Buey restaurant website

La Lonja del Mar
Despite being the fancy restaurant of the trip, I was a bit dissapointed with La Lonja del Mar. Although the dishes were okay, they did not at all impress. Above is the two best dishes, a Donistiarra style hake with clams and Torrija, a Spanish version of 'French toast' served with missing cherries and 'Amarena' ice cream. Tasty enough, but by no means great, unfortunately.
Bodegas Pablo Morate winery
Our visit to Bodegas Pablo Morate, a small family winery just outside of Madrid was a highlight of our stay. We got to try some excellent wines (unfortunately not the 101 year old bottle above) and got served some of the best tapas I've had. Extra good because Pablo Morate's mom, the cook of above feast, joined us and told us about the food and even gave us the recipe for the incredibly tasty Spanish tortilla omelette.
Tapas tour in  the Salamanca district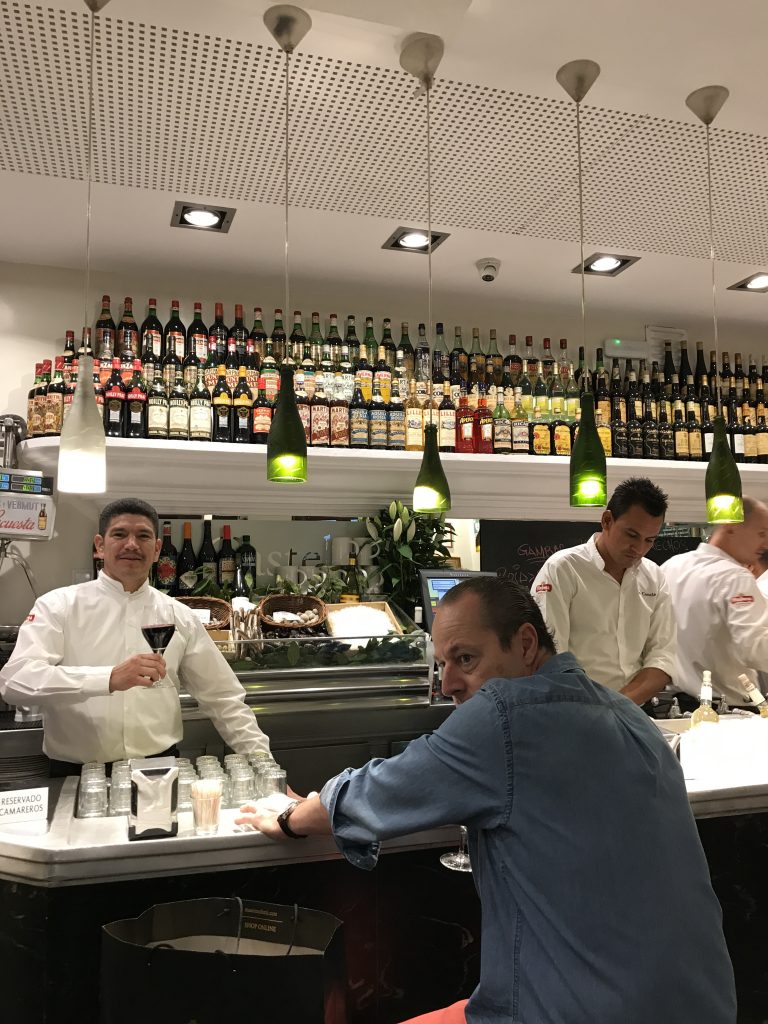 Our last evening we decided upon a walking dinner with stops at three acclaimed tapas restaurants in the Barrio de Salamanca where we stayed at the Novotel Madrid Centro, which was pretty good.
La Castela restaurant


Cold but quite tasty shrimps to start the evening.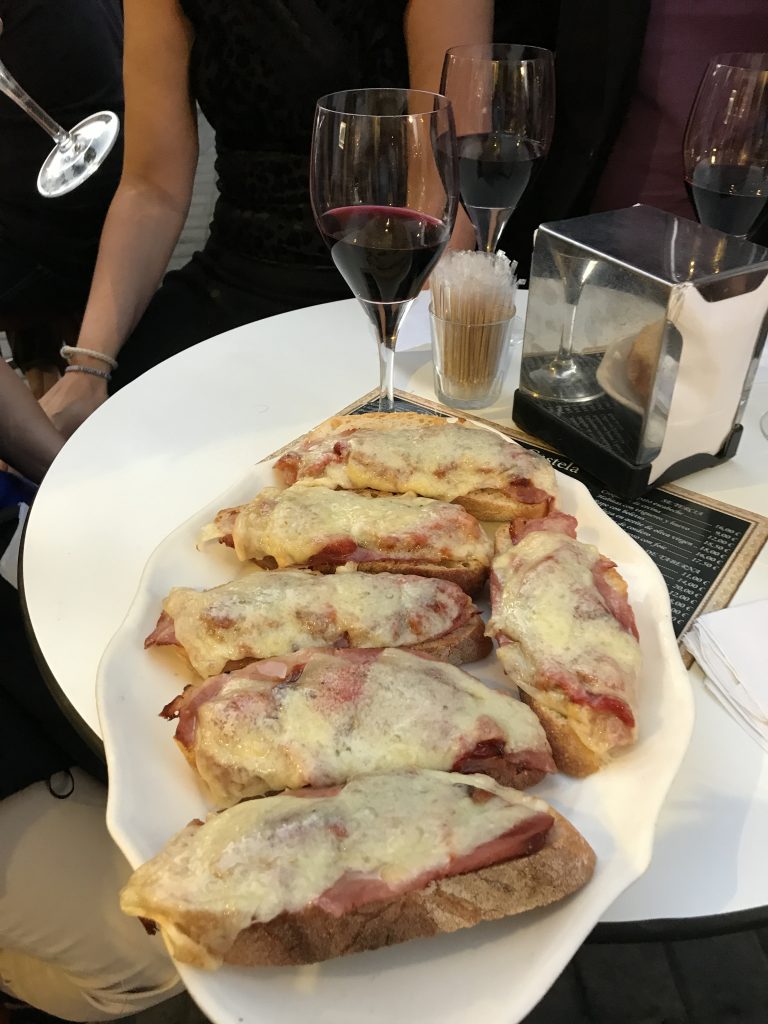 Pizza-like sandwiches with cheese, grilled and peeled peppers as well as ham. Went down well with a glass of red.
La Monteira restaurant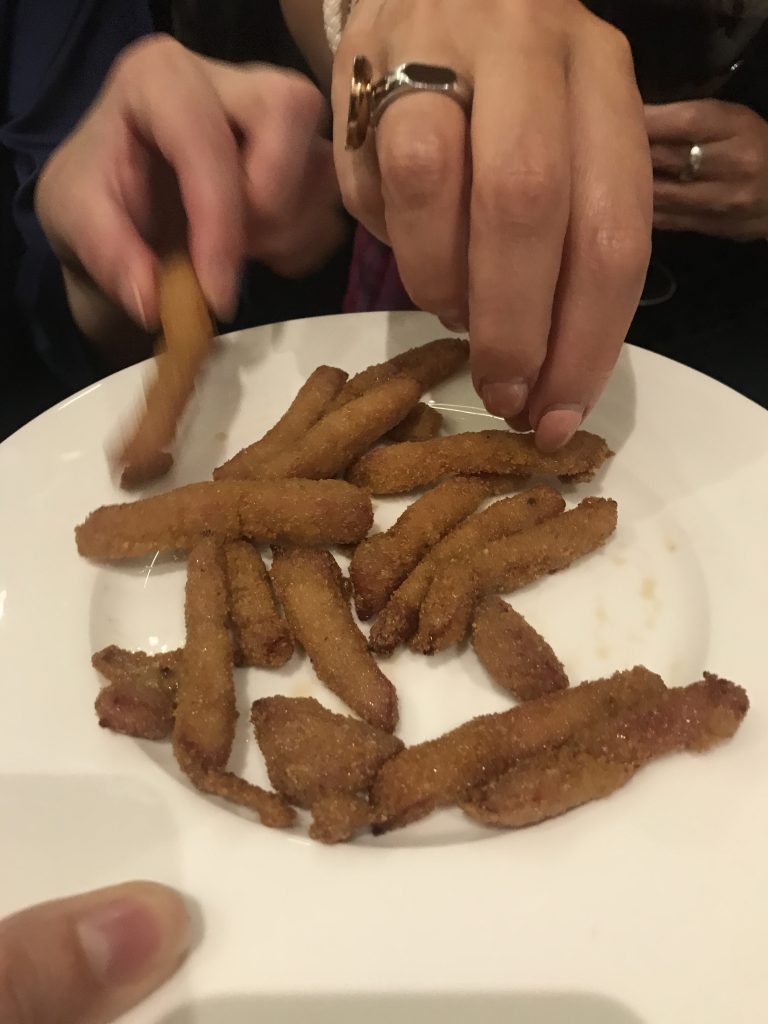 Might not look that exciting, but a quite nice little nibble in the form of deep-fried breaded pork.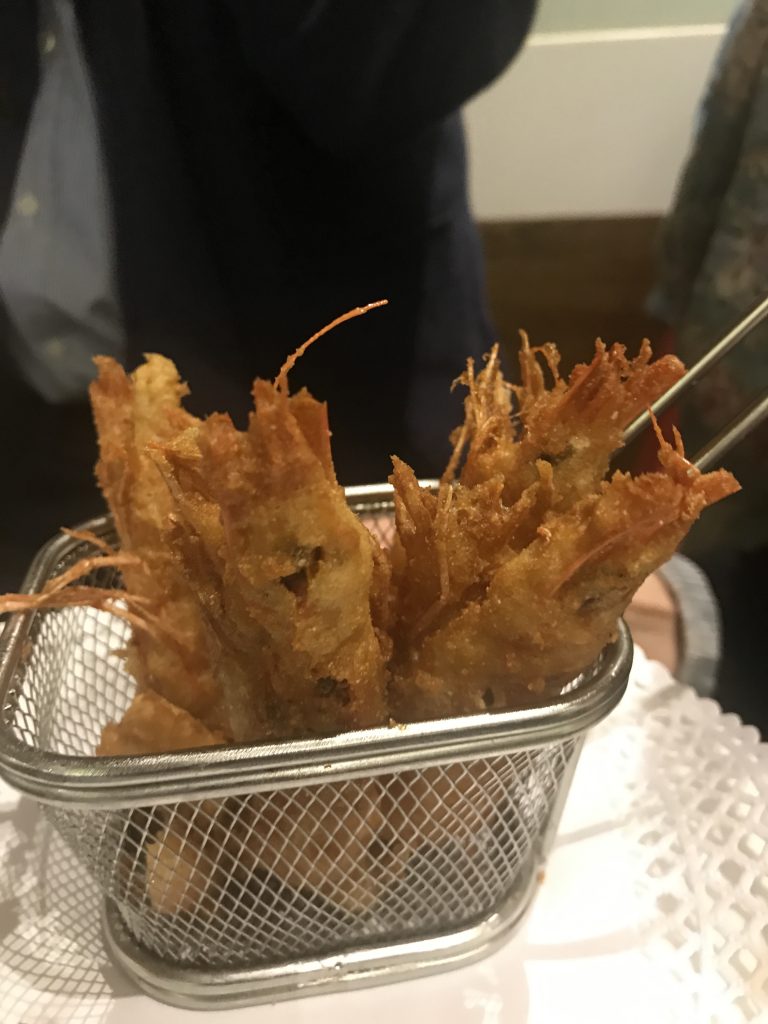 Prawns, deep-fried and supposed to eat whole.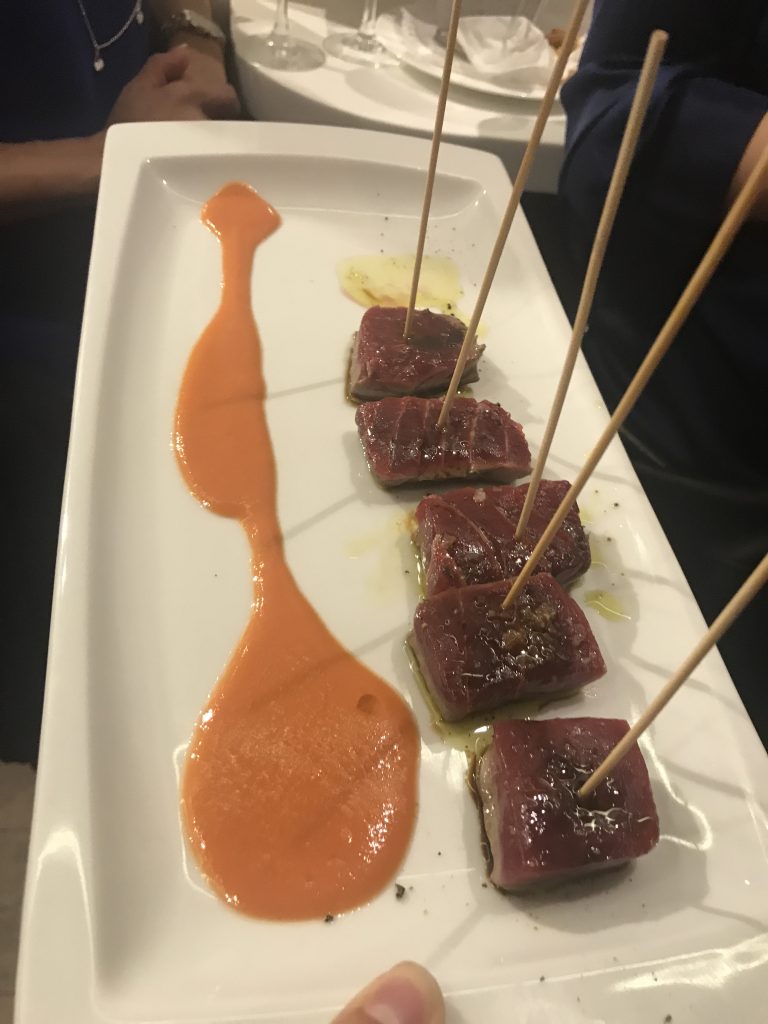 Seared tuna with a tasty dipping sauce. One of the highlights of the tapas we were served.
Restaurant Castelados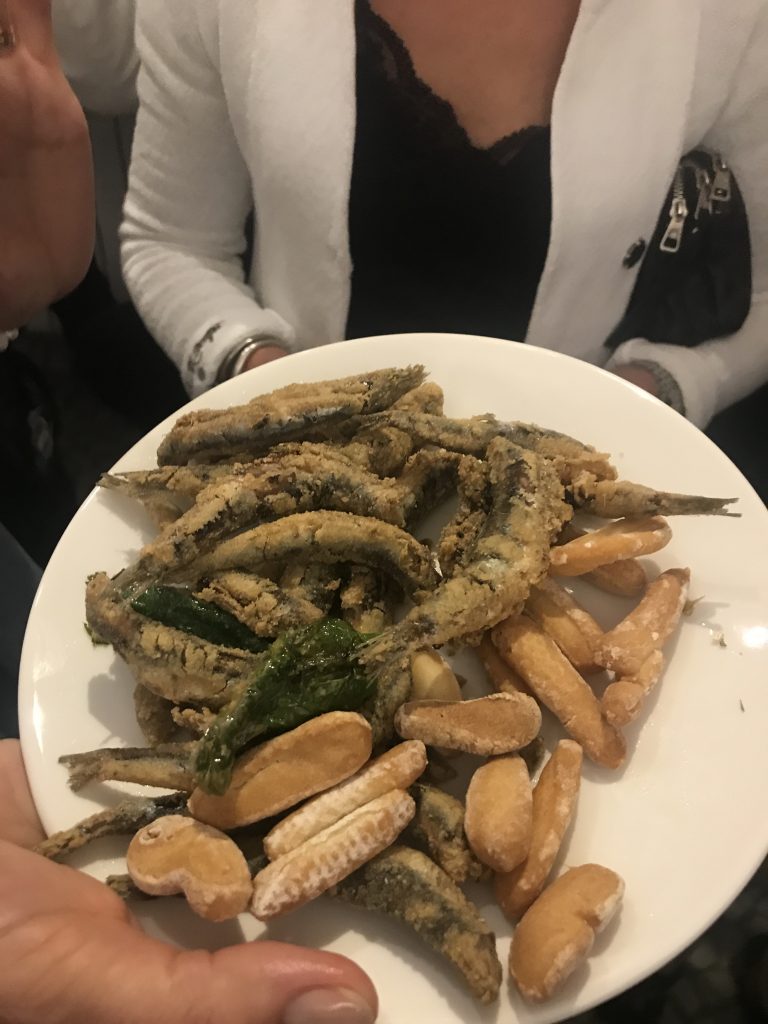 We got served a plate like above at each of the places visited. A mix of whole deep-fried fishes – to be eaten with bone and all, piementos de padrón and some crunchy stuff I can't remember.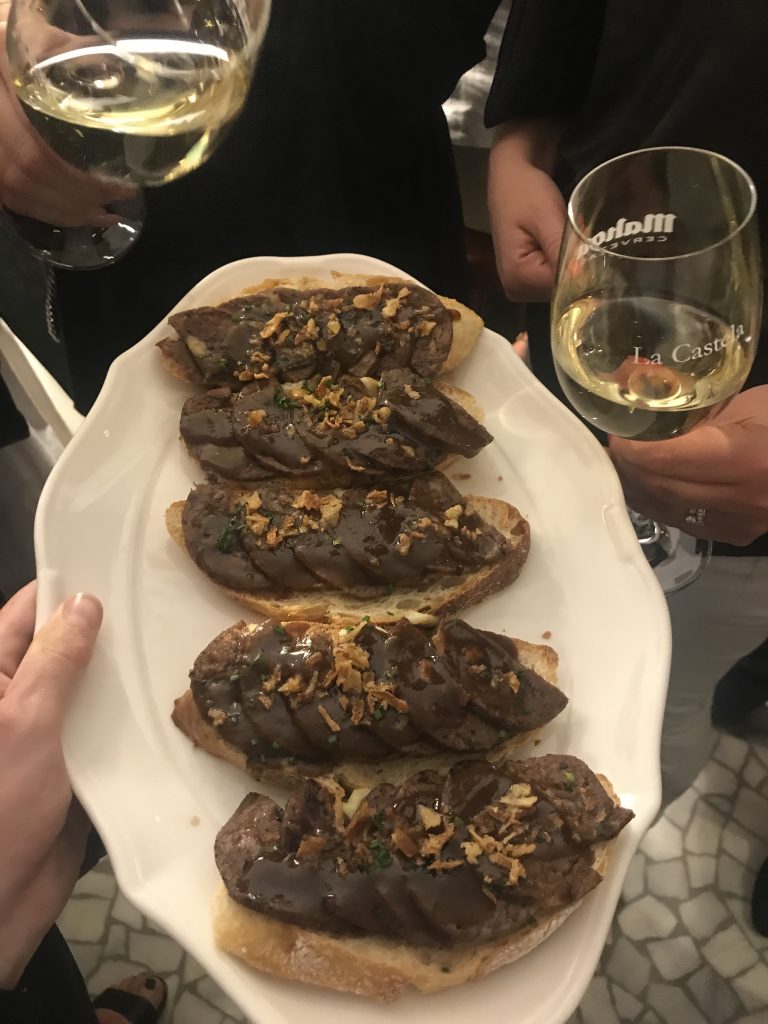 We had lots of sandwiches. This one was quite inventive, being the vessel of one of Madrid's most famous dishes; oxtail stew. By this point I was so full, but still managed to chew one and a half of these guys down.
Restaurante Castelados website
The roof at Hotel ME (Radio), Madrid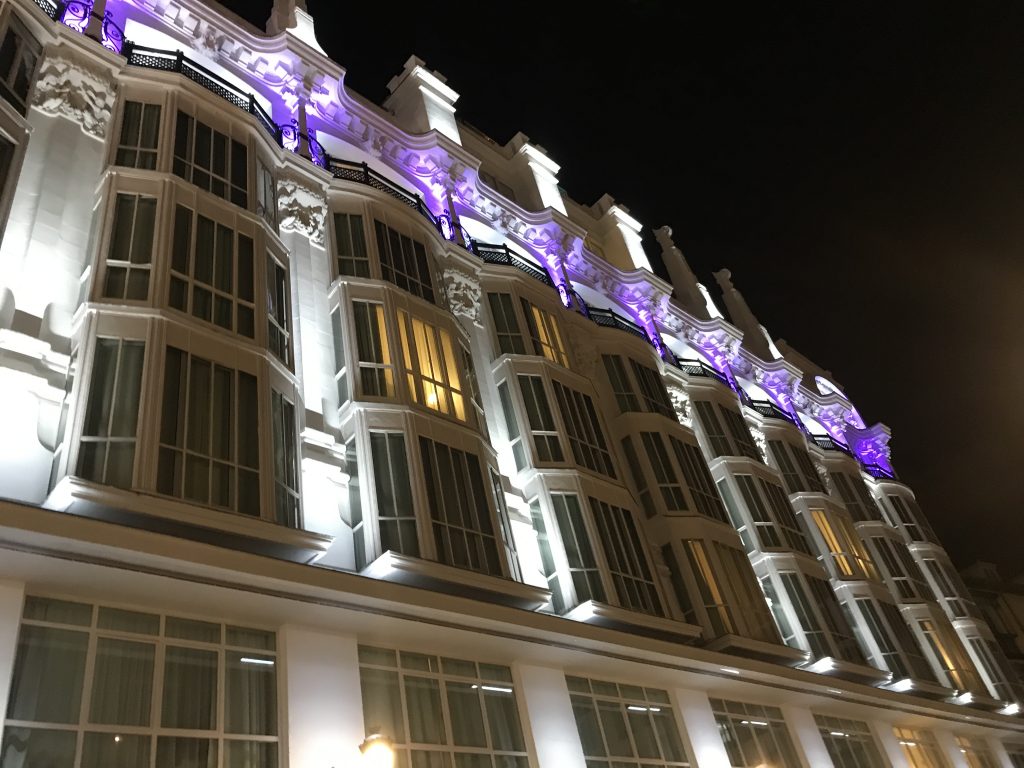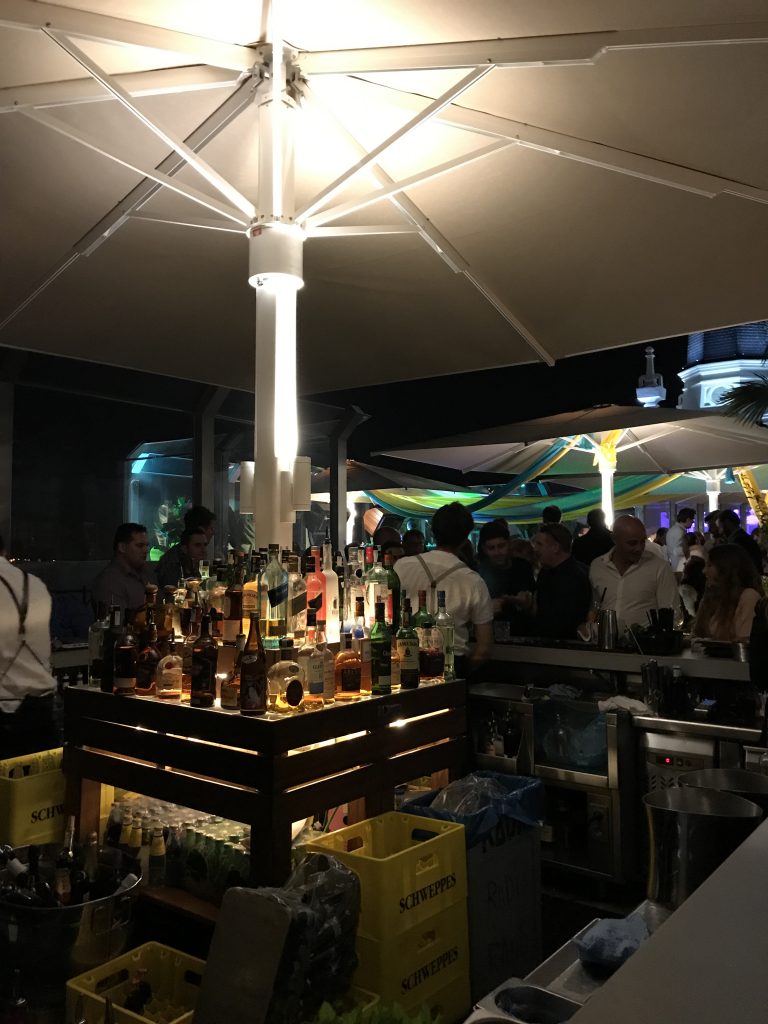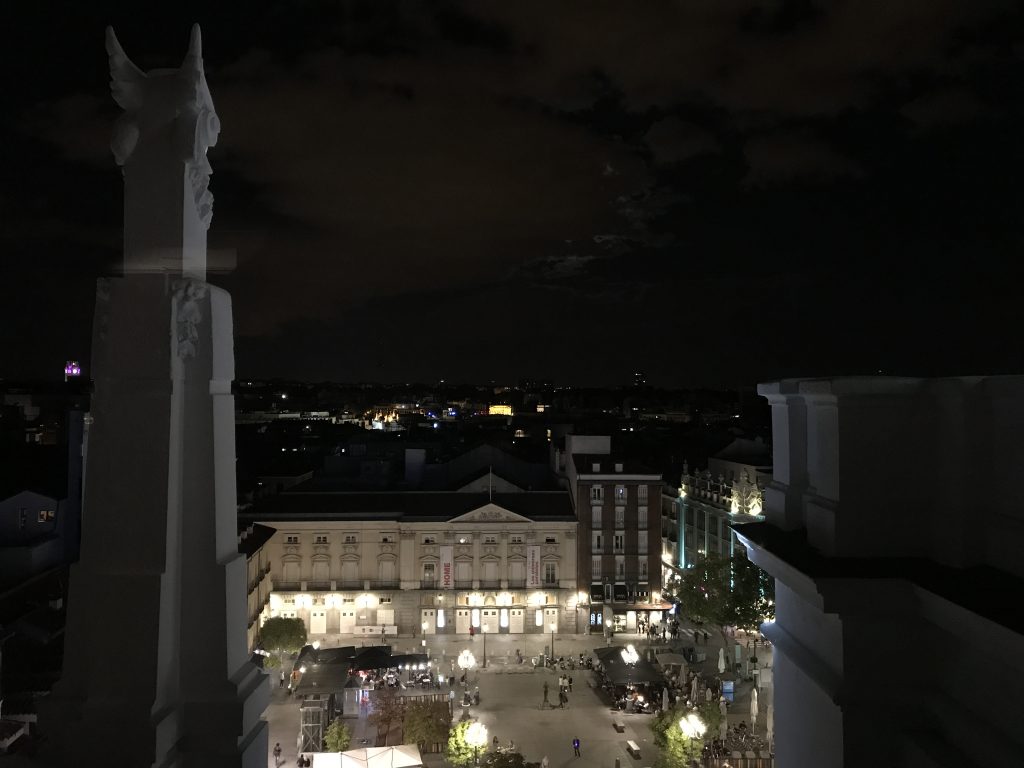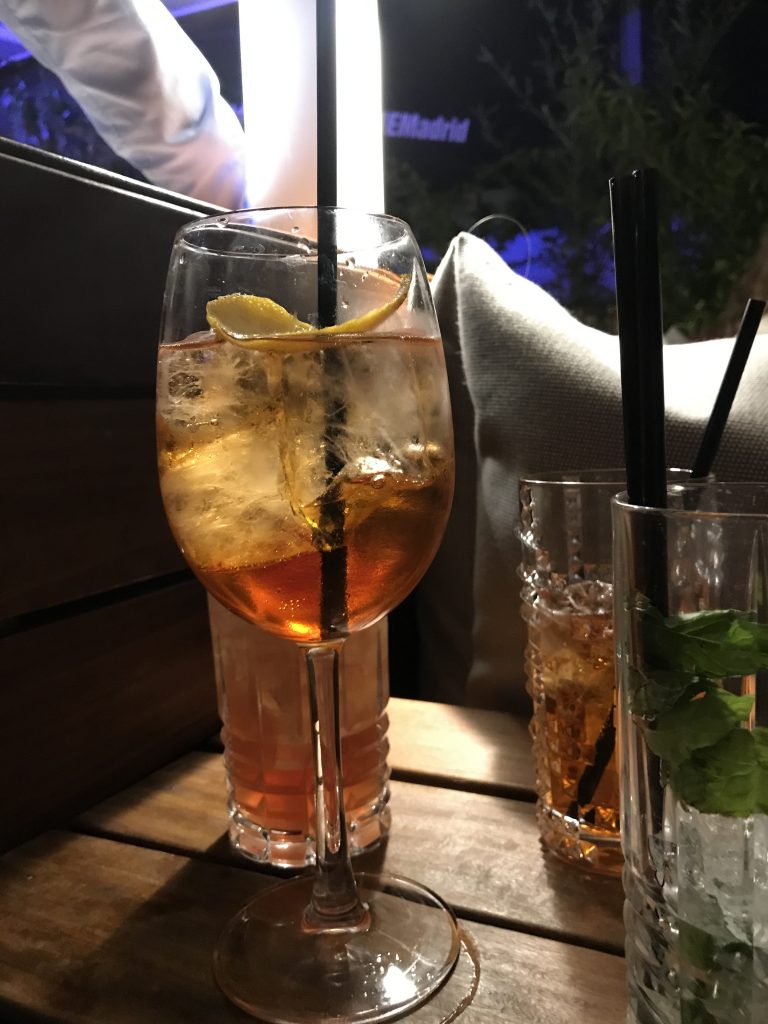 As a bonus, we also visited the cool rooftop club/bar 'The Roof at ME'. Not a very high up skybar (7th floor), but a really nice place to dance off the tapas from earlier, have a few nice drinks and admire the (although limited) view. Admission was 20 euro, but included a drink, including cocktails.
Breakfast at Novotel Madrid Centro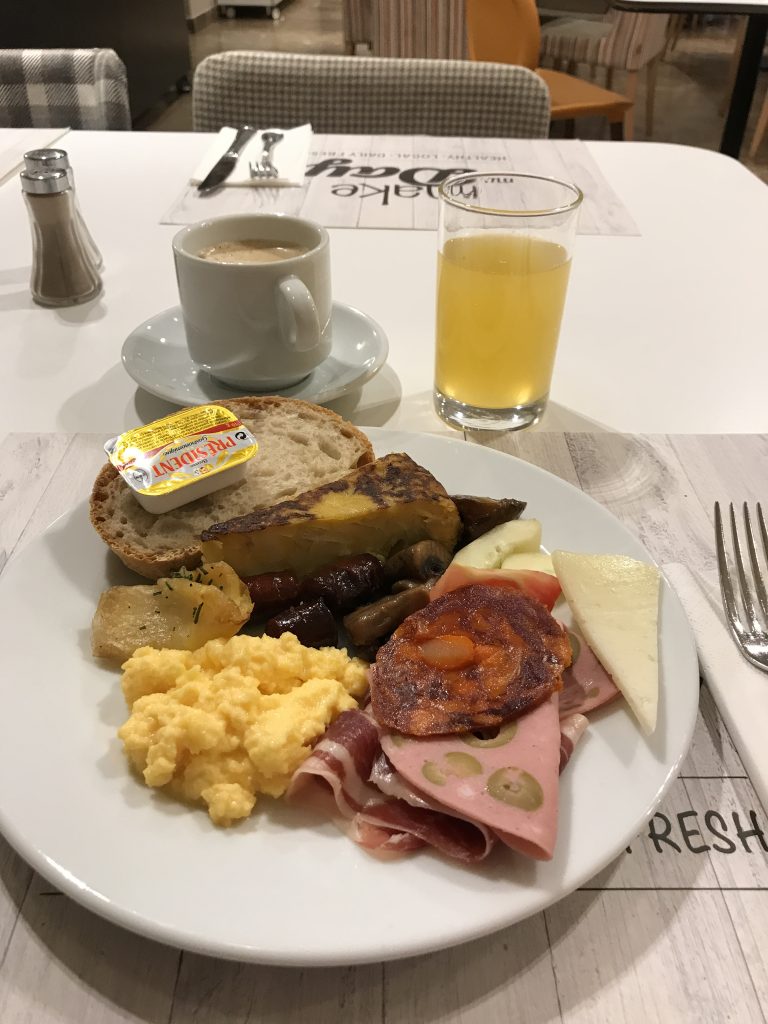 A breakfast plate at Novotel Madrid Centro, where we stayed. This is just picked up from the buffet, but I would like to mention it because of the nice assortment of charcuterie/coldcuts that they served. The watery juice above is some kind of watered down mango juice I mistakenly took. Fortunately they also had proper fresh squeezed orange juice that was much better.
Mercado de San Miguel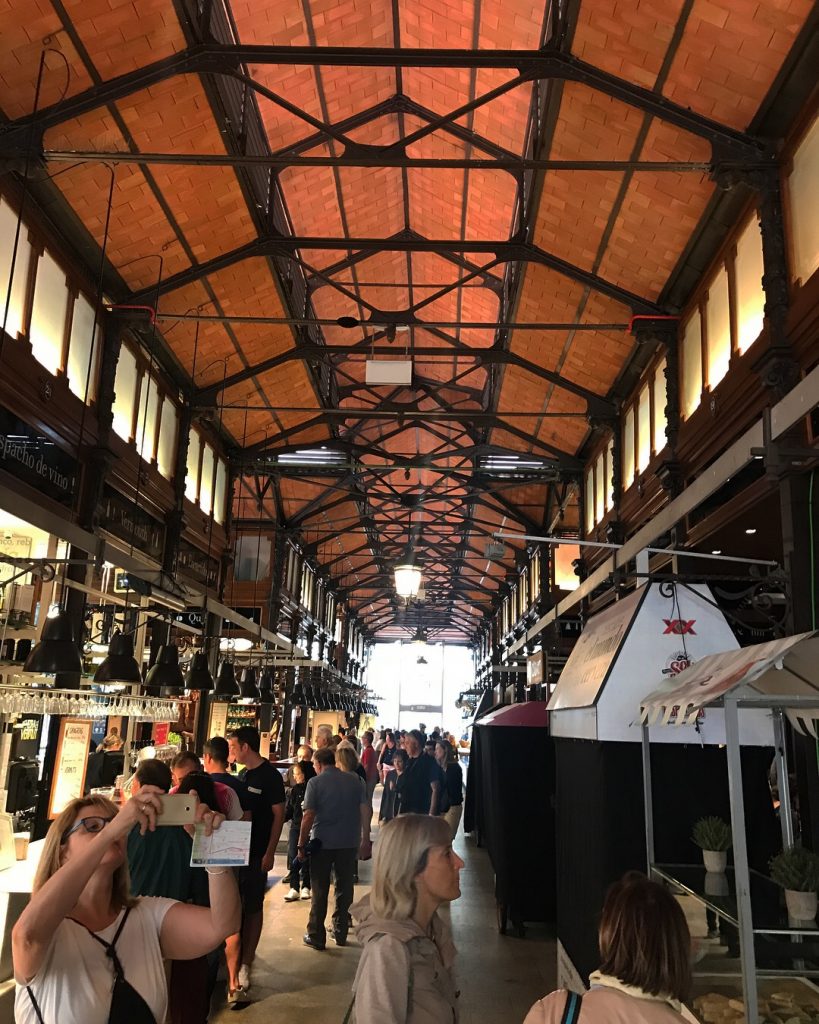 We also managed to make a quick stop at Mercado de San Miguel food hall in the central parts of town. During the 10-minute visit I had both the above duck foie gras pincho with onion compote and fig jam (I think), as well as churros dipped in hot chocolate. Mmmm……
Madrid, hit or miss?
It was a very short visit to the Spanish capital, but the food was great, the people friendly and the city very pretty. I'd love to go back soon to explore some more.