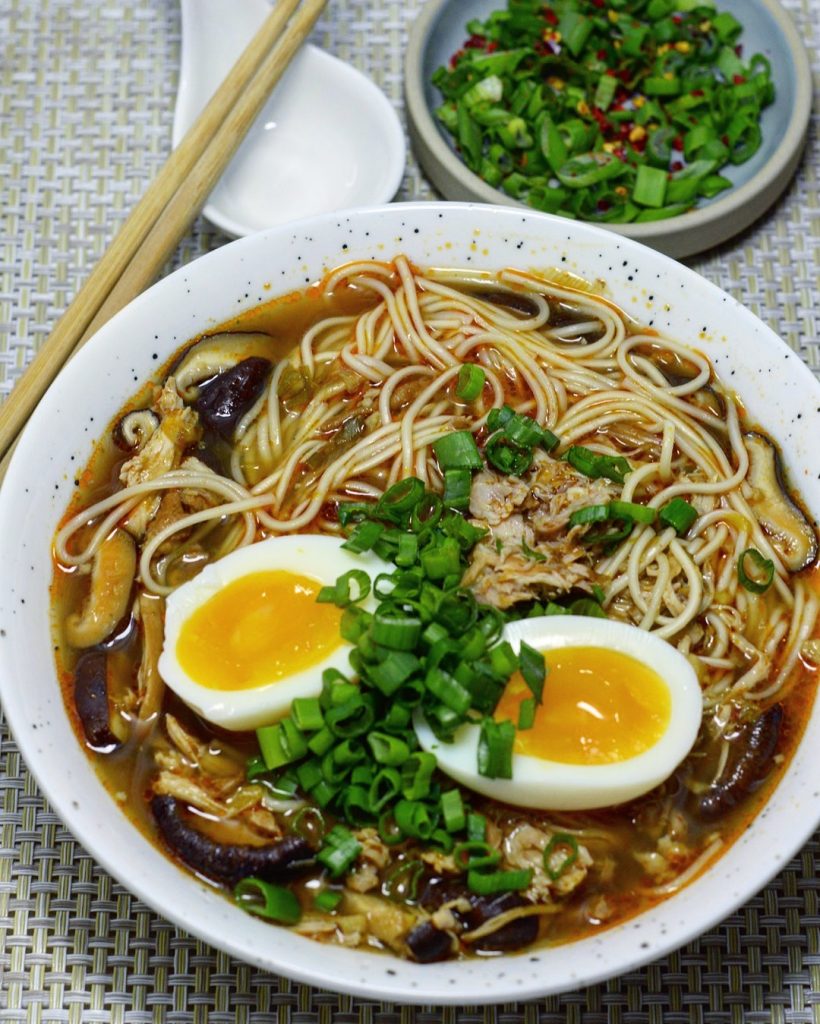 The other day I watched Netflix's Chef's Table about American chef Ivan Orkin that moved to Japan, and opened a ramen joint that quite quickly was named one of the best in Japan. This made me want to move to Tokyo and open my own restaurant too, but since that won't be happening anytime soon, I decided it at least was ramen cooking time at home.
What you need (for approximately 2-3)
Noodles, we used Nissin's brand premium ramen noodles. About a third of a package for two.
200 grams of shiitake mushrooms
450 grams of chicken thighs
4 sprigs of spring onion
4-5 garlic cloves
2 tablespoons of finely chopped ginger
4-5 tablespoons Japanese soy sauce
1 tablespoon of Sriracha hot sauce (can be excluded)
2-3 chicken stock cubes (or make your own)
Water
3 eggs, semi-soft boiled (see picture above)
Sesame oil, or cooking oil
How to cook it
1. Peel and finely chop garlic, the white stems of the spring onion and the ginger.
2. Fry chopped vegetables in oil on medium heat in a cooking pan until soft, do not brown.
3. Add chicken thighs to the fried vegetables, you do not need to trim as you'll do that during the "pulling". Let cook for a couple of minutes till chicken's a bit coloured.
4. Add soy sauce, stock/stock cubes and hot sauce. Stirr occassionally and let simmer for about an hour on medium heat. Add water if needed, if soup gets too reduced.
5. When an hour has passed, slice the shiitake mushroom caps. Also keep the stems. Add both to the soup and continue to simmer.
6. Meanwhile mushrooms cook, it is time to pull the chicken thighs. Remove them from the broth and shredd them with two forks until 'pulled'. Remove any remaining sinews, bones or similar. Then put the pulled chicken back into the soup.
7. Cook noodles until just cooked (eg. 'Al dente') since they'll be in the broth which will make them cook a little bit more.
8. Serve! Add the noodles to bowls, pour over broth (remove the shiitake stems if you're sensitive, they are a bit chewy). Top with the finely sliced green part of the spring onions and egg halves. Enjoy!