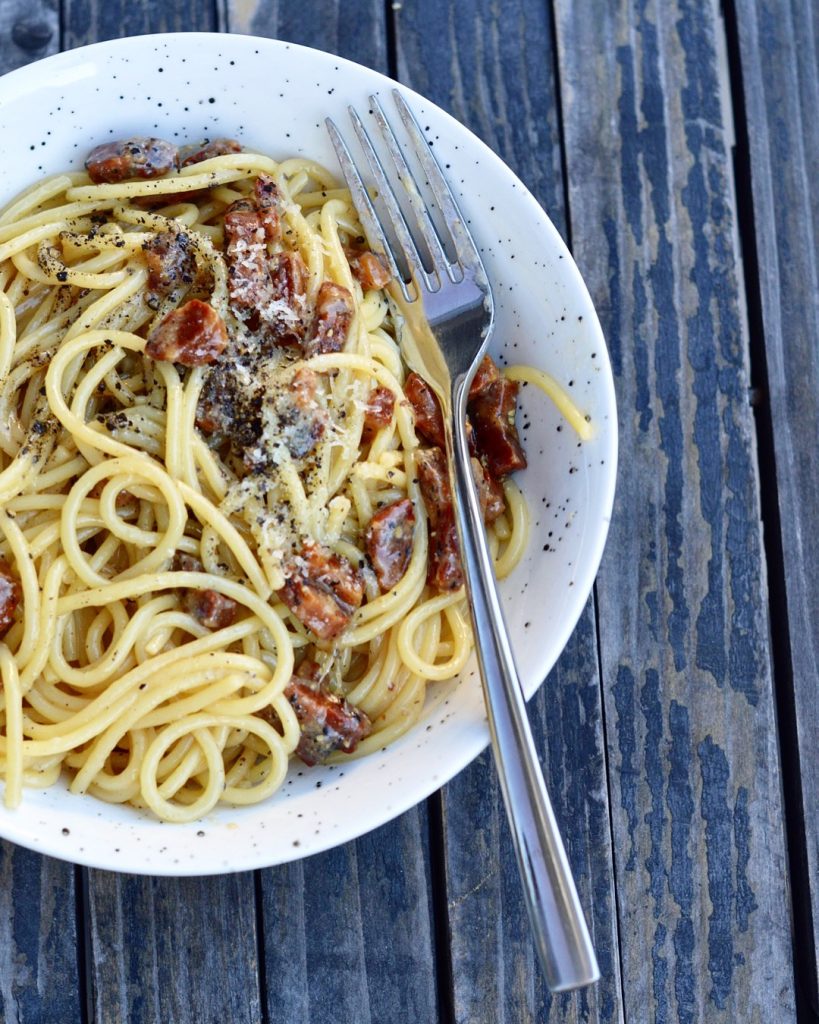 This weekend, I tried the last one of the four pastas of Rome. The four pastas of Rome is carbonara (egg, guanciale/pancetta, pecorino, black pepper), Amatriciana (guanciale/pancetta and tomatoes), Cacio e Pepe (black pepper, pecorino) and the Pasta alla Gricia, with pecorino and guanciale/pancetta.
Pasta, or spaghetti alla Gricia is sort of a cacio e pepe with added crunch from crispy fried guanciale, or pancetta. The proper pork to use is guanciale, which is air-dried pork cheek. But when not in Rome, you can substitute it with pancetta, or in worst case bacon (preferably un-smoked).
What you need for Spaghetti alla Gricia (serves approximately four):
One package of spaghetti (I use Martelli or De Ceccho)
300 grams of guanciale/pancetta/bacon, cut into cubes, strips
2,5 deciliters/one cup of pecorino cheese
1/2 deciliter (1/4ish cup) of strained pasta cooking water
Black pepper
Salt
1. Add the pork to a cold pan and put on heat. This will make the fat render and make the pork crispier. I sometimes add a garlic clove to this to slightly flavour the pork (discard when done).
2. Cook the spaghetti until almost al dente, the pasta will cook some more in the sauce. Save the cooking liquid as indicated above.
3. Grate the pecorino cheese as finely as your grater allows. Mix about half of it with a couple of tablespoons of water to a smooth 'sauce'.
4. When pork is crispy, turn off/lower the heat and add the al dente spaghetti into the pork and fat pan (remove some of the fat if desired). Toss around and then add the pecorino mixed with water as well as the reserved cooking liquid.
5. Stirr until the liquids almost has reduced and the pasta is covered in silky cheese sauce. Add almost all the remaining pecorino, salt and black pepper and give a final toss before removing from heat.
6. Serve immediately topped with the remaining pecorino cheese.
Enjoy!