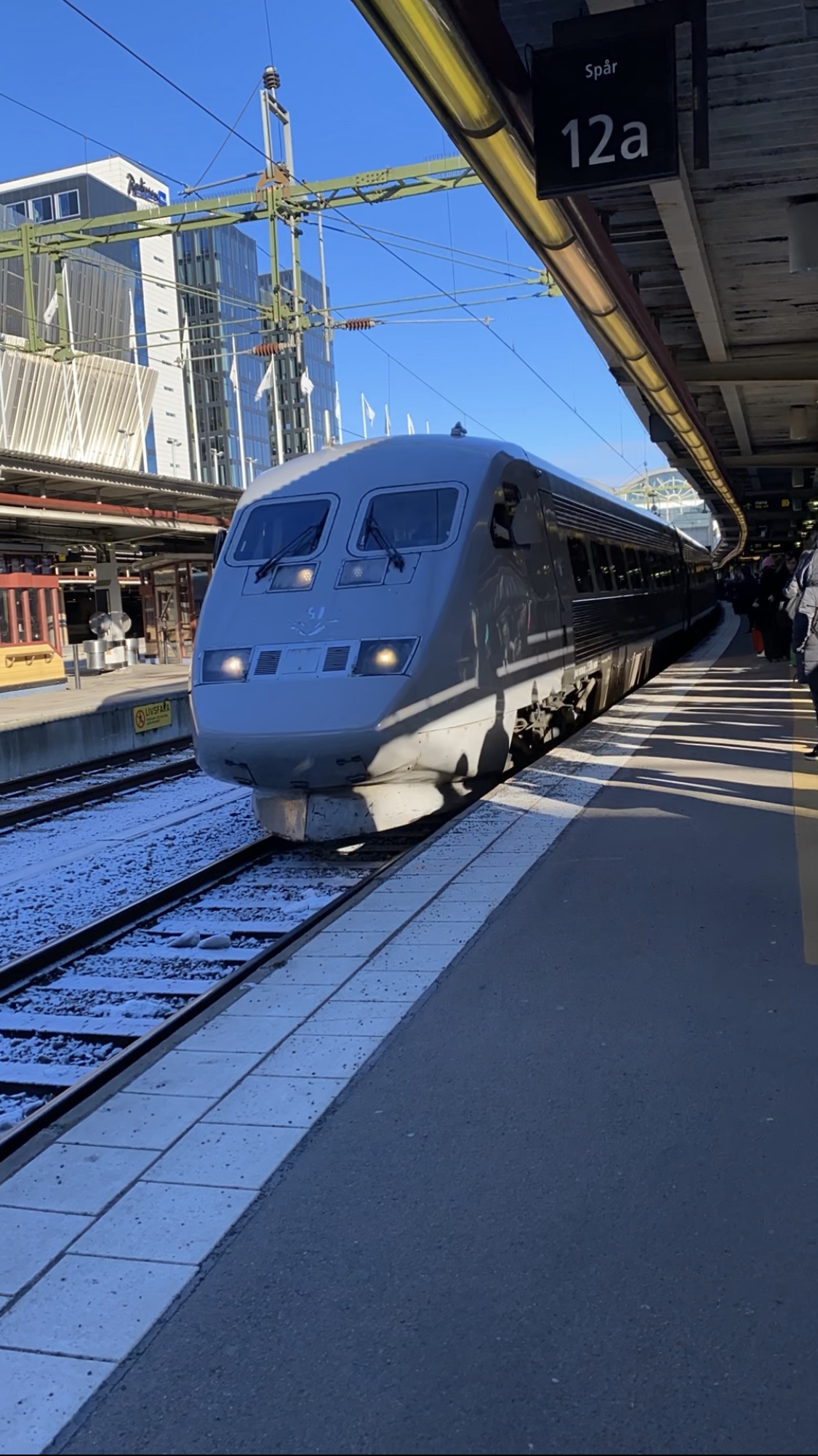 The first part of this year's train trip (I think I might start doing this every year from now on because train travel is very fun) was, in contrast to our southern-bound trip to Malta a few years ago, going west. All the way from Stockholm, Sweden, to Scotland in the United Kingdom, via Copenhagen, Hamburg, Amsterdam and London.
X2000 in first class, Stockholm to Copenhagen
During a light snowfall in Stockholm, we jumped on the X2000, which is what we call our highspeed trains. They are not overly high speed, but reach about 200 kmph, and the trip to our first stop, Copenhagen in Denmark, takes around 5,5 hours. The train is quite comfortable and the fare isn't that expensive if you book early. We paid 700 sek per person for first class tickets, which gives you a slightly better seat, free coffee and some small fika, eg. sweets or fruit, that you help yourself to in the carriage, as well as a breakfast box if your departure is before 09:00 (9 a.m.). You can also use the lounge in Stockholm, Malmö and Gothenburg if open (opening hours aren't great though).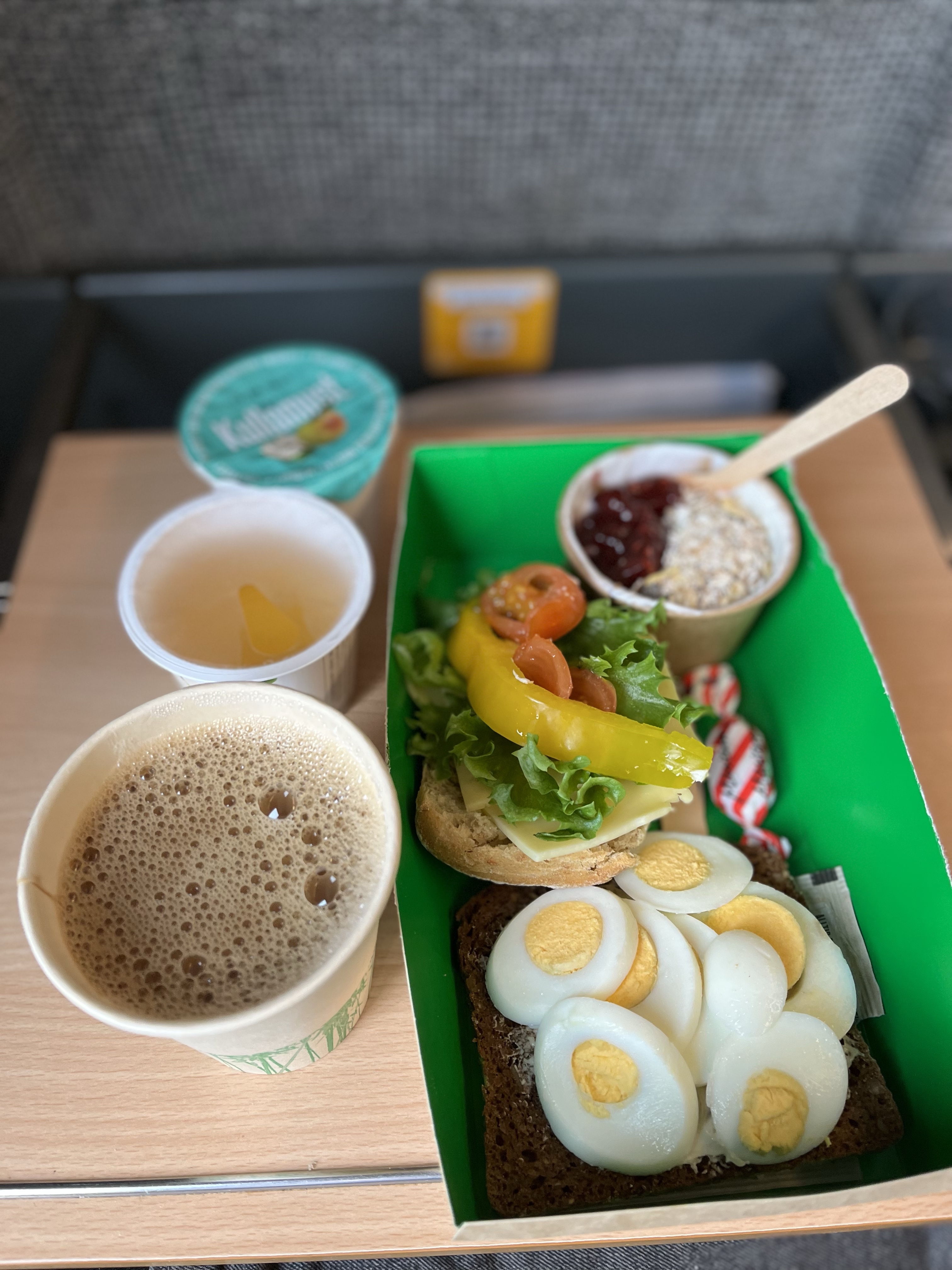 The breakfast box was quite good. A very Swedish, which I like, selection of breakfast toppings such as cheese, vegetables, butter, an egg, locally made apple juice, yoghurt and muesli and a tiny Finnish Marianne mint chocolate sweet (nostalgia). They also served bread from a basket so you could pick your favourite out of a few options, as well as tea or coffee. After breakfast there is no service, so if you'd like something else you need to go to the bistro and pick it up (and pay for it).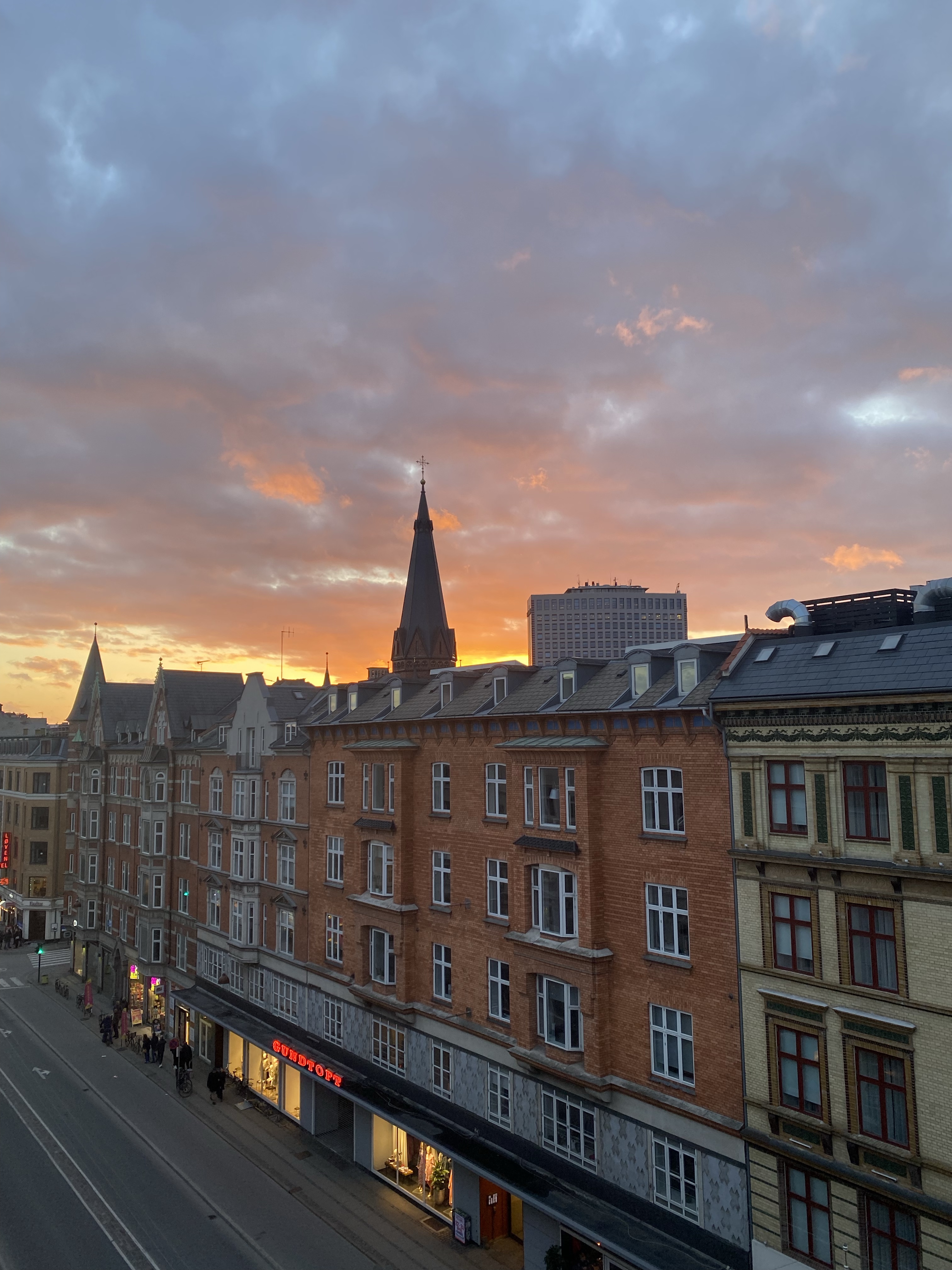 After about 5,5 hours, the train rolled into Copenhagen's Hovedbanegården main railway station, located next to Tivoli amusement park in the city center. We had a few minutes walk to our hotel, Comfort Hotel Vesterbro which was surprisingly nice, for labeling itself as a budget hotel.
For dinner we opted to go to Surt, a 25 minute walk from the hotel. Surt is sort of a trendy-yet-casual pizzeria and gastro restaurant in Carlsberg Byen, a historical fermentation site in Copenhagen, hence the name Surt, meaning sour.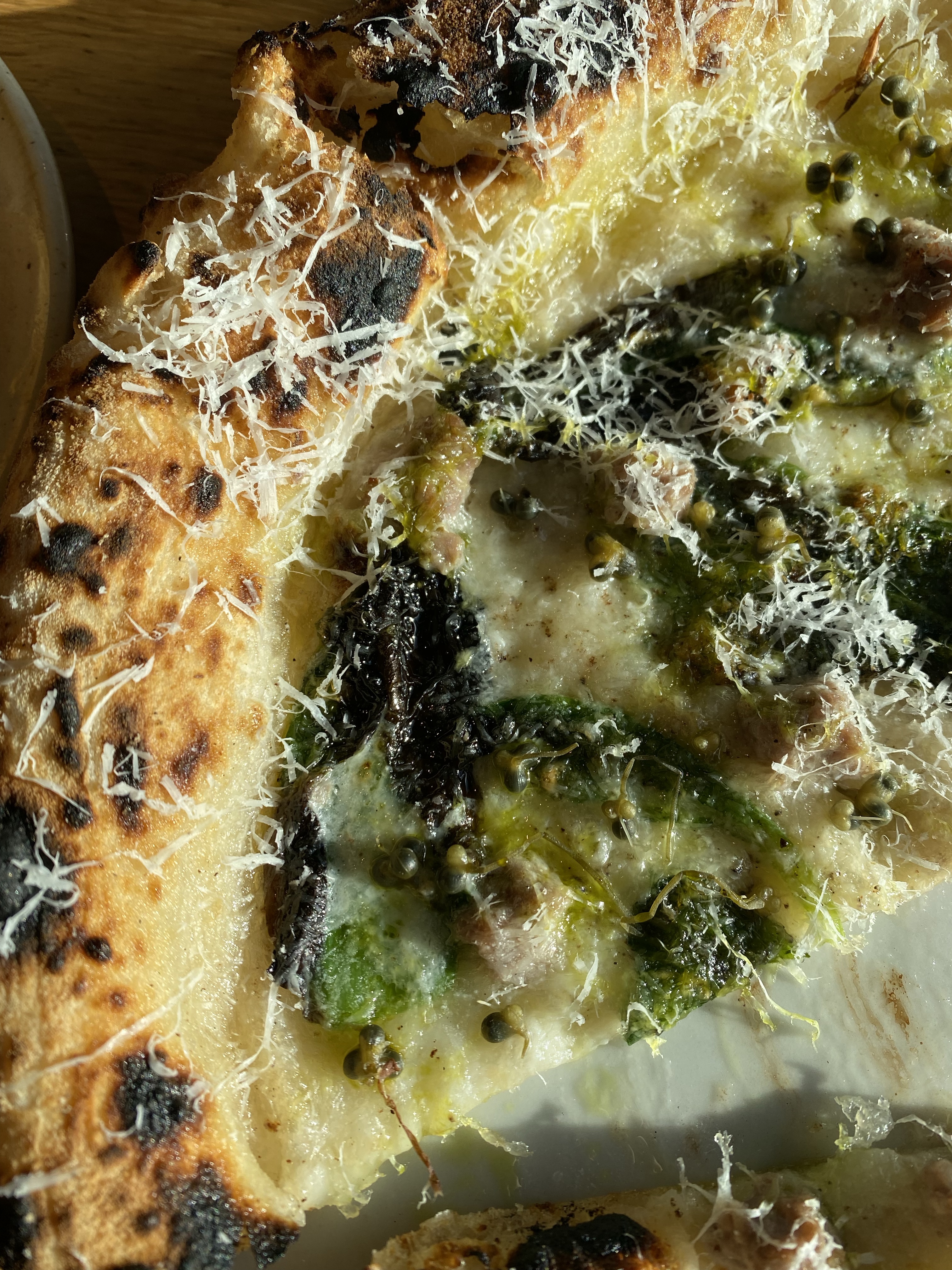 We tried a bunch of different dishes paired with local craft beer and negronis. We had their steak tartare with salsify, coal emulsion and parmesan, as well as their amazingly tasty pizza (the dough!) with local Hindsholm pork sausage, ramson, ramson capers, mozzarella and pecorino. Both were outstanding. Among the best I've ever had. Especially the pizza dough and toppings were really something else. So light, fluffy and airy. Pizza perfection. We also had their foccacia with pork rillette & quince mustard, and charcuterie with pickled vegetables that were also great.
After the dinner we walked back to the hotel, and instead of going to nearby Mikkeller Bar, like we did last time, we opted to go to the hotel, and have a bath and a beer in the room instead.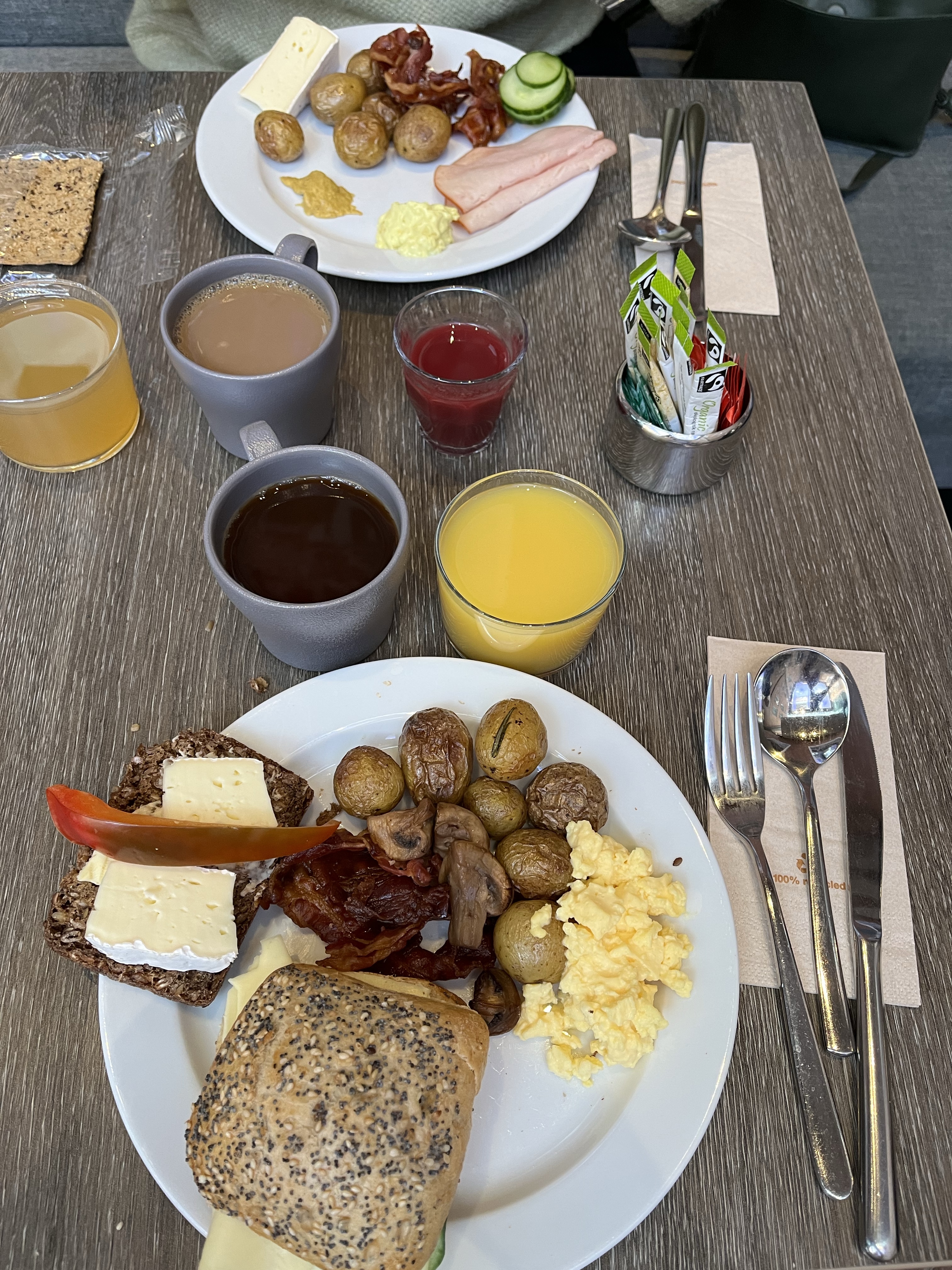 The next morning we had a 11:30 (a.m.) departure to Hamburg, which gave us plenty of time for breakfast and post-breakfast lazying in the room. The breakfast was, as the hotel itself, again over expectations. Lots of different both hot and cold items. Fresh bread with cheeses and cold cuts, bacon, eggs, fried potatoes, coffee and juices, and everything was of quite good standard too.