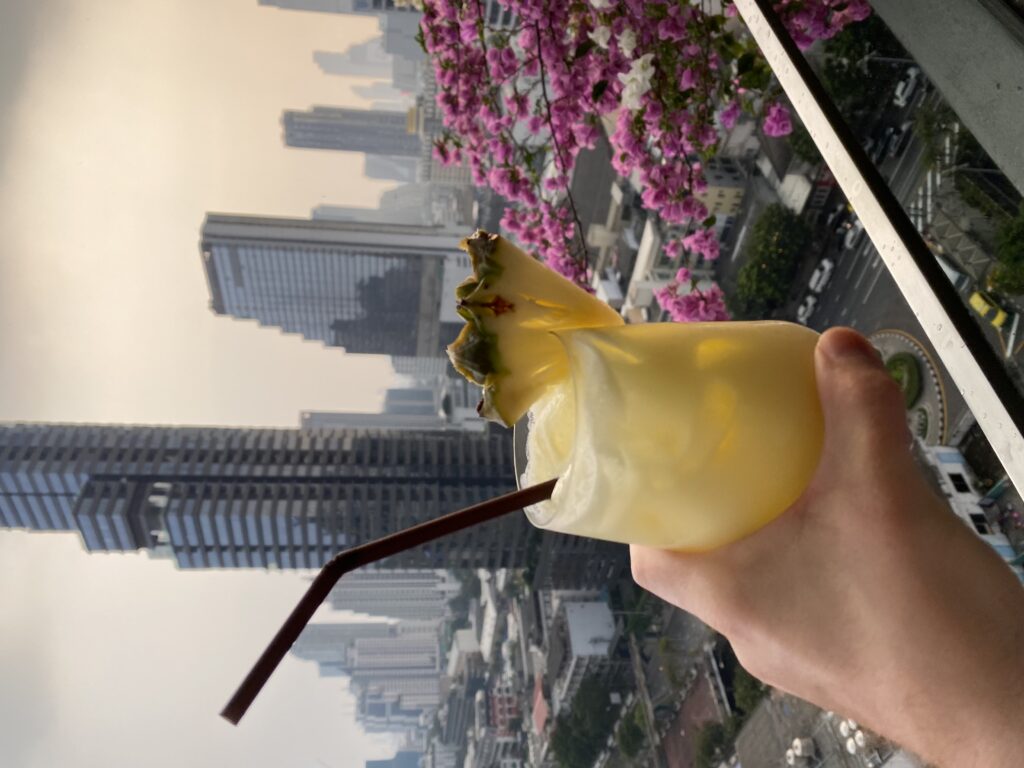 After arriving by train from Chiang Mai, we took the Bangkok MRT to our beautiful hotel, the Amara. We wanted to splurge on our six last days of vacation, so we upgraded to an executive floor room which apart from a better room also came with complimentary cocktails and canapees each night. And I'm very glad we did splurge, as just a month after our return, big parts of the world went into lockdown because of the Covid-19 pandemic which we at this stage of the trip was starting to hear more and more about.
Bonchon Korean fried chicken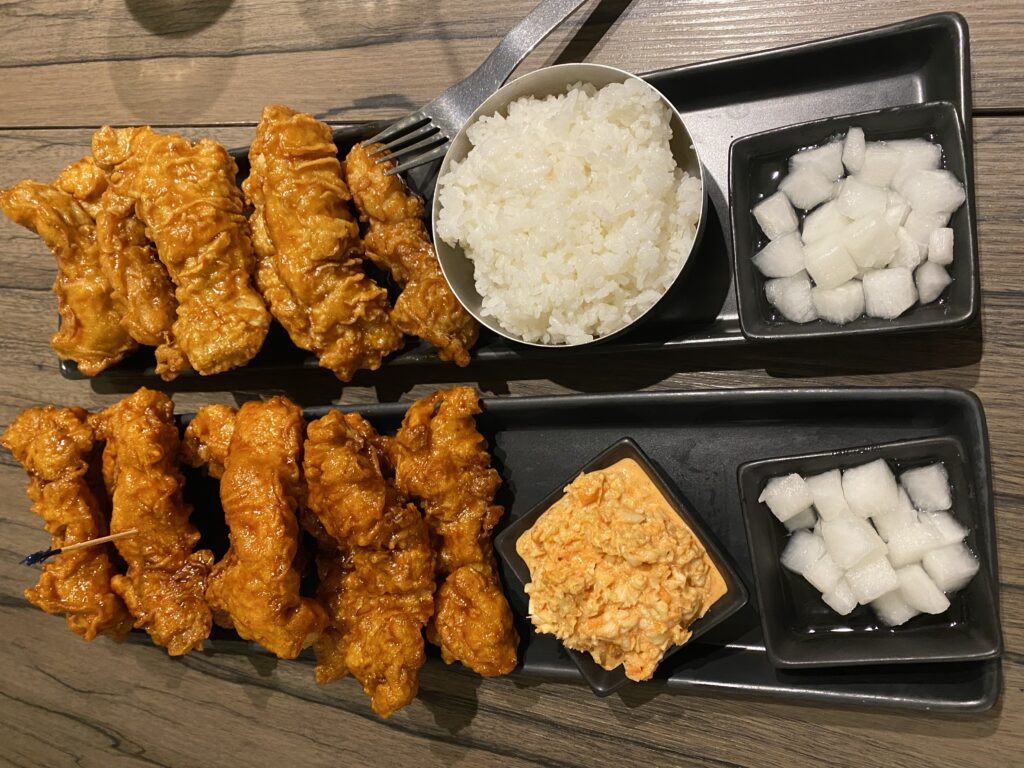 Our first stop after checking in, and basically breakfast after spending a few hours walking around the area of our hotel.
We'd eaten only Thai food and before that Lao food for weeks and thought we felt okay to deviate a little bit from the South East Asian fare, while still remaining in Asia. Our first idea was to go for Japanese ramen at Ippudo, but then we saw that a place called Bonchon, a Korean fried chicken restaurant which we'd heard about but never tried was next door. We hadn't eaten anything since the day before so the sound of famous KoFC for breakfast/early lunch sounded a bit too good to miss.
We tried both their garlic-soy and their spicy fried chicken which were both extremely tasty. For sides we chose rice, kimchi slaw, and we also had some complimentary pickled radishes. So good.
Suppaniga Eating Room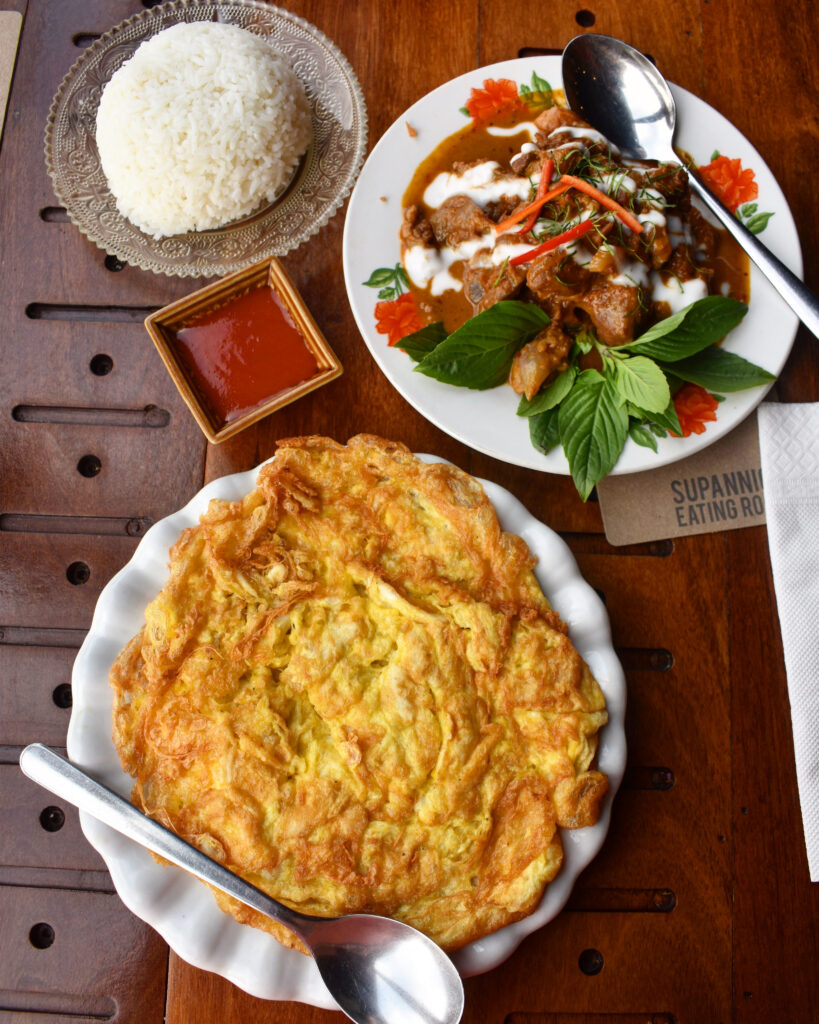 Five years ago I visited Bangkok and went to dinner with a local Bangkok resident. The restaurant was Suppaniga Eating Room, and I remember really loving the food. This time we by chance ran into another Suppaniga branch, close to where you catch the ferry to Wat Arun temple. The location is basically on the river, meaning great views, and the food was as delicious as I remembered. We had their incredibly tasty panang beef curry, the best version of this dish that I've ever had with sublime flavours of meat, spices and coconut combined. The crab omelette was also delicious and came with a nice sweet chilli sauce on the side. All this paired with a bowl of sticky rice made for a very tasty lunch.
Amara Bangkok's sky bar AkaAza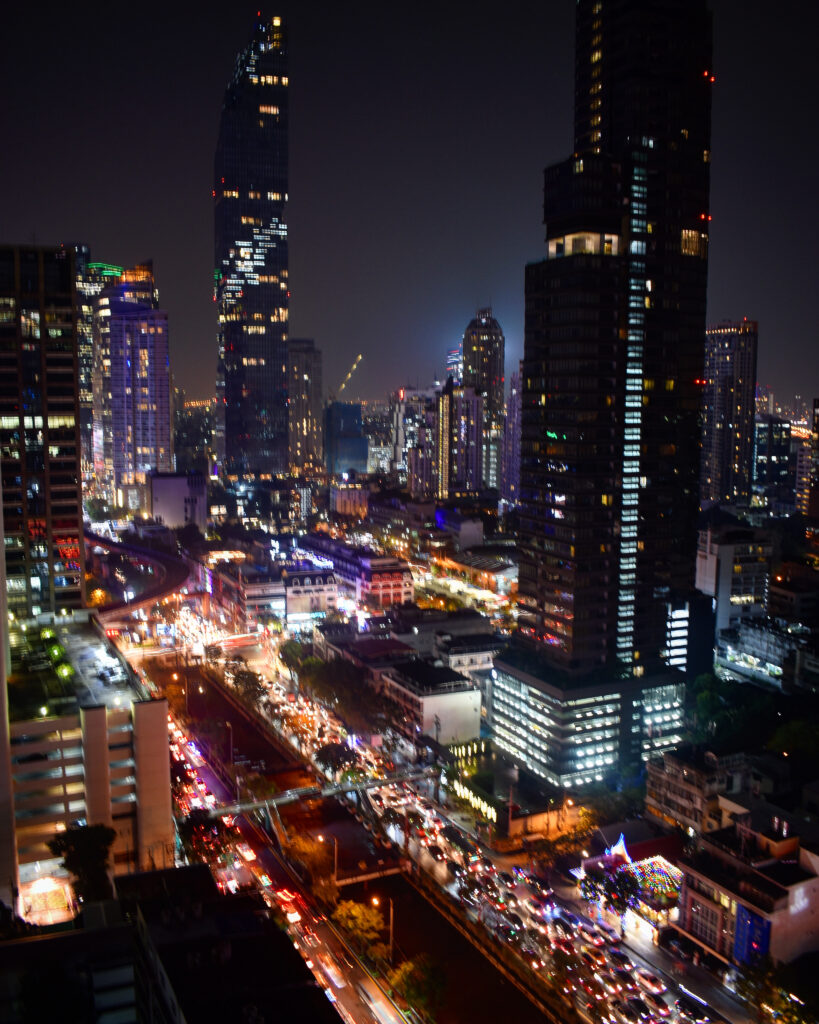 Our hotel, the Amara Bangkok's sky bar, AkaAza, deserves a mention. There wasn't that many people and from 7 to 9 p.m. you can enjoy 2-for-1 selected beverages with amazing views over Bangkok. Above picture is taken sitting at the table where we had our drinks.
Din Tai Fung (Central Embassy)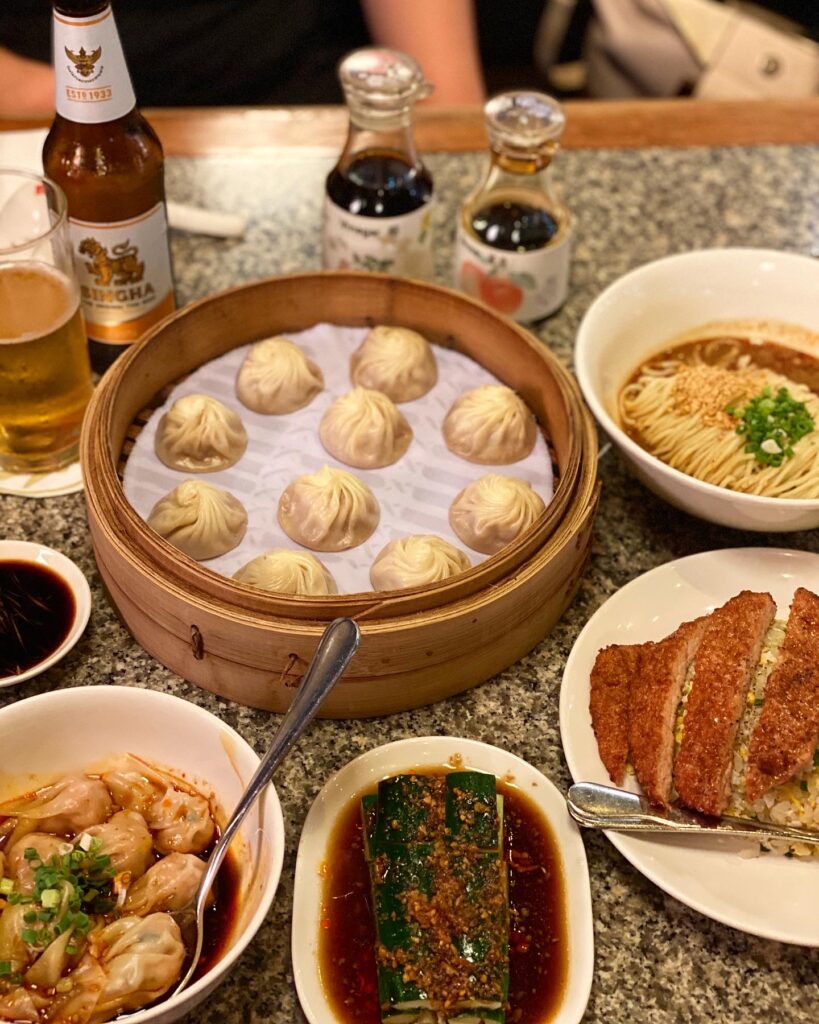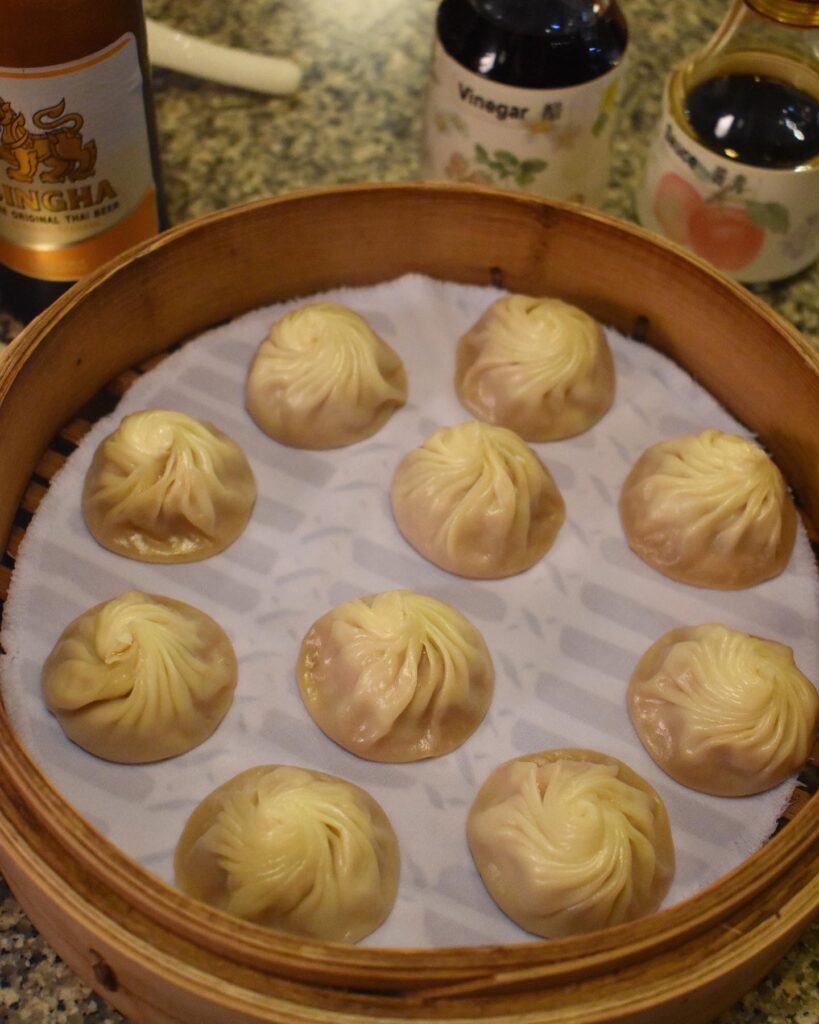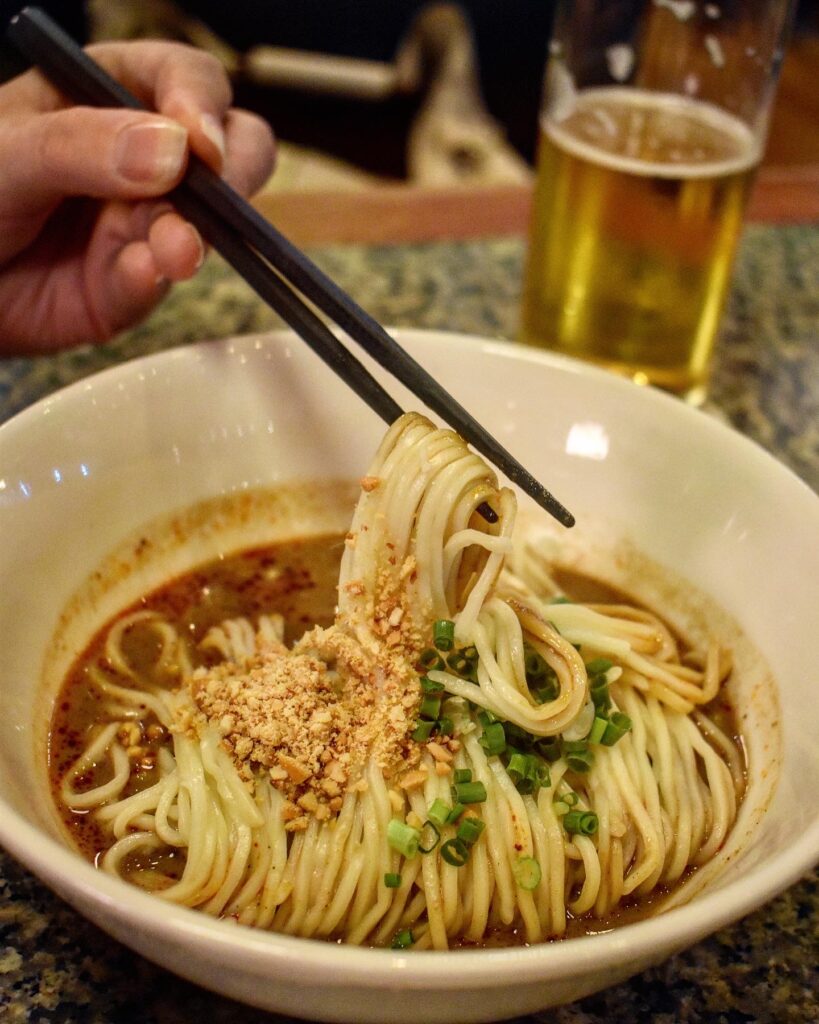 Whenever I'm in a city with Din Tai Fung, I need to go there. They have several outlets around Bangkok and we visited their restaurant in the Central Embassy shopping mall.
DTF is a Taiwanese restaurant chain that has taken one of the tastiest dishes there is, the xiao long bao soup dumpling, to world fame. The 18-times folded little nugget of gold is a dumpling that contains minced pork and jellied broth. When it's steamed, the broth melts and hence there is soup on the inside of the dumpling. When you bite into it the dumpling (after dipping it in a soy-black vinegar-chilli-ginger sauce) it bursts in your mouth combining all the delicate, delicious flavours in one perfect bite.
Din Tai Fung also serve some other great dishes such as their amazing egg fried rice with garlicky, super tender Taiwanese pork chops; a peanut-y and sesame-y bowl of dan dan noodles, and delicious wontons coated in spicy Sichuan-style chilli oil.
Just go.
Bo.Lan
When visiting Gaggan restaurant last time I was in Bangkok I had my best ever meal. That is until I stepped into the doors of Bo.Lan during one of our final nights of the trip. We started off with a yummy Thai whiskey cocktail and some snacks while selecting which menu we were going for.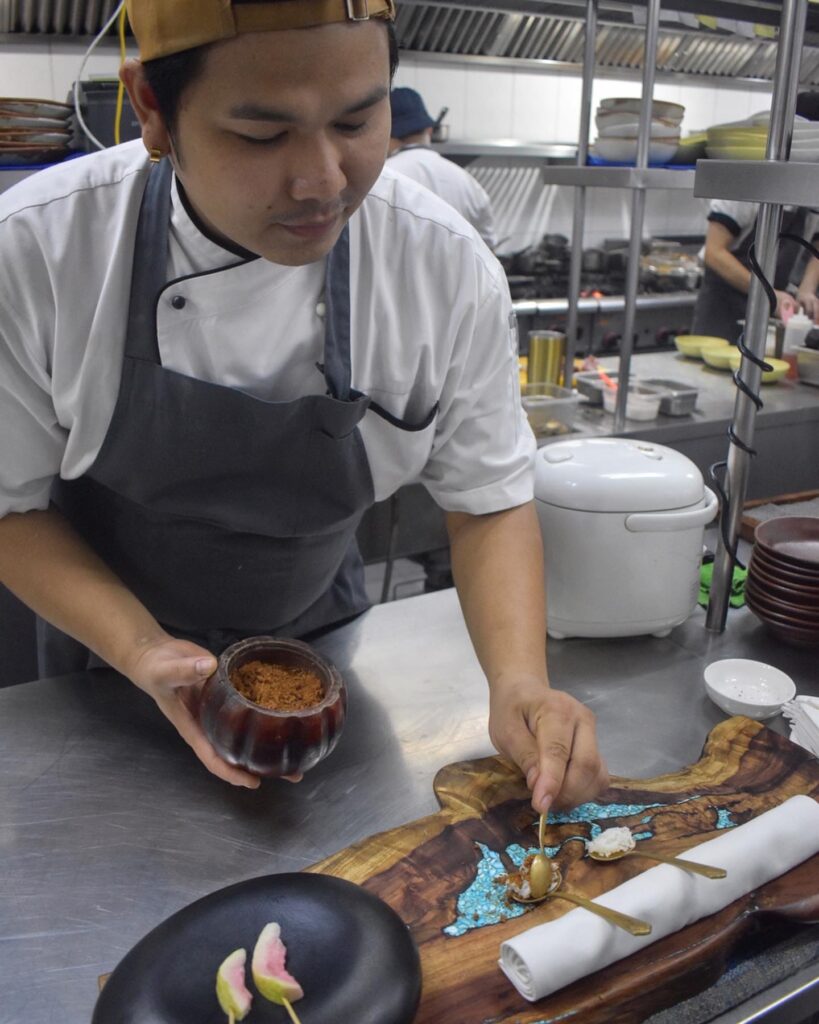 We were then taken to the kitchen where the first dish, a little spoon of crispy deliciousness was served. Both Bo and (Dy)lan were there and said "hello", which made me just a little bit starstruck.
After the kitchen we were taken to our table. The menu at Bo.lan is "Essentially Thai" meaning it is their interpretation of Thai food. We went for one of their middle of the road tasting menus paired with Thai craft beers. An excellent choice as the beers worked so well with the dishes.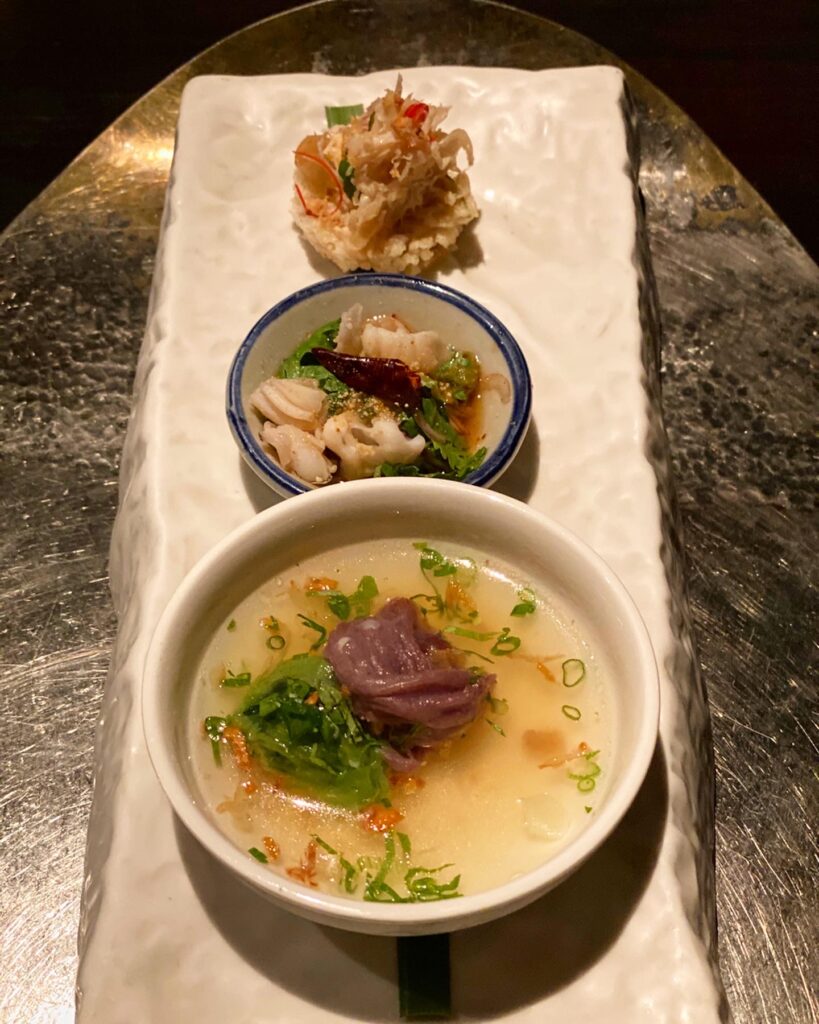 Starters, round one. Caramelized crab on rice crackers, local squid salad, organic rice dumpling.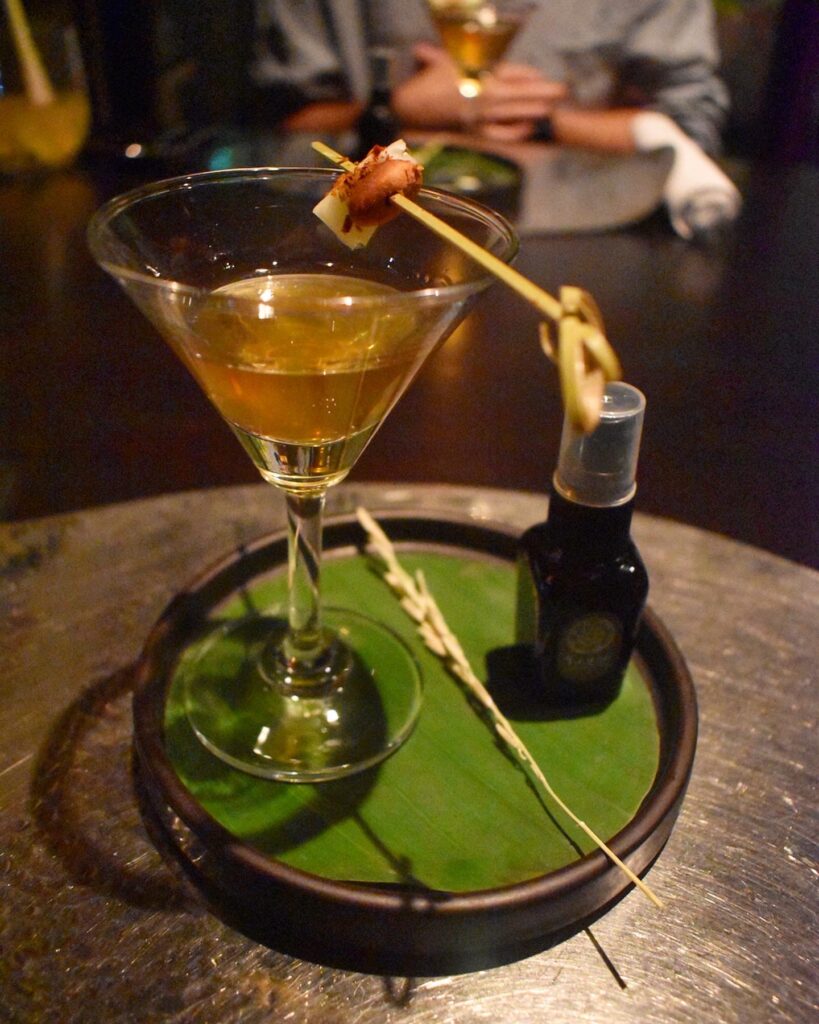 Thai rice whiskey with a green mango and tamarind skewer, and pandan leaf mouth spray. First a sip of the whiskey, then a bite of fruit, then a spray. Yummy things happen in your mouth.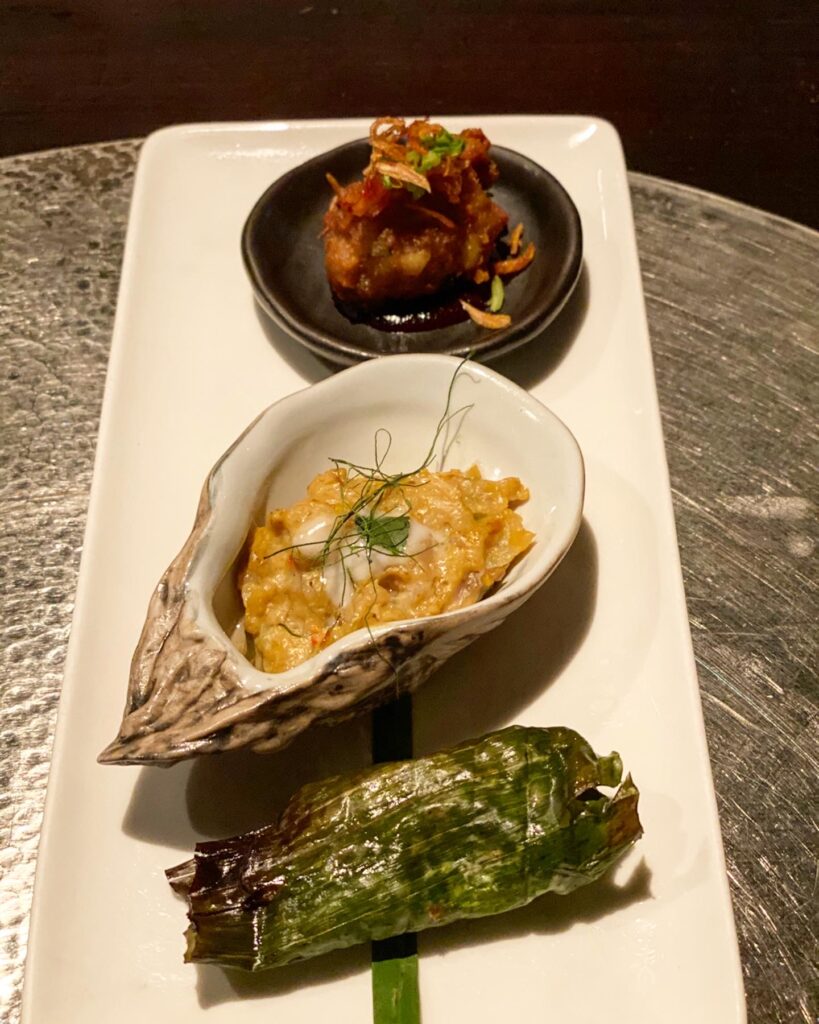 Crispy minced pork with plum sauce and fermented tofu, steamed fish pudding, sticky rice, caramelized coconut, and chicken.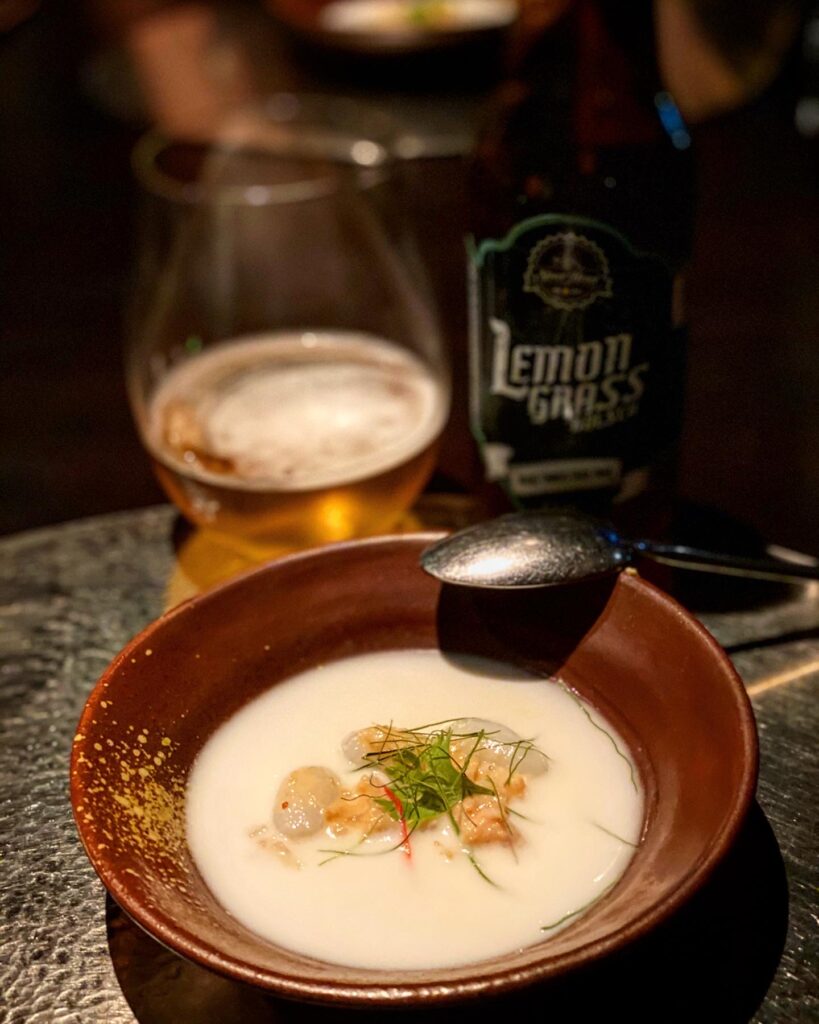 It was all incredible, but the best dish of the night was this: Thai gnocchi with coconut broth and prawns. Amazing.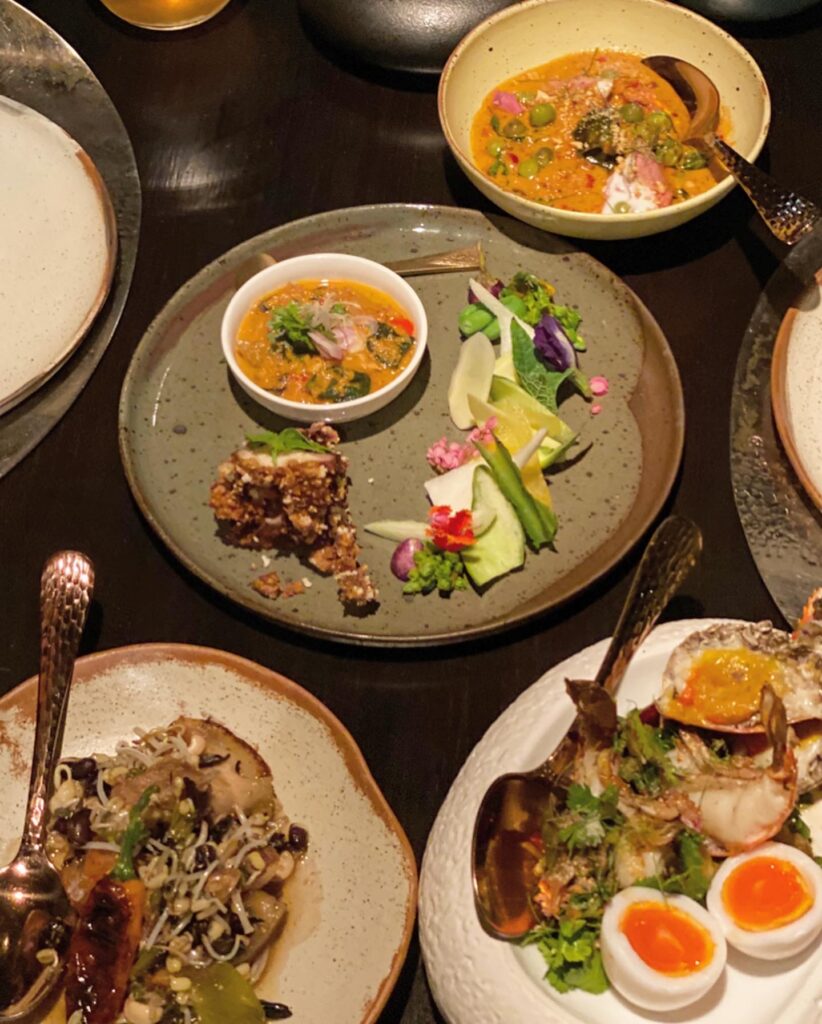 A bit into the meal they'll just bring you everything they've got. Fresh veggies with nam prik chilli dipping sauce, fried chicken, grilled seafood with eggs, Jay Fai (Michelin street food lady) style crab omelette, duck panang curry, and a beef soup so spicy it sort of ruined my experience a little. It was so spicy I had to take a 10 minute break from eating while mouth spraying and drinking beer. 😅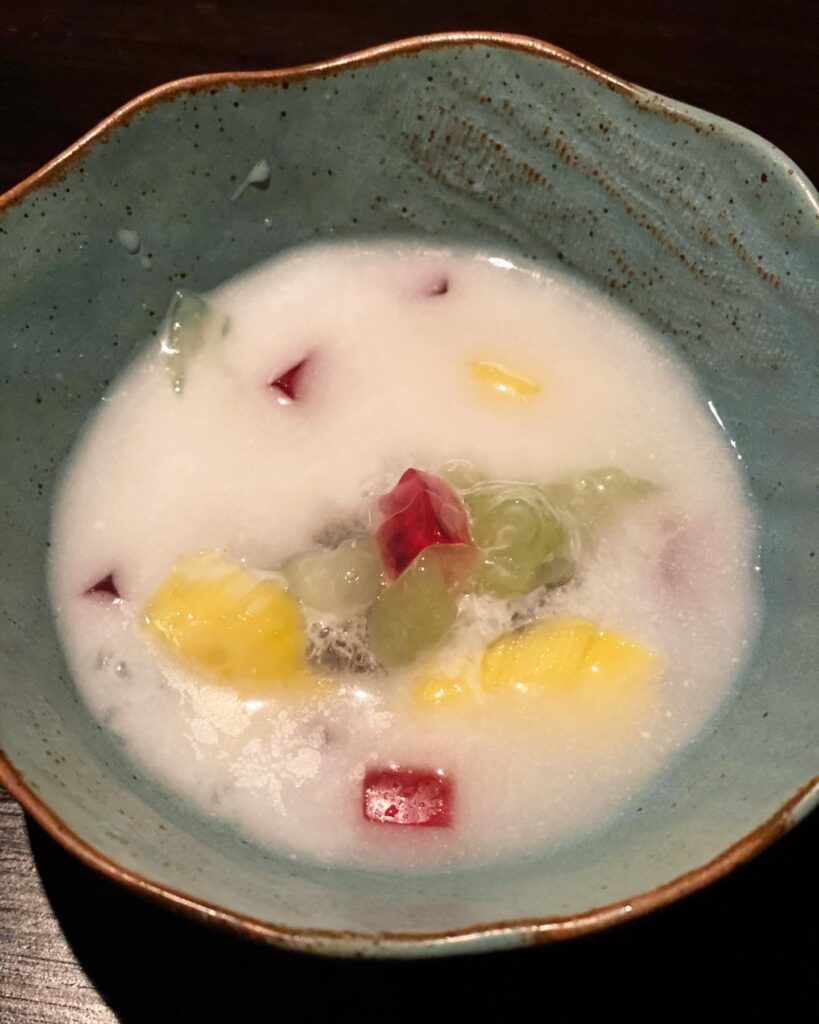 There were some desserts too. This was a coconut pudding/soup with little nuggets of slimey rice dough. Unusual, but tasty.
The dinner was finished in the lounge where some magic was applied to coffee snacks and different candies.
We left Bo.lan tired, full, slightly tipsy, and very happy.
Price, you may wonder? Well, compared to Thailand in general, this is super expensive, but sonsidering quality of food and the general experience it's not that bad. We paid around $400 for two tasting menus with their Thai craft beer pairing, and a cocktail each upon arrival.
Kua Kling Pak Sod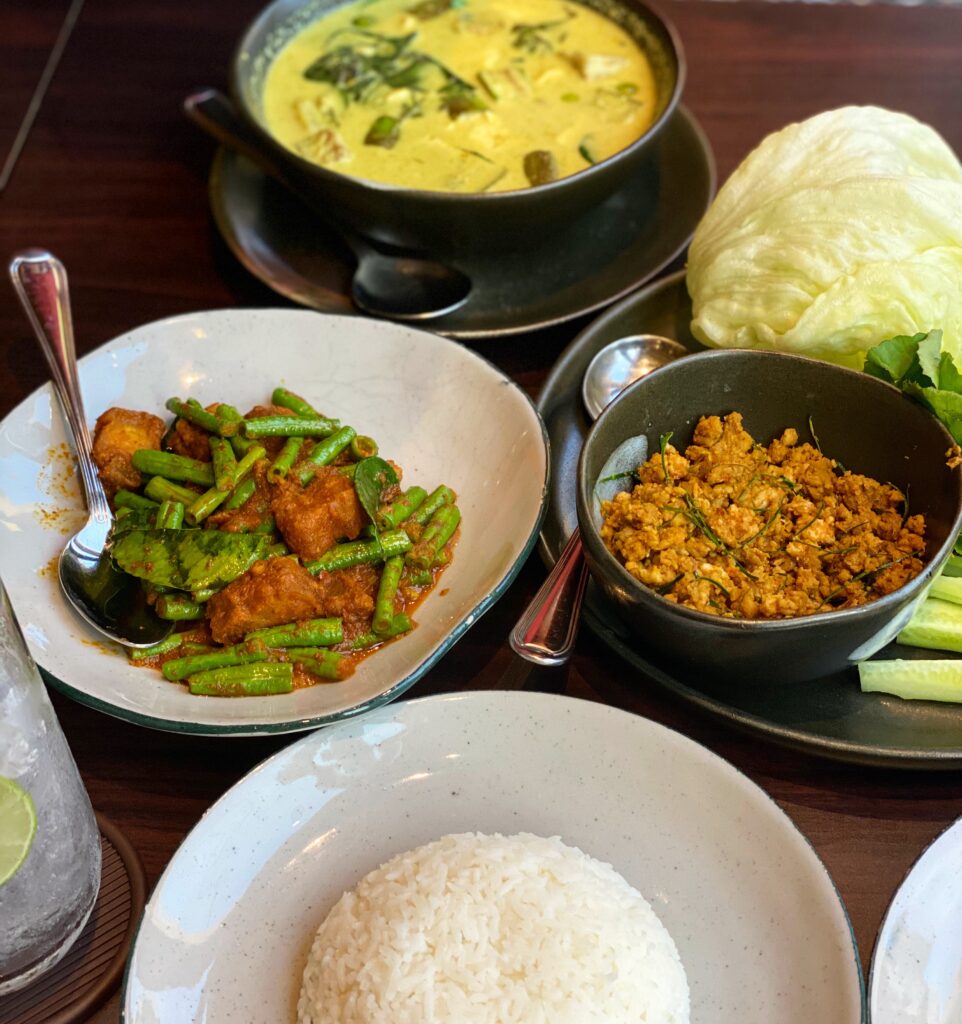 I received a recommendation to visit Kua Kling Pak Sod on Instagram, and when i looked it up found that one of their outlets were in the building next to the Amara hotel where we were staying. In a gigantic city such as Bangkok that is quite lucky, and naturally we decided to go.
The food is from southern Thailand and hence it's even spicier than the food in the north and central parts of the country – which still is quite fiery, if you ask me.
Upon ordering they asked us if we wanted spicy, and we replied "just a little bit" which they took as "yes".
We ordered their curry with coconut milk, eggplant, green curry and tofu; stir fried long beans with red curry and pork belly, as well as southern style dry khua kling curry with minced pork. Everything was super delicious, and of course super spicy. We downed several plates of rice to handle the heat, but it was absolutely worth it as the food was so good. Be prepared however or tell them that you don't want any chili at all if you're sensitive. 🙂
Ink & Lion Café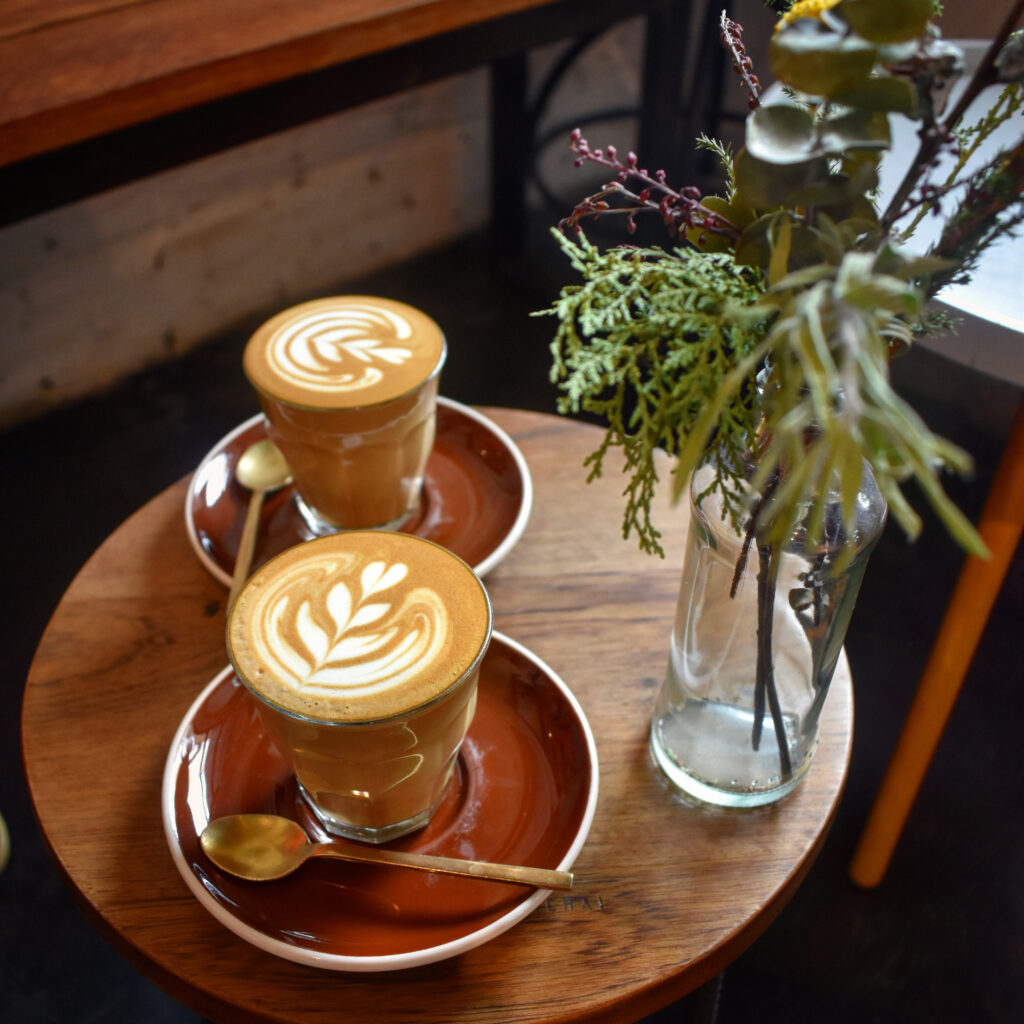 One of the best cup of coffees we had in Bangkok was at Ink & Lion in hipster neighbourhood Ekkamai. A really perfect flat white with a deep toasty aroma. Mmm.
Chatramue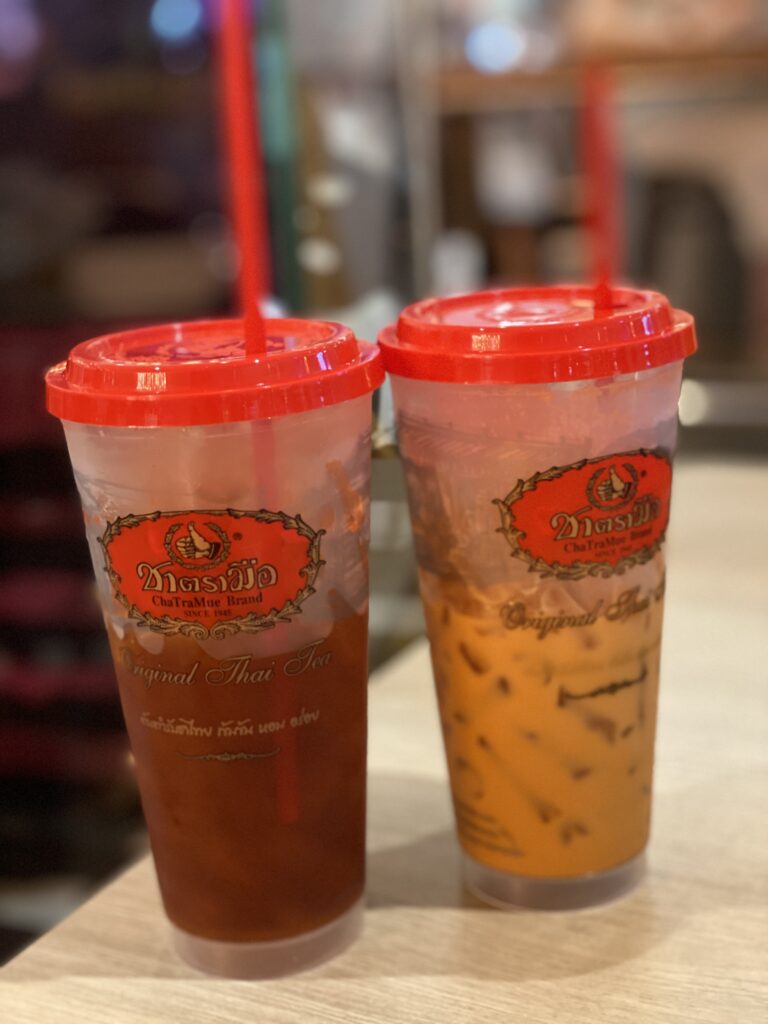 My all time best lemon ice tea is from Chatramue. We went to their outlet in Siam Paragon shopping mall's food court. So, so good.
Ruen Urai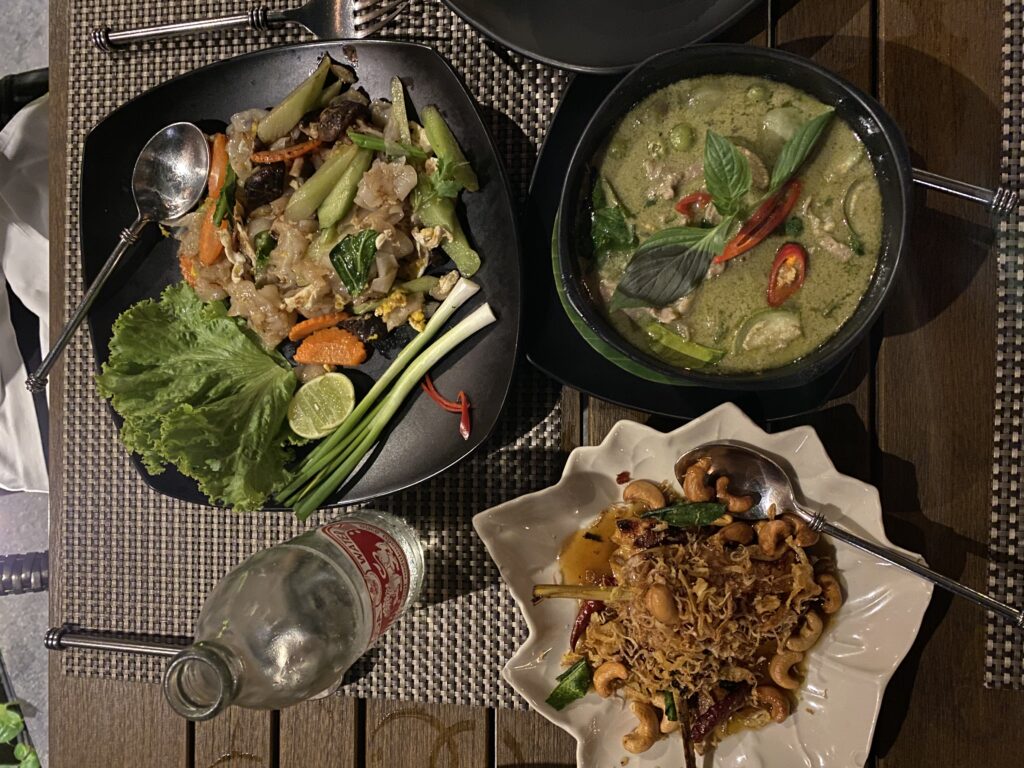 Close to Amara hotel is Ruen Urai, located partly in an old style traditional Thai house and partly in a nice little 'secret garden style' courtyard, next to the Le Meridien Surawong hotel.
The food is inspired by traditional herbal medicine, and we enjoyed it very much. We had woked flat noodles with shiitake mushrooms, pork coconut green curry, and woked lemongrass-cashew chicken. It was a tad expensive, but quite delicious.
Paris Mikki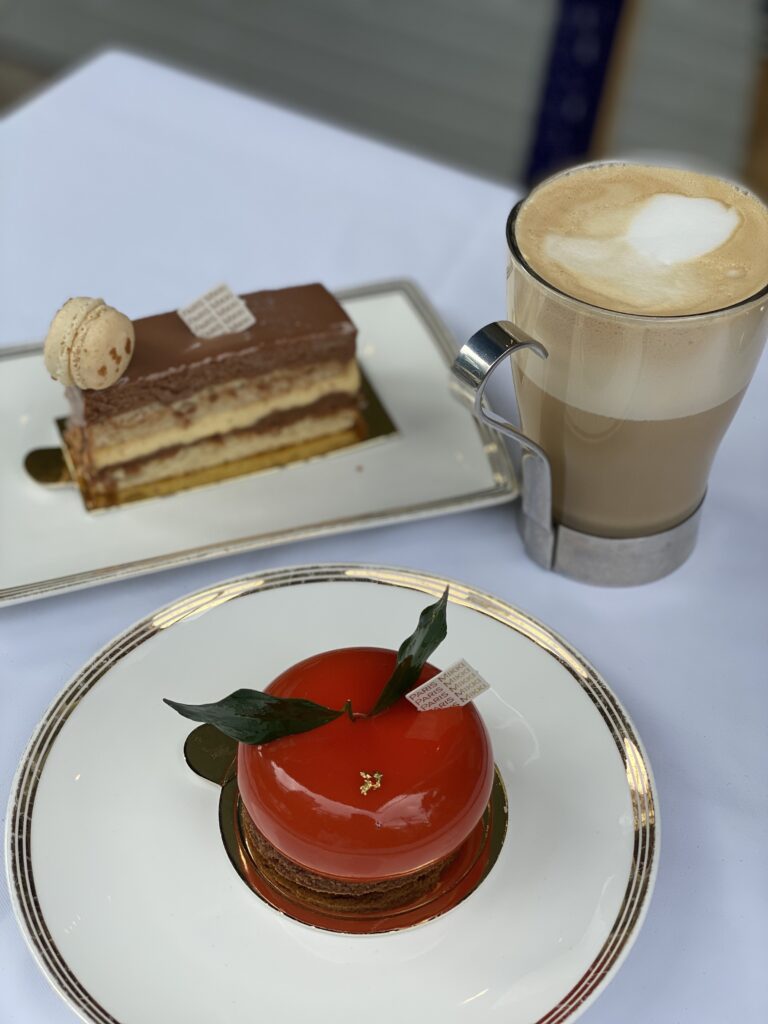 If you're craving high quality French style pastries, visit Paris Mikki, a nice little café next to the Terminal 21 shopping center. We went their for my partner's birthday as she wanted something birthday cake-ish and we were very pleased. Coffee wasn't great, but the pastries were.
Allegedly their croissants are the best in Bangkok, but we didn't try them unfortunately. They looked very good though.
Ba Hao (Chinatown)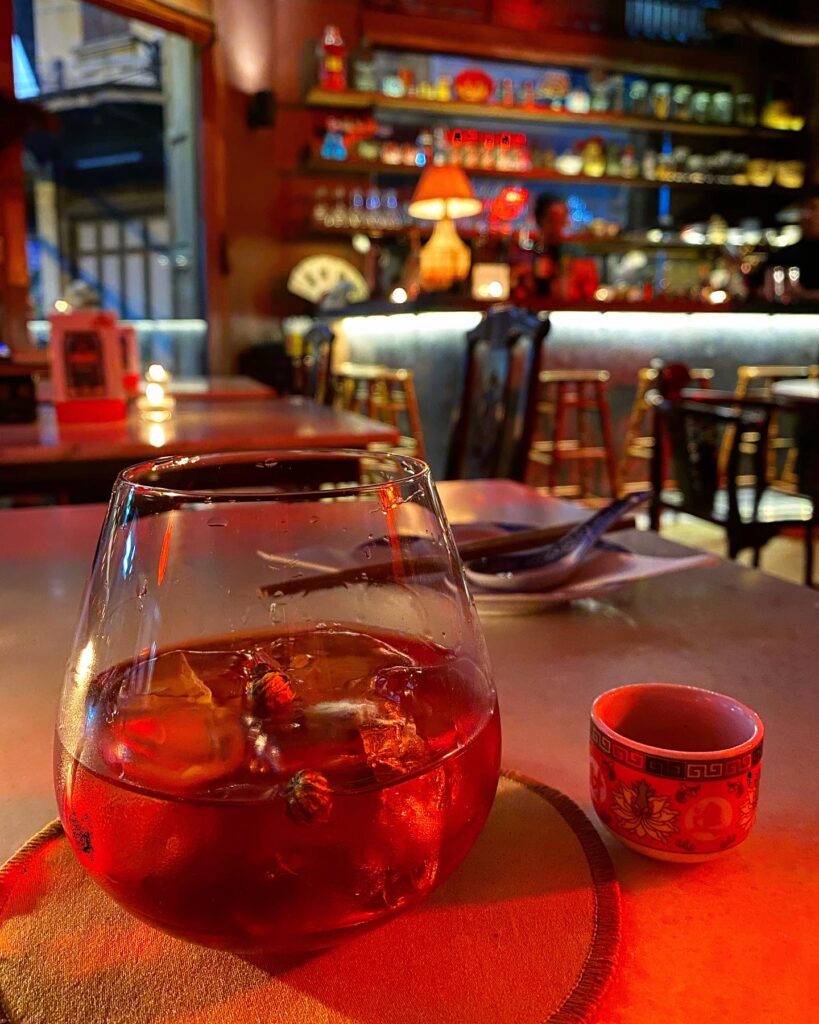 Despite having visited Bangkok two times prior to this visit, i hadn't been to its Chinatown.
This visit it was time however, and we caught a Grab (like Uber) to Ba Hao, a fancy 1920s Shanghai style bar and restaurant in the midst of Bangkok's Chinatown.
Ba Hao serve great cocktails and bar food-y takes on Chinese classics. We started with Opium, or 'Chinese negronis' with ginseng and herb liquor, and then ordered from their food menu. The dishes aren't huge, so you'll probably need at least two each to get full.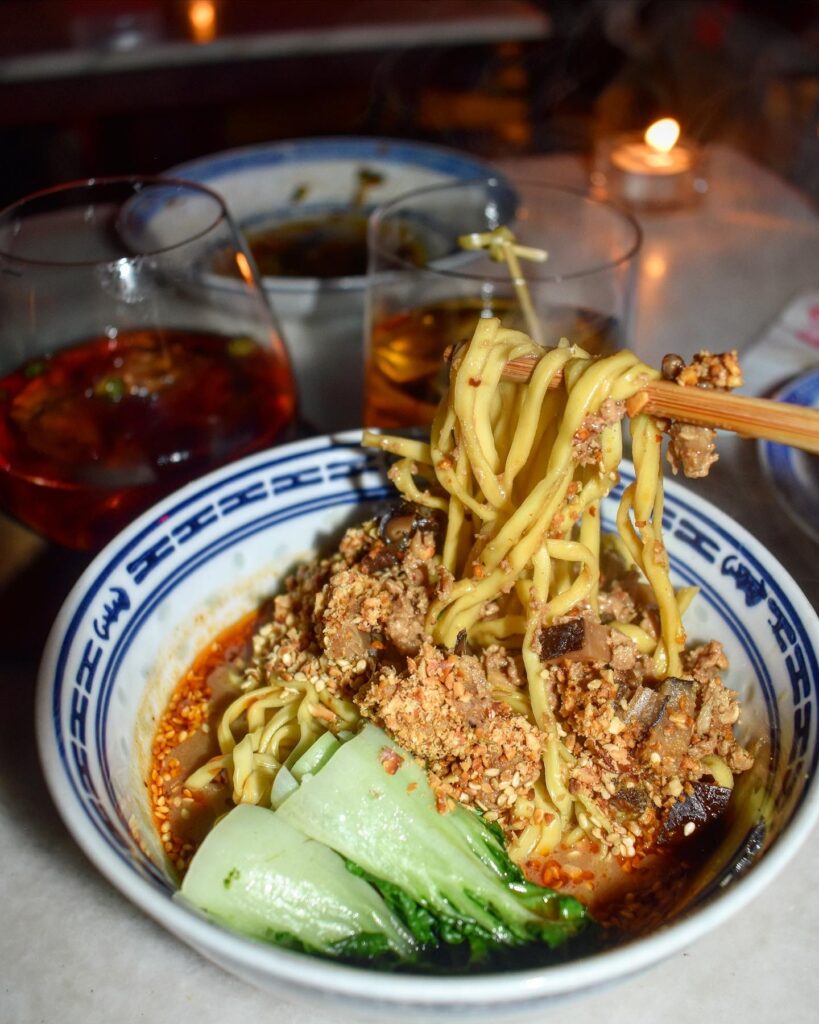 Dan dan noodles.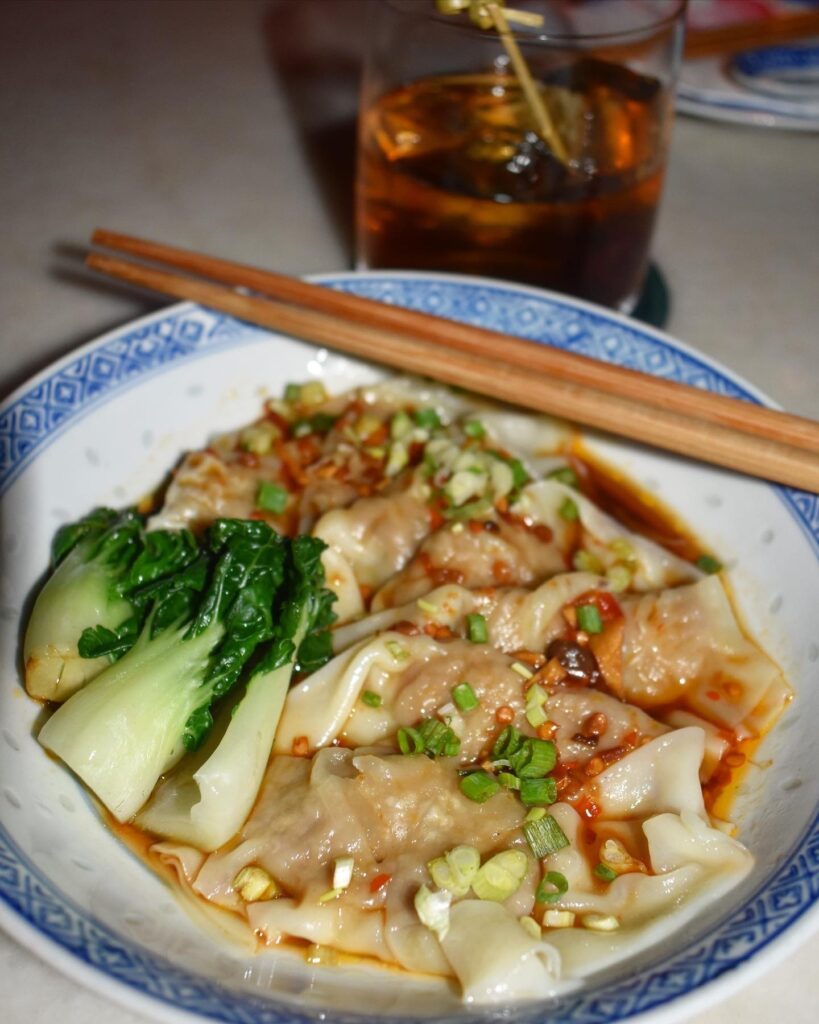 Duck wontons.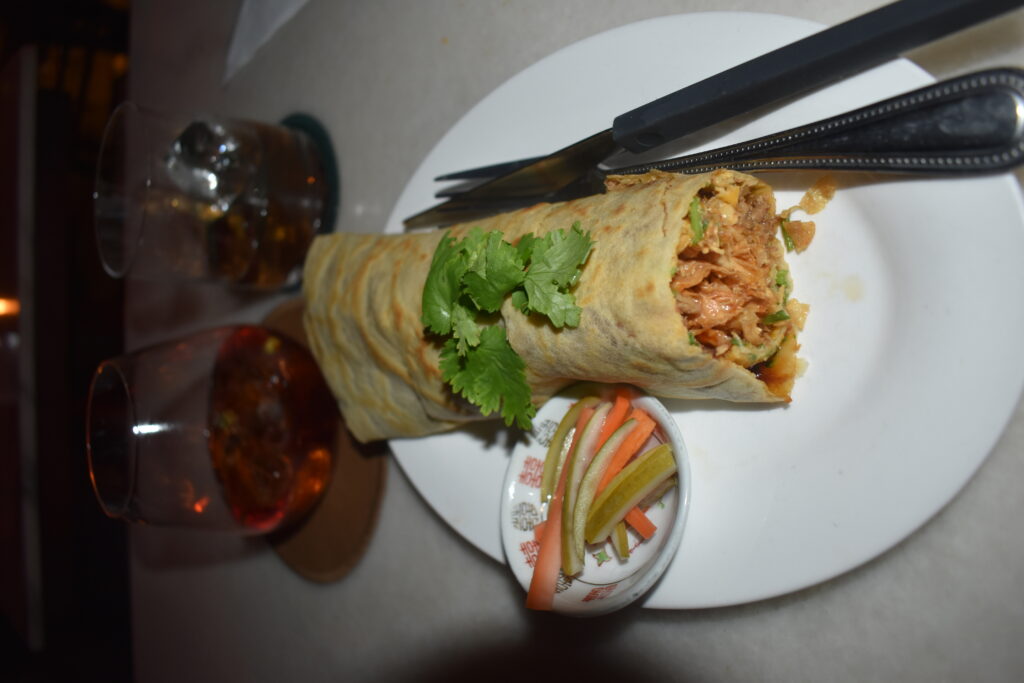 Chinese pancake stuffed with pork.
Great food, great drink and great ambiance. You can also rent a room above the bar if you'd like the full Chinatown experience.