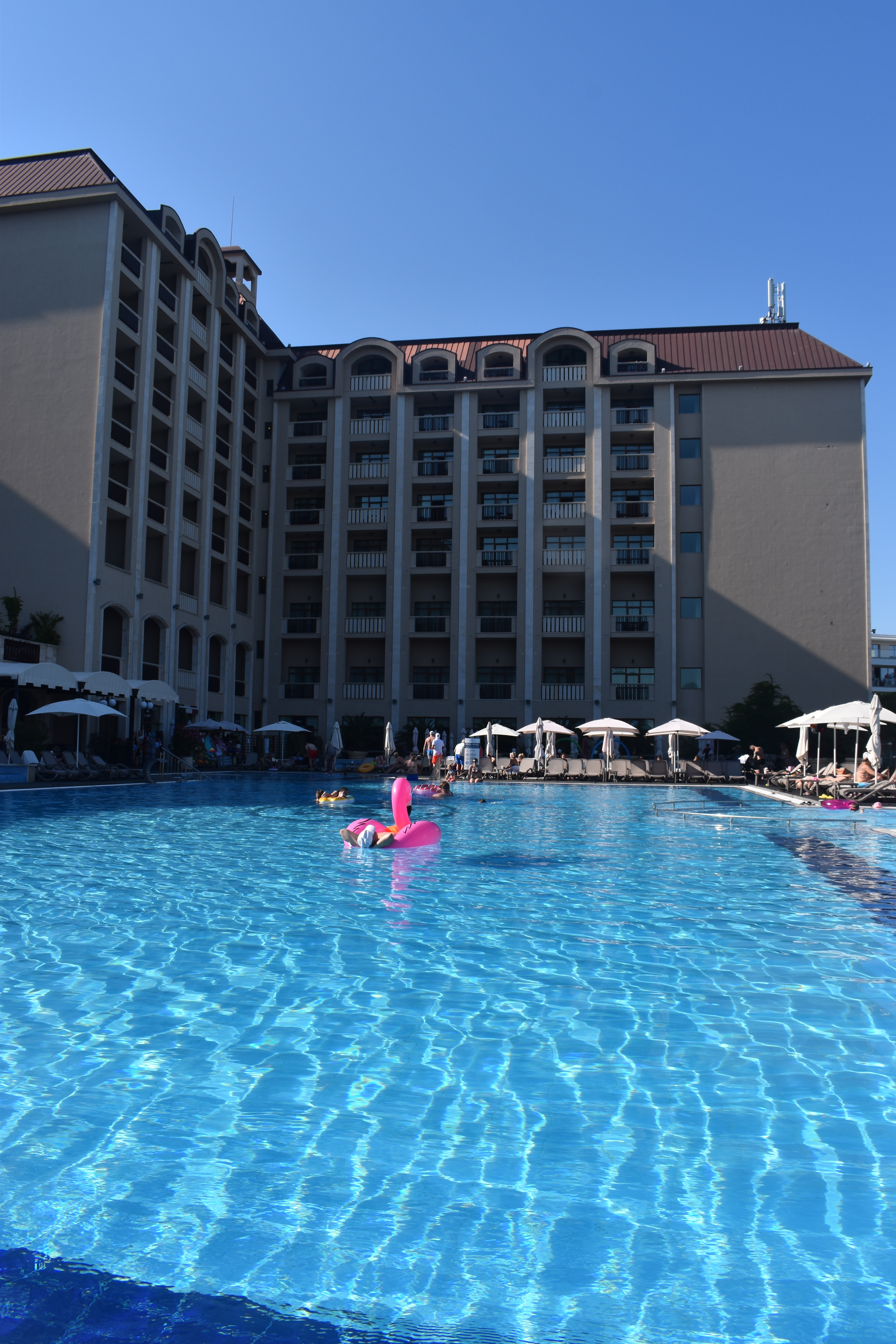 I've been wanting to visit Bulgaria for quite some time, and after some decently thorough research, I found the Melia Varna maybe a year ago, and started looking into when to go. Fortunately prices were quite good in early June this year, and we decided to book the trip.
The hotel is all inclusive, and on top of that there is an extra fancy all inclusive concept that is called The Level, which we opted for since it wasn't that much more expensive.
The Level comes with room category, and the rooms are larger, has more amenities like free minibar (beer, snacks, water and soft drinks which are replenished daily), robes and slippers, a welcome amenity and a couple of chocolates on arrival. Our room was on the 8th floor, but I'm not sure that all Level rooms are high up in the hotel. You also get access to a private restaurant which serves both breakfast, lunch and dinner; as well as a Level pool area and garden which is less busy and noisy than the main hotel pool. It also has it's own bar.
Because our tour company, Swedish Vingresor, cancelled our first trip, we had to rebook to a week where the sea facing room we had initially booked was already sold out. So instead we booked a Level 'park view' room, which meant a view of the hotel's entrance and the surrounding hills. This was definitely not a bad view, but the ocean vistas are definitely nicer and since the price was just a little bit more I'd book an ocean facing sea view room next time.
We flew from Stockholm Arlanda airport to Varna airport, a trip that is perhaps shorter than most people expect, with a flight time that is only 2 hours and 45 minutes. After picking up our bags we took a pre-arranged bus to the hotel where we arrived around 10 pm or 22:00 o'clock. The Level has it's own reception area, but it was closed due to the late hour, and we used the regular reception to check in. We were handed, or rather they put on, our all inclusive wristbands, and we also got a sandwich pack since all the restaurants had closed. A top tip at check in is also to make sure that you receive towel cards. They forgot to give us ours, which took us on a 30 minute hunt the following day trying to find out just how to get pool towels.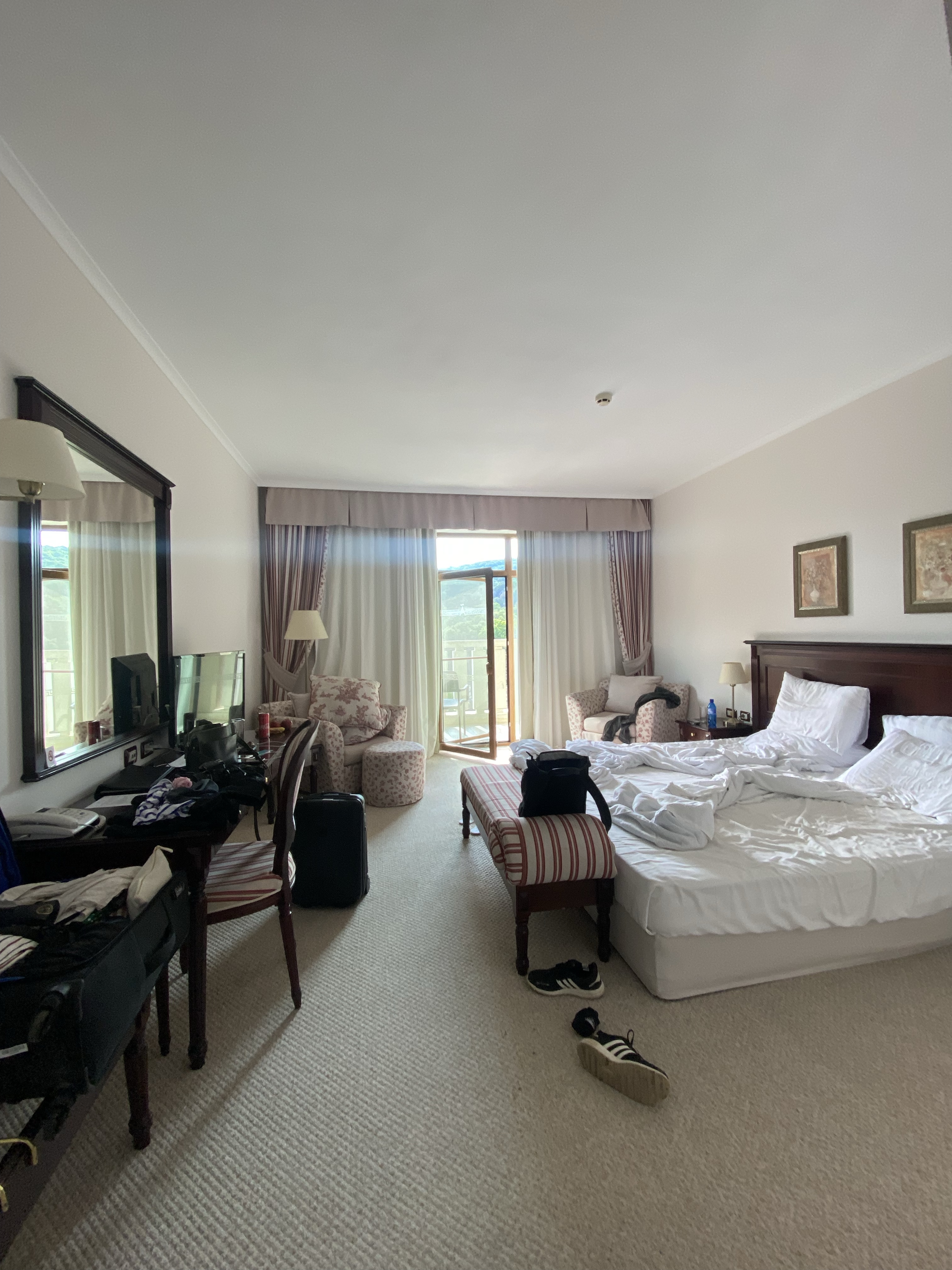 Level park view room
The room was quite large and as mentioned earlier had a minibar where soft drinks and beer was free of charge. The bed was large and quite comfortable, there's a flat screen tv, air-con which worked very well, wifi, and a large bathroom with both rainhead shower and a bathtub.
Restaurants in the hotel
There are quite a number of bars and restaurants at Melia Varna if you read on their website, but a few of them aren't open that long – there is a German bierstube with German beers and dishes, but they close early, I think it was 5 o'clock so we never tried it. There's also a paella restaurant, but it wasn't open at all when we visited. This gives you two options as a non-Level guest, and three options when staying in a Level room for dinner: their main buffet restaurant, their Italian restaurant (also buffet), and the Level restaurant, which also is a buffet. Hence, no other choice than buffets are available and as far as I could tell, the food on offer was quite similar in the main buffet and the Level buffet. Although we heard from others guests that the main buffet ran out of food and was quite chaotic, and that did not happen to the Level restaurant during our visit.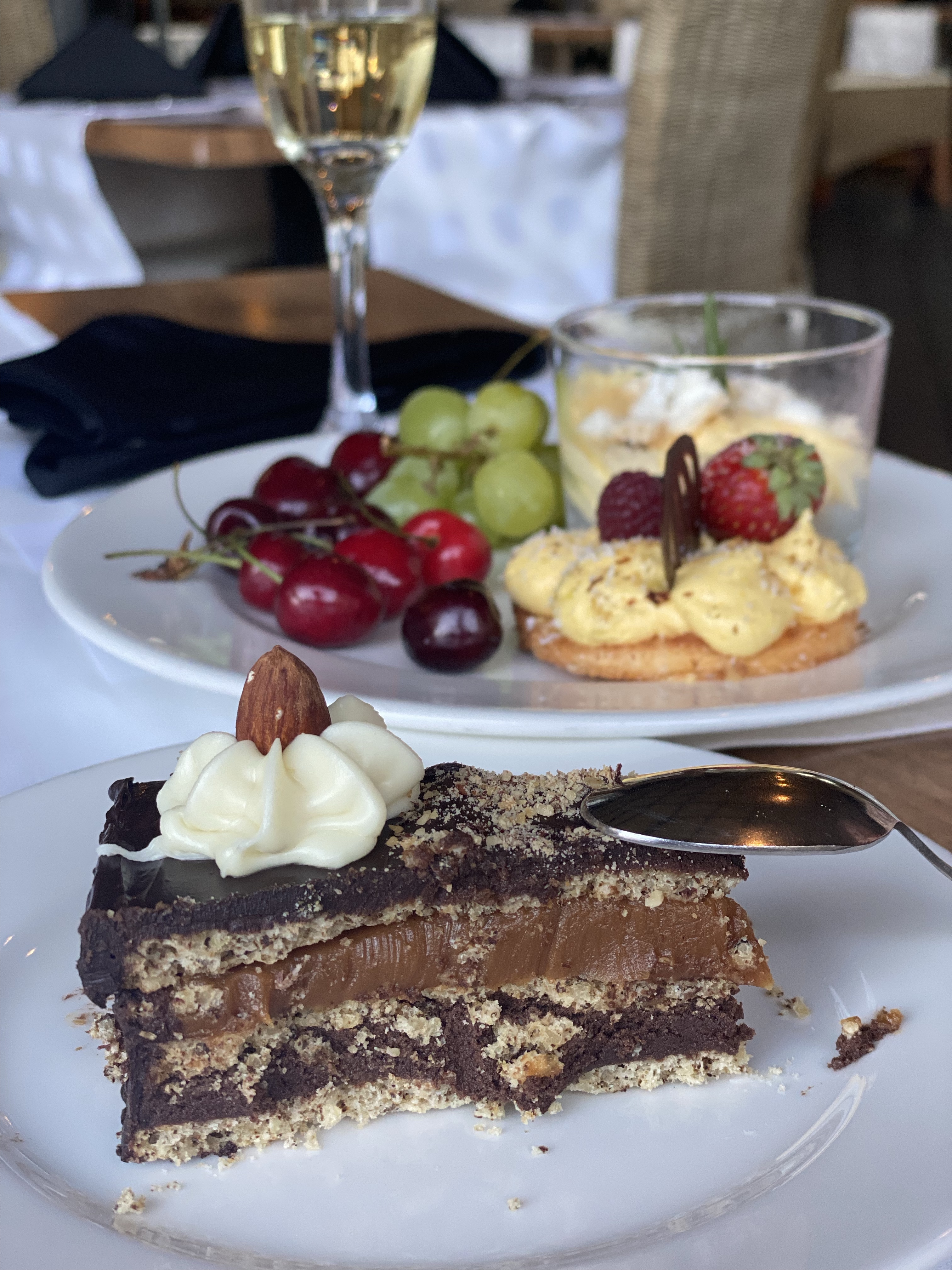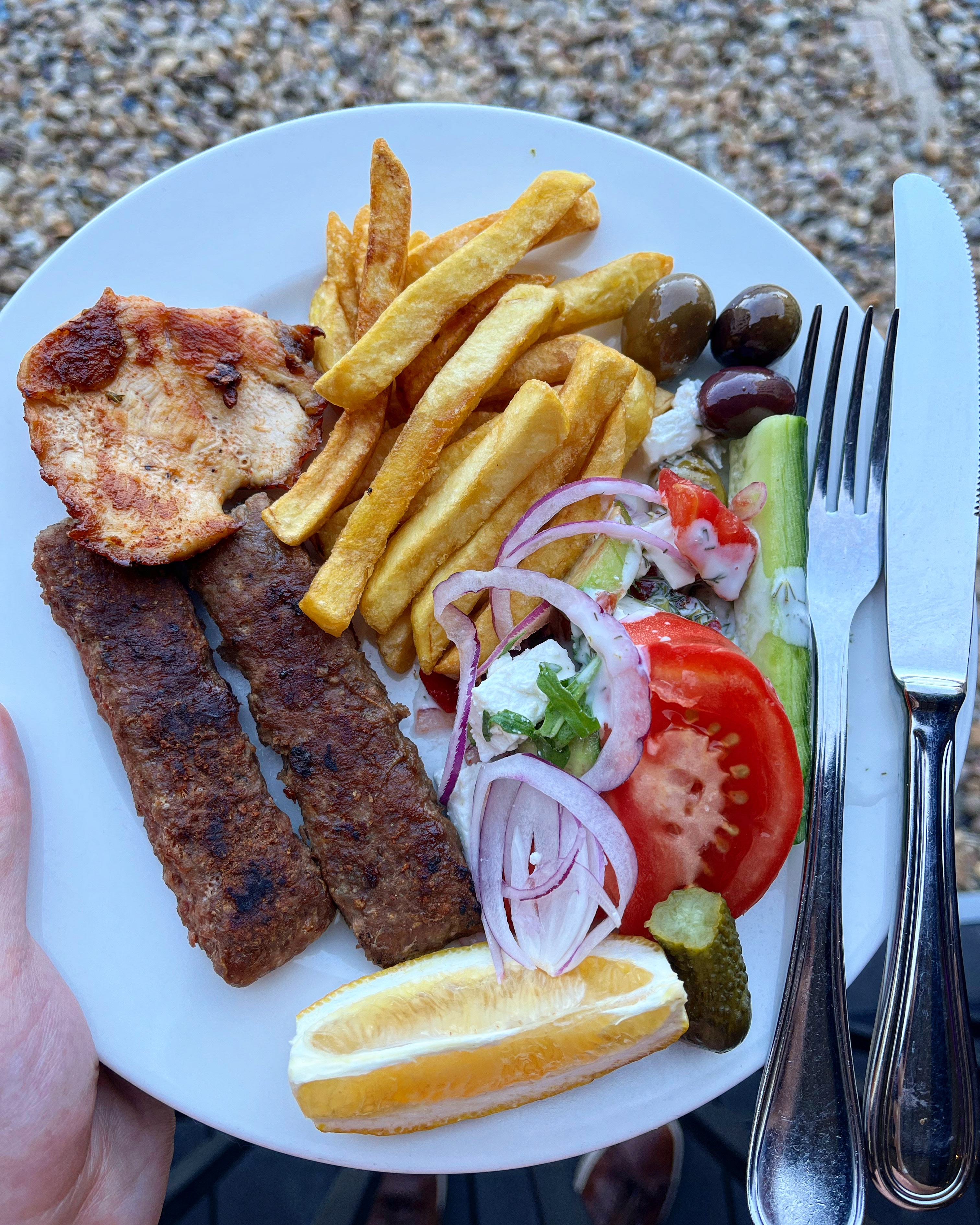 The Level restaurant
There is no need to make any reservations and you just show up when you like to eat. The staff were generally quick to offer you drinks, and there were usually glasses of sparkling wine already poured and ready for you to pick up when arriving the restaurant. When it comes to wine, you select red, white, rosé or sparkling. There's never a bottle, and you don't have any say in brand or grape for instance. The wines were in our minds generally fine though and worked with the food. But this is not a place for fine wines (or fine dining).
The food is quite decent, and I appreciated that there was lots of Bulgarian food. During our week we tried both Black Sea mussels in dill, grilled kebapche – minced pork skewers with cumin – although I suspect these weren't made in the hotel, and various grilled meats, as well as salads with sirene cheese. They also had made a dill, mayo, yoghurt, and garlic sauce, I guess based on the Bulgarian Tarrator soup, which was really good paired with their local dishes. There were also bread, fries, rice, charcuterie, vegetables of varioús kinds and desserts. Some of the desserts were of a much higher standard than the food, so I'm guessing there's a very talented pastry chef hidden somewhere in the hotel.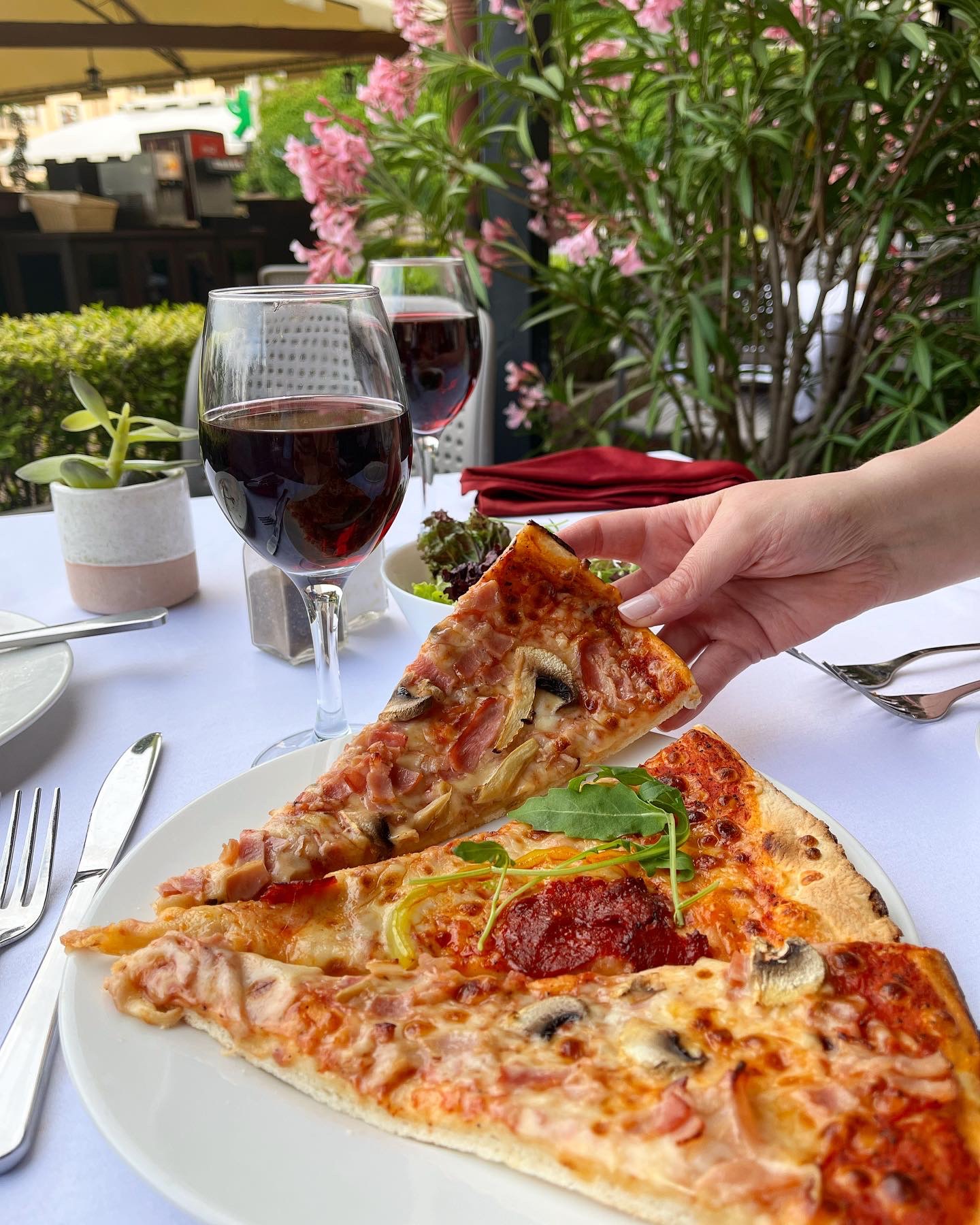 The Italian restaurant
The hotel's Italian restaurant is open to all guests, but requires a reservation. When we visited it was only open on certain days. We booked through reception a few days before, and got handed a small ticket that we brought with us to the restaurant. The food is served buffet style, but the main event is pizza that comes pizza for pizza from the kitchen. So they run out quite fast, but are never cold, and get replenished quickly. The pizza was decent, as was the rest of the food. Apart from pizza there were a few pasta dishes, salads such as tomato and mozzarella, Italian charcuterie and cheeses, and a few desserts.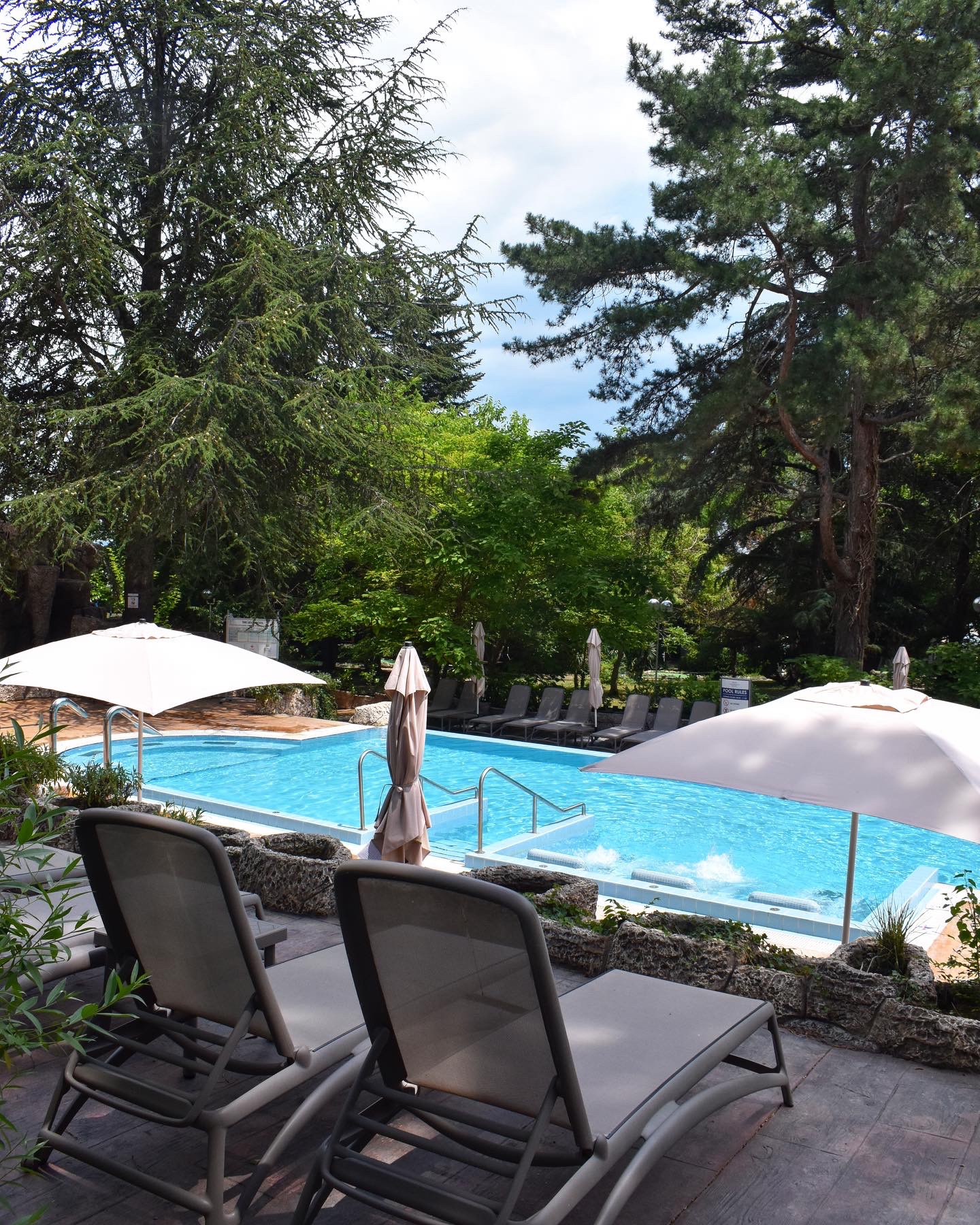 The pool and the beach
As mentioned there's a private pool garden for Level guests. It's not very hidden or hard to reach, you just walk down a set of stairs from the main pool area. But since the main pool area is quite busy and there's a lot of sports and events going on all day, I found it quite nice as it is much quieter and relaxed. There is a small bar, and the staff occassionally comes out and pick up orders or hand out little treats such as ice cream. The pool is smallish, but since it's a lot less guests using it, it was usually more accessible than the large main pool that was constantly packed with people, rubber toys, and volleyball nets.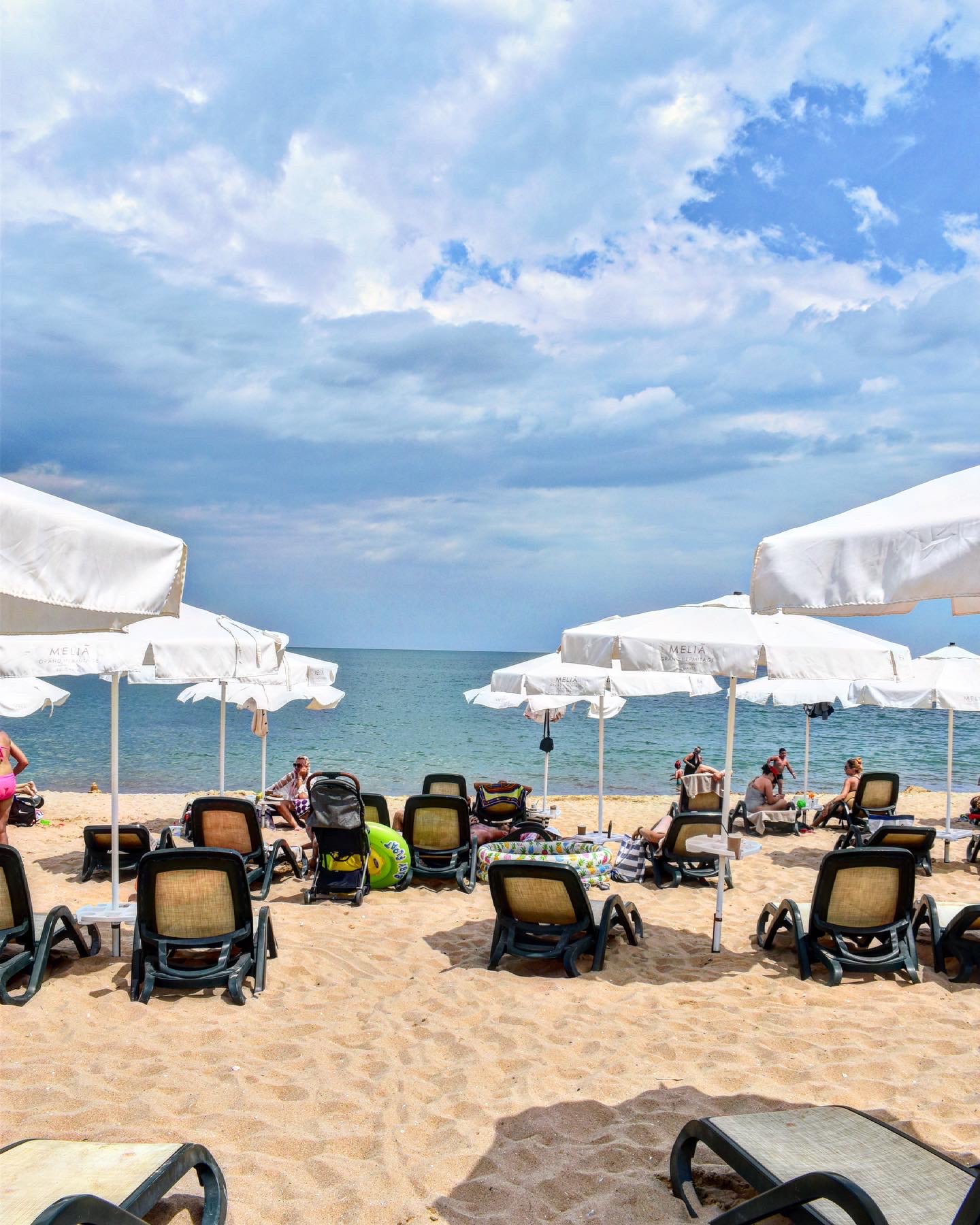 From the hotel, there's a short walk down a slope to the private hotel beach. It's not very hard to find, but can be a little bit tricky. Fortunately there's a sign from the main road to "Melia Beach", just walk in there and you'll find it. There's no separate area for Level guests here, you just walk in and pick any sun lounger that's available. There was usually available sun loungers as the hotel part of the beach is relatively large, but at one time it was completely full and we had to give up and walk back to the hotel. There is also a beach bar which is included in all inclusive which serves drinks and ice cream. In my mind the hotel beach was one of the best aspects of the hotel, very clean, good facilities and super pretty.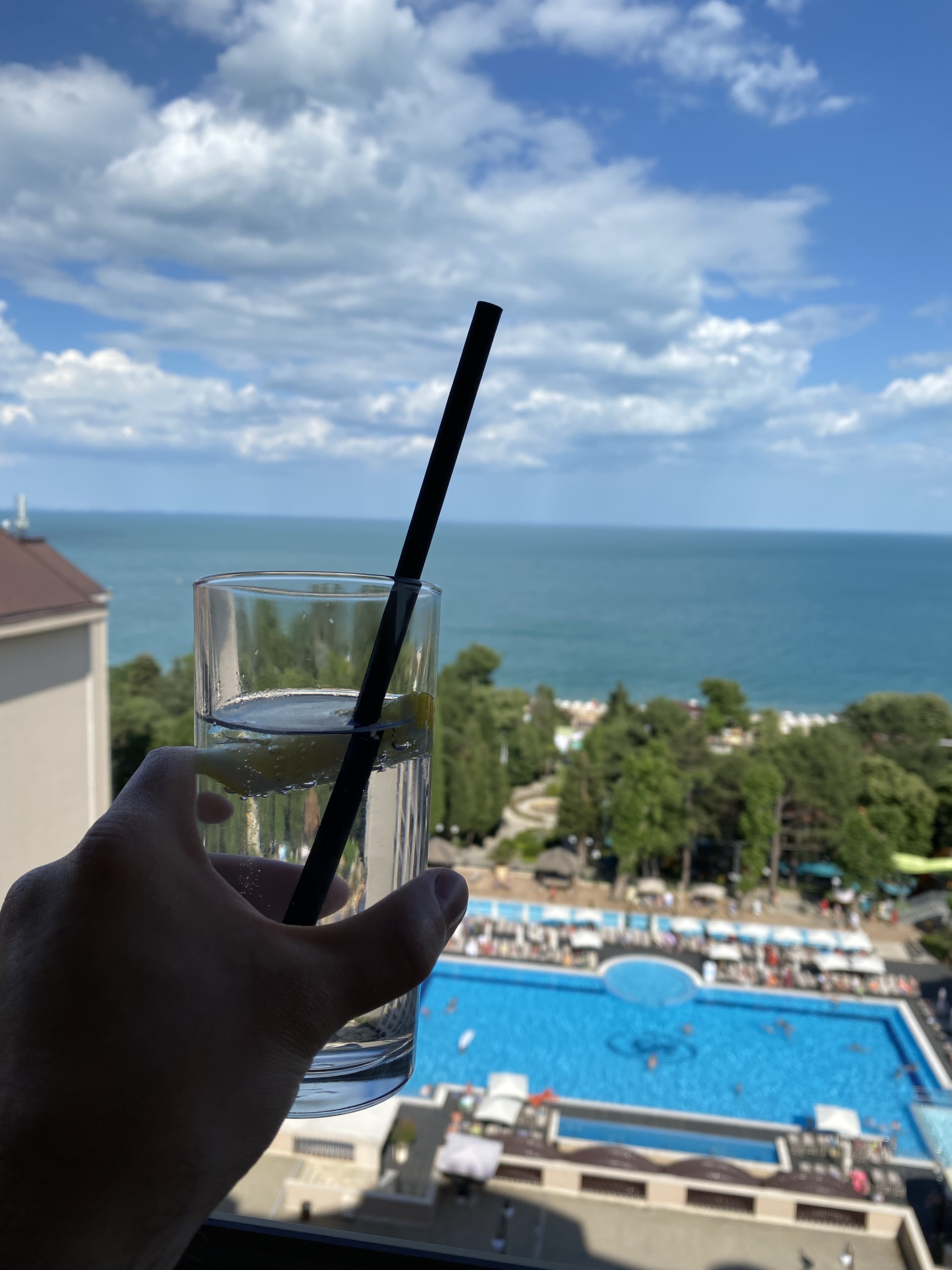 The Level Lounge
The last one of the perks for Level guests is the Level Lounge on the top floor of the hotel. It's a quite small lounge with a concierge and a bar tender that serves cocktails and afternoon tea from 3-5 pm, or 15-17:00. Again, odd hours and I can't understand why they don't offer this between let's say 5-7 p.m. instead. We usually arrived 4.30 p.m. for a quick (and very early drink) before dinner. Because this was the only bar that you could sit outside without having to enjoy it in paper cups. There is also a quite spectacular view over the beach, ocean and area. And in contrast to the bars and restaurants below, they use "premium" spirits instead of local ones. They have a set menu of a few classic cocktails, wines and beers. But they made anything you'd like if they had the ingredients. I for instance guided the bartender to make me a negroni that wasn't on the list, but they had campari, gin and vermouth.