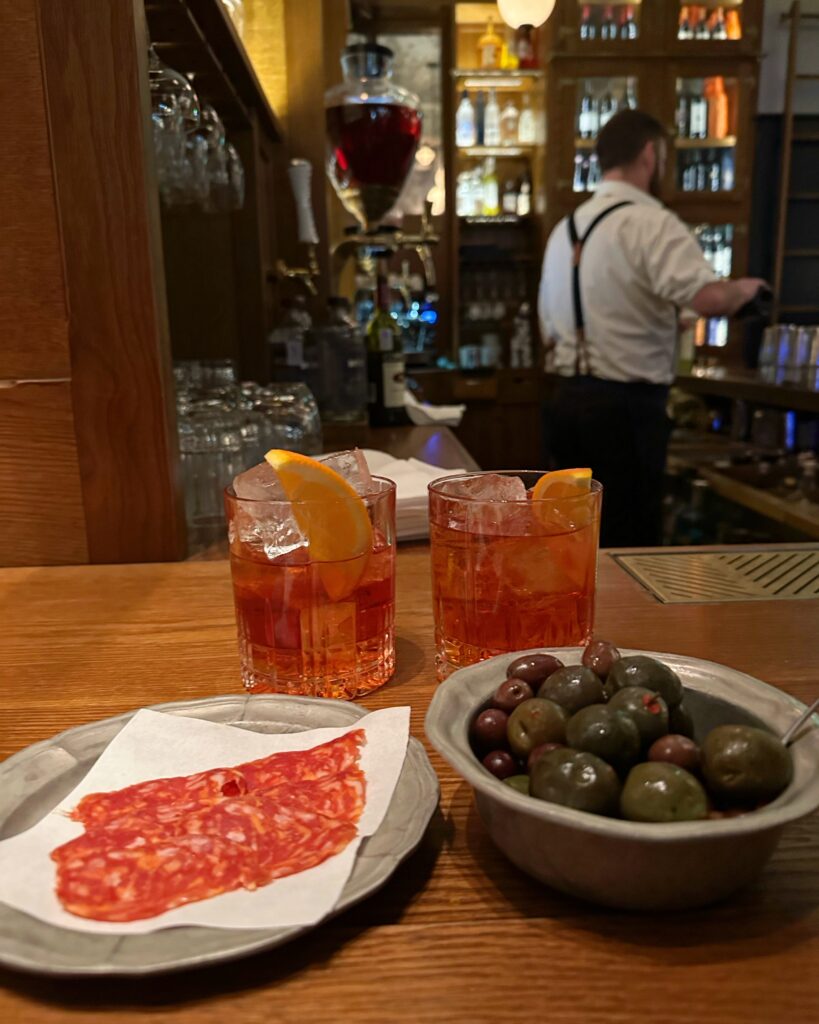 Living in Stockholm, and being a big negroni lover, and after reading this list about the best negronis in town, I had to pay the number one entry, Ciccio's, a visit.
Ciccio's 'Negroni XL' is, according to their menu, served "generous", and additionaly comes with a few included negroni friendly nibbles in the shape of above salami and olives. The price is 185 sek (when we visited in 2023), so it's a bit steep, but since it's also quite large, and you get some snacks which is unusual in Stockholm, it's quite worthwhile in my mind. At least compared to other similar venues.
Ciccio's brands themselves as an American-Italian restaurant, but they also have a small bar area where you can hang out if you like me only visited for the negroni. The interior is quite rustic and old school, in a good way. And felt like an appropriate place to have a stiff drink like a negroni in.
The negroni came pre-mixed from a container in the bar (you can see it in the background in above picture), but is of course made in-house by mixing gin, campari and vermouth into the drink we all (okay most of us) love.
The negronis were really good to be honest. Nice classic flavour, and excellently complimented by the salami and olive nibbles. It is also sufficiently large so that you can get a good idea of the flavour before it's already gone, as I've experienced with a few smaller negronis through the years.
All in all, Ciccio's is absolutely both a good bar and a nice place to enjoy a near perfect negroni in Stockholm.