Pizza. One of my, and many others' favourite dishes. I am probably never as happy as when a pizza meal is approaching. A couple of years back we decided that we wanted to be able to make as good pizzas as from pizzerias or pizza restaurants.
We started with the tomato sauce, and then the toppings, before we realized it mainly depended on the dough to get that pizzeria quality homemade pizza. After probably five years of making homemade pizzas we were getting somewhere. Here is what we found out:
My 5 tips for making great pizza at home in summary:
Use a pizza or baking stone
Use good quality flour
A very hot oven
Put the pizza high in the oven, close to oven's heaters
Watch the pizza all the time
Use a baking stone or a pizza stone
One of the tricks is using a pizza/baking stone. We bought our at Urban Deli in Stockholm, but I think you can get it in most places around the world. It's basically a portable stone that you put in your oven to more or less mimick the effects of cooking a pizza in a masonry oven. Importantly, you will cook the dough from below to get that perfect crust.
Use a good recipe and good quality flour
We use this recipe, from the nowadays legendary hipster pizzeria Roberta's in Brooklyn, New York. Tipo 00 flour can be a bit hard to find, but really adds to the texture, flavour and end result in my mind. In Stockholm we buy tipo 00 flour at Cajsa Warg on Södermalm.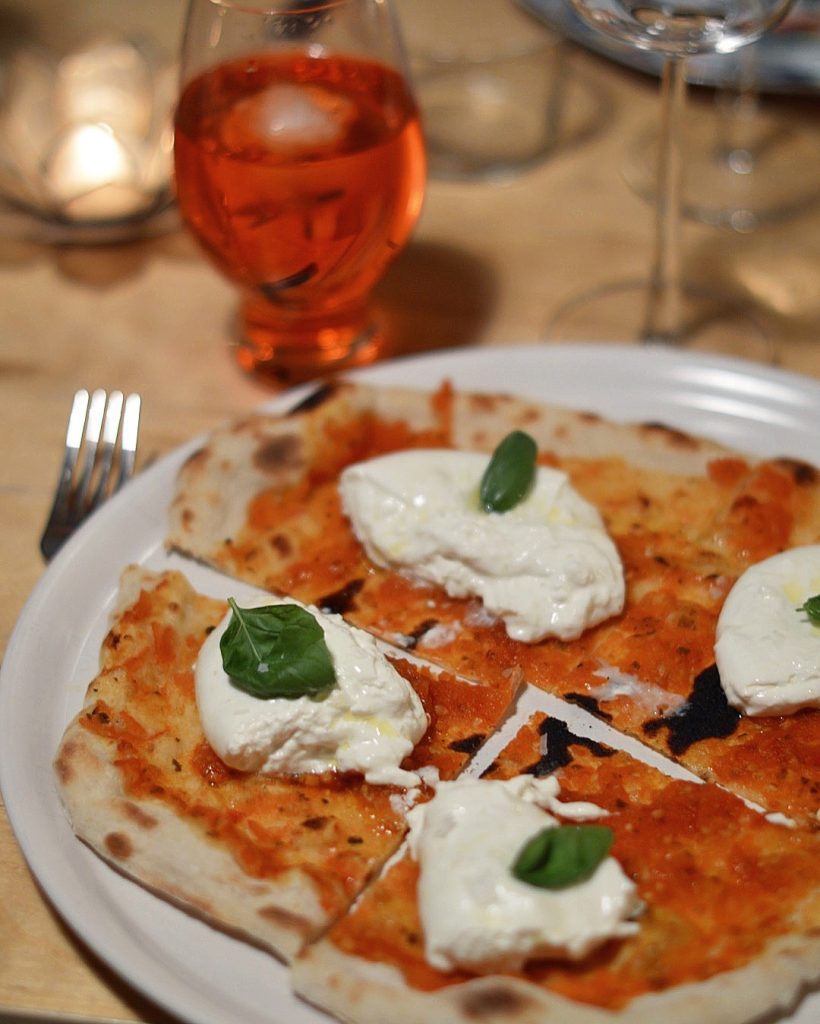 What you need (approximately three medium sized pizzas or two large)
153 grams Tipo 00 flour (1 cup plus 1 tablespoon)
153 grams all-purpose flour (1 cup plus 1 tablespoon and 2 teaspoons)
8 grams fine sea salt or regular salt (1 teaspoon)
2 grams active dry yeast (3/4 teaspoon)
4 grams extra-virgin olive oil (1 teaspoon)
Tomato sauce
A kilo of peeled fresh good quality tomatoes (make a cut in the skin and cook in boiling water for a minute to lose the peels) or a can of a good brand crushed tomatoes
5-6 cloves of finely chopped garlic
Olive oil
Salt & oregano
1. Heat olive oil in a cooking pot. Add garlic and fry until soft. Be careful not to colour.
2. Add tomatoes, cook for 30 minutes. Add water if needed. Season with salt and oregano.
How to make the pizzas
1. Combine flours and salt in a large mixing bowl.
2. Stir together 200 grams (a little less than 1 cup) lukewarm tap water, the yeast and the olive oil in a small mixing bowl. Then pour it into the flour mixture. Knead with your hands until well combined, about 3 minutes, then let the mixture rest for 15 minutes.
3. Knead the rested dough for 3 minutes. Cut into 2 or 3 equal pieces and shape each into a ball. Place on a heavily floured surface, cover with dampened cloth, and let rest and rise for at least 1 hour, but preferably 3 to 4 hours at room temperature or for 8 to 24 hours in the refrigerator. (If you refrigerate the dough, remove it from the fridge 30 to 45 minutes before you begin to shape it for pizza.)
4. To make the pizzas, place each dough ball on a heavily floured surface and use your fingers to stretch it, then your hands to shape it into rounds or squares. You can also use a rolling pin.
How to cook the pizzas
I put my pizza stone on maximum heat in my oven for about three hours so the stone is really hot. Follow instructions for your particular stone and oven though. Take care here to not do something risky, I would not want you to burn down your house. We have our pizza stone on a regular oven tray for easy handling. The idea though, is to get both stone and oven as hot as possible to minimize the pizza cooking time. We set our oven on 275 degrees fan-heat and grill. You need to watch the pizza all the time because they cook and hence burn fast. Set an alarm if you tend to forget stuff like me. 🙂
1. When the stone is ready. Put on a pizza, smother with tomato sauce, add your toppings such as mozzarella, salami, prosciutto, vegetables or whatever you fancy.
2. Put the pizza stone as high up in your oven as (safely) possible. I use the grill/broiler to get maximum blast from above meanwhile the pizza stone does the same from below. Again, important to watch the pizza as it bakes in about 2-4 minutes and burn very fast. Remove the pizza when it starts to get deep golden spots on the edges.
3. Serve immediately, and don't forget to put the pizza stone back in the oven if you're making another pizza. Red wine is very recommended, or a cold beer for that matter.