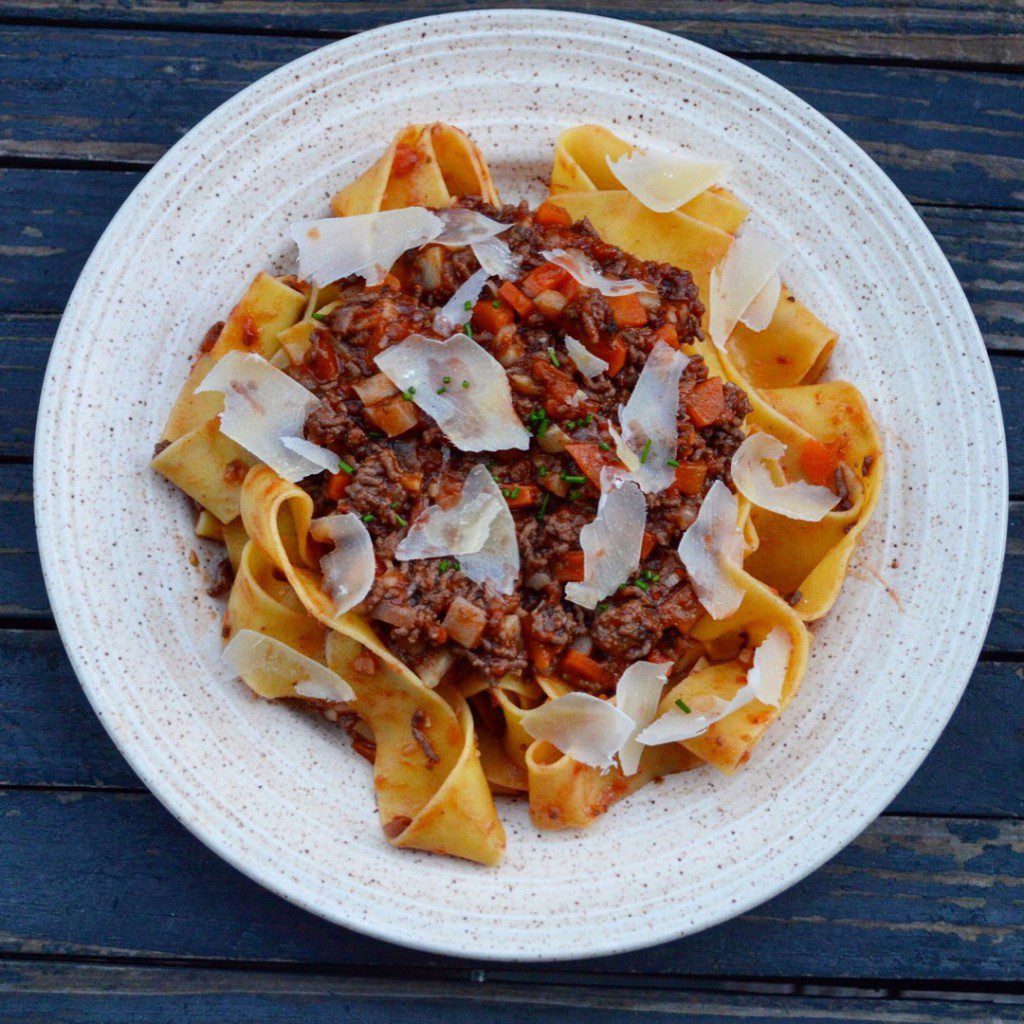 Bolognese, preferably with spaghetti despite the above pappardelle, is probably my all time favourite dish. Read below for my go to recipe when it comes to the classic. If you want it healthier, remove the bacon and the finishing butter which however do add a lot of taste to the dish.
Recipe is for, roughly, four persons.
What you need
500 grams of minced beef
1 yellow onion
4 cloves of garlic
2 carrots
1 (relatively) small piece of celeriac
50 grams of pancetta/bacon (optional)
3-4 tbsp dried oregano
2 chicken stock cubes
20 cl red wine
1 tin canned tomatoes (I use Mutti finely chopped tomatoes)
butter
sugar (optional)
Serve with
Spaghetti or pappardelle (I use Martelli or De Cecco)
Parmesan cheese
Red wine (sort of optional)
How to cook
1. Peel and dice carrots and celeriac into small cubes, about peanut-sized. Also peel and finely slice garlic and onion.
2. Slice pancetta or bacon (optional) into thin strips. Fry until cooked through, but before it starts to crisp.
 3. If you haven't used bacon/pancetta heat olive oil in a saucepan or a cast-iron pot. If you have, just add the vegetables to the already hot bacon pan and use its fat to fry. Start with the minced beef, and fry until it is starting to brown.
3a. If you are feeling ambitious set aside, and then fry all the diced and sliced vegetables in olive oil in a separate pan until soft, but not browned.
3b. If you are not feeling ambitious, just chuck the veggies into the beef pot and fry together with the minced beef until soft.
 4. If not already mixed, combine vegetables and fried minced beef into a saucepan. Add canned tomatoes (and some extra water if needed), red wine, stock cubes and oregano. Cover with a lid and let simmer on medium to low heat for at least an hour, but preferably three hours or more. Check and stirr once in a while. Add more water if it gets to dry/reduced. Add a pinch of sugar if needed (taste after 15 minutes or so of cooking).
5. When about 25 minutes remain of the bolognese cooking; add salt to and heat water for the pasta (it should taste almost like sea water). Cook the pasta al dente (check the package for directions if needed).
6. When pasta is almost done, turn off the heat on the bolognese sauce and add a knob of butter (optional but very tasty) as well as some additional oregano to it.
7. When pasta is done, strain it but reserve some of the cooking liquid. Then add spaghetti, bolognese sauce and two or three tablespoons of the cooking liquid (eg. the salt water) in a bowl and mix. You can also add pasta, some of the sauce and cooking water into the pasta pan and cook together on medium heat for about a minute to flavour the pasta with the sauce. It makes the dish much tastier, trust me.
8. Serve sprinkled with grated or shaved parmesan. A glass of red wine is (almost) mandatory with this if you are a wine drinker.