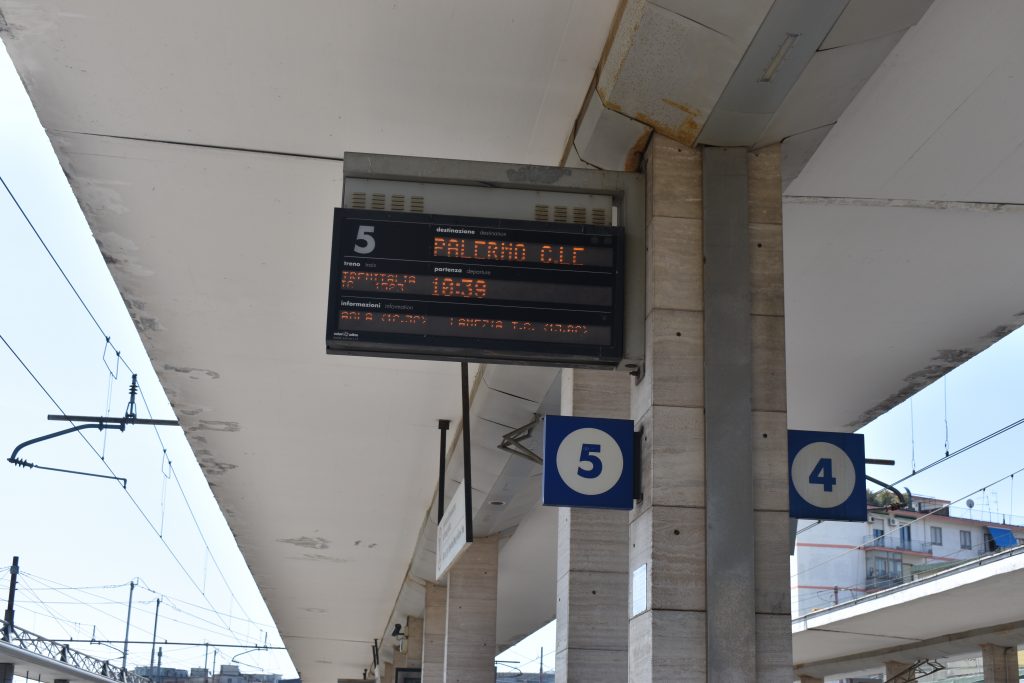 After spending three days in fantastic (but super expensive) Positano, we were back in Salerno for a last night at the Hotel Plaza. After breakfast we went to a nearby sandwich shop to stock up on some provisions for our next leg on our way to Malta; Salerno-Catania on a Trenitalia intercity train.
Salerno-Catania in Trenitalia Intercity First Class
As the grafitti covered train rolled into Salerno Centrale station we realized that we might not be as happy with this trip as our latest onboard the amazing Italo. We had paid roughly €30 per person for "1 classe" which was about the double from 2nd class, but still a worthwile upgrade for the nearly 7 hour ride. The carriage felt quite modern, and there were electrical sockets so we could charge your phones which is always appreciated.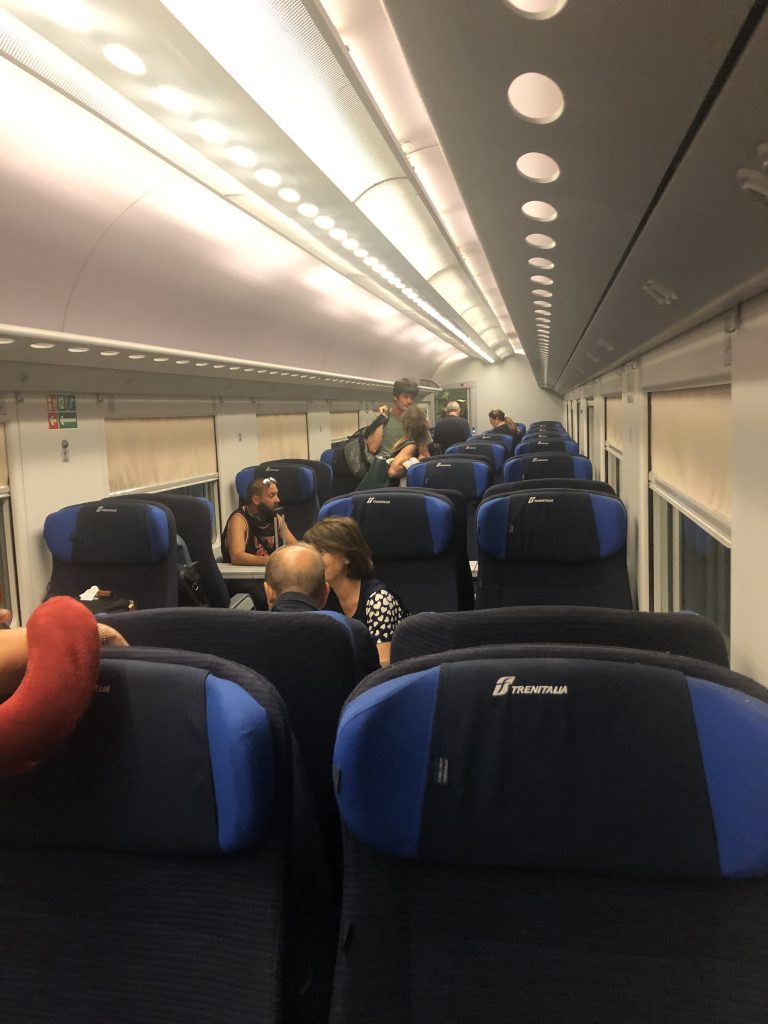 Unfortunately we sat on the wrong side of the train, going backwards, and in a seat where we were facing our co-passengers. Great if you want to chat with other people for a while, but not fantastic if you want privacy and to mainly relax for a 7 hour trip. To add to this the grumpy guy that sat on the "right" side of the train shut his window blind meaning all the pretty sea views were gone. The lady that sat facing us tried to convince him to open it up, but no success unfortunately. After about three hours with constant stops (meaning the air con was turned off) we arrived Villa San Giovanni from where we was to take our second train ferry of the trip, the one crossing the Messina straight over to the city of Messina and thus Sicily.
The ferry ride was a quite nice break from the train, and we went up on the deck to get some air and eat our sandwiches we bought in the morning. I did not check the ferry interior, so not sure if there are any restaurant or similar onboard (there isn't any on the train). We were free to stay in the train, and some of the other passengers did. The views from the ferry is quite nice though, so in my mind it is definitely worth it to get up on deck. We left our bags while away, but as mentioned the train is open (unlocked) if you have valuables with you.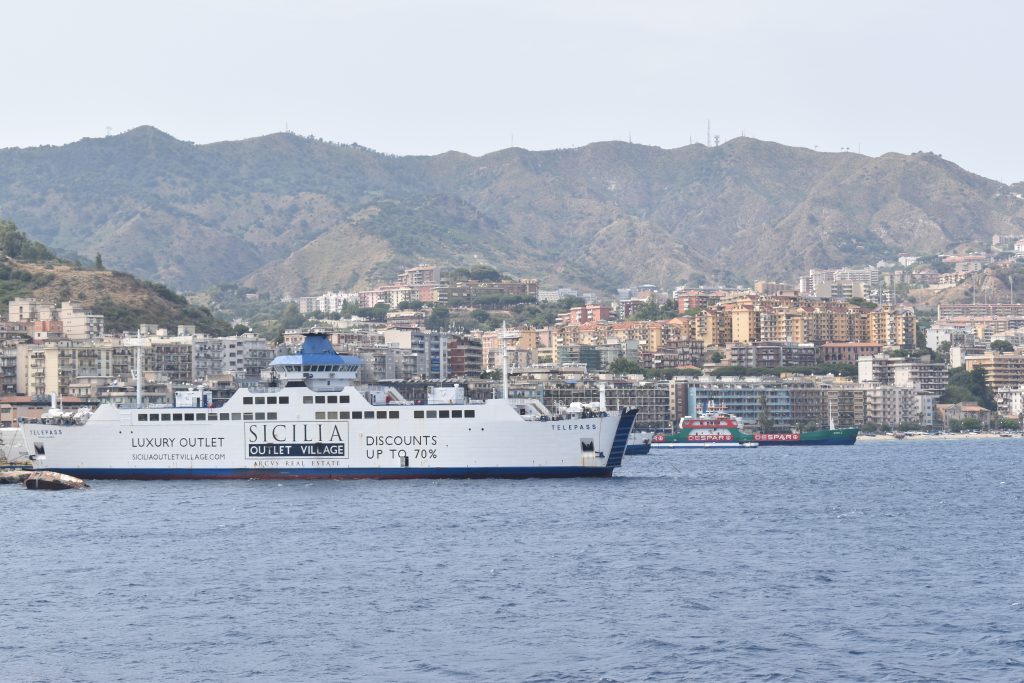 A few minutes before arrival in Messina we were told via loudspeakers to head back to the train, and shortly after we rolled off the ship and into Messina Centrale. Here we had to stop for about 30 minutes for an unknown reason, and many in our carriage got off getting some air. Since we did not understand the announcement that was made in Italian (and too lazy to ask someone) we remained onboard. After 30 minutes we took off again, only to stop every 10 or so minutes for about the same time. This time though, we sat on the right side of the train and could view the beautiful Sicilian coastline while slowly progressing. A word of warning here, the train stops shortly at the smaller stations, and a couple of older tourists missed their stop, just because they were too slow disembarking. So they had to go to the next station and get off there instead, which probably was a good 20 minutes later. Eventually and finally we reached Catania, where we stayed at Hotel Villa Romeo, which as most of the other places we stayed was basically next to the railway station.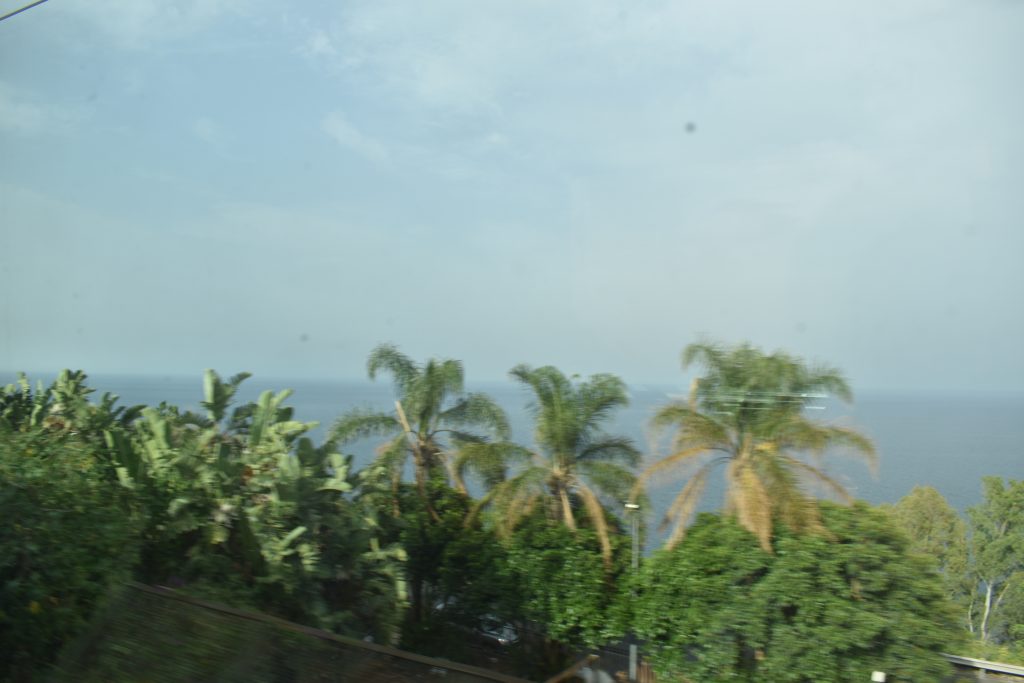 This was probably my least favorite train of the trip, but if we'd have had our own seat pair I think it would've been an entirely different story. The carriage was quite nice and modern, but it got super hot since the regular stops meant that the air con was off and did not fully cool the train until it was time to stop again. But this might have been extraordinary and not something that always happens.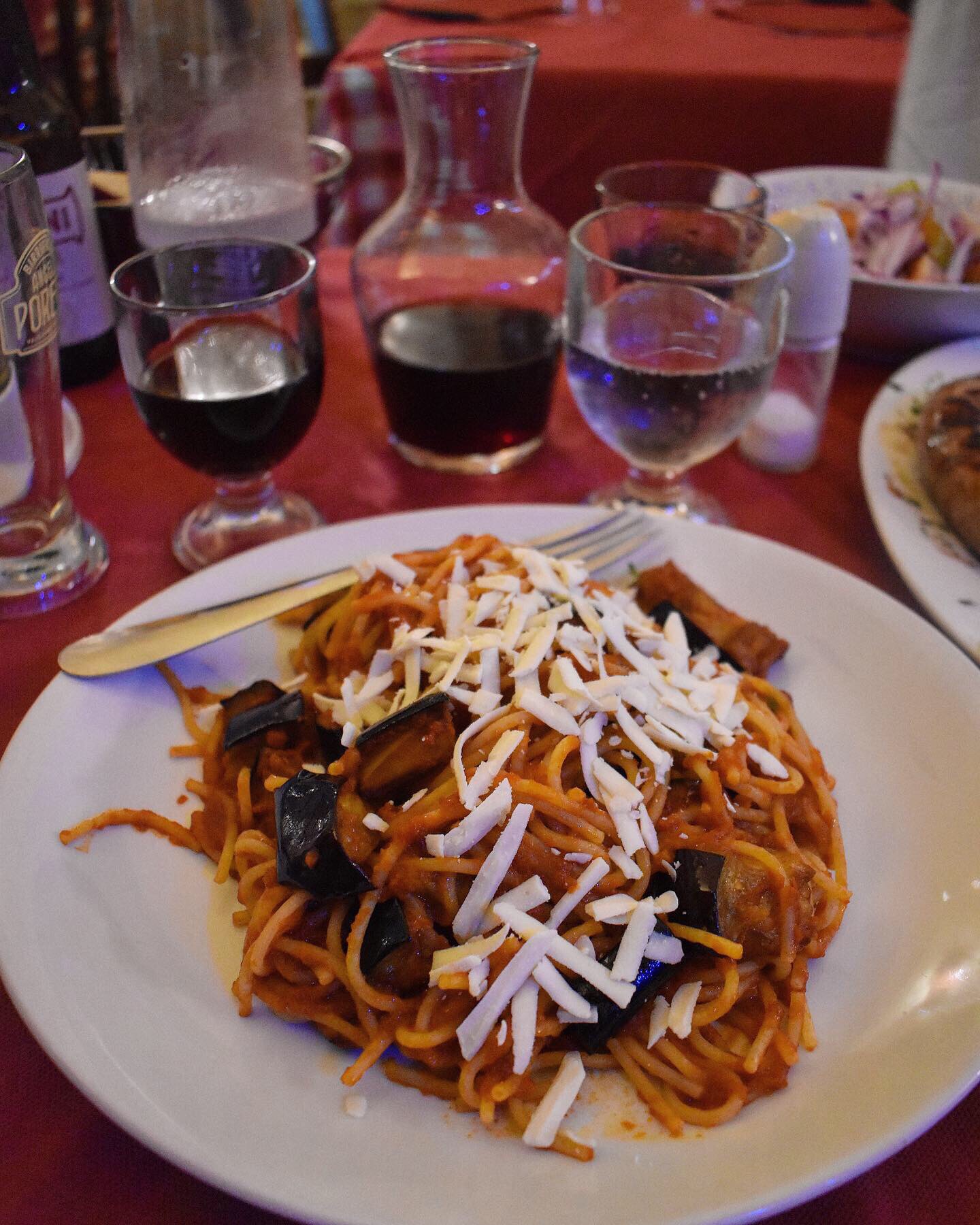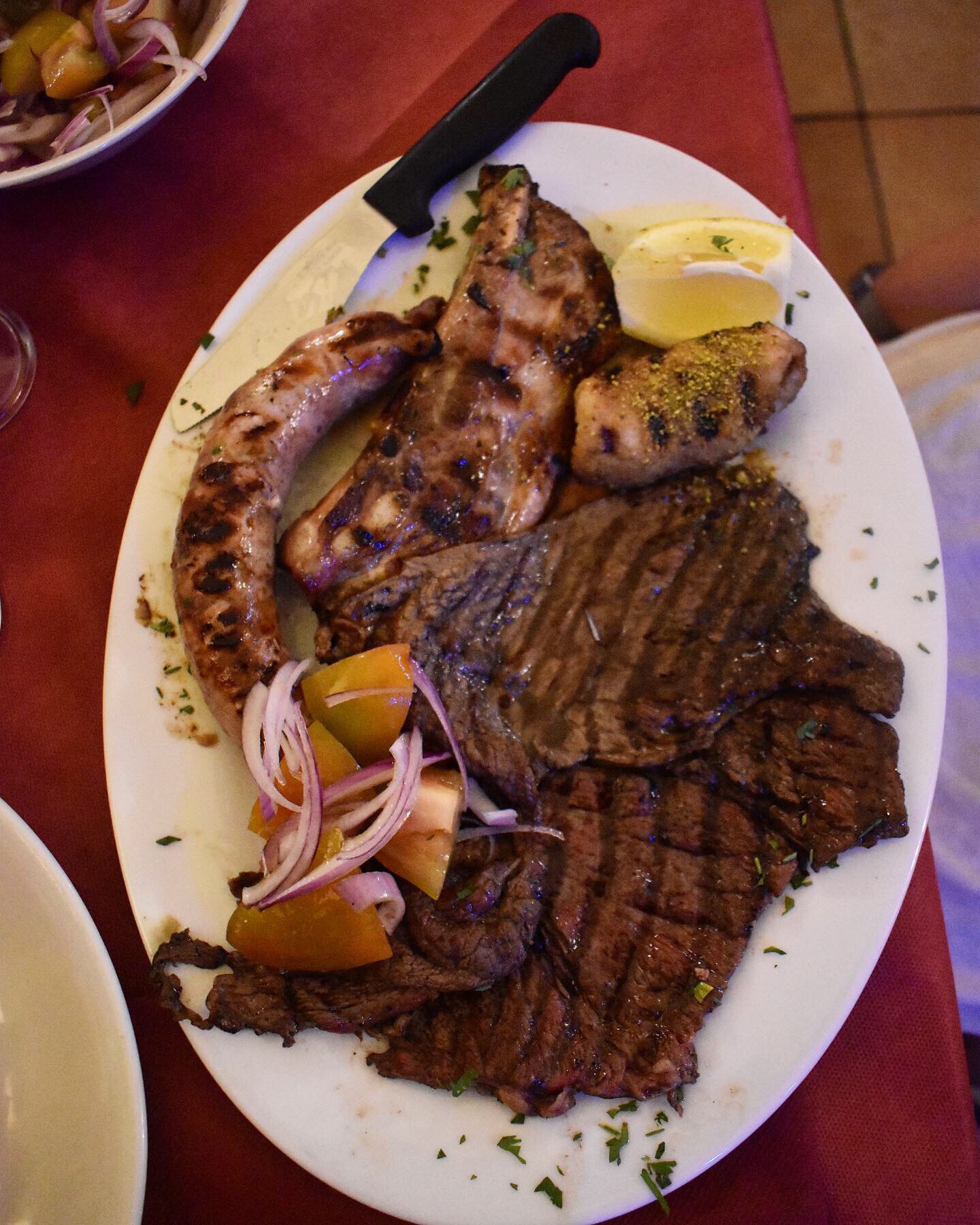 Ristorante I Moschettieri
We arrived quite late and through Google Maps we found a restaurant next door that had good reviews and decided to head there. While not maybe a 4,6 as the current rating states, we were quite happy with the food and the price. The food was rustic and tasty, and we had Sicilian starters, a huge plate of spaghetti alla norma (eggplant tomato sauce) covered in ricotta salata, and a mixed grill platter with sweet Sicilian onion & tomato salad. All this was washed down with house wine, and I believe the total bill was around €40. Staff spoke good English and were very friendly. A classic cozy family restaurant, that felt super Italian.