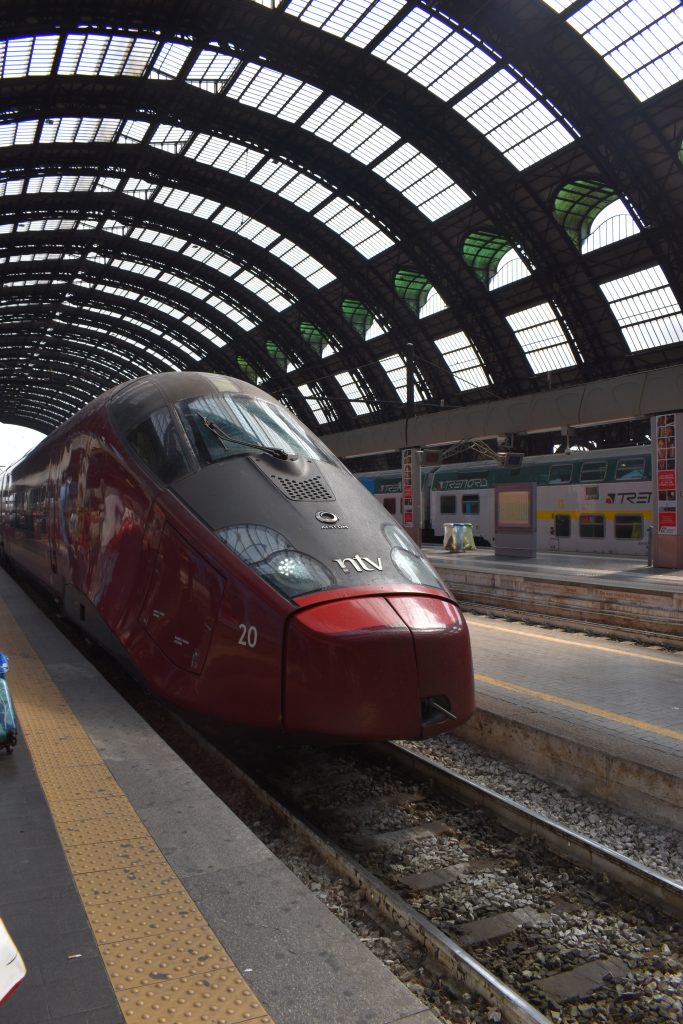 After two days of pasta eating it was time to put on our backpacks and get on the road again. First step was to jump back on the SBB train we arrived with two days earlier to take it to its end station, Milano Centrale. We only had 40 minutes in Milan where we were to jump on a train that was on another ticket, meaning if we missed it we probably had to buy new tickets. Since that train was next most expensive (after the Nightjet) we were a little anxious. To stress us a little, the SBB train both arrived late and then made several stops during the 45 minute ride. Fortunately we still had 20 minutes when we arrived and found our new train quite easily. A lot of other passengers seemed to have missed their connections though.
Milano-Salerno in Italo Executive Club
The Italo has been called the Ferrari of trains, which I guess is due to its futuristic, sleek design, and for being red. We had splurged and booked the Executive Club class, which out of the four classes onboard is the "highest" for the almost six hour ride to Salerno. Since the price was about €60 in economy, and only €40 more for executive, totaling at around €100 per person, we decided it would be worth it since it was a quite long leg.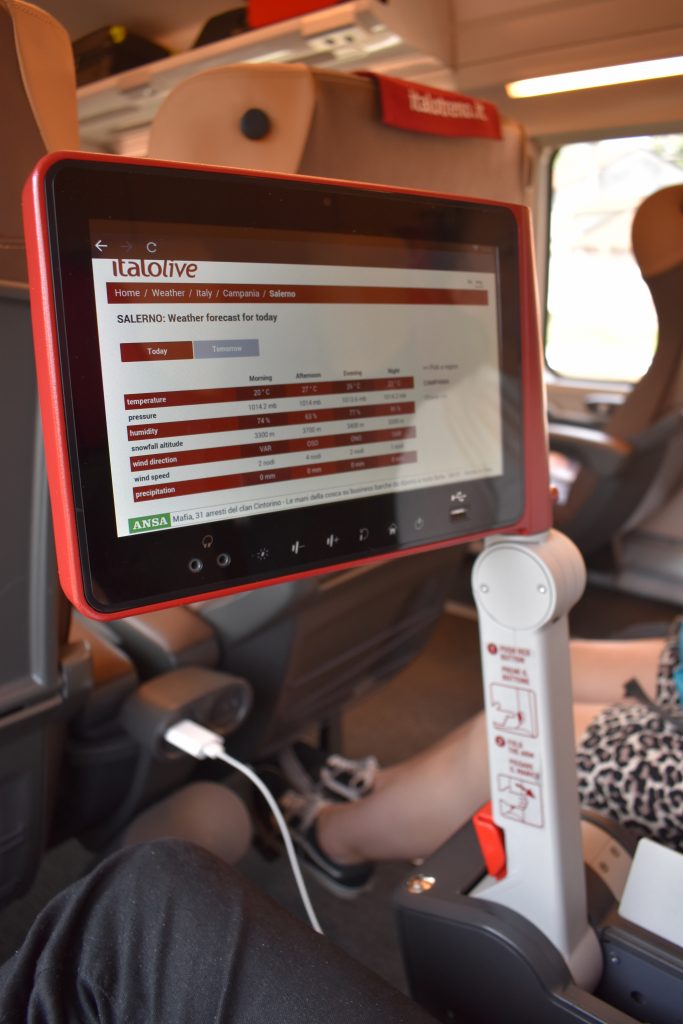 Having an italo Executive Club ticket we were entitled to use the lounge in Milan, but since we were late and noticed there was an airport style security check to get back in to the train departure area from where the lounge was we decided to skip it.
A few minutes before departure the screens announced our train was arriving, and in the distance we could see the red arrow arriving. We showed our tickets to the friendly train attendant and entered the carriage. Wow is all I can say; sleek comfortable leather seats, lots of space, personal tv-screens, free wifi, a screen showing speed (max 300 kmph during our trip) and the next station. Fortunately we got a private seat pair (we could not choose when booking on Italo's website). In some of the other seats you had to face your fellow passengers, and those looked a little bit more cramped.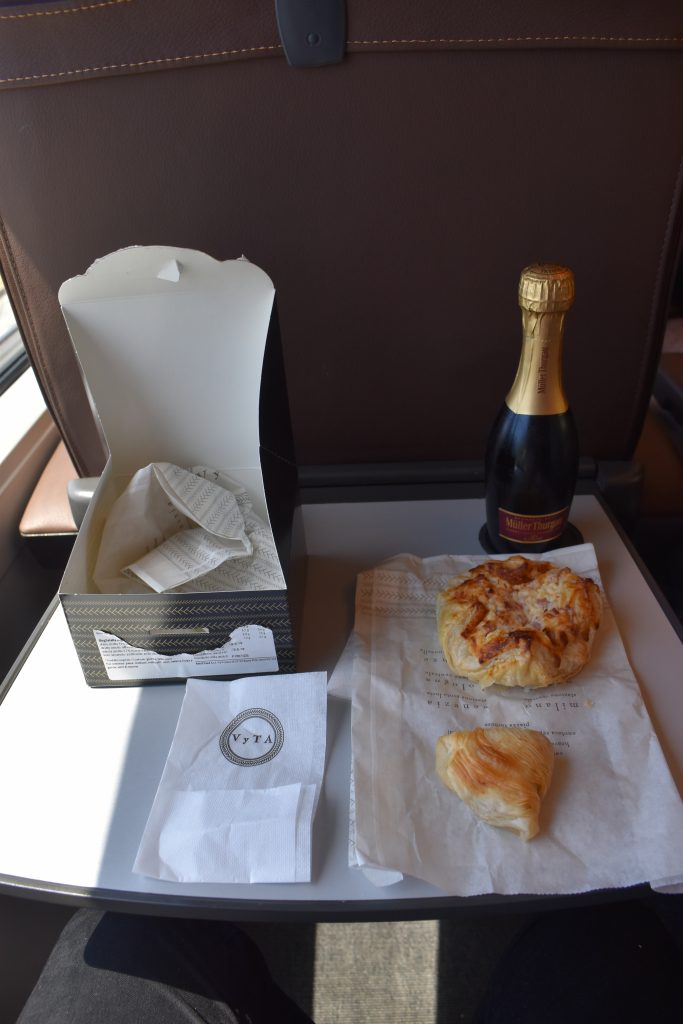 Before getting onboard we had not really understood whether or not food and drinks was included. But shortly after departing service started and we were offered a free espresso. Service then continued with complimentary alcoholic and non alcoholic drinks, snacks (chips, nuts, cookies and so on you could choose from a box). After every second station or so they made a new "service round" and we probably had four minis of Prosecco each as well as sparkling water and soft drinks. About half way into the trip we had a small meal which consisted of a ham and cheese pastry as well as a sweet pastry that seemingly came straight from the bakery. Very nice.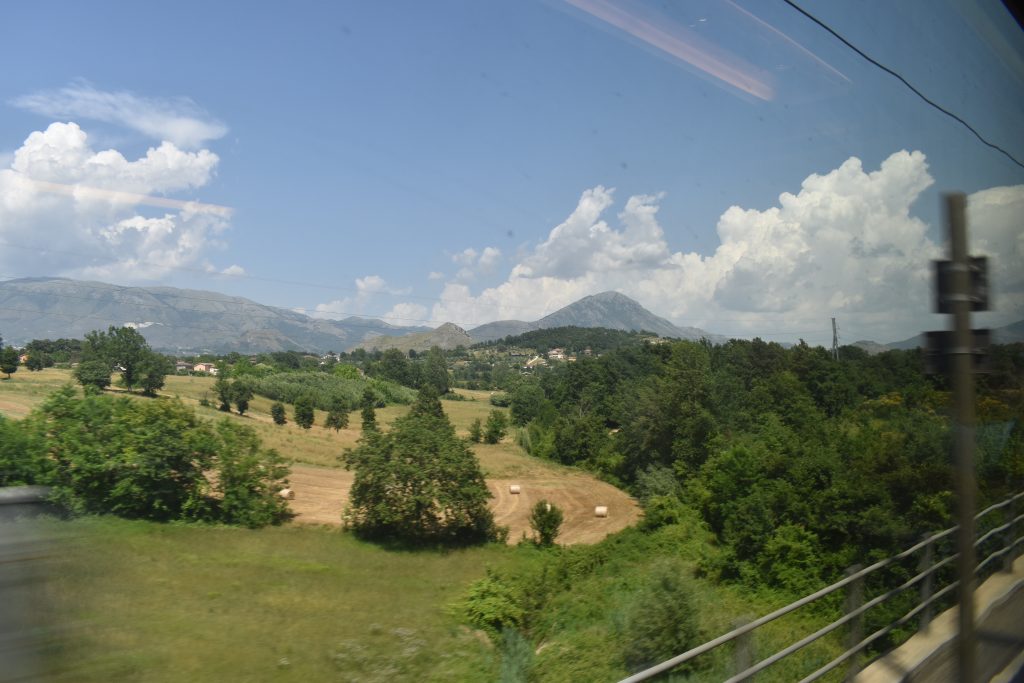 After six hours of pure delight; a mix of the free prosecco, the super comfy seats and the great views, we arrived Salerno on the Amalfi coast. Absolutely one of the best train journeys I've experienced and probably somewhere in between premium economy and business class on a long haul plane. If you're very hungry, there was some kind of onboard vending machine which I think had sandwiches, but we did not check it out. Next time I'd bring a deli sandwich or something like that to fill up on.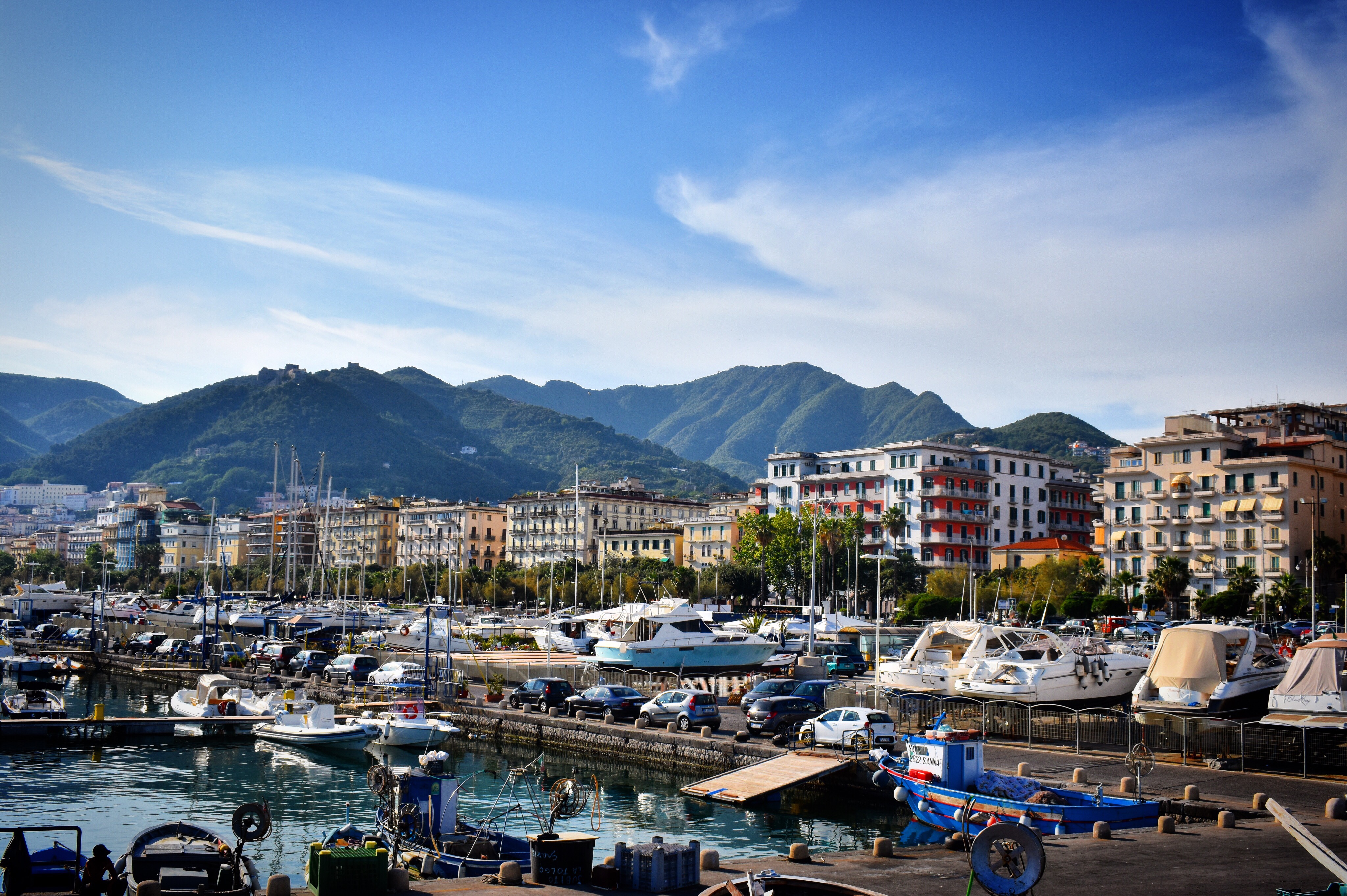 Where to eat in Salerno
We stayed super close to the train station at the Hotel Plaza (you see it when exiting the station). The hotel was nice, clean and while not luxurious, quite good (extra marks for good breakfast with free cappuccinos). It is both very close to the train station in Salerno as well as close to where the ferries to Positano and Amalfi depart (where we were going next). So we stayed for two nights, in total one night before going to Positano, and one night before leaving again.
Since Salerno is very close to Naples, we felt that pizza was mandatory, and we had pizza both of our stays there.
Pizzeria Sorbillo
Great pizzeria very close to Hotel Plaza. Only indoors seating, but reeeally nice pizzas, and good wine and beer. They had an English menu and the staff spoke English too. Pizza and a beer where somewhere around €10, so quite affordable. And the pizza was probably on my top five ever.
Pizzaportafoglio & Fessarie
Our second stay in Salerno, we ventured a bit further, about 1 kilometer from Hotel Plaza (just follow the busy street towards old town). The pizzas here were also amazing and also on the top five of my life. For two pizzas and two Cokes (we had a 24 hour alcohol detox after totally screwing our livers for three days in Positano) we paid €18, which sadly, or maybe hilariously, I don't really know which, was what we paid for a shared mozzarella salad the night before in Positano a 1 hour ferry ride away.