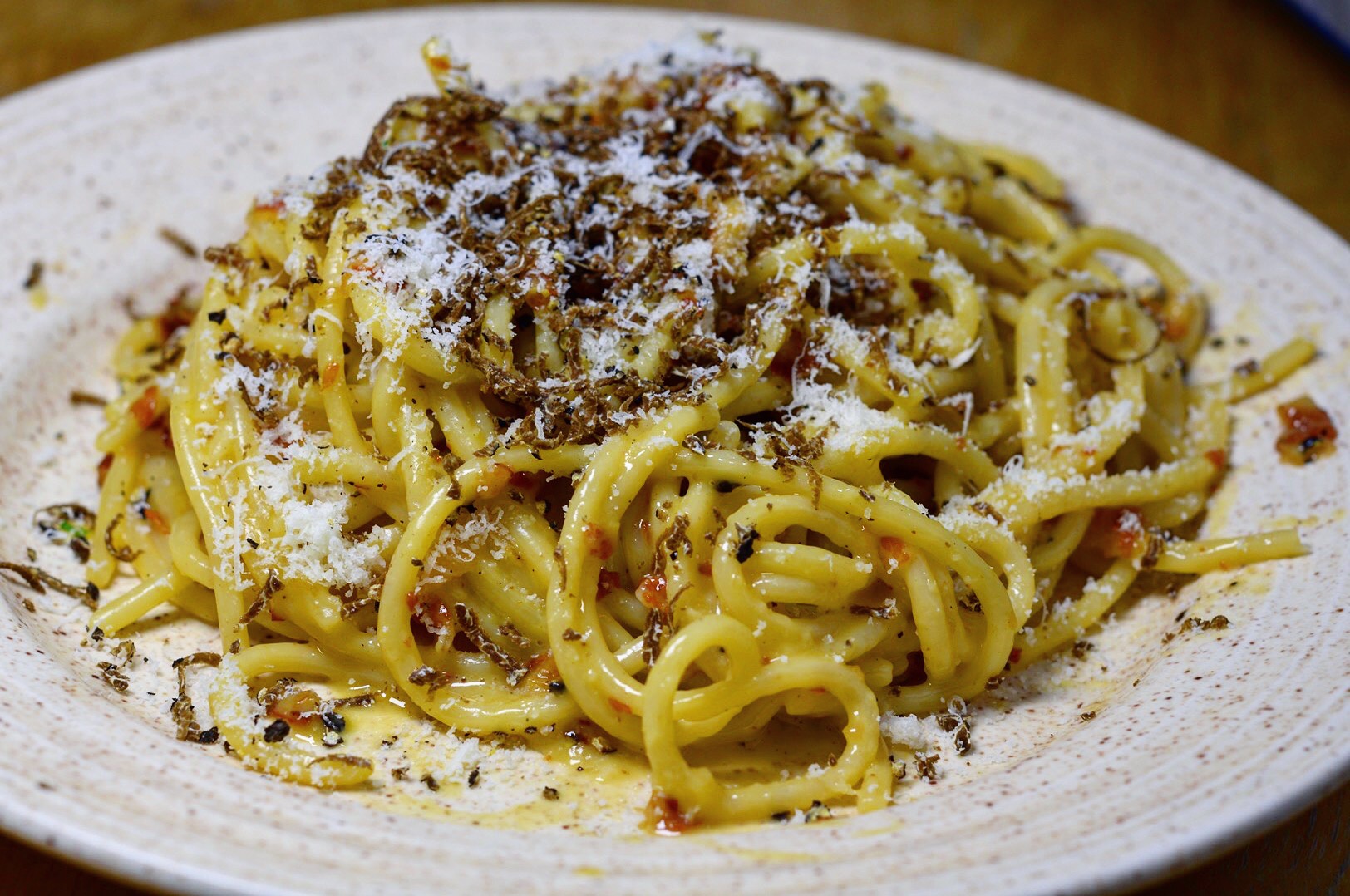 The other day I went to have dinner at one of my favourite restaurants in Stockholm; Urban Deli. There, I found that they sold fresh Gotlandic autumn truffles. The lady working the deli part of Urban Deli kindly allowed me to have a sniff before I decided to go ahead and buy the tiny but great smelling truffle.
When that was done, the mission was to figure out what to cook with it. I was craving carbonara, and since truffle is good with eggs, and sort of mild flavours, I'd thought I give a truffle spaghetti carbonara a try. Below recipe is my go to for a 'normal' carbonara. So it's very much usable without any truffle. 🙂
What you need for the carbonara (2-3 portions)
300 grams Spaghetti (I used Martelli)
4 good quality eggs (I only use the yolks)
About 100 grams of guanciale, pancetta or bacon (preferably in quite thick slices)
Cooking water
1 deciliter of grated pecorino cheese, or parmesan cheese
Olive oil
Salt and black pepper
1 black truffle (optional)
How to cook
1. To start with, add quite a lot of salt to water in a cooking pan and set to boil.
2. Combine the four egg yolks with about 3/4 of the grated pecorino/parmesan cheese. Add a bit of salt and some black pepper (but not too much so the truffle is overpowered). If you're not using truffle, go wild with the pepper though.
3. Slice guanciale/pancetta/bacon in to quite thick cubes.
4. Cook the spaghetti al dente, before draining the pasta reserve a deciliter/half cup of the cooking water in a cup or similar.
5. Put the cubed pork in a cold pan before putting on heat. This will make the fat render, which you'll need to make the creaminess. Fry until crisp and set aside.
6. Gently combine spaghetti, egg-cheese mix, cooking water and fried pork, including the fat from the frying, over low heat, continously folding/stirring so the eggs won't set. When the spaghetti is coated with creamy sauce and most liquid's gone, immediately remove from heat and serve.
Top with grated or shaved truffle if using, and an extra sprinkle of the remaining cheese. Enjoy!