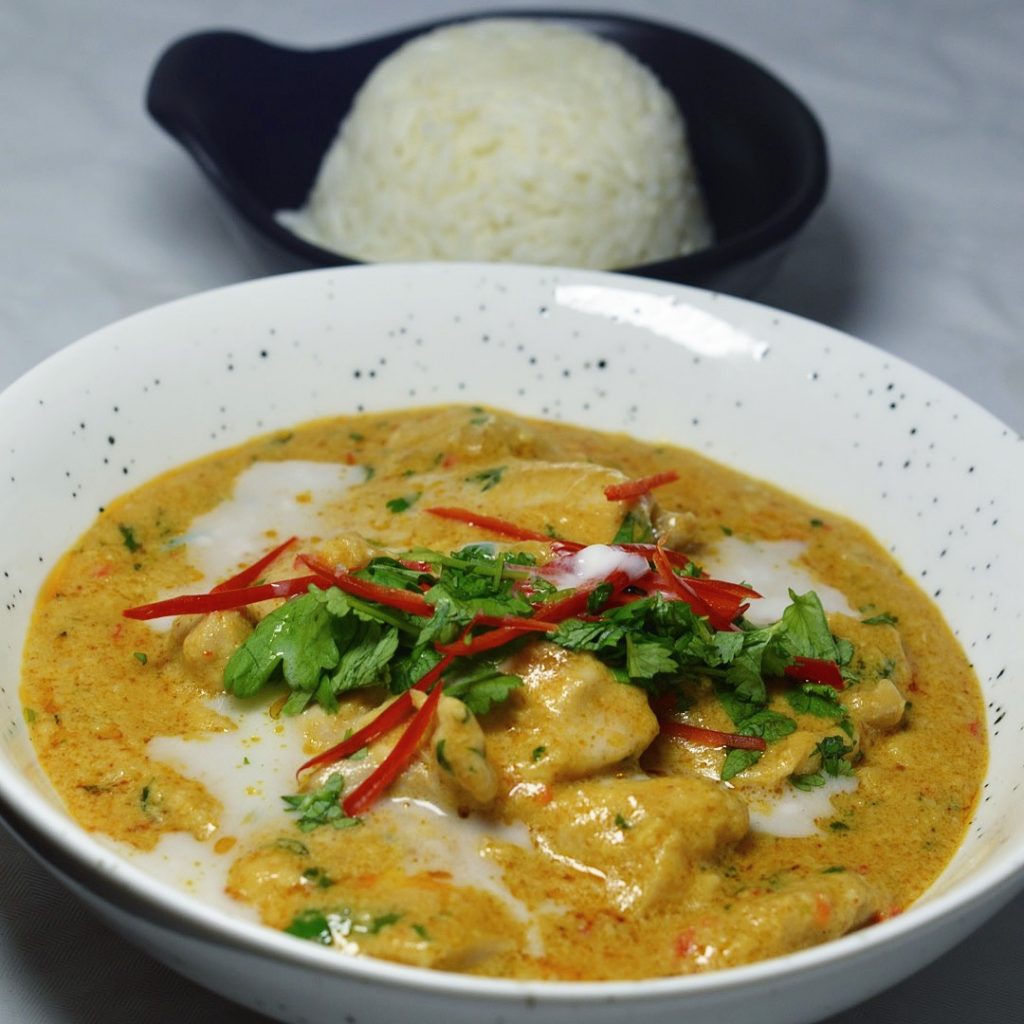 A weekday favourite of mine is this version of a spicy delicious Thai panang curry. When we've been to Thailand, this is usually my number one choice for dinner, and after several attempts, I've finally succeded in making a somewhat authentic-tasting version.
What you need (approximately for four persons)
500 grams of chicken thighs
About 1 dl of peanuts (unsalted if possible)
Half jar of Thai red curry paste
One can of coconut milk
1 red chilli pepper
2 cloves of garlic
2-3 tablespoons Thai fish sauce
1 Lime
5 kaffir lime leaves
1 teaspoon white sugar (can be excluded)
To serve
Fresh coriander
Steamed jasmine rice
How to cook
1. Trim the chicken thighs of excess fat, sinews or bones, if any. Finely chop red chilli and garlic. Mix peanuts and red curry paste until smooth.
2. Take the hard part from the coconut milk can, that is the coconut fat, and add to a frying pan. Save the remaining coconut water for later. If the coconut milk is mixed already, then skip this and next step.
3. Fry the coconut fat in a pan on high heat until it splits and releases coconut oil. (If you had no coconut fat, start at this step with heating cooking oil. Fry the curry paste- peanut mix in the oil). After 30 seconds or so, add the chicken, chopped garlic and chilli, and fry for about another minute or two.
4. Lower the heat and add the coconut water remaining in the coconut milk can. If the coconut milk was already mixed, then add all of it to the pan. Add lime juice, sugar, fish sauce and lime leaves (don't forget to count them before adding them).
5. Let the curry reduce for 5-10 minutes. Taste and add some extra fish sauce, lime juice or sugar if needed. Finally, remove the lime leaves (I hope you did not lose count of them ?).
6. Serve! Top the curry with fresh coriander, and serve with steamed rice on the side.