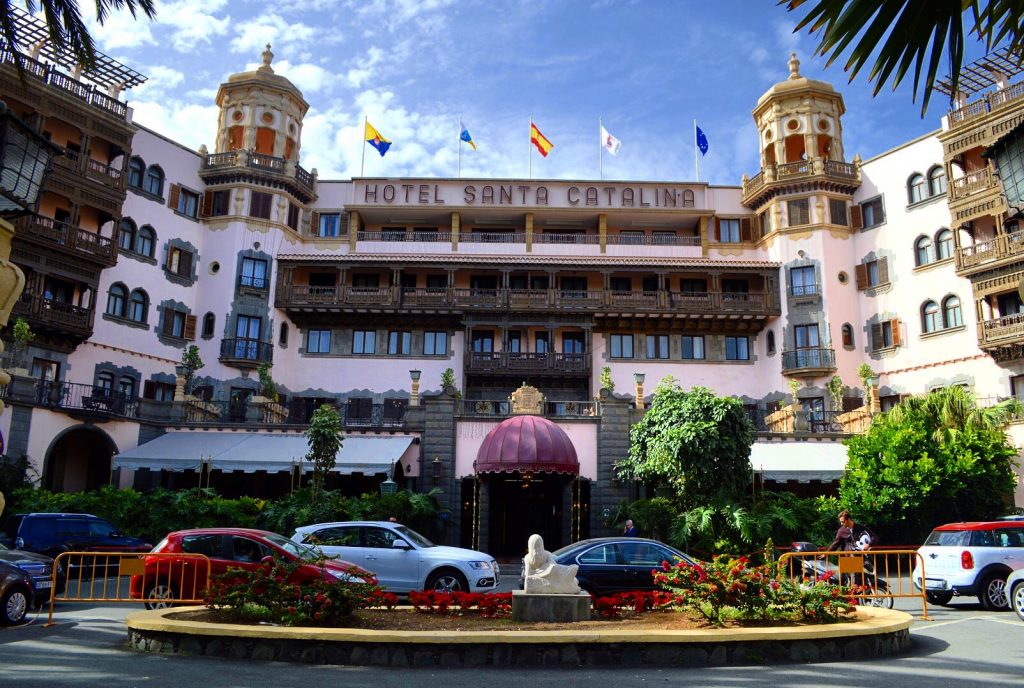 Our final days on Gran Canaria was spent in the capital city of the island, Las Palmas. After deciding to catch a bus from Maspalomas to Las Palmas, our taxi driver, taking us from our hotel to the bus station, catched us in our laziest baggage-hauling moment and offered us a only for you my friend-price for a door-to-door delivery to our hotel in Las Palmas. The seats were comfy, the price felt okay, and hey we were already in the taxi. So we took the offer of 56 euros for the trip and arrived about an hour later at the Santa Catalina hotel.
Santa Catalina Hotel, Las Palmas
The Santa Catalina is, I guess, the 'grand olde lady' of Las Palmas hotels, which we hadn't really realized when booking. The exterior was impressive, as can be seen above with the magnificent 1890s building which was fronted by a nice garden. This felt like a place where presidents and kings (at least used to) stay. And apparently for instance Winston Churchill had done so fifty odd years or so ago. Our standard room at the Santa Catalina was a bit old and worn, but at the same time with a certain 'old world' charm such as actual room keys in addition to more recent stuff such as decent wifi and a flatscreen tv.
Segundo Muelle, Las Palmas
After a bit of exploring in Las Palmas, we needed food. As the Santa Catalina is a bit away from the city center, we were happy to find Segundo Muelle, a Peruvian restaurant, nextdoor to the hotel. Segundo Muelle is, as we found out, apparently a global restaurant chain with outlets in Miami, Lima, Quito (Ecuador), and of course, in Las Palmas.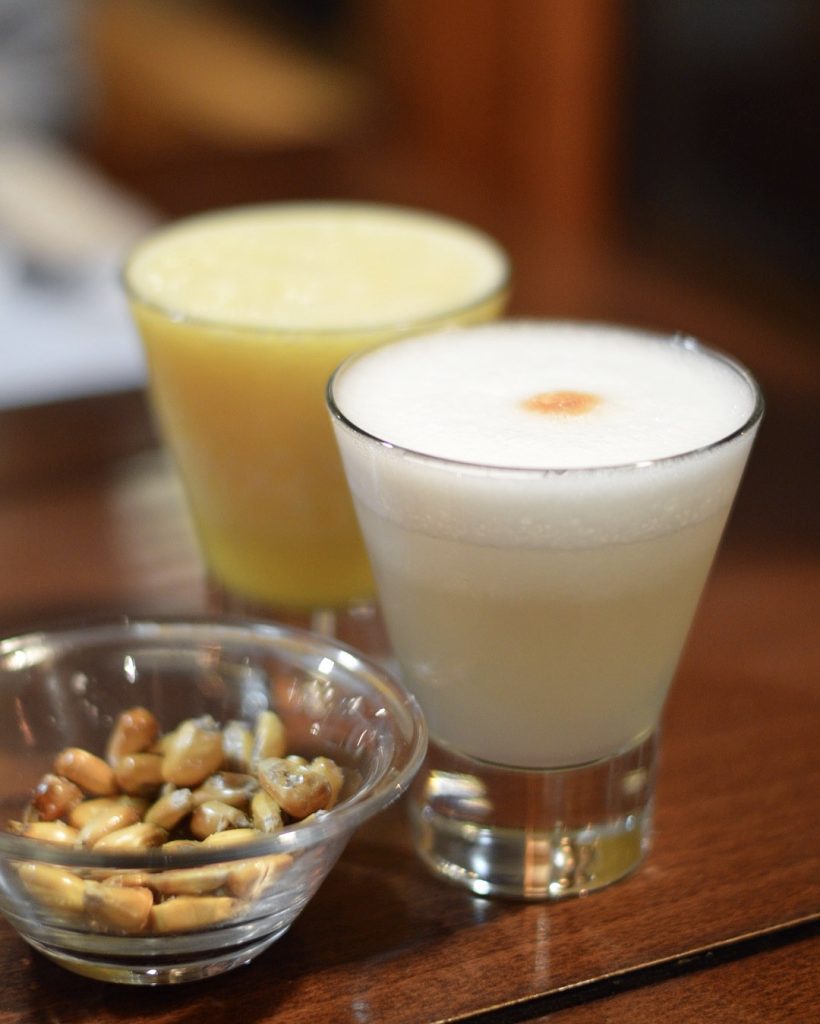 When in Peruvian restaurants, drink Pisco Sour. Also featured in the picture is toasted salty corn. NO, it is not popcorn!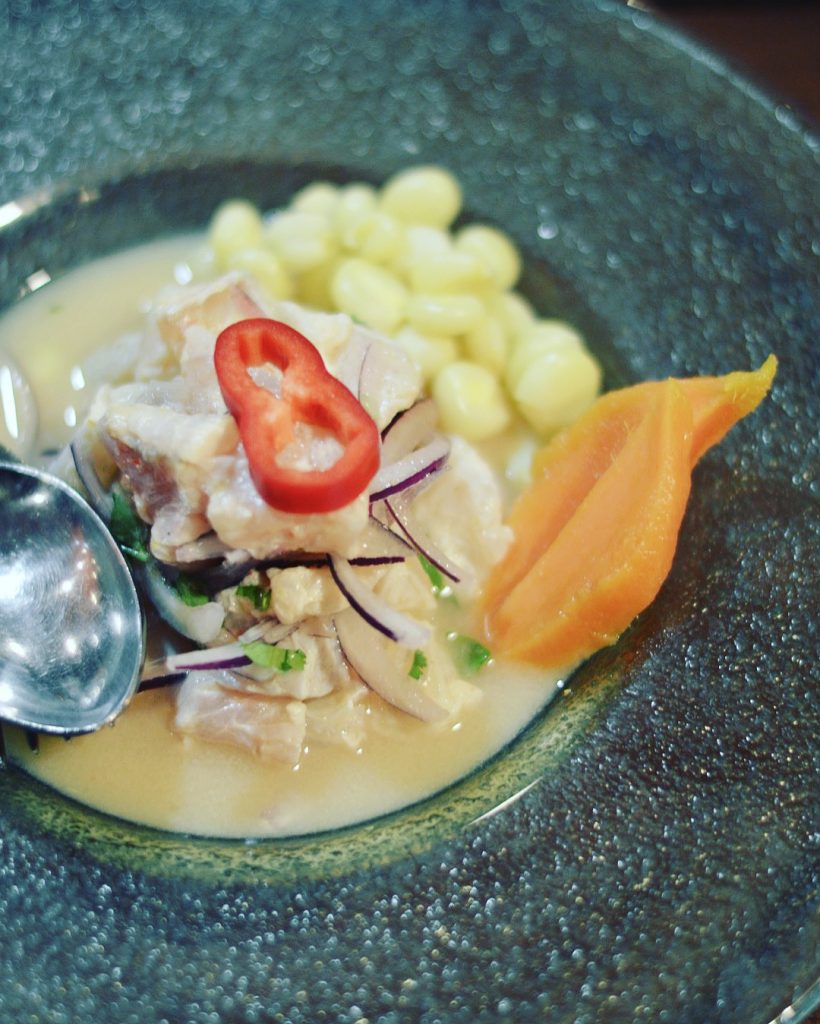 Ceviche with corn, cilantro/coriander, onion, chilli and possibly the star of the dish: a glazed, baked piece of sweet potato.
I almost always eat lomo saltado in Peruvian restaurants. It's so good in its simplicity as is it great in the clever combination of two of world's greatest kitchens. It's woked beef fillet with chilli, tomatoes, sweet pepper, onion and potato chips(!), served with rice. Asia meets South America. Yum.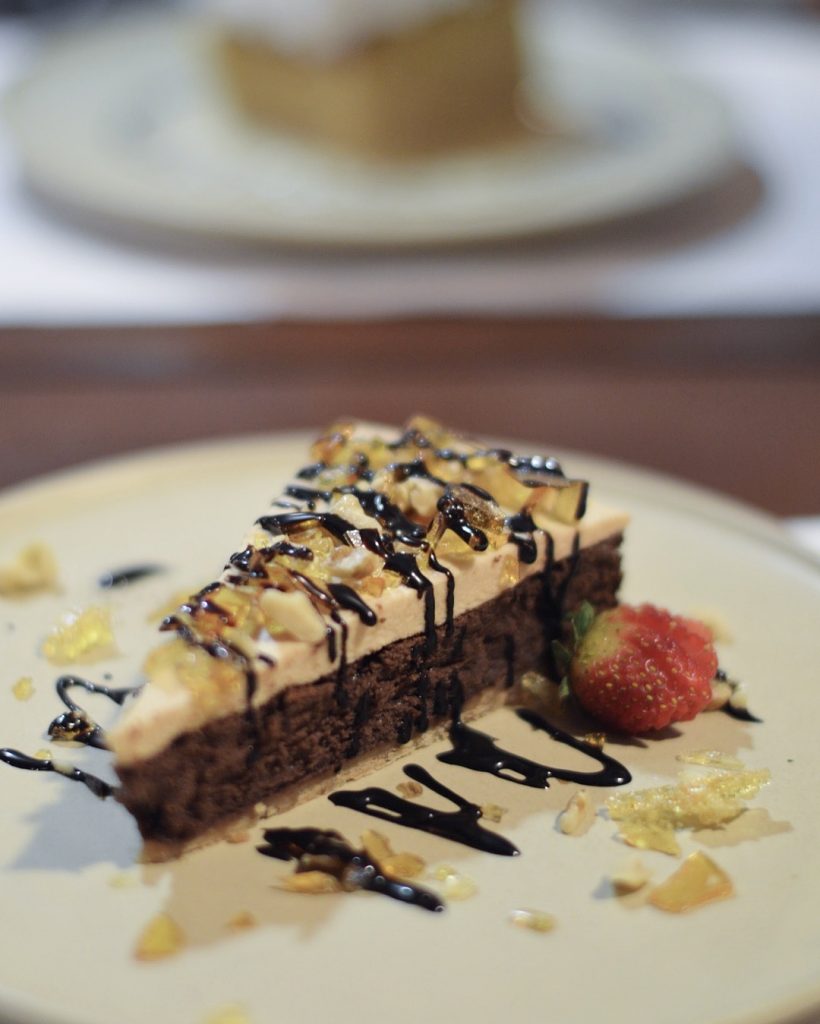 To finish some kind of yummy cake with chocolate, peanuts and praline.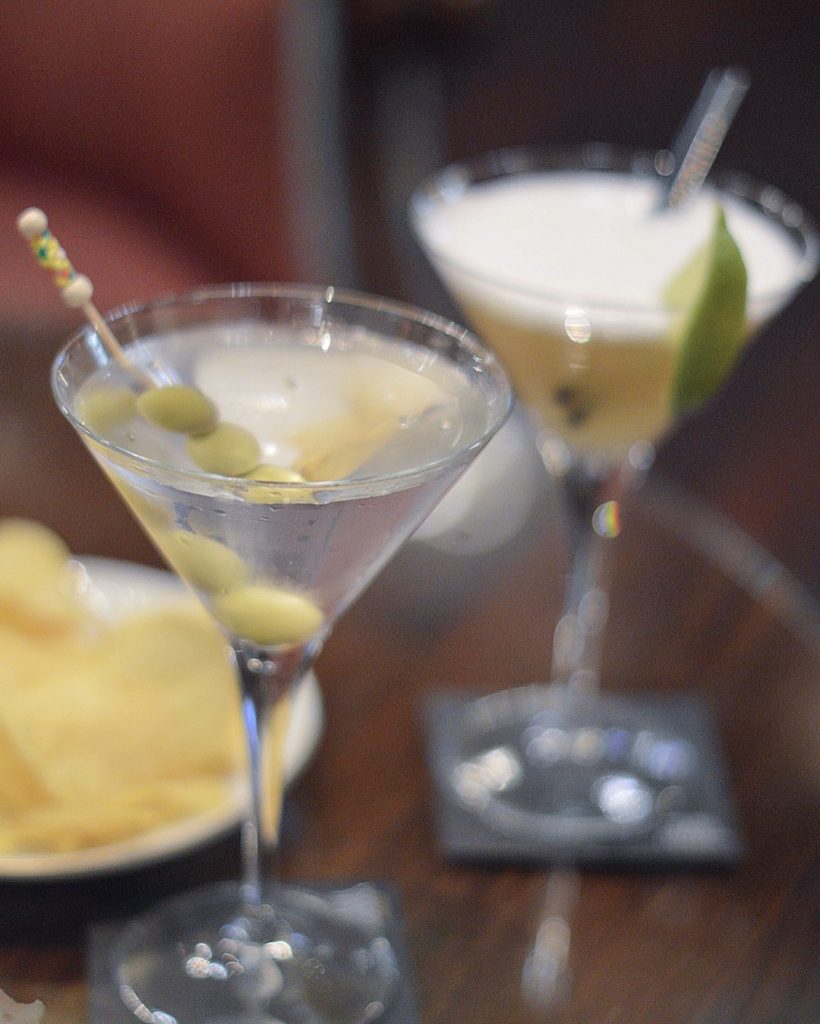 No bed-going before a night cap dry martini if you live in a hotel built in the 1800s.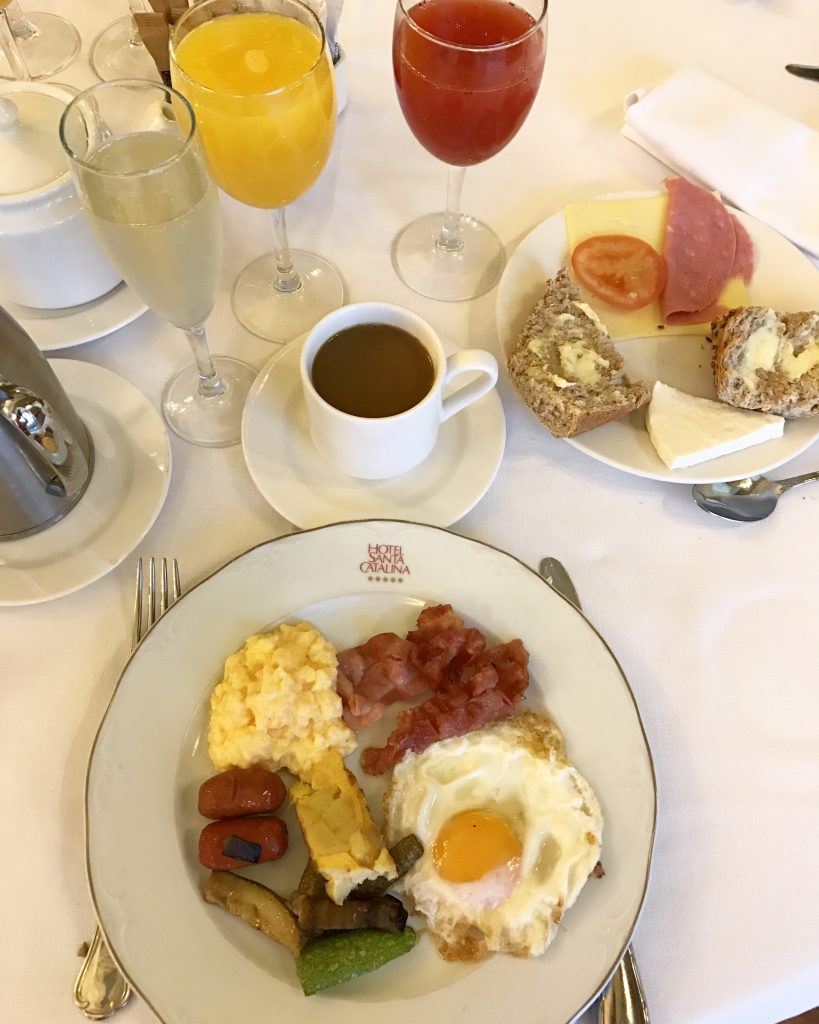 No breakfast without cava and lots of delicious food on gold-plated… Err, plates, had with golden cutlery. When, exactly, staying in hotels built in 1890. Our time in the golden days of travel was now over. Back to the 2010s.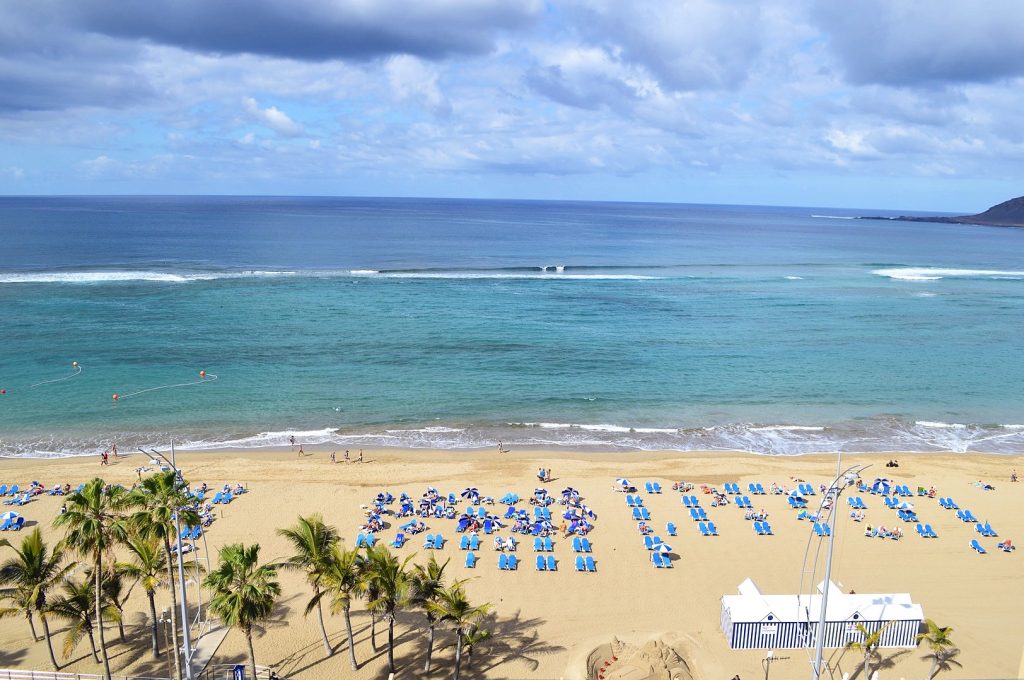 Hotel Reina Isabel, Las Palmas
Our last hotel of the trip, booked six months in advance in a time when we thought we'd spend our last night of vacation after seven crazy days in West Africa in some Gran Canarian style. Oh well, the Reina Isabel was a really nice hotel, despite being our fourth in the same island in 9 days. Views from the rooftop pool and bar was amazing over both the city as well as the Las Canteras beach, as seen above.
This day was also my dear girlfriend and travel buddy's birthday, and hence we needed another good place to eat. Fortunately, we found El Churrasco.
El Churrasco is an Argentinian steakhouse, just off the Las Canteras beachwalk on Calle Olof Palme. We started off Spanish with a bunch of really (really, really) delicious, fat and juicy prawns sizzling in a chilli and garlic oil as they were delivered at our table together with warm, crusty and also delicious bread.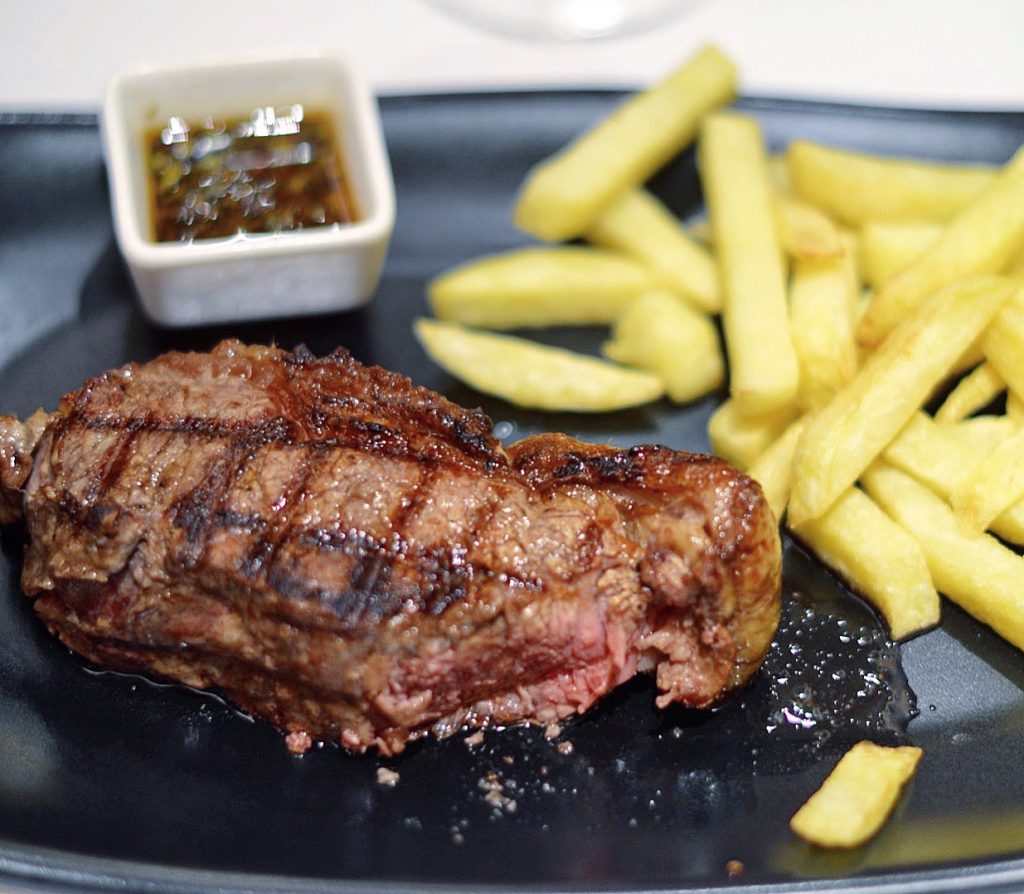 Next dish was, maybe not that surprisingly, steak. A very good steak should be added. I actually called it one of my top five steaks ever, and that could actually be true, even though I'm writing this without any red wine infused passion. The great steaks (we had Argentinian entrecôte and a bife de chorizo) were served with surprisingly bland and under-fried chips (still edible though) as well as a fortunately tastier chimichurri sauce. Everything was washed down with a nice bottle of Rioja.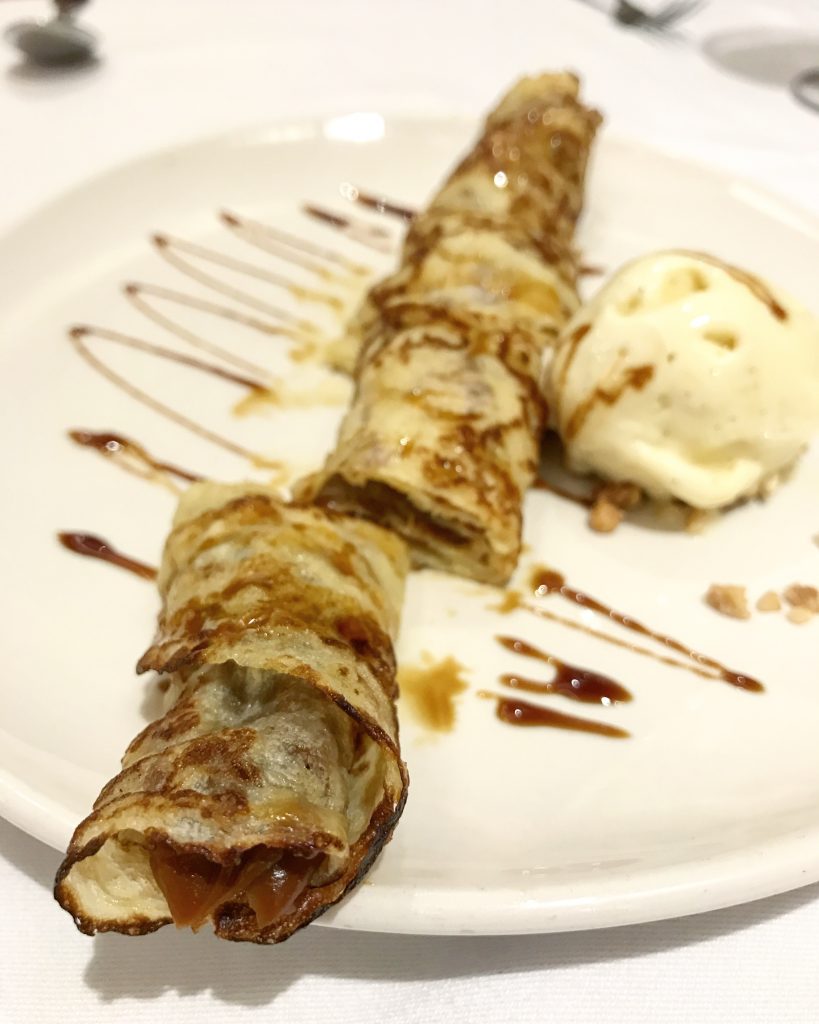 To finish we shared a dulce de leche filled pancake with an unusually tasty scoop of ice cream.
A great dinner. Despite the chips.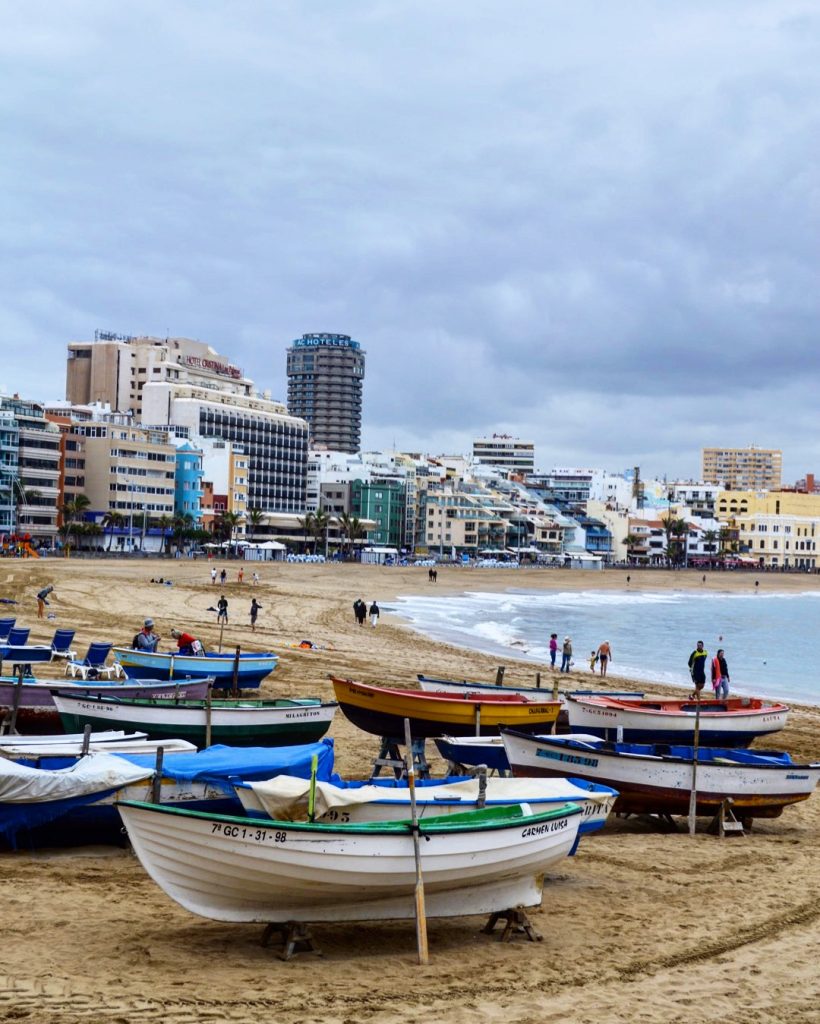 Then it was time to bid Las Palmas adiós (and almost our lives since our airport taxi driver drove like he was mad). That was that. Next stop is Paris, a first for me, in a couple of weeks.