After our first two days in Playa del Inglés, we managed to make a last minute booking for the Palm Oasis Maspalomas. Their cheaper studio apartments were sold out, but instead we secured a 70 sqm apartment for about €120 a night, which I found very affordable given the hotel's ratings, the apartment's size and the general luxurious feeling of the place. In the taxi from Playa del Inglés going to the Palm Oasis, I saw a palace-like structure and secretly wished it was the actual hotel, which it was.
In room-cooking
A very nice aspect of the hotel was the fully equipped kitchen. I usually never cook when abroad, but hey, we were in the Canary Islands for 8 more days than planned, so why not save some money. Above is our apartment-made green olive tapenade 'pintxos' and a chilli-butter-red wine slow-cooked meat sauce served with spaghetti and parmesan cheese. The kitchen was extra convenient since the Palm Oasis Maspalomas has their own supermarket within the hotel (with slightly but not that much inflated prices), as well as there is a Spar supermarket a 3-4 minute walk away on Calle Einstein with a proper deli, quite an assortment of wine and beer and so on.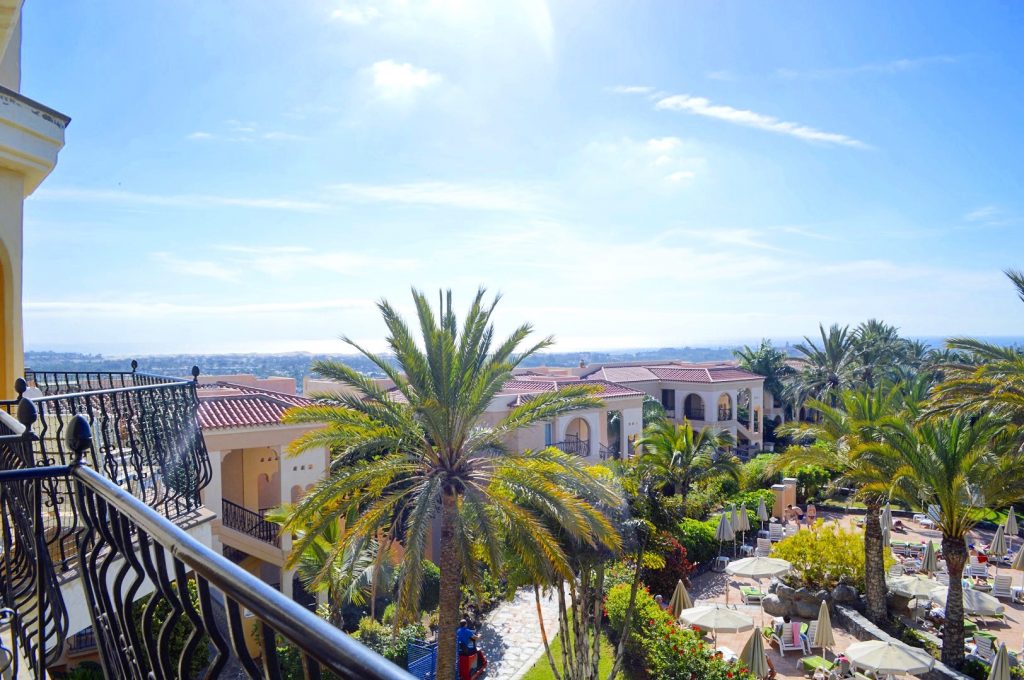 The room/apartment at Palm Oasis Maspalomas
Above is the view from the terrace that came with our apartment. You could see all the way to the Maspalomas dunes as well as the pretty pool area just to the right in the above picture. There were also two sunloungers so you could laze around your room all day still getting a tan. Our apartment also featured a big flatscreen tv with great picture quality; well-functioning wifi; a separate bedroom, and a bathroom that even had a jacuzzi hot tub.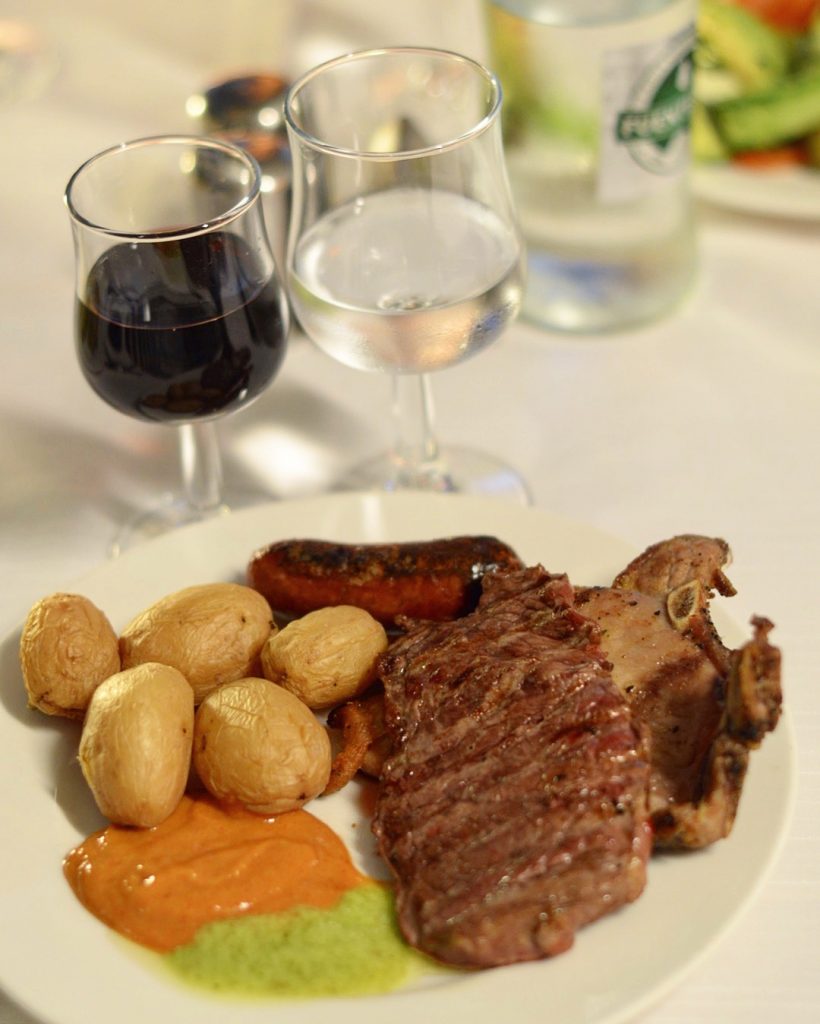 The main restaurant
On two occassions we tried the hotel restaurant. Not much to write home about, but the food was decent enough. Above is from the 'Gran Canaria night' buffet which featured local delicacies such as the wrinkly Canarian potatoes 'papas arrugadas' with mojo rojo and salsa verde as well as grilled food, a few salads and some not-so-Canarian desserts. Some of the dishes (especially grilled entrecôte, chorizo and papas) were actually quite tasty, but most was standard buffet stuff.
Location
The location is a bit off from the beach, but the hotel has solved this with a free transfer bus to Maspalomas beach that leaves four times a day and also return back to the hotel in the afternoon. To reach the Faro lighthouse and its restaurants or eg. Yumbo shopping center (both close to beach and restaurants) is about 4-5 euros with a taxi that the hotel happily order for you.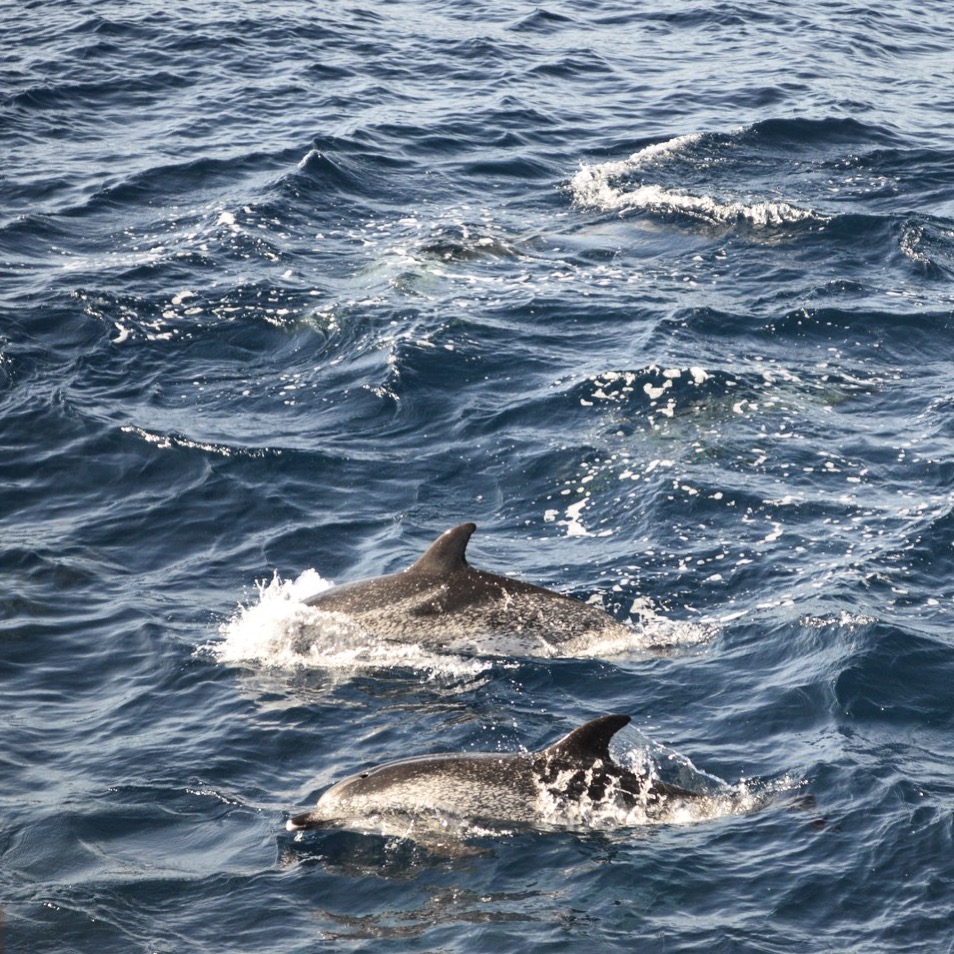 Since we had not planned on staying in the Canary Islands for more than three days we had no real idea what to do. One of the days though we went for a whale and dolphin tour with Spirits of the Sea tour company. It was actually very worthwile. We paid roughly €30 per person including hotel pick-up and got to see loads of dolphins playing around the boat. No whales unfortunately. Still a great trip though with a friendly crew.
The hotel in summary
Nice rooms, great pool area, and friendly staff. A bit far from the beach and good restaurants, but I would stay again given the easy and free transfer bus to the beach and affordable local taxis.