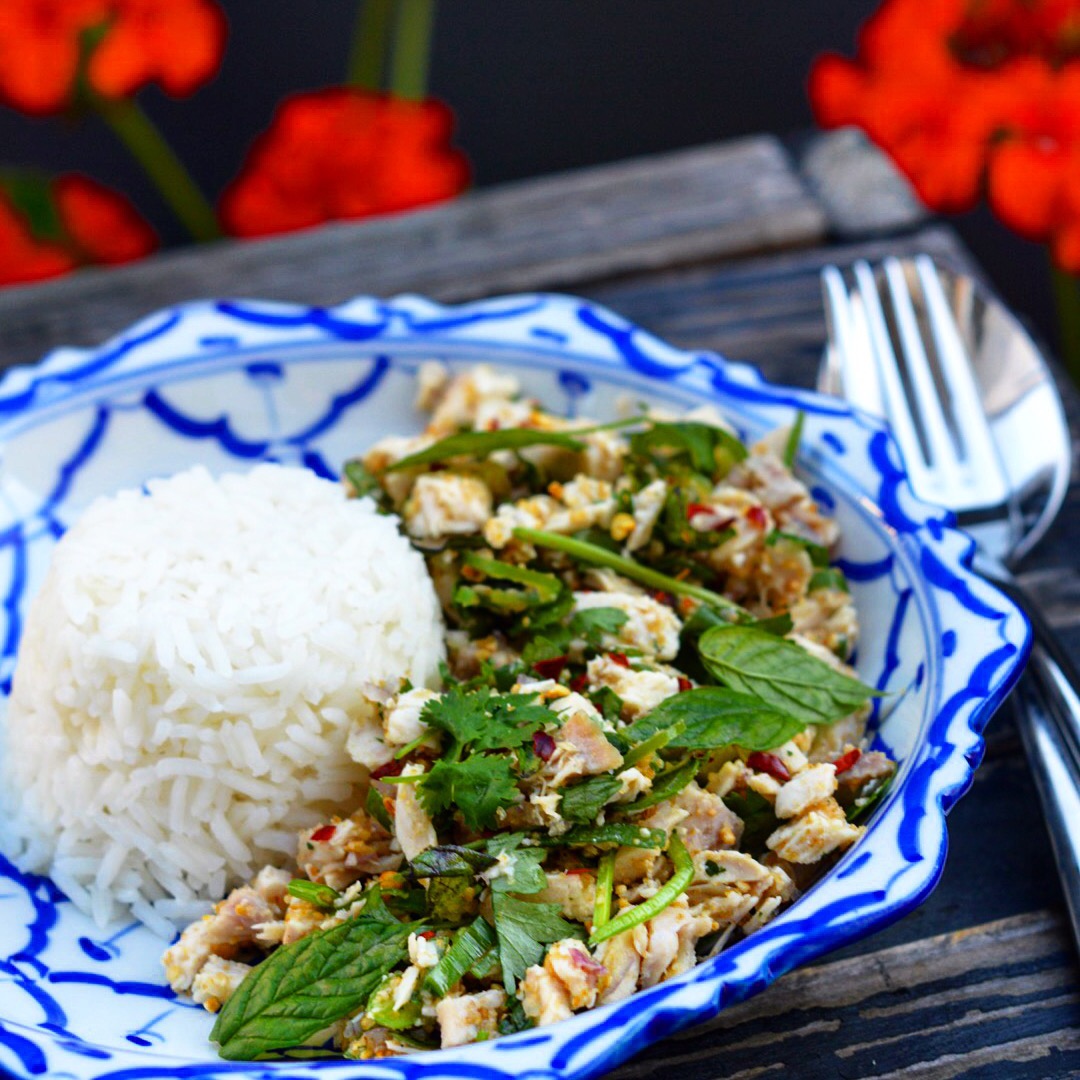 Last year I visited Thailand, and for the first time I tried the dish larb, something I've been wanting to try for a long time. Larb is a salad common in Northern Thailand as well as in Laos. It contains ground toasted rice and herbs and can be made with several proteins. Some use raw beef, some use pork mince, I had it with guinea fowl in a spectacular version at Nahm in Bangkok, and you could also, like me, use chicken for this fresh tasting flavour explosion of a dish. A salad in my taste.
What you need
Minced chicken/chicken chopped finely
Fresh mint leaves
Fresh coriander/cilantro
1 Green chilli (or use chilli flakes – or like I did, both)
3 stalks of spring onion (the green stuff)
2 shallots
3 deciliter of jasmine rice (get Thai long grain if possible)
For Thai salad dressing
2 limes
2-3 tablespoons of Thai fish sauce
1-2 teaspoons of caster sugar
How to cook it
1. Start with the salad dressing. Roll the whole limes for a bit against the table, this will make it easier to squeeze out the juice. Then cut limes in half and press the juice into a bowl. Add fish sauce and caster sugar. Stirr with a spoon until the sugar has dissolved.
2. Time to toast the rice. Toast a deciliter of rice in a dry pan until it's is quite brown but not burnt. When it smells toasty it's probably about done. Ground the rice in a blender or by using a mortal and pestle.
3. Continue with the chicken. Fry the mince or the chopped chicken until done. Set aside.
4. Roughly chop mint leaves, coriander and spring onion stalks. Finely slice the green chilli if you're using one. Then mix everything together and pour over the dressing. Let rest for a while and then served together with steamed rice and possibly a cold beer.