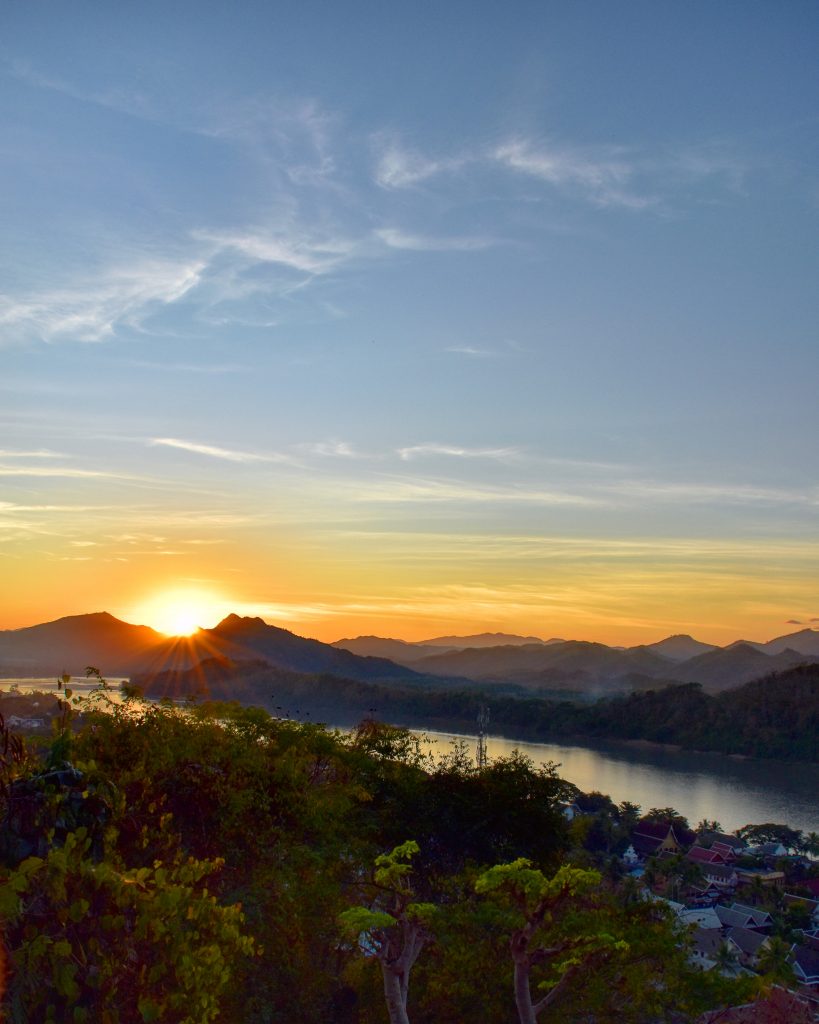 We arrived Luang Prabang and Laos by a comfortable direct 1.5 hour flight from Siem Reap in a Vietnamese Airlines airbus A320 (I do not love to fly in propellered planes that otherwise are common on domestic routes in the region). A top tip is to buy a local sim with a data package in the airport, they had a booth at bagage claim and it took like a minute, costed $7 for about 8 gbs lasting a week, and they did all the setting up for me.
Luang Prabang, also spelled "Louang Prabang" is a cozy little city of approximately 50 000 people, situated by the confluence of the mighty Mekong and the Nam Khan rivers. Its old town where we stayed at the excellent Mekong Riverview Hotel, is filled with French colonial buildings, temples, a former royal palace, small restaurants, guest houses, shops, markets and bars. And, importantly, being in South East Asia it's surprisingly super relaxed. We had just arrived from Siem Reap's hustle and bustle with crazy traffic, stray animals, thumping music and drunk tourists, and were therefore prepared for something a bit similar. How wrong we were.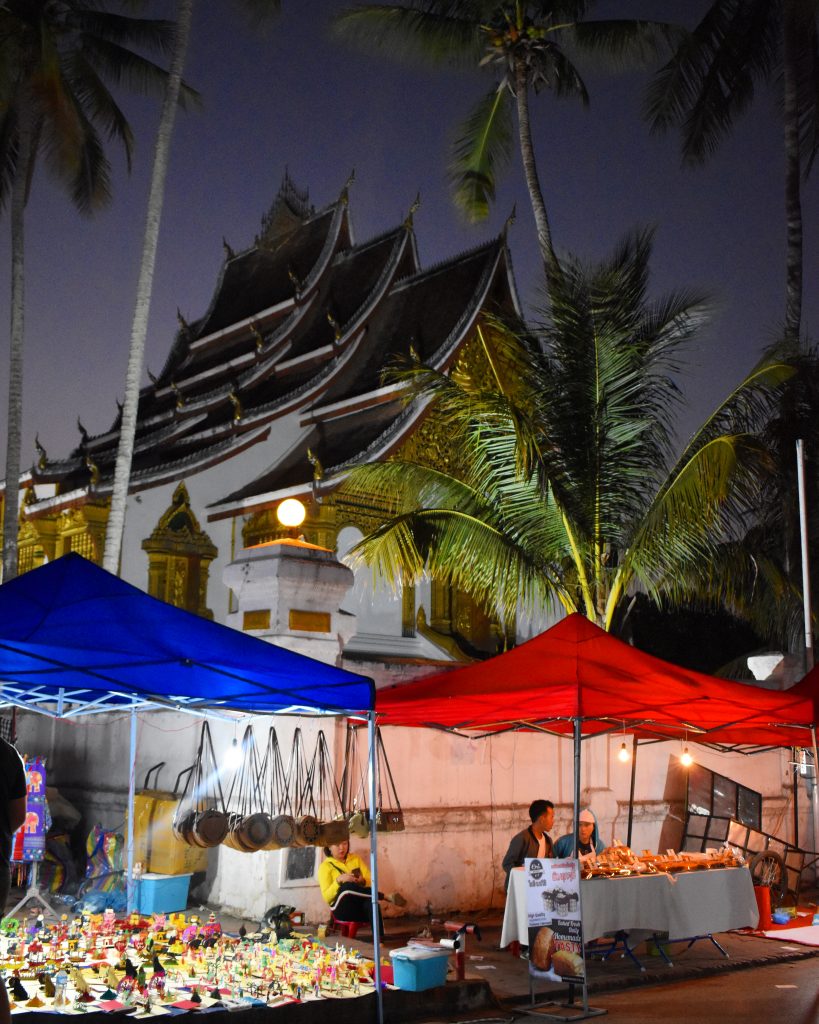 There is pretty much a general sense of calm at all hours in Luang Prabang. Of course there will be the odd vendor calling for attention, or tuk-tuk drivers offering a ride, but not that often. You can also walk everywhere as the roads and sidewalks are good and traffic as mentioned is quite calm.
The views of the Mekong and Nam Khan rivers are everywhere as the old city lies on a peninsula surrounded by them. You can also see large mountains towering in the distance. It's a super scenic place, and we really loved it.
What to see
Except for eating a lot of food we also climbed Mount Phousi to watch the sunset (as will many others, it's quite crowded). We also visited the beautiful Kuang Si waterfall, a top tip is to arrive early before the crowds. We hired a taxi driver and arrived just as they opened at I think around 8 a.m.
Much also happen on the river(s) and there are plenty of different cruises and boat trips to go on, for instance to Pak Ou Caves.
[Breakfast in our hotel Mekong Riverview Hotel, on of the best I've ever had, especially considering the view.]
How about the food then? Well I can honestly say that we had a few of the best meals of our almost six weeks long trip in Luang Prabang. Lao food is quite similar to the more famous northern Thai cuisine, with shared dishes such as the local sausage Sai Oua, which in Laos is made with pork and herbs – in Thailand they also add chilli and lemongrass. Both are incredibly good. Other shared dishes are the famous spicy herb laab (also known as larb or laap) salad, and khao soi noodle soup. The latter is only similar by name though, and that they both are noodle soups. The Lao version is tomato-y while the Thai uses coconut milk.
Below are our favourite Luang Prabang restaurants:
Phonheuang Café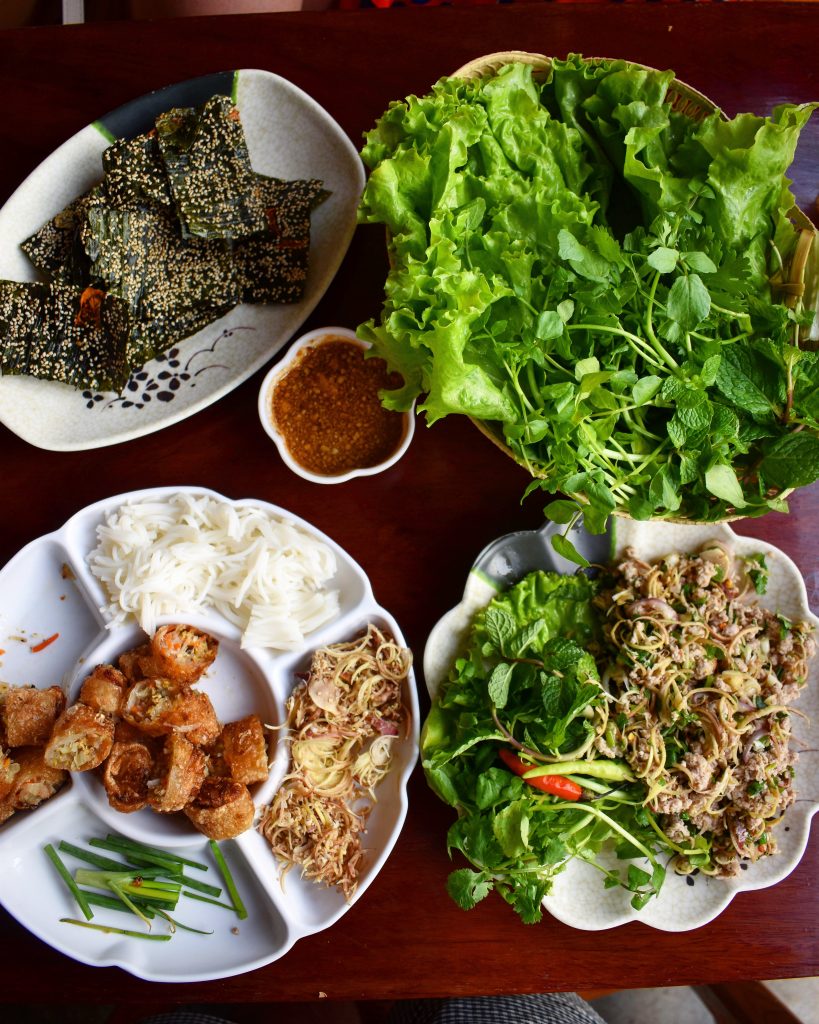 Make your own spring roll wrapper with crunchy chopped up spring rolls, cold noodles, spring onion and herbs. Put in a lettuce leaf, roll and dip in the amazingly delicious sesame dipping sauce.
The black stuff in the upper left corner is the local specialty kaipen, which is crispy river weed with sesame seeds.
To the right is pork laab, one of the best we had during the trip. This place is quite tiny but you'll find it using Google maps.
Price: Inexpensive.
Saffron coffee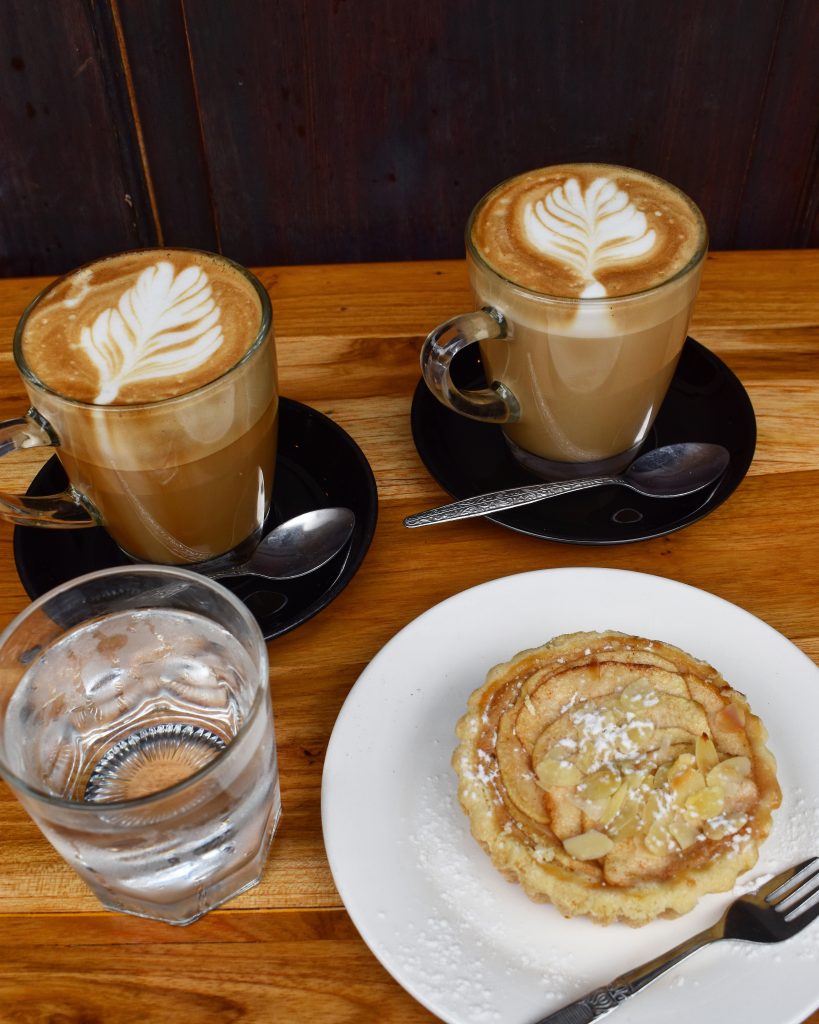 If you miss your big city latte art hipster coffee, fear not, Saffron's got you covered. We saw at least two outlets in Luang Prabang and they serve a quite decent cup of coffee. Their tamarind and apple tarte was decent but served icecold.
Price: Medium
The Belle Rive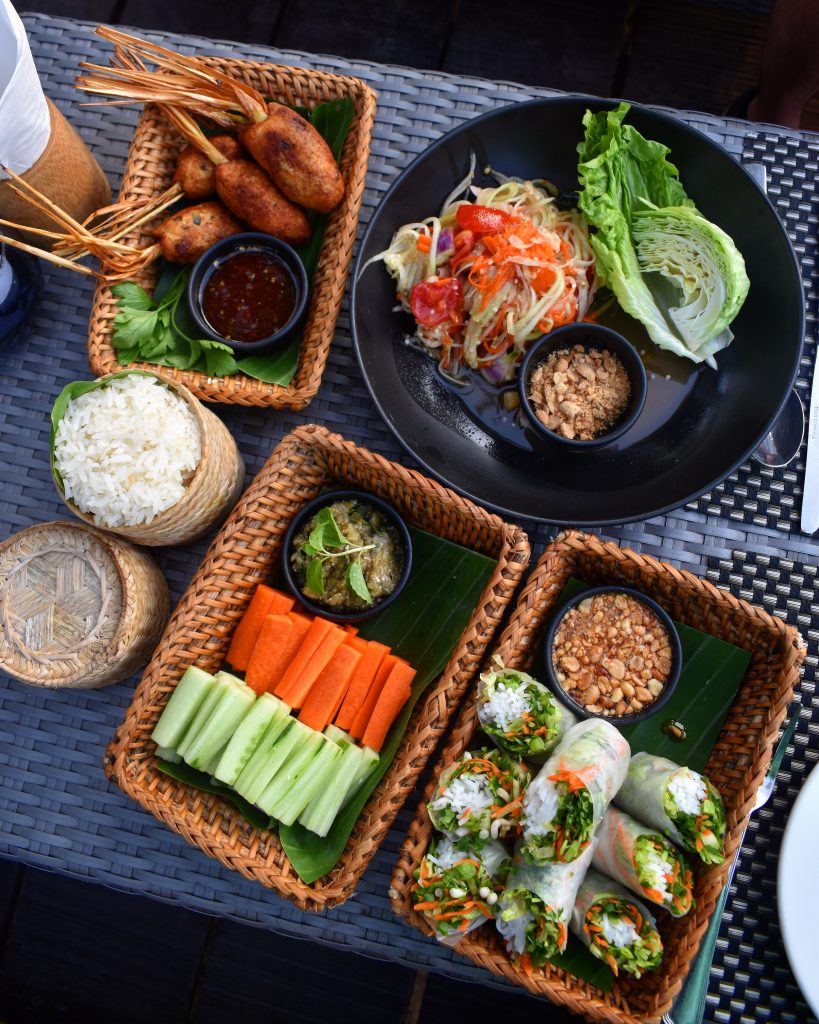 The Belle Rive is a quite touristy (but not in a terrible way) place which offers one of the best views of sunset over the Mekong River. They also fortunately have very nice food, and given the location, prices aren't that bad.
We had (from left): Oua Si Kai, lemongrass grilled chicken (so good); Jeow Mak Khuea, smoky eggplant dip, served with veggies; spicy green papaya salad with ground peanuts, and fresh spring rolls filled with veggies & rice noodles, served with a peanut dip.
Price: medium
Xieng Thong Noodle Soup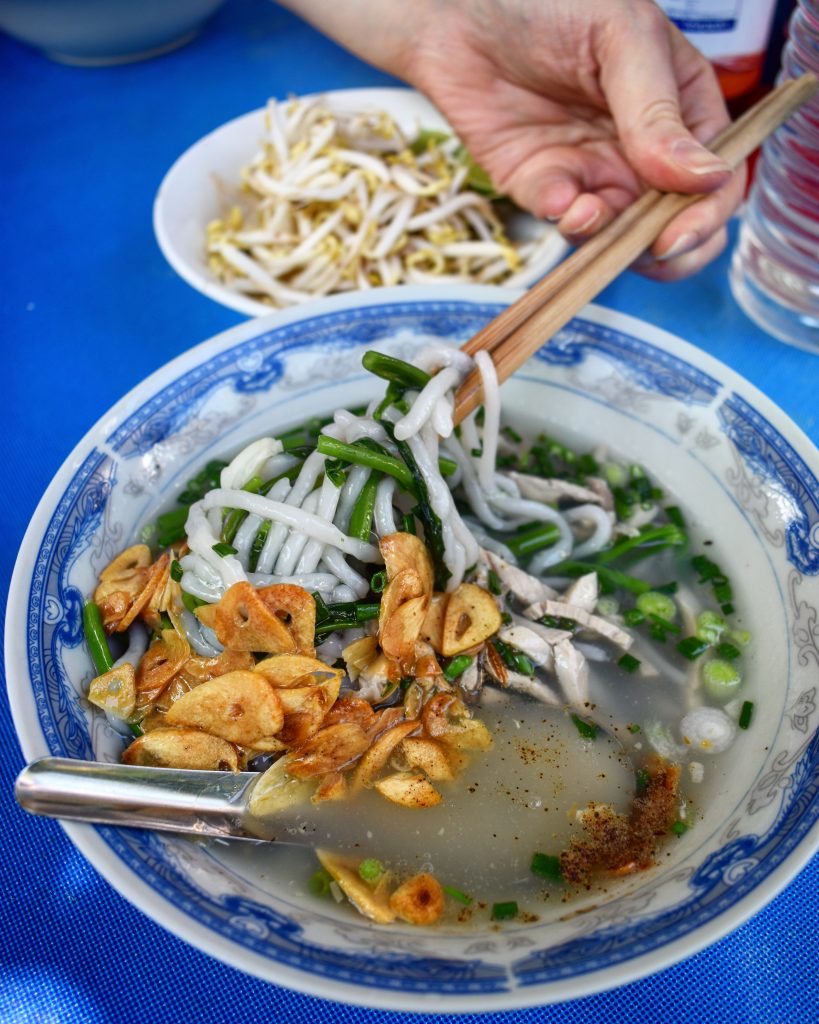 Only open at lunch time, this place serves a delicious bowl of khao piak sen which includes thick rice noodles, pork, bean sprouts and spring onion in a quite mild salty broth. Finally a pile of crispy roasted garlic is added which gives the soup a really nice depth.
Price: inexpensive, a bowl was around $1,5 or 15000 kip.
Paste at the Apsara
Our first proper fine dining meal of the trip was at Paste Laos on New Years Eve. Paste also has a restaurant in Bangkok which has been awarded a Michelin Star so we were super excited to try their smaller Lao sibling's fine dining take on local food.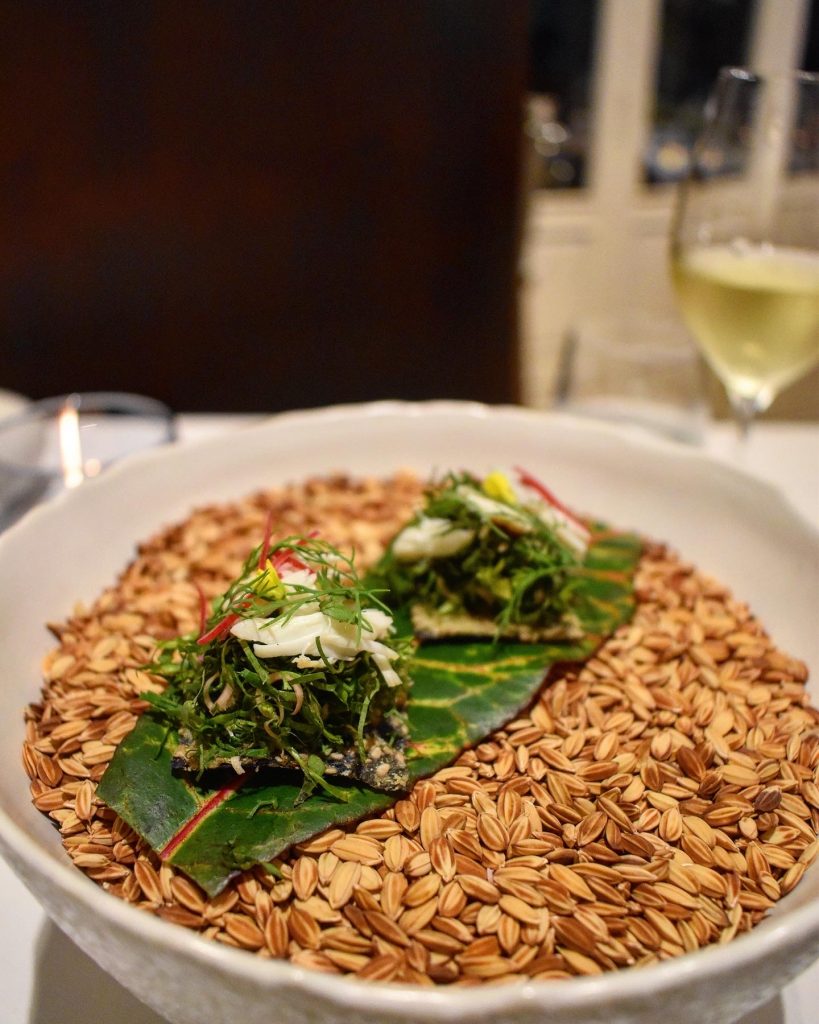 Jaew bong: Mekong river crab, river weed, chilli relish.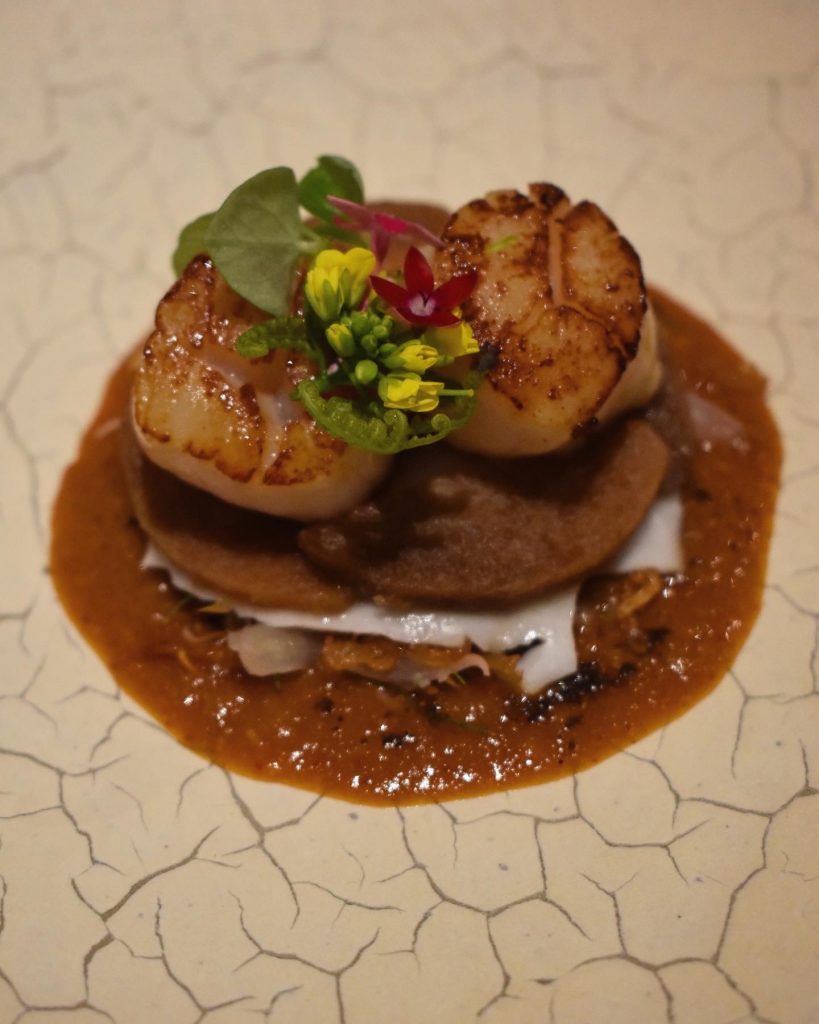 Seared scallops, tossed in a salad of mangosteen, lemongrass, young coconut.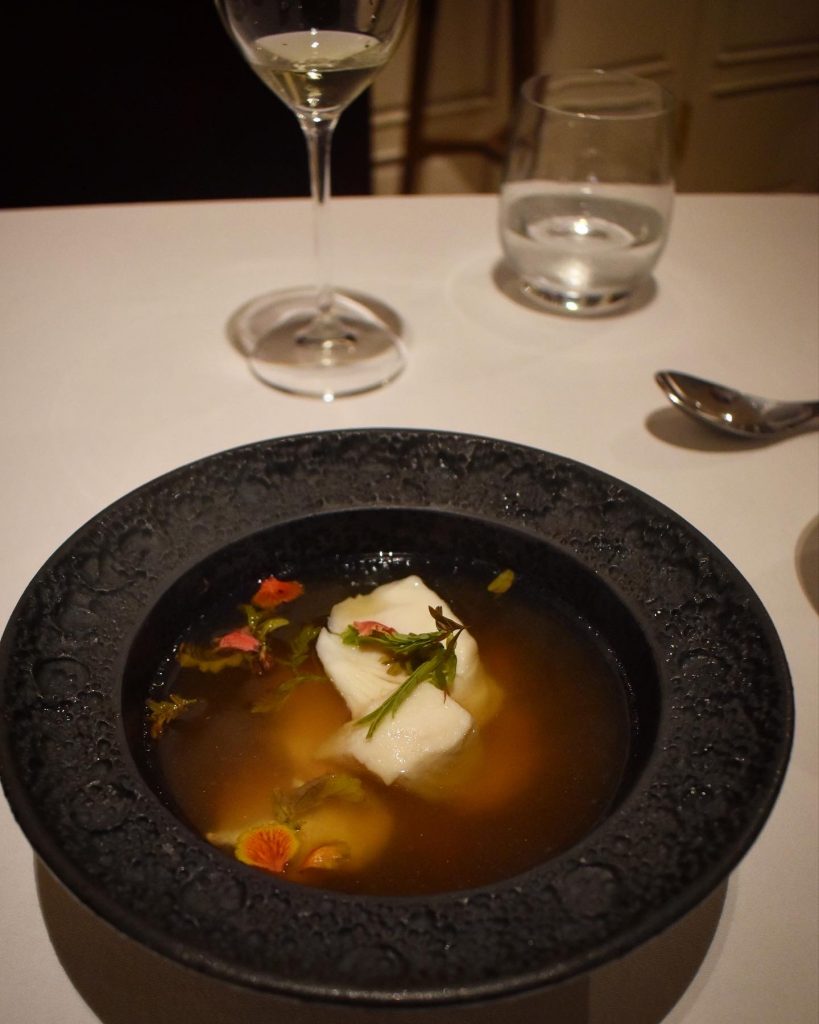 Sour River Fish Soup with lemongrass,chili, sugar cane,shrimp paste and fermented fish sauce (pa dek). Finished with young tamarind leaves.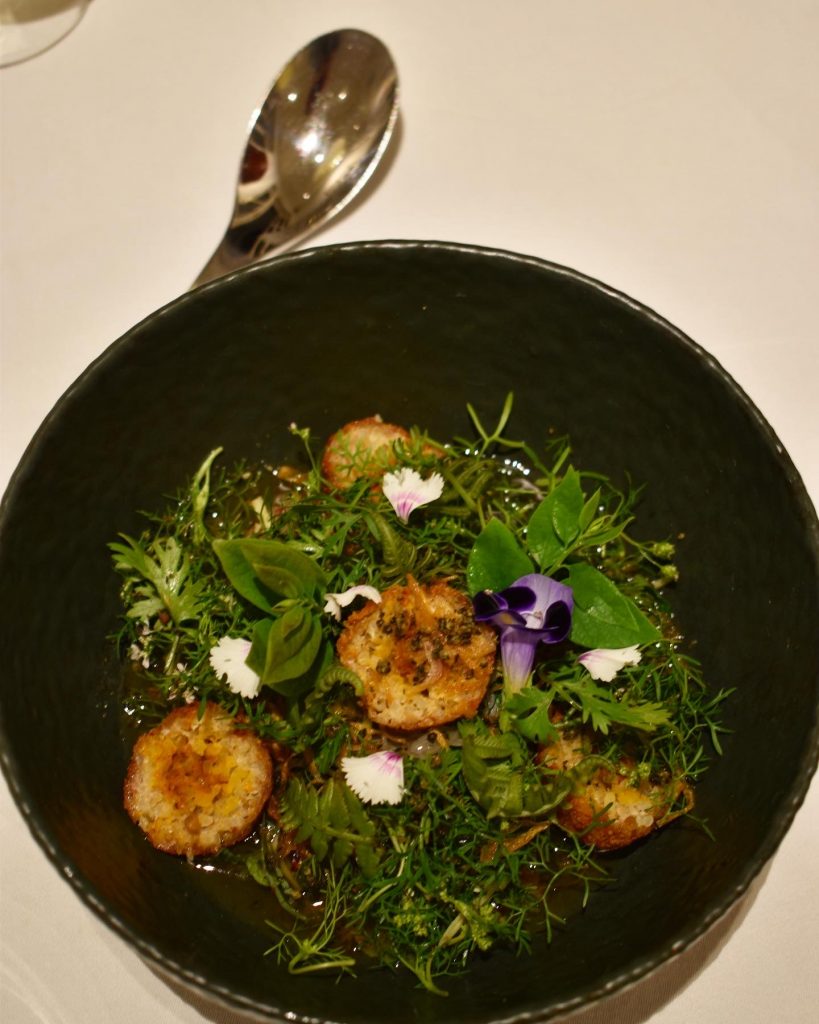 Crunchy cured rice balls with sour sausage, kaffir lime zest, red curry paste, river weed and rose pepper leaf.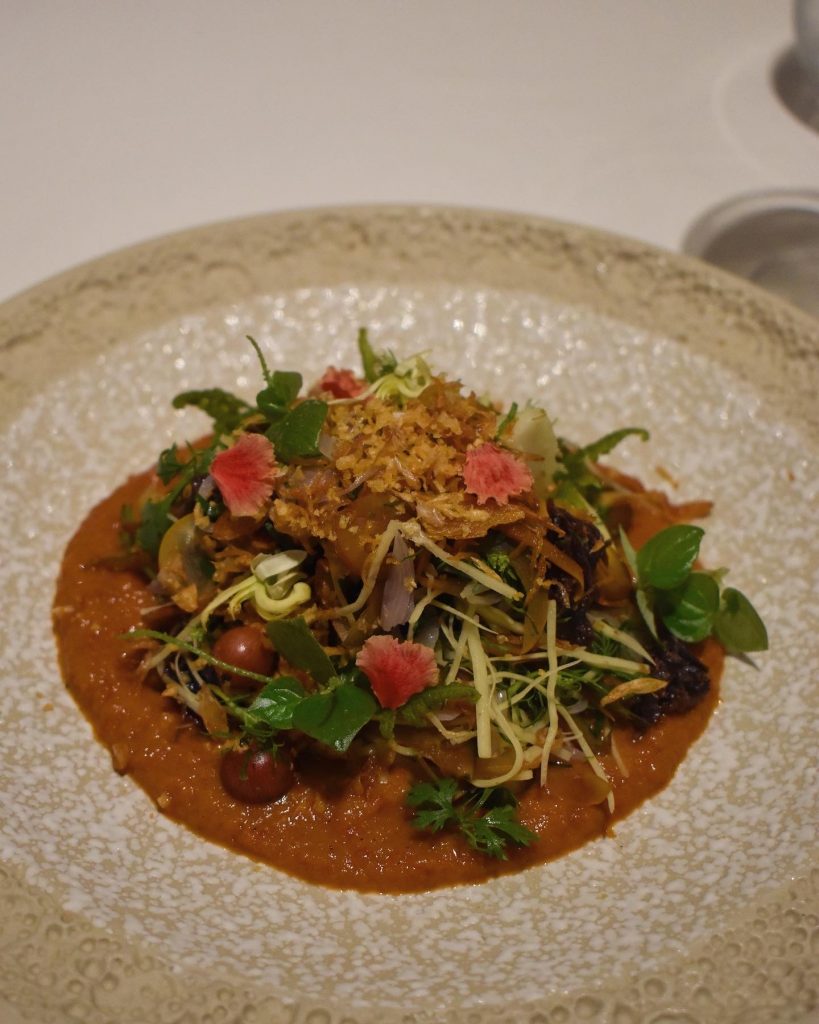 Salad of cured eggplant, air dried buffalo, ginger flower with kaffir lime, guava and dry spice mix.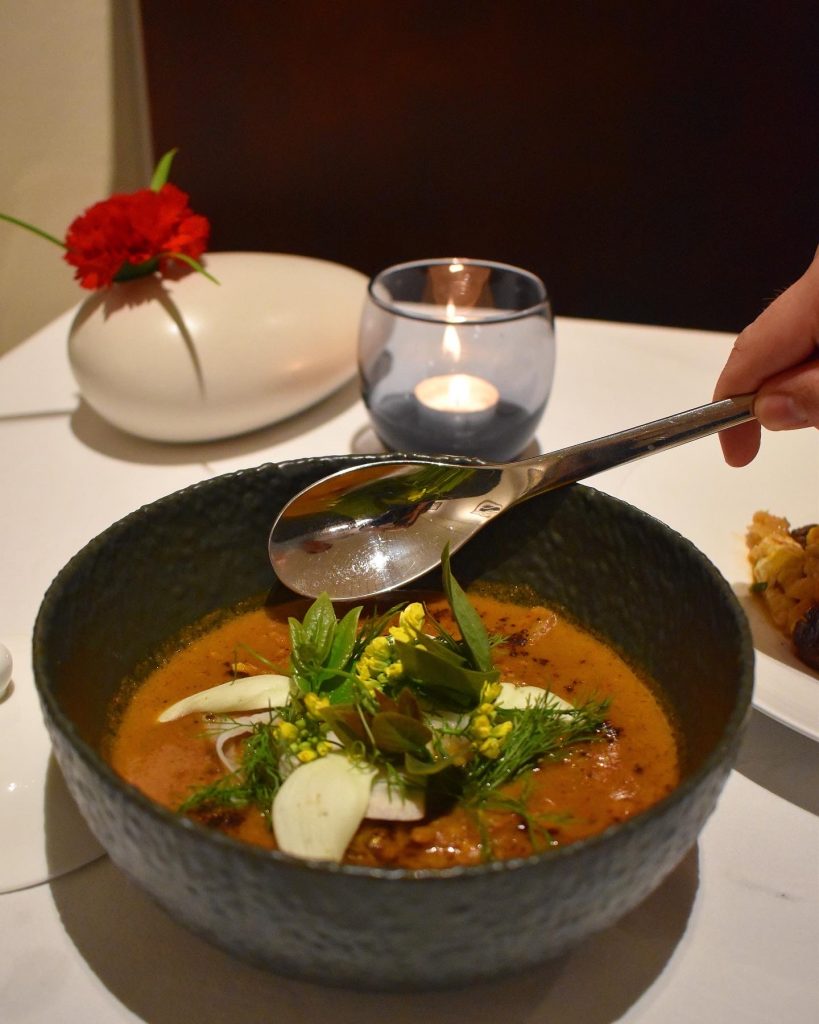 A recreation and slight reinvention of the classic recipe for Laos Duck Curry-Kalee Ped.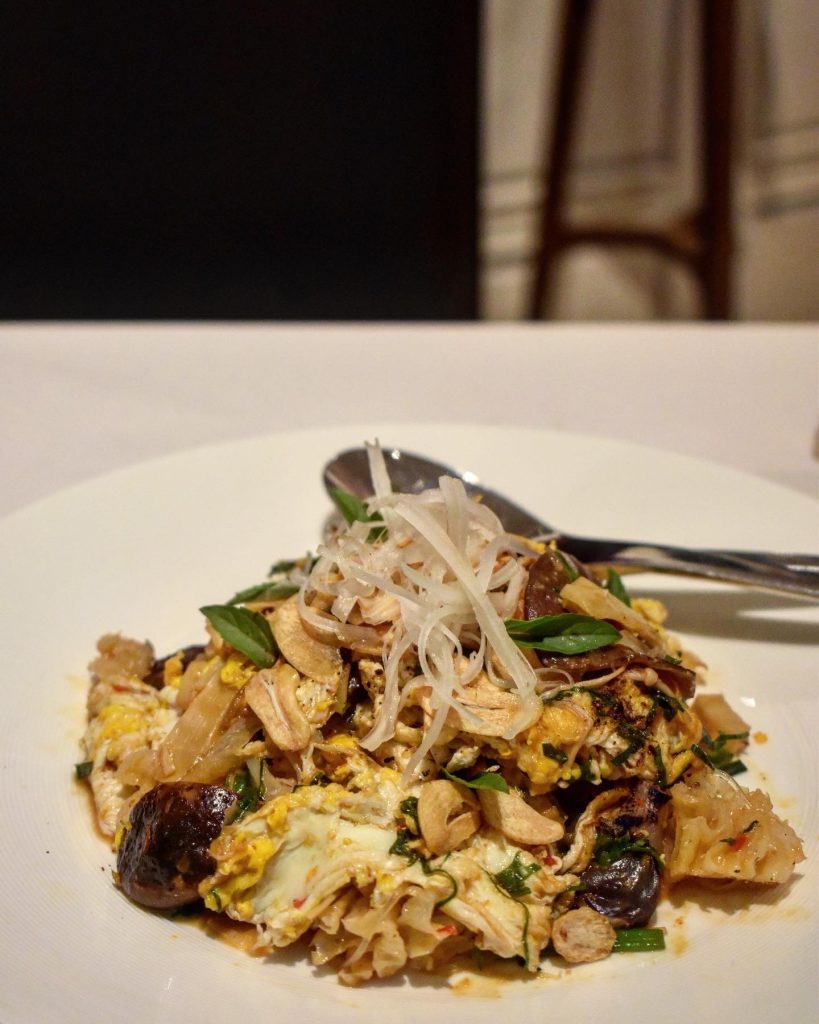 Stir fried glass noodle with mixed mushroom, sweet bamboo shoots and fermented bean curd sauce.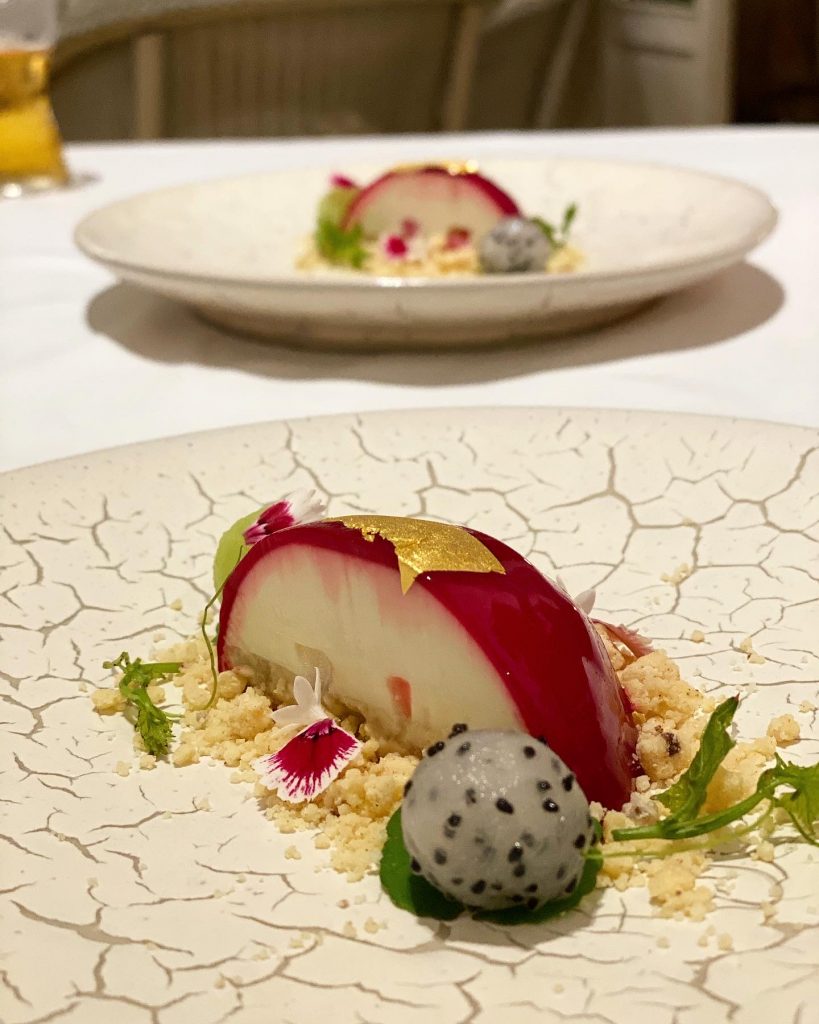 Banana with coconut milk cream and fresh jackfruit.
The food was delicious. It tasted exactly like I had hoped, local but with fancy cooking techniques that made it an exciting contrast to the more 'home cooking style' restaurants we'd so far visited. Especially the salad dishes were "out of this world" (I'm starting to sound like my mom now- thank you thirties?).
Price: Expensive, about $140 for two with a shared large beer and one glass of wine each. They pour super small servings of wine so buy a bottle, or stick to beer which was more reasonably priced.
Khaiphaen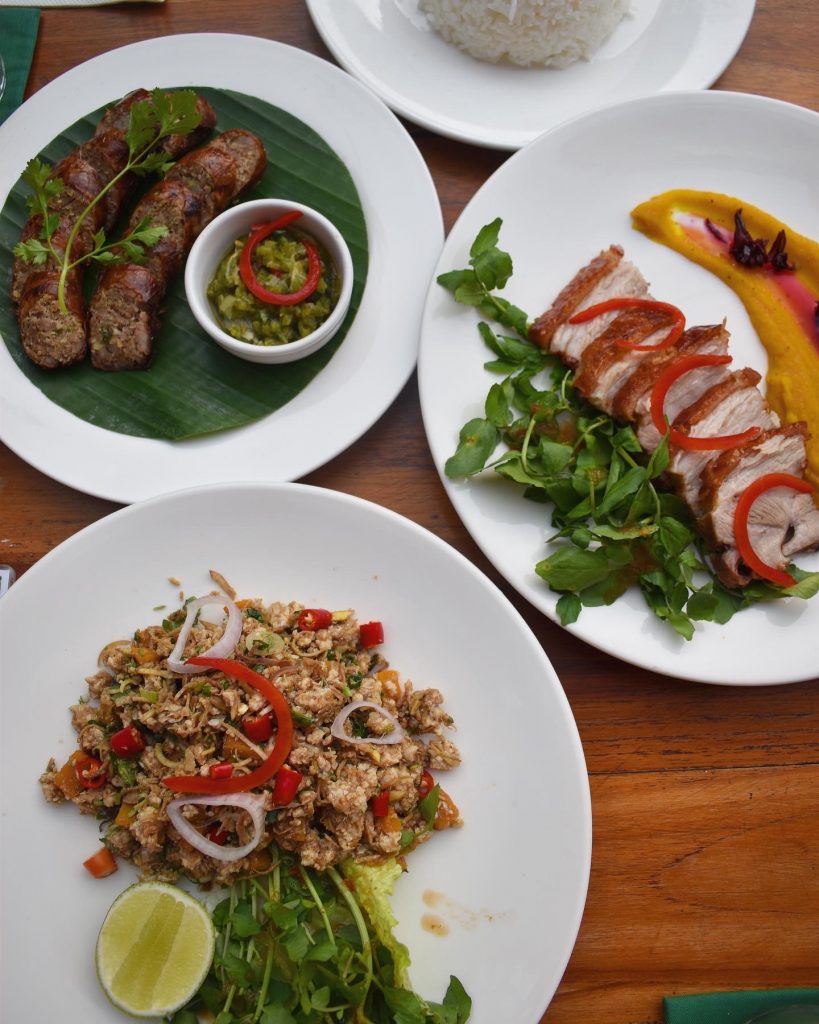 Run by the Tree Alliance Group that employ and train former street kids and other marginalized children and youth in hospitality. We had some of the best food in Luang Prabang here with a yummy, spicy chicken laap salad; crispy crackling pork belly with pumpkin puree and the best grilled Lao sai ua sausages on the whole trip.
Price: A tiny bit more expensive than other restaurants we visited, but still very affordable.
Khao Soi Luang Prabang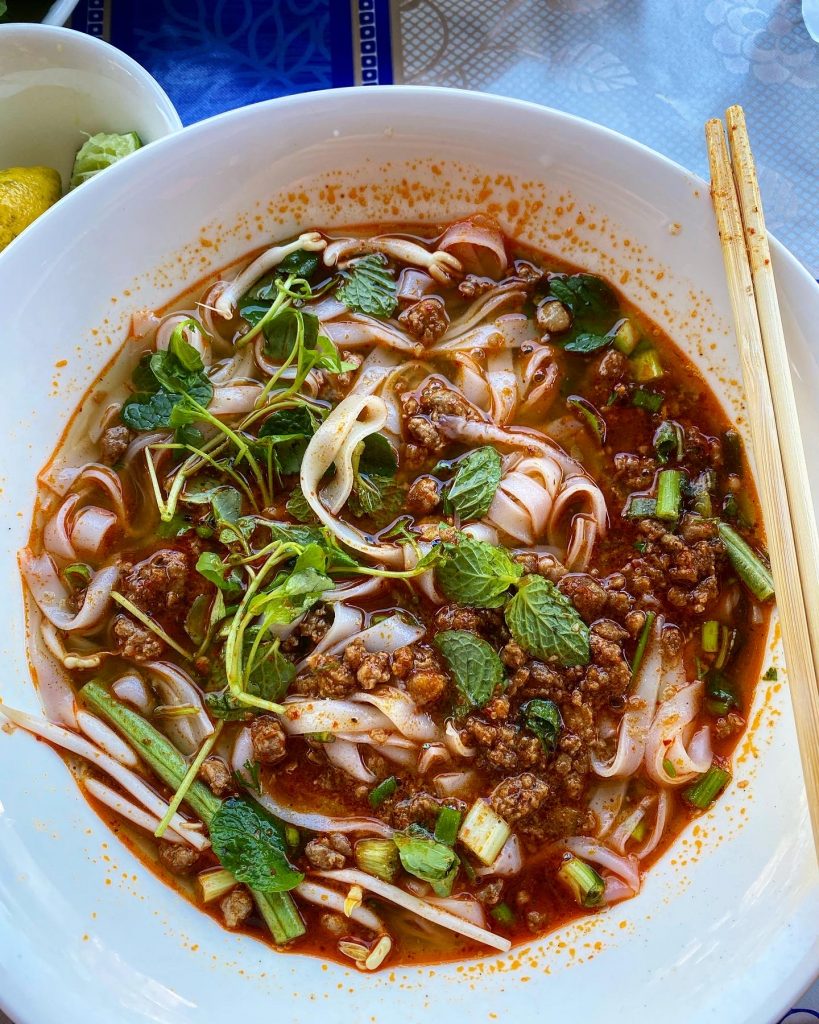 Located on the main street, Sakkaline Road, towards Wat Xiengthong, we found a great Lao khao soi shop. It's just a few seats, but usually quite busy with a lady spooning up delicious bowls of the local version of Khao Soi. As you might know, Khao Soi is a famous dish of Northern Thailand, but apart from being soups with noodles in, they aren't very similar. The Lao version contain minced pork that has been slow-cooked and then it's added to a spicy, tomato-y broth that kind of reminds me of a South East Asian take on a bolognese. In the soup are rice noodles and the usual "choose yourself" fresh herbs such as mint, coriander and spring onion. Incredibly delicious.
Price: Not much.
Xieng Thong Phonsavanh Restaurant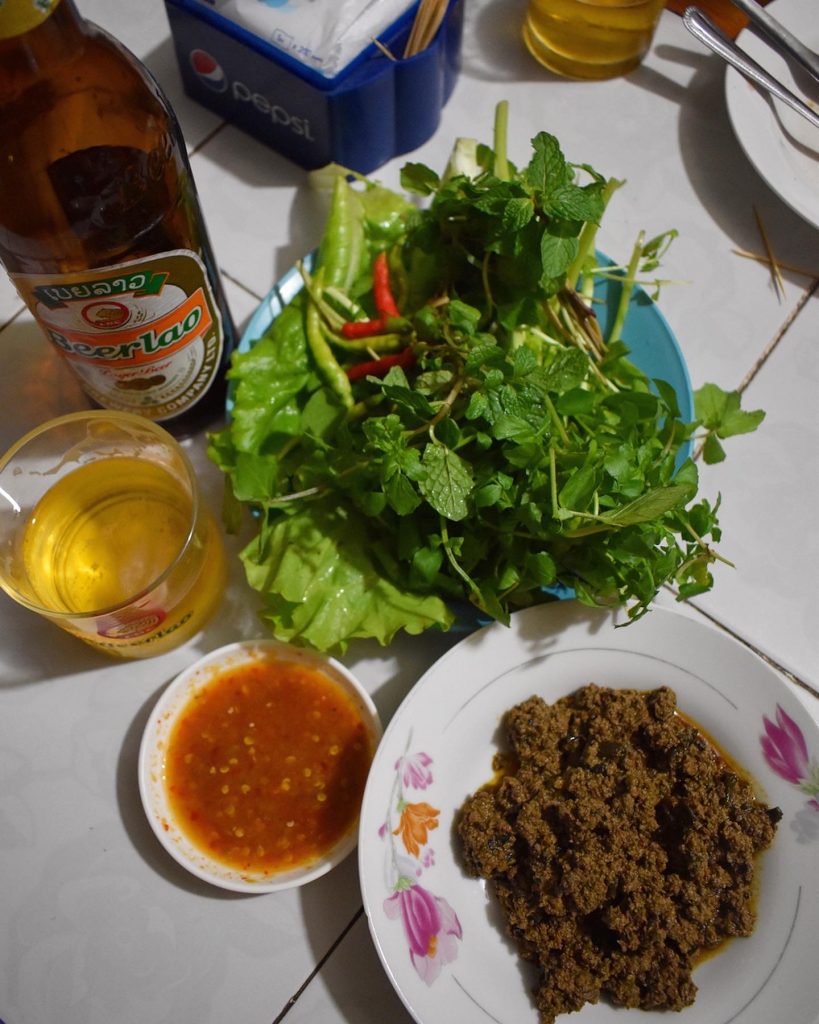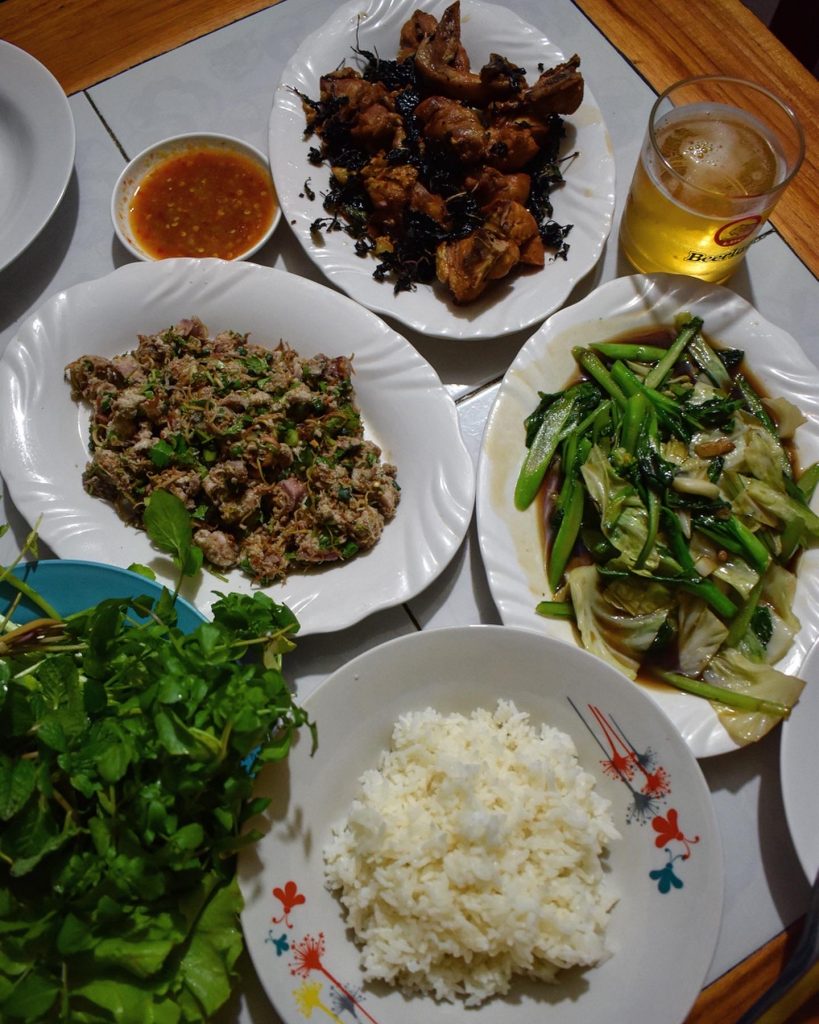 We found out that our hotel was next door to famous food blogger Migrationology's favourite restaurant in Luang Prabang, so we though it would be wise to pay it a visit. We tried their (very delicious) fish laap salad; tasty holy basil fried chicken, and, after being told off by the chef/owner for not ordering it, also their super spicy and delicious fish roe dip "jaew kee pa".
Price: Slightly more expensive than other restaurants in the area, but still very affordable.